7.62x54r Surplus Silver Tip Ammo - 440rd Can
Availability: In Stock
| Item #:BUL-54RST-440 |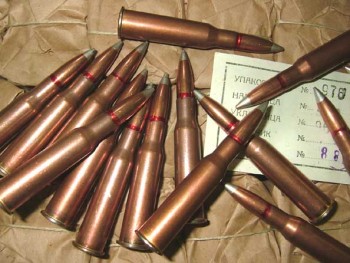 Double click on above image to view full picture
More Views
Have Your Own Photos? Login to Add Them
7.62x54r Surplus Silver Tip Ammo - 440rd Can
Availability: In Stock
| Item #:BUL-54RST-440 |
---
148 grain light ball Russian 7.62x54r Silver Tip Ammo. Ammo is packaged in a 440 round sealed tin

Ammo is in stock and ready for immediate shipping. Finest, most accurate ammo on the market today.
Great for all M91/30's , M44's, M38's and all other Mosin Nagant Type and Semi-Auto 7.62x54r Caliber rifles.


Read More
Brutus' Description
This ammo was maunfactured in the late 70's through the 80's Russia.
The Silver bar you see on the wooden case and on the can indicates Silver Tip.

The Silver Tipped 148 grain Boat Tail bullet in this ammunition is unique in that it has a steel shank in the center of the projectile beneath an exterior coating of lead that is bonded to the bullet jacket. This allows the projectile to stabilize in flight and provides the accuracy and penetration of a steel core round while not being harsh on the barrel or bore as is the case with a full hardened steel core. It is the absolute best of both worlds.

Also, the Boat Tail Bullet is more aerodynamic and allows for a flatter trajectory and greater accuracy over a long distance.

This ammo has a copper washed steel case and is berdan primed. The case neck and the primer are sealed for moisture protection. It comes packed in 20rd. military packs, 440rds. per sealed spam can. As with most surplus 54r ammo this ammunition does have some mildly corrosive components so remember to clean your weapon after firing.

All Ammo comes packaged 440rds to a sealed "spam" can, and 880rds ( 2 cans ) to a wooden crate as pictured. We sell by the can or by the case.
Each case of 2 cans only comes with one can opener so only case orders will receive a can opener.

Stock Up Now.


Manufacturer's Description
7.62x54r Bulk Ammo For Sale. Original Russian Sniper Grade Military Surplus 7.62x54R 148gr Boat Tail Silver Tip Ammunition. This is the stuff you want in your rifle!
Additional Information
Product Specs

Copper Washed Steel Cased
Berdan Primed, Corrosive
148 Grain Silver Tip FMJ Boat Tail Bullet
Bullet has a light lead coating bonded to the Copper Jacket
With a Steel Shank Core
440rds per tin, 2 tins in a crate

Caliber
7.62x54R
Gauge
Other
Free Shipping
No
Customer Reviews
See my YouTube video of this 7.62x54r Silver Tip Ammo - 440rd Tin
A great deal. My second order with the folks here at Classic. They are on my list great companies. As time goes by, my list of purchases will only continue to grow!
I havent opened the can but its a great buy for the price.
This was some really nice clean looking ammo factory 188 stuff always a great shooter. Got it today and already put 20 through my ex-Dragoon shot a 2 in group at 75 yards. Get this while u can. ALWAYS clean your rifle after shooting this stuff it is corrosive!
Good ammunition, can't beat the price, Classic Firearms is TOP NOTCH!!!
Another outstanding product at a great price. Classic Firearms is so easy to do business with. Visiting this site has become part of my daily routine.
The ammo is great and the shipping was extremely fast. I have dealt with Ben and classic arms since the 1990's. always top shelf service!!!!
For surplus 'battle' ammo this stuff shoots great. I ordered one tin before Christmas and then ordered another tin after shooting it. Groups are consistent in both my rifles (91/30 and M44). Great ammo, better price.
Well, 440 rounds of ammo for 90.00 is not too shabby. Classic has a good thing going here. Thanks again for a great deal!
Got my ammo can 3-business days after ordering it. perfect-no-dents on can and it made that pressure sound psssssst when I broke the seal.. shot about 100 rounds so far with no problems.. good ammo
Was very impressed at how quickly I received my order! The ammo is very strong as we had to dig through about 2 feet of dirt to find a round after it went through the target at 200 meters, as well as putting it through a 16 inch tree at 60 meters!
Shipping was quick, opened the packaging, and not a dent. Looking forward to sending these down range!
Not a lot can be said about ammo, ammo is ammo. Can came to me in good shape, fast friendly service from classic as always. Love this place!
Ordered my 440 tin on Sunday, got it Wednesday. I was surprised to find an opener attached as this was only a one tin order. However, after opening the box I saw that the tin was not sealed. A small cut had been made as if someone started to open it with the opener. I had planned on opening the can on the bottom so I could display the can but since it had a cut I went ahead and finished opening the top. As far as I can tell the ammo is fine. I was concerned about the seal being broken and not knowing how long it was like that and if moisture might have gotten into it.
1.5 inch group with an out of the box iron site mosin 91/30 @ 60 Yards. What more can you ask for
Picked up a spam can with the purchase of my new mosin. Didn't expect much from older Russian stock piled ammo but was very surprised at how well it shot and how powerful these boys are. Haven't had one mis fire or issue with the ammo and I would recommend them to anyone. Purchased another can already
Great stuff well packaged cant wait to shoot it.
Good shooting ammo, and although it's supposed to be corrosive, I'm not really getting a lot of crap out of my barrel. I'm shooting through a Mosin 91/30, and it's accurate, and relatively clean. Not like some other com-bloc junk I've shot before. Easy way to get into a can- if you've got a grinder, grind the rolled seal around the edge until you see a line, the lid should pop open in a few places, then just pull it off with some pliers.
Packaged well, excellent ammo, no misfires.
Got me a Mosin a couple years back. Very accurate & trustworthy considering it's age/technology level. I just got another 440 rnd. tin. With several of those on hand, I have a good back-up hunting rifle that will take down most any game in Texas, and lots of rounds to ride out this current 'out-of-stck-on-everything' frenzy we're in. Rock on, Classic Arms.
well worth the money every round shot works very well and accurate. the tin was in great shape so I saved it, but the only thing is I didn't get the tin tool to open it. but its cool cause the ammo is worth every penny. I plane on getting more when I run out but with this much ammo might not be real soon lol. thanks classic :]
I was pleasently surprised at just how very nice this rifle is. There was nothing at all wrong with this rifle besides a few very cosmetic scratches to the stock. The bore was perfect, and looks like it has never been fired.


Excellent communication, product and delivery. Would definitely recommend this site and company for quality products.
I bought this ammo the 440 can and it is a little hard to open but the ammo is in good condition and reliable. The can is cheap and it brings plenty of ammo to shoot. Definetively I will buy more and recommend
I'm very happy with my purchase... can't wait to shoot some.
Ammo was received quickly. Was able to open the tin easy enough. I would definitely purchase from classic firearms again, great stuff.
I bought two tins of ammo so that i could get the crate and the can opener. They arrived quickly and in good condition. Just needed a screwdriver to get the crate open without destroying the lid.
Fare price and fast shipping.I just dont know if i got Russsian or Bulgarian. Not that i care its great range ammo.
I'll be a repeat customer. Thanks for the fast shipping and fair pricing!
Got to hand it to those Eastern European's, this stuff works and is accurate. The price is competitive, but shipping took forever. Got my order and went straight to the range. Happy man!!!
Received my 7.62x54R Romanian ammo can with 440 of the most wonderful bullets I have seen in a while. Clean and dry and accurate shooting. I just can't thank Classic Firearms for their attention to detail, fast packing and delivery and my overall customer experience. I will buy more when they have more! Thanks!
Ammo was received quickly. Was able to open the tin easily, and all ammo seems to be in tact. Have not had the chance to fire any of it, but I am looking forward to it.! Thanks for having this in stock for my new gun!
This ammo is the most fun to shoot in my mosin nagant purchased from classic arms.
Its also pretty inexpensive, cheaper than 22LR.
Would recommend to everyone. Just remember to clean your guns often.
Besides being a great deal, I love the way the ammo is delivered. The box looks like it's straight off the Russian front! Ammo has performed flawlessly. Another great deal from Classic Firearms!
Classic Firearms does it again. Another flawless transaction. The web site is very user friendly, from placing order to tracking. Can't wait to see what's next. thank you.
I bought this "Spam Can" of 7.62x54R, for my 91/30 Mosin Nagant. It performs perfectly besides it being corrosive and over 30 yrs old.
They all fired the same and there was no difference in performance. This stuff was made for the military to use, its not some crappy reloads from Joe blow at a gun show. 10/10 Will Buy again. Pro Tip: Buy the can opener if you only buy the 440 (it comes in the 880), cause opening this thing with a hammer and chisel was a long process.
First purchase with classic. Recieved order within 7 days. Very surprised since I had ordered with another supplier recently and they were backed up so bad it took just under thirty days. I know everything is hectic right now but classic didn't disappoint! Can't go wrong with this! Excellent ammo and price!
I have bought many of spam cans in my day, and this was the best preserved one. There was not a bit of rust or dent in the can. The rounds were as advertised. Quality stuff. I will be buying more! Very happy with Classic

Now, if Classic could just offer up some new 91/30's soon!
For those of you who don't know how to get these bad boys open, all I did was took a flat head screw driver and a hammer and punched through the seal all the way around. Works great.
great price great deal fast shipping thank you
great price great deal fast shipping thank you
Why can't we find any 9mm ammo? Did all of the reloaders dry up and blow away?
This is a good deal especially with just about every other caliber out of stock. As far as cleaning the rifle after shooting, you can spray the barrel down with windex and it will take care of the corrosive primers by washing away the corrosive salts in the primers. Water will do the same thing and just give the rifle a good coat of gun oil afterwards.
Well with what has been happening to ammo and gun prices over the past 5 weeks, this is about as good as it gets. With prices still at or below $.30/round, good luck finding anything else to shoot. There isn't a round out there that has this much power and accuracy for the price. Cleaning isn't a big deal, it's only one more step in the usual cleaning process and as for the can opener, a hammer and a flat head screw driver does wonders; the metal on the can is really soft so it doesn't take much to peel it off. Happy Hunting
Fast Shipping! Have not opened the can yet. Can has minor rust around the edges and had cardboard stuck to it. Can seems to still be pressurized so I can assume that the ammo inside is still good. No can opener but nothing a good knife cant get into. Overall satisfied with my purchase.
You can't beat the price and the power of this rifle. Youtube videos revealed devastating power of this powerful cartridge of 7.64X54. The casing of this round is bigger and has more powder than 30.06. 30.06 will shoot further and more accurate for sure but it costs much more in rifle and ammo. I would opt for this and bought 6 with 1680 rounds with various sellers. History said the Russian sniper hit his intented target 800 meters away. If 5.45X39 can reach out to 1000 to 1300 meters some information said, shouldn't 7.62X54 reach further? Have not come across information that anyone has test the true accuracy distance of 7.62X54. May be I will do it when I get a chance. God bless everyone.
I've put 200 rounds thru my mosin nagant without a single mishap. My Mosin and I just love this ammo. I do get tired of cleaning the barrel, but it's worth it.
actually i havent fired any of this exciting fodder yet..just wondering about the can opener...doesnt seem to be one unless im overlooking the incredibly obvious which im capable of
Brutus' Description

This ammo was maunfactured in the late 70's through the 80's Russia.
The Silver bar you see on the wooden case and on the can indicates Silver Tip.

The Silver Tipped 148 grain Boat Tail bullet in this ammunition is unique in that it has a steel shank in the center of the projectile beneath an exterior coating of lead that is bonded to the bullet jacket. This allows the projectile to stabilize in flight and provides the accuracy and penetration of a steel core round while not being harsh on the barrel or bore as is the case with a full hardened steel core. It is the absolute best of both worlds.

Also, the Boat Tail Bullet is more aerodynamic and allows for a flatter trajectory and greater accuracy over a long distance.

This ammo has a copper washed steel case and is berdan primed. The case neck and the primer are sealed for moisture protection. It comes packed in 20rd. military packs, 440rds. per sealed spam can. As with most surplus 54r ammo this ammunition does have some mildly corrosive components so remember to clean your weapon after firing.

All Ammo comes packaged 440rds to a sealed "spam" can, and 880rds ( 2 cans ) to a wooden crate as pictured. We sell by the can or by the case.
Each case of 2 cans only comes with one can opener so only case orders will receive a can opener.

Stock Up Now.



Manufacturer's Description

7.62x54r Bulk Ammo For Sale. Original Russian Sniper Grade Military Surplus 7.62x54R 148gr Boat Tail Silver Tip Ammunition. This is the stuff you want in your rifle!

Additional Information

Product Specs

Copper Washed Steel Cased
Berdan Primed, Corrosive
148 Grain Silver Tip FMJ Boat Tail Bullet
Bullet has a light lead coating bonded to the Copper Jacket
With a Steel Shank Core
440rds per tin, 2 tins in a crate

Caliber
7.62x54R
Gauge
Other
Free Shipping
No

Customer Reviews

See my YouTube video of this 7.62x54r Silver Tip Ammo - 440rd Tin
A great deal. My second order with the folks here at Classic. They are on my list great companies. As time goes by, my list of purchases will only continue to grow!
I havent opened the can but its a great buy for the price.
This was some really nice clean looking ammo factory 188 stuff always a great shooter. Got it today and already put 20 through my ex-Dragoon shot a 2 in group at 75 yards. Get this while u can. ALWAYS clean your rifle after shooting this stuff it is corrosive!
Good ammunition, can't beat the price, Classic Firearms is TOP NOTCH!!!
Another outstanding product at a great price. Classic Firearms is so easy to do business with. Visiting this site has become part of my daily routine.
The ammo is great and the shipping was extremely fast. I have dealt with Ben and classic arms since the 1990's. always top shelf service!!!!
For surplus 'battle' ammo this stuff shoots great. I ordered one tin before Christmas and then ordered another tin after shooting it. Groups are consistent in both my rifles (91/30 and M44). Great ammo, better price.
Well, 440 rounds of ammo for 90.00 is not too shabby. Classic has a good thing going here. Thanks again for a great deal!
Got my ammo can 3-business days after ordering it. perfect-no-dents on can and it made that pressure sound psssssst when I broke the seal.. shot about 100 rounds so far with no problems.. good ammo
Was very impressed at how quickly I received my order! The ammo is very strong as we had to dig through about 2 feet of dirt to find a round after it went through the target at 200 meters, as well as putting it through a 16 inch tree at 60 meters!
Shipping was quick, opened the packaging, and not a dent. Looking forward to sending these down range!
Not a lot can be said about ammo, ammo is ammo. Can came to me in good shape, fast friendly service from classic as always. Love this place!
Ordered my 440 tin on Sunday, got it Wednesday. I was surprised to find an opener attached as this was only a one tin order. However, after opening the box I saw that the tin was not sealed. A small cut had been made as if someone started to open it with the opener. I had planned on opening the can on the bottom so I could display the can but since it had a cut I went ahead and finished opening the top. As far as I can tell the ammo is fine. I was concerned about the seal being broken and not knowing how long it was like that and if moisture might have gotten into it.
1.5 inch group with an out of the box iron site mosin 91/30 @ 60 Yards. What more can you ask for
Picked up a spam can with the purchase of my new mosin. Didn't expect much from older Russian stock piled ammo but was very surprised at how well it shot and how powerful these boys are. Haven't had one mis fire or issue with the ammo and I would recommend them to anyone. Purchased another can already
Great stuff well packaged cant wait to shoot it.
Good shooting ammo, and although it's supposed to be corrosive, I'm not really getting a lot of crap out of my barrel. I'm shooting through a Mosin 91/30, and it's accurate, and relatively clean. Not like some other com-bloc junk I've shot before. Easy way to get into a can- if you've got a grinder, grind the rolled seal around the edge until you see a line, the lid should pop open in a few places, then just pull it off with some pliers.
Packaged well, excellent ammo, no misfires.
Got me a Mosin a couple years back. Very accurate & trustworthy considering it's age/technology level. I just got another 440 rnd. tin. With several of those on hand, I have a good back-up hunting rifle that will take down most any game in Texas, and lots of rounds to ride out this current 'out-of-stck-on-everything' frenzy we're in. Rock on, Classic Arms.
well worth the money every round shot works very well and accurate. the tin was in great shape so I saved it, but the only thing is I didn't get the tin tool to open it. but its cool cause the ammo is worth every penny. I plane on getting more when I run out but with this much ammo might not be real soon lol. thanks classic :]
I was pleasently surprised at just how very nice this rifle is. There was nothing at all wrong with this rifle besides a few very cosmetic scratches to the stock. The bore was perfect, and looks like it has never been fired.


Excellent communication, product and delivery. Would definitely recommend this site and company for quality products.
I bought this ammo the 440 can and it is a little hard to open but the ammo is in good condition and reliable. The can is cheap and it brings plenty of ammo to shoot. Definetively I will buy more and recommend
I'm very happy with my purchase... can't wait to shoot some.
Ammo was received quickly. Was able to open the tin easy enough. I would definitely purchase from classic firearms again, great stuff.
I bought two tins of ammo so that i could get the crate and the can opener. They arrived quickly and in good condition. Just needed a screwdriver to get the crate open without destroying the lid.
Fare price and fast shipping.I just dont know if i got Russsian or Bulgarian. Not that i care its great range ammo.
I'll be a repeat customer. Thanks for the fast shipping and fair pricing!
Got to hand it to those Eastern European's, this stuff works and is accurate. The price is competitive, but shipping took forever. Got my order and went straight to the range. Happy man!!!
Received my 7.62x54R Romanian ammo can with 440 of the most wonderful bullets I have seen in a while. Clean and dry and accurate shooting. I just can't thank Classic Firearms for their attention to detail, fast packing and delivery and my overall customer experience. I will buy more when they have more! Thanks!
Ammo was received quickly. Was able to open the tin easily, and all ammo seems to be in tact. Have not had the chance to fire any of it, but I am looking forward to it.! Thanks for having this in stock for my new gun!
This ammo is the most fun to shoot in my mosin nagant purchased from classic arms.
Its also pretty inexpensive, cheaper than 22LR.
Would recommend to everyone. Just remember to clean your guns often.
Besides being a great deal, I love the way the ammo is delivered. The box looks like it's straight off the Russian front! Ammo has performed flawlessly. Another great deal from Classic Firearms!
Classic Firearms does it again. Another flawless transaction. The web site is very user friendly, from placing order to tracking. Can't wait to see what's next. thank you.
I bought this "Spam Can" of 7.62x54R, for my 91/30 Mosin Nagant. It performs perfectly besides it being corrosive and over 30 yrs old.
They all fired the same and there was no difference in performance. This stuff was made for the military to use, its not some crappy reloads from Joe blow at a gun show. 10/10 Will Buy again. Pro Tip: Buy the can opener if you only buy the 440 (it comes in the 880), cause opening this thing with a hammer and chisel was a long process.
First purchase with classic. Recieved order within 7 days. Very surprised since I had ordered with another supplier recently and they were backed up so bad it took just under thirty days. I know everything is hectic right now but classic didn't disappoint! Can't go wrong with this! Excellent ammo and price!
I have bought many of spam cans in my day, and this was the best preserved one. There was not a bit of rust or dent in the can. The rounds were as advertised. Quality stuff. I will be buying more! Very happy with Classic

Now, if Classic could just offer up some new 91/30's soon!
For those of you who don't know how to get these bad boys open, all I did was took a flat head screw driver and a hammer and punched through the seal all the way around. Works great.
great price great deal fast shipping thank you
great price great deal fast shipping thank you
Why can't we find any 9mm ammo? Did all of the reloaders dry up and blow away?
This is a good deal especially with just about every other caliber out of stock. As far as cleaning the rifle after shooting, you can spray the barrel down with windex and it will take care of the corrosive primers by washing away the corrosive salts in the primers. Water will do the same thing and just give the rifle a good coat of gun oil afterwards.
Well with what has been happening to ammo and gun prices over the past 5 weeks, this is about as good as it gets. With prices still at or below $.30/round, good luck finding anything else to shoot. There isn't a round out there that has this much power and accuracy for the price. Cleaning isn't a big deal, it's only one more step in the usual cleaning process and as for the can opener, a hammer and a flat head screw driver does wonders; the metal on the can is really soft so it doesn't take much to peel it off. Happy Hunting
Fast Shipping! Have not opened the can yet. Can has minor rust around the edges and had cardboard stuck to it. Can seems to still be pressurized so I can assume that the ammo inside is still good. No can opener but nothing a good knife cant get into. Overall satisfied with my purchase.
You can't beat the price and the power of this rifle. Youtube videos revealed devastating power of this powerful cartridge of 7.64X54. The casing of this round is bigger and has more powder than 30.06. 30.06 will shoot further and more accurate for sure but it costs much more in rifle and ammo. I would opt for this and bought 6 with 1680 rounds with various sellers. History said the Russian sniper hit his intented target 800 meters away. If 5.45X39 can reach out to 1000 to 1300 meters some information said, shouldn't 7.62X54 reach further? Have not come across information that anyone has test the true accuracy distance of 7.62X54. May be I will do it when I get a chance. God bless everyone.
I've put 200 rounds thru my mosin nagant without a single mishap. My Mosin and I just love this ammo. I do get tired of cleaning the barrel, but it's worth it.
actually i havent fired any of this exciting fodder yet..just wondering about the can opener...doesnt seem to be one unless im overlooking the incredibly obvious which im capable of