Bersa Thunder .380 Semi-Auto Pistol
Availability: In Stock (Only 1 left!)
| Item #:HGNBER380-THUN-DT |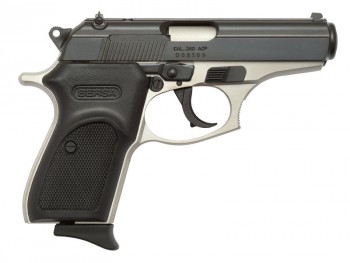 Double click on above image to view full picture
More Views
Have Your Own Photos? Login to Add Them
Bersa Thunder .380 Semi-Auto Pistol
Availability: In Stock (Only 1 left!)
| Item #:HGNBER380-THUN-DT |
---
Bersa Thunder .380 Semi-Auto Pistol, Duo-Tone, DA / SA, 7 + 1 Capacity,
Black Steel Slide on a Satin Nickle Alloy Frame.
Read More
Brutus' Description
The Thunder .380, Bersa's best selling model, offers numerous valued features – accuracy, reliability and versatility in a lightweight, compact design. It's easy to appreciate so much for so little. The Thunder .380 has earned a worldwide reputation of quality and is truly one of the best performance-for-price buys on the market. It's lightweight, small-frame and ideal capacity combines with Bersa's time-tested reliability and accuracy to make the Thunder .380 an excellent choice for personal protection.

Just Look at these features....


3-dot sight system
Combat style trigger guard
Extended Slide Release
Micro-polished bore with sharp,deep rifling
Extended finger rest magazine bottom
Intergral Locking System
Lifetime service contract
Available in Matte, Satin Nickel or Doutone finish.
Bersa Pistols have been around for a long time and have set the standard for reliable, affordable conceal carry type firearms.
I endorse these whole heartedly. If you want a pistol that will work every time, without breaking the bank, get a Bersa.
Manufacturer's Description
Bersa Thunder .380 Semi-Auto Pistol, Duo-Tone, DA / SA, 7 + 1 Capacity
Additional Information
Product Specs


.380 Specifications

Model: THUN380
Caliber: .380 ACP
Action: DA/SA
Capacity: 7+1
Barrel Length: 3.5"
Front Sight: Dovetailed
Rear Sight: Notched-Bar Dovetailed
Finishes: Matte Black, Satin Nickel, or Duotone
Grips: Checkered Polymer
Construction: Alloy Frame/Steel Slide
Safety: Integral Locking System, Manual, Firing Pin
Weight: 20 oz.
Length: 6.6"
Height: 4.9"
Width: 1.3"

Caliber
.380
Gauge
Other
Free Shipping
Yes
Brutus' Description

The Thunder .380, Bersa's best selling model, offers numerous valued features – accuracy, reliability and versatility in a lightweight, compact design. It's easy to appreciate so much for so little. The Thunder .380 has earned a worldwide reputation of quality and is truly one of the best performance-for-price buys on the market. It's lightweight, small-frame and ideal capacity combines with Bersa's time-tested reliability and accuracy to make the Thunder .380 an excellent choice for personal protection.


Just Look at these features....



3-dot sight system
Combat style trigger guard
Extended Slide Release
Micro-polished bore with sharp,deep rifling
Extended finger rest magazine bottom
Intergral Locking System
Lifetime service contract
Available in Matte, Satin Nickel or Doutone finish.

Bersa Pistols have been around for a long time and have set the standard for reliable, affordable conceal carry type firearms.
I endorse these whole heartedly. If you want a pistol that will work every time, without breaking the bank, get a Bersa.

Manufacturer's Description

Bersa Thunder .380 Semi-Auto Pistol, Duo-Tone, DA / SA, 7 + 1 Capacity

Additional Information

Product Specs


.380 Specifications

Model: THUN380
Caliber: .380 ACP
Action: DA/SA
Capacity: 7+1
Barrel Length: 3.5"
Front Sight: Dovetailed
Rear Sight: Notched-Bar Dovetailed
Finishes: Matte Black, Satin Nickel, or Duotone
Grips: Checkered Polymer
Construction: Alloy Frame/Steel Slide
Safety: Integral Locking System, Manual, Firing Pin
Weight: 20 oz.
Length: 6.6"
Height: 4.9"
Width: 1.3"

Caliber
.380
Gauge
Other
Free Shipping
Yes