Romanian TTC Tokarev Pistol - 7.62x25
Availability: Out of stock
| Item #: HGNROM-TOK |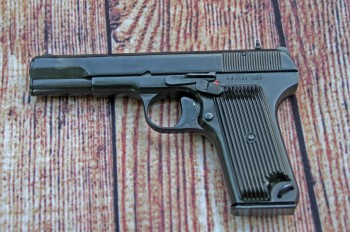 Double click on above image to view full picture
More Views
Have Your Own Photos? Login to Add Them
Romanian TTC Tokarev Pistol - 7.62x25
Availability: Out of stock
| Item #: HGNROM-TOK |
---
Pistol, Historic Romanian TTC Tokarev pistol, semi-automatic, manufactured in the famous Cugir Factory, includes 1 mag, 7.62x25 caliber, very good - excellent condition
Read More
Brutus' Description
It has been a little over a year now since we had our last batch of these fine handguns in stock, but I believe the wait was worth it. These are exceptional, probably the nicest batch we've had here. And no disrespect to the Yugo variation, but I like these better.
These have a factory safety instead of an after production add on and the lines and fit are just cleaner. The importer who brought these into the country separated them into 2 different grades --what they called "good to borderline very good" and excellent. We had a chance to view them and opted to pay a premium and buy only the excellent conditions. The lower grade simply had too much cosmetic wear for our taste. They also seemed to have had more rounds ran through them and we like to bring our customers top quality. We paid a little more for these, but the higher condition is definitely worth it. If the finish on these is not like new it is certainly darn close. The finish on these is a deep rich blue. Some may have very slight bluing wear on the sharp edges but most do not. Bores have been very nice on the ones I have seen.
The photo above is just one of the pistols that we picked at random and shows a true representation of the condition you can expect. Each pistol is semi-automatic and fires the hard hitting, flat shooting 7.62x25 caliber cartridge. These pistols come with one 8rd mag.
Don't you buy no ugly gun.... Get one of these and be proud.....
Manufacturer's Description
Historic Romanian TTC Tokarev pistol, semi-automatic, manufactured in the famous Cugir Factory.
Includes 1 mag, 7.62x25 caliber, very good - excellent condition
Additional Information
Product Specs

7.62x25 caliber
semi-automatic
excellent

Caliber
7.62x25
Gauge
Other
Free Shipping
Yes
Customer Reviews
Great pistol for the price!


Review by tallen702 on 12/1/13

This batch of TTC pistols is fantastic! Classic has really done a great job of selecting an excellent bunch of pistols for us C&R fanatics. Mine had minimal wear on the slide, and while the bore is dark, it has strong rifling and looks like it's rarely been fired. I LOVE this pistol. It feels like a FN-1903 and shoots like a 1911. Gotta love it!

Unboxing of Romanian TTC Tokarev Pistol


Review by The Real Jeffer on 11/5/13

This is my first Classic Firearms purchase. I paid for hand selection and I am very pleased with the pistol. My video shows the unboxing for those of you who have yet to buy something from Classic Firearms.

I disassembled and cleaned the pistol. It was very well oiled with no cosmoline.

The extra magazine has a "Made in Taiwan" sticker, but looks as good as the one that the pistol came with.

I will take it to the range tomorrow and test it. I am a little disappointed that 7.62x25 Tokarev ammo is not readily and cheaply available. Luckily I found some at a local gun show the other day.

Fantastic firearm! Great shape! Shoots very nice!


Review by Will on 8/27/13

I bought the Romanian Tokarev TTC 7.62x25mm from here and received it within a few days. The TTC was floating around in a small box (no paper or bubble wrap or anything like that keeping it in place) which was in a slightly larger box. The gun is all metal and was not damaged in shipping but probably could of been packaged a little better? Lol.

The gun itself arrived in fantastic condition and only had a little cosmoline that I had to clean off. Only issue (very minor) was the front sight appears to be chipped (a tiny bit) on the front side (not affecting shooting or sight picture). The magazine is a little scratched/scuffed up but goes in easily and is not a problem.

All parts were numbers matching and the barrel was in very nice shape! The gun itself shoots very accurately and with very little recoil (100 rounds through it thus far). Easy to disassemble and clean and racking it is smooth and much lighter/easier than my SA XDm 45.

Since purchasing I have upgraded the grips to Tokagypt style (wetsanded and plastidipped) and grip angle is improved and highly recommend doing something similar to yours.

Unsure if pictures can be linked within a review but if so here is how this gun looks with these grips (plasti-dipped) http://bit.ly/13WJNkf

Highly recommend and classicfirearms.com was a pleasure to do business with. I plan on many more purchases here in the near future! :D

Review of Product


Review by David on 6/11/13

Review of product and receipt time. Overall amazing!!!

Excellant Firearm


Review by Vinnie.Remora on 2/15/13

Excellant Firearm from Classic Firearms

Romanian TTC form Classic Firearms


Review by tom on 8/27/14

There is something wonderful about opening the box and finding a brand new sixty year old gun inside.The only blemish was some very slight pitting where the barrel was in contact with the barrel bushing,(for sixty years!)-hardly worth mentioning. No hiccups at the range. The folks at Classic are really nice and provide great service.

great buy


Review by dave on 7/30/14

I didnt get my tokarev from Classis only because they were out of stock, as far as the review this is an exellent budget firearm. Mine was made in 1953 and looks and fires flawless. I would recomend this firearm to anybody.

Would Give This 6 Stars If I Could


Review by Guns and Coal on 4/18/14

What a little thumper! And solid hits right on the point of aim....loud too...very very sweet pistol, hate to admit it but I might like it a little better than my 1911...and the hammer group that comes out as one unit/block? Very ingenious....gotta buy a few more when Classic gets them back in stock....this has got concealed carry written all over it...

Sweet piece of history


Review by Nilegoose on 1/26/14

What a great piece of history. It has served more then 70 years in a variety of needs and duties. Shoots great, looks dignified, and is a great addition to any collection.

Excellent condition and value


Review by charles on 1/24/14

You could never tell this handgun was over 50 years old. It's hardly ever been used. Buy it if you can!

just as good as described,very pleased


Review by Rick on 1/22/14

This Romi TTC isjust as described, Fit, Finish and a Hoot to Shoot. Very accurate , and I really like the thin design.It`s my new Carry Pistol and i`m very pleased, Thank you Classic for another great buy!

Wow. Just Wow. I picked mine up and Wow!


Review by Mike on 1/13/14

The FFL told me "You're going to like this one"
and he was on the money. The quality of the Romanian Finish was Coltesque. Literally Colt Dark Blue. The slide and Trigger were simply perfectly melded to the frame. I was in awe of the Romanian workmanship. Just in awe. These will go down as the best of all Toks. Better than Russian, Polish or Yugos. I don't know if the East Germans made any, but the Romanians will be hard to beat. I don't think Colt, Smith and Wesson or Ruger could do any better. This one feels like a Sig its so well done.

Exellent Buy.


Review by Foxgrom on 1/7/14

What I received, was a like new gun, nice shiny bore no scratches or marks on the bluing. Overall very happy with this purchase. I will look forward to doing more business with Classic firearms.

purchase of Romanian TTC


Review by rockyduke on 12/30/13

I recently bought a hand picked Romanian TTC from Classic and lo and behold: received a 1953 without-a-doubt unfired pistol ! How's that for service ? Classic also shipped on time and had great follow up service. Love all my Tokarevs but this is my favorite. I just wish you guys would hurry up and get some Polish ones in stock. I want to buy from you. Hurry ! ! !

Outstanding value in a great firearm


Review by Blkwulf on 12/26/13

WOW, I was very pleasantly surprised at the condition of this pistol. It may have been made in 1953, but looks brand new. This is my second 7.62x25 weapon, my other is the PPS43c. I can't say enough good things about Classic Firearms. My other firearm purchases include an Mosin M44, Waffen Werks AK74, Romanian AES10-B, & the PPS43C that I mentioned. I can truthfully say you can buy with confidence from Classic Firearms, They are awesome. Kindest Regards, Blkwulf

Excellent product quality &service


Review by Bill on 12/23/13

Received my Romanian TTC Tokarev yesterday (yes,on Sunday). The gun was almost perfect. The bore was shiny, and the bluing was great ( a couple of minor scratches from storage on the left side of the slide was the only defect. A little cold bluing took care of that). Since my order had been delayed due to Classics Holiday high volume, I had occasion to contact them by E-Mail, Response was fast and helpful. I would recommend Classic Arms, and the Romanian Tokarev to anyone.

Great gun


Review by John on 12/23/13

What a deal. The pistol arrived in great shape. Hardly used dated 1953. Great Cold War gun. AAA+++ for under $200.00

Love it!!


Review by Russell on 12/23/13

Great pistol for the money. I was surprised how new it was no wear what so ever. Classic has been my favorite of mine for many years. I remember how excited I would be the night before the gun show would open when classic used to set up at shows. As soon as I got in I would always head straight to classic and spend all my show money pretty much right there! I was always treated great!! Classic is the Greatest!! Thanks!!

nearly new 1956 Tokarev


Review by Henry on 12/22/13

The TTC came yesterday and I just got back from the range: if you don't have one, get one ASAP. Mine came with the hand-select option and an extra Taiwanese magazine. Aside from the long wait due to backed up holiday orders, this was a highly gratifying experience. The pistol and mag were well-packed. The Tokarev looks like it could be three or four years old. The grips have mild wear, the frame and slide look new, and the barrel hasn't seen much use. The rifling is sharp with no sign of corrosion. The added safety catch thumbs off and on without breaking my hold on the grip. The import markings aren't huge and fairly out of the way on the frame.
The sights are the standard (poor) military version. To bring out the sight picture, I painted a white U around the rear sight notch and after squaring off the back of the front sight, a dot of red paint there. It makes a difference. All the internals came clean and oiled and look new, so other than getting used to the disassembly and reassembly there was nothing tedious about preparing it to shoot.
For a full-size pistol, the TTC is relatively light and the narrow slide and short grip make it easy to conceal. In firing, the grip is still long enough to get a good two-handed hold. Recoil is quite manageable and the trigger action is quite good. I got good combat accuracy from this gun, which was all I was looking for.
The Tokarev has an assertive report and an impressive muzzle flash, but for such a powerful handgun, it's no wrist-breaker and I could shoot it all day.
Thanks to the folks at Classic Firearms for selling me this fine and somewhat overlooked hard-hitting, fun-shooting historical firearm.


What a Gun!


Review by John-Paul on 12/19/13

What a gun for $200! My first pistol purchase and my first gun from Classic and I'm already hooked. 60 year old gun and looks like it was barely used. had a little wear on the slide and two small chips on the grips, but what can anyone expect from a surplus gun? I am very please with the gun, functions great so far, just waiting on ammo to take it out and test it further. Not caked in cosmoline, a good cleaning in mineral spirits and some oil and it moved like new. Great gun for the money! Highly recommended

Near mint condition; extremely well pleased


Review by Gary on 12/18/13

I ordered three Romanian TTC pistols, each with the hand select upgrade. Classic Firearms shipped my order the same day I placed it. It arrived just a few days later. Each pistol was in new condition and appeared to be unfired. The only blemishes -- and they were very minor -- were small areas of lighter bluing on the left side of the slides, probably from resting on their left sides in storage for sixty years. These small, lighter streaks in the blueing were easy to touch up with cold blue, and are now barely visible. These pistols are a pleasure to shoot. The 7.62 X 25 Tokarev is a very hot round, yet the recoil is very light. The safetys work very smoothly, and the trigger feel is quite good on two of the three pistols. The third one was quite tough as received, but in working on it, it has now been lightened-up acceptably. I am very pleased with the service received from Classic Firearms, and also with the quality of these three pistols. Order without hesitation; you won't be disappointed and I don't think you hope for a better deal. I will be ordering again!

Excellent pistol, especially for the money!


Review by StreuB1 on 12/16/13

I was on the fence about buying one of these due to how clunky and chunky it looks. Though after watching several YT videos over a few weeks, and coming to Classics site to look at them.....then the $199.99 and it was the last nail in the coffin and I bought on. Even right out of the box with cosmo on the slide it's still slick. Take it down and put 10-15min worth of cleaning with some rags, solvent and CLP and shes slick as snot! Trigger creeps but overall it is NOT bad! It has good weight, really good balance overall and feels good in the hand. Excellent shooter and a great fun little addition to my milsurp collection! A+!!

Outstanding!!


Review by doccherry on 12/14/13

Received the Tokarev and was very pleasantly surprised. Not a scratch or rub mark anywhere. Barrel had very light fouling which cleaned up easily. Appears pistol has never been used by anyone other than being tested at factory. Couldn't be any more pleased. Look forward to more purchases from Classic in the future.

Wow...just WOW!


Review by Don In Alabama on 12/13/13

This was my first purchase from Classic, and I was rally surprised! I didn't pay the extra "hand select" fee and I'm glad I didn't because it would have just been wasted money. This pistol looks BRAND NEW! I took it to the range last weekend and it performed flawlessly. I recommend this to anyone with a C&R license.

Incredible piece of history


Review by tracjac on 12/9/13

I am new to collecting military surplus guns and was somewhat reluctant to purchase a used firearm that is 60 years old. l mean, how could a pistol that is that old and used by the Romanian Army for many years still have any life left in it? My Tokarev arrived in incredible condition. l would say the blueing is at about 95% condition with only 2 very small places on one side of the slide with a little wear. Other than that the bluein is perfect. lt is a very deep, highly poloshed blue too. The frame to slide fit is very nice and the trigger is so muh crisper and loghter than many of my 1911s that cost four times the price of the Tokarev. This is by far the most gun l have ever boight for the money. The only problem is findin ammo for it. l can't wait to shoot it but l guess l will have to.

Completely satisfied


Review by wbrown on 12/8/13

Picked one up last month. Great condition
Upon receipt of the pistol, The busy folks at Classic forgot to include the extra mag. One phone call, and it was shipped in two shakes of a lambs tail. No questions ask. Top notch customer service.
Thanx again Classic.

Better than expected! Very happy customer.


Review by Chris on 12/6/13

Advertised as "very good - excellent condition", without any hesitation that is 100% accurate! The Romanian Tokarev I received is like new. The original finish is flawless, the rifling is crisp, and the slide to frame fit it tight. I couldn't be happier with my purchase. I will be ordering another one for my wife.

Good gun, bad shipping


Review by Christian on 12/5/13

A quick overview of this TTC shows everything mechanically to be in great condition. I really like this gun. I am however quite disappointed with how the gun was packed for shipping. It was packed loosely in a cardboard box, which in itself would have been ok if it weren't for the fact that Class Firearms tossed in the extra magazine into the box with no wrapping whatsoever. So the magazine and the gun were flopping and sliding all around during shipment. I also understand this is an old gun and therefore will not be in perfect shape, however I am almost positive that the wear marks on the left side of the slide are a direct result of the magazine rubbing on the gun during transit. This isn't a big deal, but when you are paying an extra 15 dollars for a hand select option, I was not pleased.

almost flawless


Review by terri.gj on 12/4/13

The pistol looks almost perfect. A couple of minor scuffs on the slide and a tiny ding on the front sight. On the range it shot perfectly. With Winchester ammo it shot tight groups and is great fun to shoot. Just need more vintage magazines. I didn't buy extras with the pistol as I was reading that they were new from Taiwan or somewhere.

excellent condition


Review by kurgan on 12/2/13

Ordered 3 Romanian Tokarev pistols with the hand select option. All 3 were in nearly identical excellent condition. The guns are relatively clean but the firing pin, and firing pin spring should be removed and cleaned. One of the guns had light strikes to the primer which ended after cleaning. Very good value.

OK Buy


Review by jhorman on 11/27/13

Let me start by staying this is my first gun I acquired through classic fire arms and unfortunately not a good experience. I PAY FOR THE HAND SELECTION OF THE BEST 5 and it wasn't a great deal. One of the grips is has a crack on the side and what holds the safety that is two C-clips those are missing too. So complete waste of money for the hand pick option.

My 2nd Tokarev Pistol!!


Review by Cem9235 on 11/22/13

This is 2nd tokarev pistol from classic arms. Both are in excellent condition. The bore on my most recent tokarev is in almost new condition. Very bright and shiny. Thanks you. Very satisfied

Great Deal


Review by Bisho on 11/21/13

Shipping to my FFL was very fast! (Here in Cali.) Overall first inpression is a "Very Nice" for a weapon made in 1953! Great deal Classic Arms will definitely buy from again and will also tell my friends about all your deals. Shot this a couple weeks ago as well, put bout 100 rounds through it and it did pretty well, just have to get used to the sites...

Excellent buy


Review by olddog42 on 11/21/13

You could not do better for the money. Excellent condition, no defects. Great feel, weight, design. Great price, excellent service, and no shipping charge. No negatives.

Great looking gun.


Review by rickibobbi on 11/19/13

First time purchase and the gun looks great. The gun looks brand new. Functions perfectly. Hard to believe that it was made in 1953. Great service. Very fast. I look forward to doing more business with Classic Firearms in the future.

Best Romanian Tokarev I have ever seen!


Review by William on 11/16/13

One word describes this pistol: pristine! It is absolutely flawless! No hand pick! I wonder if this gun has ever been fired? It probably has, but very little. Have done a cursory inspection and everything works as it should. BBL is shiny with strong rifling.! Very pleased! Thank you, Classic Arms!!!

Good Gun But a Few Scratches


Review by John on 11/16/13

This gun I bought looked it very good condition, too bad it had fairly deep scratch next to the slide release. It's no big deal but ca you (Classic Firearms) give me an idea on how to fill the deep gouge and reblue it?

Wow. Just Wow!


Review by Edward on 11/14/13

Best buy to date. My pistol arrived and was in near perfect condition. Looks like it was just pulled off the assembly line and shipped to me. This is my second Tokarev, first from Classic and is far the nicest C and R in my safe.

Go get yourself one!!

Thanks Classic!!

Classic once again impresses


Review by Kevin on 11/14/13

The tokarev I received from Classic was simply stunning. The pistol looked like it had come right off the assembly line in 1953. Virtually no rust with small spots here and there but nothing that could not get taken care of. Blueing was about 99% my FFL thought it was a new gun. Wish I had ordered recently when they dropped the price down to $199 but I still feel I got a good deal. Bought a Mosin 3 months ago and that was excellent as well. I only buy my surplus firearms from Classic because I know they only sell quality stuff.

another great buy


Review by Eric on 11/9/13

I just received my TTC. And I have to say Classic Firearms has made my day again very nice. For being made in 1953 it looks bran new. The factory safety add on was very hard, but after breaking the pistol down and removing the safety the problem was very noticeable there was a metal slither left behind from the drill bit. Just took a little file to it and very smooth now. Packing was professionally done. Great job guys. I think I am going to get two more one for the wife and another one for me. And always big shot out to Ben. God bless you.....

holy cow!!!!


Review by jimbob on 11/8/13

What can I say, this gun looks like it was removed from the factory box when it was import engraved! It appears as new I have bought new that were not as nice : )

TTC Tokarev... Get one !


Review by Mike on 11/7/13

I ordered my Romanian TTC Tokarev pistol online and within 2 days it was at my FFL ready to be picked up, now that's fast ! I got it home and opened the box, I was very happy with what I saw. I paid the $ 15 for hand select and all things considered I got a very nice pistol with a nice shiny bore. Bluing was 100% and all numbers matched. I felt I got lucky and got a pistol with the small import stamp on the frame and not the big one on the slide, also got the "star" grips I hoped for. The only "defects" was a hair size scratch on the slide, barely noticeable, and the front sight right corner was some how rounded off . All in all this was in excellent condition for being made 60 years ago in communist Romania, and is what I expected. I would say these guns are being refirbished here in the states when the safety is being added, as the import engraving is blued over with the rest of the finish. Fired 4 mags worth at the range and ran 100%, it hit about 3" high at 10m and grouped nicely. I have wanted a tokarev for years and glad I jumped on this deal. Classic really impressed me with my first ever purchased. -Thanks !

Perfect condition!


Review by comrade_cosmoline on 11/5/13

The Tokarev looks brand new and it was made in 1956! I didn't even get the hand select option, so those must be beyond sweet. Can't wait to get this to the range and have some fun.

This is my favorite pistol


Review by Sportbike Mike on 10/13/13

I bought one of these locally, but its Romanian and built in 1953 so I thought I'd review it here.

I love this gun. It has never malfunctioned on me ever. I'm a fan of the grips, a lot of people don't like them but this is the second most comfortable gun I've ever held, the first being a 1911. I even like the location of the safety. I think its right were it should be. Reproductions and norincos have them higher and farther back.

I trust this enough to carry it whenever I don't need to conceal.

Excellent trigger!!


Review by Tom on 10/11/13

This pistol was my first purchase from Classic Firearms and I am very happy with it. I have another TTC that was made in the Radom plant that is not near as nice. This TTC made in the Cugir plant looks new. Looks like it was never fired. When I dry fire it the trigger is excellent, as nice a trigger pull as any semi-auto I own. Considering the quality and price--Buy one before they are gone. Tom

Romanian Tokarev TTC


Review by JROD on 9/24/13

Got the Romanian Tokarev in the mail today. Took only 3 business days from Date of Purchase. Came packed very tight in the box. Awesome job with shipping & packing. Now onto the gun... This gun functions perfectly, and looks like it rolled off of production line yesterday. It's stamped made in 1953. For a 60 Year old gun, this thing is immaculate. Price is awesome!! Just wish you had bulk ammo in stock. A+++ Will definitely buy from Classic Firearms again!

WOW


Review by Tyler on 9/4/13

1st: haven't shot it, my local shops are out of ammo. That being said, this pistol looks like it sat in a draw for 50 years. It looks brand new. I stripped it, cleaned it (which is didn't need) and lube it up and can't wait o to get some shells. It is really nice. I did have it picked for 15 bucks but considering the quality of what I was sent I would do it again in a second. If you're thinking of picking one of these up don't wait. If it shoots as good as it looks I'll get a couple extra to put away.

Great example of a great handgun


Review by Cotton on 8/27/13

I owned a pair of Toks in the 90s, an original Soviet 43 vintage unit and a Norinco. Both, unfortunately fell victim to a burglary. This is the first chance I've had to replace those venerable old guns, and boy was I pleasantly surprised. The originals had no "safety" other than the half cock. The Norincos was so bad about biting the shooter that I removed it. This unit's is a delight. Well placed and functional. Mine is flawless, dated 1953, and smooth as glass. You cant go wrong with this unit.

Fantastik Tok


Review by Norman on 8/27/13

This pistol looked brand new, functions perfectly and is very accurate. One of the best values from the best seller out there. Thanks Classic, i'll be back!!!

Very, very nice gun!!!


Review by David on 8/27/13

such a nice gun, appears to never have been fired. Still need to find time to get out and shoot

excellent, probably unissued


Review by David on 8/20/13

Bought back in July 2013; paid extra for hand select. My transfer FFL said it was among the nicest he had ever seen. Barrel was probably unfired -- it was mirror-shine after I pushed a patch through. Minimal cosmoline, and what there was was taken care of with Simple Green, hot water, and about ten minutes' work.

A great buy on a great firearm


Review by Mike on 8/4/13

We have a war prize Tok TT33 my father bartered for with American cigarettes and Hersey chocolates from a Soviet soldier he met when WWII ended. It is still a fine pistol to shoot to this day. When a found a 20 year younger version of the same I couldn't pass it up.
I paid extra for the hand select. I believe it was worth it. What arrived looked brand new. Not a scratch or wear mark anywhere. It is highly accurate and easy to clean/field strip. Though made in 1953 the clip from our 1937 war-prize works like a champ in the new one. The after market new clips we bought work great also. All rounds go bang with every trigger pull. Have yet to have a FTF, FTE or a stove-pipe.
The only caveat I will pass along is the ammo is very difficult to find. There are few suppliers and even less inventory. I would have given a 5 star rating if ammo was cheap and available.
Thank You Classic FireArms

above expectation


Review by john on 8/2/13

Quick delivery of exceptional product. I am quite impressed with this pistol. Low recoil it is a pleasure to shoot, easily dis/reassembled. Cycles without a hiccup, the only problem is my wife, she wants me to order her one. YES I will buy another one. Ammo is not a problem, you wont find it at any of the " Mart " chain stores, but it is available.

Unused?


Review by Mark on 8/1/13

I just received mine on my C & R, and have not had a chance to break it down. That said, it appears to be unissued/new. Incredible. I opted for the hand select, and it was *well* worth it. My thanks to the good folks at Classic.

Delivery was incredibly fast -- three days, I think. There's something lovely about a gun showing up in the mail... Again, I'm very impressed with my first purchase from Classic.

Romanian TTC Tokarev


Review by Matt on 7/19/13

Not my first purchase with Classic, but it is the first firearm I've bought through them. Shipped fast - Ordered 07/15 and picked it on 07/18.
Overall it is in excellent condition. The only "blemish" in the finish being around the lanyard ring; nothing serious especially considering its 60 years old. Neither the barrel, nor magazine are as pretty looking, but again that's expected. The bore however is bright, shiny and mirror-like. It doesn't look like very many rounds have been put through it. Everything functions well; slide movement is very smooth.

What was odd was that it has Polish hand grips. I'm not certain if that's common? A little disappointed in that since I paid the extra $15, but if it was down to the condition of the finish, or the hand grips I'll take the nicer finish.

In all, I'm again quite satisfied with Classic and wouldn't hesitate to do business with them again. Thanks guys!

Great deal, fantastic service & fast shipping


Review by Officer Mike on 7/13/13

This is my first purchase from Classic FireArms.
Used my C&R License and got my order in 3 days. It would have been 2 days except for the 4th of July is a holiday.
The TTC has got to be new. If made in 1953 can be new. Not a scratch or wear mark anywhere. Field stripped and removed a small amount of cosmoline. I am sure I was the first to push the clip that holds the slide lock back. There was no evidence this had ever been done before.
The 7.62x25mm Tok rounds carry a good wallop. I am sure the bite is worse than the bark. The rounds I used from PPU are rated with more ft. lbs. of energy than a 9mm.
Extra clips are available online.
I would definitely buy from Classic Firearms again.

Impressive firearm


Review by korner on 7/11/13

Just got my C&R. This was my first purchase and I was greatly impressed with the firearm and service. The TTC was in like new, (possibly unfired) condition, no wear marks at all, gun and all three mags functioned well, very good bore and accuracy, and great trigger for a surplus firearm. Shoots much better than it looks and it looks great. I may have to order another. Thank you CF for your excellent service. P.S. I wish you had CZ82's in stock of this quality and of course ammo.

One nice shootin gun!


Review by Arkansas Bob on 7/10/13

Well It has taken me a while to post my review of this pistol but I gotta say. I was sure impressed with it. this is my fourth gun I have bought from Classic and I am never disappointed. I opted for the hand select and extra mag but the coolest thing about the pistol I received is that i don't think that it had ever been fired. When I broke it down for the first time I put the first signs of wear on the case by sliding the retaining pin out and i know if it had been used before that would have already been there. The bore of the gun was perfect as well and boy was I surprised at how well it shot. Mine was very accurate and definitely has the punch to it. Would not want to be on the receiving end of this thing for sure! To sum it up is is a great gun and a great buy. Thanks again Classic for another outstanding gun!

A Real nice surplus piece


Review by Mikey6shooter on 7/3/13

I ordered the standard (not hand) picked pistol, and it looks great. The finish is about 95-98% and all the lettering is clear and sharp. It came with one magazine. I haven't shot it, but the bore looks bright, with sharp rifling. Can't go wrong for the money.

Nice Tokarev!


Review by Greg on 6/19/13

Just got it yesterday, It is in excellent condition not a scratch or scuff on it. Bore is real nice too. Looks like a new pistol. Ammo is on its way can't wait to shoot it.

Keep up the good work Classic!

Pistol was in excellent condition.


Review by Larry on 6/17/13

The Romanian TTC Tokarev Pistol - 7.62x25 arrived in exceptional condition. It really did not need any cleaning. For a Pistol made in 1952, I was impressed with what CLASSIC Firearms provided. Plus the price was reasonable. Because of the quality provided I will buy from CLASSIC in the future.

Great gun, Everyone should own a TTC.


Review by MoShooter on 6/16/13

Great job Classic Firearms.

Awesome!


Review by Steven on 6/9/13

I got one (hand picked) and it looks brand new. I could not be happier with the condition. It shipped really quickly as well. Thanks, Classic!

Perfect!!


Review by redman on 6/8/13

Just got my Romanian TTC today, only a few days after I ordered it, and it is PERFECT! Once again, Classic has done a great job, I am so happy! This TTC appears unfired, unissued, no cosmoline at all. I am so happy. Now just gotta find some ammo for this!

A great buy


Review by MikeyB1955 on 6/8/13

This is the second TTC I have purchased. This one looks like new, with a nice blue finish and shiny bore. I was hoping to get one without the added safety, like my first one, but this one has it. Haven't shot it yet, but expect it to be stone reliable, and pretty accurate.

Great pistol, terrific service


Review by Rick on 6/7/13

I ordered the TT33 and used the hand select option and very quickly, I mean FAST, it arrived. Pistol was in the condition advertised and shoots beautifully. Thank-You Classic Firearms for great service. I will use you again

Its a nice old pistol.


Review by RC on 6/4/13

Very nice old pistol. I always buy my C&R firearms from Classicarms. They sell the very best!!!

Great Gun


Review by Logan on 5/30/13

This pistol came it quick and looked brand new! It shoots like a dream. 8 hits with 8 shots on steel target at 25 yards and feels great in the hand. I couldn't be happier with my purchase! Thank you ClassFirearms!!

Nice firearm


Review by peterdragn on 5/29/13

Great firearm, like new, worked flawlessly, only one complaint, rounds are almost inpossible to find.

Great Gun and Great Deal


Review by Josh on 5/29/13

I was impressed with classic firearms expediency in delivering my Tokarev. The quality of the firearm is equally impressive. The Tokarev I received looked as though it had never been fired. I spent a few hours stripping the gun down and removing the cosmoline. After that I had the action cycling like a well oiled machine. Take special care to remove all of the cosmoline and you will not run into problems like some of the complaints I have heard online. I will buy from classic arms again and recommend it to my friends.

great


Review by mosin steve on 5/27/13

very nice pistol clean great looking fells great in your hand shoot's with no problem's dead on will buy again thank's

very nice,just as advertised


Review by charles on 5/24/13

Quite happy with my purchase of a Romanian Tokarev. Is in great condition and shoots very well. Great addition to my collection

Excellent product, excellent service


Review by Charlie on 5/21/13

I have made several purchases from Classic before so my expectations were high. Once again I was not disappointed. My Romy Tokarev shipped promptly and arrived in excellent (near new) condition. Finish of metal parts, grips, magazines, and barrel were all excellent. Only one or two very slight wear marks on the slide edge from holstering were visible and were the only thing that would distinguish this pistol from a factory new one. As said, I have made previous purchases from Classic and will undoubtedly make more in the future. Great place to do business!

Great Buy Great Gun


Review by wicket on 5/19/13

I purchased this Romanian Tokarev from classic firearms about 3 weeks ago. Classic got my order out very fast. When I opened the boxes and toik out the gun WOW it looked brand new. I paid the extra money for hands selection and it truly paid off. GREAT JOB CLASSIC.:-) :-)

Nice Romanian TTC


Review by Gary on 5/16/13

The pistol arrived in good condition. Shipping was relatively fast. At the range with the limited ammo I could find, so far so good. Now if ammo price/availability would return to 'normal' that would be good.

super condition


Review by hawgwild on 5/14/13

GOT MY ROMO TOKAREV IN 4 DAYS. IT WAS PACKAGED VERY WELL AND WAS IN SUPER CONDITION NO FLAWS HAVENT SHOT YET BUT LOOKING FORWARD TO. GOT FOR WIFE AS HOME PROTECTION, FITS HER HAND NICELY. HER SMALL380 WAS NOT COMFORTABLE FOR HER. THIS GUN IS LIKE BRAND NEW. PAID 15 XTRA FOR HAND SELECT AND WORTH EVERY PENNY

looks brand new


Review by Wade on 5/12/13

Just got mine yesterday and am very impressed with the condition of this pistol. In fact it looks brand new. Now if anyone knows where I can get some ammo for it let me know.

Mr


Review by pastordl on 5/11/13

Received the tokarev quickly and in great shape along with the two spare Mags I ordered. Have disassembled it and found it was quite clean and all internals in great shape. Haven't had a chance to fire it yet but hope to soon.

tokarev


Review by JERRY on 5/8/13

this is the second romanian tokarev i bought from Classic Arms and it is in excellent condition. both were stamprd 1953. thanks Classic Arms.

Money well spent


Review by andycapp on 5/8/13

This was my first purchase from Classic Firearms. I purchased the Romanian Tokarev Pistol as a backup for home defense. Pistol arrived very quickly. After opening the box the gun looked almost new. No scratches but a little rust behind the hammer. I disassembled and cleaned which removed the rust. Looks brand new now. Plan on going to the range this weekend. Wanted to order extra magazines but they are out of stock. Plan on buying a few once restocked. Overall very pleased.

Immaculate Condition!


Review by Brian S on 5/5/13

I ordered this gun just over a month ago and I've had such a good time with it that I totally forgot to review it. I chose the "Hand Select" option at checkout and boy was it worth EVERY PENNY!!. This gun I received was in immaculate condition! There is not a single scratch, ding, scarpe, faded blueing, or signs of use at all. This is an excellent piece of history and a damn good shooter. Again, it is worth every penny.

not hand picked


Review by Daryl on 4/29/13

Have to go with 4 stars, While i paid for hand pick, the one I got had the bluing scraped off on the left slide and it looks like some pitting under the blue on the other side. Definitely not hand picked unless they are at the bottom of the selection. Great shipping and for the money still a great pistol. Just disappointing after reading some of the other reviews. Win some, lose some.

Romanian ttc Tokeravev pistol


Review by Wicket on 4/22/13

I gave this 5 stars because of the fast shipping of Classic Firearms. And because of the top quality gun that I received. This gun looks brand new. WOW WHAT A DEAL.My hats off to Classic on this one.GREAT GUN GREAT PRICE FAST SHIPPING What more could you ask for :-)

Excellent Value!


Review by James on 4/16/13

As soon as I unboxed the Romanian Tokarev TTC, I was elated to see that the pistol was in excellent condition. I cleaned it and discovered the barrel was shiny with no pits or rust at all. It was simple to field strip, and fits my hand perfectly. I am ready to take it to the range for target shooting ASAP. This is a special find and an excellent value. Do not hesitate to buy one yourself!

nice nice nice


Review by chad on 4/14/13

Got my TTC today, looks almost factory new except for a couple small rub marks on the slide, but they are really slight. Super fast shipping, considering I ordered on Monday night and gun shipped on Wed, received on Sat. I cant wait to go to the range and fire it.

Excellent!!!! Someone made a mistake.


Review by DJBUTTS on 4/13/13

I received my Romy today and I think someone made a mistake. This TTC is BRAND NEW. Everything was perfect. I was looking to see maybe some small scratch but there was not any. The barrel was bright and shinny. Thanks Classic for the quick and wonderful service.

Another great value from a truly great company!


Review by WILLIAM on 4/12/13

This is the second of four guns purchased to date from classic. The TTC has better feel than my CZ52 and has the big plus of the mag drop button. Single stack and slim makes it a good carry. Sportsman's guide sells a 7.62x25 hollow point jig for those inclined to DIY. Paid for hand select and gun appears to be unissued or very lightly used. It is as if someone opened a time capsule from 1956. Chamber walls are twice as thick as the CZ, so no doubt Fedor Vasilievich Tokarev's Romanian stepchild can stand up to all the heat of whichever milsurp ammo you can get a hold of . Though some people like the milder 7.63x25 mauser parent cartridge for range use, and serbian 7.63 is available brand new. Just wish there was a cure for Mosin fever, which classic firearms seems all to willing to encourage.

Lotta Bang for the Buck


Review by James on 4/11/13

Nice little shooter for the money! Mine arrived quickly and in great shape. Shot just fine, but I did clean the heck out of it first. I bumped the rear sigjht to get it dead on at 25 yards and it's very accurate. Sights are supposedly "non adjusable". No problem for a little hammer and small punch with a rag over it. Great deal for the money. Take your mags apart and clean and oil them before you shoot. I actually ran a file down the inside lip of my magazines while I had them apart after a couple FTF. Works great now. I keep it in the truck :)

Mine was in unfired condition


Review by IRON on 4/10/13

Excellent unfired condition from what I can tell. I probably will keep it as such :)
Now I need to order another to take to the range :))

Outstanding!


Review by FrankMX on 4/10/13

I finally took delivery of my TTC today. It looks almost new. Sweet!
The "factory installed" safety may have been installed at the Braille Institute. Kind of rough, but we must pay this tribute to BATF or whoever.
I think I'll get another

Excellent


Review by leeloveless54 on 4/9/13

I am extremely happy with my recent purchase from classic firearms. This is my third gun from classic firearms and they never disappoint. My TTC is a 1953 model, but looks perfect. I would strongly recommend this firearm to anyone

Positive


Review by matt on 4/7/13

I bought this pistol for a custom project, but it arrived too nice to modify.It appears to have been fired verry little and the bore was excellent.

Very Happy


Review by Russell on 4/7/13

I was very happy after opening the box. The finish was very nice. Physically it looks kind of awkward, but it feels extremely nice. Good trigger and shoot very well using S&B 85gr fmj ammo I have. Left a big grin on my silly face. It's also very thin and conceals well.

Exactly as advertised


Review by Craig on 4/5/13

It can be a bit of a leap of faith to purchase a used product on line from a retailer that you have not done business with. The bluing on the gun was 99% outstanding, and more than I could have hoped for - and I didn't even select the hand pick option. I like the gun so much I put an order in for the Yugoslavian Tokareve.
Keep up the good work!

Great Gun, Get It!


Review by John on 4/5/13

This gun is incredible. The only reason I give 4 stars is because one of the plates came of the grip. Otherwise, it fires smoothly for such an old pistol and looks brand spanking new. You will be in awe that a piece of history you're firing or just looking at as a shelf piece was offered for such a low price. Classic, once again, offers stellar products and customer service! I want the Yugoslav version next... I am waiting for my excellent/very good Yugoslavian Mauser to arrive before purchasing the Yugo version, Tokarev. It's my next buy!

But trust me on this, your jaw will drop at the site, feel, and history for the price you pay when it arrives. Ran 50 rds. of corrosive ammo from the 1970's through it and had 0 FTF's! Buy this Romanian Tokarev and you likely won't disappointed! You'll be astonished as I was!

fantastic gun great service.


Review by JERRY on 4/4/13

very pleased with my purchase the firearm looks like it came off the factory floor. great service. i paid extra for hand select and it was well worth it.

almost brand new


Review by Russ on 4/4/13

I have been dealing with Classic Arms for over 2 years now, I placed my order on line on March 30th and I received it today April 3rd.
Fast shipping, excellent product, I paid the extra for the hand select and what I got is almost brand new pistol. Thanks Classic, keep it up.

Great gun and the Best customer service


Review by tide tide roll on 4/3/13

The gun is better than expected. The customer service was better than the gun. They walked everything thru. I have recommend the gun and Classic Arms to several friends and brothers that are looking for a gun.

Great pistol


Review by Thomas on 4/1/13

This was an excellent pistol in super condition. It is smooth firing and very accurate. Classic Firearms did not exaggerate when they stated these were in very good condition.. because I would say excellent condition.

Great piece of equipment


Review by Brian on 3/31/13

I am just thrilled with the purchase of my Romanian Tokarev TTC. I paid for the hand select and it was well worth it. Once I got it home I took it all apart to look it over and it is in great shape and a solid piece of equipment. Classic Firearms did a great job with communication and fast shipping. Thanks Classic Firearms!!

Great Pistol


Review by Anthony on 3/29/13

Just got pistol and fired 100 rds. and not one problem. Feels great in the hand and well balanced. The pistol shoots real accurate and what a BANG. A real fun pistol to shoot. Always a pleasure to do business with Classic. Shipping was fast and customer service on phone is great. Will buy from them again.

Great value!


Review by Ronald on 3/28/13

Great Value! Looks in mint condition. Paid for the hand select and couldn't be happier. Only drawback is the limited ammo now, but what ammo isn't? Found some on Gun Broker. Can't wait to get the TTC to the range. Definitely a loyal Classic customer.

worth every nickle


Review by Bill on 3/26/13

The Classic description was no lie. I paid for the hand select.
The weapon was almost perfect nice bluing and the bore was mint. Took it to the range and cycled 50 rounds. it functioned flawlessly and I got some nice groupings (6 inch) at 20 yards. Although I will not walk around with the gun in battery, If ammo ever becomes avaialble again with hollow points this will become my hunting side arm. It is a nice neat peice of history built when I was in 1953.

My new everyday carry!


Review by Sammy Zen U on 3/24/13

I bought this pistol as a companion piece for my PPS 43c. It seemed like a no brainer as they are chambered in the same caliber. Even though I should have expected it from the reviews I was still surprised at the quality of the pistol when I received it. Once the cosmoline was removed I could find no visible wear to the bluing or visible chips/scratches on the grips. Mine was dated 1952 and the action was flawless, the bore was mirror shiny and it felt great in the hand. Some people complain about the grips or add Hogue grips, I thought it felt perfectly natural in my hand. It shoots well, is reasonably accurate from self defense distances and has less recoil the my 40 cal. pistols.

This gun has an extremely slim profile making it's perfect for concealed carry. We are talking Magnum pressures here! I have found a source for loaded ammo with an 85 grain Hornady XTP hollowpoint that pushes out of the barrel at @1700 fps! Most impressive! The only modification I have made was to add a dot of white nail polish to the back of the front post sight. This has made for easier sight acquisition.

I carry IWB in a quality leather holster and honestly I forget I have it on. I don't even mess with the ridiculous safety that was added on. I use the originally intended half cock safety. With it in half cock you can't rack the slide or pull the trigger and you couldn't force the hammer to strike the firing pin with a sledgehammer. Use the added on safety without the half-cock though and you ask for trouble. It is not a firing pin block.

When it's time to shoot, pull the hammer the rest of the way back, pull the trigger and........BANG! Just as Fedor Tokarev intended!

This pistol is my new everyday carry!

Can't wait to see the M44 carbine I ordered!

Great Shooter!


Review by Charlie on 3/23/13

Having just received my C&R FFL, this was my first collectible firearm purchase. I wasn't sure what to expect. I opted for the hand select to get the best condition I could. The pistol arrived with a light coating of cosmoline and cleaned up nicely. The finish is very good to excellent with a few rub marks on the left side of the slide. Most importantly, to me, the bore is in absolutely excellent condition with mirror brightness and not a speck of pitting or roughness.

I couldn't wait to shoot it, so after some cleaning up I took it to the indoor range. Even though the sights are minimalistic and non-adjustable, I was very pleased with the accuracy. The windage is spot on and it shoots a tight group if I do my part. I plan to put a little dab of white paint on the front sight blade to help with sight acquisition.

The pistol is very comfortable in the hand and recoil is very manageable, helped in part I'm sure by the weight and length of the firearm.

I have never seen a pistol fling brass so far as this one does! So if you want to keep your brass and shoot outdoors you may need a "spotter" just to keep track of where it lands!

The magazine is a little worn and sometimes it a bit difficult to remove. All in all, however, I'm quite happy and it is just plain fun to shoot.

The pistol feels tight with no slop or play. My biggest surprise was how good the trigger is. I did not expect such a smooth pulling trigger with this crisp a release.

I'm glad I made this purchase.

very nice


Review by kel on 3/20/13

Shipping was quick ordered on Thursday got to the ffl on Monday.
Gun looks non issued and had very few rounds through it impressive for being made in 1953. Got the hand select because it was only 10 bucks and worth it only one scratch on the entire gun. Seams to cycle well good bore, great buy get them before there gone.


Great gun for the price


Review by mike on 3/19/13

Good customer service and a quality product. No complaints here!

Romanian TTC purchase


Review by reddy on 3/19/13

Recently purchased Romanian TTC. Extremely fast shipping. Pistol as new condition, deep blue finish. Very well pleased with the purchase. Would (and did) buy from Classic Firearms again. Well Done.!

Romanian TTC Tokarev Pistol ....


Review by Robert on 3/18/13

Romanian TTC Tokarev Pistol .Great buy,all matching numbers,got the Hand Select( and thank you to the person who picked it out..) very happy with this purchase.Got it ,gave it a cleaning and a once over went to the range had a blast.. now my son wants one! Thank You VERY much Classic Firearms!

Romanian TTC...nice


Review by pablovox on 3/16/13

Had been looking at this piece for a while. When the Polish TTC sold out I decided to get this one. No issues with the process or the piece. Came as described and cleaned up very nicely. Highly recommend it if you've been considering getting one. Just wish they had the ammo when I purchased it! You won't be disappointed!!

Looks better than new!


Review by Joseph on 3/14/13

I chose hand picked for $10 extra and received a pistol that appears to be new and unfired. I say appears because I can find no faults or wear marks on the barrel, slide, bushing, trigger, etc. Great job guys and gals at Classic.

Quality pistol


Review by JOBU137 on 3/12/13

Could not be happier. Paid for hand select and what i got looked like an unissued weapon. Very pleased with the purchase.

Excellent Pistol


Review by James on 3/4/13

Excellent pistol and shoots great! Other than a few minor dings it's perfect, with a like new barrel. I highly recommend this pistol!

Romanian TTC is a Winner


Review by Vic on 2/26/13

This is my first Tokarev style handgun. It won't be my last. I paid the extra to hand select it and I couldn't be more happy. The finish was nearly perfect and the bore was absolutely flawless. I've put 500 rounds through it before I decided to give it a review. I didn't have any malfunctions. I don;t think you could go wrong with this one. I got really great groups with this as well. Pretty darn accurate.

Great Pistol


Review by Stephen on 2/21/13

Very nice condition, very liittle cleaning and oiling required, very accurate pistol righ out of the box

Good first buy


Review by Manuel on 2/18/13

Got my Tokarev a few weeks ago its in good condition a couple of nicks and scratches on one side of the slide but not bad for a 1953 TTC. I order the extra mag which is great. Too bad they took that choice out, i didn't choose the hand select one and in other words great buy 4 stars.

Exelent


Review by Stefan on 2/15/13

I bought one of these about a month ago. Classic shipped me a beautiful example in a timely manner. This thing shoots nice and I am very happy with my purchase.

Eastern Bloc


Review by Tailgunner on 1/30/13

Received the "Tokarev" Pistol last week, slathered in cosmoline (seen a lot worse), cleaned said pistol, checked her over (good bore,etc.)...Paid extra for "hand select" couple of nicks, but not bad. No 5 stars this time though, grip is loose on one side, doesn't come off mind you, just a little bit annoying while shooting. (took off to see if I could rectify the situation) but to no avail...Plowed through 75 rounds without a hiccup, brilliant! Report and flash are like one of the "Bismarck's" cannon, accuracy also decent. Groovy! So simple a Hamster could field strip it! Like I said previously "Love Eastern Bloc stuff!"

Romanian TTC Tokarev Pistol 7.62x25


Review by baseballparent on 1/29/13

This pistol arrived in excellent condition considered it is a WWII surplus pistol. The pistol was very clean and functioned perfectly. I love how this gun handle and runs great just like a much more expensive new gun. It shoots the 7.62x25 which are a machine gun round and are very peppy. Fun gun to shoot and own. Many thanks to Classic Fire arms for a fine product, great customer service, and fast shipping. I got my money worth and then some.

Multumesc!!! (Romanian for thank you)


Review by aceverobeach on 1/27/13

First rate product and service from the gang at Classic Firearms. I got a 1955 TTC. I wish I could add a pic because you wouldn't believe this thing unless you see it. The finish was nearly unblemished. The bore was shiney and the rifling, crisp. Even the grips were without a chip, scratch, anything. Now my friends are racing to get one of the remaining Toks. Thanks again!

Excellent shooter


Review by Jonathan on 1/27/13

I bought a TT two years back. Shot 750 rounds of surplus, yes surplus. Not one jam. Accurate and fun shooter, Very nice condition. Make sure you pull the firing pin too every time if you are shooting corrosive and clean it right. Get the Polish Tantal back so it can be next purchase please! Looking forward to it.

Great pistol, and, considering the current crazy times, great service from Classic


Review by charles on 1/24/13

This is my second firearm purchased from Classic. Just like the first, a CZ 82, my TTC is in excellent shape. This order took a good deal longer to get to me, but considering the current craziness, that was expected. In fact, the people at Classic was able to get it to me within the expected delay time.
After getting the old oil cleaned off, the gun looks like new. It it to the range, and shot 100 rounds of PRVI ammo through it, no problems. I will need more range time to get used to the sights. The one draw back to the gun is the current lack of ammo for it. Hopefully, that will ease up a bit after things settle down. To sum up, GREAT GUN and, considering the circumstances they were operating under, GREAT SERVICE

Great Buy


Review by Adam on 12/27/12

Just got my Romanian TTC a few days ago. Shipping was fast and the gun was great. The thing was almost brand new. Great finish, no visible wear on the gun. Function is outstanding for a 1953 piece. If you're on the fence about getting one, I'd say go for it, you won't be disappointed. Drop the extra $10 for hand select, well worth it. Great piece of history for a nice price.

Classic is the best!


Review by Mike on 12/11/12

Odered one on Monday and it was at my FFL on Friday! Great friendly service, a pleasure.
Pistol is like new condition, hand select is totally worth it. Got the extra magazine, again like new. Haven't shot it yet, just enjoy cleaning it and having such a cool piece of history. Do not hesitate to order from these folks, they stand behind what they do and are just nice people.

Great Gun


Review by Marty on 12/4/12

Great gun, this thing is like new. Always been treated well by Classic Arms, this pistol is well above what I expected. My local FFL said this pistol is one of the finest examples of a Tokarev he's seen come through the store. Can't wait to take it to the range and try it out. Thanks again...

Tokarific


Review by Andrew on 12/1/12

What a nice gun, inside and out. Excellent bore. Probably the most accurate of the toks I have. Thank you Classic. Get One!!!!

Nice pistol


Review by Ken on 11/2/12

Nice version of the Tokarev. The price cannot be beat. I like the Polish models the best for finish, but the Romanian version I received was very nice too.

Pay the extra $10 for hand select, and you will want at least one extra mag.

Unbelievable


Review by Erix on 11/2/12

I purchased ttc paid the extra $10.00 for hand pick it was like purchasing a new gun
When classic arms say they are in excellent condition take there word for it
It's unbelievable

Buy it, you won't regret it!


Review by Raymond on 10/26/12

The Romanian TTC Tokarev pistol I received from Classic was in excellent condition, I could not have been more pleased with it. This gun is very powerful, but seems to have less recoil than my Glock 17. Also, when you shoot it, flames come out the barrel like it was some sort of cannon. People at the range were impressed. The 7.62x25 round is supposed to defeat body armor, that is good if you ever come accross an enemy with a bullet proof vest. I did order an extra mag which I had a problem with, but Classic exchanged it for a new one. Shipping is always fast with Classic. I can't wait until they get some surplus 7.62x25 back in stock.

Fantastical


Review by Michael on 10/23/12

When my Tokarev arrived at my FFL, I went in to check it out and signed the paperwork. The reaction of the gun dealer(s) were the same as my own: "Wow, that's a nice looking gun."

The description doesn't lie, these are NICE looking guns! I didn't opt for the Hand Select option and the thing looks practically unused. Only the tiniest holster bluing wear on the side of the muzzle, but I mean TINY.

The barrel looked good and shiny, a little rough, but after a good scrubbing, boiling water, the works, it looks much better. I took it shooting and blew out a hole the size of a silver dollar with 2-3 clips from 25ft. At 30 yards, the spread is significantly bigger, but it's still on the target.

Wonderful gun, get one before they're gone!
(Also, Classic Arms is probably one of, if not THE, best price for these. I compared for weeks...)

VIDEO REVIEW COMING SOON!

Quality


Review by M T Kalishnikov on 10/16/12

When most web sites advertise you must always be on your toes. I was greatly surprised to see that Classic Firearms meant what they say in print. The weapon shipped was as new like as you can get and lived up to the ad claims unlike many of their competitors. Thank you for not disappointing with this work of military art you shipped me.

ABOVE EXPECTATIONS!!!


Review by Richard W. on 9/26/12

Pistol in fantastic condition. Functions perfect. Shipping was the fastest I've ever seen! I would reccomend Classic to anyone!

Romanian TTC pistol


Review by Mark on 9/23/12

I JUST RECEIVED MY RECENT ORDER. Thank you for the fast response and quick shipment. The TTC Romanian 7.62x25 Tokarev pistol was the talk of the pawn shop where the package was received and checked out. I don't know how many times I heard "Man that's a nice piece." That's why I deal with you folks. You can be trusted to provide the best that is available. Thanks and God Bless.....Mark Stedman

Excellent -- couldn't be more pleased!


Review by Gary B on 9/10/12

Received my Romanian Tokarev earlier this week and I simply couldn't be more pleased. I assume these are completely reconditioned before they leave the arsenal, because the finish was as close to brand new as you could imagine. Even the sharp edges around the muzzle and trigger guard showed absolutely no loss of finish. The only area where the bluing was worn through, but only just slightly, was on the knurled ridges on the hammer. Really fantastic!

The bore was pretty grungy, on the other hand, but some quality time with a bore brush and solvent helped a lot. The grooves are slightly darkened -- maybe that's a result of corrosive primer? But the ridges polished up to a mirror finish.

And the best part? This thing is super-accurate! On my very first magazine I had a grouping of less than 6 inches at about 15 yards -- having never fired it before. And it kept on doing that through about 75 rounds with flawless cycling -- not a single hang-up. I would definitely recommend this pistol and Classic Firearms!

Outstanding!


Review by David on 7/7/12

The Romanian TTC Tokarev Pistol - 7.62x25 pistol looked like it just came from the factory! Brand new! Once I field stripped it and cleaned it, gave it a try. Shoots like a new one and is LOUD!

Looking forward to giving it a try at about 50 yds.. Have ground hogs in my field and carrying a rifle on the tractor just don't work to well but this pistol will make their live hard.

Thanks for a super product. The extra dollars for hand select was well worth it.

Very Nice


Review by Erik on 7/2/12

Paid for the hand select and received what I would describe as a very near perfect gun. Very fast shipping service also. Will be buying from again, thanks Classic.

Nice Firearm


Review by Robert on 7/2/12

Recieved one of the "Hand-Select" Pistols.
VERY NICE. May purchase a second, good value.

Still a Bargain!


Review by Machodoc on 7/1/12

Another winner from Classic! This one arrived in like-new condition (hand select option used) and is a tremendous value for the amount paid. To make that point, the price was so reasonable that I bought this Romanian TTC variant to see how it compared to the Polish TTC that I bought earlier. I think that I like the Polish variant slightly better, but I'm not sure why. Both are brilliantly made. The magazines are still a bit crude (sides ground down to fit), but they are adequate for plinking, etc. If you need more precisely-made mags, they are available through other channels.

On a separate note, Classic has *really* stepped up to the plate with huge improvements to their online ordering system, and their customer service is currently as good as you'll find anywhere.


WOW


Review by lordofwar2006 on 6/30/12

this the best looking ttc or tt for that matter iv have ever seen

Great Gun!


Review by Marty/Texas on 6/25/12

Classic Firearms service was great!! Thanks for the fast shipping!! Just took my Tokarev to the range and was very pleased with the smoothness and accuracy.
I paid for the hand select and could not be happier.
I will be buying more from Classic Firearms!!!

Excellent pistol


Review by Matt Williams on 6/22/12

Splendid version of the amazing Tokarev. The quality of craftsmanship is, with a doubt, superb and the "required" safety is of equal quality. There is no better value for a semi-automatic pistol.

excellent


Review by slowe joe/kentucky on 6/16/12

classic firearms people were great. fast shipping(was at my ffl in 3 days) the gun was in excellent shape.the gun shoots like a dream! i will buy more from classic firearms. Five Full Stars all the way around

excellent awesome and fantastic


Review by woodlands tom on 5/31/12

I paid the extra for the hand select, and received the most beautiful gun. Naturally, one needs to clean them thoroughly, remembering that cosmoline is your friend. Everyone I have ever let hold this gun admires the fit and finish, as well as the wonderful balance. Everyone I have ever let fire this gun has expressed a desire to own one. No one can believe such a great gun is so inexpensive. My wife liked it so much, I had to order one of the chrome ones from here. This is one of the great bargains in handguns, and Classic Firearms picked out a beauty for me. Five Full Stars all the way around.

Excellent!


Review by Seth on 5/25/12

I ordered one of these fine pistols a couple months ago. Since the new site has a review feature, I figured I would offer my 2 cents.

The Romanian TTC is compact and packs quite a punch! I know some people wouldn't recommend a gun like this for conceal carry, but how slim it is makes it very comfortable to carry all day, even inside-the-waistband. (I am unaware of any manufacturer who makes an IWB holster for this gun, so I made my own.)

If you are considering it as a unique and powerful carry gun, Wolf makes some Hollow Points in 7.62 x 25mm. They can be pricy and hard to come by, so just stick to the cheap surplus stuff for target practice.

My brother carries a Springfield .45 XD, but the first time he fired my Tok he immediately pulled $200 out of his wallet and said "You gotta get me one!" He was particularly impressed with how easy it was to handle, despite the powerful cartridge. I would compare the 7.62 Tokarev round to a 9mm+P, but with better ballistics.
The gun seems to shoot high at <25 yards, although this seems to be common of Tokarevs.

If you are used to modern polymer guns, you may be surprised by how heavy this seemingly compact gun is. All steel construction, except for the plastic grips, is I think what makes this smaller gun so easy to handle and quick to re-engage with the target.

Over-all, it is compact, handles well, durable, and a fine piece of history. I would highly recommend this gun.

I love these things!


Review by Big John/ Georgia on 5/23/12

What a great little piece of commie rock and roll! Before purchasing, I watched videos of this gun blowing chunks out of a Toyota Forerunner brake drum, and I also saw video of it penetrating a kevlar helmet with ease, something the .22, 9m, 40 cal, and the .357 FAILED to do. The surplus ammo is still relatively cheap, but getting kinda scarce. If you can land some, this is a relatively cheap gun to shoot. The accuracy is very good for a handgun, the kick is not bad at all, and it makes respectable groupings and holes. It fires reliably, with NO visible or detectable quirks. For the safety-minded folks, this gun actually comes with 2 different safetys! An Ideal weapon for home defense, Conceal-carry, or target shooting.
My daughter fell in love with the thing, and we wound up buying another one for her for her birthday. We are now a twin Tok household.
One note, do NOT dry-fire these weapons! The older firing pin design precludes that, and will compromise the pin. Buy those plastic dry fire bullets, and dry fire to your heart's content!
Easy to operate, dismantle, clean and re-assemble. As much as commie ideology really sucks, I love the simplicity and reliablility of their firearms.
5 stars

Brutus' Description

It has been a little over a year now since we had our last batch of these fine handguns in stock, but I believe the wait was worth it. These are exceptional, probably the nicest batch we've had here. And no disrespect to the Yugo variation, but I like these better.

These have a factory safety instead of an after production add on and the lines and fit are just cleaner. The importer who brought these into the country separated them into 2 different grades --what they called "good to borderline very good" and excellent. We had a chance to view them and opted to pay a premium and buy only the excellent conditions. The lower grade simply had too much cosmetic wear for our taste. They also seemed to have had more rounds ran through them and we like to bring our customers top quality. We paid a little more for these, but the higher condition is definitely worth it. If the finish on these is not like new it is certainly darn close. The finish on these is a deep rich blue. Some may have very slight bluing wear on the sharp edges but most do not. Bores have been very nice on the ones I have seen.

The photo above is just one of the pistols that we picked at random and shows a true representation of the condition you can expect. Each pistol is semi-automatic and fires the hard hitting, flat shooting 7.62x25 caliber cartridge. These pistols come with one 8rd mag.

Don't you buy no ugly gun.... Get one of these and be proud.....

Manufacturer's Description

Historic Romanian TTC Tokarev pistol, semi-automatic, manufactured in the famous Cugir Factory.

Includes 1 mag, 7.62x25 caliber, very good - excellent condition

Additional Information

Product Specs

7.62x25 caliber
semi-automatic
excellent

Caliber
7.62x25
Gauge
Other
Free Shipping
Yes

Customer Reviews

Great pistol for the price!


Review by tallen702 on 12/1/13

This batch of TTC pistols is fantastic! Classic has really done a great job of selecting an excellent bunch of pistols for us C&R fanatics. Mine had minimal wear on the slide, and while the bore is dark, it has strong rifling and looks like it's rarely been fired. I LOVE this pistol. It feels like a FN-1903 and shoots like a 1911. Gotta love it!

Unboxing of Romanian TTC Tokarev Pistol


Review by The Real Jeffer on 11/5/13

This is my first Classic Firearms purchase. I paid for hand selection and I am very pleased with the pistol. My video shows the unboxing for those of you who have yet to buy something from Classic Firearms.

I disassembled and cleaned the pistol. It was very well oiled with no cosmoline.

The extra magazine has a "Made in Taiwan" sticker, but looks as good as the one that the pistol came with.

I will take it to the range tomorrow and test it. I am a little disappointed that 7.62x25 Tokarev ammo is not readily and cheaply available. Luckily I found some at a local gun show the other day.

Fantastic firearm! Great shape! Shoots very nice!


Review by Will on 8/27/13

I bought the Romanian Tokarev TTC 7.62x25mm from here and received it within a few days. The TTC was floating around in a small box (no paper or bubble wrap or anything like that keeping it in place) which was in a slightly larger box. The gun is all metal and was not damaged in shipping but probably could of been packaged a little better? Lol.

The gun itself arrived in fantastic condition and only had a little cosmoline that I had to clean off. Only issue (very minor) was the front sight appears to be chipped (a tiny bit) on the front side (not affecting shooting or sight picture). The magazine is a little scratched/scuffed up but goes in easily and is not a problem.

All parts were numbers matching and the barrel was in very nice shape! The gun itself shoots very accurately and with very little recoil (100 rounds through it thus far). Easy to disassemble and clean and racking it is smooth and much lighter/easier than my SA XDm 45.

Since purchasing I have upgraded the grips to Tokagypt style (wetsanded and plastidipped) and grip angle is improved and highly recommend doing something similar to yours.

Unsure if pictures can be linked within a review but if so here is how this gun looks with these grips (plasti-dipped) http://bit.ly/13WJNkf

Highly recommend and classicfirearms.com was a pleasure to do business with. I plan on many more purchases here in the near future! :D

Review of Product


Review by David on 6/11/13

Review of product and receipt time. Overall amazing!!!

Excellant Firearm


Review by Vinnie.Remora on 2/15/13

Excellant Firearm from Classic Firearms

Romanian TTC form Classic Firearms


Review by tom on 8/27/14

There is something wonderful about opening the box and finding a brand new sixty year old gun inside.The only blemish was some very slight pitting where the barrel was in contact with the barrel bushing,(for sixty years!)-hardly worth mentioning. No hiccups at the range. The folks at Classic are really nice and provide great service.

great buy


Review by dave on 7/30/14

I didnt get my tokarev from Classis only because they were out of stock, as far as the review this is an exellent budget firearm. Mine was made in 1953 and looks and fires flawless. I would recomend this firearm to anybody.

Would Give This 6 Stars If I Could


Review by Guns and Coal on 4/18/14

What a little thumper! And solid hits right on the point of aim....loud too...very very sweet pistol, hate to admit it but I might like it a little better than my 1911...and the hammer group that comes out as one unit/block? Very ingenious....gotta buy a few more when Classic gets them back in stock....this has got concealed carry written all over it...

Sweet piece of history


Review by Nilegoose on 1/26/14

What a great piece of history. It has served more then 70 years in a variety of needs and duties. Shoots great, looks dignified, and is a great addition to any collection.

Excellent condition and value


Review by charles on 1/24/14

You could never tell this handgun was over 50 years old. It's hardly ever been used. Buy it if you can!

just as good as described,very pleased


Review by Rick on 1/22/14

This Romi TTC isjust as described, Fit, Finish and a Hoot to Shoot. Very accurate , and I really like the thin design.It`s my new Carry Pistol and i`m very pleased, Thank you Classic for another great buy!

Wow. Just Wow. I picked mine up and Wow!


Review by Mike on 1/13/14

The FFL told me "You're going to like this one"
and he was on the money. The quality of the Romanian Finish was Coltesque. Literally Colt Dark Blue. The slide and Trigger were simply perfectly melded to the frame. I was in awe of the Romanian workmanship. Just in awe. These will go down as the best of all Toks. Better than Russian, Polish or Yugos. I don't know if the East Germans made any, but the Romanians will be hard to beat. I don't think Colt, Smith and Wesson or Ruger could do any better. This one feels like a Sig its so well done.

Exellent Buy.


Review by Foxgrom on 1/7/14

What I received, was a like new gun, nice shiny bore no scratches or marks on the bluing. Overall very happy with this purchase. I will look forward to doing more business with Classic firearms.

purchase of Romanian TTC


Review by rockyduke on 12/30/13

I recently bought a hand picked Romanian TTC from Classic and lo and behold: received a 1953 without-a-doubt unfired pistol ! How's that for service ? Classic also shipped on time and had great follow up service. Love all my Tokarevs but this is my favorite. I just wish you guys would hurry up and get some Polish ones in stock. I want to buy from you. Hurry ! ! !

Outstanding value in a great firearm


Review by Blkwulf on 12/26/13

WOW, I was very pleasantly surprised at the condition of this pistol. It may have been made in 1953, but looks brand new. This is my second 7.62x25 weapon, my other is the PPS43c. I can't say enough good things about Classic Firearms. My other firearm purchases include an Mosin M44, Waffen Werks AK74, Romanian AES10-B, & the PPS43C that I mentioned. I can truthfully say you can buy with confidence from Classic Firearms, They are awesome. Kindest Regards, Blkwulf

Excellent product quality &service


Review by Bill on 12/23/13

Received my Romanian TTC Tokarev yesterday (yes,on Sunday). The gun was almost perfect. The bore was shiny, and the bluing was great ( a couple of minor scratches from storage on the left side of the slide was the only defect. A little cold bluing took care of that). Since my order had been delayed due to Classics Holiday high volume, I had occasion to contact them by E-Mail, Response was fast and helpful. I would recommend Classic Arms, and the Romanian Tokarev to anyone.

Great gun


Review by John on 12/23/13

What a deal. The pistol arrived in great shape. Hardly used dated 1953. Great Cold War gun. AAA+++ for under $200.00

Love it!!


Review by Russell on 12/23/13

Great pistol for the money. I was surprised how new it was no wear what so ever. Classic has been my favorite of mine for many years. I remember how excited I would be the night before the gun show would open when classic used to set up at shows. As soon as I got in I would always head straight to classic and spend all my show money pretty much right there! I was always treated great!! Classic is the Greatest!! Thanks!!

nearly new 1956 Tokarev


Review by Henry on 12/22/13

The TTC came yesterday and I just got back from the range: if you don't have one, get one ASAP. Mine came with the hand-select option and an extra Taiwanese magazine. Aside from the long wait due to backed up holiday orders, this was a highly gratifying experience. The pistol and mag were well-packed. The Tokarev looks like it could be three or four years old. The grips have mild wear, the frame and slide look new, and the barrel hasn't seen much use. The rifling is sharp with no sign of corrosion. The added safety catch thumbs off and on without breaking my hold on the grip. The import markings aren't huge and fairly out of the way on the frame.
The sights are the standard (poor) military version. To bring out the sight picture, I painted a white U around the rear sight notch and after squaring off the back of the front sight, a dot of red paint there. It makes a difference. All the internals came clean and oiled and look new, so other than getting used to the disassembly and reassembly there was nothing tedious about preparing it to shoot.
For a full-size pistol, the TTC is relatively light and the narrow slide and short grip make it easy to conceal. In firing, the grip is still long enough to get a good two-handed hold. Recoil is quite manageable and the trigger action is quite good. I got good combat accuracy from this gun, which was all I was looking for.
The Tokarev has an assertive report and an impressive muzzle flash, but for such a powerful handgun, it's no wrist-breaker and I could shoot it all day.
Thanks to the folks at Classic Firearms for selling me this fine and somewhat overlooked hard-hitting, fun-shooting historical firearm.


What a Gun!


Review by John-Paul on 12/19/13

What a gun for $200! My first pistol purchase and my first gun from Classic and I'm already hooked. 60 year old gun and looks like it was barely used. had a little wear on the slide and two small chips on the grips, but what can anyone expect from a surplus gun? I am very please with the gun, functions great so far, just waiting on ammo to take it out and test it further. Not caked in cosmoline, a good cleaning in mineral spirits and some oil and it moved like new. Great gun for the money! Highly recommended

Near mint condition; extremely well pleased


Review by Gary on 12/18/13

I ordered three Romanian TTC pistols, each with the hand select upgrade. Classic Firearms shipped my order the same day I placed it. It arrived just a few days later. Each pistol was in new condition and appeared to be unfired. The only blemishes -- and they were very minor -- were small areas of lighter bluing on the left side of the slides, probably from resting on their left sides in storage for sixty years. These small, lighter streaks in the blueing were easy to touch up with cold blue, and are now barely visible. These pistols are a pleasure to shoot. The 7.62 X 25 Tokarev is a very hot round, yet the recoil is very light. The safetys work very smoothly, and the trigger feel is quite good on two of the three pistols. The third one was quite tough as received, but in working on it, it has now been lightened-up acceptably. I am very pleased with the service received from Classic Firearms, and also with the quality of these three pistols. Order without hesitation; you won't be disappointed and I don't think you hope for a better deal. I will be ordering again!

Excellent pistol, especially for the money!


Review by StreuB1 on 12/16/13

I was on the fence about buying one of these due to how clunky and chunky it looks. Though after watching several YT videos over a few weeks, and coming to Classics site to look at them.....then the $199.99 and it was the last nail in the coffin and I bought on. Even right out of the box with cosmo on the slide it's still slick. Take it down and put 10-15min worth of cleaning with some rags, solvent and CLP and shes slick as snot! Trigger creeps but overall it is NOT bad! It has good weight, really good balance overall and feels good in the hand. Excellent shooter and a great fun little addition to my milsurp collection! A+!!

Outstanding!!


Review by doccherry on 12/14/13

Received the Tokarev and was very pleasantly surprised. Not a scratch or rub mark anywhere. Barrel had very light fouling which cleaned up easily. Appears pistol has never been used by anyone other than being tested at factory. Couldn't be any more pleased. Look forward to more purchases from Classic in the future.

Wow...just WOW!


Review by Don In Alabama on 12/13/13

This was my first purchase from Classic, and I was rally surprised! I didn't pay the extra "hand select" fee and I'm glad I didn't because it would have just been wasted money. This pistol looks BRAND NEW! I took it to the range last weekend and it performed flawlessly. I recommend this to anyone with a C&R license.

Incredible piece of history


Review by tracjac on 12/9/13

I am new to collecting military surplus guns and was somewhat reluctant to purchase a used firearm that is 60 years old. l mean, how could a pistol that is that old and used by the Romanian Army for many years still have any life left in it? My Tokarev arrived in incredible condition. l would say the blueing is at about 95% condition with only 2 very small places on one side of the slide with a little wear. Other than that the bluein is perfect. lt is a very deep, highly poloshed blue too. The frame to slide fit is very nice and the trigger is so muh crisper and loghter than many of my 1911s that cost four times the price of the Tokarev. This is by far the most gun l have ever boight for the money. The only problem is findin ammo for it. l can't wait to shoot it but l guess l will have to.

Completely satisfied


Review by wbrown on 12/8/13

Picked one up last month. Great condition
Upon receipt of the pistol, The busy folks at Classic forgot to include the extra mag. One phone call, and it was shipped in two shakes of a lambs tail. No questions ask. Top notch customer service.
Thanx again Classic.

Better than expected! Very happy customer.


Review by Chris on 12/6/13

Advertised as "very good - excellent condition", without any hesitation that is 100% accurate! The Romanian Tokarev I received is like new. The original finish is flawless, the rifling is crisp, and the slide to frame fit it tight. I couldn't be happier with my purchase. I will be ordering another one for my wife.

Good gun, bad shipping


Review by Christian on 12/5/13

A quick overview of this TTC shows everything mechanically to be in great condition. I really like this gun. I am however quite disappointed with how the gun was packed for shipping. It was packed loosely in a cardboard box, which in itself would have been ok if it weren't for the fact that Class Firearms tossed in the extra magazine into the box with no wrapping whatsoever. So the magazine and the gun were flopping and sliding all around during shipment. I also understand this is an old gun and therefore will not be in perfect shape, however I am almost positive that the wear marks on the left side of the slide are a direct result of the magazine rubbing on the gun during transit. This isn't a big deal, but when you are paying an extra 15 dollars for a hand select option, I was not pleased.

almost flawless


Review by terri.gj on 12/4/13

The pistol looks almost perfect. A couple of minor scuffs on the slide and a tiny ding on the front sight. On the range it shot perfectly. With Winchester ammo it shot tight groups and is great fun to shoot. Just need more vintage magazines. I didn't buy extras with the pistol as I was reading that they were new from Taiwan or somewhere.

excellent condition


Review by kurgan on 12/2/13

Ordered 3 Romanian Tokarev pistols with the hand select option. All 3 were in nearly identical excellent condition. The guns are relatively clean but the firing pin, and firing pin spring should be removed and cleaned. One of the guns had light strikes to the primer which ended after cleaning. Very good value.

OK Buy


Review by jhorman on 11/27/13

Let me start by staying this is my first gun I acquired through classic fire arms and unfortunately not a good experience. I PAY FOR THE HAND SELECTION OF THE BEST 5 and it wasn't a great deal. One of the grips is has a crack on the side and what holds the safety that is two C-clips those are missing too. So complete waste of money for the hand pick option.

My 2nd Tokarev Pistol!!


Review by Cem9235 on 11/22/13

This is 2nd tokarev pistol from classic arms. Both are in excellent condition. The bore on my most recent tokarev is in almost new condition. Very bright and shiny. Thanks you. Very satisfied

Great Deal


Review by Bisho on 11/21/13

Shipping to my FFL was very fast! (Here in Cali.) Overall first inpression is a "Very Nice" for a weapon made in 1953! Great deal Classic Arms will definitely buy from again and will also tell my friends about all your deals. Shot this a couple weeks ago as well, put bout 100 rounds through it and it did pretty well, just have to get used to the sites...

Excellent buy


Review by olddog42 on 11/21/13

You could not do better for the money. Excellent condition, no defects. Great feel, weight, design. Great price, excellent service, and no shipping charge. No negatives.

Great looking gun.


Review by rickibobbi on 11/19/13

First time purchase and the gun looks great. The gun looks brand new. Functions perfectly. Hard to believe that it was made in 1953. Great service. Very fast. I look forward to doing more business with Classic Firearms in the future.

Best Romanian Tokarev I have ever seen!


Review by William on 11/16/13

One word describes this pistol: pristine! It is absolutely flawless! No hand pick! I wonder if this gun has ever been fired? It probably has, but very little. Have done a cursory inspection and everything works as it should. BBL is shiny with strong rifling.! Very pleased! Thank you, Classic Arms!!!

Good Gun But a Few Scratches


Review by John on 11/16/13

This gun I bought looked it very good condition, too bad it had fairly deep scratch next to the slide release. It's no big deal but ca you (Classic Firearms) give me an idea on how to fill the deep gouge and reblue it?

Wow. Just Wow!


Review by Edward on 11/14/13

Best buy to date. My pistol arrived and was in near perfect condition. Looks like it was just pulled off the assembly line and shipped to me. This is my second Tokarev, first from Classic and is far the nicest C and R in my safe.

Go get yourself one!!

Thanks Classic!!

Classic once again impresses


Review by Kevin on 11/14/13

The tokarev I received from Classic was simply stunning. The pistol looked like it had come right off the assembly line in 1953. Virtually no rust with small spots here and there but nothing that could not get taken care of. Blueing was about 99% my FFL thought it was a new gun. Wish I had ordered recently when they dropped the price down to $199 but I still feel I got a good deal. Bought a Mosin 3 months ago and that was excellent as well. I only buy my surplus firearms from Classic because I know they only sell quality stuff.

another great buy


Review by Eric on 11/9/13

I just received my TTC. And I have to say Classic Firearms has made my day again very nice. For being made in 1953 it looks bran new. The factory safety add on was very hard, but after breaking the pistol down and removing the safety the problem was very noticeable there was a metal slither left behind from the drill bit. Just took a little file to it and very smooth now. Packing was professionally done. Great job guys. I think I am going to get two more one for the wife and another one for me. And always big shot out to Ben. God bless you.....

holy cow!!!!


Review by jimbob on 11/8/13

What can I say, this gun looks like it was removed from the factory box when it was import engraved! It appears as new I have bought new that were not as nice : )

TTC Tokarev... Get one !


Review by Mike on 11/7/13

I ordered my Romanian TTC Tokarev pistol online and within 2 days it was at my FFL ready to be picked up, now that's fast ! I got it home and opened the box, I was very happy with what I saw. I paid the $ 15 for hand select and all things considered I got a very nice pistol with a nice shiny bore. Bluing was 100% and all numbers matched. I felt I got lucky and got a pistol with the small import stamp on the frame and not the big one on the slide, also got the "star" grips I hoped for. The only "defects" was a hair size scratch on the slide, barely noticeable, and the front sight right corner was some how rounded off . All in all this was in excellent condition for being made 60 years ago in communist Romania, and is what I expected. I would say these guns are being refirbished here in the states when the safety is being added, as the import engraving is blued over with the rest of the finish. Fired 4 mags worth at the range and ran 100%, it hit about 3" high at 10m and grouped nicely. I have wanted a tokarev for years and glad I jumped on this deal. Classic really impressed me with my first ever purchased. -Thanks !

Perfect condition!


Review by comrade_cosmoline on 11/5/13

The Tokarev looks brand new and it was made in 1956! I didn't even get the hand select option, so those must be beyond sweet. Can't wait to get this to the range and have some fun.

This is my favorite pistol


Review by Sportbike Mike on 10/13/13

I bought one of these locally, but its Romanian and built in 1953 so I thought I'd review it here.

I love this gun. It has never malfunctioned on me ever. I'm a fan of the grips, a lot of people don't like them but this is the second most comfortable gun I've ever held, the first being a 1911. I even like the location of the safety. I think its right were it should be. Reproductions and norincos have them higher and farther back.

I trust this enough to carry it whenever I don't need to conceal.

Excellent trigger!!


Review by Tom on 10/11/13

This pistol was my first purchase from Classic Firearms and I am very happy with it. I have another TTC that was made in the Radom plant that is not near as nice. This TTC made in the Cugir plant looks new. Looks like it was never fired. When I dry fire it the trigger is excellent, as nice a trigger pull as any semi-auto I own. Considering the quality and price--Buy one before they are gone. Tom

Romanian Tokarev TTC


Review by JROD on 9/24/13

Got the Romanian Tokarev in the mail today. Took only 3 business days from Date of Purchase. Came packed very tight in the box. Awesome job with shipping & packing. Now onto the gun... This gun functions perfectly, and looks like it rolled off of production line yesterday. It's stamped made in 1953. For a 60 Year old gun, this thing is immaculate. Price is awesome!! Just wish you had bulk ammo in stock. A+++ Will definitely buy from Classic Firearms again!

WOW


Review by Tyler on 9/4/13

1st: haven't shot it, my local shops are out of ammo. That being said, this pistol looks like it sat in a draw for 50 years. It looks brand new. I stripped it, cleaned it (which is didn't need) and lube it up and can't wait o to get some shells. It is really nice. I did have it picked for 15 bucks but considering the quality of what I was sent I would do it again in a second. If you're thinking of picking one of these up don't wait. If it shoots as good as it looks I'll get a couple extra to put away.

Great example of a great handgun


Review by Cotton on 8/27/13

I owned a pair of Toks in the 90s, an original Soviet 43 vintage unit and a Norinco. Both, unfortunately fell victim to a burglary. This is the first chance I've had to replace those venerable old guns, and boy was I pleasantly surprised. The originals had no "safety" other than the half cock. The Norincos was so bad about biting the shooter that I removed it. This unit's is a delight. Well placed and functional. Mine is flawless, dated 1953, and smooth as glass. You cant go wrong with this unit.

Fantastik Tok


Review by Norman on 8/27/13

This pistol looked brand new, functions perfectly and is very accurate. One of the best values from the best seller out there. Thanks Classic, i'll be back!!!

Very, very nice gun!!!


Review by David on 8/27/13

such a nice gun, appears to never have been fired. Still need to find time to get out and shoot

excellent, probably unissued


Review by David on 8/20/13

Bought back in July 2013; paid extra for hand select. My transfer FFL said it was among the nicest he had ever seen. Barrel was probably unfired -- it was mirror-shine after I pushed a patch through. Minimal cosmoline, and what there was was taken care of with Simple Green, hot water, and about ten minutes' work.

A great buy on a great firearm


Review by Mike on 8/4/13

We have a war prize Tok TT33 my father bartered for with American cigarettes and Hersey chocolates from a Soviet soldier he met when WWII ended. It is still a fine pistol to shoot to this day. When a found a 20 year younger version of the same I couldn't pass it up.
I paid extra for the hand select. I believe it was worth it. What arrived looked brand new. Not a scratch or wear mark anywhere. It is highly accurate and easy to clean/field strip. Though made in 1953 the clip from our 1937 war-prize works like a champ in the new one. The after market new clips we bought work great also. All rounds go bang with every trigger pull. Have yet to have a FTF, FTE or a stove-pipe.
The only caveat I will pass along is the ammo is very difficult to find. There are few suppliers and even less inventory. I would have given a 5 star rating if ammo was cheap and available.
Thank You Classic FireArms

above expectation


Review by john on 8/2/13

Quick delivery of exceptional product. I am quite impressed with this pistol. Low recoil it is a pleasure to shoot, easily dis/reassembled. Cycles without a hiccup, the only problem is my wife, she wants me to order her one. YES I will buy another one. Ammo is not a problem, you wont find it at any of the " Mart " chain stores, but it is available.

Unused?


Review by Mark on 8/1/13

I just received mine on my C & R, and have not had a chance to break it down. That said, it appears to be unissued/new. Incredible. I opted for the hand select, and it was *well* worth it. My thanks to the good folks at Classic.

Delivery was incredibly fast -- three days, I think. There's something lovely about a gun showing up in the mail... Again, I'm very impressed with my first purchase from Classic.

Romanian TTC Tokarev


Review by Matt on 7/19/13

Not my first purchase with Classic, but it is the first firearm I've bought through them. Shipped fast - Ordered 07/15 and picked it on 07/18.
Overall it is in excellent condition. The only "blemish" in the finish being around the lanyard ring; nothing serious especially considering its 60 years old. Neither the barrel, nor magazine are as pretty looking, but again that's expected. The bore however is bright, shiny and mirror-like. It doesn't look like very many rounds have been put through it. Everything functions well; slide movement is very smooth.

What was odd was that it has Polish hand grips. I'm not certain if that's common? A little disappointed in that since I paid the extra $15, but if it was down to the condition of the finish, or the hand grips I'll take the nicer finish.

In all, I'm again quite satisfied with Classic and wouldn't hesitate to do business with them again. Thanks guys!

Great deal, fantastic service & fast shipping


Review by Officer Mike on 7/13/13

This is my first purchase from Classic FireArms.
Used my C&R License and got my order in 3 days. It would have been 2 days except for the 4th of July is a holiday.
The TTC has got to be new. If made in 1953 can be new. Not a scratch or wear mark anywhere. Field stripped and removed a small amount of cosmoline. I am sure I was the first to push the clip that holds the slide lock back. There was no evidence this had ever been done before.
The 7.62x25mm Tok rounds carry a good wallop. I am sure the bite is worse than the bark. The rounds I used from PPU are rated with more ft. lbs. of energy than a 9mm.
Extra clips are available online.
I would definitely buy from Classic Firearms again.

Impressive firearm


Review by korner on 7/11/13

Just got my C&R. This was my first purchase and I was greatly impressed with the firearm and service. The TTC was in like new, (possibly unfired) condition, no wear marks at all, gun and all three mags functioned well, very good bore and accuracy, and great trigger for a surplus firearm. Shoots much better than it looks and it looks great. I may have to order another. Thank you CF for your excellent service. P.S. I wish you had CZ82's in stock of this quality and of course ammo.

One nice shootin gun!


Review by Arkansas Bob on 7/10/13

Well It has taken me a while to post my review of this pistol but I gotta say. I was sure impressed with it. this is my fourth gun I have bought from Classic and I am never disappointed. I opted for the hand select and extra mag but the coolest thing about the pistol I received is that i don't think that it had ever been fired. When I broke it down for the first time I put the first signs of wear on the case by sliding the retaining pin out and i know if it had been used before that would have already been there. The bore of the gun was perfect as well and boy was I surprised at how well it shot. Mine was very accurate and definitely has the punch to it. Would not want to be on the receiving end of this thing for sure! To sum it up is is a great gun and a great buy. Thanks again Classic for another outstanding gun!

A Real nice surplus piece


Review by Mikey6shooter on 7/3/13

I ordered the standard (not hand) picked pistol, and it looks great. The finish is about 95-98% and all the lettering is clear and sharp. It came with one magazine. I haven't shot it, but the bore looks bright, with sharp rifling. Can't go wrong for the money.

Nice Tokarev!


Review by Greg on 6/19/13

Just got it yesterday, It is in excellent condition not a scratch or scuff on it. Bore is real nice too. Looks like a new pistol. Ammo is on its way can't wait to shoot it.

Keep up the good work Classic!

Pistol was in excellent condition.


Review by Larry on 6/17/13

The Romanian TTC Tokarev Pistol - 7.62x25 arrived in exceptional condition. It really did not need any cleaning. For a Pistol made in 1952, I was impressed with what CLASSIC Firearms provided. Plus the price was reasonable. Because of the quality provided I will buy from CLASSIC in the future.

Great gun, Everyone should own a TTC.


Review by MoShooter on 6/16/13

Great job Classic Firearms.

Awesome!


Review by Steven on 6/9/13

I got one (hand picked) and it looks brand new. I could not be happier with the condition. It shipped really quickly as well. Thanks, Classic!

Perfect!!


Review by redman on 6/8/13

Just got my Romanian TTC today, only a few days after I ordered it, and it is PERFECT! Once again, Classic has done a great job, I am so happy! This TTC appears unfired, unissued, no cosmoline at all. I am so happy. Now just gotta find some ammo for this!

A great buy


Review by MikeyB1955 on 6/8/13

This is the second TTC I have purchased. This one looks like new, with a nice blue finish and shiny bore. I was hoping to get one without the added safety, like my first one, but this one has it. Haven't shot it yet, but expect it to be stone reliable, and pretty accurate.

Great pistol, terrific service


Review by Rick on 6/7/13

I ordered the TT33 and used the hand select option and very quickly, I mean FAST, it arrived. Pistol was in the condition advertised and shoots beautifully. Thank-You Classic Firearms for great service. I will use you again

Its a nice old pistol.


Review by RC on 6/4/13

Very nice old pistol. I always buy my C&R firearms from Classicarms. They sell the very best!!!

Great Gun


Review by Logan on 5/30/13

This pistol came it quick and looked brand new! It shoots like a dream. 8 hits with 8 shots on steel target at 25 yards and feels great in the hand. I couldn't be happier with my purchase! Thank you ClassFirearms!!

Nice firearm


Review by peterdragn on 5/29/13

Great firearm, like new, worked flawlessly, only one complaint, rounds are almost inpossible to find.

Great Gun and Great Deal


Review by Josh on 5/29/13

I was impressed with classic firearms expediency in delivering my Tokarev. The quality of the firearm is equally impressive. The Tokarev I received looked as though it had never been fired. I spent a few hours stripping the gun down and removing the cosmoline. After that I had the action cycling like a well oiled machine. Take special care to remove all of the cosmoline and you will not run into problems like some of the complaints I have heard online. I will buy from classic arms again and recommend it to my friends.

great


Review by mosin steve on 5/27/13

very nice pistol clean great looking fells great in your hand shoot's with no problem's dead on will buy again thank's

very nice,just as advertised


Review by charles on 5/24/13

Quite happy with my purchase of a Romanian Tokarev. Is in great condition and shoots very well. Great addition to my collection

Excellent product, excellent service


Review by Charlie on 5/21/13

I have made several purchases from Classic before so my expectations were high. Once again I was not disappointed. My Romy Tokarev shipped promptly and arrived in excellent (near new) condition. Finish of metal parts, grips, magazines, and barrel were all excellent. Only one or two very slight wear marks on the slide edge from holstering were visible and were the only thing that would distinguish this pistol from a factory new one. As said, I have made previous purchases from Classic and will undoubtedly make more in the future. Great place to do business!

Great Buy Great Gun


Review by wicket on 5/19/13

I purchased this Romanian Tokarev from classic firearms about 3 weeks ago. Classic got my order out very fast. When I opened the boxes and toik out the gun WOW it looked brand new. I paid the extra money for hands selection and it truly paid off. GREAT JOB CLASSIC.:-) :-)

Nice Romanian TTC


Review by Gary on 5/16/13

The pistol arrived in good condition. Shipping was relatively fast. At the range with the limited ammo I could find, so far so good. Now if ammo price/availability would return to 'normal' that would be good.

super condition


Review by hawgwild on 5/14/13

GOT MY ROMO TOKAREV IN 4 DAYS. IT WAS PACKAGED VERY WELL AND WAS IN SUPER CONDITION NO FLAWS HAVENT SHOT YET BUT LOOKING FORWARD TO. GOT FOR WIFE AS HOME PROTECTION, FITS HER HAND NICELY. HER SMALL380 WAS NOT COMFORTABLE FOR HER. THIS GUN IS LIKE BRAND NEW. PAID 15 XTRA FOR HAND SELECT AND WORTH EVERY PENNY

looks brand new


Review by Wade on 5/12/13

Just got mine yesterday and am very impressed with the condition of this pistol. In fact it looks brand new. Now if anyone knows where I can get some ammo for it let me know.

Mr


Review by pastordl on 5/11/13

Received the tokarev quickly and in great shape along with the two spare Mags I ordered. Have disassembled it and found it was quite clean and all internals in great shape. Haven't had a chance to fire it yet but hope to soon.

tokarev


Review by JERRY on 5/8/13

this is the second romanian tokarev i bought from Classic Arms and it is in excellent condition. both were stamprd 1953. thanks Classic Arms.

Money well spent


Review by andycapp on 5/8/13

This was my first purchase from Classic Firearms. I purchased the Romanian Tokarev Pistol as a backup for home defense. Pistol arrived very quickly. After opening the box the gun looked almost new. No scratches but a little rust behind the hammer. I disassembled and cleaned which removed the rust. Looks brand new now. Plan on going to the range this weekend. Wanted to order extra magazines but they are out of stock. Plan on buying a few once restocked. Overall very pleased.

Immaculate Condition!


Review by Brian S on 5/5/13

I ordered this gun just over a month ago and I've had such a good time with it that I totally forgot to review it. I chose the "Hand Select" option at checkout and boy was it worth EVERY PENNY!!. This gun I received was in immaculate condition! There is not a single scratch, ding, scarpe, faded blueing, or signs of use at all. This is an excellent piece of history and a damn good shooter. Again, it is worth every penny.

not hand picked


Review by Daryl on 4/29/13

Have to go with 4 stars, While i paid for hand pick, the one I got had the bluing scraped off on the left slide and it looks like some pitting under the blue on the other side. Definitely not hand picked unless they are at the bottom of the selection. Great shipping and for the money still a great pistol. Just disappointing after reading some of the other reviews. Win some, lose some.

Romanian ttc Tokeravev pistol


Review by Wicket on 4/22/13

I gave this 5 stars because of the fast shipping of Classic Firearms. And because of the top quality gun that I received. This gun looks brand new. WOW WHAT A DEAL.My hats off to Classic on this one.GREAT GUN GREAT PRICE FAST SHIPPING What more could you ask for :-)

Excellent Value!


Review by James on 4/16/13

As soon as I unboxed the Romanian Tokarev TTC, I was elated to see that the pistol was in excellent condition. I cleaned it and discovered the barrel was shiny with no pits or rust at all. It was simple to field strip, and fits my hand perfectly. I am ready to take it to the range for target shooting ASAP. This is a special find and an excellent value. Do not hesitate to buy one yourself!

nice nice nice


Review by chad on 4/14/13

Got my TTC today, looks almost factory new except for a couple small rub marks on the slide, but they are really slight. Super fast shipping, considering I ordered on Monday night and gun shipped on Wed, received on Sat. I cant wait to go to the range and fire it.

Excellent!!!! Someone made a mistake.


Review by DJBUTTS on 4/13/13

I received my Romy today and I think someone made a mistake. This TTC is BRAND NEW. Everything was perfect. I was looking to see maybe some small scratch but there was not any. The barrel was bright and shinny. Thanks Classic for the quick and wonderful service.

Another great value from a truly great company!


Review by WILLIAM on 4/12/13

This is the second of four guns purchased to date from classic. The TTC has better feel than my CZ52 and has the big plus of the mag drop button. Single stack and slim makes it a good carry. Sportsman's guide sells a 7.62x25 hollow point jig for those inclined to DIY. Paid for hand select and gun appears to be unissued or very lightly used. It is as if someone opened a time capsule from 1956. Chamber walls are twice as thick as the CZ, so no doubt Fedor Vasilievich Tokarev's Romanian stepchild can stand up to all the heat of whichever milsurp ammo you can get a hold of . Though some people like the milder 7.63x25 mauser parent cartridge for range use, and serbian 7.63 is available brand new. Just wish there was a cure for Mosin fever, which classic firearms seems all to willing to encourage.

Lotta Bang for the Buck


Review by James on 4/11/13

Nice little shooter for the money! Mine arrived quickly and in great shape. Shot just fine, but I did clean the heck out of it first. I bumped the rear sigjht to get it dead on at 25 yards and it's very accurate. Sights are supposedly "non adjusable". No problem for a little hammer and small punch with a rag over it. Great deal for the money. Take your mags apart and clean and oil them before you shoot. I actually ran a file down the inside lip of my magazines while I had them apart after a couple FTF. Works great now. I keep it in the truck :)

Mine was in unfired condition


Review by IRON on 4/10/13

Excellent unfired condition from what I can tell. I probably will keep it as such :)
Now I need to order another to take to the range :))

Outstanding!


Review by FrankMX on 4/10/13

I finally took delivery of my TTC today. It looks almost new. Sweet!
The "factory installed" safety may have been installed at the Braille Institute. Kind of rough, but we must pay this tribute to BATF or whoever.
I think I'll get another

Excellent


Review by leeloveless54 on 4/9/13

I am extremely happy with my recent purchase from classic firearms. This is my third gun from classic firearms and they never disappoint. My TTC is a 1953 model, but looks perfect. I would strongly recommend this firearm to anyone

Positive


Review by matt on 4/7/13

I bought this pistol for a custom project, but it arrived too nice to modify.It appears to have been fired verry little and the bore was excellent.

Very Happy


Review by Russell on 4/7/13

I was very happy after opening the box. The finish was very nice. Physically it looks kind of awkward, but it feels extremely nice. Good trigger and shoot very well using S&B 85gr fmj ammo I have. Left a big grin on my silly face. It's also very thin and conceals well.

Exactly as advertised


Review by Craig on 4/5/13

It can be a bit of a leap of faith to purchase a used product on line from a retailer that you have not done business with. The bluing on the gun was 99% outstanding, and more than I could have hoped for - and I didn't even select the hand pick option. I like the gun so much I put an order in for the Yugoslavian Tokareve.
Keep up the good work!

Great Gun, Get It!


Review by John on 4/5/13

This gun is incredible. The only reason I give 4 stars is because one of the plates came of the grip. Otherwise, it fires smoothly for such an old pistol and looks brand spanking new. You will be in awe that a piece of history you're firing or just looking at as a shelf piece was offered for such a low price. Classic, once again, offers stellar products and customer service! I want the Yugoslav version next... I am waiting for my excellent/very good Yugoslavian Mauser to arrive before purchasing the Yugo version, Tokarev. It's my next buy!

But trust me on this, your jaw will drop at the site, feel, and history for the price you pay when it arrives. Ran 50 rds. of corrosive ammo from the 1970's through it and had 0 FTF's! Buy this Romanian Tokarev and you likely won't disappointed! You'll be astonished as I was!

fantastic gun great service.


Review by JERRY on 4/4/13

very pleased with my purchase the firearm looks like it came off the factory floor. great service. i paid extra for hand select and it was well worth it.

almost brand new


Review by Russ on 4/4/13

I have been dealing with Classic Arms for over 2 years now, I placed my order on line on March 30th and I received it today April 3rd.
Fast shipping, excellent product, I paid the extra for the hand select and what I got is almost brand new pistol. Thanks Classic, keep it up.

Great gun and the Best customer service


Review by tide tide roll on 4/3/13

The gun is better than expected. The customer service was better than the gun. They walked everything thru. I have recommend the gun and Classic Arms to several friends and brothers that are looking for a gun.

Great pistol


Review by Thomas on 4/1/13

This was an excellent pistol in super condition. It is smooth firing and very accurate. Classic Firearms did not exaggerate when they stated these were in very good condition.. because I would say excellent condition.

Great piece of equipment


Review by Brian on 3/31/13

I am just thrilled with the purchase of my Romanian Tokarev TTC. I paid for the hand select and it was well worth it. Once I got it home I took it all apart to look it over and it is in great shape and a solid piece of equipment. Classic Firearms did a great job with communication and fast shipping. Thanks Classic Firearms!!

Great Pistol


Review by Anthony on 3/29/13

Just got pistol and fired 100 rds. and not one problem. Feels great in the hand and well balanced. The pistol shoots real accurate and what a BANG. A real fun pistol to shoot. Always a pleasure to do business with Classic. Shipping was fast and customer service on phone is great. Will buy from them again.

Great value!


Review by Ronald on 3/28/13

Great Value! Looks in mint condition. Paid for the hand select and couldn't be happier. Only drawback is the limited ammo now, but what ammo isn't? Found some on Gun Broker. Can't wait to get the TTC to the range. Definitely a loyal Classic customer.

worth every nickle


Review by Bill on 3/26/13

The Classic description was no lie. I paid for the hand select.
The weapon was almost perfect nice bluing and the bore was mint. Took it to the range and cycled 50 rounds. it functioned flawlessly and I got some nice groupings (6 inch) at 20 yards. Although I will not walk around with the gun in battery, If ammo ever becomes avaialble again with hollow points this will become my hunting side arm. It is a nice neat peice of history built when I was in 1953.

My new everyday carry!


Review by Sammy Zen U on 3/24/13

I bought this pistol as a companion piece for my PPS 43c. It seemed like a no brainer as they are chambered in the same caliber. Even though I should have expected it from the reviews I was still surprised at the quality of the pistol when I received it. Once the cosmoline was removed I could find no visible wear to the bluing or visible chips/scratches on the grips. Mine was dated 1952 and the action was flawless, the bore was mirror shiny and it felt great in the hand. Some people complain about the grips or add Hogue grips, I thought it felt perfectly natural in my hand. It shoots well, is reasonably accurate from self defense distances and has less recoil the my 40 cal. pistols.

This gun has an extremely slim profile making it's perfect for concealed carry. We are talking Magnum pressures here! I have found a source for loaded ammo with an 85 grain Hornady XTP hollowpoint that pushes out of the barrel at @1700 fps! Most impressive! The only modification I have made was to add a dot of white nail polish to the back of the front post sight. This has made for easier sight acquisition.

I carry IWB in a quality leather holster and honestly I forget I have it on. I don't even mess with the ridiculous safety that was added on. I use the originally intended half cock safety. With it in half cock you can't rack the slide or pull the trigger and you couldn't force the hammer to strike the firing pin with a sledgehammer. Use the added on safety without the half-cock though and you ask for trouble. It is not a firing pin block.

When it's time to shoot, pull the hammer the rest of the way back, pull the trigger and........BANG! Just as Fedor Tokarev intended!

This pistol is my new everyday carry!

Can't wait to see the M44 carbine I ordered!

Great Shooter!


Review by Charlie on 3/23/13

Having just received my C&R FFL, this was my first collectible firearm purchase. I wasn't sure what to expect. I opted for the hand select to get the best condition I could. The pistol arrived with a light coating of cosmoline and cleaned up nicely. The finish is very good to excellent with a few rub marks on the left side of the slide. Most importantly, to me, the bore is in absolutely excellent condition with mirror brightness and not a speck of pitting or roughness.

I couldn't wait to shoot it, so after some cleaning up I took it to the indoor range. Even though the sights are minimalistic and non-adjustable, I was very pleased with the accuracy. The windage is spot on and it shoots a tight group if I do my part. I plan to put a little dab of white paint on the front sight blade to help with sight acquisition.

The pistol is very comfortable in the hand and recoil is very manageable, helped in part I'm sure by the weight and length of the firearm.

I have never seen a pistol fling brass so far as this one does! So if you want to keep your brass and shoot outdoors you may need a "spotter" just to keep track of where it lands!

The magazine is a little worn and sometimes it a bit difficult to remove. All in all, however, I'm quite happy and it is just plain fun to shoot.

The pistol feels tight with no slop or play. My biggest surprise was how good the trigger is. I did not expect such a smooth pulling trigger with this crisp a release.

I'm glad I made this purchase.

very nice


Review by kel on 3/20/13

Shipping was quick ordered on Thursday got to the ffl on Monday.
Gun looks non issued and had very few rounds through it impressive for being made in 1953. Got the hand select because it was only 10 bucks and worth it only one scratch on the entire gun. Seams to cycle well good bore, great buy get them before there gone.


Great gun for the price


Review by mike on 3/19/13

Good customer service and a quality product. No complaints here!

Romanian TTC purchase


Review by reddy on 3/19/13

Recently purchased Romanian TTC. Extremely fast shipping. Pistol as new condition, deep blue finish. Very well pleased with the purchase. Would (and did) buy from Classic Firearms again. Well Done.!

Romanian TTC Tokarev Pistol ....


Review by Robert on 3/18/13

Romanian TTC Tokarev Pistol .Great buy,all matching numbers,got the Hand Select( and thank you to the person who picked it out..) very happy with this purchase.Got it ,gave it a cleaning and a once over went to the range had a blast.. now my son wants one! Thank You VERY much Classic Firearms!

Romanian TTC...nice


Review by pablovox on 3/16/13

Had been looking at this piece for a while. When the Polish TTC sold out I decided to get this one. No issues with the process or the piece. Came as described and cleaned up very nicely. Highly recommend it if you've been considering getting one. Just wish they had the ammo when I purchased it! You won't be disappointed!!

Looks better than new!


Review by Joseph on 3/14/13

I chose hand picked for $10 extra and received a pistol that appears to be new and unfired. I say appears because I can find no faults or wear marks on the barrel, slide, bushing, trigger, etc. Great job guys and gals at Classic.

Quality pistol


Review by JOBU137 on 3/12/13

Could not be happier. Paid for hand select and what i got looked like an unissued weapon. Very pleased with the purchase.

Excellent Pistol


Review by James on 3/4/13

Excellent pistol and shoots great! Other than a few minor dings it's perfect, with a like new barrel. I highly recommend this pistol!

Romanian TTC is a Winner


Review by Vic on 2/26/13

This is my first Tokarev style handgun. It won't be my last. I paid the extra to hand select it and I couldn't be more happy. The finish was nearly perfect and the bore was absolutely flawless. I've put 500 rounds through it before I decided to give it a review. I didn't have any malfunctions. I don;t think you could go wrong with this one. I got really great groups with this as well. Pretty darn accurate.

Great Pistol


Review by Stephen on 2/21/13

Very nice condition, very liittle cleaning and oiling required, very accurate pistol righ out of the box

Good first buy


Review by Manuel on 2/18/13

Got my Tokarev a few weeks ago its in good condition a couple of nicks and scratches on one side of the slide but not bad for a 1953 TTC. I order the extra mag which is great. Too bad they took that choice out, i didn't choose the hand select one and in other words great buy 4 stars.

Exelent


Review by Stefan on 2/15/13

I bought one of these about a month ago. Classic shipped me a beautiful example in a timely manner. This thing shoots nice and I am very happy with my purchase.

Eastern Bloc


Review by Tailgunner on 1/30/13

Received the "Tokarev" Pistol last week, slathered in cosmoline (seen a lot worse), cleaned said pistol, checked her over (good bore,etc.)...Paid extra for "hand select" couple of nicks, but not bad. No 5 stars this time though, grip is loose on one side, doesn't come off mind you, just a little bit annoying while shooting. (took off to see if I could rectify the situation) but to no avail...Plowed through 75 rounds without a hiccup, brilliant! Report and flash are like one of the "Bismarck's" cannon, accuracy also decent. Groovy! So simple a Hamster could field strip it! Like I said previously "Love Eastern Bloc stuff!"

Romanian TTC Tokarev Pistol 7.62x25


Review by baseballparent on 1/29/13

This pistol arrived in excellent condition considered it is a WWII surplus pistol. The pistol was very clean and functioned perfectly. I love how this gun handle and runs great just like a much more expensive new gun. It shoots the 7.62x25 which are a machine gun round and are very peppy. Fun gun to shoot and own. Many thanks to Classic Fire arms for a fine product, great customer service, and fast shipping. I got my money worth and then some.

Multumesc!!! (Romanian for thank you)


Review by aceverobeach on 1/27/13

First rate product and service from the gang at Classic Firearms. I got a 1955 TTC. I wish I could add a pic because you wouldn't believe this thing unless you see it. The finish was nearly unblemished. The bore was shiney and the rifling, crisp. Even the grips were without a chip, scratch, anything. Now my friends are racing to get one of the remaining Toks. Thanks again!

Excellent shooter


Review by Jonathan on 1/27/13

I bought a TT two years back. Shot 750 rounds of surplus, yes surplus. Not one jam. Accurate and fun shooter, Very nice condition. Make sure you pull the firing pin too every time if you are shooting corrosive and clean it right. Get the Polish Tantal back so it can be next purchase please! Looking forward to it.

Great pistol, and, considering the current crazy times, great service from Classic


Review by charles on 1/24/13

This is my second firearm purchased from Classic. Just like the first, a CZ 82, my TTC is in excellent shape. This order took a good deal longer to get to me, but considering the current craziness, that was expected. In fact, the people at Classic was able to get it to me within the expected delay time.
After getting the old oil cleaned off, the gun looks like new. It it to the range, and shot 100 rounds of PRVI ammo through it, no problems. I will need more range time to get used to the sights. The one draw back to the gun is the current lack of ammo for it. Hopefully, that will ease up a bit after things settle down. To sum up, GREAT GUN and, considering the circumstances they were operating under, GREAT SERVICE

Great Buy


Review by Adam on 12/27/12

Just got my Romanian TTC a few days ago. Shipping was fast and the gun was great. The thing was almost brand new. Great finish, no visible wear on the gun. Function is outstanding for a 1953 piece. If you're on the fence about getting one, I'd say go for it, you won't be disappointed. Drop the extra $10 for hand select, well worth it. Great piece of history for a nice price.

Classic is the best!


Review by Mike on 12/11/12

Odered one on Monday and it was at my FFL on Friday! Great friendly service, a pleasure.
Pistol is like new condition, hand select is totally worth it. Got the extra magazine, again like new. Haven't shot it yet, just enjoy cleaning it and having such a cool piece of history. Do not hesitate to order from these folks, they stand behind what they do and are just nice people.

Great Gun


Review by Marty on 12/4/12

Great gun, this thing is like new. Always been treated well by Classic Arms, this pistol is well above what I expected. My local FFL said this pistol is one of the finest examples of a Tokarev he's seen come through the store. Can't wait to take it to the range and try it out. Thanks again...

Tokarific


Review by Andrew on 12/1/12

What a nice gun, inside and out. Excellent bore. Probably the most accurate of the toks I have. Thank you Classic. Get One!!!!

Nice pistol


Review by Ken on 11/2/12

Nice version of the Tokarev. The price cannot be beat. I like the Polish models the best for finish, but the Romanian version I received was very nice too.

Pay the extra $10 for hand select, and you will want at least one extra mag.

Unbelievable


Review by Erix on 11/2/12

I purchased ttc paid the extra $10.00 for hand pick it was like purchasing a new gun
When classic arms say they are in excellent condition take there word for it
It's unbelievable

Buy it, you won't regret it!


Review by Raymond on 10/26/12

The Romanian TTC Tokarev pistol I received from Classic was in excellent condition, I could not have been more pleased with it. This gun is very powerful, but seems to have less recoil than my Glock 17. Also, when you shoot it, flames come out the barrel like it was some sort of cannon. People at the range were impressed. The 7.62x25 round is supposed to defeat body armor, that is good if you ever come accross an enemy with a bullet proof vest. I did order an extra mag which I had a problem with, but Classic exchanged it for a new one. Shipping is always fast with Classic. I can't wait until they get some surplus 7.62x25 back in stock.

Fantastical


Review by Michael on 10/23/12

When my Tokarev arrived at my FFL, I went in to check it out and signed the paperwork. The reaction of the gun dealer(s) were the same as my own: "Wow, that's a nice looking gun."

The description doesn't lie, these are NICE looking guns! I didn't opt for the Hand Select option and the thing looks practically unused. Only the tiniest holster bluing wear on the side of the muzzle, but I mean TINY.

The barrel looked good and shiny, a little rough, but after a good scrubbing, boiling water, the works, it looks much better. I took it shooting and blew out a hole the size of a silver dollar with 2-3 clips from 25ft. At 30 yards, the spread is significantly bigger, but it's still on the target.

Wonderful gun, get one before they're gone!
(Also, Classic Arms is probably one of, if not THE, best price for these. I compared for weeks...)

VIDEO REVIEW COMING SOON!

Quality


Review by M T Kalishnikov on 10/16/12

When most web sites advertise you must always be on your toes. I was greatly surprised to see that Classic Firearms meant what they say in print. The weapon shipped was as new like as you can get and lived up to the ad claims unlike many of their competitors. Thank you for not disappointing with this work of military art you shipped me.

ABOVE EXPECTATIONS!!!


Review by Richard W. on 9/26/12

Pistol in fantastic condition. Functions perfect. Shipping was the fastest I've ever seen! I would reccomend Classic to anyone!

Romanian TTC pistol


Review by Mark on 9/23/12

I JUST RECEIVED MY RECENT ORDER. Thank you for the fast response and quick shipment. The TTC Romanian 7.62x25 Tokarev pistol was the talk of the pawn shop where the package was received and checked out. I don't know how many times I heard "Man that's a nice piece." That's why I deal with you folks. You can be trusted to provide the best that is available. Thanks and God Bless.....Mark Stedman

Excellent -- couldn't be more pleased!


Review by Gary B on 9/10/12

Received my Romanian Tokarev earlier this week and I simply couldn't be more pleased. I assume these are completely reconditioned before they leave the arsenal, because the finish was as close to brand new as you could imagine. Even the sharp edges around the muzzle and trigger guard showed absolutely no loss of finish. The only area where the bluing was worn through, but only just slightly, was on the knurled ridges on the hammer. Really fantastic!

The bore was pretty grungy, on the other hand, but some quality time with a bore brush and solvent helped a lot. The grooves are slightly darkened -- maybe that's a result of corrosive primer? But the ridges polished up to a mirror finish.

And the best part? This thing is super-accurate! On my very first magazine I had a grouping of less than 6 inches at about 15 yards -- having never fired it before. And it kept on doing that through about 75 rounds with flawless cycling -- not a single hang-up. I would definitely recommend this pistol and Classic Firearms!

Outstanding!


Review by David on 7/7/12

The Romanian TTC Tokarev Pistol - 7.62x25 pistol looked like it just came from the factory! Brand new! Once I field stripped it and cleaned it, gave it a try. Shoots like a new one and is LOUD!

Looking forward to giving it a try at about 50 yds.. Have ground hogs in my field and carrying a rifle on the tractor just don't work to well but this pistol will make their live hard.

Thanks for a super product. The extra dollars for hand select was well worth it.

Very Nice


Review by Erik on 7/2/12

Paid for the hand select and received what I would describe as a very near perfect gun. Very fast shipping service also. Will be buying from again, thanks Classic.

Nice Firearm


Review by Robert on 7/2/12

Recieved one of the "Hand-Select" Pistols.
VERY NICE. May purchase a second, good value.

Still a Bargain!


Review by Machodoc on 7/1/12

Another winner from Classic! This one arrived in like-new condition (hand select option used) and is a tremendous value for the amount paid. To make that point, the price was so reasonable that I bought this Romanian TTC variant to see how it compared to the Polish TTC that I bought earlier. I think that I like the Polish variant slightly better, but I'm not sure why. Both are brilliantly made. The magazines are still a bit crude (sides ground down to fit), but they are adequate for plinking, etc. If you need more precisely-made mags, they are available through other channels.

On a separate note, Classic has *really* stepped up to the plate with huge improvements to their online ordering system, and their customer service is currently as good as you'll find anywhere.


WOW


Review by lordofwar2006 on 6/30/12

this the best looking ttc or tt for that matter iv have ever seen

Great Gun!


Review by Marty/Texas on 6/25/12

Classic Firearms service was great!! Thanks for the fast shipping!! Just took my Tokarev to the range and was very pleased with the smoothness and accuracy.
I paid for the hand select and could not be happier.
I will be buying more from Classic Firearms!!!

Excellent pistol


Review by Matt Williams on 6/22/12

Splendid version of the amazing Tokarev. The quality of craftsmanship is, with a doubt, superb and the "required" safety is of equal quality. There is no better value for a semi-automatic pistol.

excellent


Review by slowe joe/kentucky on 6/16/12

classic firearms people were great. fast shipping(was at my ffl in 3 days) the gun was in excellent shape.the gun shoots like a dream! i will buy more from classic firearms. Five Full Stars all the way around

excellent awesome and fantastic


Review by woodlands tom on 5/31/12

I paid the extra for the hand select, and received the most beautiful gun. Naturally, one needs to clean them thoroughly, remembering that cosmoline is your friend. Everyone I have ever let hold this gun admires the fit and finish, as well as the wonderful balance. Everyone I have ever let fire this gun has expressed a desire to own one. No one can believe such a great gun is so inexpensive. My wife liked it so much, I had to order one of the chrome ones from here. This is one of the great bargains in handguns, and Classic Firearms picked out a beauty for me. Five Full Stars all the way around.

Excellent!


Review by Seth on 5/25/12

I ordered one of these fine pistols a couple months ago. Since the new site has a review feature, I figured I would offer my 2 cents.

The Romanian TTC is compact and packs quite a punch! I know some people wouldn't recommend a gun like this for conceal carry, but how slim it is makes it very comfortable to carry all day, even inside-the-waistband. (I am unaware of any manufacturer who makes an IWB holster for this gun, so I made my own.)

If you are considering it as a unique and powerful carry gun, Wolf makes some Hollow Points in 7.62 x 25mm. They can be pricy and hard to come by, so just stick to the cheap surplus stuff for target practice.

My brother carries a Springfield .45 XD, but the first time he fired my Tok he immediately pulled $200 out of his wallet and said "You gotta get me one!" He was particularly impressed with how easy it was to handle, despite the powerful cartridge. I would compare the 7.62 Tokarev round to a 9mm+P, but with better ballistics.
The gun seems to shoot high at <25 yards, although this seems to be common of Tokarevs.

If you are used to modern polymer guns, you may be surprised by how heavy this seemingly compact gun is. All steel construction, except for the plastic grips, is I think what makes this smaller gun so easy to handle and quick to re-engage with the target.

Over-all, it is compact, handles well, durable, and a fine piece of history. I would highly recommend this gun.

I love these things!


Review by Big John/ Georgia on 5/23/12

What a great little piece of commie rock and roll! Before purchasing, I watched videos of this gun blowing chunks out of a Toyota Forerunner brake drum, and I also saw video of it penetrating a kevlar helmet with ease, something the .22, 9m, 40 cal, and the .357 FAILED to do. The surplus ammo is still relatively cheap, but getting kinda scarce. If you can land some, this is a relatively cheap gun to shoot. The accuracy is very good for a handgun, the kick is not bad at all, and it makes respectable groupings and holes. It fires reliably, with NO visible or detectable quirks. For the safety-minded folks, this gun actually comes with 2 different safetys! An Ideal weapon for home defense, Conceal-carry, or target shooting.
My daughter fell in love with the thing, and we wound up buying another one for her for her birthday. We are now a twin Tok household.
One note, do NOT dry-fire these weapons! The older firing pin design precludes that, and will compromise the pin. Buy those plastic dry fire bullets, and dry fire to your heart's content!
Easy to operate, dismantle, clean and re-assemble. As much as commie ideology really sucks, I love the simplicity and reliablility of their firearms.
5 stars