Chinese Norinco Bayonet
Availability: Out of stock
| Item #: acc-nor-bayo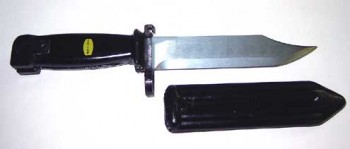 Double click on above image to view full picture
Have Your Own Photos? Login to Add Them
Chinese Norinco Bayonet
Availability: Out of stock
| Item #: acc-nor-bayo
---
Bayonet, Chinese Norinco Bayonet - Fits all AK-47 style rifles
Read More
MSRP:

$49.99
|

Your Price:
$24.99
| | |
| --- | --- |
| List Price: | $49.99 |
| Your Price: | $24.99 |
| You Save: | $25.00 (50%) |
Brutus' Description
While looking for some Romanian bayonets, we ran across these, and I just could not resist. The Chinese bayonets were always my favorite and these are brand new still in the plastic wraps. Chinese bayonets has a full bakelite handle and handguard--also had a high quality steel blade that could be sharpened and actually hold an edge. In fact, these have a fairly sharp edge straight out of the sheath.
Unfortunately my photo does not allow me to show the true quality as black bakelite is very difficult to photograph to show detail, but believe me.....these are the nicest of the nice.
Fits virtually all AK rifles with a bayonet lug.
Manufacturer's Description
Chinese Norinco Bayonet - Fits all AK-47 style rifles
Additional Information
Product Specs

Chinese
Brand new
Fits all AK-47 rifles w/ a bayonet lug

License Requirement
None
Manufacturer
Norinco
Mfg. Part Number
Chinese Bayonet
UPC
N/A
Caliber/Gauge
7.62x39
Barrel Length
N/A
Threaded Barrel
N/A
Free Shipping
No
Flat Rate Shipping
N/A
Brutus' Description

While looking for some Romanian bayonets, we ran across these, and I just could not resist. The Chinese bayonets were always my favorite and these are brand new still in the plastic wraps. Chinese bayonets has a full bakelite handle and handguard--also had a high quality steel blade that could be sharpened and actually hold an edge. In fact, these have a fairly sharp edge straight out of the sheath.

Unfortunately my photo does not allow me to show the true quality as black bakelite is very difficult to photograph to show detail, but believe me.....these are the nicest of the nice.

Fits virtually all AK rifles with a bayonet lug.

Manufacturer's Description

Chinese Norinco Bayonet - Fits all AK-47 style rifles

Additional Information

Product Specs

Chinese
Brand new
Fits all AK-47 rifles w/ a bayonet lug

License Requirement
None
Manufacturer
Norinco
Mfg. Part Number
Chinese Bayonet
UPC
N/A
Caliber/Gauge
7.62x39
Barrel Length
N/A
Threaded Barrel
N/A
Free Shipping
No
Flat Rate Shipping
N/A