LEFT Handed Bump Fire Stock for AR-15 by Slide Fire Solutions - Standard Battle Stock
Availability: Out of stock
| Item #: SSAR-15-SBS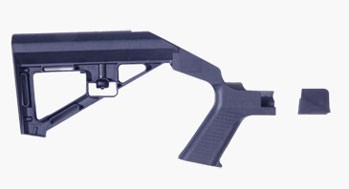 Double click on above image to view full picture
More Views
Have Your Own Photos? Login to Add Them
LEFT Handed Bump Fire Stock for AR-15 by Slide Fire Solutions - Standard Battle Stock
Availability: Out of stock
| Item #: SSAR-15-SBS
---
LEFT Handed Bump Fire Stock, Slide Fire Solutions bump-fire stock for AR-15 rifles. New 2nd Generation Slide Fire SBS - Standard Battle Stock
Read More
Brutus' Description
LEFT handed version only in stock at this time (no right handed)
Applying principles that have been used for over 40 years to Bump Fire - this new radical design ensures the operator can hold the rifle correctly without compromising their own safety or the safety of others around them. Unlike when bump firing from the hip; the SSAR-15 allows the shooter to properly aim the firearm. In addition, the shooter must push forward to discharge each round, as a result, the shooter corrects their point-of-aim for each shot discharged instead of allowing recoil to push the muzzle upward.
With the introduction of the Slide Fire Solutions SSAR-15™ rifle stock, SFS set new standards for innovation, creativity, and excitement in the firearms accessory industry.
Two years of development and testing paid off with a product that functions exactly as advertised. The lifetime warranty and money back guarantee proves that Slide Fire Solutions stands behind their product 100%!
Whether you choose the original or the 2nd generation (really personal preference) , these things take the fun to a whole new level.
Manufacturer's Description
LEFT Handed Bump Fire Stock, Slide Fire Solutions bump-fire stock for AR-15 rifles. This stock provides a safe, rapid fire experience for your AR-15 rifle.
Slide Fire Solutions, LP (SFS) is proud to announce the SSAR-15™ SBS (Standard Battle Stock); the latest design in our SFS Superior Performance Stocks. The SSAR-15™ SBS is in the same line as the SSAR-15™ OGR (Original Gun-stock Release) which means you can expect the same performance, reliability, and craftsmanship as with all SFS products.
The SSAR-15™ SBS is offered in the same options as all SFS Superior Performance Stocks. Options include right and left hand models. The SSAR-15™ SBS and the SSAR-15™ OGR are winter trigger guard and SPADE compatible. The primary difference between the SSAR-15™ SBS and the SSAR-15™ OGR is the design intent.
In an effort to cater to varying consumer preferences, the SSAR-15™ SBS is designed to resemble current combat rifle stocks. In addition, the SSAR-15™ SBS was designed with multiple accessories in mind which will be available in the near future.
This item is guaranteed to take the fun factor of firing your AR-15 to a whole new level!
Made in USA
Additional Information
Product Specs

Constructed of Premium Reinforced High Strength Polymer
Compatible with Mil-Spec and Commercial Buffer Tubes
Some Sling Plates may not be compatible
Includes: SSAR-15™ SBS, Interface Block, Hex Key, Instructions and BATFE Approval Letter

License Requirement
None
Manufacturer
Slide Fire Solutions
Mfg. Part Number
SSAR-15-SBS
UPC
No
Caliber/Gauge
.223 / 5.56
Barrel Length
No
Threaded Barrel
N/A
Free Shipping
No
Flat Rate Shipping
N/A
Customer Reviews
This is a brief video of me shooting my Bump Fire Stock by Slide Fire Solutions. I love it. It is easy to install and works like a dream. Once you master how to fire it you can put 30 rounds through it in a matter of seconds. Classic Firearms delivered it quickly and with no problems. I installed it in minutes and was on the range shortly after. If you have never fired a fully auto weapon, like this simulates, you are missing out on a great experience. I highly recommend it.
Works great and is lots of fun!
Got it on sale, fits right and works great, just as advertised.
To compare to the competitor brand- b**p fire systems, this slide fire appears to have slightly better quality control and is thicker in most areas.
The shipping here was high considering I live a few miles from classic firearms.
The other mentioned brand used the same shipping method for $6, from FL)
Overall I am satisfied with the product and the purchase
Brutus' Description

LEFT handed version only in stock at this time (no right handed)

Applying principles that have been used for over 40 years to Bump Fire - this new radical design ensures the operator can hold the rifle correctly without compromising their own safety or the safety of others around them. Unlike when bump firing from the hip; the SSAR-15 allows the shooter to properly aim the firearm. In addition, the shooter must push forward to discharge each round, as a result, the shooter corrects their point-of-aim for each shot discharged instead of allowing recoil to push the muzzle upward.

With the introduction of the Slide Fire Solutions SSAR-15™ rifle stock, SFS set new standards for innovation, creativity, and excitement in the firearms accessory industry.

Two years of development and testing paid off with a product that functions exactly as advertised. The lifetime warranty and money back guarantee proves that Slide Fire Solutions stands behind their product 100%!

Whether you choose the original or the 2nd generation (really personal preference) , these things take the fun to a whole new level.

Manufacturer's Description

LEFT Handed Bump Fire Stock, Slide Fire Solutions bump-fire stock for AR-15 rifles. This stock provides a safe, rapid fire experience for your AR-15 rifle.

Slide Fire Solutions, LP (SFS) is proud to announce the SSAR-15™ SBS (Standard Battle Stock); the latest design in our SFS Superior Performance Stocks. The SSAR-15™ SBS is in the same line as the SSAR-15™ OGR (Original Gun-stock Release) which means you can expect the same performance, reliability, and craftsmanship as with all SFS products.

The SSAR-15™ SBS is offered in the same options as all SFS Superior Performance Stocks. Options include right and left hand models. The SSAR-15™ SBS and the SSAR-15™ OGR are winter trigger guard and SPADE compatible. The primary difference between the SSAR-15™ SBS and the SSAR-15™ OGR is the design intent.

In an effort to cater to varying consumer preferences, the SSAR-15™ SBS is designed to resemble current combat rifle stocks. In addition, the SSAR-15™ SBS was designed with multiple accessories in mind which will be available in the near future.

This item is guaranteed to take the fun factor of firing your AR-15 to a whole new level!

Made in USA

Additional Information

Product Specs

Constructed of Premium Reinforced High Strength Polymer
Compatible with Mil-Spec and Commercial Buffer Tubes
Some Sling Plates may not be compatible
Includes: SSAR-15™ SBS, Interface Block, Hex Key, Instructions and BATFE Approval Letter

License Requirement
None
Manufacturer
Slide Fire Solutions
Mfg. Part Number
SSAR-15-SBS
UPC
No
Caliber/Gauge
.223 / 5.56
Barrel Length
No
Threaded Barrel
N/A
Free Shipping
No
Flat Rate Shipping
N/A

Customer Reviews

This is a brief video of me shooting my Bump Fire Stock by Slide Fire Solutions. I love it. It is easy to install and works like a dream. Once you master how to fire it you can put 30 rounds through it in a matter of seconds. Classic Firearms delivered it quickly and with no problems. I installed it in minutes and was on the range shortly after. If you have never fired a fully auto weapon, like this simulates, you are missing out on a great experience. I highly recommend it.
Works great and is lots of fun!
Got it on sale, fits right and works great, just as advertised.
To compare to the competitor brand- b**p fire systems, this slide fire appears to have slightly better quality control and is thicker in most areas.
The shipping here was high considering I live a few miles from classic firearms.
The other mentioned brand used the same shipping method for $6, from FL)
Overall I am satisfied with the product and the purchase