Buttpad (Stock Extension) for SKS Rifles
Availability: In Stock
| Item #: ACCSKS-BP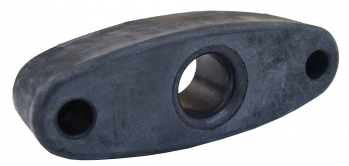 Double click on above image to view full picture
More Views
Have Your Own Photos? Login to Add Them
Buttpad (Stock Extension) for SKS Rifles
Availability: In Stock
| Item #: ACCSKS-BP
---
Stock Extension / Bbuttpad SKS rifles. Provides not only extra padding against recoil, but also extra length for added comfort.
Read More
Brutus' Description
This 1" Rubber Butt Pad / Stock extension provides a little extra length of pull as well as acting as a recoil pad.
Mounts on top of butt plate using existing screws and allows access to the cleaning kit trap door.
Fits all original SKS rifle stocks.
Manufacturer's Description
1" Rubber Buttpad (Stock Extension) for SKS Rifle
Additional Information
| | |
| --- | --- |
| Product Specs | |
| License Requirement | None |
| Manufacturer | TAPCO |
| Mfg. Part Number | SKS Buttpad |
| UPC | No |
| Caliber/Gauge | 7.62x39 |
| Barrel Length | No |
| Threaded Barrel | No |
| Free Shipping | No |
| Flat Rate Shipping | No |
Brutus' Description

This 1" Rubber Butt Pad / Stock extension provides a little extra length of pull as well as acting as a recoil pad.
Mounts on top of butt plate using existing screws and allows access to the cleaning kit trap door.
Fits all original SKS rifle stocks.

Manufacturer's Description

1" Rubber Buttpad (Stock Extension) for SKS Rifle

Additional Information

| | |
| --- | --- |
| Product Specs | |
| License Requirement | None |
| Manufacturer | TAPCO |
| Mfg. Part Number | SKS Buttpad |
| UPC | No |
| Caliber/Gauge | 7.62x39 |
| Barrel Length | No |
| Threaded Barrel | No |
| Free Shipping | No |
| Flat Rate Shipping | No |