AR-12 Semi Auto, AR-15 Style 12GA Shotgun by Panzer Arms of Turkey, 3" Chambers - OD Green
Availability: In Stock
| Item #: LNG-AR12-ODG
MPN: AR12SODG
AR-12 Semi Auto, AR-15 Style 12GA Shotgun by Panzer Arms of Turkey, 3" Chambers - OD Green
Availability: In Stock
| Item #: LNG-AR12-ODG
MPN: AR12SODG
---
The AR-12 not only resembles the AR-15 / M16 rifle but the control and function are similar. There have been a couple of variations of these on the market in the past with varying degrees of success but with this latest generation of AR-12 we think that Panzer Arms of Turkey has finally hit on the ultimate combination of design and features. This shotgun has beautifully styled polymer furniture that has a great feel similar to Houge. Butt stock has a built in recoil pad with an ergonomic pistol grip. Flat top receiver with a full weaver rail . Forearm has a great futuristic and ergonomic design with a quad rail molded in to the top as well as a light attachment molded in to the front of the fore end. Chambered for both 2 3/4" and 3" shells.
Don't miss the Gunmeister's review of the AR-12: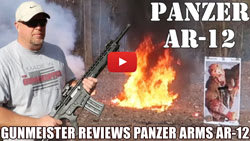 We also sell extra mags Here!
Brutus' Description
The AR12 semi-automatic shotgun uses a conventional gas-operated action which is located around the support tube that runs below the barrel. The return spring is also located around the same support tube which is concealed by an enlarged polymer handguard . The AR12 barrel can be very easily removed from the upper receiver. The upper receiver is manufactured from an aluminum alloy while the lower receiver, pistol grip, and stock are manufactured as one piece from impact resistant polymer. The AR-12 comes with two 5rd metal detachable magazines. The magazine release button mimics the M16 rifle location. The manual safety also duplicates the M16 style being located on the left side of the receiver above the pistol grip. The top of the receiver has an integral picatinny rail for mounting rear sights, or any optical accessories. The AR-12 12 gauge shotgun is appropriate for all levels of hunting and sporting enthusiasts. Comes packaged in a nice commercial box with 2 mags and manual as seen above. Includes removable front and rear flip up sights. Chambered for 2 3/4" or 3" Magnum loads. These are just really cool.

Shotguns carry a full 1 year warranty from the U.S. Importer.

Note - This is the 3rd generation design of the AR-12 shotguns and are also being made by a different company in Turkey than the previous models. We are told by the importer that they have had some gas system improvements to make them even more reliable with a wide array of shell and charges. Any reviews as of 11/13/2017 associated with this ad will be referencing the previous generation of shotgun as well as any live fire video's you may see. The previous generation of these also had barrels threaded for and came supplied with choke tubes, however these did not. As such the original video shows choke tubes but please know that these Do Not Come With Choke Tubes Nor Will They Accept Them.
Specifications
Additional

12 gauge
Model - AR12
Operation - Gas operated semi-automatic
Range - 35 mt.
Weight (Empty) - 6 1/2 lbs
Barrel Length - 20 in
Magazine Capacity - 5rds
Safety - Manual safety level
Overall Length - 39 3/4 in

Country of Manufacture
Turkey
License Requirement
FFL
Manufacturer
Panzer Arms
Mfg. Part Number
AR12SODG
UPC
No
Caliber/Gauge
12 GA
Action
Semi Automatic
Barrel Length
20.00
Threaded Barrel
No
Condition
New
Free Shipping
No
Manufacturer's Description
The AR-12 is a gas operated, mag fed, semi-automatic shotgun manufactured in Turkey by Panzer Arms Technologies. It is built on with AR-15 styling and looks like an AR-15 on steroids.
Others Also Viewed...


loading...


Why Customers Bought This
Customer Photos & Videos
Questions & Answers