Barska / UTG 40mm Scope Package for AK Type Rifles with Side Rails
Availability: Out of stock
| Item #: acc-ak-bsmpd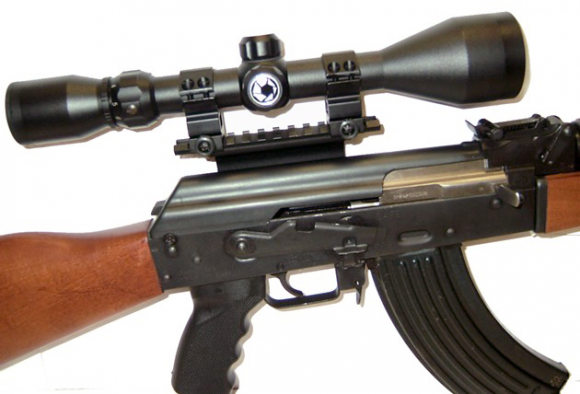 Double click on above image to view full picture
More Views
Have Your Own Photos? Login to Add Them
Customer Submitted Videos
Barska / UTG 40mm Scope Package for AK Type Rifles with Side Rails
Availability: Out of stock
| Item #: acc-ak-bsmpd
---
Scope Package for AK Type Rifles with Side Rails. Fits all AK-47, AK-74, M77 PS .308's,, Saiga's' Veprs and many other rifles with side rails.
Includes 3x9x40 Barska Scope, 1" rings, and Double Picatinny Side Rail Mount


Read More
MSRP:

$129.99
|
Your Price:
$69.99
Brutus' Description
Scope package deal for virtually all AK type rifles with side rails including many of our AK-47s, AK-74s amd Vepr rifles.. A great value for the money.
Here is what you get - 1 Barska 3-9x40 Full Size Rifle Scope complete with 1" Factory Ring Set, Black Matte, 30/30, 1" Tube, Waterproof, Fogproof and Shockproof. Fully Coated optics, Parallax-Free at 100 yards, 1/4 MOA Fingertip adjustments, Scope Caps Included.

This scope is made by Barska and is very high quality. To learn more about this fine scope go here: Barska 3x9x40 Variable Power Scope

Also comes with our Universal AK Side Rail Mount. This high quality mount is perfect for your AK, Saiga, or any AK Variant with a built in side rail. These mounts are both stylish and practical and work perfectly on most all AK Variants.

Rings are included and are standard 1" weaver type. Purchase these items as a package deal and save!
This is a great scope addition to any AK-47, Saiga rifle, M77, VEPR or other AK variant with the side rail mount.
Manufacturer's Description
Scope Package for AK Type Rifles with Side Rails. Fits all AK-47, AK-74, M77 PS .308's, Saigas, Veprs and many other rifles with side rails. Includes 3x9x40 Barska Scope, 1" rings, and Double Picatinny Side Rail Mount
Additional Information
Product Specs

Includes...
Barska 3x9x40 scope
1" weaver rings
Double Picatinny Rail Side Mount

Country of Manufacture
United States
License Requirement
None
Manufacturer
Barska
Mfg. Part Number
Barska Scope Pkg
UPC
790272976423
Caliber/Gauge
7.62x39
Barrel Length
No
Threaded Barrel
No
Free Shipping
No
Flat Rate Shipping
No
Customer Reviews
I was impressed with this pak. For the price, it's money well spent. I ordered this pack for my M-10 AK-47 (reviewed) and it fits like a glove, and it's solid and steady with no slippage or constant need for re-adjustment, unless you remove the kit and re-install later. The scope is basic, but for applications inside 100 yards, this accomodates nicely. Scope is easy to adjust. Would recommend to all as a enhancement to your firearm.
I'll give it 4 stars versus 5, for the reason that the side scopemount included is the model that requires installation and takedown with an allen wrench, versus the easy on-off version of the sidemount with a lever. North of that, it's a solid buy!
Nice price for the scope and mount. With this scope mount on the Yugo M70 N PAP, you will have to take off mount to take the dust cover off because the scope mount gets in the way of the button to to take the dust cover off. So I machined the mount with a lil slot on the back so I can press the button of my M70 N Pap to take the dust cover off. I can leave this mount on and break down my rifle. I also cut off the rails and machined it flushed so that I can adjust the power of the scope. This is my first scope ever and I like it. I am not experienced with scopes, but was impressed. This scope made a big difference to my rifle. There is no wobble with this mount and its rigid...
Purchased a Barska scope combo 8 mos. ago for use on my collection of AK's. Installed the scope on a UTG Quick Release Side Mount and within a few short minutes had the unit zero'd. After several hundred rds. the scope and mount were still solid and maintained zero. The Quick-Release side mount allows me to switch the scope between AK's easily with minimum to no fuss. Adjustments to zero for each rifle are quickly accomplished with scope combo remaining tight & continues to maintains zero after many rds...Am I satisfied ?? I am ecstatic !! IMO, The Barska Scope is the perfect optic match for the Kalashnikov and has the best overall value. I am considering purchasing several other Barska combos as gifts.
I bought this for my Yugo N-PAP. Summary, scope is very good for the money, with very little fuss I was able to zero. Mount is good and solid, my only complaint is particular to my AK, which has a folding stock, which required removal of stock to mount rail. Most people's AK's will not have this issue. Would have been better if it included lever mount, but again no big deal for most AK's Does prevent you form using iron sites, which is why only 4 stars
This scope has a high quality feel to it. All the dials are precision smooth. It is working great on my AK47. With technology being as advanced as it is, all scopes should be in this price range. Don't waste your money on high priced scopes that do not surpass the quality of this one.
I was very happy with this combo pack!!!
Took it to the range mounted on my AK-74 purchased from Classic, with minor adjustments the scope was dialed in..
The mount sits rock solid, did not budge at all, even after several hundred rounds.
Thanks again Classic for another quality item at a resonable price!!!
A little adjustment and was dead center.
I had the Barska scope ounted on the side rail of my WASR-10 that Classic sold as a package. The smiths that did the work for me said, "If someone tells you it's mounted too far forward and it's wrong, you can tell them by mounting towards the forward of the AK-47, it easily clears the iron front site and even our gunsmiths were amazed."

I believe the Barska model was the Colorado... Regardless, when Classic sold this scope and side rail mount, I purchased with some skepticism. This is one situation I'll tell you, Classic did me RIGHT by suggesting the Barska on my AK. I might not put an optic on any other AK I have, but I don't regret for a minute the crisp clear and accurate view I now have through the lens of my Barska scope. $20 at a local shop with knowledgeable gunsmiths = an awesome WASR-10 with a tough looking optic to boot.

As far as accuracy goes...who said AK's aren't meant for optics? Take my advice, having this optic has allowed me to hit the center of a pop can from 60 yards out, 3 times in a row.... and I'm a fair shot.

I love the Barska Scopes Classic sales!
If you want a good scope and mount for a Ak this is the one to get. If you buy the pieces separate it will run well over a hundred. I took out to the range to zero it in and to my surprise it only took 7 rounds to make it happen. Thanks classic for a good product at reasonable price. I plan on purchasing some more at this price!
Bought two for my Ak-74 Bulgarian One for Scope & one for Red dot / Light and laser Accidently ordered a thrd & kept it
Brutus' Description

Scope package deal for virtually all AK type rifles with side rails including many of our AK-47s, AK-74s amd Vepr rifles.. A great value for the money.

Here is what you get - 1 Barska 3-9x40 Full Size Rifle Scope complete with 1" Factory Ring Set, Black Matte, 30/30, 1" Tube, Waterproof, Fogproof and Shockproof. Fully Coated optics, Parallax-Free at 100 yards, 1/4 MOA Fingertip adjustments, Scope Caps Included.

This scope is made by Barska and is very high quality. To learn more about this fine scope go here: Barska 3x9x40 Variable Power Scope

Also comes with our Universal AK Side Rail Mount. This high quality mount is perfect for your AK, Saiga, or any AK Variant with a built in side rail. These mounts are both stylish and practical and work perfectly on most all AK Variants.

Rings are included and are standard 1" weaver type. Purchase these items as a package deal and save!

This is a great scope addition to any AK-47, Saiga rifle, M77, VEPR or other AK variant with the side rail mount.

Manufacturer's Description

Scope Package for AK Type Rifles with Side Rails. Fits all AK-47, AK-74, M77 PS .308's, Saigas, Veprs and many other rifles with side rails. Includes 3x9x40 Barska Scope, 1" rings, and Double Picatinny Side Rail Mount

Additional Information

Product Specs

Includes...
Barska 3x9x40 scope
1" weaver rings
Double Picatinny Rail Side Mount

Country of Manufacture
United States
License Requirement
None
Manufacturer
Barska
Mfg. Part Number
Barska Scope Pkg
UPC
790272976423
Caliber/Gauge
7.62x39
Barrel Length
No
Threaded Barrel
No
Free Shipping
No
Flat Rate Shipping
No

Customer Reviews

I was impressed with this pak. For the price, it's money well spent. I ordered this pack for my M-10 AK-47 (reviewed) and it fits like a glove, and it's solid and steady with no slippage or constant need for re-adjustment, unless you remove the kit and re-install later. The scope is basic, but for applications inside 100 yards, this accomodates nicely. Scope is easy to adjust. Would recommend to all as a enhancement to your firearm.
I'll give it 4 stars versus 5, for the reason that the side scopemount included is the model that requires installation and takedown with an allen wrench, versus the easy on-off version of the sidemount with a lever. North of that, it's a solid buy!
Nice price for the scope and mount. With this scope mount on the Yugo M70 N PAP, you will have to take off mount to take the dust cover off because the scope mount gets in the way of the button to to take the dust cover off. So I machined the mount with a lil slot on the back so I can press the button of my M70 N Pap to take the dust cover off. I can leave this mount on and break down my rifle. I also cut off the rails and machined it flushed so that I can adjust the power of the scope. This is my first scope ever and I like it. I am not experienced with scopes, but was impressed. This scope made a big difference to my rifle. There is no wobble with this mount and its rigid...
Purchased a Barska scope combo 8 mos. ago for use on my collection of AK's. Installed the scope on a UTG Quick Release Side Mount and within a few short minutes had the unit zero'd. After several hundred rds. the scope and mount were still solid and maintained zero. The Quick-Release side mount allows me to switch the scope between AK's easily with minimum to no fuss. Adjustments to zero for each rifle are quickly accomplished with scope combo remaining tight & continues to maintains zero after many rds...Am I satisfied ?? I am ecstatic !! IMO, The Barska Scope is the perfect optic match for the Kalashnikov and has the best overall value. I am considering purchasing several other Barska combos as gifts.
I bought this for my Yugo N-PAP. Summary, scope is very good for the money, with very little fuss I was able to zero. Mount is good and solid, my only complaint is particular to my AK, which has a folding stock, which required removal of stock to mount rail. Most people's AK's will not have this issue. Would have been better if it included lever mount, but again no big deal for most AK's Does prevent you form using iron sites, which is why only 4 stars
This scope has a high quality feel to it. All the dials are precision smooth. It is working great on my AK47. With technology being as advanced as it is, all scopes should be in this price range. Don't waste your money on high priced scopes that do not surpass the quality of this one.
I was very happy with this combo pack!!!
Took it to the range mounted on my AK-74 purchased from Classic, with minor adjustments the scope was dialed in..
The mount sits rock solid, did not budge at all, even after several hundred rounds.
Thanks again Classic for another quality item at a resonable price!!!
A little adjustment and was dead center.
I had the Barska scope ounted on the side rail of my WASR-10 that Classic sold as a package. The smiths that did the work for me said, "If someone tells you it's mounted too far forward and it's wrong, you can tell them by mounting towards the forward of the AK-47, it easily clears the iron front site and even our gunsmiths were amazed."

I believe the Barska model was the Colorado... Regardless, when Classic sold this scope and side rail mount, I purchased with some skepticism. This is one situation I'll tell you, Classic did me RIGHT by suggesting the Barska on my AK. I might not put an optic on any other AK I have, but I don't regret for a minute the crisp clear and accurate view I now have through the lens of my Barska scope. $20 at a local shop with knowledgeable gunsmiths = an awesome WASR-10 with a tough looking optic to boot.

As far as accuracy goes...who said AK's aren't meant for optics? Take my advice, having this optic has allowed me to hit the center of a pop can from 60 yards out, 3 times in a row.... and I'm a fair shot.

I love the Barska Scopes Classic sales!
If you want a good scope and mount for a Ak this is the one to get. If you buy the pieces separate it will run well over a hundred. I took out to the range to zero it in and to my surprise it only took 7 rounds to make it happen. Thanks classic for a good product at reasonable price. I plan on purchasing some more at this price!
Bought two for my Ak-74 Bulgarian One for Scope & one for Red dot / Light and laser Accidently ordered a thrd & kept it