CZ-82 Pistol - 9x18 caliber
Availability: Out of stock
| Item #: HGNCZ-82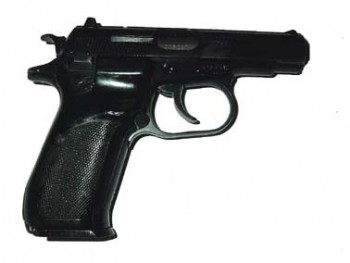 Double click on above image to view full picture
More Views
Have Your Own Photos? Login to Add Them
Customer Submitted Videos
CZ-82 Pistol - 9x18 caliber
Availability: Out of stock
| Item #: HGNCZ-82
---
Pistol, Historic Czech CZ-82 pistol, ex-military/police, semi-automatic, includes one 12rd mag, holster - 9x18 caliber
Read More
Brutus' Description
Anytime we get these in, they are one of our hottest sellers. We have had these many times in the past, but I don't think we have ever had any this nice overall. All of these are NRA surplus very good to excellent condition. The condition of this batch suroasses any we have had before! Classic Firearms always tries to pay a little premium to obtain only the highest quality military surplus items available and it shows here. A note about the bores -- Without fail, when we carry CZ-82 pistols, we get calls about the bores. As such, we always feel the need to educate in advance. CZ-82 pistols incorporate polygonal rifling. This is very different than traditional groove rifling and looks different to the eye. However, it is very accurate and creates a rifled barrel that will withstand many more rounds through it without starting to wear. Without getting extremely detailed here, let me just say you can look up polygonal rifling on any search engine and find a ton of information on it, but trust me when I say the bores are as they should be and these pistols are amazingly accurate.
Manufacturer's Description
Historic CZ-82 9x18 caliber semi-automatic pistol used by Czech police/military. Comes with one 12rd mag and used holster (holster cannot be returned for condition). Black polycoat finish with plastic grips. Very heavy duty and accurate pistol. Has polygonal rifling for long barrel life (rifling not visible). Replaced the famous CZ-52.
Additional Information
Product Specs

9x18 caliber
semi-automatic
12rd mag
polygonal rifling
very good - excellent condition

License Requirement
Curio and Relic
Manufacturer
Czech Republic
Mfg. Part Number
CZ 82 Pistol
UPC
No
Caliber/Gauge
9x18
Threaded Barrel
No
Free Shipping
No
Flat Rate Shipping
No
Customer Reviews
This is an excellently put together little gun, and for the price they are absolutely unbeatable. It shoots phenomenally (with a few caveats, see below), it's reasonably accurate and it is extremely cleverly put together. Overall, I'd definitely buy one again.

Notes:
-The frame can dig into the web of your thumb a bit if you shoot it a lot. Some careful sanding could probably fix that, but it's worth noting.
-Mine is extremely picky about ammo. I've had excellent luck with cheap Russian lacquered steel case ammo (Brown Bear, for instance) and with Fiocchi if you're feeling fancy, but it solidly refuses to properly cycle Wolf (no huge surprise, I suppose) or several other cheaper brands. Just experiment with it. If you're looking for cheap ammo, Brown Bear shoots like a dream.
Bought one of these about a year and a half ago. The pistol arrived in excellent condition for an excellent price and Classicfirearms has been a pleasure to deal with. The gun functions perfectly with zero malfunctions and is in great shape. I appreciate the service.
Friends: I purchased a CZ-82 in 9x18 to go with my CZ-52 pistol-VZ-58 rifle- VZ-61 scorpion-CZ-83 in 32 auto and my CZ-85 flare gun for 26.5 military flares.CZ makes first class products and my CZ-82 had a small amount of surface wear which was covered by a gun black touch up pen because the military guns have a painted finish.Fit and function have been flawless and when I shoot my CZ-82 and CZ-83 side by side,the 9x18 has a real sharp bark.Classic firearms can be trusted to provide neat guns for your enjoyment.
I recieved my CZ-82 and it was in prestine condition! The shipping and pickup was about 2 weeks, and I can definitely live with that. I also love that Classic Firearms added an additional magazine and I didnt even select a additional magazine. I will definitely be doing business with classic firearms again. Thank you for the great service.
Have an 82 9x18 and would gladly use it anytime in combat.Very accurate serviceable and dependable.By far the most consistantly accurate pistol i have shot so far,and ive shot allot of them.
This is my first pistol and I am happy. It is difficult in my area to find a place to shoot though. So far I only have the cheap ammo with steel and ranges won't let me shoot, and my county does not allow shooting except in ranges.
I paid extra for hand select. The gun on the outside does not appear new, but on the inside it does appear new! After about 150 rounds there are wear marks that previously weren't there. This pistol feels comfortable in my hand. I added grip tape to part of the handle to improve the feel.
Can't go wrong with CFA. Fast shipping, product quality as described.
CZ-82 hand picked w/scratch or two.
Very accurate high quality product.

With this being one of the very last of these in stock, I expected one with the finish rubbed off, scratches, etc. What I received instead was a pistol that looks like it was unissued. Even the holster and lanyard were in like-new condition. I do hope that Classic gets another shipment in! The only gun more comfortable in MY hand, is my old Ruger Mk II. It shoots good groups, but way left, so, I'll need to adjust the sight, but I'm more than pleased with this gun. My first purchase with my FLL03, and was so impressed with Classic, I ordered two P-64s, as they were out of these. You can't go wrong with Classic Arms!
I was a bit confused and frustrated when mine arrived without a magazine. Emailed Classic and they initially refunded me the cost of a mag since they were sold out of mags. I was able to get through their busy phone lines the next day to explain that it was not that I did not get a mag that I had purchased, but that they had sold me a gun with NO magazine (which is basically as useful as a muzzle loader). They figured out the mistake and were able to find one someplace and send it to me. (They would not say, but I like to think that the big boss man forked his extra mag over to make the deal right, or perhaps they use them as paperweights since they usually sell piles of these things :)
Shipping was fast paid for hand select not worth it compared to the other had select guns I have gotten from classic. The gun had some finish wore off and some scratches. Perfect bore though so I am happy a blast to shoot however the slide has a tendency to lock back if the round isn't set perfect in the clip. Only happened with sellier bellot ammo though all others worked great. Overall a great little gun.
Great quality! On-time shipping, and great customer service. Too bad you were out of the extra magazines. oh well. This firearm was exactly as described with only minor blemishes in the finish. Very clean overall. A real pleasure to shoot. I've run about 200 rounds through it already and find that it's as accurate as I can be. No misfeeds, handles Buffalo Bore JHP, CCI Blazer FMJ, Hornady XTP, and russian-made ammo with equal ease. I recommend you get one ASAP.
Had been looking at this piece for a while. I decided to get this AND the Romanian TTC. No issues with the process or this piece. TTC was super nice too. My CZ came as described and cleaned up very nicely. Highly recommend it if you've been considering getting one. Just wish they had the ammo when I purchased it! You won't be disappointed!!
Bought for my wife and she is really pleased with it. Its hers so I have not fired it, but I can say it could almost pass for new, very nice shape. I will purchase from Classic Firearms again.
Nice gun for them money. Being a lefty I appricate the ambi features on this gun. Glad I boughjt it.
I now owned two of these. The trigger is perfect! Accurate, reliable as all get out! Hundreds of rounds and NO ftf/fte! I went with hand-picked option. My first gun looked brand new!!!!!! My second is in excellent condition! I've seen others from other dealers. I would have to refinish those. Mine are beautiful! Great caliber too!
Could not be happier with my purchase. It's in excellent condition and shoots like a dream. Will definitely do business with Classic again.
I ordered a hand select and this handgun appears to be in 'as new' condition! I was saving up funds to have it refinished because of all the stories of chipped paint and was surprised to find it in perfect condition without a mark on it. I put 40 rounds of Brown Bear through it today and found it to be extremely accurate. The trigger is like butter and had no feeding problems. Thanks Classic!
I purchased the CZ82 because I knew that CZ firearms were very good, and generally well worth the money. I took the hand picked option and also purchased a spare magazine. I was skeptical about a surplus gun, but the price was hard to pass up. When I received the gun I was very disapointed in the holster, but was pleased with the condition of the gun. Aside
for a few scratches on the grips, the gun's finish was almost perfect. However, upon attempting to field strip the CZ, I discovered two very troubling issues. The first was that the front sitght was very loose, the second was I could not get the trigger gaurd release to disengage. Both issues were so bad I almost returned the gun. But, I chose to take it to a gunsmith, and have him totally disassemble the gun and fux the front sight. When I went to pick up my CZ from the gunsmith, he informed me that my CZ was in excellent condition. He also stated that the trigger gaurd release was a very tight tolerance, but should now disengage, but still will need much effort to do so, though not as much as before. I then proceeded to the range and after firing a box if ammo through it, I was glad I kept my CZ82. Very accurate and a great shooter. Clean smooth double action and single action trigger pull. I really like this gun, just wish I did not have to take it to a gunsmith to get it into working order and the subsequent additional expense I incurred in doing so. That was my choice though, but if I had to do it over again?
Bought a CZ-82 from Classic Firearms, and loved it so much I bought another! Great price and both came well packed and in phenomenal shape. My best purchase in ages. Thanks Classic Firearms!
Came in with no major blemishes early 90s make with the (T) mark but looks never issued. Had some FTF(slide was locking back) but not misfires or FTE. Issue was resolved by replacing main recoil spring with a 18lb Wolfe spring.

Have fired both Hornady Custom XTP and the "Makarov" generic russian FMJ bought through this site without issue. (After cleaning and spring upgrade)
Brutus' Description

Anytime we get these in, they are one of our hottest sellers. We have had these many times in the past, but I don't think we have ever had any this nice overall. All of these are NRA surplus very good to excellent condition. The condition of this batch suroasses any we have had before! Classic Firearms always tries to pay a little premium to obtain only the highest quality military surplus items available and it shows here. A note about the bores -- Without fail, when we carry CZ-82 pistols, we get calls about the bores. As such, we always feel the need to educate in advance. CZ-82 pistols incorporate polygonal rifling. This is very different than traditional groove rifling and looks different to the eye. However, it is very accurate and creates a rifled barrel that will withstand many more rounds through it without starting to wear. Without getting extremely detailed here, let me just say you can look up polygonal rifling on any search engine and find a ton of information on it, but trust me when I say the bores are as they should be and these pistols are amazingly accurate.

Manufacturer's Description

Historic CZ-82 9x18 caliber semi-automatic pistol used by Czech police/military. Comes with one 12rd mag and used holster (holster cannot be returned for condition). Black polycoat finish with plastic grips. Very heavy duty and accurate pistol. Has polygonal rifling for long barrel life (rifling not visible). Replaced the famous CZ-52.

Additional Information

Product Specs

9x18 caliber
semi-automatic
12rd mag
polygonal rifling
very good - excellent condition

License Requirement
Curio and Relic
Manufacturer
Czech Republic
Mfg. Part Number
CZ 82 Pistol
UPC
No
Caliber/Gauge
9x18
Threaded Barrel
No
Free Shipping
No
Flat Rate Shipping
No

Customer Reviews

This is an excellently put together little gun, and for the price they are absolutely unbeatable. It shoots phenomenally (with a few caveats, see below), it's reasonably accurate and it is extremely cleverly put together. Overall, I'd definitely buy one again.

Notes:
-The frame can dig into the web of your thumb a bit if you shoot it a lot. Some careful sanding could probably fix that, but it's worth noting.
-Mine is extremely picky about ammo. I've had excellent luck with cheap Russian lacquered steel case ammo (Brown Bear, for instance) and with Fiocchi if you're feeling fancy, but it solidly refuses to properly cycle Wolf (no huge surprise, I suppose) or several other cheaper brands. Just experiment with it. If you're looking for cheap ammo, Brown Bear shoots like a dream.
Bought one of these about a year and a half ago. The pistol arrived in excellent condition for an excellent price and Classicfirearms has been a pleasure to deal with. The gun functions perfectly with zero malfunctions and is in great shape. I appreciate the service.
Friends: I purchased a CZ-82 in 9x18 to go with my CZ-52 pistol-VZ-58 rifle- VZ-61 scorpion-CZ-83 in 32 auto and my CZ-85 flare gun for 26.5 military flares.CZ makes first class products and my CZ-82 had a small amount of surface wear which was covered by a gun black touch up pen because the military guns have a painted finish.Fit and function have been flawless and when I shoot my CZ-82 and CZ-83 side by side,the 9x18 has a real sharp bark.Classic firearms can be trusted to provide neat guns for your enjoyment.
I recieved my CZ-82 and it was in prestine condition! The shipping and pickup was about 2 weeks, and I can definitely live with that. I also love that Classic Firearms added an additional magazine and I didnt even select a additional magazine. I will definitely be doing business with classic firearms again. Thank you for the great service.
Have an 82 9x18 and would gladly use it anytime in combat.Very accurate serviceable and dependable.By far the most consistantly accurate pistol i have shot so far,and ive shot allot of them.
This is my first pistol and I am happy. It is difficult in my area to find a place to shoot though. So far I only have the cheap ammo with steel and ranges won't let me shoot, and my county does not allow shooting except in ranges.
I paid extra for hand select. The gun on the outside does not appear new, but on the inside it does appear new! After about 150 rounds there are wear marks that previously weren't there. This pistol feels comfortable in my hand. I added grip tape to part of the handle to improve the feel.
Can't go wrong with CFA. Fast shipping, product quality as described.
CZ-82 hand picked w/scratch or two.
Very accurate high quality product.

With this being one of the very last of these in stock, I expected one with the finish rubbed off, scratches, etc. What I received instead was a pistol that looks like it was unissued. Even the holster and lanyard were in like-new condition. I do hope that Classic gets another shipment in! The only gun more comfortable in MY hand, is my old Ruger Mk II. It shoots good groups, but way left, so, I'll need to adjust the sight, but I'm more than pleased with this gun. My first purchase with my FLL03, and was so impressed with Classic, I ordered two P-64s, as they were out of these. You can't go wrong with Classic Arms!
I was a bit confused and frustrated when mine arrived without a magazine. Emailed Classic and they initially refunded me the cost of a mag since they were sold out of mags. I was able to get through their busy phone lines the next day to explain that it was not that I did not get a mag that I had purchased, but that they had sold me a gun with NO magazine (which is basically as useful as a muzzle loader). They figured out the mistake and were able to find one someplace and send it to me. (They would not say, but I like to think that the big boss man forked his extra mag over to make the deal right, or perhaps they use them as paperweights since they usually sell piles of these things :)
Shipping was fast paid for hand select not worth it compared to the other had select guns I have gotten from classic. The gun had some finish wore off and some scratches. Perfect bore though so I am happy a blast to shoot however the slide has a tendency to lock back if the round isn't set perfect in the clip. Only happened with sellier bellot ammo though all others worked great. Overall a great little gun.
Great quality! On-time shipping, and great customer service. Too bad you were out of the extra magazines. oh well. This firearm was exactly as described with only minor blemishes in the finish. Very clean overall. A real pleasure to shoot. I've run about 200 rounds through it already and find that it's as accurate as I can be. No misfeeds, handles Buffalo Bore JHP, CCI Blazer FMJ, Hornady XTP, and russian-made ammo with equal ease. I recommend you get one ASAP.
Had been looking at this piece for a while. I decided to get this AND the Romanian TTC. No issues with the process or this piece. TTC was super nice too. My CZ came as described and cleaned up very nicely. Highly recommend it if you've been considering getting one. Just wish they had the ammo when I purchased it! You won't be disappointed!!
Bought for my wife and she is really pleased with it. Its hers so I have not fired it, but I can say it could almost pass for new, very nice shape. I will purchase from Classic Firearms again.
Nice gun for them money. Being a lefty I appricate the ambi features on this gun. Glad I boughjt it.
I now owned two of these. The trigger is perfect! Accurate, reliable as all get out! Hundreds of rounds and NO ftf/fte! I went with hand-picked option. My first gun looked brand new!!!!!! My second is in excellent condition! I've seen others from other dealers. I would have to refinish those. Mine are beautiful! Great caliber too!
Could not be happier with my purchase. It's in excellent condition and shoots like a dream. Will definitely do business with Classic again.
I ordered a hand select and this handgun appears to be in 'as new' condition! I was saving up funds to have it refinished because of all the stories of chipped paint and was surprised to find it in perfect condition without a mark on it. I put 40 rounds of Brown Bear through it today and found it to be extremely accurate. The trigger is like butter and had no feeding problems. Thanks Classic!
I purchased the CZ82 because I knew that CZ firearms were very good, and generally well worth the money. I took the hand picked option and also purchased a spare magazine. I was skeptical about a surplus gun, but the price was hard to pass up. When I received the gun I was very disapointed in the holster, but was pleased with the condition of the gun. Aside
for a few scratches on the grips, the gun's finish was almost perfect. However, upon attempting to field strip the CZ, I discovered two very troubling issues. The first was that the front sitght was very loose, the second was I could not get the trigger gaurd release to disengage. Both issues were so bad I almost returned the gun. But, I chose to take it to a gunsmith, and have him totally disassemble the gun and fux the front sight. When I went to pick up my CZ from the gunsmith, he informed me that my CZ was in excellent condition. He also stated that the trigger gaurd release was a very tight tolerance, but should now disengage, but still will need much effort to do so, though not as much as before. I then proceeded to the range and after firing a box if ammo through it, I was glad I kept my CZ82. Very accurate and a great shooter. Clean smooth double action and single action trigger pull. I really like this gun, just wish I did not have to take it to a gunsmith to get it into working order and the subsequent additional expense I incurred in doing so. That was my choice though, but if I had to do it over again?
Bought a CZ-82 from Classic Firearms, and loved it so much I bought another! Great price and both came well packed and in phenomenal shape. My best purchase in ages. Thanks Classic Firearms!
Came in with no major blemishes early 90s make with the (T) mark but looks never issued. Had some FTF(slide was locking back) but not misfires or FTE. Issue was resolved by replacing main recoil spring with a 18lb Wolfe spring.

Have fired both Hornady Custom XTP and the "Makarov" generic russian FMJ bought through this site without issue. (After cleaning and spring upgrade)