[Auction] Enfield #4 MK1 .303 Bolt Action Good Cond. - C&R Eligible - SN# PF215477
Availability: Out of stock
| Item #: LNG-AUC-ENF4-MK1-PF215477
MPN: Enfield #4Mk1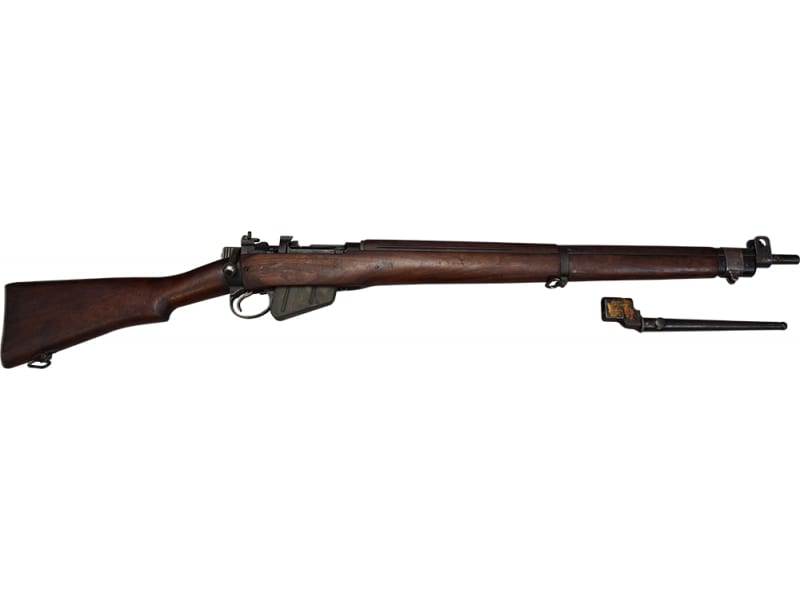 [Auction] Enfield #4 MK1 .303 Bolt Action Good Cond. - C&R Eligible - SN# PF215477
Availability: Out of stock
| Item #: LNG-AUC-ENF4-MK1-PF215477
MPN: Enfield #4Mk1
---
AUCTION DETAILS: SN# PF215477. No. 4 Mk 2(F) rifle. The non-matching bolt's serial number is MB24595. Beautiful stock has dark brown finish and grain. Rifle comes with bayonet. Stock is in very good condition, only light handling and storage marks. Slight wear on receiver finish, approximately 90% finish remaining. Bore shows no pitting and has strong rifling.
Historic British Enfield #4 MK1 Bolt Action Rifle in .303 British Caliber. Majority are in Good to Very Good Surplus Condition. (See Brutus Description.) These rifles have not been as readily available in the U.S. marketplace for several years now and we are proud to be able to offer them. The Enfield #4 Mk1 was the workhorse of the British Empire and they remain highly sought after by shooters, hunters, and collectors today. This rifle came from one of the nicest, cleanest batches we have ever come across. C&R Eligible.


Brutus' Description
If you would have asked me a few weeks ago if Classic would ever have any Enfield rifles to sell again I would have said that it was highly doubtful. You just never see these things anymore. But lo and behold here they are and we are sure proud to have them. Original #4 Mk1 model British Enfield rifles,.303 Caliber, Bolt Action. I don't know what theater of action this particular lot of rifles saw battle in because it could have been just about anywhere. The .303 Enfield was one of the most prominent battle rifles ever produced. Back in the late 80s and Early 90s we were able to obtain these fairly easily but they have been largely gone for years.

About this rifle: After running our last group of Enfield rifles that came out of the Samco liquidation, we thought that we would possibly never see Enfields in any quantities again. But this auction proves that miracles do happen. Someone saw our video about a previous batch of Enfields and it just so happened that the very same someone was setting on his own nice pile of Enfield rifles. They contacted us and you know what we said... of course we want them. They sent us some pictures and after a long drawn out negotiation (that lasted about 30 seconds) we sealed the deal. What a deal it was too. While this rifle is not perfect (no Enfields are as they simply saw too much service) by Enfield surplus standards it is very nice and head and shoulders above what we offered last time. The wood will show some dents and dings as is typical to surplus, but for the most part it is not dark or discolored and actually looks pretty darn good. Metal is above average for Enfields as well. Heck, these look as good or better than the Enfields I was offering in the 1980s when they were somewhat readily available.
No collection is complete without the addition of an Enfield... Don't Miss This... C&R Eligible

Specifications
| | |
| --- | --- |
| Product Specs | 10 Round Bolt Action .303 Caliber #4 Mk1 C&R Eligible |
| Country of Manufacture | United Kingdom |
| License Requirement | Curio and Relic |
| Manufacturer | United Kingdom |
| Mfg. Part Number | Enfield #4Mk1 |
| UPC | No |
| Caliber/Gauge | .303 British |
| Action | Bolt Action |
| Barrel Length | 25.2 |
| Threaded Barrel | No |
| Condition | Surplus / Used |
| Free Shipping | No |
Manufacturer's Description
British Enfield #4 MK 1, .303 Caliber Bolt Action Rifle. Overall Surplus Good. - C&R Eligible
Others Also Viewed...


loading...