Taurus 738 TCP .380 ACP 3.3" 6+1 Pistol 1-738039
Availability: In Stock (Only 2 left!)
| Item #:HGNTAU-TCP380-738039 |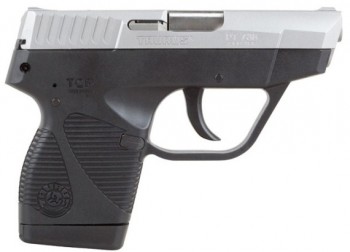 Double click on above image to view full picture
More Views
Have Your Own Photos? Login to Add Them
Customer Submitted Videos
Taurus 738 TCP .380 ACP 3.3" 6+1 Pistol 1-738039
Availability: In Stock (Only 2 left!)
| Item #:HGNTAU-TCP380-738039 |
---
Taurus 738 TCP Semi-Auto Pocket Pistol, 3.3' Bbl, SS, Poly Frame, 10.2oz.
Comes complete with 1-6 Round Mag
Read More
Brutus' Description
Taurus 738TCP Semi-automatic Double Action Only Micro Compact 380ACP 3.3" Polymer Black Stainless
1-6 Rd Mag Fixed Sights

Make way for the lightest Taurus ever created! The 10.2-ounce 738 TCP is not only the lightest semi-auto in the Taurus line;
it's lighter than any of our small frame revolvers too! The 738 TCP offers 6+1 shots of .380 ACP, a durable polymer frame and low-profile fixed sights.

You have to feel it to believe it!



Manufacturer's Description
Taurus 738 TCP Semi-Auto Pocket Pistol, 3.3' Bbl, SS, Poly Frame, 10.2oz.
Additional Information
Product Specs

Accessories - 1-6 Rd Mag
Action - Semi-automatic
Barrel Length - 3.3"
Capacity - 6Rd
Finish/Color - Black Stainless
Frame/Material - Polymer
Caliber - 380ACP
Manufacturer - Taurus
Manufacturer part # - 1-738039BSS
Model - 738TCP
Sights - Fixed Sights
Size - Micro Compact
Type - Double Action Only

Country of Manufacture
United States
License Requirement
FFL
Manufacturer
Taurus
Mfg. Part Number
1-738039
UPC
725327606970
Caliber/Gauge
.380
Threaded Barrel
No
Free Shipping
Yes
Flat Rate Shipping
N/A
Brutus' Description

Taurus 738TCP Semi-automatic Double Action Only Micro Compact 380ACP 3.3" Polymer Black Stainless
1-6 Rd Mag Fixed Sights

Make way for the lightest Taurus ever created! The 10.2-ounce 738 TCP is not only the lightest semi-auto in the Taurus line;
it's lighter than any of our small frame revolvers too! The 738 TCP offers 6+1 shots of .380 ACP, a durable polymer frame and low-profile fixed sights.

You have to feel it to believe it!




Manufacturer's Description

Taurus 738 TCP Semi-Auto Pocket Pistol, 3.3' Bbl, SS, Poly Frame, 10.2oz.

Additional Information

Product Specs

Accessories - 1-6 Rd Mag
Action - Semi-automatic
Barrel Length - 3.3"
Capacity - 6Rd
Finish/Color - Black Stainless
Frame/Material - Polymer
Caliber - 380ACP
Manufacturer - Taurus
Manufacturer part # - 1-738039BSS
Model - 738TCP
Sights - Fixed Sights
Size - Micro Compact
Type - Double Action Only

Country of Manufacture
United States
License Requirement
FFL
Manufacturer
Taurus
Mfg. Part Number
1-738039
UPC
725327606970
Caliber/Gauge
.380
Threaded Barrel
No
Free Shipping
Yes
Flat Rate Shipping
N/A