Mossberg Persuader 12 Gauge Shotgun w/ Pistol Grip 50588
Availability: In Stock
| Item #: LNGMOSS-PERSUADER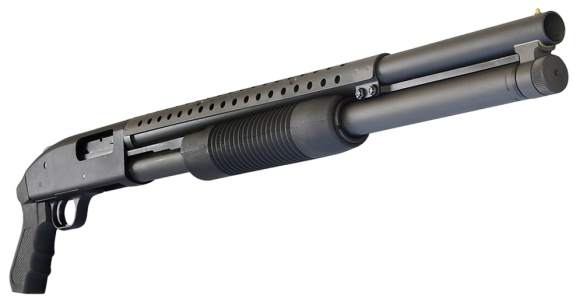 Double click on above image to view full picture
More Views
Have Your Own Photos? Login to Add Them
Mossberg Persuader 12 Gauge Shotgun w/ Pistol Grip 50588
Availability: In Stock
| Item #: LNGMOSS-PERSUADER
---
MSRP:

$365.99
|
Your Price:
Regular Price: $339.99
Special Price: $279.99
Brutus' Description
This is a Mossberg 500 Persuader. It is a Cruiser model pistol Grip 12 gauge Shotgun with a 20 inch barrel. The feed tube on this model extends the full length of the barrel and it has an 8 round capacity. Weapon features Dual Pump guide rails, vented heat shield, a parkerized finish, and posi-lock slide and release safety. Cambered for all 2 3/4 and 3 " shells. This is the perfect all round home defense or tactical shotgun and all aftermarket Mossberg 500 stocks will fit if a full stock is desired. Perfect for your bug out kit ...Don't Miss This.
Manufacturer's Description
Pump-action. Dual-action bars. Factory installed heat shield. Ambidextrous tang safety. Meets all Mll-S-3443. Positive steel-to-steel lock up requirements. Includes gun lock. Ten-year limited warranty. Blue finish. 12 guage, 8-shot, 20" cyl. barrel. Matte black stock/forearm.
Additional Information
Product Specs

12 gauge
Pump action
20 " bbl
Capacity: 7+1 2-3/4" Shells or 6+1 3" Shells
Chamber: 3"
Choke: Cyl.
Finish: Parkerized
Sights: Bead
Front Stock: Synthetic, Black, Pistol Grip ONLY
Sub-Model: Persuader

Country of Manufacture
United States
License Requirement
FFL
Manufacturer
Mossberg
Mfg. Part Number
50588
UPC
015813505888
Caliber/Gauge
12 GA
Threaded Barrel
No
Free Shipping
No
Flat Rate Shipping
No
Customer Reviews
Received my Mossberg 500 in record time. Notification emails from Classic Firearms kept me up to date. This shotgun is great and can't wait to take it to the range. Thank you Classic Firearms, another satisfied customer.
Compact fast and devastating!....forget about 500 SW revolvers and 10mm or even 44 mag, a big rifled slug out of this monster-zombie killer will rock your world!
Dinosaurs...BEWARE!
The price is better than Walmart.
What can I say? Bought this from ClassicFirearms, got it in a couple days, shot it this weekend. Great shotgun, shoots well, throws a good pattern. Very well pleased.....bought it mainly for home defense.
would u take less the 250?
This thing ROCKS!!! I put in mostly Remington HD shells thru her and boy oh boy it was fun. On my first time with it I put 300 + rounds with not a hiccup!(bird&steelshot,slugs,non lethal rubber slugs) Feels tight and fun to shoot. My son & nephew liked it so much they bought one. Price was right and sits on the side of my headboard. Bought for home defense but a ball to shoot for fun! Thanks Classic for the best prices, many purchases thru you guys with great customer service! (At least 12-15 guns)
Although, I bought mine locally before finding this place....it is an excellent 12ga pump! I wish the forend wasn't so wobbly, but causes no issues. I have run alot of 2 3/4 game loads, and a few 00 buck magnum 3". This gun is an absolute hoot! I love it.
Finally pulled the trigger after I had been looking at this model for over a year. Needed something like this to a company my 9mm so went on and got it! Couldn't be any happier! Keeping the piston grip but picked up a Hogue stock, a side side and a vertical forearm. Will eventually get a light for it then that's about going to the range with it soon but I love the feel of it so far. Could not be more pleased at this point. Thanks Classic Firearms!
First shotgun owner and had been looking at this one for awhile and finally couldn't pass it up! First FFL done from anyone and great service and extremely fast shipping from Classic - 2 days!!! Can't wait to get this to the range and test it out! Great job and service from Classic and Bull Moose for the transfer!
5 ]***** /really good Buy Now !
I didn't give a review on this Persuader back last summer, shame on me. Any one who didn't take advantage of buying one of these missed the boat big time. My local gun shop couldn't come close to matching Classic's price. In fact the gun store said the price was less than their cost! One heck of a deal to say the least!
Had no problem out of box. All I needed this for was home defense and it shoots 2 3/4 Segmented rifled slugs fine (1600 velocity 1oz). Great for hunting also if you buy the extra stuff for it to make it hunting legal.
Great service from Classic Firearms got shotgun out in a few days. Took to the range today. Very smooth action, no problems what soever.
Believe me, this gun rocks! I saw this gun at the our best local gun shop for $379... the Mossberg website had it for $429. I ALWAYS get a great deal and super fast shipping from CLASSIC. I always enjoy the posted Bible verse on their website! Keep rockin'! 1 Cor. 2:9
This is my 2nd Mossberg Persuader 12 gauge shotgun. I bought it to replace the one that was stolen a few months ago. Classic Firearms is a great company and the people are awesome. My Mossberg shipped fast and arrived ready to go. I took it out of the box loaded it up with 8 shells stepped out the back door of my house and blew away a box that I had set up in the shrubs. My wife could not wait to get her hands on it, she blasted the box right off the shrubs. We call it our FUN GUN. Thank you Classic.
Great Service from both Classic Firearms & Santa, Customer Service Rep at Mossberg.
Would Highly Recommend Both Classic Firearms & Mossberg!
Take off the Pistol grip, had Tactical stock, poof!! Instant Shot Gun for under $300 that can be used in 3 Gun competitions. With an 8 round capacity this shot gun can easily be used in 3 Gun matches. Most 3 gunners use Auto loads but I'm shooting in a He Man match this summer that requires a pump. I didn't want to spend a lot for a new shot Gun so this will have to do. So for it's working great!!!
Received my Mossberg 500 in exactly 7 days time. Constant notification emails from Classic Firearms kept me up-to-date on my weapons whereabouts. This shotgun was an excellent deal for its price and I can't wait to take it to the range upon my return from Afghanistan. Thank you Classic Firearms, another satisfied customer.
Great shotgun and a great seller. I know these are great for self-defense, etc; but for me I just had to add it to my collection for the cool factor.
I easily added a Hugue grip and fore end which dramatically improved the overall feel.
Love this shotgun and always have had great luck with Classic.
This was my second order with Classic and just like my first order, it shipped fast and the price is good . I couldn't be happier with my purchase. I have recommended two of my friends to order from your guys great service. I have been looking for this Mossberg for a while and finally had the money to get one.
As expected,good service,great product,love it
Brutus' Description

This is a Mossberg 500 Persuader. It is a Cruiser model pistol Grip 12 gauge Shotgun with a 20 inch barrel. The feed tube on this model extends the full length of the barrel and it has an 8 round capacity. Weapon features Dual Pump guide rails, vented heat shield, a parkerized finish, and posi-lock slide and release safety. Cambered for all 2 3/4 and 3 " shells. This is the perfect all round home defense or tactical shotgun and all aftermarket Mossberg 500 stocks will fit if a full stock is desired. Perfect for your bug out kit ...Don't Miss This.

Manufacturer's Description

Pump-action. Dual-action bars. Factory installed heat shield. Ambidextrous tang safety. Meets all Mll-S-3443. Positive steel-to-steel lock up requirements. Includes gun lock. Ten-year limited warranty. Blue finish. 12 guage, 8-shot, 20" cyl. barrel. Matte black stock/forearm.

Additional Information

Product Specs

12 gauge
Pump action
20 " bbl
Capacity: 7+1 2-3/4" Shells or 6+1 3" Shells
Chamber: 3"
Choke: Cyl.
Finish: Parkerized
Sights: Bead
Front Stock: Synthetic, Black, Pistol Grip ONLY
Sub-Model: Persuader

Country of Manufacture
United States
License Requirement
FFL
Manufacturer
Mossberg
Mfg. Part Number
50588
UPC
015813505888
Caliber/Gauge
12 GA
Threaded Barrel
No
Free Shipping
No
Flat Rate Shipping
No

Customer Reviews

Received my Mossberg 500 in record time. Notification emails from Classic Firearms kept me up to date. This shotgun is great and can't wait to take it to the range. Thank you Classic Firearms, another satisfied customer.
Compact fast and devastating!....forget about 500 SW revolvers and 10mm or even 44 mag, a big rifled slug out of this monster-zombie killer will rock your world!
Dinosaurs...BEWARE!
The price is better than Walmart.
What can I say? Bought this from ClassicFirearms, got it in a couple days, shot it this weekend. Great shotgun, shoots well, throws a good pattern. Very well pleased.....bought it mainly for home defense.
would u take less the 250?
This thing ROCKS!!! I put in mostly Remington HD shells thru her and boy oh boy it was fun. On my first time with it I put 300 + rounds with not a hiccup!(bird&steelshot,slugs,non lethal rubber slugs) Feels tight and fun to shoot. My son & nephew liked it so much they bought one. Price was right and sits on the side of my headboard. Bought for home defense but a ball to shoot for fun! Thanks Classic for the best prices, many purchases thru you guys with great customer service! (At least 12-15 guns)
Although, I bought mine locally before finding this place....it is an excellent 12ga pump! I wish the forend wasn't so wobbly, but causes no issues. I have run alot of 2 3/4 game loads, and a few 00 buck magnum 3". This gun is an absolute hoot! I love it.
Finally pulled the trigger after I had been looking at this model for over a year. Needed something like this to a company my 9mm so went on and got it! Couldn't be any happier! Keeping the piston grip but picked up a Hogue stock, a side side and a vertical forearm. Will eventually get a light for it then that's about going to the range with it soon but I love the feel of it so far. Could not be more pleased at this point. Thanks Classic Firearms!
First shotgun owner and had been looking at this one for awhile and finally couldn't pass it up! First FFL done from anyone and great service and extremely fast shipping from Classic - 2 days!!! Can't wait to get this to the range and test it out! Great job and service from Classic and Bull Moose for the transfer!
5 ]***** /really good Buy Now !
I didn't give a review on this Persuader back last summer, shame on me. Any one who didn't take advantage of buying one of these missed the boat big time. My local gun shop couldn't come close to matching Classic's price. In fact the gun store said the price was less than their cost! One heck of a deal to say the least!
Had no problem out of box. All I needed this for was home defense and it shoots 2 3/4 Segmented rifled slugs fine (1600 velocity 1oz). Great for hunting also if you buy the extra stuff for it to make it hunting legal.
Great service from Classic Firearms got shotgun out in a few days. Took to the range today. Very smooth action, no problems what soever.
Believe me, this gun rocks! I saw this gun at the our best local gun shop for $379... the Mossberg website had it for $429. I ALWAYS get a great deal and super fast shipping from CLASSIC. I always enjoy the posted Bible verse on their website! Keep rockin'! 1 Cor. 2:9
This is my 2nd Mossberg Persuader 12 gauge shotgun. I bought it to replace the one that was stolen a few months ago. Classic Firearms is a great company and the people are awesome. My Mossberg shipped fast and arrived ready to go. I took it out of the box loaded it up with 8 shells stepped out the back door of my house and blew away a box that I had set up in the shrubs. My wife could not wait to get her hands on it, she blasted the box right off the shrubs. We call it our FUN GUN. Thank you Classic.
Great Service from both Classic Firearms & Santa, Customer Service Rep at Mossberg.
Would Highly Recommend Both Classic Firearms & Mossberg!
Take off the Pistol grip, had Tactical stock, poof!! Instant Shot Gun for under $300 that can be used in 3 Gun competitions. With an 8 round capacity this shot gun can easily be used in 3 Gun matches. Most 3 gunners use Auto loads but I'm shooting in a He Man match this summer that requires a pump. I didn't want to spend a lot for a new shot Gun so this will have to do. So for it's working great!!!
Received my Mossberg 500 in exactly 7 days time. Constant notification emails from Classic Firearms kept me up-to-date on my weapons whereabouts. This shotgun was an excellent deal for its price and I can't wait to take it to the range upon my return from Afghanistan. Thank you Classic Firearms, another satisfied customer.
Great shotgun and a great seller. I know these are great for self-defense, etc; but for me I just had to add it to my collection for the cool factor.
I easily added a Hugue grip and fore end which dramatically improved the overall feel.
Love this shotgun and always have had great luck with Classic.
This was my second order with Classic and just like my first order, it shipped fast and the price is good . I couldn't be happier with my purchase. I have recommended two of my friends to order from your guys great service. I have been looking for this Mossberg for a while and finally had the money to get one.
As expected,good service,great product,love it