Sol Invictus Arms AR-15 Platform 9mm Pistol 8.5" 30rd - PCC09-085
Availability: In Stock
| Item #: HNG-PCC-9MM-8.5
MPN: PCC09-085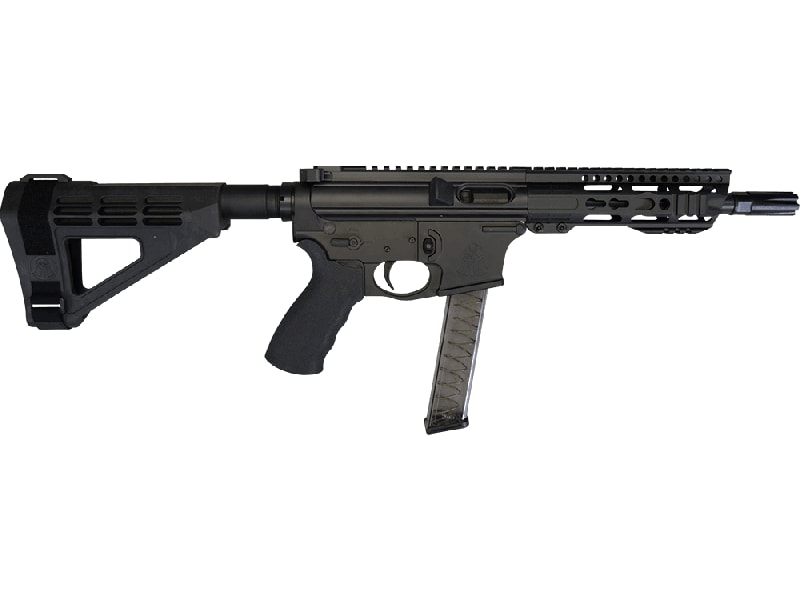 Sol Invictus Arms AR-15 Platform 9mm Pistol 8.5" 30rd - PCC09-085
Availability: In Stock
| Item #: HNG-PCC-9MM-8.5
MPN: PCC09-085
---
The Sol Invictus Arms AR-9 is a Glock magazine fed Pistol Caliber Carbine based on the AR15 platform. Using a billet receiver set and a robust blowback design, this pistol marks a new entry into the extremely popular Pistol Caliber AR platform market.

Equipped with an ambidextrous safety, charging handle, MLOK handguard, rubberized comfort grip. durable black nitrided barrel and cerakote finished receivers. Comes with the SB Tactical Arm Brace and 1 - 30 round Glock compatible magazine.
This item is not available to ship to the following state(s): Massachusetts
Brutus' Description
A brand new option for the AR-15 pistol caliber market. The Sol Invictus AR-9mm pistol packs quite a punch chambered in 9mm! Compatible with ubiquitous Glock style magazines, the SI-9 has the capacity to go out and enjoy a day of plinking or target shooting, but also the power to make for a respectable self defense option. Extremely durable, the entire firearm is covered in a black cerekote finish and based on a very reliable direct blow back action. The SB Tactical SBM4 brace provides a lot of enhanced function, as it acts as a third point of contact to increase control and accuracy. Full length picatinney rail extends from the flat top receiver to the 8" keymod rail, offering abundant room for your preferred choice of sights or other accessories.
Specifications
Product Specs

SI-9 Specifications Caliber: 9mm

Action: Blow Back Semi-Auto

Barrel Length: 8.5"

Barrel Twist: 1:10

Weight: 6-8lbs

OAL: 14-26"

Receiver: Billet Aluminium

Magazine: High Capacity Glock

Country of Manufacture
United States
License Requirement
FFL
Manufacturer
Sol Invictus
Mfg. Part Number
PCC09-085
UPC
No
Caliber/Gauge
9mm
Action
Semi Automatic
Barrel Length
8.5
Threaded Barrel
No
Condition
New
Free Shipping
No
Manufacturer's Description
Sol Invictus Arms AR-15 Platform 9mm Pistol 8.5" 30rd - PCC09-.085
Others Also Viewed...


loading...