[Auction] K31 Carbine 7.5x55 Very Good Condition - SN# 933551
Availability: Out of stock
| Item #: LNG-AUC-K31-933551
MPN: SWISSK31G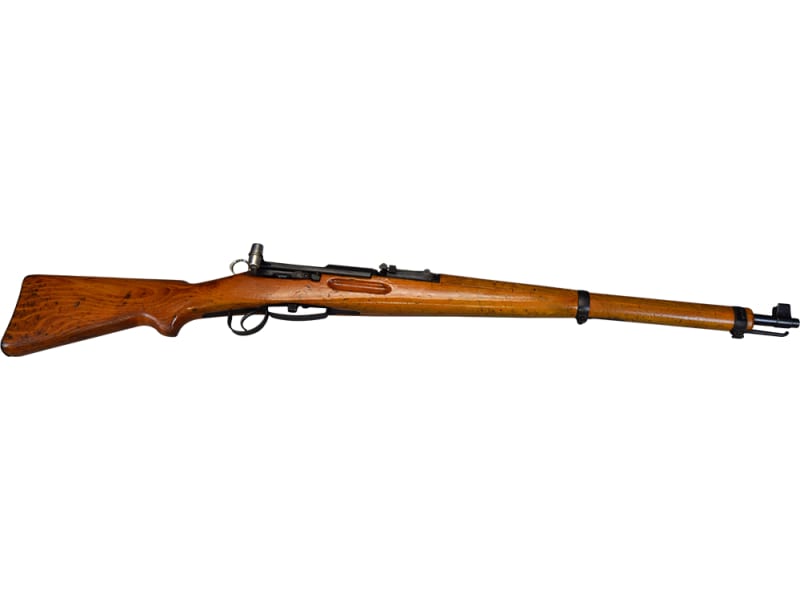 [Auction] K31 Carbine 7.5x55 Very Good Condition - SN# 933551
Availability: Out of stock
| Item #: LNG-AUC-K31-933551
MPN: SWISSK31G
---
AUCTION DETAILS: SN# 933551. The receiver, bolt, and magazine all matching serial numbers. The finish on the receiver has some light scratches. The stock is finished reddish-brown and has typical handling and storage marks, scratches slightly heavier along the bottom of the stock and toward butt. P marked on barrel rim where it mates with the receiver. Aluminum bolt knobs. 7.5x55 Swiss caliber.
Swiss K-31 straight pull rifle, 7.5x55 caliber, Very Good Surplus Condition. C&R Eligible
Auction items are sold as-is with no returns. Images shown are of the item you will receive.
Brutus' Description
Although the K31 is a straight-pull carbine like many other Swiss rifles, it was not designed by Rudolf Schmidt (1832-1898) as he was not alive to do so. The K31 was a totally new design by Eidgenossische Waffenfabrik in Bern, Switzerland under Colonel Furrer, and the gun does not have the Schmidt-designed 1889 or 1896 action. The first 200 K31s were made in May 1931 for troop trials (serials 500,001 - 500,200), thus the model number of 1931.

We were out of these for quite some time and just received a small quantity back in - this rifle was pulled from the group. The stock will show some dents and dings and bluing will show some wear. The Swiss never used corrosive ammo so the bore is fine. This rifle combined with the round they fire are well known for being match accurate.
Expect some cosmetic wear and normal dents and dings on the stock and typical bluing wear, but in exceptional condition compared to the rest of the batch.
Specifications
Product Specs

7.5x55 claiber
25.7" Barrel Length
Straight pull bolt action
Very Good Surplus Condition... Nice Bores
Some with slings

Country of Manufacture
Switzerland
License Requirement
Curio and Relic
Manufacturer
Schmidt Rubin
Mfg. Part Number
SWISSK31G
UPC
No
Caliber/Gauge
7.5x55
Action
Bolt Action
Barrel Length
25.67
Threaded Barrel
No
Condition
Surplus / Used
Free Shipping
No
Manufacturer's Description
Swiss K31, 7.5x55 caliber, straight pull rifles, Very Good Surplus Condition
Others Also Viewed...


loading...