Russian Vepr 12 Gauge Tactical Shotgun W / Straight Tubular Stock
Availability: Out of stock
| Item #: LNGVEPR-12-OFWS |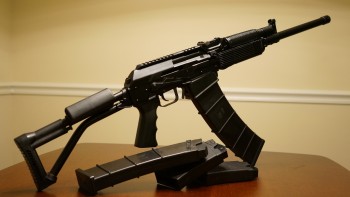 Double click on above image to view full picture
More Views
Have Your Own Photos? Login to Add Them
Russian Vepr 12 Gauge Tactical Shotgun W / Straight Tubular Stock
Availability: Out of stock
| Item #: LNGVEPR-12-OFWS |
---
Updated Description Current 7/21/2014 - While our images reflect the old fixed / folding stock, This is a new batch of rifles with a solid tubular stock. Same length of pull and overall look as the previous firearms and butt stock itself is exactly the same. The only difference is rather than the folding apparatus being pinned open and welded in place, these are built as a solid stock from the trunion back having never had a folding mechanism. Frankly I like it better.
Also - This model carries a standard AK style safety rather than the ambidextrous safety of the previous models.
Not as good for southpaws, but actually less obtrusive for the rest of us.
Special pricing ends Monday at midnight or until supplies run out.

Manufactured in the Molot factory the Russian Vepr is the Mercedes-Benz of Russian Semi-Auto Shotguns. Includes one original Molot 5 round mag.
These are currently banned from further importation by the Obama administration.
Read More
Brutus' Description
Note - These are currently banned from further importation into the U.S. as part of the economic sanctions against Russia imposed by the Obama administration. Further importation in the near future is impossible and any future importation is highly doubtful. Limited Quantities available.

Bigger, Better, Badder, The Russian Vepr shotgun is the Gold standard in imported 12 guage semi-autos.

I love the Saiga's, and at their price point, they can't be beat. But if you are one of those rare individuals that will not settle for less than the best, then give the Russian Vepr12 a try....

The Vepr 12 gauge shotgun is known around the world as one of the finest IPSC and 3 Gun shotguns availble.
In fact, everything about the Vepr is heavy duty. Take a look at these features.

Hinged dust cover with a picatinny rail
Original Molot Polymer Pistol Grip
Original Molot Polymer Lower Handguard
Original Molot Polymer Upper Handguard
Molot Self-Regulating Gas System
Original Molot Competition Magazine Well
One Original Molot Factory 5 round Magazine
Molot Factory AK adjustable rear sight
Factory chrome lined barrel, chamber, receiver shaft and gas chamber
Factory last round bolt hold open
Factory threaded barrel (thread pattern is the same as Saiga)
Factory machined bolt assembly, gas blocks etc. (not cast like other AK shotguns)
New Straight fixed tubular stock design.
Cheek Rest unlocks and rotates on stock from right to left hand side for ambidextrous shooting.


* Note - barrels are threaded and have a thread protector threaded onto them from the factory. The thread pattern is the same as the Saiga Shotguns and any of the numerous different Muzzle Breaks on the market for the Saigas will fit the Vepr.

** Also Note - These high quality Molot shotguns started out in Russia with the military style side folding stock on them.

Prior shipments have had the original stocks replaced with Wood AK Stocks or other alternatives in order to get the weapons into the country.

This shipment has the new straight affixed tubular stock design with adjustable cheek piece. Stock is a solid one piece tubular unit from the trunion back.
Stock includes a very comfortable cheek rest and it looks great. It is very difficult for me to take good photo's of an all black weapon. There is just not enough contrast. But trust me, this is one fine looking piece of machinary.

To see this weapon is to fall in love and to shoot it seals the deal.

*** In reference to The Gas System It differs from the Saiga and in my opinion is a very nice upgrade.
The Saiga 12 has a gas system that can be manually adjusted to allow for the firing of different shells,
i.e, Hi-Brass, Low Brass, Bird Shot, Buck Shot , etc.

Unlike the Saiga , The Vepr has a highly advanced self regulating gas system that automatically adjust to the recoil of the weapon allowing this weapon to feed virtually all types of shells without incident.

In Fact, We have tested this weapon with all different types of loads and powder charges and even mixed different loads within the same magazine. In all cases the weapon functioned flawlessly.

All of the Veprs come in an original Molot Factory box with manual and warrenty information.



Manufacturer's Description
Russian Vepr 12 Gauge Semi-Automatic Tactical Shotgun
Additional Information
Product Specs

12 gauge
Self regulating gas system
Semi-Automatic
Russian Shotgun
5 round mag
*18 inch Barrel
*38.5' Overall

Caliber
Other
Gauge
12
Free Shipping
No
Customer Reviews
Not really a review, but what the hey. I appreciate that ClassicFirearms decided to use the picture I uploaded for the Vepr 12!

I absolutely love this shotgun! If you buy it, remember to break it in! I'm shooting Winchester 8 shot Target/Birdshot in this video.

Thanks ClassicFirearms!
Another quality Firearm yet again Thanks to Classic Firearms.
Hey, I just purchased a vepr 12 from classic firearms and it is the funnest rifle ive ever owned. I made a gopro video showing off the rifle.
Classic Firearms did a great job updating me on my VEPR that was held up in paperwork due to ban. Love the shotgun!!
This shotgun worked perfectly right out of the box. I will have a lot of fun with it.
The fit and finish of my Vepr 12 was superb. Be prepared to break it in or avoid cheap big box store shells. There are more than enough tutorials on smoothing out the action for reliability. However, after a relatively short (150 rds) and extremely fun break in, it functions great.

I exchanged all of the necessary 922r parts so that I could break the superficial tack weld and fold the stock. Well worth it.

Don't hesitate. Buy it if they ever make it back to "in stock" status.
Thanks.
Oh and thanks.
I actually bought this a number of months ago (before the price drop, of course!), but weather & work kept me from taking it out. Between purchase and "fun time" I improved on the design with upgrades: muzzle brake, quad rail, etc. Also made the folding stock functional. That was super easy! Ivan was kind enough to put the one single weld at the corner, making it easily accessible with a Dremel tool; took less than 30 seconds start to finish.
At the range I had a couple of original Russian mags and a U.S. SGM 10rnd. All functioned 100%. My buddy and I had a blast (pun fully intended) with this!! No FTE, FTF, double feeds, etc. Every time the trigger was pulled it went bang. I was using low brass shells also, FWIW. This thing is so much fun to shoot it should be illegal.......which is exactly why you should get one, before "they" try to tell you that you can't have one.
I received my Vepr 12 a week ago along with other parts I bought to make it 922r compliant. Took it out and shot it first to see how it would shoot before modifying. After shooting (multiple brands, sizes, shot, slug, etc.) I made my modification then took it back out. The Vepr 12 shoots very reliable and only had a couple of issues with types of shells. It did not like low brass 8 shot (but that's not why I bought it but wanted to try it out anyway) and FTE every other round. Stronger shells such as high brass, buckshot, slugs, etc., the Vepr ate everything. I also mixed sizes of shells from 2 2/4 to 3" shells in one mag with no issues, again, ate everything. Bolt hold open on last round worked everytime using SMG mags (both 10 and 12 rounders). The orginal 5 rounder also no issues except that it fell out after 4 shots the first time I fired it but I believe that was me not seating the mag right as it never happend again after that. Overall, it runs as advertised and suspect that after several hundreds of rounds, it will eat the lighter loads as well. The finish was excellent and quality superior in my opinion (to other tactical shotguns to inlude the Siaga). Great value for the money (and free shipping) and thanks for Classic making it an easy and painless process per usual. Cheers!
I bought a second one of these after liking the first one so much. Generally very well made and solid. Highly recommended!
Just got mine in today, ran 100rd federal bulk pack with not one problem. Ran 100rd cheap whitebox winchester with a ftf on about every 5 shot. This gun is awesome. Bought some 10rd and 12rd mags for it which work great. Thank you Classic firearms for a great gun at a great price and fast shipping. Yall need to hurry and buy one before the Demoncrats ban em.
Out of all my guns and rifles i have, this must have shotty is up there with the top. The feel and quality feels top notch.You can go wrong with this shottty. Classic have great customer support to delay my order until i came back in town. Overall great item and service from Classic. Thanks
This is my second VEPR from Classic Firearms and as always service and commo was great. I bought it for the claim to self adjust for all rounds...not the case. This weapon like the other VEPR I purchased did not cycle Wal-Mart Winchester Universal value pack ammo...even after 100s of rounds of 00Buck, polished bolt and trigger and hundreds more of the cheap Winchester ammo...and yes this was true for factory magazines as well as SGM ones. Both VEPRs were inconsistent with the bolt not locking to the rear after the last round. It is a well built weapon and the magazine well is an upgrade from any other AK variant shotgun...but for the money I would just buy a SAIGA and adjust for low brass rounds rather than spend hundreds more on a VEPR that has issues with them when it is supposed to work with everything.
Highly reccomend over Saiga 12s. Saiga 12s are great shotguns too but with the features and upgrades of this shotgun, theyre no contest. It has cycled everything ammo wise even low brass target loads. I like the Benelli M4s, but this is practically half the price and is loaded with detachable magazines rather than a tube. Completely different than conventional shotguns and I like it. Im getting a choke and a GK-01 clone muzzle brake and it ll be perfect.
I will start with a confession, I did not like shotguns. If I was to ever own one the vepr12 was it, I remember saying this back when they still ran $1200. Now, it is the first firearm I grab when going to the range, it is an amazing piece that is just fun to shoot. My will shoot anything down to winchester universal, although I will say it ran much better after shooting some slugs through it. As usual, thanks classic.
Great shotgun and highly recommended if you want a military style semi-auto. I've tried several different types of shells in it and only two would not work (Winchester Universal and Federal Game Load).

I don't like the sharp sheet-metal safety lever extensions, but other than that the ergonomics are excellent.

This shotgun is a bargain at $800. Get one while you still can!
The shotgun performs flawlessly and is just fun to shoot. The self-adjusting gas system works as advertised. Once again, Classic Firearms comes though with a good product at a good price.
Wow. Bought this over a month ago, but just got a chance to shoot it today. Fired 125 rounds of 00 buckshot without a hiccup. Smooth as silk. Used the 5 round factory mag and some SGM tactical 12 and 10 round mags. Flawless. On the SGM mags bolt did not lock back on empty 50% of the time. Classic firearms got me the gun quick and in perfect condition. Man, you guys rock!!! My second firearm purchase and definitely not my last. Pleasure to do business with you guys.
I bought this gun from Classic Firearms. My first purchase. Sales department were like my neighbors. Ordered it on Friday morning and received gun on Tuesday evening. I love my Saiga AKs. Almost ordered the Saiga 12. I'm sure it's a great gun also. I chose the Vepr 12. The price I thought to be a type over but price was right.$799.00. Beautiful gun to add to my collection. We should be thankful that we still have people that can still take care of us like Classic. Will not be my last purchase from Classic Firearms. Trust and delivery time was exceptional. Thanks to all that had a part in this.. Thank You Classic Firearms.
Sam Ferrington
This gun is loads of fun! I just wish they hadn't been out of the larger mags when I made my purchase. My 5 rnd mag fits very snug, so I have not had issues with it seating as I read another did. All my friends with Saigas want to sell theirs in favor of one of the VEPR's, esp. at this price! Thanks! A+++
This is a very nice auto loading shotgun. Looks like it has the RPK Rear sight and trunions /receiver. The fit & finish are really good for this price point. I would have expected to pay a lot more for shotgun like this.

I read a review (not from classic) and they guy said there was no bolt hold open. Well, if you
look in front of the trigger guard behind the mag release you will find one!

Very nice indeed.

JEF Jr.
So for the records I have yet to fire this weapon so can't comment yet on that. I can however comment on just much a quality item this shotgun is. Everything about it is well made. Did several modifications to make it 922r complaint after I broke the weld and got hi cap mags. Also bolted a magpul l5 rail on lower handguard so I can now attach for grips which I recommend. Overall one of the best shotguns for the money. Now all I got to do is shoot the damn thing :)
I had eyes on this since it came out and I finally went over the edge and ordered it from Classic Firearms. I ordered less than a week before the price dropped from $999.99 to $799.99 and I hadn't yet received the shotgun when the price was lowered. But, thanks to Classic Firearms being an outstanding company they extended that price to me. I immediately liked everything about this shotgun when it came in, but that was just the beginning. I finally recently went to the range and shot about 75 rounds out of this with 00 buck, slugs, 3" magnums, and about 25 birdshot. I had 0 malfunctions. Out of reading other people's experiences, I was expecting to maybe have an early issue since I was breaking this shotgun in, but everything went flawlessly. I can't complain one bit. I was thinking about getting a Remington 11-87P for the longest time there for a home defense shotgun, but I don't think you can beat this. The most important thing to me was reliability, but after one trip to the range I was impressed.
Excellent firearm. Fit and finish is excellent for a Russian AK Style shotgun. Folding stock latch absolutely works (Contrary to what other reviewer said on this site). Push hard on the stock release latch until it moves. You may have to wrestle with it the first time (Mine was a bit "stuck"). Wear a glove if you've got baby skin on your thumb. If you're worried about breaking it, don't be, it's normal. Be sure you know and comply with all laws (google "VEPR 922r") before modifying this shotgun to allow the stock to fold. The parts you will need to purchase and replace can add significant cost to this firearm but are all nice improvements over the russian made parts.
Now own three (3) of these Babies and they are HOT!!!! You will know it when you get one and especially after shooting it!!! Get them while you can as these wont last long!!!
I just picked mines up from my FFL yesterday so happy to get it. It looks and feels nice. Metal work is very good to excellent. Classic Firearms are wonderful people to deal with their email system will keep you up to date the whole time. All of my orders came in on time. Cant ask for better service, I will upload pics soon. Thanks again Classic Firearms.
Great gun
fine fit and finish
Will be adding a muzzle brake
Just wish I had waited a couple more weeks to order it. I could have saved $200
Over the years I have ordered a variety of stuff from Classic Arms and have always been pleased with quality and service.
Thankyou
I bought one of these at $999.00 and it is a great weapon ,,,,,, especially compared to a custom mod of a Saiga 12.

8 round orig Russian magazines available on web.

One Caveat....The stock can not be made to fold, despite jiv from web-surfers to the contrary.

You just don't dremel a spot weld. The tip-off is the latch for the stock does not travel, which it would if it was free and all you had to deal with is a bit of welding on the hinge seam.

A great combat shotgun with a skeleton stock that has a mag well like an AR15...straight in and lock-up and much lighter than a Saiga 12 and also has AK type forearm and a rail on top.


I have had this piece in my sights for sometime now and finally decided to take the plunge. I first saw it when it came on the market for $1399.00 and all the reviews said it was too expensive although the reviews were good it was still a little pricey in comparison to the Saiga. I purchased it about a month ago for $999.00 and saw a video online about "tricking" it out and proceeded to acquire all the necessary pieces and upgrades to make it happen. I actually received most of the parts before I received actual shotgun. I recently had a chance to install all the parts and this is one cool weapon, the beast comes alive. On Friday I received an email from Classic that the price has come down to $799.00, I actually could have gone a long while without receiving that, it really made my weekend. I use Gunwatcher a lot and now everyone has brought the down to $799.00, talk about price fixing. They get you coming and going.........sort of takes the sweetness out of it.
Do yourself a favor and track down the 25 round drum for this thing....it is so much fun at playtime. Mine did not like 7 & 8 shot bulk pack ammo but I polished the FCG and it eats pretty much anything now. If you don't know how to do that or don't wanna fool with it run some stronger loads like 4 shot or harder for a little while and that will break it in for the same effect. Smile is stuck on my face ! Thanks Classic!
Have been wanting one of the vepr12's for a while now and decided to pick 1 up fit and finish is excellent as well as the shipping and customer service from classic firearms the dayi picked up the weapon gave it a quick field strip and cleaning then went to the range started off with 50 rounds of 00buck then 100 rounds of the federal bulk shells from walmart not 1 hiccup weapon worked flawlessly get yourself 1 of these shotguns you won't be disappointed
Just a follow up to my last review I have run a couple hunderd rounds through my VEPR and it fires well...it still has periodic hiccups with Wal-Mart Winchester 8 shot value pack ammo and the bolt does not lock to the rear when the magazine is empty...other than that it is an awesome shotgun. Would recommend getting a choke if you are going to shot skeet with it.
I just received my brand new VEPR and I shot it right out of the box with no cleaning and cheap 00 buckshot. Since most parts are stamped like normal AK's are, and this is a round about AK platform, it was about a 6 round break in period, I'm assuming to a few rough edges and 2 FTF's. BOOM. Then I never had an issue. Couldn't be happier. Put 24 more rounds through it without a hiccup. Cheek rest is nice, stock is barely welded to fixed. I just need to use my dremel and I'll have it folding in a few minutes. Control is wonderful, it does kick but the BCG does a good job taking a lot of the force. I'll be on the lookout for a muzzle break, I want it a little easier. Only took a week to ship from NC to OH. Everyone I've shown and told about wants one now. Made the guy with the AK at the range jealous. It's good to be the king. Hats off to Classic Firearms for all my newfound joy.
Really like my Vepr12, very well made and fun to shoot . I have shot it only once and used slugs in an indoor range .... No issues. Got great service from Classic

review could be summed up into 6 words " love it, love it, love it". this is what happens when you take Russian craftsmanship 12 gauge and testosterone and mix it all up. Action is smooth and recoil is really not bad. I have shot almost everything between seven and a half bird shot through deer slug. The only thing I have not shot through it yet is low brass (Walmart cheap shells). But i will be testing that next week. I also added a Molot style muzzle brake, which really helps keep sights on target when you're pulling that trigger as fast as possible. Took a couple runs through mags to loosen them up, but runs like a champ now. Thanks Classic Firearms.
I liked it enough to purchase two. This shotgun is accurate as described. I gave it 4 out of 5 stars because it needs a little tweaking. I found that it will cycle any low brass shells after breaking it in. Mine cycles fine as long as you have a good shoulder weld. The cheek riser is too high for the iron sights but the correct height for an optic. The easy solution is to flip it to the opposite side for iron sights. I replaced the trigger with a g2 and the difference is minimal, it is 3 US parts tho :). The threaded barrel is begging for a choke. The current set up is good for home defense/short range shooting. But with the extra full choke, I feel comfortable with the pattern out to 40 to 50+ yards for hunting or 3 gun courses. The factory 5 round mag was junk on both of the V12 I bought. They continually fall out when firing. The SMG 12 rounders I bought work flawlessly tho. I polished the bolt/bolt carrier on one of my V12 and not the other to compare them. The polished V12 cycles low brass better, especially with the stock folded, and the factory mags have not ejected since then.

Long story short. Buy the V12, Polish the bolt/bolt carrier, get 922r compliant, get a choke or muzzle brake, own one of the best shotguns ever.
After looking at the Saiga and Fury options I opted for the VEPR at about twice the cost. I purchased this for the claim that it fired everything and I would not need a gas tube adjustment...well the WalMart Winchester 100 pack 8 shot shells would jam and have feed issues periodically, so is that just really bad ammo? I used both 5 round clips and a 10 and 12 round one, the 12 round seemed a bit cumbersome to seat at times but all the magazines feed and loaded rounds without issue. I am looking forward to the upcoming 25 round drum. While the magazine well is much better upgrade than the Saiga and Fury I dont know if it justifies twice the price. In the end I am happy with the weapon but not sure it is worth twice the money as the Saiga or Fury.
When I finally received the Molot Vepr 12 Shotgun from my FFL, my order took almost near a month, Besides the 2-5 round Magazine, I also ordered one of each SGM 10 & 12 round magazines, but the 12 round mag was not available. Kinda saddened, I had just wished someone at Classic Firearm would have called rather than delay an order, as I did. But I didn't let that bother me. I called and they took care of my order...next thing I read was that Classic Firearm immediately shipped my order and within days...it arrived at my state. I was astounded by the fact that it felt solid, very solid...tight, clean, parts complete. smooth when testing the bolt action...it was worth the wait. I ordered the Molot Gk-01 Muzzle Brake two weeks earlier, and when mating both, it was too awesome. Tell me something...I threw the oiled paper...and I found a punch tool. I didn't know that that was included....I tought it was just paper. So if you ever order this, please check your order...you might be lucky to have one.
I can see what they mean when they call this the Cadillac of Russian shotguns. Finish inside and out is excellent. It digests everything I put into it, including WalMart Federal 100 pack ammo. Only the WalMart Winchester 100 pack shells seem to make it choke and that may improve as the gun wears in. Buckshot, hunting birdshot and slugs run flawlessly. I am really loving this shotgun! Highly recommended. Now SGM needs to make a 12 rd drum and it will be perfect.
This beast is truly high quality. The receiver is solid and heavy, fit and finish is great. Shoots fantastic with all loads, including light birdshot. My only issue so far is that the SGM 10 and 12 round mags I bought with it do not function properly. Classic's staff quickly got me in touch with SGM's and they have identified the problem with their injection molds and are sending me two new mags. However, this review is for the factory rifle with the factory magazines and that deserves five stars. Just a word of caution for those considering the cheaper SGM mags that they might have issues.

I've been checking this shotgun out for about a year, then, 2 months ago at my range, a fellow shooter came in with the wood stock version and I was able to shoot 12 rounds and that was it. Classic Firearms had it on sale and I bought it. I've put almost 200 mixed rounds through without some much as one failure. PLUS, mine came with the welded rail buttstock which had a weld the size of a pencil eraser and well, darn it, it accidently broke, leaving the weapon as it should be but I did place on a US muzzle brake AND 10 round mag to make the ATF Feinstein all giddy and euphoric.
From the first time I saw this weapon I was immediately drawn to and wanted it but I took my time, read a myriad of reviews and then, actually while at the range had the chance to shoot one with a wood butt stock. Based on the owners remarks and the 12 rounds he allowed me to put through, I had to have it.
Excellently wicked, the first 150 rounds fired were 2.75 - 3.00 inch bird, buck, and slugs without so much a hick-up. Get it, and you too will be thrilled.
Bought this Vepre 12 awhile ago now.It is a fun shotgun to shoot and handles even low base 8 shot trap loads.Let a few people at the range shoot it,and only one guy had trouble because he didn't have the magazine seated till it clicked into the locked position.Once we seen what he was doing wrong we corrected him and he enjoyed it as much as the rest of us. The shipping was prompt and the transaction was excellent. Well made gun it's like a AK47 12 gauge. Thanks, Classic Arms.
I have been wanting one of these sfs Vepr 12's since I first saw them. I've customized Siaga's for over a decade. The Vepr's come the way I want them from the factory! The shipping was very fast too..
Like many people, I'm guessing, after I saw this weapon, I thought I'd like to own one of these but I don't rush into buying an $1100 shotgun on a whim. I read many forums regarding the Vepr 12 and last month at my local range I saw one. I asked a myriad of questions including his dislikes, he paid $1359 for his over a year ago and even so, he was stoked with its performance, ability to shoot everything, including loss brass shells. He allowed me to fire 12 rounds. His Molot was dressed in a muzzle brake, Red dot sight, and 12 round magazine. That was it, I HAD to have one and with Classic's sale price it seemed karma. I've put 100 rounds through mine and my only gripe is, I wish I had several thousand more to burn through, It's accurate, flawless, and just freakin' wicked.
I wanted this VEPR 12 Gauge the 2nd I laid Eyes on it and It Differently Lives up to all the Great Reviews and Photo's , mine Came From Classic Firearms FAST Also LOOKS and Functions PERFECTLY,Thank You Classic Firearms !!
This is one fun shotgun to shoot. The quality is superior to the Saiga shotguns, and $1K is a terrific price. You won't be unhappy with this gun.
The Vepr 12 Gauge was every thing that was advertised and then some. Every thing I have purchased has shipped very fast and in great shape. Love the new shotgun and have always liked the AK format because of dependability and simplicity. This will have been the second gun I have bought from Classic firearms and will continue to do so one because the price is right and two they are very friendly and ship fast. Thanks so much Classic!
Awesome shotgun at an awesome price! Better model at a better price from other dealers, Fit and finish of this gun was perfect!
As everyone else has said, the Vepr 12 is beyond belief! It will cycle any ammo you feed it. I use the 5 round mags that came with it and I also have 2 10 round mags. They all feed the Vepr flawlessly. I recommend the Vepr very highly! You wont regret the purchase.
This is one mean shotgun. Great workmanship. Cycles everything I've put thru it with no problems at all, and just plain WICKED looking!! Definitely a BUY!
Received this Shot Gun.....WOW! Amazing workmanship. Just like the product discription. Took it to the range, ran 3" and 2 3/4" shells through it and it performed flawlessly! Great product would recommend this one to friends!
The VEPR 12 is the greatest home defense weapon on the market today. This gun ate every kind of 12 Gauge ammo I had in stock flawlessly! Straight out of the box at 25 Yards We put four 3" slugs on top of each other using the standard AK sights that come with gun. We cycled rounds continuously using 2 Molot 5 round mags,2 Molot 8 round mags,and an SGM Tactical 10 round mag. All the magazines and different rounds fed flawlessly!I let one of the range officers cut loose with 3 mags and have no doubt in my mind he will be buying one soon. The VEPR 12 is some serious Russian whoop ass and I will be buying several more for my collection. Thank you Classic Firearms for your professionalism and quick delivery of this 12 gauge Masterpiece! It is a multi purpose shotgun that can be used for just about everything. God Bless,Mike
Brutus' Description

Note - These are currently banned from further importation into the U.S. as part of the economic sanctions against Russia imposed by the Obama administration. Further importation in the near future is impossible and any future importation is highly doubtful. Limited Quantities available.

Bigger, Better, Badder, The Russian Vepr shotgun is the Gold standard in imported 12 guage semi-autos.

I love the Saiga's, and at their price point, they can't be beat. But if you are one of those rare individuals that will not settle for less than the best, then give the Russian Vepr12 a try....

The Vepr 12 gauge shotgun is known around the world as one of the finest IPSC and 3 Gun shotguns availble.

In fact, everything about the Vepr is heavy duty. Take a look at these features.

Hinged dust cover with a picatinny rail
Original Molot Polymer Pistol Grip
Original Molot Polymer Lower Handguard
Original Molot Polymer Upper Handguard
Molot Self-Regulating Gas System
Original Molot Competition Magazine Well
One Original Molot Factory 5 round Magazine
Molot Factory AK adjustable rear sight
Factory chrome lined barrel, chamber, receiver shaft and gas chamber
Factory last round bolt hold open
Factory threaded barrel (thread pattern is the same as Saiga)
Factory machined bolt assembly, gas blocks etc. (not cast like other AK shotguns)
New Straight fixed tubular stock design.
Cheek Rest unlocks and rotates on stock from right to left hand side for ambidextrous shooting.


* Note - barrels are threaded and have a thread protector threaded onto them from the factory. The thread pattern is the same as the Saiga Shotguns and any of the numerous different Muzzle Breaks on the market for the Saigas will fit the Vepr.

** Also Note - These high quality Molot shotguns started out in Russia with the military style side folding stock on them.

Prior shipments have had the original stocks replaced with Wood AK Stocks or other alternatives in order to get the weapons into the country.

This shipment has the new straight affixed tubular stock design with adjustable cheek piece. Stock is a solid one piece tubular unit from the trunion back.
Stock includes a very comfortable cheek rest and it looks great. It is very difficult for me to take good photo's of an all black weapon. There is just not enough contrast. But trust me, this is one fine looking piece of machinary.

To see this weapon is to fall in love and to shoot it seals the deal.

*** In reference to The Gas System It differs from the Saiga and in my opinion is a very nice upgrade.
The Saiga 12 has a gas system that can be manually adjusted to allow for the firing of different shells,
i.e, Hi-Brass, Low Brass, Bird Shot, Buck Shot , etc.

Unlike the Saiga , The Vepr has a highly advanced self regulating gas system that automatically adjust to the recoil of the weapon allowing this weapon to feed virtually all types of shells without incident.

In Fact, We have tested this weapon with all different types of loads and powder charges and even mixed different loads within the same magazine. In all cases the weapon functioned flawlessly.

All of the Veprs come in an original Molot Factory box with manual and warrenty information.




Manufacturer's Description

Russian Vepr 12 Gauge Semi-Automatic Tactical Shotgun

Additional Information

Product Specs

12 gauge
Self regulating gas system
Semi-Automatic
Russian Shotgun
5 round mag
*18 inch Barrel
*38.5' Overall

Caliber
Other
Gauge
12
Free Shipping
No

Customer Reviews

Not really a review, but what the hey. I appreciate that ClassicFirearms decided to use the picture I uploaded for the Vepr 12!

I absolutely love this shotgun! If you buy it, remember to break it in! I'm shooting Winchester 8 shot Target/Birdshot in this video.

Thanks ClassicFirearms!
Another quality Firearm yet again Thanks to Classic Firearms.
Hey, I just purchased a vepr 12 from classic firearms and it is the funnest rifle ive ever owned. I made a gopro video showing off the rifle.
Classic Firearms did a great job updating me on my VEPR that was held up in paperwork due to ban. Love the shotgun!!
This shotgun worked perfectly right out of the box. I will have a lot of fun with it.
The fit and finish of my Vepr 12 was superb. Be prepared to break it in or avoid cheap big box store shells. There are more than enough tutorials on smoothing out the action for reliability. However, after a relatively short (150 rds) and extremely fun break in, it functions great.

I exchanged all of the necessary 922r parts so that I could break the superficial tack weld and fold the stock. Well worth it.

Don't hesitate. Buy it if they ever make it back to "in stock" status.
Thanks.
Oh and thanks.
I actually bought this a number of months ago (before the price drop, of course!), but weather & work kept me from taking it out. Between purchase and "fun time" I improved on the design with upgrades: muzzle brake, quad rail, etc. Also made the folding stock functional. That was super easy! Ivan was kind enough to put the one single weld at the corner, making it easily accessible with a Dremel tool; took less than 30 seconds start to finish.
At the range I had a couple of original Russian mags and a U.S. SGM 10rnd. All functioned 100%. My buddy and I had a blast (pun fully intended) with this!! No FTE, FTF, double feeds, etc. Every time the trigger was pulled it went bang. I was using low brass shells also, FWIW. This thing is so much fun to shoot it should be illegal.......which is exactly why you should get one, before "they" try to tell you that you can't have one.
I received my Vepr 12 a week ago along with other parts I bought to make it 922r compliant. Took it out and shot it first to see how it would shoot before modifying. After shooting (multiple brands, sizes, shot, slug, etc.) I made my modification then took it back out. The Vepr 12 shoots very reliable and only had a couple of issues with types of shells. It did not like low brass 8 shot (but that's not why I bought it but wanted to try it out anyway) and FTE every other round. Stronger shells such as high brass, buckshot, slugs, etc., the Vepr ate everything. I also mixed sizes of shells from 2 2/4 to 3" shells in one mag with no issues, again, ate everything. Bolt hold open on last round worked everytime using SMG mags (both 10 and 12 rounders). The orginal 5 rounder also no issues except that it fell out after 4 shots the first time I fired it but I believe that was me not seating the mag right as it never happend again after that. Overall, it runs as advertised and suspect that after several hundreds of rounds, it will eat the lighter loads as well. The finish was excellent and quality superior in my opinion (to other tactical shotguns to inlude the Siaga). Great value for the money (and free shipping) and thanks for Classic making it an easy and painless process per usual. Cheers!
I bought a second one of these after liking the first one so much. Generally very well made and solid. Highly recommended!
Just got mine in today, ran 100rd federal bulk pack with not one problem. Ran 100rd cheap whitebox winchester with a ftf on about every 5 shot. This gun is awesome. Bought some 10rd and 12rd mags for it which work great. Thank you Classic firearms for a great gun at a great price and fast shipping. Yall need to hurry and buy one before the Demoncrats ban em.
Out of all my guns and rifles i have, this must have shotty is up there with the top. The feel and quality feels top notch.You can go wrong with this shottty. Classic have great customer support to delay my order until i came back in town. Overall great item and service from Classic. Thanks
This is my second VEPR from Classic Firearms and as always service and commo was great. I bought it for the claim to self adjust for all rounds...not the case. This weapon like the other VEPR I purchased did not cycle Wal-Mart Winchester Universal value pack ammo...even after 100s of rounds of 00Buck, polished bolt and trigger and hundreds more of the cheap Winchester ammo...and yes this was true for factory magazines as well as SGM ones. Both VEPRs were inconsistent with the bolt not locking to the rear after the last round. It is a well built weapon and the magazine well is an upgrade from any other AK variant shotgun...but for the money I would just buy a SAIGA and adjust for low brass rounds rather than spend hundreds more on a VEPR that has issues with them when it is supposed to work with everything.
Highly reccomend over Saiga 12s. Saiga 12s are great shotguns too but with the features and upgrades of this shotgun, theyre no contest. It has cycled everything ammo wise even low brass target loads. I like the Benelli M4s, but this is practically half the price and is loaded with detachable magazines rather than a tube. Completely different than conventional shotguns and I like it. Im getting a choke and a GK-01 clone muzzle brake and it ll be perfect.
I will start with a confession, I did not like shotguns. If I was to ever own one the vepr12 was it, I remember saying this back when they still ran $1200. Now, it is the first firearm I grab when going to the range, it is an amazing piece that is just fun to shoot. My will shoot anything down to winchester universal, although I will say it ran much better after shooting some slugs through it. As usual, thanks classic.
Great shotgun and highly recommended if you want a military style semi-auto. I've tried several different types of shells in it and only two would not work (Winchester Universal and Federal Game Load).

I don't like the sharp sheet-metal safety lever extensions, but other than that the ergonomics are excellent.

This shotgun is a bargain at $800. Get one while you still can!
The shotgun performs flawlessly and is just fun to shoot. The self-adjusting gas system works as advertised. Once again, Classic Firearms comes though with a good product at a good price.
Wow. Bought this over a month ago, but just got a chance to shoot it today. Fired 125 rounds of 00 buckshot without a hiccup. Smooth as silk. Used the 5 round factory mag and some SGM tactical 12 and 10 round mags. Flawless. On the SGM mags bolt did not lock back on empty 50% of the time. Classic firearms got me the gun quick and in perfect condition. Man, you guys rock!!! My second firearm purchase and definitely not my last. Pleasure to do business with you guys.
I bought this gun from Classic Firearms. My first purchase. Sales department were like my neighbors. Ordered it on Friday morning and received gun on Tuesday evening. I love my Saiga AKs. Almost ordered the Saiga 12. I'm sure it's a great gun also. I chose the Vepr 12. The price I thought to be a type over but price was right.$799.00. Beautiful gun to add to my collection. We should be thankful that we still have people that can still take care of us like Classic. Will not be my last purchase from Classic Firearms. Trust and delivery time was exceptional. Thanks to all that had a part in this.. Thank You Classic Firearms.
Sam Ferrington
This gun is loads of fun! I just wish they hadn't been out of the larger mags when I made my purchase. My 5 rnd mag fits very snug, so I have not had issues with it seating as I read another did. All my friends with Saigas want to sell theirs in favor of one of the VEPR's, esp. at this price! Thanks! A+++
This is a very nice auto loading shotgun. Looks like it has the RPK Rear sight and trunions /receiver. The fit & finish are really good for this price point. I would have expected to pay a lot more for shotgun like this.

I read a review (not from classic) and they guy said there was no bolt hold open. Well, if you
look in front of the trigger guard behind the mag release you will find one!

Very nice indeed.

JEF Jr.
So for the records I have yet to fire this weapon so can't comment yet on that. I can however comment on just much a quality item this shotgun is. Everything about it is well made. Did several modifications to make it 922r complaint after I broke the weld and got hi cap mags. Also bolted a magpul l5 rail on lower handguard so I can now attach for grips which I recommend. Overall one of the best shotguns for the money. Now all I got to do is shoot the damn thing :)
I had eyes on this since it came out and I finally went over the edge and ordered it from Classic Firearms. I ordered less than a week before the price dropped from $999.99 to $799.99 and I hadn't yet received the shotgun when the price was lowered. But, thanks to Classic Firearms being an outstanding company they extended that price to me. I immediately liked everything about this shotgun when it came in, but that was just the beginning. I finally recently went to the range and shot about 75 rounds out of this with 00 buck, slugs, 3" magnums, and about 25 birdshot. I had 0 malfunctions. Out of reading other people's experiences, I was expecting to maybe have an early issue since I was breaking this shotgun in, but everything went flawlessly. I can't complain one bit. I was thinking about getting a Remington 11-87P for the longest time there for a home defense shotgun, but I don't think you can beat this. The most important thing to me was reliability, but after one trip to the range I was impressed.
Excellent firearm. Fit and finish is excellent for a Russian AK Style shotgun. Folding stock latch absolutely works (Contrary to what other reviewer said on this site). Push hard on the stock release latch until it moves. You may have to wrestle with it the first time (Mine was a bit "stuck"). Wear a glove if you've got baby skin on your thumb. If you're worried about breaking it, don't be, it's normal. Be sure you know and comply with all laws (google "VEPR 922r") before modifying this shotgun to allow the stock to fold. The parts you will need to purchase and replace can add significant cost to this firearm but are all nice improvements over the russian made parts.
Now own three (3) of these Babies and they are HOT!!!! You will know it when you get one and especially after shooting it!!! Get them while you can as these wont last long!!!
I just picked mines up from my FFL yesterday so happy to get it. It looks and feels nice. Metal work is very good to excellent. Classic Firearms are wonderful people to deal with their email system will keep you up to date the whole time. All of my orders came in on time. Cant ask for better service, I will upload pics soon. Thanks again Classic Firearms.
Great gun
fine fit and finish
Will be adding a muzzle brake
Just wish I had waited a couple more weeks to order it. I could have saved $200
Over the years I have ordered a variety of stuff from Classic Arms and have always been pleased with quality and service.
Thankyou
I bought one of these at $999.00 and it is a great weapon ,,,,,, especially compared to a custom mod of a Saiga 12.

8 round orig Russian magazines available on web.

One Caveat....The stock can not be made to fold, despite jiv from web-surfers to the contrary.

You just don't dremel a spot weld. The tip-off is the latch for the stock does not travel, which it would if it was free and all you had to deal with is a bit of welding on the hinge seam.

A great combat shotgun with a skeleton stock that has a mag well like an AR15...straight in and lock-up and much lighter than a Saiga 12 and also has AK type forearm and a rail on top.


I have had this piece in my sights for sometime now and finally decided to take the plunge. I first saw it when it came on the market for $1399.00 and all the reviews said it was too expensive although the reviews were good it was still a little pricey in comparison to the Saiga. I purchased it about a month ago for $999.00 and saw a video online about "tricking" it out and proceeded to acquire all the necessary pieces and upgrades to make it happen. I actually received most of the parts before I received actual shotgun. I recently had a chance to install all the parts and this is one cool weapon, the beast comes alive. On Friday I received an email from Classic that the price has come down to $799.00, I actually could have gone a long while without receiving that, it really made my weekend. I use Gunwatcher a lot and now everyone has brought the down to $799.00, talk about price fixing. They get you coming and going.........sort of takes the sweetness out of it.
Do yourself a favor and track down the 25 round drum for this thing....it is so much fun at playtime. Mine did not like 7 & 8 shot bulk pack ammo but I polished the FCG and it eats pretty much anything now. If you don't know how to do that or don't wanna fool with it run some stronger loads like 4 shot or harder for a little while and that will break it in for the same effect. Smile is stuck on my face ! Thanks Classic!
Have been wanting one of the vepr12's for a while now and decided to pick 1 up fit and finish is excellent as well as the shipping and customer service from classic firearms the dayi picked up the weapon gave it a quick field strip and cleaning then went to the range started off with 50 rounds of 00buck then 100 rounds of the federal bulk shells from walmart not 1 hiccup weapon worked flawlessly get yourself 1 of these shotguns you won't be disappointed
Just a follow up to my last review I have run a couple hunderd rounds through my VEPR and it fires well...it still has periodic hiccups with Wal-Mart Winchester 8 shot value pack ammo and the bolt does not lock to the rear when the magazine is empty...other than that it is an awesome shotgun. Would recommend getting a choke if you are going to shot skeet with it.
I just received my brand new VEPR and I shot it right out of the box with no cleaning and cheap 00 buckshot. Since most parts are stamped like normal AK's are, and this is a round about AK platform, it was about a 6 round break in period, I'm assuming to a few rough edges and 2 FTF's. BOOM. Then I never had an issue. Couldn't be happier. Put 24 more rounds through it without a hiccup. Cheek rest is nice, stock is barely welded to fixed. I just need to use my dremel and I'll have it folding in a few minutes. Control is wonderful, it does kick but the BCG does a good job taking a lot of the force. I'll be on the lookout for a muzzle break, I want it a little easier. Only took a week to ship from NC to OH. Everyone I've shown and told about wants one now. Made the guy with the AK at the range jealous. It's good to be the king. Hats off to Classic Firearms for all my newfound joy.
Really like my Vepr12, very well made and fun to shoot . I have shot it only once and used slugs in an indoor range .... No issues. Got great service from Classic

review could be summed up into 6 words " love it, love it, love it". this is what happens when you take Russian craftsmanship 12 gauge and testosterone and mix it all up. Action is smooth and recoil is really not bad. I have shot almost everything between seven and a half bird shot through deer slug. The only thing I have not shot through it yet is low brass (Walmart cheap shells). But i will be testing that next week. I also added a Molot style muzzle brake, which really helps keep sights on target when you're pulling that trigger as fast as possible. Took a couple runs through mags to loosen them up, but runs like a champ now. Thanks Classic Firearms.
I liked it enough to purchase two. This shotgun is accurate as described. I gave it 4 out of 5 stars because it needs a little tweaking. I found that it will cycle any low brass shells after breaking it in. Mine cycles fine as long as you have a good shoulder weld. The cheek riser is too high for the iron sights but the correct height for an optic. The easy solution is to flip it to the opposite side for iron sights. I replaced the trigger with a g2 and the difference is minimal, it is 3 US parts tho :). The threaded barrel is begging for a choke. The current set up is good for home defense/short range shooting. But with the extra full choke, I feel comfortable with the pattern out to 40 to 50+ yards for hunting or 3 gun courses. The factory 5 round mag was junk on both of the V12 I bought. They continually fall out when firing. The SMG 12 rounders I bought work flawlessly tho. I polished the bolt/bolt carrier on one of my V12 and not the other to compare them. The polished V12 cycles low brass better, especially with the stock folded, and the factory mags have not ejected since then.

Long story short. Buy the V12, Polish the bolt/bolt carrier, get 922r compliant, get a choke or muzzle brake, own one of the best shotguns ever.
After looking at the Saiga and Fury options I opted for the VEPR at about twice the cost. I purchased this for the claim that it fired everything and I would not need a gas tube adjustment...well the WalMart Winchester 100 pack 8 shot shells would jam and have feed issues periodically, so is that just really bad ammo? I used both 5 round clips and a 10 and 12 round one, the 12 round seemed a bit cumbersome to seat at times but all the magazines feed and loaded rounds without issue. I am looking forward to the upcoming 25 round drum. While the magazine well is much better upgrade than the Saiga and Fury I dont know if it justifies twice the price. In the end I am happy with the weapon but not sure it is worth twice the money as the Saiga or Fury.
When I finally received the Molot Vepr 12 Shotgun from my FFL, my order took almost near a month, Besides the 2-5 round Magazine, I also ordered one of each SGM 10 & 12 round magazines, but the 12 round mag was not available. Kinda saddened, I had just wished someone at Classic Firearm would have called rather than delay an order, as I did. But I didn't let that bother me. I called and they took care of my order...next thing I read was that Classic Firearm immediately shipped my order and within days...it arrived at my state. I was astounded by the fact that it felt solid, very solid...tight, clean, parts complete. smooth when testing the bolt action...it was worth the wait. I ordered the Molot Gk-01 Muzzle Brake two weeks earlier, and when mating both, it was too awesome. Tell me something...I threw the oiled paper...and I found a punch tool. I didn't know that that was included....I tought it was just paper. So if you ever order this, please check your order...you might be lucky to have one.
I can see what they mean when they call this the Cadillac of Russian shotguns. Finish inside and out is excellent. It digests everything I put into it, including WalMart Federal 100 pack ammo. Only the WalMart Winchester 100 pack shells seem to make it choke and that may improve as the gun wears in. Buckshot, hunting birdshot and slugs run flawlessly. I am really loving this shotgun! Highly recommended. Now SGM needs to make a 12 rd drum and it will be perfect.
This beast is truly high quality. The receiver is solid and heavy, fit and finish is great. Shoots fantastic with all loads, including light birdshot. My only issue so far is that the SGM 10 and 12 round mags I bought with it do not function properly. Classic's staff quickly got me in touch with SGM's and they have identified the problem with their injection molds and are sending me two new mags. However, this review is for the factory rifle with the factory magazines and that deserves five stars. Just a word of caution for those considering the cheaper SGM mags that they might have issues.

I've been checking this shotgun out for about a year, then, 2 months ago at my range, a fellow shooter came in with the wood stock version and I was able to shoot 12 rounds and that was it. Classic Firearms had it on sale and I bought it. I've put almost 200 mixed rounds through without some much as one failure. PLUS, mine came with the welded rail buttstock which had a weld the size of a pencil eraser and well, darn it, it accidently broke, leaving the weapon as it should be but I did place on a US muzzle brake AND 10 round mag to make the ATF Feinstein all giddy and euphoric.
From the first time I saw this weapon I was immediately drawn to and wanted it but I took my time, read a myriad of reviews and then, actually while at the range had the chance to shoot one with a wood butt stock. Based on the owners remarks and the 12 rounds he allowed me to put through, I had to have it.
Excellently wicked, the first 150 rounds fired were 2.75 - 3.00 inch bird, buck, and slugs without so much a hick-up. Get it, and you too will be thrilled.
Bought this Vepre 12 awhile ago now.It is a fun shotgun to shoot and handles even low base 8 shot trap loads.Let a few people at the range shoot it,and only one guy had trouble because he didn't have the magazine seated till it clicked into the locked position.Once we seen what he was doing wrong we corrected him and he enjoyed it as much as the rest of us. The shipping was prompt and the transaction was excellent. Well made gun it's like a AK47 12 gauge. Thanks, Classic Arms.
I have been wanting one of these sfs Vepr 12's since I first saw them. I've customized Siaga's for over a decade. The Vepr's come the way I want them from the factory! The shipping was very fast too..
Like many people, I'm guessing, after I saw this weapon, I thought I'd like to own one of these but I don't rush into buying an $1100 shotgun on a whim. I read many forums regarding the Vepr 12 and last month at my local range I saw one. I asked a myriad of questions including his dislikes, he paid $1359 for his over a year ago and even so, he was stoked with its performance, ability to shoot everything, including loss brass shells. He allowed me to fire 12 rounds. His Molot was dressed in a muzzle brake, Red dot sight, and 12 round magazine. That was it, I HAD to have one and with Classic's sale price it seemed karma. I've put 100 rounds through mine and my only gripe is, I wish I had several thousand more to burn through, It's accurate, flawless, and just freakin' wicked.
I wanted this VEPR 12 Gauge the 2nd I laid Eyes on it and It Differently Lives up to all the Great Reviews and Photo's , mine Came From Classic Firearms FAST Also LOOKS and Functions PERFECTLY,Thank You Classic Firearms !!
This is one fun shotgun to shoot. The quality is superior to the Saiga shotguns, and $1K is a terrific price. You won't be unhappy with this gun.
The Vepr 12 Gauge was every thing that was advertised and then some. Every thing I have purchased has shipped very fast and in great shape. Love the new shotgun and have always liked the AK format because of dependability and simplicity. This will have been the second gun I have bought from Classic firearms and will continue to do so one because the price is right and two they are very friendly and ship fast. Thanks so much Classic!
Awesome shotgun at an awesome price! Better model at a better price from other dealers, Fit and finish of this gun was perfect!
As everyone else has said, the Vepr 12 is beyond belief! It will cycle any ammo you feed it. I use the 5 round mags that came with it and I also have 2 10 round mags. They all feed the Vepr flawlessly. I recommend the Vepr very highly! You wont regret the purchase.
This is one mean shotgun. Great workmanship. Cycles everything I've put thru it with no problems at all, and just plain WICKED looking!! Definitely a BUY!
Received this Shot Gun.....WOW! Amazing workmanship. Just like the product discription. Took it to the range, ran 3" and 2 3/4" shells through it and it performed flawlessly! Great product would recommend this one to friends!
The VEPR 12 is the greatest home defense weapon on the market today. This gun ate every kind of 12 Gauge ammo I had in stock flawlessly! Straight out of the box at 25 Yards We put four 3" slugs on top of each other using the standard AK sights that come with gun. We cycled rounds continuously using 2 Molot 5 round mags,2 Molot 8 round mags,and an SGM Tactical 10 round mag. All the magazines and different rounds fed flawlessly!I let one of the range officers cut loose with 3 mags and have no doubt in my mind he will be buying one soon. The VEPR 12 is some serious Russian whoop ass and I will be buying several more for my collection. Thank you Classic Firearms for your professionalism and quick delivery of this 12 gauge Masterpiece! It is a multi purpose shotgun that can be used for just about everything. God Bless,Mike