AK-47 Parts Kit Bulgarian Original Milled Underfolder 7.62X39
Availability: Out of stock
| Item #: ACCBUL-AKUF-PS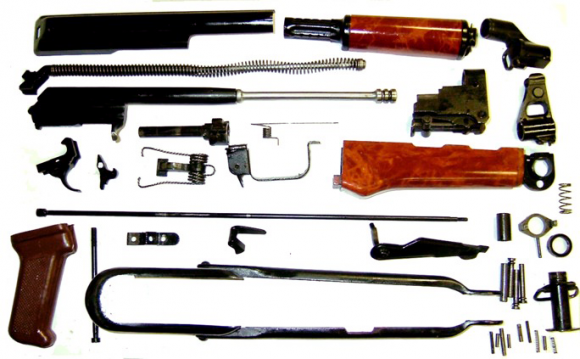 Double click on above image to view full picture
More Views
Have Your Own Photos? Login to Add Them
AK-47 Parts Kit Bulgarian Original Milled Underfolder 7.62X39
Availability: Out of stock
| Item #: ACCBUL-AKUF-PS
---
MSRP:

$399.99
|
Your Price:
$299.99
Brutus' Description
Bulgarian Milled AK-47 Parts Kit. 7.62x39mm. Used,but very good condition. Numbered parts that we have seen have all matched but we do not guarentee for all matching.

Kit comes complete with all depicted parts and original factory packing parts ledger. Parts kit are De-Milled To BATFE Specs.
Kit does NOT include receiver, back plate ( for milled receiver ) or original press fit barrel.

The kit features the original issue synthetic upper and lower handguards. Also included is the cleaning rod and folding stock with all attachment parts.

These are super nice and professionally packaged in heavy vinyl with an attached parts ledger to reduce or eliminate the chance of any missing parts.
Comes with everything you see in the primary parts set photo above. All trigger components and small parts, springs, etc, are packaged in a smaller sealed bag then placed inside of the bag contain the larger parts.

Note - Invariably whenever we sell parts sets we get a few calls back from buyers saying that they are missing this or that part. We have every confidence that each of these parts sets are complete and we have taken every precaution including an internal inspection here to be certain that they are all shipped complete being well sealed and well packaged. As such, we will not provide any follow up parts after the sale and buyer assumes all responsibility for any missing/damaged parts.
No refunds/exchanges will be accepted on any parts kits.

High quality parts sets are drying up fast - order yours today!
Manufacturer's Description
Nice Original AK-47 Parts Sets from Bulgarian AK-47 Milled Receiver Rifles
Additional Information
| | |
| --- | --- |
| Product Specs | Milled Kit 7.62x39 |
| Country of Manufacture | Bulgaria |
| License Requirement | None |
| Manufacturer | Bulgaria |
| Mfg. Part Number | bulakufps |
| UPC | No |
| Caliber/Gauge | 7.62x39 |
| Barrel Length | No |
| Threaded Barrel | No |
| Free Shipping | No |
| Flat Rate Shipping | No |
Brutus' Description

Bulgarian Milled AK-47 Parts Kit. 7.62x39mm. Used,but very good condition. Numbered parts that we have seen have all matched but we do not guarentee for all matching.

Kit comes complete with all depicted parts and original factory packing parts ledger. Parts kit are De-Milled To BATFE Specs.
Kit does NOT include receiver, back plate ( for milled receiver ) or original press fit barrel.

The kit features the original issue synthetic upper and lower handguards. Also included is the cleaning rod and folding stock with all attachment parts.


These are super nice and professionally packaged in heavy vinyl with an attached parts ledger to reduce or eliminate the chance of any missing parts.

Comes with everything you see in the primary parts set photo above. All trigger components and small parts, springs, etc, are packaged in a smaller sealed bag then placed inside of the bag contain the larger parts.

Note - Invariably whenever we sell parts sets we get a few calls back from buyers saying that they are missing this or that part. We have every confidence that each of these parts sets are complete and we have taken every precaution including an internal inspection here to be certain that they are all shipped complete being well sealed and well packaged. As such, we will not provide any follow up parts after the sale and buyer assumes all responsibility for any missing/damaged parts.

No refunds/exchanges will be accepted on any parts kits.

High quality parts sets are drying up fast - order yours today!

Manufacturer's Description

Nice Original AK-47 Parts Sets from Bulgarian AK-47 Milled Receiver Rifles

Additional Information

| | |
| --- | --- |
| Product Specs | Milled Kit 7.62x39 |
| Country of Manufacture | Bulgaria |
| License Requirement | None |
| Manufacturer | Bulgaria |
| Mfg. Part Number | bulakufps |
| UPC | No |
| Caliber/Gauge | 7.62x39 |
| Barrel Length | No |
| Threaded Barrel | No |
| Free Shipping | No |
| Flat Rate Shipping | No |