AK-74 Semi-Auto Rifle w/ Chrome Lined Barrel by Waffen Werks - Original Grade A Wood Stocks
Availability: Out of stock
| Item #: LNGAK74-WW-Rifle-1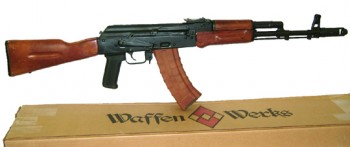 Double click on above image to view full picture
More Views
Have Your Own Photos? Login to Add Them
Customer Submitted Videos
AK-74 Semi-Auto Rifle w/ Chrome Lined Barrel by Waffen Werks - Original Grade A Wood Stocks
Availability: Out of stock
| Item #: LNGAK74-WW-Rifle-1
---
Up Until Now - We have only offered these rifles with lightly refinished stocks and exclusively as Shooters packages and that promotion has been very successful. It's no wonder they have done well. No pun intended but that deal is a lot of bang for the buck.

However, many of you have requested just a bare bones deal on a rifle with one mag. Well, since the customer is always right, here you go.

Same great rifle, less accessories that you may or may not need at a really fantastic low price.

About the rifle...

These are by far the nicest ones yet, and in our opinion the nicest AK-74's available in the country. These rifles are proudly built by Waffen Werks, one of the premiere rifle builders in the U.S.

These high quality AK-74 rifles are built from all matching Bulgarian AK-74 parts sets. Rifles are built to exacting standards on a new U.S. made Waffen Werks receiver. Each rifle features a brand new chrome lined U.S. made barrel properly chambered for the 5.45x39 round. They have been extremely accurate.

Rifle features a Tapco G-2 trigger set and a U.S. grip and is fully 922r compliant with all AK-74 mags regardless of country of origin. Rifles also incorporate a side rail for easy installation of scope rails or accessories.

Rifle ships bubble wrapped inside a cardboard box with one 30 round AK-74 mag by Tapco.

*** We offer a wide variety of accessories for this rifle as can be seen on our AK-74 Page.
Some of the most popular items are the Original Bulgarian Pistol Grip and mags and accessories.


Read More
Brutus' Description
I really like these. In my humble opinion these rifles are some of the nicest AK-74's to come down the pipe in a long time
and more than that they are done right.

The combination of high quality, all matching, Bulgarian made surplus rifle parts sets,
and brand new U.S. parts including barrel and receiver combined with top grade professional assembly makes for a fantastic rifle.

Each of the rifles begins as an all stamped matching Bulgarian AK-74 parts set.

Parts are then professionally assembled by Waffen Werks. Waffen Werks is one of the premiere builders in the U.S. and their quality is very top level.
U.S. Parts include new U.S. made chrome lined barrel, new Waffen Werks premium grade receiver, 3 piece G-2 No Slap Trigger set by Tapco, and U.S. made pistol grip.

Rifle also features the highly effective and original Bulgarian AK-74 compensator. These things are too cool.

Rifles all feature an integrated side rail for scope mounts or other accessories.

All metal parts on the rifles are like new in condition and are all professionally finished with the Famous KG Gun Kote Finish. This is the slickest, most durable and highly sought after finishes going and we are proud to be able to offer it on these rifles.

This SKU of Rifles features the Original Bulgarian Wood furniture with the Semi-Transparent stain finish.

The wood on these will be considered our grade A furniture, however, the furniture on these at this price point is not being refinished and will be in the original condition just like a it came in the parts kits from Bulgaria. Expect some scratches or scuff's on the surface of the wood, but no deep dings or digs... These stocks should be easily refinishable if so desired. Most are still quite nice and I think you will be pleasantly surprised. I have posted a couple of images of what you could expect as probably a worst case scenario in the picture directory. Most stocks will be even better than this and any falling below this level will only go out as a grade B furniture set rifle.

Otherwise, the rifles are the same as all of the rest.

Assembly is done to the highest of professional standards, ie, no hammers and anvils here.
All metal surfaces are smooth and clean, all rivets are machine seated and overall finish is to original factory standards.

All rifles are test fired and re-cleaned before being boxed to ship.

Each Rifle under this product code will ship with one 30 round 5.45x39 polymer magazine by Tapco and no other accessories unless ordered seperately. For the Shooters Package offer on this rifle with lightly refinished stock see seperate SKU.

A word about barrels. AK-74's have gotten a bad wrap on some forums due to some manufacturers using barrels that were not bored properly which led to rifles being inaccurate or bullets that would keyhole downrange. That is not the case here -

In the past we have used a barrel by ESS that was really nice by industry standards. Their standard barrel was, and is, an extremely nice barrel....
However, you spoke and we listened, knowing that our customers demand the best, and using your feedback as well as advice from shooters across the country, we have asked the manufacturer to make some upgrades to the standard barrels to maximize both the barrel life and the accuracy of the rifle...
These upgrades were expensive, but in the end we feel that the expense was well worth it.

These rifles are now outfitted with a 1 in 8 twist , 4 groove barrel, that is rated at 4142 pre-heat treated hardness. They are fully Chrome Lined for extended barrel life, and are holding tight groups at extended distances... This was a proprietary project for Classic Firearms and we are very proud of the barrels in these rifles. These are the Cadillac of barrels.
We have tested these rifle extensively and they have fired accurately with all bullet weights and brands.

The rifle bores on these rifles are a true 5.45 diameter and again, we have been very impressed with the accuracy...

But hey, don't take my word for it... Get one and see for yourself.

Note: The furniture on these rifles is original. Expect them to show light wear or scatches or an occasional small dent or ding. The photo's you see on the site are a good representation... Overall though I think these are still very nice looking rifles.


Note # 2 - Tapco mags may vary in color, either black, or burned orange, our choice, depending on availability.


Check Out our AK-74 Rifle with the Solid Stain Stock Finish Here




Manufacturer's Description
AK-74 rifle, 5.45x39 caliber semi-auto rifle . This rifle is built by Waffen Werks, from all matching Bulgarian AK-74 parts sets. Rifles are built to exacting standards on new U.S. made Waffen Werks receivers and feature brand new Chrome Lined U.S. made barrels properly chambered for the 5.45x39 round, as well as an integrated side rail mount. Rifle features a Tapco G-2 trigger set and a U.S. grip and is fully 922 r compliant with all AK-74 mags regardless of country of origin.
Additional Information
| | |
| --- | --- |
| Product Specs | AK-74 5.45x39 Semi-Auto Chrome Lined Barrel Side Rail AK-74 Compensator Fully 922r compliant. Comes With 1 mag only |
| License Requirement | FFL |
| Manufacturer | Waffen Werks |
| Mfg. Part Number | AK74-RIFLE1 |
| UPC | No |
| Caliber/Gauge | 5.45x39 |
| Threaded Barrel | No |
| Free Shipping | No |
| Flat Rate Shipping | N/A |
Customer Reviews
Ordered the rifle after reading reviews of waffenwerks 74 rifles. Took the gamble and ordered it. Rifle came in timely manner. Upon opening the neat ww marked box, i pulled the rifle out took it to the range and tested it out with WPA 60gr fmj. Pros: finish, stock and overall appearance of the weapon is phenomenal. Shoots very smooth. Shot 600 rounds without a hiccup. Needed zeroing though. Shot six inches high and left at 25m. Once zeroed groups really well at 100m. Tapco and bakelite mags work flawless. No mag wobble. No canted sights, everything straight.
Cons: trigger axis pin came slightly stretched into egg shape. Hasnt blown out more after 760 rounds though. So we shall see. Fcg has little wobble. Nothing serious. Just a mm or so back and forth. Enough to annoy me. I recommend this firearm i am happy i bought this over an arsenal. Its an ak. Its not supposed to be as nice as an m1a.
It is a super quality AK74 rifle. Thank's again classic.
I ordered the rifle and had it sent to my local FFL it arrived in a few days. The rifle is immaculate. Beautiful furniture mirror finish. The kg gun coat is nice and even. Rifle looks like a 74 fresh from the factory crate. Rivets are perfect, receiver is even. Headspacing is just right and rounds chamber and extract flawlessly. I have owned my ak rifles, this is by far the my favorite. Don't waste your money on an arsenal. Go with waffenwerks/ddi
Excellent purchase. The rifle is flawless, so much fun at the shooting range, took it to 100m range, no optic scope, just standards sights - hits on paper, virtually no recoil, lovely lines, very good looking rifle. Got plenty of complements at the range
Brutus' Description

I really like these. In my humble opinion these rifles are some of the nicest AK-74's to come down the pipe in a long time
and more than that they are done right.

The combination of high quality, all matching, Bulgarian made surplus rifle parts sets,
and brand new U.S. parts including barrel and receiver combined with top grade professional assembly makes for a fantastic rifle.

Each of the rifles begins as an all stamped matching Bulgarian AK-74 parts set.

Parts are then professionally assembled by Waffen Werks. Waffen Werks is one of the premiere builders in the U.S. and their quality is very top level.
U.S. Parts include new U.S. made chrome lined barrel, new Waffen Werks premium grade receiver, 3 piece G-2 No Slap Trigger set by Tapco, and U.S. made pistol grip.

Rifle also features the highly effective and original Bulgarian AK-74 compensator. These things are too cool.

Rifles all feature an integrated side rail for scope mounts or other accessories.

All metal parts on the rifles are like new in condition and are all professionally finished with the Famous KG Gun Kote Finish. This is the slickest, most durable and highly sought after finishes going and we are proud to be able to offer it on these rifles.

This SKU of Rifles features the Original Bulgarian Wood furniture with the Semi-Transparent stain finish.

The wood on these will be considered our grade A furniture, however, the furniture on these at this price point is not being refinished and will be in the original condition just like a it came in the parts kits from Bulgaria. Expect some scratches or scuff's on the surface of the wood, but no deep dings or digs... These stocks should be easily refinishable if so desired. Most are still quite nice and I think you will be pleasantly surprised. I have posted a couple of images of what you could expect as probably a worst case scenario in the picture directory. Most stocks will be even better than this and any falling below this level will only go out as a grade B furniture set rifle.

Otherwise, the rifles are the same as all of the rest.

Assembly is done to the highest of professional standards, ie, no hammers and anvils here.
All metal surfaces are smooth and clean, all rivets are machine seated and overall finish is to original factory standards.

All rifles are test fired and re-cleaned before being boxed to ship.

Each Rifle under this product code will ship with one 30 round 5.45x39 polymer magazine by Tapco and no other accessories unless ordered seperately. For the Shooters Package offer on this rifle with lightly refinished stock see seperate SKU.

A word about barrels. AK-74's have gotten a bad wrap on some forums due to some manufacturers using barrels that were not bored properly which led to rifles being inaccurate or bullets that would keyhole downrange. That is not the case here -

In the past we have used a barrel by ESS that was really nice by industry standards. Their standard barrel was, and is, an extremely nice barrel....
However, you spoke and we listened, knowing that our customers demand the best, and using your feedback as well as advice from shooters across the country, we have asked the manufacturer to make some upgrades to the standard barrels to maximize both the barrel life and the accuracy of the rifle...
These upgrades were expensive, but in the end we feel that the expense was well worth it.

These rifles are now outfitted with a 1 in 8 twist , 4 groove barrel, that is rated at 4142 pre-heat treated hardness. They are fully Chrome Lined for extended barrel life, and are holding tight groups at extended distances... This was a proprietary project for Classic Firearms and we are very proud of the barrels in these rifles. These are the Cadillac of barrels.

We have tested these rifle extensively and they have fired accurately with all bullet weights and brands.

The rifle bores on these rifles are a true 5.45 diameter and again, we have been very impressed with the accuracy...

But hey, don't take my word for it... Get one and see for yourself.

Note: The furniture on these rifles is original. Expect them to show light wear or scatches or an occasional small dent or ding. The photo's you see on the site are a good representation... Overall though I think these are still very nice looking rifles.



Note # 2 - Tapco mags may vary in color, either black, or burned orange, our choice, depending on availability.


Check Out our AK-74 Rifle with the Solid Stain Stock Finish Here





Manufacturer's Description

AK-74 rifle, 5.45x39 caliber semi-auto rifle . This rifle is built by Waffen Werks, from all matching Bulgarian AK-74 parts sets. Rifles are built to exacting standards on new U.S. made Waffen Werks receivers and feature brand new Chrome Lined U.S. made barrels properly chambered for the 5.45x39 round, as well as an integrated side rail mount. Rifle features a Tapco G-2 trigger set and a U.S. grip and is fully 922 r compliant with all AK-74 mags regardless of country of origin.

Additional Information

| | |
| --- | --- |
| Product Specs | AK-74 5.45x39 Semi-Auto Chrome Lined Barrel Side Rail AK-74 Compensator Fully 922r compliant. Comes With 1 mag only |
| License Requirement | FFL |
| Manufacturer | Waffen Werks |
| Mfg. Part Number | AK74-RIFLE1 |
| UPC | No |
| Caliber/Gauge | 5.45x39 |
| Threaded Barrel | No |
| Free Shipping | No |
| Flat Rate Shipping | N/A |

Customer Reviews

Ordered the rifle after reading reviews of waffenwerks 74 rifles. Took the gamble and ordered it. Rifle came in timely manner. Upon opening the neat ww marked box, i pulled the rifle out took it to the range and tested it out with WPA 60gr fmj. Pros: finish, stock and overall appearance of the weapon is phenomenal. Shoots very smooth. Shot 600 rounds without a hiccup. Needed zeroing though. Shot six inches high and left at 25m. Once zeroed groups really well at 100m. Tapco and bakelite mags work flawless. No mag wobble. No canted sights, everything straight.
Cons: trigger axis pin came slightly stretched into egg shape. Hasnt blown out more after 760 rounds though. So we shall see. Fcg has little wobble. Nothing serious. Just a mm or so back and forth. Enough to annoy me. I recommend this firearm i am happy i bought this over an arsenal. Its an ak. Its not supposed to be as nice as an m1a.
It is a super quality AK74 rifle. Thank's again classic.
I ordered the rifle and had it sent to my local FFL it arrived in a few days. The rifle is immaculate. Beautiful furniture mirror finish. The kg gun coat is nice and even. Rifle looks like a 74 fresh from the factory crate. Rivets are perfect, receiver is even. Headspacing is just right and rounds chamber and extract flawlessly. I have owned my ak rifles, this is by far the my favorite. Don't waste your money on an arsenal. Go with waffenwerks/ddi
Excellent purchase. The rifle is flawless, so much fun at the shooting range, took it to 100m range, no optic scope, just standards sights - hits on paper, virtually no recoil, lovely lines, very good looking rifle. Got plenty of complements at the range