I.O. M247 AK-47 Sporter, U.S. Made 7.62x39 Caliber, Black Poly Stock and Lifetime Warranty - IODM2002
Availability: Out of stock
| Item #: LNG-AKBP-IO-AKM247
UPC: 856867005029 | MPN: IODM2002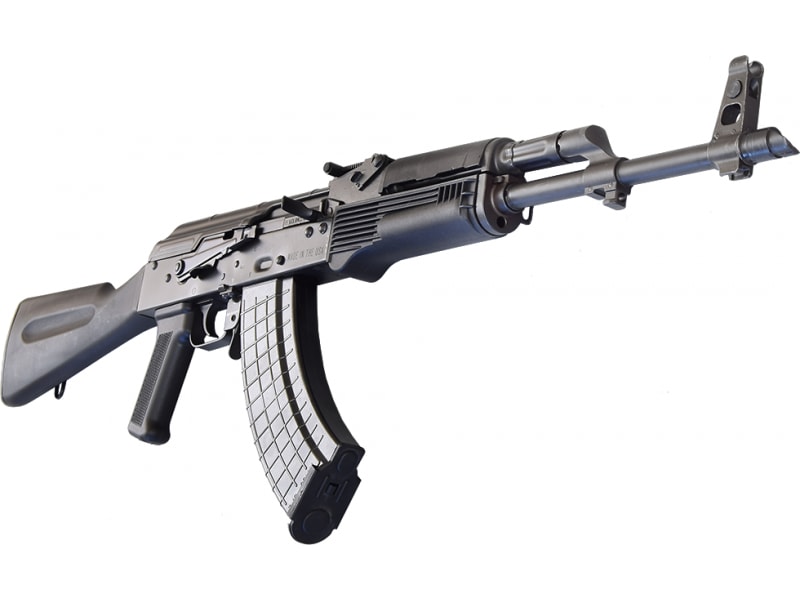 I.O. M247 AK-47 Sporter, U.S. Made 7.62x39 Caliber, Black Poly Stock and Lifetime Warranty - IODM2002
Availability: Out of stock
| Item #: LNG-AKBP-IO-AKM247
UPC: 856867005029 | MPN: IODM2002
---
AK-47 Semi-Auto Sporter Rifle U.S. Made 7.62x39 Caliber Black Polymer Stock W / 1- 30 Rd Mag. Also has 45 Degree Compensator. Model # AKM247
See Torture Test Video Here - View Introduction Video Here - See the Live Fire Video Here.
Note: A recent email incorrectly stated that this rifle had a side rail - it does not. The side rail scope package will not work this this rifle.
See Brutus' Description and Specifications for full details.


Brutus' Description
I really like these rifles and in my opinion they are the finest AK-47 rifle value on the market today by far at this price point. They have really nice black polymer stock, a beautiful metal finish, and the fit and rivet work is excellent.
Each rifle comes complete with 1-30 round mag, cleaning rod, and muzzle break. Also features a bolt hold open safety lever, recoil buffer, heat shield under handguard, and extended magazine release.
These are manufactured from all brand new American Made parts and Made in the U.S.A. Beautiful poly stock design with a proprietary matching polymer grip... 7.62x39 caliber. Accepts all high cap mags and drums. 100% American Made both Parts and Labor.
Sight bases are aligned with a laser to prevent canted sights and help insure accuracy right out of the box.

Fully heat treated receiver, No Side Rail....Nitride coated barrels for improved accuracy and prolonged barrel life.

The AKM247 rifle is semi-automatic, long-stroke piston-operated rifle which is chambered in the traditional 7.62x39mm cartridge. The construction and design are based directly from Polish AKM blueprints. The AKM247 also features several upgrades over the traditional AK, including a tough polymer furniture set. On top of all these great benefits, it includes a limited lifetime manufacturer's warranty and is completely American-made in Palm Bay, FL


Each rifle carries a limited lifetime manufacturer's warranty and is completely American-Made

View Live Fire Video on all I.O. Inc Rifles Here

Note - Our video for this rifle say's that it comes with 2 mags which these rifles did in their original configuration. However, the importer now only ships them with one mag. Note - I.O. No Longer sends Cleaning Kits or Manuals with these rifles. Please accept this as our correction as to any mis-information in our video review.
Specifications
Product Specs

SPECIFICATIONS:

Mil-spec receiver / Nitride coated barrels
1:10 RH Twist / Bolt Hold Safety
Black Polymer Furniture W / Heat Shield
Tactical pistol grip / Recoil Buffer
Tactical sling swivel
Adjustable front & rear sight
Overall Length: 36"
Barrel Length: 16.25"
Weight: 7lbs
Military finish (Manganese phosphate / Parkerized)
Bayonet Lug / Extended Mag Release

.
Country of Manufacture
United States
License Requirement
FFL
Manufacturer
I.O. Inc.
Mfg. Part Number
IODM2002
UPC
856867005029
Caliber/Gauge
7.62x39
Action
Semi Automatic
Barrel Length
16.25
Threaded Barrel
No
Condition
New
Free Shipping
No
Manufacturer's Description
Inter Ordnance AK-47 Semi-Auto Sporter Rifle U.S. Made 7.62x39 Caliber Black Polymer Stock W / 1 - 30 Rd Mag
Also has 45 Degree Compensator. Model # AKM247
Others Also Viewed...


loading...