AR-15 / M16 100 Round Dual Drum Magazine .223/5.56
Availability: In Stock
| Item #: Drum-AR15-100rd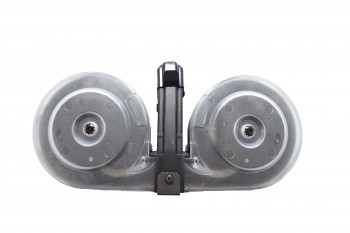 Double click on above image to view full picture
More Views
Have Your Own Photos? Login to Add Them
AR-15 / M16 100 Round Dual Drum Magazine .223/5.56
Availability: In Stock
| Item #: Drum-AR15-100rd
---
AR 15 drum mag, 100 round dual drum magazine for AR-15 and M16 use. Manufactured in South Korea for the Korean Military.
Read More
Regular Price: $139.99
Special Price: $99.99
Brutus' Description
These 100 round dual drum AR magazines are super nice. They're manufactured in South Korea for the Korean Military for use in their M16 rifles but work equally well in AR-15 rifles.
Made to exceed NATO Specs.
We've carried AR 15 drum mags in the past and our customers loved the but then the importers ran out and there were no more to be found.
Now they are back but only in a very limited quantity --get them while you can.

These are all new in the box and come complete with all the components you see in the photo.
The push is on once again to ban high-capacity mags and these are at the top of the list. Don't wait too long...
Manufacturer's Description
AR-15 / M16 100rd dual drum mag. Manufactured in South Korea for Korean military use. These are nice and come complete with case, instruction manual and all the items you see.
Additional Information
Product Specs

AR-15 dual drum magazine
100 round capacity

License Requirement
None
Manufacturer
Korea
Mfg. Part Number
ar15ddm
UPC
No
Caliber/Gauge
.223 / 5.56
Barrel Length
No
Threaded Barrel
No
Free Shipping
Yes
Flat Rate Shipping
No
Customer Reviews
Great job Classis Arms. Quick FREE shipping to West coast. Shoots awesome. Buy one before they are gone!
I tested a full mag in two very different ARs with fantastic results. Check out the video to see the unboxing, loading, and shooing of a full mag.
Classic has out done themselves with my new KCI AR 15 100Rd MAG! I think that this is the same magazine as the AR - Stoner Mag system for half the price. I'm so happy the professionalism of Classic Firearms that they have just earned another loyal customer. Thanks Classic Firearms, keep it up.
This is a surprisingly well made drum, for $100! I have put probably 300 rounds through it, with no problems at all. The only complaint I have with it, and it's a minor one, is that I had to remove my mag well grip off to insert the drum. Overall a very good deal!
Just got my 100 round drum today fits my bushmaster ar15 with no problems. The shipping was very fast and free. I will be making a video as soon as I can get to the range thanks classic firearms
Took a bit of fitting to get it to fit the mag well of my rifle but now its perfect. Good quality, well built. Classic did well with this one
Finally got to the range and emptied 100 rounds into the target without a single jam !!
No jams buy while you can great quality.
Its a little tight when i first put it in the gun but after......ah i don't know 50 times of putting it into the receiver it fits just fine. It doesn't need any sanding down just put in and out a bunch and it will fit just fine. BUT if it is full the springs are wound to tight for the bolt carrier to push the bullets down so you'll have to pop the pin and fold the gun in half to get it in. And it is easy to disassemble and to reassemble. Fire all 100 rounds with out any jams. This is the cheapest price i could find one.
WAY over priced! Cheaper Than Dirt are selling these for $76.00!!
WAY over priced! Cheaper Than Dirt are selling these for $76.00!!
With the government off it's rocker as always and the panic at a virtual end I finally ordered myself one of these. I'm giving it four stars based on cosmetics and build quality but can't give it five yet because I haven't done a drum dump.

You get: drum. Instruction booklet. Carry case. Drum lube, ROK mil spec. And a speed loader that looks like it'll do regular mags too.

No unscrewing and winding like Ak drum mags. Just load it like a pmag. Manual says it can be stored loaded but that's up to you.

Great find and as always great work classic!
I pieced a Ar 15 M4 together that I purchased from Classic Firearms. I bought the complete MM lower matched with the MM upper, ordered this 100 round drum mag just because.
Haven't had a chance to run the complete assembly yet but it all fits tight and looks great, Price for all was very reasonable.
Ran a mag dump with one stovepipe with wolf steel ammo. Fairly easy to load with the loader and thats great because even with the loader you will be loading for a while.
Ordered this and received it quickly; only took a few days. Weather has kept me from actually using it, but the drum feels well built. Apparently it's supposed to come with an instruction manual? Mine didn't, but if you don't know how to load a magazine, you shouldn't be buying this. =P
Get one before "they" say you can't anymore!!
Thanks again Classic!
Bought this as a present for my son as he does not own one of these....wished I had a camera when he opened it up...definitely a picture worth posting...so as soon as he has time to go shooting, I will post some pics..Great Job Classic Firearms!
Ran a full mag through without any FTF issues or jams. Wouldn't want to lug this full mag around in my M&P 15 all day as it will add a considerable amount of weight to your rifle. These "Korean clones" get a bad rap for unreliability all over the net but so far, its functioned flawlessly. Just in case, Im gonna make sure I always keep the graphite lube close by.
Got my drum mag in about 2 weeks ago. Just got the chance to use it today and its the best drum mag out there and for the price who can beat it. Classic firearms is one of the few who hasn't gouged their prices.
Ordered and received in short order. I am now the envy of the AR Crowd with this Dual Drum Mag. Strongly recommend the drum and Classic Firearm!
Love the ease of loading, though would like to see a 10 rd. loader for this. Very lightweight and highly functional. I recommend this to my friends and once they use mine they are hooked
As always nothing but the best from Classic Arms love your items the 100 drum mag is awesome love it the only down fall of it would be it adds alot of wieght to the AR15 when it is loaded with the full 100 rounds but other then that PERFECT God Bless such a wonderful company shalom
Brutus' Description

These 100 round dual drum AR magazines are super nice. They're manufactured in South Korea for the Korean Military for use in their M16 rifles but work equally well in AR-15 rifles.
Made to exceed NATO Specs.

We've carried AR 15 drum mags in the past and our customers loved the but then the importers ran out and there were no more to be found.
Now they are back but only in a very limited quantity --get them while you can.

These are all new in the box and come complete with all the components you see in the photo.

The push is on once again to ban high-capacity mags and these are at the top of the list. Don't wait too long...

Manufacturer's Description

AR-15 / M16 100rd dual drum mag. Manufactured in South Korea for Korean military use. These are nice and come complete with case, instruction manual and all the items you see.

Additional Information

Product Specs

AR-15 dual drum magazine
100 round capacity

License Requirement
None
Manufacturer
Korea
Mfg. Part Number
ar15ddm
UPC
No
Caliber/Gauge
.223 / 5.56
Barrel Length
No
Threaded Barrel
No
Free Shipping
Yes
Flat Rate Shipping
No

Customer Reviews

Great job Classis Arms. Quick FREE shipping to West coast. Shoots awesome. Buy one before they are gone!
I tested a full mag in two very different ARs with fantastic results. Check out the video to see the unboxing, loading, and shooing of a full mag.
Classic has out done themselves with my new KCI AR 15 100Rd MAG! I think that this is the same magazine as the AR - Stoner Mag system for half the price. I'm so happy the professionalism of Classic Firearms that they have just earned another loyal customer. Thanks Classic Firearms, keep it up.
This is a surprisingly well made drum, for $100! I have put probably 300 rounds through it, with no problems at all. The only complaint I have with it, and it's a minor one, is that I had to remove my mag well grip off to insert the drum. Overall a very good deal!
Just got my 100 round drum today fits my bushmaster ar15 with no problems. The shipping was very fast and free. I will be making a video as soon as I can get to the range thanks classic firearms
Took a bit of fitting to get it to fit the mag well of my rifle but now its perfect. Good quality, well built. Classic did well with this one
Finally got to the range and emptied 100 rounds into the target without a single jam !!
No jams buy while you can great quality.
Its a little tight when i first put it in the gun but after......ah i don't know 50 times of putting it into the receiver it fits just fine. It doesn't need any sanding down just put in and out a bunch and it will fit just fine. BUT if it is full the springs are wound to tight for the bolt carrier to push the bullets down so you'll have to pop the pin and fold the gun in half to get it in. And it is easy to disassemble and to reassemble. Fire all 100 rounds with out any jams. This is the cheapest price i could find one.
WAY over priced! Cheaper Than Dirt are selling these for $76.00!!
WAY over priced! Cheaper Than Dirt are selling these for $76.00!!
With the government off it's rocker as always and the panic at a virtual end I finally ordered myself one of these. I'm giving it four stars based on cosmetics and build quality but can't give it five yet because I haven't done a drum dump.

You get: drum. Instruction booklet. Carry case. Drum lube, ROK mil spec. And a speed loader that looks like it'll do regular mags too.

No unscrewing and winding like Ak drum mags. Just load it like a pmag. Manual says it can be stored loaded but that's up to you.

Great find and as always great work classic!
I pieced a Ar 15 M4 together that I purchased from Classic Firearms. I bought the complete MM lower matched with the MM upper, ordered this 100 round drum mag just because.
Haven't had a chance to run the complete assembly yet but it all fits tight and looks great, Price for all was very reasonable.
Ran a mag dump with one stovepipe with wolf steel ammo. Fairly easy to load with the loader and thats great because even with the loader you will be loading for a while.
Ordered this and received it quickly; only took a few days. Weather has kept me from actually using it, but the drum feels well built. Apparently it's supposed to come with an instruction manual? Mine didn't, but if you don't know how to load a magazine, you shouldn't be buying this. =P
Get one before "they" say you can't anymore!!
Thanks again Classic!
Bought this as a present for my son as he does not own one of these....wished I had a camera when he opened it up...definitely a picture worth posting...so as soon as he has time to go shooting, I will post some pics..Great Job Classic Firearms!
Ran a full mag through without any FTF issues or jams. Wouldn't want to lug this full mag around in my M&P 15 all day as it will add a considerable amount of weight to your rifle. These "Korean clones" get a bad rap for unreliability all over the net but so far, its functioned flawlessly. Just in case, Im gonna make sure I always keep the graphite lube close by.
Got my drum mag in about 2 weeks ago. Just got the chance to use it today and its the best drum mag out there and for the price who can beat it. Classic firearms is one of the few who hasn't gouged their prices.
Ordered and received in short order. I am now the envy of the AR Crowd with this Dual Drum Mag. Strongly recommend the drum and Classic Firearm!
Love the ease of loading, though would like to see a 10 rd. loader for this. Very lightweight and highly functional. I recommend this to my friends and once they use mine they are hooked
As always nothing but the best from Classic Arms love your items the 100 drum mag is awesome love it the only down fall of it would be it adds alot of wieght to the AR15 when it is loaded with the full 100 rounds but other then that PERFECT God Bless such a wonderful company shalom