Rock Island Armory PA 3-IN-1 12GA Pump Action Shotgun Combo 28"/18" Chrome 4rd Black Synthetic
Availability: Out of stock
| Item #: LNG-RIA-PA3N1
UPC: 868042198007 | MPN: MR25-P101-MC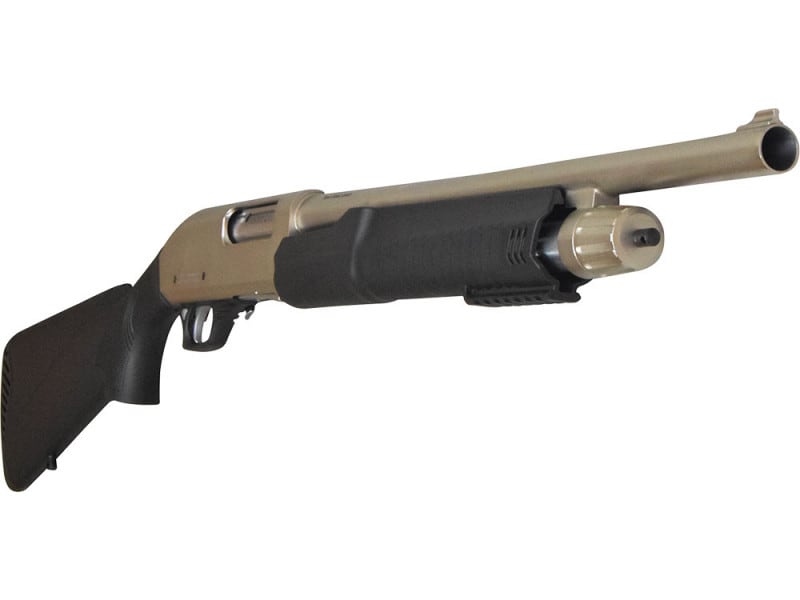 Rock Island Armory PA 3-IN-1 12GA Pump Action Shotgun Combo 28"/18" Chrome 4rd Black Synthetic
Availability: Out of stock
| Item #: LNG-RIA-PA3N1
UPC: 868042198007 | MPN: MR25-P101-MC
---
Rock Island Armory PA 3-IN-1 Chrome Shotgun Pump Action Shotgun Combo 12GA 28" Vent Rib/18" Security Barrel 4 Rounds Synthetic Stock Pistol Grip Black
Brutus' Description
When this multi-use pump action shotgun from Armscor isn't busy chasing upland game and waterfowl or breaking clays at the range, it does double duty as a tactical home defense gun or ultra compact truck gun for the farm or ranch. It comes complete with a 28" vent rib barrel with three choke tubes, as well as an 18" security barrel with fixed cylinder bore. The gun has an all-weather synthetic stock, and when extra compactness is required, the stock can be removed and an included pistol grip installed.
Specifications
Additional

Specifications and Features
Armscor PA 3-IN-1 Chrome Shotgun MR25-P101-MC
Pump action shotgun
12 gauge
3" chamber
28" vent rib barrel with full, modified and improved cylinder chokes
18.5" security barrel with fixed cylinder bore
4 round tube magazine capacity
Matte 7075 aluminum receiver
Manual safety
Synthetic stock
Pistol grip kit
Weight 6.8 lbs
Overall Length 39"
Marine Chrome Finish

Country of Manufacture
N/A
License Requirement
FFL
Manufacturer
Rock Island Armory
Mfg. Part Number
MR25-P101-MC
UPC
868042198007
Caliber/Gauge
12 GA
Action
Pump Action
Barrel Length
28
Threaded Barrel
No
Condition
New
Free Shipping
No
Manufacturer's Description
Rock Island Armory PA3-N-1 12GA Pump Action Shotgun Combo 28"/18" Chrome 4rd Black Synthetic
Others Also Viewed...


loading...


Why Customers Bought This
Customer Photos & Videos
Questions & Answers