ATI GOMX556KM13P3 Omni Hybrid MAXX P3 Semi-Auto .223/5.56 NATO 16" 30+1, W /13" Keymod - Black
Availability: In Stock
| Item #: LNG-ATIGOMX-556KM13P3
UPC: 819644021629 | MPN: ATIGOMX556KM13P3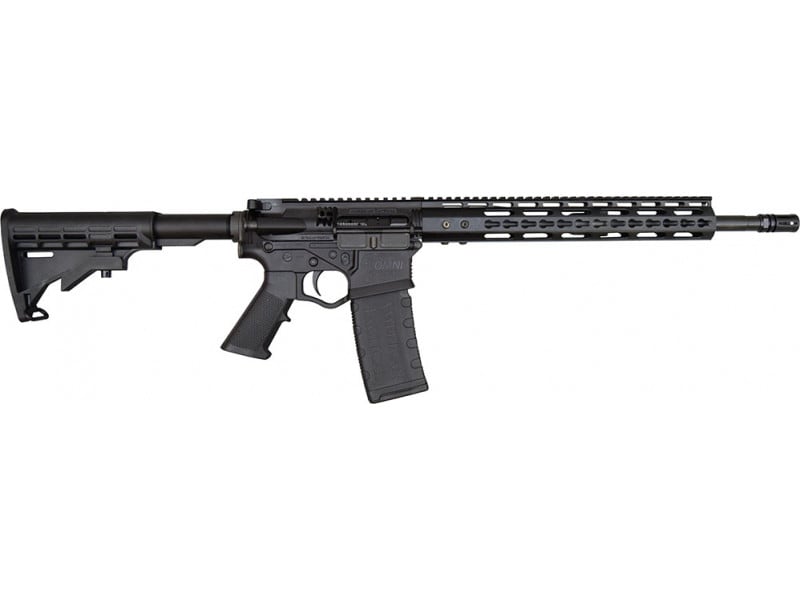 ATI GOMX556KM13P3 Omni Hybrid MAXX P3 Semi-Auto .223/5.56 NATO 16" 30+1, W /13" Keymod - Black
Availability: In Stock
| Item #: LNG-ATIGOMX-556KM13P3
UPC: 819644021629 | MPN: ATIGOMX556KM13P3
---
The Omni Hybrid MAXX P3 is a limited run tactical rifle featuring ATI's fully-patented Omni Hybrid MAXX metal reinforced polymer upper and lower receivers. The 16" barrel has a 1:8 twist and a black nitride finish. This KMP3 model has an M4 adjustable stock with a 13" free floated keymod rail and a Surefire NANO composite trigger parts kit. Black - Ships with one 30-round magazine.
Your Price:
Regular Price: $399.99
Special Price: $349.99 This price ends 08/23/2019
Brutus' Description
American Tactical Imports OMNI MAXX HYBRID P3 features a fully-patented metal reinforced polymer upper receiver along with a fully-patented metal reinforced polymer lower receiver. The Omni Hybrid lower features a patented hammer and trigger pin retainment system, preventing movement from the hammer and trigger pin during firing. The Omni Hybrid also features our patented over-molded metal inserts, which reinforce the buffer tube housing and rear takedown pin as well as reinforce the front takedown pins. This allows for metal-on-metal contact with both the buffer tube as well as the rear takedown pin thus increasing strength and durability from recoil and consistent firing.
The P3 also features a revolutionary Nano Composite Parts Kit. This kit includes the hammer, trigger, disconnector, takedown pins, safety selector, magazine release and detents all made from nanocomposite material that is just as strong as metal components but at only 1/2 the weight. This model also has a lightweight 13" free floated keymod rail.
Omni Hybrid P3 Features:
- Patented Omni Hybrid Upper Receiver with Front & Rear Metal Inserts
- Patented Omni Hybrid Lower Receiver with Front & Rear Metal Inserts
- Nano Composite Parts Kit
- 16" 1:8 Twist Nitride M4 5.56 x 45mm Barrel
- 13" Keymod Rail Fore End
- 6 Position M4 Stock
- 30 Round Magazine
Assembled in Summerville, SC by American Tactical!
From the manufacturer:
Use only commercial grade ammunition in its original packaging that corresponds to the caliber of the gun. The correct caliber is imprinted on the gun.

Never use reloaded, "refurbished", hand-loaded or nonstandard ammunition of a different caliber.

Never use dirty, wet, corroded, bent, damaged or oiled ammunition.

Unfortunately, it is not possible to adjust a semi-automatic gun to all loads.
*Highly advise against using Steel cased ammo due to excessive wear and tear from steel and lacquered coated rounds can cause premature carbon buildup and stoppages.
Specifications
Product Specs

Additional Information

| | |
| --- | --- |
| | |
| BARREL LENGTH IN INCHES | 16.0000 |
| CALIBER | .223 (5.56MM NATO) |
| CHECKERING | N |
| DETACHABLE MAGAZINE | Y |
| HINGED FLOORPLATE | N |
| MAGAZINE CAPACITY | 30.0000 |
| METAL FINISH | BLACK |
| NEWITEM | YES |
| OTHER FEATURES: | HYBRID MAXX FEATURES A HYBRID UPPER AND LOWER RECEIVER FOR LIGHT WEIGHT. POLYMER UPPER/LOWER RECEIVER, COMPOSITE LOWER PARTS KIT |
| OVERALL LENGTH IN INCHES | 35.0000 |
| RATE OF TWIST | 1:7" |
| RECOIL PAD | N |
| SIGHTS | N |
| STOCK FINISH | BLACK |
| STOCK MATERIAL | POLYMER |
| SWIVEL STUDS | N |
| TYPE ACTION | SEMI-AUTOMATIC |
| WEIGHT IN POUNDS | 5.7 |
| OTHER FEATURES2: | NANO COMPOSITE PARTS KIT- COMPOSITE HAMMER, TRIGGER AND LOWER PARTS, SELF LUBRICATING COMPOSITE |

13" Keymod Rail.

Country of Manufacture
N/A
License Requirement
FFL
Manufacturer
ATI
Mfg. Part Number
ATIGOMX556KM13P3
UPC
819644021629
Caliber/Gauge
.223 / 5.56
Action
Semi Automatic
Barrel Length
16
Threaded Barrel
No
Condition
New
Free Shipping
No
Manufacturer's Description
ATI GOMX556KM13P3 Omni Hybrid MAXX P3 Semi-Auto .223/5.56 NATO 16" Barrel, 30 Round Mag and 13" Keymod - Black
Others Also Viewed...


loading...