Beretta 85F .380 ACP 8rd Capacity Pistol - LEO Trade-in Very Good Condition - BER85F
Availability: Out of stock
| Item #: HGN-LET-BER85F
UPC: 151550020786 | MPN: LET BER85F
Beretta 85F .380 ACP 8rd Capacity Pistol - LEO Trade-in Very Good Condition - BER85F
Availability: Out of stock
| Item #: HGN-LET-BER85F
UPC: 151550020786 | MPN: LET BER85F
---
Beretta 85F .380 ACP 8rd capacity, DA/SA pistol with fixed sights and safety grooved trigger safety, decocker firing pin. Made in Italy, pre-owned and in 90% or better condition.
Watch Military Arms Channel's Review On The 85F Here: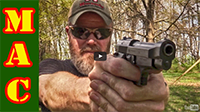 Brutus' Description
What a find. These are really nice European Law Enforcement Trade In's. Beretta 85F, .380, Ton's of features. One of the finest most well built and high quality pistols in the world in a compact version which is perfect for concealed carry. Check out Ben's video for more info and don't miss out on one of these fine pistols. Note - Pistols will vary and will come to you exactly as we received them. Some may have different sights or characteristics depending on how it was individualized by the officer who carried it, but all should be in Very Good surplus turn in condition with a lifetime of service left in the weapon.
Specifications
Additional

Finish: Black
Type Semi-Automatic
Caliber 380
Automatic Colt Pistol (ACP)
Capacity 8 rd

Country of Manufacture
Italy
License Requirement
FFL
Manufacturer
Beretta
Mfg. Part Number
LET BER85F
UPC
151550020786
Caliber/Gauge
.380 ACP
Action
Semi Automatic
Barrel Length
3.8
Threaded Barrel
No
Condition
Surplus / Used
Free Shipping
No
Manufacturer's Description
BERETTA 85F .380 ACP 8 SHOT DA/SA PISTOL FIXED SIGHTS MAGAZINE SAFETY GROOVED TRIGGER SAFETY DECOCKER FIRING PIN SAFETY 8 RD MAGAZINE MADE IN ITALY PRE-OWNED 90% OR BETTER CONDITION
Others Also Viewed...


loading...


Why Customers Bought This
Customer Photos & Videos
Questions & Answers