Blackheart Firearms Semi-Auto AK-47 (SAAK) 7.62x39 AKM Variant Under-Fold Rifle BFV762-101
Availability: Out of stock
| Item #: LNG-BLKHEART-BFV762-101
UPC: 856306006051 | MPN: BFV762-101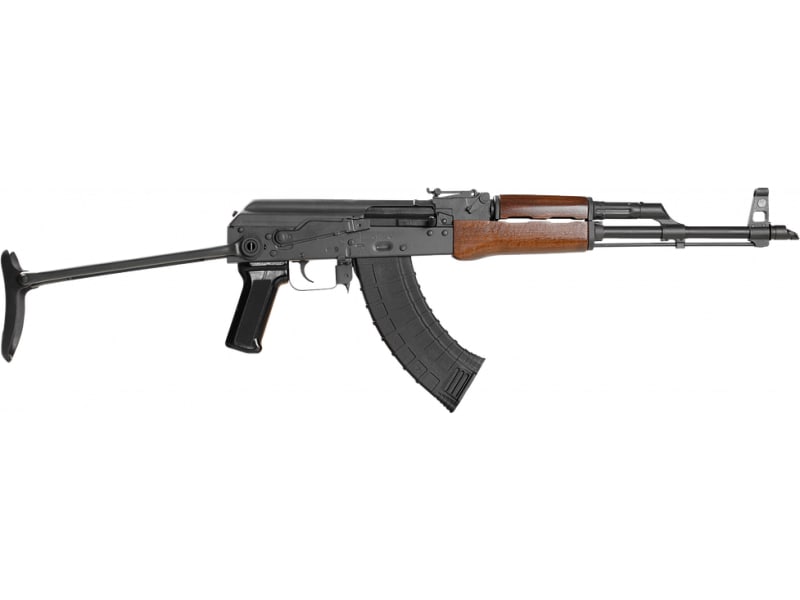 Blackheart Firearms Semi-Auto AK-47 (SAAK) 7.62x39 AKM Variant Under-Fold Rifle BFV762-101
Availability: Out of stock
| Item #: LNG-BLKHEART-BFV762-101
UPC: 856306006051 | MPN: BFV762-101
---
The Blackheart Firearms SAAK- and B10-series AK rifles are a premium blend of new Romanian- and US-manufactured components designed to meet a wide range of semi-automatic rifle needs—from personal defense and hunting to tactical and target shooting. As a Class III weapons manufacturer servicing both domestic civilian and government/international clients, Blackheart Firearms ensures its products meet rigorous quality control and performance guidelines to satisfy our most demanding customers and clients.
Each rifle is now shipping with a BHI Tactical Sling, Waterproof Usage and Maintenance Log Book (perfect for recording the performance of different loads in the field for best accuracy), and a BHI AK Handbook. The BHI AK Handbook is a 50 page reference guide including detailed diagrams, ballistics, malfunctions, maintenance, zeroing, battlefield recovery, and more. This is a package valued at over $30, and comes free with each Blackheart rifle purchase!
Brutus' Description
STOW-N-GO The BLACKHEART SAAK is a semi-automatic variant of the Romanian AKM. The US-made receiver combines with a premium 16-inch chrome-lined US- made barrel to deliver the highest quality AKM variant currently available. The Romanian folding stock makes this the ideal go-to for those looking for a compact or discreet carry option in a 7.62x39mm- chambered AK platform.
Blackheart Firearms is a dba of Viqen LLC. Blackheart Firearms manufactures premium AK and AR-15 rifles for the U.S. civilian market, as well as Class III weapons for government and law enforcement agencies. Our manufacturing and distribution operations are located in Clarksburg, WV, where we also maintain a factory retail store for our regional customers. Viqen LLC maintains corporate offices in Sugar Land, TX, and international trade and compliance offices in Winston-Salem, NC.
Specifications
Additional
Caliber-7.62x39
Semi-Auto
AKM Variant Under-Fold Rifle
NEW Parts from Cugir, Romania
Stamped Receiver
US Chrome-Lined Barrel (16.25 in, 1:10, 4x1 LH Thread)
US Bolt Carrier & Gas Piston
Tapco Intrafuse 30-rd. Magazine
Romanian AKM-Type Solid Beech Hardwood Furniture
Slant Brake, Bayonet Lug & Cleaning Rod
Romanian Black Polymer Grip
Extended Length: 35.75 in
Romanian AKM-Type Mil-Spec Solid Beech Hardwood Furniture
Mil-Spec Parkerized Finish
Extended Length: 35.75 in
Folded Length: 25.75 in
Padded Blackheart Firearms Gun Case
Weight: 6.90 lbs
922r Compliant
Comes with Detailed Owners/Operators Manual
Limited Lifetime Warranty
Country of Manufacture
United States
License Requirement
FFL
Manufacturer
Blackheart
Mfg. Part Number
BFV762-101
UPC
856306006051
Caliber/Gauge
7.62x39
Action
Semi Automatic
Barrel Length
16.25
Threaded Barrel
No
Condition
New
Free Shipping
No
Manufacturer's Description
Blackheart Firearms Semi-Auto AK (SAAK) 7.62x39 AKM Variant Under-Fold Rifle BFV762-101
Others Also Viewed...


loading...


Why Customers Bought This
Customer Photos & Videos
Questions & Answers