Finnish Lahti 9mm Pistol Model L-35 4.75" BBL - Manufactured by VKT Valmet Finland - Various Surplus Condition
Availability: In Stock (Only 3 left!)
| Item #: HGN-VKT-L35-LAHTI
MPN: HG4691 - HG3833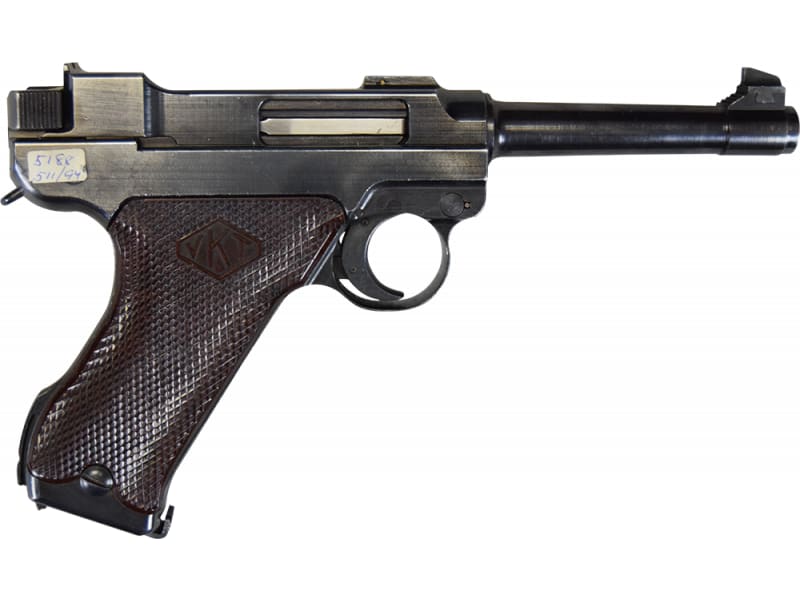 Finnish Lahti 9mm Pistol Model L-35 4.75" BBL - Manufactured by VKT Valmet Finland - Various Surplus Condition
Availability: In Stock (Only 3 left!)
| Item #: HGN-VKT-L35-LAHTI
MPN: HG4691 - HG3833
---
Finnish Lahti 9mm Pistol Model L-35 4.75" BBL - Manufactured by VKT Valmet Finland 1946-1952 - Various Surplus Condition The Lahti L-35 is a semi-automatic pistol chambered in 9mm Parabellum / Luger. It was designed for the Finnish Armed Forces by the famous Finnish weapons designer Aimo Lahti. The Lahti L-35 was produced between 1935 and 1952. Designed to be manufactured autonomously in Finland, the pistol was used by Finland throughout the Winter War and Continuation War. Considered to be of high quality, the Lahti was well manufactured and worked reliably in cold conditions or when fouled. The use of a bolt accelerator, an uncommon and advanced feature in a pistol, helped contribute to the Lahti's legendary reliability. These are a very rare find and are considered an absolute collectors dream. The pistols came to us in various surplus conditions and are being sold at different price points based on their condition as listed in the custom options field below. Please see Brutus' description and the accompanying video for further details.
Mrgunsngear reviewed the Finnish Lahti L-35! You can check out his review here!
Brutus' Description
More about the Finnish Lahti Pistol - Upon winning it's independence from Russia in 1917, Finland began the process of replacing its old Russian armament and became intent on producing its own weaponry. The Finnish Army soon called for a domestically produced pistol that could withstand Finland's harsh winters and design of this new pistol began in 1929 under the supervision of Aimo Lahti. After rigorous research testing and development a patent was granted in 1935 for the M1935 Lahti pistolmodel L-35. The Lahti was originally designed to fire the large stockpiles of surplus 7.65×21mm Parabellum that the Fins possessed but the chambering was soon changed to exclusively utilize 9×19mm Parabellum ammunition. The Lahti pistol became formally adopted in 1935 by the Finnish armed forces as the Pistooli L-35. Production was initially slow with with only 500 pistols completed before production was halted by the start of the Winter War. Production continued in 1941 with about 4,500 pistols manufactured before the production was interrupted again by the Continuation War. Final production of Finnish Lahti pistols resumed again in 1946 with around 9,000 completed before 1951. As a result, even though the Lahti L-35 is considered to be an exceptional pistol, only around 14000 were ever produced.

Design - Like most Finnish made firearms the M1935 Lahti is considered to be of very high quality and well finished. Although it is outwardly similar to the P08 Luger (and shares barrel threading with same), the firing mechanism is significantly different and more closely related to the Bergmann–Bayard pistol. The Lahti L-35 is a recoil operated, single-action, locked breech firearm that was unique to it's time in that it is fitted with a concealed hammer. The pistol itself is well sealed from ice, dirt and debris but is somewhat heavy by modern standards due to the high quality steel utilized in it's production. The Lahti L-35 is fitted with a manual safety lever on the left-hand side of the pistol and was one of the earliest semi-auto pistols to utilize such a feature. The Lahti L-35 is also unique in that it features the addition of a bolt accelerator . This accelerator was configured into the design to ensure the performance of the pistol in the arctic conditions in Finland. Bolt accelerators are more commonly found in machine guns to increase their rate of fire. The bolt accelerator in the Lahti works by having a crank lever strike the bolt of the pistol during the cycling action as it unlocks from firing. The accelerator thrusts the bolt mechanically instead of relying on the recoil of the round alone to move the bolt back.

About the designer - Aimo Johannes Lahti (April 28, 1896 – April 19, 1970)[1] was a self-taught Finnish weapons designer who held the title of Master Weapons Armorer in the Finnish Army. Of the 50 weapons he designed, he is possibly best known for the Suomi M-31 SMG. Other well-known weapon designs of his include the Lahti-Saloranta M/26 LMG, Lahti L-35 pistol, and Lahti L-39 anti-tank rifle. Lahti also designed the 7,62 ITKK 31 VKT anti-aircraft machine gun and the 20 ITK 40 VKT anti-aircraft cannon. His work is considered decisive in defending Finnish independence and increasing trust in the reliability of domestic weapons produced there.

VKT / Valmet - Valtion Kivääritehdas (VKT), translated as State Rifle Factory in English, was a Finnish state-owned firearms manufacturer that existed independently in the Tourula district of Jyvaskyla from 1926 to 1946. After the war in 1946, VKT was consolidated into the government-owned Valtion metallitehtaat conglomerate that then became Valmet in 1951 operating out of the Tourula factory. Earlier production guns can be considered VKT while guns produced after 1951 are considered Valmet ... however, since Valmet was actually just a continuation of the original factory most consider VKT and Valmet to be one in the same.

About this particular lot of pistols -We consider these pistols a rare and very fortunate find. We have one that is a little rougher than all of the rest and would be considered Surplus Fair condition, with several chips in the grips, greater finish wear, and light pitting in several places. Several others grade out to at Surplus Good, and demonstrate very limited surface pitting or some surface corrosion spotting. The majority are in the Very Good to Excellent Range, with minimal wear, only some light storage and handling marks. They will be sold under custom option tabs which will reflect their individual conditions and characteristics. See accompanying video for full details.
Specifications
| | |
| --- | --- |
| Product Specs | 9mm Semi-Auto Various Surplus Condition |
| Country of Manufacture | Finland |
| License Requirement | Curio and Relic |
| Manufacturer | Valmet |
| Mfg. Part Number | HG4691 - HG3833 |
| UPC | No |
| Caliber/Gauge | 9mm |
| Action | Semi Automatic |
| Barrel Length | No |
| Threaded Barrel | No |
| Condition | Surplus / Used |
| Free Shipping | No |
Manufacturer's Description
Finnish Lahti 9mm Pistol Model L-35 4.75" BBL - Manufactured by VKT Valmet Finland 1946-1952 - Various Surplus Condition
Others Also Viewed...


loading...