FN 98561-1 Scar 17S 308 Black US 20rd
Availability: In Stock (Only 2 left!)
| Item #: LNG-FN-985611
UPC: 845737010492 | MPN: 985611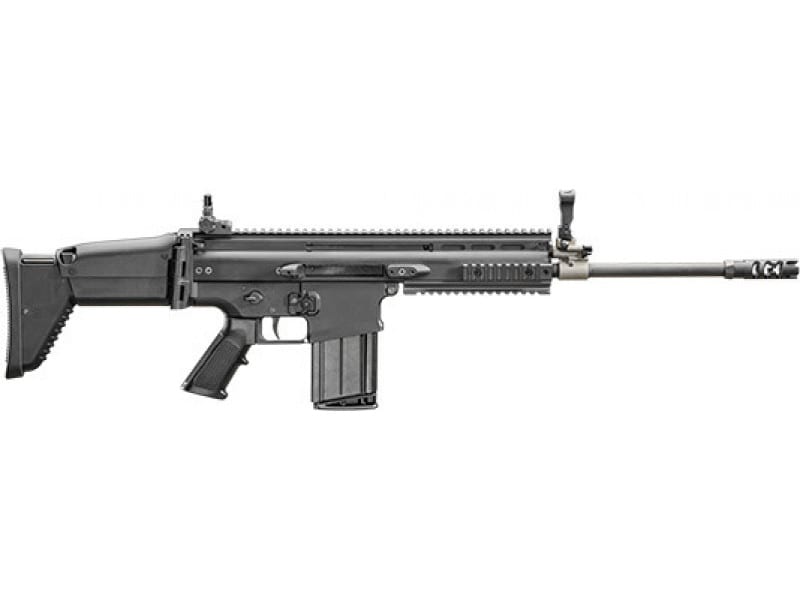 FN 98561-1 Scar 17S 308 Black US 20rd
Availability: In Stock (Only 2 left!)
| Item #: LNG-FN-985611
UPC: 845737010492 | MPN: 985611
---
FN 985611: Experience the long-range accuracy, downrange power, exceptional reliability and match winning versatility of the FN Scar 17S, the semi-auto only version of the U.S. Special Operations Command's newest service rifle. Chambered in 7.62x51mm, the FN Scar 17S features a free floating, cold hammer forged MIL-SPEC barrel with hardchromed bore. Fully-ambidextrous operating controls instantly adapt the FN Scar 17S to any user or any shooting position. The Charging handle may be mounted on the right or left side. The receiver integrated MIL-STD-1913 optical rail plus three accessory rails enable mounting of a wide variety of scopes, electronic sights, tactical lights and lasers. The telescoping, side-folding polymer stock is fully adjustable for comb height and length of pull, making it ideal for Heavy Metal 3-Gun matches. This model is made in America.
Only 2 left
PRICE ALERT! Price too low to show. Add to cart to see sale price.
Brutus' Description
The FN SCAR17S used an adjustable short-stroke gas operating system. FN modeled its Bolt Carrier Group (BCG) after that of the Heckler and Koch G36, which was an adaptation of the Armalite AR18. The proven system was well known for high reliability in all environments. The SCAR was made of an upper and lower receiver similar to the M16. An extruded aluminum upper and molded polymer lower kept weight down and maintained superior strength. The upper boasted a flat top design with 1913 Picatinny along the top, as well as three, six and nine o'clock positions. A wide variety of optics and accessories can easily be added to the rifle using the 1913 rails. The SCAR also offered folding backup iron sights, the front being incorporated into the gas block. Controls mirrored those of the M16/M4 but were upgraded to be ambidextrous. This commonality in the manual of arms reduced training among personnel. All models featured a folding buttstock that made the rifle compact, a helpful feature for mechanized personnel. Chrome-lined cold hammer forged barrels were standard in different lengths depending on mission needs. The Heavy Model/ 17S used a proprietary detachable box magazine.
The US-made FN SCAR17S has many modern features including:
Chambered in 7.62 NATO/.308 Winchester
16.2" Cold Hammer Forged, Free Floated, Chrome Lined CMV Barrel
Adjustable Gas Block
Short Stroke Gas System
Ambidextrous Controls
Reversible Reciprocating Charging Handle
Side Folding Adjustable Stock
M1913 Picatinny Toprail/ Handguard For Mounting Optics/ Accessories
Multiple Sling Attachment Points
20 Round Detachable Box Magazine
Specifications
| | |
| --- | --- |
| Type | Rifle |
| Action | Semi Automatic |
| Caliber/Gauge | .308 Win |
| Capacity | 20 |
| Barrel Length | 16.2 |
| Twist | 1:12" |
| Barrel Description | Chrome Lined/Free Floating/Hammer Forged |
| Sights | Adjustable Folding Front and Rear |
| Muzzle | Muzzle Brake |
| Stock Description | Telescoping/Side Folding |
| Receiver Material | Aluminum |
| Finish | Black |
| Trigger | Standard |
| Safety | Lever |
| Country of Manufacture | N/A |
| License Requirement | FFL |
| Manufacturer | FN |
| Mfg. Part Number | 985611 |
| UPC | 845737010492 |
| Threaded Barrel | No |
| Condition | New |
| Free Shipping | No |
Manufacturer's Description
FN 98561-1 Scar 17S 308 Black US 20rd 985611
Others Also Viewed...


loading...


Why Customers Bought This
Customer Photos & Videos
Questions & Answers