Freedom Ordnance FX-9 8" AR 15 Pistol w/ 33rd Mag, Shockwave Blade Pistol Brace - With Shooters Package
Availability: Out of stock
| Item #: HGN-AR9-FX9
UPC: 856169007028 | MPN: FX-9 Pistol - SP
Freedom Ordnance FX-9 8" AR 15 Pistol w/ 33rd Mag, Shockwave Blade Pistol Brace - With Shooters Package
Availability: Out of stock
| Item #: HGN-AR9-FX9
UPC: 856169007028 | MPN: FX-9 Pistol - SP
---
Introducing the new FX-9 9mm Semi-Auto AR15 Style Pistol by Freedom Ordnance. Features a Full Aluminum Billet Lower and Upper, Shockwave Blade pistol brace, Free Float M-Lok Aluminum Forearm. 8" Heavy Barrel which now features a factory installed muzzle enhancer. Total Length: 24.5" Comes with a 33 Round SGM Tactical Glock Type Mag, 2-17 Round Mags, And a 4 Reticle, 2 Color, Aim Sports Red Dot Sight ... Accepts all original factory and Aftermarket 9mm Glock Mags
The return of the Shooter's Package!! In addition to the muzzle enhancer, as of 01/11/18, each FX-9 pistol purchased will come with a shooter's package including two 17 round aftermarket magazines and a 4 reticle red/green dot AIM Sports sight. This is over a $50 value, on top of the already included muzzle enhancer. See More Details in Brutus Description Below.
Customer Review: Graham Bates Tests Magazines & Ammo Loads.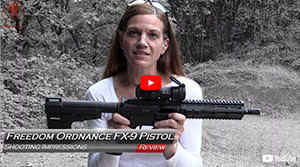 Accepts all Glock double stack 9mm Factory or Aftermarket magazines!
This item is not available to ship to the following state(s): Massachusetts
Brutus' Description
The FX-9 Carbine has been one of our most popular ever and we are excited to introduce a new variation, the FX-9 Pistol! The FX-9 (Freedom Xtreme 9mm) pistol is produced by our friends at Freedom Ordnance and we think they absolutely got it right. Not only is it gorgeous but it is also a functional workhorse that shoots as good as looks. Extensively test by not only the manufacturer, we have also done our own testing, and it is built to be tough as a Humvee but with the classic lines of a Corvette. Features a custom improved and extended mag release, full billet aluminum upper and lower, U.S. made low profile 7" free float M-Lock rail, and AR-15 style muzzle brake. Upper receiver rail is fully T-marked for the entire length of the upper receiver. Forearm is an M-Lok foremat and features a moled in with a Weaver rail on both the top and bottom as well as a Q.D. ( Quick Detach ) swivel attachment port on either side. Accepts all Glock 9mm mags and come with 1 high-quality SGM Tactical 33 round magazine. Our current version of the pistols ( as of 01/11/2018 ) also come from the factory with the highly popular 3" muzzle enhancer already installed.

The FX-9 9mm pistol has a familiar set of operating controls for the avid AR-15 user, and accepts most free float AR-15 rail acccessories. It features a last round hold open fuction. The pistol does accept drop in aftermarket triggers, however the manufacturer doesn't recommend use of aftermarket fire control groups. The FX-9 uses standard double stack Glock style 9mm magazines and comes standard with a 33 rd double stack mag. When we designed the FX-9 our goals were reliability, affordability, and familiar controls for the user. The FX-9 is machined from billet material, anodized type III aluminum components and has full hard nitride steel components including the barrel. Other high friction parts such as the bolt assembly and bolt drop have a Nickel Boron finish for heat resistance and ultimate smooth functioning. The combination of black nitride and nickel boron provide a high level of extended wear protection and corrosion resistance. Pistol also comes equipped with the Shockwave Blade pistol brace, approved by the ATF as a pistol accessory. The upper and lower receiver are more than 1 inch shorter than a standard AR-15 upper and lower receiver making it more compact and lighter than a standard mil-spec AR-15 design. The FX-9 upholds extreme reliability with a wide range of ammo including many hollow point designs for self-defense, full metal jacket, and copper plated bullets. We do not recommend the use of non-jacketed/plated ammunition as unprotected lead can cause fouling and buildups that plated and jacketed bullets do not. Fully Warrantied with a Limited Lifetime Warranty by Freedom Ordnance.

Note - As of 01/11/2018 all FX-9 pistols ordered will come from the factory with the upgrade of the 3" muzzle enhancer already installed. We sell those same enhancers for 24.99 elsewhere on the site so having it come on the pistol is somewhat of a big deal and add's not only to the overall look but also to the value of the weapon. The enhancer is not intended to affect the report, flash, or recoil of firing, but does contribue to a shorter perceived barrel length, improved balance and increased aesthetic appearance. Plus it just makes the pistol look really cool.


The return of the Shooter's Package!! - In addition to the muzzle enhancer, each FX-9 pistol purchased on or after 01/11/2018 will come with a shooter's package including two 17 round aftermarket magazines and a 4 reticle red/green dot AIM Sports sight. This is over a $50 value, on top of the already included muzzle enhancer.

Last Note - Most of the reviews and video's you will see here show the original FX-9's without the muzzle enhancer. If you think those are cool, the variation we are shipping now is even better.
Specifications
Product Specs

Features include:
Chambered in 9×19
8″ Free Float M Lock Rail
3" Faux Can / Muzzle Enhancer
Shockwave Blade Pistol Brace
Rear Ambidextrous Charging handle
AR-15 Configured Safety Selector
AR-15 Configured Last round Bolt Hold open
AR-15 Configured Magazine Release
AR-15 Compatible Triggers
AR-15 Compatible Pistol Grips (Without the Rear Tang)
Compatible with 9mm approved 1/2″x 28 T.P.I. muzzle devices and suppressors
Compatible with KNS precision® AR-15 Trigger Pins.
Upper / Lower billet machined aluminum alloy
Mil Spec anodized
Action blowback
Weight 6.1 lb
Length 23.5"
Capacity 33 round 9mm Glock type magazine included
Bolt 4140 Chrome Moly heat treated steel
Melonite Nitride Finish
Mil-Spec Buffer Tube.
Will accept most AR-15 aftermarket accessories
Limited Lifetime warranty by Freedom Ordnance

Country of Manufacture
United States
License Requirement
FFL
Manufacturer
Freedom Ordnance
Mfg. Part Number
FX-9 Pistol - SP
UPC
856169007028
Caliber/Gauge
9mm
Action
Semi Automatic
Barrel Length
8.25
Threaded Barrel
No
Condition
New
List price
0
Free Shipping
No
Manufacturer's Description
Freedom Ordnance FX-9 8" AR 15 Pistol w/ 33rd Mag, Muzzle Enhancer and and Shockwave Blade - Black - With Shooters Package.
Others Also Viewed...


loading...