Freedom Ordnance FX-9 9mm Carbine AR Tactical Rifle w/ 33 Round Mag - Glock Mag Compatible
Availability: Out of stock
| Item #: LNG-AR9-CAR-FX-9
UPC: 856169007004 | MPN: FX-9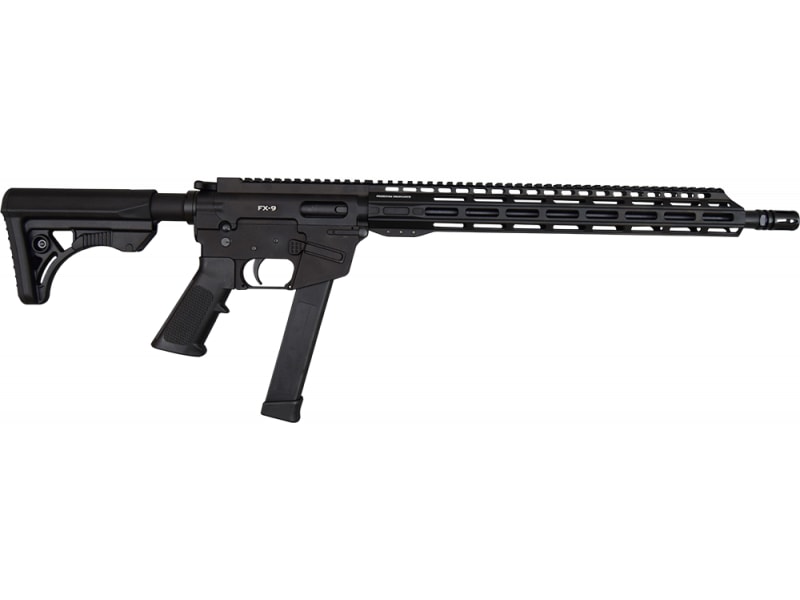 Freedom Ordnance FX-9 9mm Carbine AR Tactical Rifle w/ 33 Round Mag - Glock Mag Compatible
Availability: Out of stock
| Item #: LNG-AR9-CAR-FX-9
UPC: 856169007004 | MPN: FX-9
---
The FX-9 9mm Carbine Semi-Auto AR15 Style Tactical Rifle by Freedom Ordnance. This Pistol Caliber 9mm Rifle Features a Full Aluminum Billet Lower and Upper, 6 Position U.S. Made Stock on a Mil Spec Buffer Tube, Free Float M-Lok Aluminum Forearm. Full Heavy Barrel with Compensator. Complete with one 33rd Glock type mag by SGM Tactical.
This rifle is no longer offered with the shooters package.
Accepts all Glock double stack 9mm Factory or Aftermarket magazines!
Super In-Depth FX-9 Live Fire By Military Arms Channel (Watch until the end for some... silence)
Here: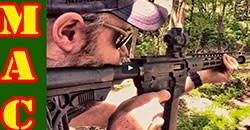 Watch GBGuns Unboxing Video On The FX-9
Here: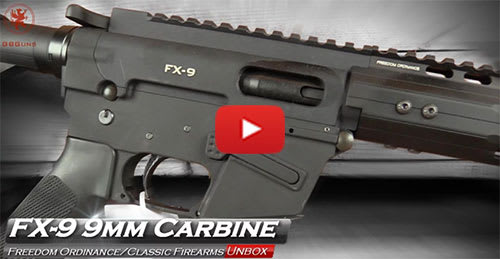 Watch GBGuns Live Fire & Mag Test Video On The FX-9
Here: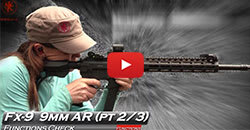 This item is not available to ship to the following state(s): California
Brutus' Description
The FX-9 (Freedom Xtreme 9mm Carbine) rifle is produced by our friends at Freedom Ordnance and at the risk of tooting their horn we think they absolutely got this one right. Not only is this rifle gorgeous but it is also a functional workhorse that shoots as good as looks. We have tested this rifle exclusively not only here on premise but were also privy to the torture test at the factory and no matter what has been thrown at it the FX-9 has taken it and continued to work. It is built to be tough as a Humvee but with the classic lines of a Corvette.
No shortcuts were taken in the production of this fine rifle with full attention to detail from butt to break. Rifle features a custom improved and extended mag release, full billet aluminum upper and lower, U.S. made low profile 15" free float M-Lock rail, and AR-15 style muzzle brake. Both upper receiver rail and forearm rail are fully T-marked for the entire length of the upper. Accepts Glock 9mm mags and come with 1 high-quality SGM Tactical 33 round magazine. The FX-9 9mm carbine has a familiar set of operating controls for the avid AR-15 user, it accepts AR-15 stocks and buffers tube assemblies, as well as most free float AR-15 rail assemblies. The rifle does accept drop in aftermarket triggers, however the manufacturer doesn't recommend use of aftermarket fire control groups. U.S. Made UTG 6 Position Buttstock with Mil Spec Buffer Tube.
The FX-9 uses standard double stack Glock style 9mm magazines and comes standard with a 33 rd double stack mag. When we designed the FX-9 our goals were reliability, affordability, and familiar controls for the user. The FX-9 is machined from billet material, anodized type III aluminum components and full hard nitride steel components including the barrel, bolt, ejector, last round hold open, feed ramp and extractor for extended wear properties and corrosion resistance.
Rifles are fully warrantied for one year by Freedom Ordnance.

Note - The FX-9 Carbine is designed for right handed use. We advise left handed shooters to consider this before purchase, as some features may not be well suited to all left handed shooters.

The FX-9 rifle is no longer offered with the shooters package.
Specifications
Additional

Features include:

Chambered in 9×19
15″ Free Float M Lock Rail
6 Position Collapsing S3 Stock - Mil Spec Buffer Tube
Rear Ambidextrous Charging handle
AR-15 Configured Safety Selector
AR-15 Configured Last round Bolt Hold open
AR-15 Configured Magazine Release
AR-15 Compatible Triggers
AR-15 Compatible Pistol Grips (Without the Rear Tang)
Compatible with 9mm approved 1/2″x 28 T.P.I. muzzle devices and suppressors
Compatible with KNS precision® AR-15 Trigger Pins.
Upper / Lower billet machined aluminum alloy
Mil Spec anodized
Action blowback
Weight 6.1 lb
Length 31.5"
Capacity 33 round 9mm Glock type magazine included
Bolt 4140 Chrome Moly heat treated steel
Melonite Nitride Finish
Will accept most AR-15 aftermarket accessories
Limited Lifetime warranty by Freedom Ordnance

Country of Manufacture
United States
License Requirement
FFL
Manufacturer
Freedom Ordnance
Mfg. Part Number
FX-9
UPC
856169007004
Caliber/Gauge
9mm
Action
Semi Automatic
Barrel Length
16
Threaded Barrel
Yes
Condition
New
Free Shipping
No
Manufacturer's Description
FX-9 9mm Carbine Rifle. AR-15 Style Semi-Auto Tactical Rifle w/ 33 Round Glock Compatible Magazine by Freedom Ordnance.
Others Also Viewed...


loading...


Why Customers Bought This
Customer Photos & Videos
Questions & Answers