IMI Jericho 941F 9mm Semi-Auto Pistol 4.5" BBL, Satin Nickel Finish. 15 Rd - Israeli Made - Good Surplus Condition - With Police Star Markings
Availability: In Stock
| Item #: HGN-JER-HG5543BS-G
UPC: 787450590502 | MPN: HG5543BS-G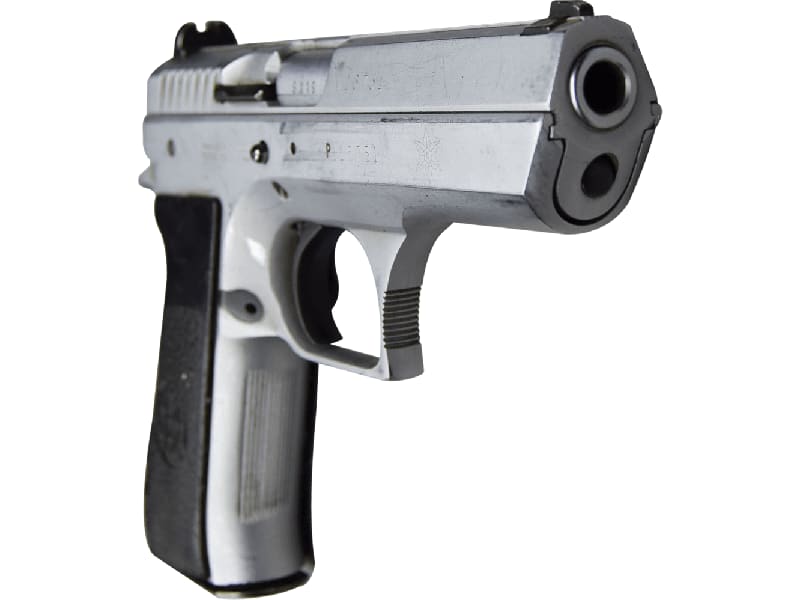 IMI Jericho 941F 9mm Semi-Auto Pistol 4.5" BBL, Satin Nickel Finish. 15 Rd - Israeli Made - Good Surplus Condition - With Police Star Markings
Availability: In Stock
| Item #: HGN-JER-HG5543BS-G
UPC: 787450590502 | MPN: HG5543BS-G
---
The IMI ( Israeli Military Industries ) Jericho 941F 9mm Semi-Auto Pistol is considered one of the premiere high capacity 9mm military pistols on the market today. The Jericho 941F features a 4.5" Barrel, All Steel Construction, 15 Rd Mag Capacity, Ergonomic Grip, Frame Mounted Cock and Block Safety and numerous other amenities. These are Israeli Police Turn In Surplus Firearms and will show some carry wear but are in excellent mechanical condition. Single Action... Low Luster Satin Nickel Finish. Police Star Marking ( See Note Below ) on the frame. Ships with one-15 round magazine, Excellent trade in condition. See Brutus' Description and Video for more details.
Brutus' Description
What a find. Classic Firearms is proud to be able to offer these World Famous Jericho 941F 9mm Pistols direct from the Israel. The Jericho 941F Semi-Auto Pistol is one of the premiere high capacity 9mm pistols on the market today. Manufactured by the world-renowned Israeli Military Industries these high quality pistols have seen service with various Israeli Police Departments and have now become available as surplus to the civilian market. Overall condition on the lot is NRA Surplus Good so expect some external finish wear but all are mechanically sound. Slides are smooth, actions are tight and trigger pulls are sweet. These will make fine shooters as well as a great addition to any collection. More about the pistol. Each pistol has a unique Police Star Emblem ( See Note Below ) on the right hand side of the frame just in front of the trigger guard. These pistols do show some carry wear but overall I believe they are of some of the finest examples of surplus military sidearms that I have ever seen. 9x19 caliber, Manual Frame Mounted Cock and Lock type Safety, Fixed Steel Sights, 15 + 1 capacity All Steel Construction... Don't miss this.

About the finish - These guns came to us pre-graded by the importer. The finish is referred to by them in various documents as a Brushed Steel, or Hard Chrome Finish, but we see it primarily referred to in the industry as Satin Nickel and as such we are doing so also. Looking at them I would personally call it a Matte or Low Luster Hard Chrome finish but you can see it for yourself in the images and video. Sights are blued and stand out uniquely from the slide.

Note - About the Police Star Markings. All of the pistols sold under this product code will have the Police Star marking on the frame. However, they seems to have been etched via 2 very different methods. Some have a very distinctive marking that cuts more deeply into the steel which we believe may have been done with laser etching. Others are more faint and appear to have possibly been done through an acid etching process. Unfortunately in regards to the markings these will all be luck of the draw as we can make no guarantees as to which type you will receive.

Note 2 - We are offering a Hand Select option on this group of guns. In many cases Hand Select is admittedly highly subjective and in some cases the guns are so close together in condition that it may or may not be worth your while. These Jericho's however have a wide array of cosmetic condition and while I believe the overall grading or surplus good is correct there are absolutely some that look far better than others. If you want the best of whatever is left then a hand select on this particular lot may be well worth your money.
Specifications
Additional

Israeli Military Industries
9x19 Caliber - Std 9MM
Satin Nickel Finish - Brushed
Manual Frame Safety
Fixed Steel Sights
Star Of David Marked
All Steel Construction
4.5" BBL
Model 941F



Country of Manufacture
Israel
License Requirement
FFL
Manufacturer
IWI
Mfg. Part Number
HG5543BS-G
UPC
787450590502
Caliber/Gauge
9mm
Action
Semi Automatic
Barrel Length
4.5
Threaded Barrel
No
Condition
Surplus / Used
Free Shipping
No
Manufacturer's Description
IMI Jericho 941F 9mm Semi-Auto Pistol 4.5" BBL, All Steel, Satin Nickel Finish. 15 Rd - Israeli Made - Good Surplus Condition
Others Also Viewed...


loading...


Why Customers Bought This
Customer Photos & Videos
Questions & Answers