Yugo M-56 .22LR Bolt Action Training Rifle - Various Conditions - C & R Eligible
Availability: In Stock
| Item #: LNG-YUGO-M56-TRAINER
MPN: M56-TRAINER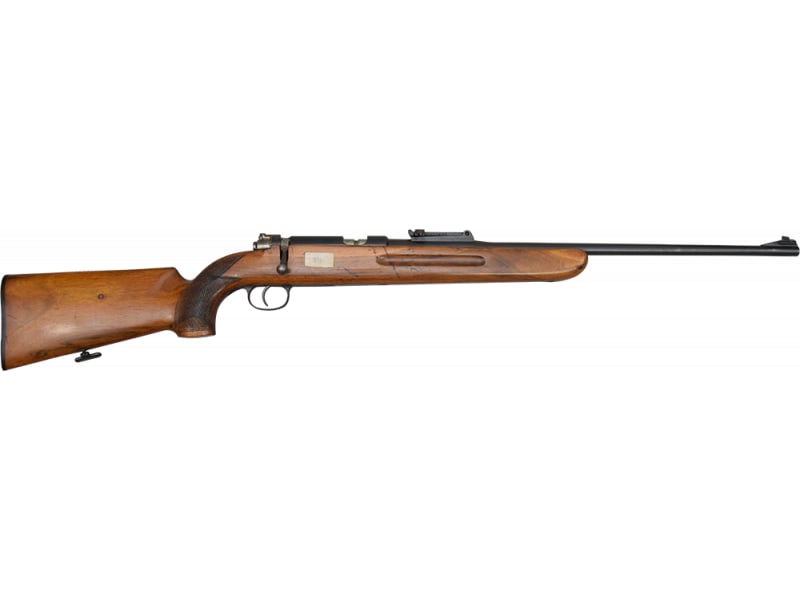 Yugo M-56 .22LR Bolt Action Training Rifle - Various Conditions - C & R Eligible
Availability: In Stock
| Item #: LNG-YUGO-M56-TRAINER
MPN: M56-TRAINER
---
The Yugo M-56 training rifle is a .22LR training version of the M48 Mauser. These are extremely rare in the US, and we are offering several different options for condition.
The base price shown is for the GIC code, " Good, Incomplete or Cracked Condition " rifles. There is also an option for Fair condition, Incomplete or Cracked at a discount


Brutus' Description
In the former Yugoslavia, the M-56 rifle was designed and utilized as a training aid for students in elementary and high schools as well as local shooting clubs. Development of the M-56 rifle started in 1954 and would make its introduction to the market two years later, hence the M-56 model designation. Between 1956 and 1960, 12,099 rifles were manufactured at Zastava, located in the town of Kragujebac, Serbia. Since the rifle features the same bolt sleeve and safety system as the Mauser, it was used to familiarize the students for future use with the military service rifle of the time, the M48. These rifles are extremely rare in the United States as most have been in storage since the separation of Yugoslavia in 1991.
Even though this is designated as a training rifle don't discount the quality. These thing are built like tanks with much heavier features than are necessarily required in a .22 rifle. The barrels are heavy as well and should lend themselves to exceptional accuracy. Chambered in .22 Long Rifle. What a find.

The base price shown is for the GIC code, " Good, Incomplete or Cracked Condition " rifles. There is also an option for Fair condition, Incomplete or Cracked at a discount


Specifications
| | |
| --- | --- |
| Product Specs | .22 LR Mauser style Single Shot Made by Zastava Kragujevac, Serbia |
| Country of Manufacture | Serbia |
| License Requirement | Curio and Relic |
| Manufacturer | Zastava |
| Mfg. Part Number | M56-TRAINER |
| UPC | No |
| Caliber/Gauge | .22 LR |
| Action | Bolt Action |
| Barrel Length | 24 |
| Threaded Barrel | No |
| Condition | Surplus / Used |
| Free Shipping | No |
Manufacturer's Description
Yugo M-56 .22LR Bolt Action Training Rifle - Various Conditions
Others Also Viewed...


loading...