Russian M44 Mosin Nagant Rifle, 7.62x54R Caliber, - C & R Eligible Good/Very Good
Availability: Out of stock
| Item #: LNGM44-RIFLE
MPN: M44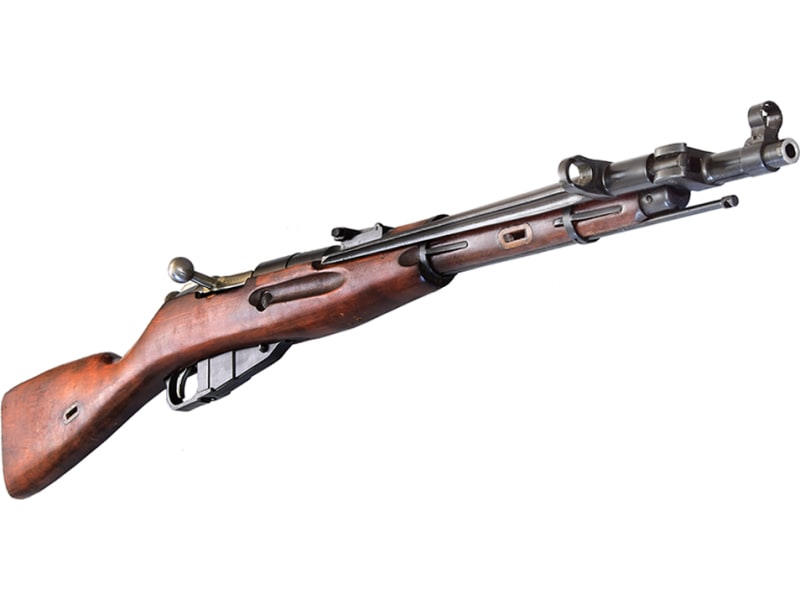 Russian M44 Mosin Nagant Rifle, 7.62x54R Caliber, - C & R Eligible Good/Very Good
Availability: Out of stock
| Item #: LNGM44-RIFLE
MPN: M44
---
Extremely Popular and Highly Desirable M-44 Mosin Nagant Carbine Rifles. 7.62x54r caliber, 5 Round, Bolt Action, in Good-Very Good Condition
These were part of a private collection and are of a condition that we have not seen in quite some time. They are very nice.
C & R Eligible
Brutus' Description
One of my favorite and quite possibly the most popular of all the Mosin Nagant variations. The M-44 was produced as a shorter, lighter, version of the standard M 91/30 rifle from 1944 through 1949. The Russians were searching for a weapon that was more fast handling and practical to carry and thus the M-44 was born. At only 40" overall, this is a very practical carry / hunting rifle and still retains a high degree of accuracy. Each rifle also incorporates a side folding bayonet. This was a small lot came to us from a private collector who took great care of these rifles. All we have seen are in Good-Very Good Condition. In interest of full discloser we have found a few with very slight rust at the buttplate but it was extremely minor. This small group was a rare find. We anticipate these to sale out quickly so get them while you can. See accompanying video for full details.
Specifications
| | |
| --- | --- |
| Product Specs | 7.62x54r Caliber 5 Round Bolt Action |
| Country of Manufacture | Russia |
| License Requirement | Curio and Relic |
| Manufacturer | Russia |
| Mfg. Part Number | M44 |
| UPC | No |
| Caliber/Gauge | 7.62x54R |
| Action | Bolt Action |
| Barrel Length | No |
| Threaded Barrel | No |
| Condition | Surplus / Used |
| Free Shipping | No |
Manufacturer's Description
Russian Model 1944 (M44) Mosin Nagant Carbine Rifle, 7.62x54r Caliber, 5rd, Bolt Action. C & R Eligible
Others Also Viewed...


loading...