Mossberg Persuader 12GA Pistol Grip Shotgun 50588
Availability: Out of stock
| Item #: LNGMOSS-PERSUADER
UPC: 015813505888 | MPN: 50588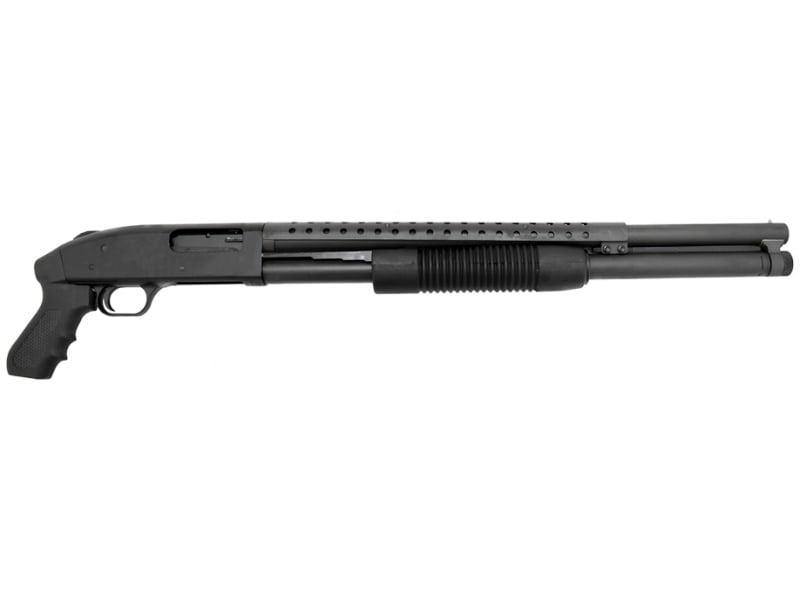 Mossberg Persuader 12GA Pistol Grip Shotgun 50588
Availability: Out of stock
| Item #: LNGMOSS-PERSUADER
UPC: 015813505888 | MPN: 50588
---
The highly popular Mossberg Persuader #8 Shot 12GA pistol grip shotgun with 20" barrel. A defacto choice for home defense.
Brutus' Description
This is a Mossberg 500 Persuader. It is a Cruiser model pistol grip 12 gauge shotgun with a 20 inch barrel. The feed tube on this model extends the full length of the barrel and it has an 8 round capacity.
Weapon features Dual Pump guide rails, vented heat shield, a parkerized finish, and posi-lock slide and release safety. Chambered for all 2 3/4 and 3 " shells.
This is the perfect all round home defense or tactical shotgun and all aftermarket Mossberg 500 stocks will fit if a full stock is desired. Perfect for your bug out kit.
Specifications
Product Specs

12 gauge
Pump action
20 " bbl
Capacity: 7+1 2-3/4" Shells or 6+1 3" Shells
Chamber: 3"
Choke: Cyl.
Finish: Parkerized
Sights: Bead
Front Stock: Synthetic, Black, Pistol Grip ONLY
Sub-Model: Persuader

Country of Manufacture
United States
License Requirement
FFL
Manufacturer
Mossberg
Mfg. Part Number
50588
UPC
015813505888
Caliber/Gauge
12 GA
Action
Pump Action
Barrel Length
20
Threaded Barrel
No
Condition
New
Free Shipping
No
Manufacturer's Description
Pump-action. Dual-action bars. Factory installed heat shield. Ambidextrous tang safety. Meets all Mll-S-3443. Positive steel-to-steel lock up requirements. Includes gun lock. Ten-year limited warranty. Blue finish. 12 guage, 8-shot, 20" cyl. barrel. Matte black stock/forearm.
Others Also Viewed...


loading...