Romanian 30 Round AK-47 Steel Magazine
Availability: Out of stock
| Item #: Rom-AKMAG-30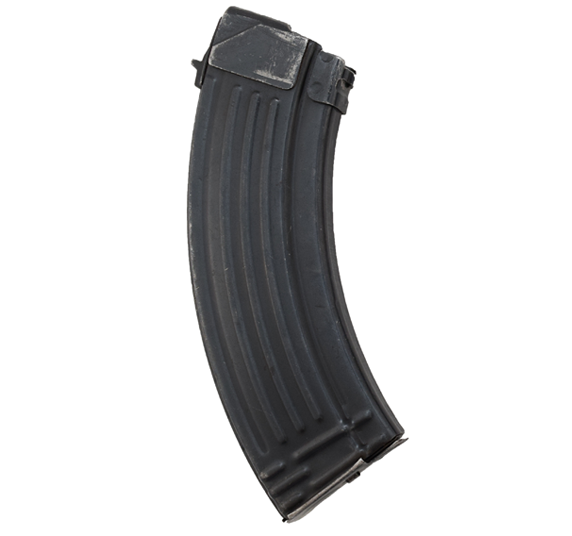 Double click on above image to view full picture
More Views
Have Your Own Photos? Login to Add Them
Customer Submitted Videos
Romanian 30 Round AK-47 Steel Magazine
Availability: Out of stock
| Item #: Rom-AKMAG-30
---
Romanian Surplus 30 Round All Steel Ribbed Back AK-47 Magazine. These are used surplus. See photos for representative condition.
NOTE: This item is sold out and we do not expect more anytime soon. Check out our huge selection of AK-47 magazines here.
Read More
MSRP:

$29.99
|
Your Price:
$15.99
Brutus' Description
Eastern Bloc Surplus AK-47 30rd magazines. All Steel construction. Features a reinforced ribbed back for superior strength.
Surplus - Overall Used Good to Very Good Condition. Some mags will show some light rub wear at the insertion points and some will even show a little overall bluing wear and some may show a lot of bluing wear. But others many are like new with some brand new mags mixed in. Basically a hodgepodge. All are very servicable.

True military steel AK Mags are becoming very expensive and getting tough to find. Stock up now.

Manufacturer's Description
Romanian Surplus 30 Round All Steel Ribbed Back AK-47 Magazine
Additional Information
Product Specs

30 Rd
Steel
Ribbed back
Surplus good - very good

Country of Manufacture
Romania
License Requirement
None
Manufacturer
Cugir
Mfg. Part Number
ROM-AKMAG-30
UPC
No
Caliber/Gauge
7.62x39
Barrel Length
No
Threaded Barrel
No
Free Shipping
No
Flat Rate Shipping
No
Customer Reviews
Good surplus steel magazines. Well made to last
These are great surplus mags for an amazing price. Was cover in a little cosmoline but very easy to clean off. Gave it to the wive as a gift for her wasr 10. Of all the mags she have, these fit the best in her ak! If we need more 30 rds mag we would definitely get these again!
Great quality for surplus magazines! Barely any finish wear and of course very functional. Great buy for a good price!
A little finish wear on some of these, but 100% functioning with all 8 mags I bought.
These are great magazines and they feel like they would last another 100 years.

The five magazines I purchased are all in varying degrees of finish remaining and condition ranging from "well-used" to "brand new". Even the worst looking one *still* works fine (almost no original finish and a shallow dent, doesn't restrict follower movement) and the best one looks like it's never had a round in it(!). Classic Arms did a fine job of "mixing it up" regarding the condition of the magazines. The cosmoline cleanup was fairly easy because there wasn't an egregious amount of it *and* AK mags are easy to disassemble.

I'm a happy customer and I would recommend these magazines.
If your looking for a great AK mag, look no more. These Romanian mags are the best. Mine were not used surplus, but new surplus! One had a slight bit of rust, but im sure it was from long term storage. Looks like they had never been inserted in to a gun. Dont waste your money on plastic junk, get these.
Magazines arrived quickly and all 6 were in very good shape, 98% or more of finsh remaining a few dings but very small ones. A light coat a cosmoline on all... for surplus magazines these are as good it gets unless you can find some new old stock and pay a premium. Im very happy I would recommend these to anyone.
Bought 4 of these magazine and they were like new.Went to the range today and they functioned flawlessly in my C39 V2 AK. Thanks Classic Arms.
I ordered 20 of these mags. The mags were covered in oil/grease which is good. I will say that the mixture of finishes on the mags range from new to very used. The description that classic has posted of these mags is very accurate. The shipping was very fast and the packaging was good. My only complaint is that 3 of the 20 mags are damaged beyond repair. I will order more in the future.
Iv'e had good luck with Yugo surplus mags in the past with Classic so I decided to give these Romanians a try. Came packed in cosmoline but not too bad. Cleaned up well and did get a few rust spots on 2 of the 4 I bought. These were definitely used as some were lightly dented. Not super pretty but they work well so that's all that matters. Will buy from Classic again.
First off, Classic Firearms has been great. They have quick shipping, great customer service, and competitive prices.

That being said, the reason why I'm giving this 4 stars is because one of the magazines I received (out of 6 ordered in total) had serious corrosion around the locking lug - to the point that the metal had thinned out and was chipping. It really seems like a matter of time until the mag just isn't useable - also, the floor plate just will not come off. I would call it fair condition, not good or very good by any stretch.

To Classic Firearm's credit, they say they would replace it if I sent it in to them. But, shipping one way costs as much as a new mag, so I'd have ended up paying 26 bucks in total. I was kind of disappointed about this, but I understand they're running a business.

That being said, the other 5 I received were in great shape. They had some minor rusting and pitting, but after a bath in some cola and a new paint job they were good to go.

If you're going to buy some of these, buy the 4 pack - it's worth it for the price cut, and you just might get one that's beat to heck so it's better safe than sorry.
Ordered 2 mags. When I cleaned them up I noticed some damage on the floor plate of one of the mags. I had to use a rubber hammer to tap off the floor plate and then the follower would hang up. I contacted Classic and they immediately sent a replacement. Great customer service! I will buy from Classic Arms again.
I am a US Marine currently deployed and had these mags shipped to my house where my dad picked them up and tried them our for me. Every mag functioned flawlessly! Thanks Classic Firearms! I look forward to purchasing from you in the future!
God Bless,
Jeriah
good company and great mags, even if they were a little beat up. they still worked
I received the package but it was an empty envelope and it was ripped open, the magazine is not there anymore, I immediately contacted them and sent me another one so quickly! Good company! They stand behind their product and good customer service, they won't let you down and resolve the problem in a courteous and in a prompt manner. Thanks!
I bought these mags thinking that they were surplus and was hoping for the best when they arrived I couldn't be happier.I think they are new and if their not new they look like they are, Great AAA+++
These mags are great and cheap! the two i got seemed to have very minimal wear. maybe like 400 rounds through one of them? But they had some surface rust. Was easy to clean that off tho with a dremel and some of the right bits
Great mags. Bought five and had a problem with one being jammed and able to only load half way through before spring getting stuck. Told Classic about it. And they had another shipped to replace it. Keep the old, we're sending you a new they said.
Never a problem with Classic Firearms. Thank you guys!!!
READ REVIEWS , ORDERED THREE, TOOK 12 DAYS 5-23-14 TO 6-4-14. I WAS IN NO RUST HOLIDAY YOU KNOW. REAL DIRTY , LOTS OF LIGHT RUST , EVEN ON SPRINGS. CLEAN THEM TWO RAN PERFECT WITH FUNCTION TEST. THE OTHER WAS DENTED ENOUGH TO HINDER FOLLOWER. SIMPLY FIX TAKE A VICE GRIP AND 9/16 OPEN END WRENCH AND A SMALL FLAT PEICE IF METAL. LOCK THE VICE GRIP ON THE WRENCH , PLACE FLAT METAL IN MAG OPPSITE DENT , PUT WRENCH IN MAG , USE METAL BACKER ON BOTTOM TWIST WRENCH REMOVING DENT. THIRD MAG RUNS GREAT. GOOD MAGS AFTER WORK.
Recieved 3 -very good condition, one just a bit tite in mag well but loosened up after a couple uses. IMHO good deal
Brutus' Description

Eastern Bloc Surplus AK-47 30rd magazines. All Steel construction. Features a reinforced ribbed back for superior strength.

Surplus - Overall Used Good to Very Good Condition. Some mags will show some light rub wear at the insertion points and some will even show a little overall bluing wear and some may show a lot of bluing wear. But others many are like new with some brand new mags mixed in. Basically a hodgepodge. All are very servicable.

True military steel AK Mags are becoming very expensive and getting tough to find. Stock up now.


Manufacturer's Description

Romanian Surplus 30 Round All Steel Ribbed Back AK-47 Magazine

Additional Information

Product Specs

30 Rd
Steel
Ribbed back
Surplus good - very good

Country of Manufacture
Romania
License Requirement
None
Manufacturer
Cugir
Mfg. Part Number
ROM-AKMAG-30
UPC
No
Caliber/Gauge
7.62x39
Barrel Length
No
Threaded Barrel
No
Free Shipping
No
Flat Rate Shipping
No

Customer Reviews

Good surplus steel magazines. Well made to last
These are great surplus mags for an amazing price. Was cover in a little cosmoline but very easy to clean off. Gave it to the wive as a gift for her wasr 10. Of all the mags she have, these fit the best in her ak! If we need more 30 rds mag we would definitely get these again!
Great quality for surplus magazines! Barely any finish wear and of course very functional. Great buy for a good price!
A little finish wear on some of these, but 100% functioning with all 8 mags I bought.
These are great magazines and they feel like they would last another 100 years.

The five magazines I purchased are all in varying degrees of finish remaining and condition ranging from "well-used" to "brand new". Even the worst looking one *still* works fine (almost no original finish and a shallow dent, doesn't restrict follower movement) and the best one looks like it's never had a round in it(!). Classic Arms did a fine job of "mixing it up" regarding the condition of the magazines. The cosmoline cleanup was fairly easy because there wasn't an egregious amount of it *and* AK mags are easy to disassemble.

I'm a happy customer and I would recommend these magazines.
If your looking for a great AK mag, look no more. These Romanian mags are the best. Mine were not used surplus, but new surplus! One had a slight bit of rust, but im sure it was from long term storage. Looks like they had never been inserted in to a gun. Dont waste your money on plastic junk, get these.
Magazines arrived quickly and all 6 were in very good shape, 98% or more of finsh remaining a few dings but very small ones. A light coat a cosmoline on all... for surplus magazines these are as good it gets unless you can find some new old stock and pay a premium. Im very happy I would recommend these to anyone.
Bought 4 of these magazine and they were like new.Went to the range today and they functioned flawlessly in my C39 V2 AK. Thanks Classic Arms.
I ordered 20 of these mags. The mags were covered in oil/grease which is good. I will say that the mixture of finishes on the mags range from new to very used. The description that classic has posted of these mags is very accurate. The shipping was very fast and the packaging was good. My only complaint is that 3 of the 20 mags are damaged beyond repair. I will order more in the future.
Iv'e had good luck with Yugo surplus mags in the past with Classic so I decided to give these Romanians a try. Came packed in cosmoline but not too bad. Cleaned up well and did get a few rust spots on 2 of the 4 I bought. These were definitely used as some were lightly dented. Not super pretty but they work well so that's all that matters. Will buy from Classic again.
First off, Classic Firearms has been great. They have quick shipping, great customer service, and competitive prices.

That being said, the reason why I'm giving this 4 stars is because one of the magazines I received (out of 6 ordered in total) had serious corrosion around the locking lug - to the point that the metal had thinned out and was chipping. It really seems like a matter of time until the mag just isn't useable - also, the floor plate just will not come off. I would call it fair condition, not good or very good by any stretch.

To Classic Firearm's credit, they say they would replace it if I sent it in to them. But, shipping one way costs as much as a new mag, so I'd have ended up paying 26 bucks in total. I was kind of disappointed about this, but I understand they're running a business.

That being said, the other 5 I received were in great shape. They had some minor rusting and pitting, but after a bath in some cola and a new paint job they were good to go.

If you're going to buy some of these, buy the 4 pack - it's worth it for the price cut, and you just might get one that's beat to heck so it's better safe than sorry.
Ordered 2 mags. When I cleaned them up I noticed some damage on the floor plate of one of the mags. I had to use a rubber hammer to tap off the floor plate and then the follower would hang up. I contacted Classic and they immediately sent a replacement. Great customer service! I will buy from Classic Arms again.
I am a US Marine currently deployed and had these mags shipped to my house where my dad picked them up and tried them our for me. Every mag functioned flawlessly! Thanks Classic Firearms! I look forward to purchasing from you in the future!
God Bless,
Jeriah
good company and great mags, even if they were a little beat up. they still worked
I received the package but it was an empty envelope and it was ripped open, the magazine is not there anymore, I immediately contacted them and sent me another one so quickly! Good company! They stand behind their product and good customer service, they won't let you down and resolve the problem in a courteous and in a prompt manner. Thanks!
I bought these mags thinking that they were surplus and was hoping for the best when they arrived I couldn't be happier.I think they are new and if their not new they look like they are, Great AAA+++
These mags are great and cheap! the two i got seemed to have very minimal wear. maybe like 400 rounds through one of them? But they had some surface rust. Was easy to clean that off tho with a dremel and some of the right bits
Great mags. Bought five and had a problem with one being jammed and able to only load half way through before spring getting stuck. Told Classic about it. And they had another shipped to replace it. Keep the old, we're sending you a new they said.
Never a problem with Classic Firearms. Thank you guys!!!
READ REVIEWS , ORDERED THREE, TOOK 12 DAYS 5-23-14 TO 6-4-14. I WAS IN NO RUST HOLIDAY YOU KNOW. REAL DIRTY , LOTS OF LIGHT RUST , EVEN ON SPRINGS. CLEAN THEM TWO RAN PERFECT WITH FUNCTION TEST. THE OTHER WAS DENTED ENOUGH TO HINDER FOLLOWER. SIMPLY FIX TAKE A VICE GRIP AND 9/16 OPEN END WRENCH AND A SMALL FLAT PEICE IF METAL. LOCK THE VICE GRIP ON THE WRENCH , PLACE FLAT METAL IN MAG OPPSITE DENT , PUT WRENCH IN MAG , USE METAL BACKER ON BOTTOM TWIST WRENCH REMOVING DENT. THIRD MAG RUNS GREAT. GOOD MAGS AFTER WORK.
Recieved 3 -very good condition, one just a bit tite in mag well but loosened up after a couple uses. IMHO good deal