Romanian WASR-10 AK-47 Rifle w/ Wood Stock and Forearm, 45 Degree Compensator, Bayonet Lug and 2 Magpul Mags
Availability: Out of stock
| Item #: LNGROM-AKMV-RI1805N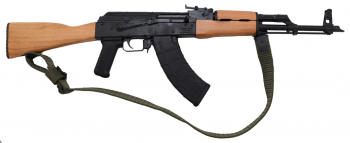 Double click on above image to view full picture
More Views
Have Your Own Photos? Login to Add Them
Romanian WASR-10 AK-47 Rifle w/ Wood Stock and Forearm, 45 Degree Compensator, Bayonet Lug and 2 Magpul Mags
Availability: Out of stock
| Item #: LNGROM-AKMV-RI1805N
---
Brutus' Description
Romanian WASR-10 Semi-Auto AK-47 Rifle 7.62x39 caliber with (2) 30rd Magpul PMAGs
This has been the best selling AK-47 rifle each year for the past decade. Comes with original wood forearm, hand guard, and stock. Has 45 degree compensator, bayonet lug and comes with two ( 2 ) 30 rd mags and military style sling. The Romanian rifles also come with a side rail scope mount, and we have a great mount and scope set up for this weapon.
Made in the famous Cugir Factory. This is one beautiful rifle!
Secondary images shown with optional scope and mount packages.
Manufacturer's Description
Romanian WASR-10 AK-47 military variation rifle w/ military style wood stock, wood forearm and handguard. Bayonet lug, 45 degree compensator, semi-automatic w/ two 30rd Magpul PMAGs and military style sling. 7.62x39 caliber.
Additional Information
Product Specs

7.62x39 caliber
Wood stock
Wood forearm & handguard
Bayonet lug
45 degree compensator
Semi-automatic
Two 30rd Magpul PMAGs

License Requirement
FFL
Manufacturer
Cugir
Mfg. Part Number
RI1805-N
UPC
787450074477
Caliber/Gauge
7.62x39
Threaded Barrel
No
Free Shipping
No
Flat Rate Shipping
No
Customer Reviews
Second posted review, this time with video.

LOVE my WASR! I bought mine when they were $499, but its STILL a fantastic value at the current price of $599. You can still buy a case of ammo for it and 10-20 Tapco mags without spending a grand.

The Tapco T6 stock makes this great rifle even better for taller folk like me. Have plans for the Tapco or Magpul fore stock and most likely a Techsight rear aperture, but its not really needed to enjoy this fun to shoot AK platform.

The Tapco mags have been great for me and have generally good reviews on YT.
Awesome purchase!Looks and shoots great! Thanks Classic Firearms!
If your looking for a Ak47 for a good price you can't go wrong with this one. The shipping was a little slow but it was because of the weather. I changed the stock, forearm and hand grip to the ATI furniture but if you like the wood stock these stocks are very nice. This rifle is even better looking and works better then I expected. I ran 100 rounds through it with not one hiccup, both magazines that came with it worked just fine. I even bought the 4 extra surplus mags and the pouch they had on sale very pleased with them too. The only thing to remember if you order anything else with the rifle that doesn't have to go to your FFL Dealer and you want it shipped to your address let them know that. My mags went to my FFL shop a week later which is 25 min. away, I had to make two trips.
I got a newer production WASR-10. The bolt carrier group is black (nitride finish?), front sight is NOT canted, slant brake is not welded and 14x1LH threaded. It shoots great and accurate at 100yds. I get 2-3 inch groups using the iron sights bench rested. The wood for the stock/hand guards seems to be cut from birch and the finish is in amazing shape. The steel mag it comes with seems to have been used at one time, but the tapco mag and the rifle itself seem to have never been used. The bore/chamber is clear and clean; all it needed was a cleaning from the packing grease and a new coat of oil. It's my first AK and i could not be more pleased. The turnaround time from ordering to shipping was about 10 days.
Rifle exceeded my expectations.. No cant, no wobble, no worries.. Has fired 500 flawless rounds through it. And was very very close to zero, only adjusted an inch or so.. Had an issue with the tapco mag, and classic quickly sent me another.. A++!!
very pleased with rifle and service provided by classic firearms. Waiting on another order I recently placed for Bulgarian mag holder and 1000 rounds of ammo. I recommend this company!
Buy this gun, don't think about it! Just do it! Best decision I've made in a while. Gray gun especially for the price. Mags have 0% wobble, on target out of the box, beautiful.
Beautiful rifle,wood was better than expected with no dings or scratches, no cant to the front sight,the surplus mag had a small amount of wobble but the Tapco mag and the Korean mags I ordered fit right with no wobble, haven't had a chance to shoot it yet but if it shoots half as good as it looks I'll be more than happy!!
Overall, the rifle is not a bad rifle. Shipping was unusually slow, as it took almost two weeks to arrive. The wood is a blonde beech and is brand new. I restained the wood and it looks a lot better.

Our apologies for the delayed shipping. We were backed up a bit due to extremely high order volume.

- The Classic Firearms Team

Purchased this rifle on February 25th received it March 13th. Little slow to get the order going and UPS had a delay due to the weather... No big deal for the price I was willing to wait. Second purchase from classic overall positive experience. Rifle is in extremely good condition. No canted front sight. Tapco magazine fits like a glove. Surplus mag is gunked up with cosmoline so I haven't tried out the fit yet. All matching parts. Really glad I made the purchase. Thanks classic.
I've been watching these fluctuate in price for the last year or two and decided to purchase this example. I have seen local prices for well over $600 and even the same online. For $500, I'm quite pleased with the rifle but I wished I had purchased one back when everything was cheaper (before all the gun bans...). It has what looks like a Beech stock in a blonde color, not the laminated rough stock set. I was hoping for the latter, but I'm pleased with the appearance none the less. By the serial, it looks like it's newly manufactured if that is what's happening these days but why wouldn't the receiver have magazine dimples? The front sight is not canted. Magazine slop is a little present with the metal magazine. The plastic and bakelite magazines are tight and regardless of which (metal or bakelite), they load. I wouldn't hesitate to buy one of these for getting a former communist bloc made weapon made at the famous Cugir factory in Romania.
Picked up my WASR-10 for $499 and received a good rifle. Rifle was packaged well and came with a cheap old sling, good cleaning kit, clean rod (even though not mentioned in description), a steel surplus mag, and a new tapco mag. Contrary to most reviews, the tapco mag was very tight to put in, but has slight mag wobble. However, the steel surplus mag fits excellently with NO mag wobble (surprising, I know). The front sight assembly is slightly canted, but it is not bad compared to others I have seen. I stripped the furniture and gloss coated it in polyurethane, which came out great.

Overall it is a good product for the price, but I am giving it a 4 out of 5 because it took 13 days to arrive at my local FFL, which was less than ideal..
I shopped around for an affordable AK-47, expecting to spend 7-800$ on a nice milled receiver AK variant. After doing some research, I decided on two things:
1) There is absolutely no reason to buy an AMERICAN made AK-47 (not because they aren't well made, just on principle)
2) Milled seems overpriced for what it is, considering the majority of original AK's were stamped receivers anyways. Again, not an expert by any means, this is my first AK.
I ordered the gun and contacted my local FFL, and ran into an unusual roadblock; the FFL was being difficult about dealing with classicfirearms, I'm not sure why. I called the phone number listed atop the classicfirearms.com website, and the lady I spoke to was very sweet and understanding. Within 5-10 minutes of calling, she sent me an e-mail saying everything was straightened out with the FFL, and the gun would ship as planned.
After 7 days from purchase, I received my Wasr AK from my FFL. I was thoroughly impressed by it's condition, as well as the little prizies it came with that weren't advertised (leather sling, cleaning kit tool, oil can). No canting on the sights, no issues with the action or pitting on the barrel etc., and the stock was so much nicer than the stock photo.
I haven't fired it yet. I'm trapped at work with this fine piece of machinery in my truck, as I picked it up right before work. The anticipation is killing me. But it's friday, and the weekend is 8 hours away :)
Very long story short, I have nothing but good things to say about classic right now. Customer support was more than helpful, shipping wasn't too bad considering the delays due to awful weather in our part of the world (midwest), and my gun is a fine specimen of human engineering. I ordered a surplus Beretta 92s right after my AK purchase, and I hope its just as nice. Thanks classic!
No canted sights. Beautiful blonde furniture. Straight out the box very impressed. Classic might want to look into wrapping the gun or the mags when packing. I had a few scuff marks due to the process of shipping. But very minor, other than that two thumbs up!
The service was great as it always in when dealing with the folks at Classic. The weapons fit and finish is excellent. The only issue that I have encountered is the crazy mag-wobble when using surplus ak mags. The Tapco fits tight and functions fine. Overall a pretty good deal on a WASR 10.
I ordered my WASR-10 almost two weeks ago, exchanged a couple of humorous emails with one of the guys at Classic, found out they were a week behind on orders, and almost expired from lack of WASR before it arrived at my FTL last night -- too late to try it out, so I disassembled it, applied some CLP and Lubri-Plate in the appropriate spots, and cycled a few rounds through it to be sure it was back together correctly. Today, my wife was sick most of the day, so it was late afternoon before I could fire it. Altogether, I fired 10-15 rounds each of Wolf FMJ and Norinco FMJ, Wolf Hollow Point and OLD KNC Hollowpoint, Brown Bear Softpoint and Norinco Hollowpoint through it -- all with absolutely NO FTFs, FTEs, LSMFTs, or RSVPs. The sights were right on and, even in the dusk, I was able to shoot a 2-inch group at 50 yards (from a rest, of course -- after all, I AM 70). The rifle itself is really nice looking -- light blond, straight-grained wood with no imperfections. Both magazines work and fit very well, with (oddly enough) the TAPCO magazine having more wobble than the steel magazine. I'm not a fan of the pistol grip -- it's too narrow and too short for me. Altogether, a very nice rifle and I don't see how it could be much better. I am now a WASR-10 fan!
Great rifle right out the bag . Shit great accurate for the price no complaints at all
The first thing that jumped out at me was the furniture. This was much nicer than I expected! It appears to be a beautiful teak hardwood with a nice low gloss finish. Fit and finish are better than I expected. There is no cant to the front sight but I did buy a $10 sight tool to get the front post on target for elevation/windage (it was way off). There is a bit of rubbing of the bolt against the top cover, but nothing serious. The included Tapco mag fits like a glove...my only complaint is that the steel magazine does wobble a bit. Rivets all look great. Just need to get it to the range now. What a value!!!
I researched for months and months on what AK I should buy for the first time. I sifted through forums and had information overload. I finally settled on the WASR 10. Yes, it is true that Century had some issues pre-2008. Guess what? They have absolutely nailed it since then. Everyone who tells you otherwise is blowing smoke and likely doesn't own one or had one pre-2008.

The prices are only going up on these beauties. Why pay $599 for some other companies to do a "QC" check? This rifle is exceptionally built. Almost no mag wobble (it has what you would expect for an AK) The furniture looked amazing. Matching serial numbers. Came with a leather sling (didn't have the clip to attach it though. I will live.) A really nice steel mag that actually felt better in the WASR than the poly-Tapco. The steel mag is also worn looking and just adds even more character. The cleaning rod was there and the cleaning kit in the tube as well as an oil bottle. Also, I saw on some other sites that the bayonet lug could be ground down/off. This is not the case here. I ordered a matching Romanian bakelite bayonet off of Gunbroker. (Note: It appears the tube cleaning kit doesn't go in the butt stock anymore. I just threw it in the bag that I bought off of here which I thought was a stellar deal. The AK Shooter's package - the case and 3 extra mags for $50.)

I highly recommend this rifle and please sift through all of the misinformation out there about these rifles and do your homework. You can go drop $800-$900 on another AK variant...but I didn't. When it comes to getting a stamped or milled receiver...I went into this wanting a milled receiver but after much research, I couldn't justify the extra price or the weight. Do your homework on that as well. The rifles are all based on the same design with minor variations from country to country. Two things that should help you make your purchase easier:

1. When it comes to the AK it all comes down to the skill of the person pulling the trigger and the familiarity of the platform. As with any other firearm.

2. This is what ultimately swayed me after just digging and digging through forums and tons of research. I originally was looking at the C39 and totally had my heart on it. Milled receiver, etc. etc. What made me change my mind and maybe this will help you reading this. If you are buying an AK, why would you want it to be American made? I wanted it to be as authentic as possible and you just can't beat the $499 price tag and then buy extra ammo with the money you save.

All-in-all if you are looking for your first AK or your 10th (I have heard they are addictive) this is absolutely the rifle to get. Century has absolutely turned their game around. Classic Firearms has the amazing FFL feature as well and excellent customer service. This was my first purchase from them and won't be my last.
This is my first AK and I'm not disappointed. Very solid rifle with a great weight distribution. Easy to disassemble. I fired off 90 rounds(3 mags) the day after I got it and was very impressed by it's sighting. it's recoil, the tapco trigger...and of course I had to bump fire a mag:)..which had it smoking. Delivery was great, 3 days transit. My only beef is the rear stock is split underneath where it attaches to the rifle on both outer sides for about 3/4" I'm going to try crazy glue at first for repair. I got a Tapco mag and an original metal mag..Prefer the metal...Zero mag wobble! I guess I was too late in ordering to get the pig sticker...With this rifle I don't think anything will get close enough to need it....Oh yeah I ordered a thousand rds with it at $249.00 which beats the heck out of $20.00+ per 20 rd box locally
Brutus' Description

Romanian WASR-10 Semi-Auto AK-47 Rifle 7.62x39 caliber with (2) 30rd Magpul PMAGs

This has been the best selling AK-47 rifle each year for the past decade. Comes with original wood forearm, hand guard, and stock. Has 45 degree compensator, bayonet lug and comes with two ( 2 ) 30 rd mags and military style sling. The Romanian rifles also come with a side rail scope mount, and we have a great mount and scope set up for this weapon.

Made in the famous Cugir Factory. This is one beautiful rifle!

Secondary images shown with optional scope and mount packages.

Manufacturer's Description

Romanian WASR-10 AK-47 military variation rifle w/ military style wood stock, wood forearm and handguard. Bayonet lug, 45 degree compensator, semi-automatic w/ two 30rd Magpul PMAGs and military style sling. 7.62x39 caliber.

Additional Information

Product Specs

7.62x39 caliber
Wood stock
Wood forearm & handguard
Bayonet lug
45 degree compensator
Semi-automatic
Two 30rd Magpul PMAGs

License Requirement
FFL
Manufacturer
Cugir
Mfg. Part Number
RI1805-N
UPC
787450074477
Caliber/Gauge
7.62x39
Threaded Barrel
No
Free Shipping
No
Flat Rate Shipping
No

Customer Reviews

Second posted review, this time with video.

LOVE my WASR! I bought mine when they were $499, but its STILL a fantastic value at the current price of $599. You can still buy a case of ammo for it and 10-20 Tapco mags without spending a grand.

The Tapco T6 stock makes this great rifle even better for taller folk like me. Have plans for the Tapco or Magpul fore stock and most likely a Techsight rear aperture, but its not really needed to enjoy this fun to shoot AK platform.

The Tapco mags have been great for me and have generally good reviews on YT.
Awesome purchase!Looks and shoots great! Thanks Classic Firearms!
If your looking for a Ak47 for a good price you can't go wrong with this one. The shipping was a little slow but it was because of the weather. I changed the stock, forearm and hand grip to the ATI furniture but if you like the wood stock these stocks are very nice. This rifle is even better looking and works better then I expected. I ran 100 rounds through it with not one hiccup, both magazines that came with it worked just fine. I even bought the 4 extra surplus mags and the pouch they had on sale very pleased with them too. The only thing to remember if you order anything else with the rifle that doesn't have to go to your FFL Dealer and you want it shipped to your address let them know that. My mags went to my FFL shop a week later which is 25 min. away, I had to make two trips.
I got a newer production WASR-10. The bolt carrier group is black (nitride finish?), front sight is NOT canted, slant brake is not welded and 14x1LH threaded. It shoots great and accurate at 100yds. I get 2-3 inch groups using the iron sights bench rested. The wood for the stock/hand guards seems to be cut from birch and the finish is in amazing shape. The steel mag it comes with seems to have been used at one time, but the tapco mag and the rifle itself seem to have never been used. The bore/chamber is clear and clean; all it needed was a cleaning from the packing grease and a new coat of oil. It's my first AK and i could not be more pleased. The turnaround time from ordering to shipping was about 10 days.
Rifle exceeded my expectations.. No cant, no wobble, no worries.. Has fired 500 flawless rounds through it. And was very very close to zero, only adjusted an inch or so.. Had an issue with the tapco mag, and classic quickly sent me another.. A++!!
very pleased with rifle and service provided by classic firearms. Waiting on another order I recently placed for Bulgarian mag holder and 1000 rounds of ammo. I recommend this company!
Buy this gun, don't think about it! Just do it! Best decision I've made in a while. Gray gun especially for the price. Mags have 0% wobble, on target out of the box, beautiful.
Beautiful rifle,wood was better than expected with no dings or scratches, no cant to the front sight,the surplus mag had a small amount of wobble but the Tapco mag and the Korean mags I ordered fit right with no wobble, haven't had a chance to shoot it yet but if it shoots half as good as it looks I'll be more than happy!!
Overall, the rifle is not a bad rifle. Shipping was unusually slow, as it took almost two weeks to arrive. The wood is a blonde beech and is brand new. I restained the wood and it looks a lot better.

Our apologies for the delayed shipping. We were backed up a bit due to extremely high order volume.

- The Classic Firearms Team

Purchased this rifle on February 25th received it March 13th. Little slow to get the order going and UPS had a delay due to the weather... No big deal for the price I was willing to wait. Second purchase from classic overall positive experience. Rifle is in extremely good condition. No canted front sight. Tapco magazine fits like a glove. Surplus mag is gunked up with cosmoline so I haven't tried out the fit yet. All matching parts. Really glad I made the purchase. Thanks classic.
I've been watching these fluctuate in price for the last year or two and decided to purchase this example. I have seen local prices for well over $600 and even the same online. For $500, I'm quite pleased with the rifle but I wished I had purchased one back when everything was cheaper (before all the gun bans...). It has what looks like a Beech stock in a blonde color, not the laminated rough stock set. I was hoping for the latter, but I'm pleased with the appearance none the less. By the serial, it looks like it's newly manufactured if that is what's happening these days but why wouldn't the receiver have magazine dimples? The front sight is not canted. Magazine slop is a little present with the metal magazine. The plastic and bakelite magazines are tight and regardless of which (metal or bakelite), they load. I wouldn't hesitate to buy one of these for getting a former communist bloc made weapon made at the famous Cugir factory in Romania.
Picked up my WASR-10 for $499 and received a good rifle. Rifle was packaged well and came with a cheap old sling, good cleaning kit, clean rod (even though not mentioned in description), a steel surplus mag, and a new tapco mag. Contrary to most reviews, the tapco mag was very tight to put in, but has slight mag wobble. However, the steel surplus mag fits excellently with NO mag wobble (surprising, I know). The front sight assembly is slightly canted, but it is not bad compared to others I have seen. I stripped the furniture and gloss coated it in polyurethane, which came out great.

Overall it is a good product for the price, but I am giving it a 4 out of 5 because it took 13 days to arrive at my local FFL, which was less than ideal..
I shopped around for an affordable AK-47, expecting to spend 7-800$ on a nice milled receiver AK variant. After doing some research, I decided on two things:
1) There is absolutely no reason to buy an AMERICAN made AK-47 (not because they aren't well made, just on principle)
2) Milled seems overpriced for what it is, considering the majority of original AK's were stamped receivers anyways. Again, not an expert by any means, this is my first AK.
I ordered the gun and contacted my local FFL, and ran into an unusual roadblock; the FFL was being difficult about dealing with classicfirearms, I'm not sure why. I called the phone number listed atop the classicfirearms.com website, and the lady I spoke to was very sweet and understanding. Within 5-10 minutes of calling, she sent me an e-mail saying everything was straightened out with the FFL, and the gun would ship as planned.
After 7 days from purchase, I received my Wasr AK from my FFL. I was thoroughly impressed by it's condition, as well as the little prizies it came with that weren't advertised (leather sling, cleaning kit tool, oil can). No canting on the sights, no issues with the action or pitting on the barrel etc., and the stock was so much nicer than the stock photo.
I haven't fired it yet. I'm trapped at work with this fine piece of machinery in my truck, as I picked it up right before work. The anticipation is killing me. But it's friday, and the weekend is 8 hours away :)
Very long story short, I have nothing but good things to say about classic right now. Customer support was more than helpful, shipping wasn't too bad considering the delays due to awful weather in our part of the world (midwest), and my gun is a fine specimen of human engineering. I ordered a surplus Beretta 92s right after my AK purchase, and I hope its just as nice. Thanks classic!
No canted sights. Beautiful blonde furniture. Straight out the box very impressed. Classic might want to look into wrapping the gun or the mags when packing. I had a few scuff marks due to the process of shipping. But very minor, other than that two thumbs up!
The service was great as it always in when dealing with the folks at Classic. The weapons fit and finish is excellent. The only issue that I have encountered is the crazy mag-wobble when using surplus ak mags. The Tapco fits tight and functions fine. Overall a pretty good deal on a WASR 10.
I ordered my WASR-10 almost two weeks ago, exchanged a couple of humorous emails with one of the guys at Classic, found out they were a week behind on orders, and almost expired from lack of WASR before it arrived at my FTL last night -- too late to try it out, so I disassembled it, applied some CLP and Lubri-Plate in the appropriate spots, and cycled a few rounds through it to be sure it was back together correctly. Today, my wife was sick most of the day, so it was late afternoon before I could fire it. Altogether, I fired 10-15 rounds each of Wolf FMJ and Norinco FMJ, Wolf Hollow Point and OLD KNC Hollowpoint, Brown Bear Softpoint and Norinco Hollowpoint through it -- all with absolutely NO FTFs, FTEs, LSMFTs, or RSVPs. The sights were right on and, even in the dusk, I was able to shoot a 2-inch group at 50 yards (from a rest, of course -- after all, I AM 70). The rifle itself is really nice looking -- light blond, straight-grained wood with no imperfections. Both magazines work and fit very well, with (oddly enough) the TAPCO magazine having more wobble than the steel magazine. I'm not a fan of the pistol grip -- it's too narrow and too short for me. Altogether, a very nice rifle and I don't see how it could be much better. I am now a WASR-10 fan!
Great rifle right out the bag . Shit great accurate for the price no complaints at all
The first thing that jumped out at me was the furniture. This was much nicer than I expected! It appears to be a beautiful teak hardwood with a nice low gloss finish. Fit and finish are better than I expected. There is no cant to the front sight but I did buy a $10 sight tool to get the front post on target for elevation/windage (it was way off). There is a bit of rubbing of the bolt against the top cover, but nothing serious. The included Tapco mag fits like a glove...my only complaint is that the steel magazine does wobble a bit. Rivets all look great. Just need to get it to the range now. What a value!!!
I researched for months and months on what AK I should buy for the first time. I sifted through forums and had information overload. I finally settled on the WASR 10. Yes, it is true that Century had some issues pre-2008. Guess what? They have absolutely nailed it since then. Everyone who tells you otherwise is blowing smoke and likely doesn't own one or had one pre-2008.

The prices are only going up on these beauties. Why pay $599 for some other companies to do a "QC" check? This rifle is exceptionally built. Almost no mag wobble (it has what you would expect for an AK) The furniture looked amazing. Matching serial numbers. Came with a leather sling (didn't have the clip to attach it though. I will live.) A really nice steel mag that actually felt better in the WASR than the poly-Tapco. The steel mag is also worn looking and just adds even more character. The cleaning rod was there and the cleaning kit in the tube as well as an oil bottle. Also, I saw on some other sites that the bayonet lug could be ground down/off. This is not the case here. I ordered a matching Romanian bakelite bayonet off of Gunbroker. (Note: It appears the tube cleaning kit doesn't go in the butt stock anymore. I just threw it in the bag that I bought off of here which I thought was a stellar deal. The AK Shooter's package - the case and 3 extra mags for $50.)

I highly recommend this rifle and please sift through all of the misinformation out there about these rifles and do your homework. You can go drop $800-$900 on another AK variant...but I didn't. When it comes to getting a stamped or milled receiver...I went into this wanting a milled receiver but after much research, I couldn't justify the extra price or the weight. Do your homework on that as well. The rifles are all based on the same design with minor variations from country to country. Two things that should help you make your purchase easier:

1. When it comes to the AK it all comes down to the skill of the person pulling the trigger and the familiarity of the platform. As with any other firearm.

2. This is what ultimately swayed me after just digging and digging through forums and tons of research. I originally was looking at the C39 and totally had my heart on it. Milled receiver, etc. etc. What made me change my mind and maybe this will help you reading this. If you are buying an AK, why would you want it to be American made? I wanted it to be as authentic as possible and you just can't beat the $499 price tag and then buy extra ammo with the money you save.

All-in-all if you are looking for your first AK or your 10th (I have heard they are addictive) this is absolutely the rifle to get. Century has absolutely turned their game around. Classic Firearms has the amazing FFL feature as well and excellent customer service. This was my first purchase from them and won't be my last.
This is my first AK and I'm not disappointed. Very solid rifle with a great weight distribution. Easy to disassemble. I fired off 90 rounds(3 mags) the day after I got it and was very impressed by it's sighting. it's recoil, the tapco trigger...and of course I had to bump fire a mag:)..which had it smoking. Delivery was great, 3 days transit. My only beef is the rear stock is split underneath where it attaches to the rifle on both outer sides for about 3/4" I'm going to try crazy glue at first for repair. I got a Tapco mag and an original metal mag..Prefer the metal...Zero mag wobble! I guess I was too late in ordering to get the pig sticker...With this rifle I don't think anything will get close enough to need it....Oh yeah I ordered a thousand rds with it at $249.00 which beats the heck out of $20.00+ per 20 rd box locally