Romanian PSL-54 Rifle, 7.62x54R, 10rd, Laminated Stock, w/ Romanian Illuminated Reticle 4x24mm Optic
Availability: In Stock (Only 1 left!)
| Item #: LNG-PSL54-RFL-W-ROM-OP
MPN: RI3323-N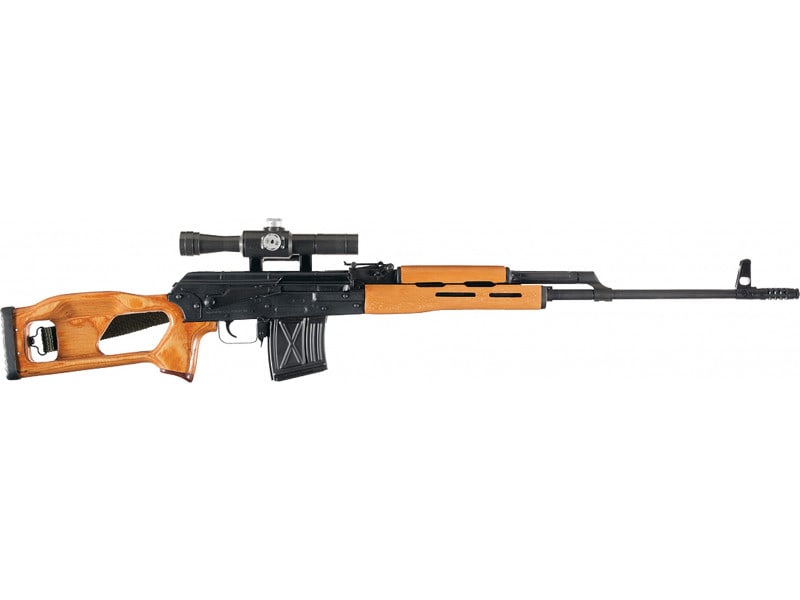 Romanian PSL-54 Rifle, 7.62x54R, 10rd, Laminated Stock, w/ Romanian Illuminated Reticle 4x24mm Optic
Availability: In Stock (Only 1 left!)
| Item #: LNG-PSL54-RFL-W-ROM-OP
MPN: RI3323-N
---
The PSL is a Romanian military designated marksman rifle. Though similar in appearance to the SVD Dragunov, the PSL rifle is closer to the design of the RPK light machine gun.

Chambered in 7.62x54R, the PSL is able to engage targets at extended ranges. This rifle comes with the original matching serial number Romanian 4x24mm magnified optic with mount, and one 10 round magazine. See accompanying Video For Full Details.
Brutus' Description
The PSL rifle's primary purpose is to be used by a platoon level designated marksman to engage targets at ranges beyond the capabilities of the standard issue AKM carbines. It is built around a stamped steel receiver similar to that of the RPK light machine gun; having a wider forward section enabling a strengthened, more substantial front trunnion. The PSL's operation is the same long stroke piston action of the Kalashnikov family of weapons. Its appearance is similar to the Dragunov sniper rifle but parts are not interchangeable between the two rifles.

The PSL-54 features a 24.5" chrome lined barrel and is chambered in 7.62x54R. Threading on the end of the barrel is the standard 14x1mm LH Threading found on common AK-47 platform rifles The front trunnion is reinforced with an RPK-style bulged trunnion due to the great power of the 7.62x54R cartridge over the 7.62x39. The PSL-54C comes with laminated wood furniture with a thumbhole stock that has an integrated non-adjustable cheek riser.

Extra Special Feature - The optic that comes with this particular rifle is the original Romanian manufactured lighted range finding reticle scope. These scopes are absolutely amazing and come complete with a 3volt battery. Replacement batteries can be commonly found. Each scope is serial #'d with a hang tag at the factory to match the rifle it ships with.
Specifications
Product Specs

Model - PSL-54C
Caliber - 7.62x54R
Number of Magazines - 1
Magazine Capalcity - 10
Action - Semiautomatic, Long stroke gas piston
Barrel Length - 24.5"
Overall Length - 45.3"
Weight - 9.5lb
Includes Matching 4x24mm Romanian Optic

Country of Manufacture
Romania
License Requirement
FFL
Manufacturer
Cugir
Mfg. Part Number
RI3323-N
UPC
No
Caliber/Gauge
7.62x54R
Action
Semi Automatic
Barrel Length
No
Threaded Barrel
No
Condition
New
Free Shipping
No
Manufacturer's Description
Romanian PSL-54 Rifle, 7.62x54R, 10rd, Laminated Stock, w/ Romanian Lighted Range Finding Reticle 4x24mm Optic and Mount.
Others Also Viewed...


loading...