Original Russian Bakelite AK-47 Mag 7.62x39 Caliber 30 Round Magazine
Availability: Out of stock
| Item #: ACCRUS-30RD BAKELITE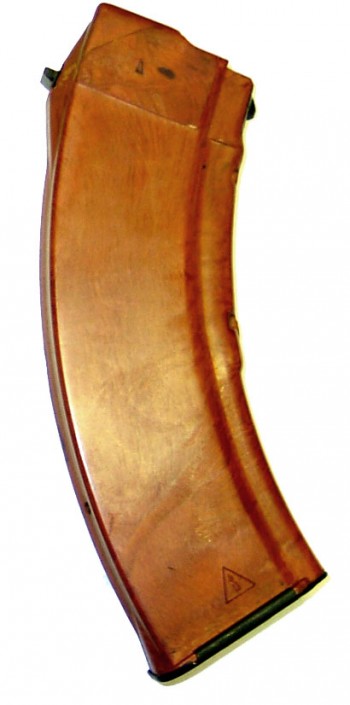 Double click on above image to view full picture
More Views
Have Your Own Photos? Login to Add Them
Customer Submitted Videos
Original Russian Bakelite AK-47 Mag 7.62x39 Caliber 30 Round Magazine
Availability: Out of stock
| Item #: ACCRUS-30RD BAKELITE
---
Original Russian Bakelite AK-47 Magazines, 7.62x39 caliber, 30 round capacity. These are very rare and highly collectible AK mags.
Read More
Brutus' Description
What a find... These are the rarest and in my opinion highest quality 30 round AK-47 mags in the world.

Original Russian Military AK-47 Bakelite 30 Round Magazines in 7.62x39 caliber ... Don't be confused.
These are not some inexpensive polymer mag in an orange color, But Original Russian Military Bakelite Mags
made even rarer and more collectible by the fact that they are in 7.62x39 caliber and are made by the military for the AK-47 Rifle.
Will fit all AK-47 7.62x39 caliber AK type rifles ... Very small quantities available and when they are gone, they are gone.

Note - In order to export these mags out of Russia the arsenal had to limit the mags to a 10 round capacity.
In order to do that they removed the floorplate, installed a metal wire limiter, and re-installed the floorplate....
All of the original mag componants, spring, etc, remained the same.... So all the end user has to do is slide the floorplate
off and remove the capacity restrictor.... This takes all of about 30 seconds .... or maybe 45 seconds if your blindfolded and have a broken hand.
What I'm trying to say is the conversion back to 30 rounds is very easy...
We would have done it here, but thought folks may enjoy doing it themselves, and who knows.... you may need to restrict your mag some day
and if so you just re-install.

I don't care how many AK mags you have, if you ain't got one of these, you're missing out.

We have attached a helpful video to step you through and show you what we're talking about...

Note - Young David who did this video for us mistakenly called this a 5.45x39 caliber mag. These are actually 7.62x39 mags as advertised...
Otherwise this video correctly shows exactly how it is done. It is just that simple.



Don't Miss This......
Manufacturer's Description
Original Russian Bakelite AK-47 Magazine, 7.62x39 Caliber 30 Round Magazine
Additional Information
| | |
| --- | --- |
| Product Specs | Bakelite AK-47 / 7.62x39 |
| License Requirement | None |
| Manufacturer | Russia |
| Mfg. Part Number | ak30russ |
| UPC | No |
| Caliber/Gauge | 7.62x39 |
| Barrel Length | No |
| Threaded Barrel | No |
| Free Shipping | No |
| Flat Rate Shipping | No |
Customer Reviews
Got a tula bakelite mag a little tight fit on the wasr 10 but still work fine in it. overall im happy with my purchase
My three mags arrived quickly, and I am very pleased at how clean they are, all in great shape. It took me a couple mins to easily remove the restrictor bar in the mags, and now they can accept the full thirty rounds. I have bought these mags before from classic, and was very pleased, this experience has been no different! A+++
Got my Bakelite mag in today. Mine was made by Izmash. Excellent product and functions very well.
Got it today, mine was a tula. Very nice in great condition highly recommend!!!!
I ordered one and got a Tula Ridgeback Bakelite mag, then I saw them go on sale so I'm going to order more!
All magazines are in great conditions. One of them was carved with a few Russian words. Asked around and was told it says "Ural, will be back home soon". A great surprise!
Beautiful Russian mags. Thank you, thank you very much .
Just got these in the mail and they are great! Love the look of bakelite. Very expensive but it is fun to have a couple of them.
Love the look of my Izmash 199 mag.
Great deal. I ordered five and received them promptly in the mail. They look great. All are Tula stars. One even still has the ink stamp. Very happy with the purchase.
Bust out the white gloves! these mags are incredible 100% new condition. You will not find better mags anywhere. I ordered 2 and classic sent me an Izzy and a tula, could not be happier. BUY THESE MAGS!!!!!
I ordered four of the bakelite magazines for my Polytech AKS762 Bakelite sidefolder Everything else was bakelite and now my mags are too! Can't be more happy with my purchase and the folks classic firearms!
Great mag got the cool tula star, was pretty clean and its work fine on my wife wasr 10 just a little tight. she loves it though happy wife=happy life lol
Purchased these magazines and could not be happier with the condition in which I received them - hardly discernible from new/unissued/flawless. In a word; beautiful. You can see one of the matching perfectly with the furniture of a James River Polish AK-47 Undefolder photo I submitted. Top the purely aesthetic aspect of these with flawless function and this is one item you don't want to pas up. My only issue is restraining myself from slapping that "Buy Now" button and bringing home another batch or two of them.
WOW!!WOW!!WOW!! MAKES MY RPK AND AK LOOKS GREAT !!!!!!!I'M ORDERING MORE HURRY HURRY !!!
I bought a handful of these bakelites when they were on sale. The quality is amazing on these surplus mags. They fit perfectly in my Romanian AK, and my Izhmash AK!! Stock up now while you can. The Obama Regime is once again pushing for more gun control.
Look Great. cant wait to load them up and then Unload.
these mags are in great shape. I have ordered these on two occasions from classic firearms and all the mags have been in great shape. just with they were selling them for $10 less like they used to.
look good,restrictor wire in the trash you go!!!!
Mags that I got were in excellent condition, my only complaint is that sometimes on the last 3 or 4 rounds the rounds pop out of the magazine and cause a double feed (I used TulAmmo, Wolf, Wolf Military Classic, Brown Bear, Red Army Standard both Ukrainian and Romanian Production, and American Eagle). A little disappointing but I just bought these mags to say that I have them, I use Yugo BHO mags for "combat" use as they have been flawless in function.... The rifle I used was a Yugo NPAP underfolder. Classic gets a 5/5 they shipped these quick and without hassle
Brutus' Description

What a find... These are the rarest and in my opinion highest quality 30 round AK-47 mags in the world.

Original Russian Military AK-47 Bakelite 30 Round Magazines in 7.62x39 caliber ... Don't be confused.
These are not some inexpensive polymer mag in an orange color, But Original Russian Military Bakelite Mags
made even rarer and more collectible by the fact that they are in 7.62x39 caliber and are made by the military for the AK-47 Rifle.

Will fit all AK-47 7.62x39 caliber AK type rifles ... Very small quantities available and when they are gone, they are gone.

Note - In order to export these mags out of Russia the arsenal had to limit the mags to a 10 round capacity.
In order to do that they removed the floorplate, installed a metal wire limiter, and re-installed the floorplate....
All of the original mag componants, spring, etc, remained the same.... So all the end user has to do is slide the floorplate
off and remove the capacity restrictor.... This takes all of about 30 seconds .... or maybe 45 seconds if your blindfolded and have a broken hand.
What I'm trying to say is the conversion back to 30 rounds is very easy...
We would have done it here, but thought folks may enjoy doing it themselves, and who knows.... you may need to restrict your mag some day
and if so you just re-install.

I don't care how many AK mags you have, if you ain't got one of these, you're missing out.

We have attached a helpful video to step you through and show you what we're talking about...

Note - Young David who did this video for us mistakenly called this a 5.45x39 caliber mag. These are actually 7.62x39 mags as advertised...
Otherwise this video correctly shows exactly how it is done. It is just that simple.



Don't Miss This......

Manufacturer's Description

Original Russian Bakelite AK-47 Magazine, 7.62x39 Caliber 30 Round Magazine

Additional Information

| | |
| --- | --- |
| Product Specs | Bakelite AK-47 / 7.62x39 |
| License Requirement | None |
| Manufacturer | Russia |
| Mfg. Part Number | ak30russ |
| UPC | No |
| Caliber/Gauge | 7.62x39 |
| Barrel Length | No |
| Threaded Barrel | No |
| Free Shipping | No |
| Flat Rate Shipping | No |

Customer Reviews

Got a tula bakelite mag a little tight fit on the wasr 10 but still work fine in it. overall im happy with my purchase
My three mags arrived quickly, and I am very pleased at how clean they are, all in great shape. It took me a couple mins to easily remove the restrictor bar in the mags, and now they can accept the full thirty rounds. I have bought these mags before from classic, and was very pleased, this experience has been no different! A+++
Got my Bakelite mag in today. Mine was made by Izmash. Excellent product and functions very well.
Got it today, mine was a tula. Very nice in great condition highly recommend!!!!
I ordered one and got a Tula Ridgeback Bakelite mag, then I saw them go on sale so I'm going to order more!
All magazines are in great conditions. One of them was carved with a few Russian words. Asked around and was told it says "Ural, will be back home soon". A great surprise!
Beautiful Russian mags. Thank you, thank you very much .
Just got these in the mail and they are great! Love the look of bakelite. Very expensive but it is fun to have a couple of them.
Love the look of my Izmash 199 mag.
Great deal. I ordered five and received them promptly in the mail. They look great. All are Tula stars. One even still has the ink stamp. Very happy with the purchase.
Bust out the white gloves! these mags are incredible 100% new condition. You will not find better mags anywhere. I ordered 2 and classic sent me an Izzy and a tula, could not be happier. BUY THESE MAGS!!!!!
I ordered four of the bakelite magazines for my Polytech AKS762 Bakelite sidefolder Everything else was bakelite and now my mags are too! Can't be more happy with my purchase and the folks classic firearms!
Great mag got the cool tula star, was pretty clean and its work fine on my wife wasr 10 just a little tight. she loves it though happy wife=happy life lol
Purchased these magazines and could not be happier with the condition in which I received them - hardly discernible from new/unissued/flawless. In a word; beautiful. You can see one of the matching perfectly with the furniture of a James River Polish AK-47 Undefolder photo I submitted. Top the purely aesthetic aspect of these with flawless function and this is one item you don't want to pas up. My only issue is restraining myself from slapping that "Buy Now" button and bringing home another batch or two of them.
WOW!!WOW!!WOW!! MAKES MY RPK AND AK LOOKS GREAT !!!!!!!I'M ORDERING MORE HURRY HURRY !!!
I bought a handful of these bakelites when they were on sale. The quality is amazing on these surplus mags. They fit perfectly in my Romanian AK, and my Izhmash AK!! Stock up now while you can. The Obama Regime is once again pushing for more gun control.
Look Great. cant wait to load them up and then Unload.
these mags are in great shape. I have ordered these on two occasions from classic firearms and all the mags have been in great shape. just with they were selling them for $10 less like they used to.
look good,restrictor wire in the trash you go!!!!
Mags that I got were in excellent condition, my only complaint is that sometimes on the last 3 or 4 rounds the rounds pop out of the magazine and cause a double feed (I used TulAmmo, Wolf, Wolf Military Classic, Brown Bear, Red Army Standard both Ukrainian and Romanian Production, and American Eagle). A little disappointing but I just bought these mags to say that I have them, I use Yugo BHO mags for "combat" use as they have been flawless in function.... The rifle I used was a Yugo NPAP underfolder. Classic gets a 5/5 they shipped these quick and without hassle