SCCY CPX-1 CBCR 9mm Pistol, w/ Safety, Black Slide on Crimson, DAO 10+1 w/ 2 Mags
Availability: In Stock
| Item #: HGN-SCCY-CPX1-CBCR
UPC: 857679003234 | MPN: CPX1CBCR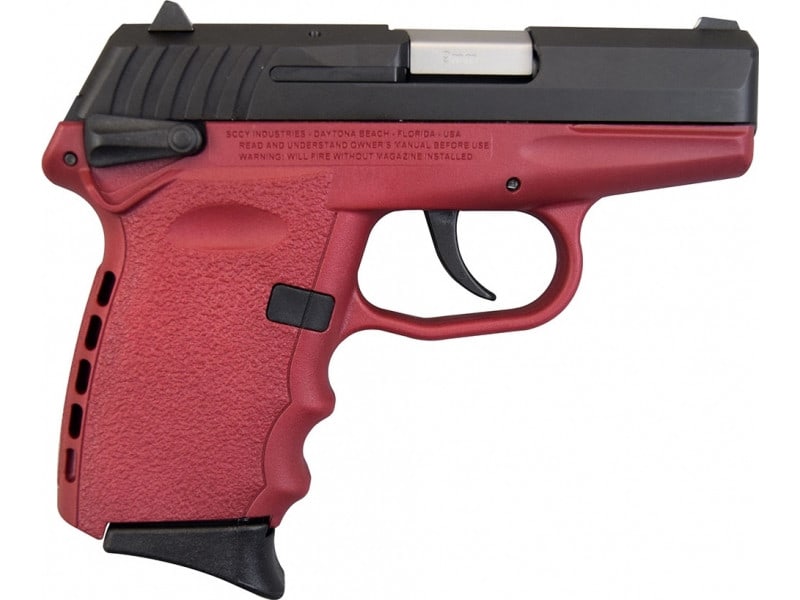 SCCY CPX-1 CBCR 9mm Pistol, w/ Safety, Black Slide on Crimson, DAO 10+1 w/ 2 Mags
Availability: In Stock
| Item #: HGN-SCCY-CPX1-CBCR
UPC: 857679003234 | MPN: CPX1CBCR
---
Brutus' Description
Presenting our new favorite color! We now have the SCCY in a racy Crimson Red!
I have an announcement to make. I have just changed my concealed carry handgun. I am now carrying the SCCY 9mm and I love it. The SCCY ( Pronounced SKY - As in The Sky's The Limit ) CP Series is a new line of American Made Pistols by SCCY Industries based out of Florida. We are mightily impressed with these pistols

They come with 2 mags with changeable floor plates, a trigger lock, and the best warranty in the industry.

The CPX-1 series comes with a manual safety, The CPX-2 series does not have a manual safety.

Look at these features.


Magazine: Includes (2) double stack, 10 round capacity magazines with finger extension base installed and 2 additional flat magazine bases.
Barrel: machined from bar stock with 7 lands and grooves having a 161 right-hand twist.
Receiver: 7075T6 aircraft grade heat treated aluminum alloy, machined from bar stock.
Slide: High-quality Stainless Steel available with Natural Stainless or Black Nitride Finish.
Grip/Frame: Made from Zytel polymer, with ergonomic finger grooves and an integral "RE-COIL CUSHION" on the backstrap.
Recoil Spring System: all steel, fully encapsulated for ease of disassembly and reassembly.
Slide Lock/Release: steel with a Zytel over molded polymer extension for ease of operation.
3 dot sight system: steel rear sight, adjustable for windage only with locking screw.
Hammer firing system: double action only, internal hammer with inertial firing pin to prevent accidental discharge if dropped.
Manual Guarded Safety: Newly designed with a guard molded into the frame.
Double action trigger: specifically designed for shooter comfort and accuracy by designing the system to have a smooth effortless, consistent 9-pound trigger pull.
Trigger Guard Lock: custom designed to properly fit and be child resistant. Includes 2 keys.
See a great independent review of the SCCY Pistol as published in the American Rifleman Magazine at this link - American Rifleman Article SCCY Pistol Review
Specifications
Product Specs
Slide: Black Nitride
Frame: Crimson Polymer
Type: Semi-Automatic
Action: Double Action Only
Caliber: 9mm
Barrel Length: 3.1"
Capacity: 10 + 1
Safety: With Manual Safety
Sights: 3-Dot
Height: 4"
Length: 5.7"
Width: 1"
Weight: 15oz

Country of Manufacture
United States
License Requirement
FFL
Manufacturer
SCCY
Mfg. Part Number
CPX1CBCR
UPC
857679003234
Caliber/Gauge
9mm
Action
Semi Automatic
Barrel Length
3.1
Threaded Barrel
No
Condition
New
Free Shipping
No
Manufacturer's Description
SCCY 9mm Model CPX-1CBCR, Black Nitride Slide on Crimson Polymer Frame,10 + 1 Capacity D.A.O.
With Manual Safety
Includes 2 10-round Mags, Trigger Lock, Made in U.S.A.
Others Also Viewed...


loading...