Swiss K31 Carbine Rifle - 7.5x55, Very Good Surplus Condition - C & R Eligible
Availability: Out of stock
| Item #: LNG-K31-RIFLE
MPN: SWISSK31G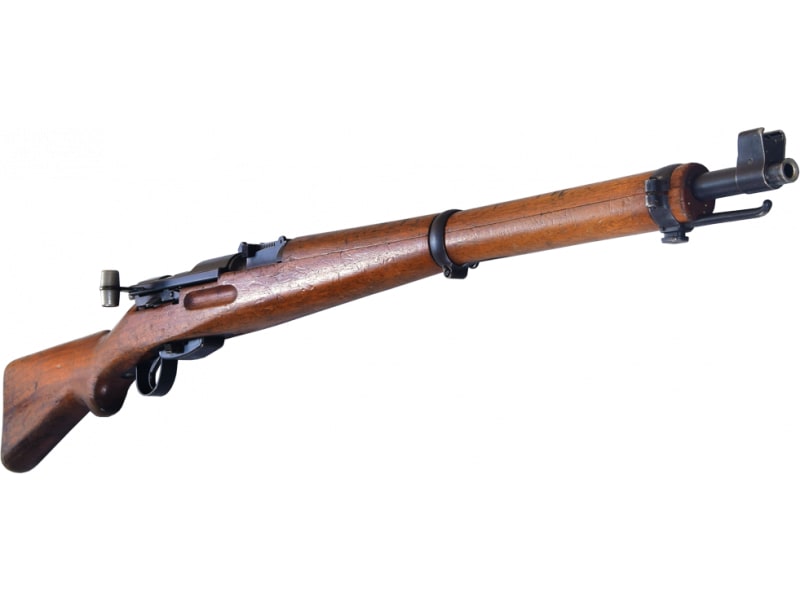 Swiss K31 Carbine Rifle - 7.5x55, Very Good Surplus Condition - C & R Eligible
Availability: Out of stock
| Item #: LNG-K31-RIFLE
MPN: SWISSK31G
---
Swiss K-31 straight pull rifle, 7.5x55 caliber, Various Surplus Condition C & R Eligible
Brutus' Description
Although the K31 is a straight-pull carbine like many other Swiss rifles, it was not designed by Rudolf Schmidt (1832-1898) as he was not alive to do so . The K31 was a totally new design by Eidgenossische Waffenfabrik in Bern, Switzerland under Colonel Furrer, and the gun does not have the Schmidt-designed 1889 or 1896 action. The first 200 K31s were made in May 1931 for troop trials (serials 500,001 - 500,200), thus the model number of 1931.

We were out of these for quite some time and just received a small quantity back in. Stocks will show some dents and dings and bluing will show some wear.. The Swiss never used corrosive ammo and all of the bores I have seen have been exceptional. These rifles combined with the round they fire are well known for being match accurate. Really good surplus is drying up fast so I would encourage you to get yours today.
Solid NRA Very Good Surplus Condition

Note that some of these rifles may have their original troop tags under the buttplate. Due to time constraints we have not taken the time to look for these or offer a custom option to insure one but many should have them. No guarantee's on that though and if you should receive a troop tag it will be purely by luck of the draw.
Important Please Read - When it comes to Swiss rifles, the grading standard can be a little skewed. The Swiss are renowned for their quality workmanship and attention to detail, and the Swiss soldiers typically took very good care to keep their rifles functional and serviceable. However, they used their rifles and carried them in training in very harsh weather conditions. As such it is very typical for the external surfaces of Swiss surplus rifles to be well used and you can expect these rifles to have a lot of dents and dings or minor cracks in the stock. You can also expect for there to be a certain amount of bluing wear that would possibly be considered excessive on other surplus rifles.

As such, when determining the condition of Swiss rifles, the industry tends to grade them against not what you might consider good, very good, or excellent when compared to other surplus rifles, but rather against the average condition of other Swiss rifle shipments that we have seen in the past.
Having said that, we have seen a lot of Swiss K31's come and go and these are as nice as we have seen.

Hand Select- We will hand select for best of 10 cosmetically for an additional $20.00.
Specifications
Product Specs

7.5x55 claiber
25.7" Barrel Length
Straight pull bolt action
Very Good Surplus Condition... Nice Bores
Some with slings

Country of Manufacture
Switzerland
License Requirement
Curio and Relic
Manufacturer
Schmidt Rubin
Mfg. Part Number
SWISSK31G
UPC
No
Caliber/Gauge
7.5x55
Action
Bolt Action
Barrel Length
25.67
Threaded Barrel
No
Condition
Surplus / Used
Free Shipping
No
Manufacturer's Description
Swiss K31, 7.5x55 caliber, straight pull rifles, Various Surplus Condition
Others Also Viewed...


loading...