[Auction] Swiss Luger Model 1906 / 24, 7.65 Caliber Semi-Auto Pistol - Very Good condition - SN# 23459
Availability: Out of stock
| Item #: HGN-AUC-LUGER-1924-23459
MPN: Swiss1906/29LUGER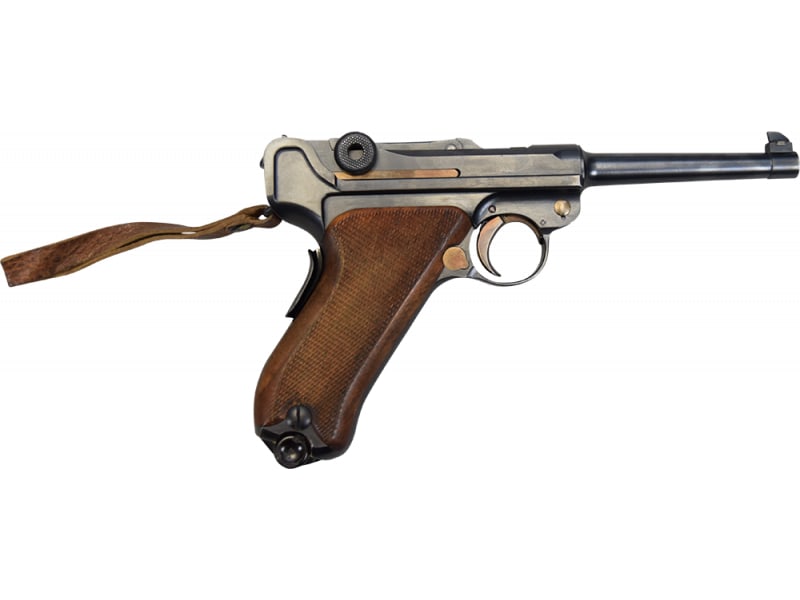 [Auction] Swiss Luger Model 1906 / 24, 7.65 Caliber Semi-Auto Pistol - Very Good condition - SN# 23459
Availability: Out of stock
| Item #: HGN-AUC-LUGER-1924-23459
MPN: Swiss1906/29LUGER
---
AUCTION DETAILS: SN# 23459. 1906/24 Swiss Luger, serial number on frame and barrel match. Toggle lock marked with Swiss cross and Waffenfabrik Bern. Includes original leather holster. Top of frame marked P.56. Original wooden grips. Brass finish on trigger, mag catch, and disassembly lever which is worn, especially on trigger. Blued finish on frame and action is even, with some wear where moving surfaces contact.
Swiss Luger Model 1906 / 24, 7.65 Caliber Semi-Auto Pistols, 4.75" Barrel - Manufactured by Waffenfabrik Switzerland - Very Good condition
Auction items are sold as-is with no returns. Images shown are of the item you will receive.
Brutus' Description
One of the rarest and most desirable of all the Luger model pistols, the Swiss Luger is a Cadillac among handguns. The intricate toggle lock action demonstrates the refined machining and accuracy of German and Swiss firearm manufacturing; the design was revolutionary - among the first semiautomatic designs adopted by a major military. These pistols fire the original 7.65 Parabellum round, also known as .30 Luger or 7.65 x 21mm, rather than the more well-known 9mm Parabellum that would be later adopted. This round is basically a necked down 9mm round that fires a lighter .30 caliber projectile at a flatter trajectory and a higher rate of speed. Privi and Fiocchi continue to produce this round, as do some other manufacturers.

The Swiss adopted three different versions of the Luger pistol. The M1900 was manufactured by DWM in Germany. The M1906 saw DWM continue to produce pistols but the Swiss began native production at Waffenfabrik Bern, which will be marked "Waffenfabrik Bern" in text on the toggle lock. Finally, the M1929 were entirely domestically produced at Waffenfabrik Bern and Marked with the Swiss shield emblem.
Specifications
| | |
| --- | --- |
| Product Specs | Swiss Luger Model 1906 / 29 4.75" Bbl 7.65 Parabellum / .30 Cal Luger |
| Country of Manufacture | Switzerland |
| License Requirement | Curio and Relic |
| Manufacturer | Switzerland |
| Mfg. Part Number | Swiss1906/29LUGER |
| UPC | No |
| Caliber/Gauge | .30 |
| Action | Semi Automatic |
| Barrel Length | 4.75 |
| Threaded Barrel | No |
| Condition | Surplus / Used |
| Free Shipping | No |
Manufacturer's Description
Swiss Luger Model 1906/29, 7.65 Caliber Semi-Auto Pistols, 4.75" BBL
Others Also Viewed...


loading...