Antique - Schmidt M1882 Swiss Ordnance Revolver w/ Bakelite Grips ( See Brutus Description )
Availability: Out of stock
| Item #: HGN-SWISS1882-REV-ANTIQUE
MPN: HGN-ORD-0105-ANTIQUE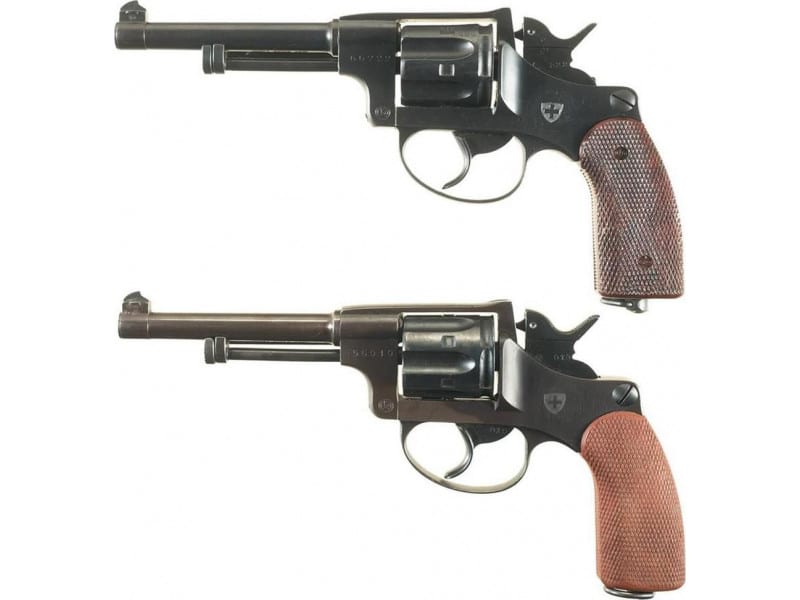 Antique - Schmidt M1882 Swiss Ordnance Revolver w/ Bakelite Grips ( See Brutus Description )
Availability: Out of stock
| Item #: HGN-SWISS1882-REV-ANTIQUE
MPN: HGN-ORD-0105-ANTIQUE
---
Schmidt M1882 Swiss Ordnance Revolver w/ Bakelite Grips - Antique Qualifying Due To Date Of Manufacture. No License Required For Purchase ( See Brutus Description )

7.5 calliber, 6 shot revolver, manufactured in Switzerland by Waffenfabrik Bern
Brutus' Description
The Schmidt M1882 was fabricated in Switzerland by the Waffenfabrik Bern and was used as an ordnance arm by the Swiss Army. Another design by Colonel Rudolph Schmidt, of Schmidt-Rubin fame, the revolver was designed around the 7.5 caliber round. The 1882 was a simple and effective design, with some examples remaining in service until 1964.

Here's the deal - The revolvers under this sku are all dated early enough to qualify as antique by ATF guidelines. As such, they do not require any paperwork or license to purchase and can be shipped directly to the buyer. Antique 1882 Swiss 7.5MM Ordnance Revolver with wood grips.
Specifications
Additional
M1882 Swiss Ordnance Revolver
Weight 0.8 kg
Length 235 mm
Barrel length 114 mm
Cartridge 7.5mm 1882 Ordnance
Caliber 7.5 mm
Action Double Action Revolver
Muzzle velocity 690 ft/s (210 m/s)
Effective firing range 40 m
Feed system Six round cylinder
Sights Bead front sight, U-notch rear sight

Country of Manufacture
Switzerland
License Requirement
None
Manufacturer
Switzerland
Mfg. Part Number
HGN-ORD-0105-ANTIQUE
UPC
No
Caliber/Gauge
7.5
Action
Revolver
Barrel Length
No
Threaded Barrel
No
Condition
Surplus / Used
Free Shipping
No
Manufacturer's Description
Schmidt M1882 Swiss Ordnance Revolver w/ Bakelite Grips - Antique
Others Also Viewed...


loading...


Why Customers Bought This
Customer Photos & Videos
Questions & Answers