Taurus 1G2C939-12G G2CSS-G 9mm 12rd Gray / Stainless Steel
Availability: In Stock
| Item #: HGN-TAU-1G2C93912-G
UPC: 725327617389 | MPN: 1-G2C939-12G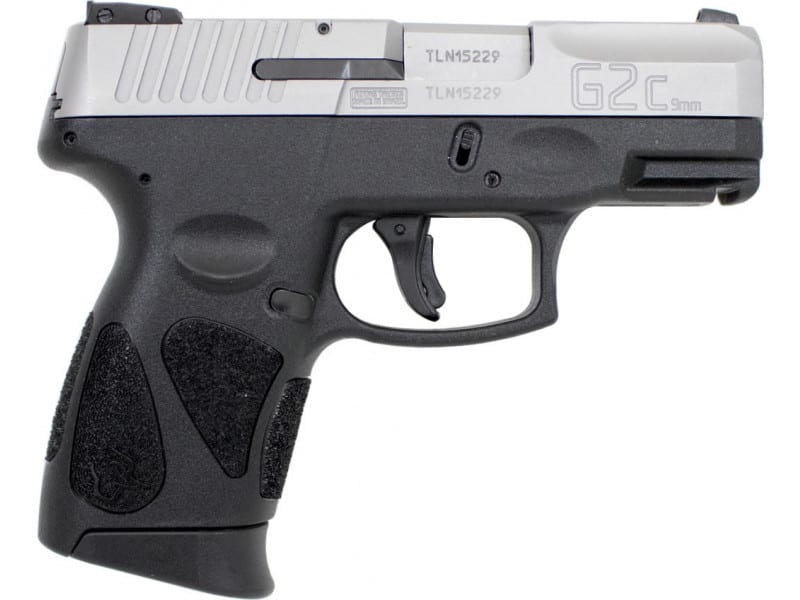 Taurus 1G2C939-12G G2CSS-G 9mm 12rd Gray / Stainless Steel
Availability: In Stock
| Item #: HGN-TAU-1G2C93912-G
UPC: 725327617389 | MPN: 1-G2C939-12G
---
Taurus 1-G2C939-12G 9mm Dark Charcoal Gray Frame with Stainless Slide : The G2C is an updated model of the PT-111 G2, one of Taurus' most popular semi-automatic handguns. The Taurus G2C is the next development of the compact pistol from the Brazilian manufacturer. Like the Millennium, Millennium Pro and G2 before it, the G2C is an excellent choice for concealed carry applications. The Taurus PT111 G2C is packed with features including a new and improved slide with a more durable finish. Do a little research and you will see that the Taurus PT111 9mm is highly touted as being an accurate, reliable, and durable while being offered at a lower price range than some of their competitors. Whoever said you need to spend an arm and a leg for a reliable carry gun, obviously never picked up a Taurus G2C!
Brutus' Description
TAURUS®
G2C
• Matte Stainless steel slide
• Striker firing system
• Single action with re-strike capability
• 5 to 9 lb trigger pull
• White 3-dot sight system (fixed front/adjustable rear)
• Dark Gray polymer grip frame with integral Mil-std 1913 Picatinny rail
• Manual safety
• Two mags included
• Width: 1.25"
• OAL: 6.25"
• Wt.: 21 oz.

This model has the exclusive dark thunder gray colored polymer frame with the stainless steel slide.
Specifications
Product Specs

| | |
| --- | --- |
| Type | Pistol |
| Action | Semi Automatic |
| Caliber/Gauge | 9mm Luger |
| Capacity | 12 |
| Barrel Length | 3.2 |
| Sights | 3-dot Adjustable |
| Frame Material | POLYMER |
| Finish | Stainless-matte |

Country of Manufacture
N/A
License Requirement
FFL
Manufacturer
Taurus
Mfg. Part Number
1-G2C939-12G
UPC
725327617389
Caliber/Gauge
9mm
Action
Semi Automatic
Barrel Length
3.2
Threaded Barrel
No
Condition
New
Free Shipping
No
Manufacturer's Description
Taurus 1G2C939-12G G2CSS-G 9mm 12rd Gray / Stainless Steel
Others Also Viewed...


loading...