Taurus G2C 9mm, Black- 12+1 W / 2 Mags - Model G2C93112
Availability: In Stock (Only 5 left!)
| Item #: HGN-TAU-G2C
UPC: 725327616030 | MPN: 1-G2C931-12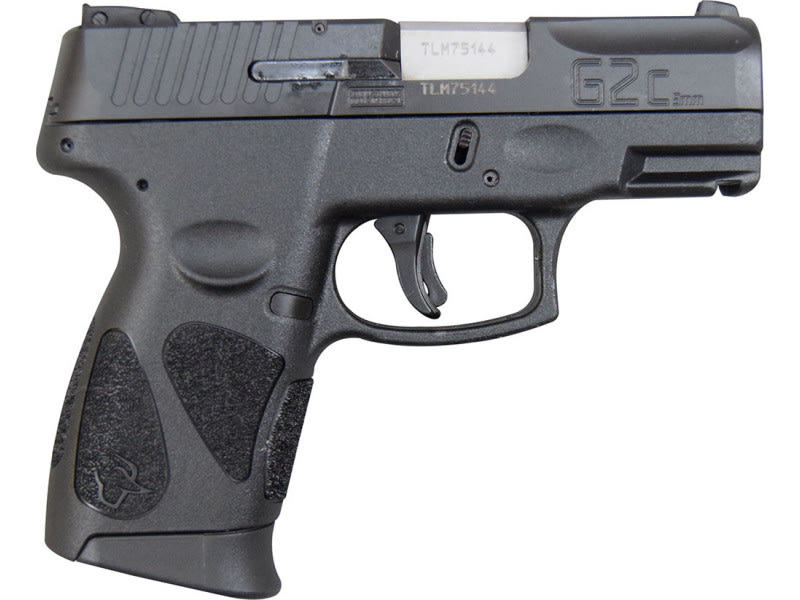 Taurus G2C 9mm, Black- 12+1 W / 2 Mags - Model G2C93112
Availability: In Stock (Only 5 left!)
| Item #: HGN-TAU-G2C
UPC: 725327616030 | MPN: 1-G2C931-12
---
This new model from Taurus is similar to the G2 but without the Taurus Security System and an updated logo. If you are looking for a lightweight, easily concealable pistol that is also affordable, the G2C is just that. Don't let the compact size fool you- this pistol holds 12+1 9mm rounds, combining ease of concealment and a comfortable capacity.
Brutus' Description
This new model is lightweight, easily concealable and has a 12+1 capacity, but without the Taurus Security System. Featuring a lightweight 22 oz. polymer frame, thin profile, and ramped 3.2-inch barrel, the newly designed G2C is the ideal concealed carry handgun. This fantastic little pistol also has an accessory rail, three-dot adjustable rear sight, manual safety, along with an aggressive, textured grip and melted edges for optimal comfort and concealment. Comes complete with two 12 round mags.
Factory New
Specifications
Additional

FAMILY:G2C PISTOL SERIES
MODEL:G2C
TYPE:Semi-Auto Pistol
ACTION:Double Action Only
FINISH:Black
STOCK/FRAME:Polymer Frame
CALIBER/GAUGE:9mm
CAPACITY:12+1
# OF MAGS:2
MAGAZINE DESC:12 rd.
BARREL:3.2"
OVERALL LENGTH:6.2"

SIGHTS:Three Dot Adjustable Rear
SAFETY:Manual Safety
ADDL INFO:NO INTERNAL LOCK



Country of Manufacture
Brazil
License Requirement
FFL
Manufacturer
Taurus
Mfg. Part Number
1-G2C931-12
UPC
725327616030
Caliber/Gauge
9mm
Action
Semi Automatic
Barrel Length
3.2
Threaded Barrel
No
Condition
New
Free Shipping
No
Manufacturer's Description
Taurus G2C 9mm, Black- 12+1 W / 2 Mags - Model G2C93112
Others Also Viewed...


loading...


Why Customers Bought This
Customer Photos & Videos
Questions & Answers