Trailblazer Firearms LC1 LifeCard .22LR 2.5" Single Shot Pistol
Availability: In Stock
| Item #: HGN-TRL-LC1
UPC: 864845000300 | MPN: LC1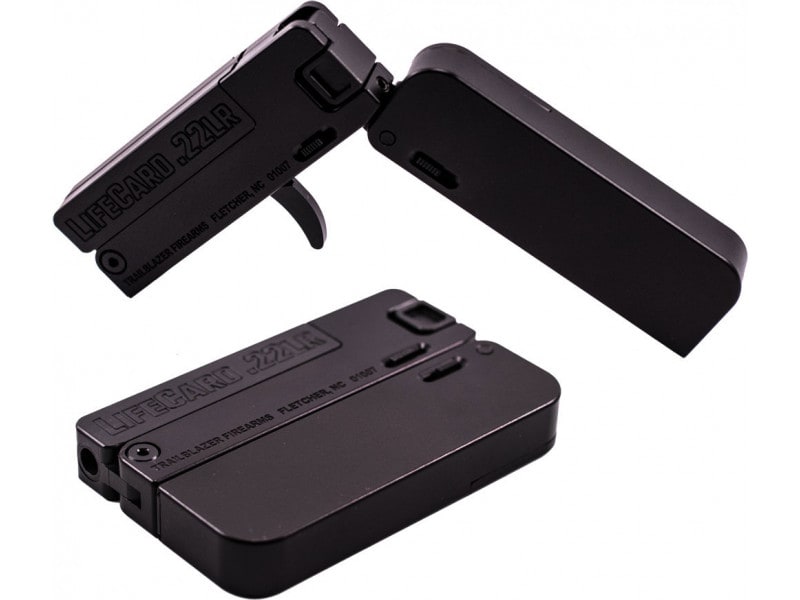 Trailblazer Firearms LC1 LifeCard .22LR 2.5" Single Shot Pistol
Availability: In Stock
| Item #: HGN-TRL-LC1
UPC: 864845000300 | MPN: LC1
---
This could be the ultimate concealed carry pistol! The new standard for Discreet Carry – a folding, single-shot .22LR pistol that's no bigger than a stack of credit cards. At .5 inches thin and weighing less than 7 ounces, LifeCard will be the last gun you'll leave behind. The LifeCard will not fire when closed! Safe to pocket carry and can be easily tucked away. Be one of the first to carry this unique new pistol!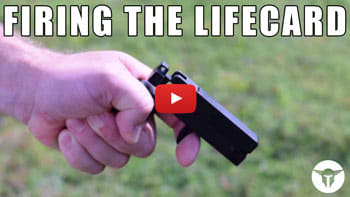 + Discreet shape – sleek, no-snag design
+ Size of a credit card when folded
+ Full-size handle for easy use when unfolded
+ Completely ambidextrous
+ Built-in safety features
Brutus' Description
American ingenuity at it's best! Trailblazer Firearms brings you a the LifeCard Single Shot Pistol in .22LR. Smaller than a deck of cards, weighing only 7 ounces, with a no-snag design this is the most discreet carry pistol you will find. The LifeCard may be small, but it is still tough - made with 4140 Pre-hardened Steel (barrel, bolt, trigger) / Aluminum (frame, handle), a 100% machined billet, the finish is Corrosion Resistant Isonite® Steel / Hard Coat Anodized Aluminum. The sleek, no-snag design is perfect for pocket carry which is safe because this pistol will not fire when folded. The storage space in the handle can hold four additional rounds or other small items.
Safe, discreet, light, tough- everything you want in an ultra-concealable weapon. Grab yours today- they will not last!
About the manufacturer:
TRAILBLAZER FIREARMS, HEADQUARTERED IN ASHEVILLE, NORTH CAROLINA, WAS FOUNDED IN 2014 TO DESIGN, DEVELOP, MANUFACTURE AND MARKET INNOVATIVE AMERICAN-MADE FIREARMS
In 2010, we came up with this crazy idea to make a pistol that could fit in the smallest of places (including popular mint candy tins) based on an online article about building compact survival/utility kits. That moment of inspiration led us to talk with many people from collectors to serious gun enthusiasts and they all liked the idea, simply because it was different. After 7 years, LifeCard is finally a reality.
Specifications
Additional

Action: Single
Caliber: 22 Long Rifle
Barrel Length: 2 1/2"
Weight: 7 oz.
Overall Length: 3.375"
Capacity: 1

Country of Manufacture
N/A
License Requirement
FFL
Manufacturer
Trailblazer Firearms
Mfg. Part Number
LC1
UPC
864845000300
Caliber/Gauge
.22 LR
Action
Single Shot
Barrel Length
2.5
Threaded Barrel
No
Condition
New
Free Shipping
No
Manufacturer's Description
Trailblazer Firearms LC1 LifeCard .22LR 2.5" Single Shot Pistol
Single-shot
Black hard coat anodized aluminum frame & handle
Black Isonite finish on barrel, trigger, bolt & lock tabs
Unique design folds to credit card size for concealed carry - release handle lock to unfold
Storage space in handle holds (4) cartridges or other small items
Cannot be made to fire when folded/closed
Easy to shoot with a full grip
Ht.: 2.125"
Width: 1/2"
OAL: 3.375"
Others Also Viewed...


loading...


Why Customers Bought This
Customer Photos & Videos
Questions & Answers