Vortex Optics Venom 3 MOA 1x26.5mm Red Dot Sight - VMD-3103
Availability: In Stock (Only 4 left!)
| Item #: ACC-VRTX-VMD-3103
UPC: 875874005464 | MPN: VMD-3103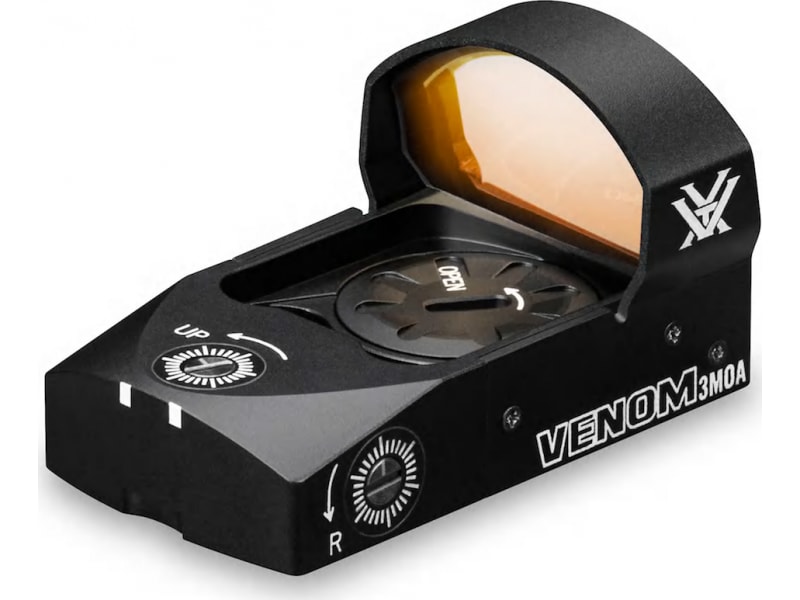 Vortex Optics Venom 3 MOA 1x26.5mm Red Dot Sight - VMD-3103
Availability: In Stock (Only 4 left!)
| Item #: ACC-VRTX-VMD-3103
UPC: 875874005464 | MPN: VMD-3103
---
The low-profile, yet rugged aluminum housing surrounds a large viewing window that makes for a wide field of view and sight picture with next-to-no obstruction for rapid shooting transitions and target acquisition.
Up to 150 hours battery life on highest setting, and up to 30,000 hours on lower settings.
Brutus' Description
Vortex Optics is committed to offering you the finest value in rugged outdoor optic equipment, setting standards that constantly outperform the expectations of the average, the routine, the ordinary. Vortex has gained a reputation for producing some of the "best value for the money" rifle scopes and spotting scopes in the hunting and shooting industry.
Vortex rifle scopes, Vortex red dot sights, Vortex binoculars, Vortex spotting scopes and other Vortex sporting optics are what you buy when you want the best, but don't want to break the bank. Vortex has the essential equipment you'll need for your next epic adventure, unmatched in quality, value, and performance.
Specifications
Product Specs
Mount Type Weaver/Picatinny
Magnification 1x
Dot Color Bright Red
Dot Size 3 MOA
Eye Relief Unlimited
Adjustment Graduation 1 MOA
Max Elevation Adjustment 130 MOA
Max Windage Adjustment 100 MOA
Parallax Setting Parallax Free
Length 1.9 inches
Weight 1.1 oz

Country of Manufacture
United States
License Requirement
None
Manufacturer
Vortex
Mfg. Part Number
VMD-3103
UPC
875874005464
Caliber/Gauge
No
Action
No
Barrel Length
No
Barrel Twist
No
Barrel Bore Type
No
Barrel Finish
No
Barrel Fluting
No
Barrel Profile
No
Mount Type
No
Beam Color
No
Firearm Fit
No
Threaded Barrel
No
Condition
New
Free Shipping
No
Manufacturer's Description
Vortex Optics Venom 3 MOA 1x26.5mm Red Dot Sight - VMD-3103
Others Also Viewed...


loading...