JRA XM1E2 BM59 Carbine by James River Armory
Availability: Out of stock
| Item #: LNG-JRA-XM1E2
MPN: XM1E2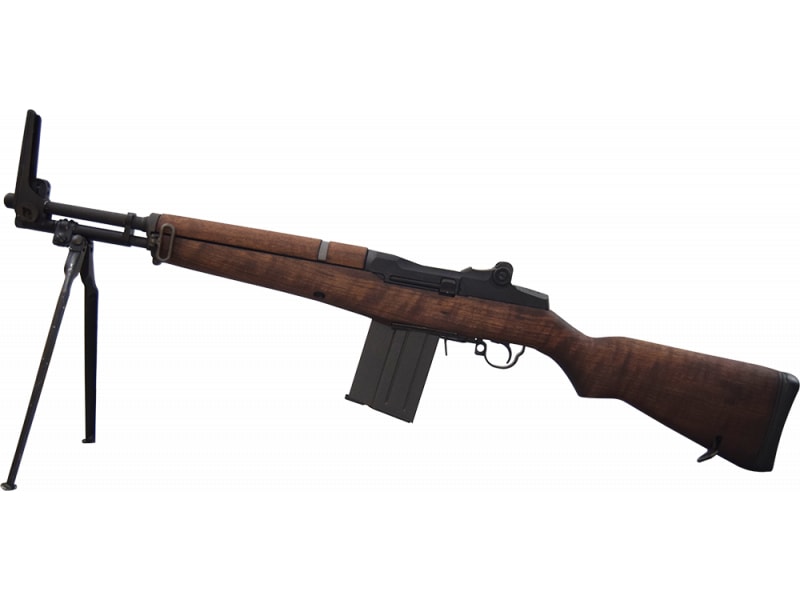 JRA XM1E2 BM59 Carbine by James River Armory
Availability: Out of stock
| Item #: LNG-JRA-XM1E2
MPN: XM1E2
---
The James River Armory XM1E2 is a semi-automatic rifle which fires the .308 round. It has a 17" barrel and matte black finish. This includes 1 20-round magazine and hard case. This is a Beretta BM59 Carbine variation. It was built with Beretta parts with a US receiver by James River Armory. Basically a M1 Garand Tanker, that is mag fed , in .308 caliber and functions flawlessly. These are the cat's pajama's.
Brutus' Description
After World War II, Italy adopted the US-designed M1 Garand rifle in .30-06 Springfield (7.62×63mm) and also manufactured it under license. This semi-automatic rifle proved itself well during World War II, but in the late 1950s it was considered outdated and obsolete and the Italian military also wanted a new rifle chambered for the NATO-standard 7.62×51mm round. To meet these requirements, Beretta designed the BM 59, which was essentially a re-chambered M1 Garand in .308 modified to accept a removable 20-round magazine.

The XM1E2 carbine version is shorter and lighter, and lacks the grenade launcher/muzzle break of the full rifle, but retains the bipod and latter sight. The barrel is shortened to 17", creating a highly maneuverable carbine that still maintains the firepower of the full rifle. Imagine a tanker version of a magazine fed Garand that runs like a Italian sports car.

Built using original Italian parts on a new US receiver, a new US barrel and new modified M1 Garand walnut stock. The craftsmen at James River have done an outstanding job and these are amazing looking rifles! We have had a lot of success with the BM59's and think you will like these carbine versions even more. They are a piece of history that can be both looked at and admired, and also taken into the field and enjoyed!
Specifications
Product Specs
Brand: James River Armory
Model: BM59 XM1E2 carbine
Caliber: .308 Winchester (7.62 NATO)
Capacity: 20 Rd Mag (1) per rifle Mixture of exc new condition Beretta and US parts
Country of Manufacture
United States
License Requirement
FFL
Manufacturer
James River Armory
Mfg. Part Number
XM1E2
UPC
No
Caliber/Gauge
7.62x51
Action
Semi Automatic
Barrel Length
17
Threaded Barrel
No
Condition
New
Free Shipping
No
Manufacturer's Description
JRA XM1E2 BM59 Carbine by James River Armory
Others Also Viewed...


loading...