Yugo M70 AB2 Underfold AK-47 Rifle - 7.62x39 Caliber Semi-Auto Rifle - RI1588-X
Availability: Out of stock
| Item #: LNGM70AB2-UF-AK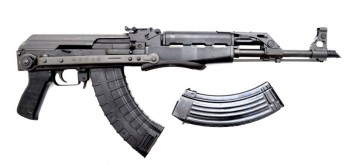 Double click on above image to view full picture
More Views
Have Your Own Photos? Login to Add Them
Customer Submitted Videos
Yugo M70 AB2 Underfold AK-47 Rifle - 7.62x39 Caliber Semi-Auto Rifle - RI1588-X
Availability: Out of stock
| Item #: LNGM70AB2-UF-AK
---
Yugo M70 AB2 Series AK-47 Rifle 7.62x39 Caliber with 1.5mm Heavy Reinforced Stamped Receiver, Semi-Auto, Underfold Stock and (2) 30 Round Mags Included!
Read More
This item is not available to ship to the following state(s): California
Brutus' Description
What a great rifle, What a great Price.

This exceptionally high quality sporter is based on the highly desirable Yugo M70 AB2 Paratrooper style model with under-folding stock. Built around a beefy 1.5mm thick receiver and a brand new barrel. Fitted with black polymer upper and lower handguards for a more modern style. Hurry, this item is under limited production. Comes with two 30 rd. mags., slant brake and bayonet lug. Barrel: 16.25" with a 1:9.5 twist, Overall: 24" (stock folded), 34.25" (stock extended), Weight: 7.5 lbs.


Rifle comes complete with 2-30 round mags . I believe our old stock images that we are using in the ad shows 1 metal mag and 1 polymer but this shipment all came in with 2 Tapco's. Just for the record, these rifles will all come with 2-mags but the types of mags may vary from the importer from batch to batch.

Rifle is fully compliant with all high cap mags and drums regardless of country of origin.

Underfold stock has a push button release and locks up tightly in the extended position and firmly against the forearm in the closed position.

The Yugo AK's are regarded as some of the finest quality AK rifles in the world and these are no exception. Extremely well made with very tight tolerances
These rifles will feed, function and fire flawlessly for thousands and thousands of rounds.

7.62x39 caliber, semi-auto, extra mags are plentiful. Accepts all high cap mags and drums.

Great Price Point . In stock now and ready to ship.
Manufacturer's Description
Yugo M70 Series AB2 Series AK-47 Rifle 7.62x39 Caliber with 1.5 mm Reinforced Stamped Receiver, Semi-Auto, Underfold Stock and (2) 30 Round Magazines Included! Product # RI1588-X
Additional Information
Product Specs

7.62 x 39

Semi-Auto

1.5mm Reinforced Receiver

Underfold Stock

2 - 30 round mag

License Requirement
FFL
Manufacturer
Century International Arms
Mfg. Part Number
RI1588-X
UPC
787450058552
Caliber/Gauge
7.62x39
Threaded Barrel
No
Free Shipping
No
Flat Rate Shipping
No
Customer Reviews
Good rifle, was very pleased with my purchase.
I upon receiving my rifle I note the weight this thing is a tank compared to other AK variants, and makes my Wasr 10/63 feel like a toy. the 1.5mm thick receiver and heavy us made barrel and RPK style trunion should make the gun last longer and even make it more accurate. the barrel is not chrome lined and while cleaning becomes more important accuracy should be improved do the the more defined rifling. finish is parkerized its good enough for me. the plastic handguards are ok I prefer the look of wood but they work and the black gives it a modern look. the Yugo pistol grip was a bit bulky for my hands so I swapped it for original style tapco pistol grip it fits my hand better and matches the hand guards better to IMO
the fit is better than I was expecting, having read a lot of trash talk online about Century builds. to my understanding Century outsources to other builders some are better than others.
aside from the rear sight tab being slightly twisted and that was an easy fix.
no canted sight blocks the muzzle break is not welded and the bayonet lug is in tact. no major flaws the rifle feels tight. (for an AK)
it was quite clean rite out of the box but I cleaned it you should always do with a new firearm. I lubricated with white lithium as per Rifle Dynamics.
everything fits quite well I like the button that holds the recoil spring in place and keeps the dust cover on. the dust cover itself could fit a little better but its not loose . the folding stock locks in place open or folded. the Tapco G2 trigger feels smooth and breaks cleanly without much force. at current AK prices $549.99 makes this rifle a great value !!! I wish I had ordered two of them.
I will continue or write another review after I actually shoot it :) im sure it will only get better after a couple hundred rounds.
Ordered this due to price and thought it looked neat. Took it to the range today and not only did it shoot within 2 inches at 50 yards with no adjustment (my eyes aren't what they used to be) a couple of shoots touched. And this was just tula ammo. Now for the real surprise.. it was ridiculously comfortable to shoot!!!! I was expecting some cheek discomfort but I can shoot this thing all day long!
I have owned my Yugo M70AB2 under folder for more than 2yrs now. I have changed up the look a few times from the OG polymer furniture w Tapco saw grip to adding a UTG Yugo quad rail, UTG bifold fore-grip, Hogue pistol grip, Sightmark reflex/red dot scope, w a 1.5-5x scope on a Burris flip to side mount. Can add a slide on recoil shoulder pad and a polymer cheek riser for my friends or dad when they go with me to the range. These toys make the rifle weigh in @ 10.5lbs with empty magazine. All of these are pictured in Heavy Armored! I have nerve damage in my left arm so after a year, I felt I wanted to make my Yugo a little lighter, but still liked my tactical toys, so I settled on Hogue grips w rail instead of the UTG quad, picked up a Texas Weapons System dog-tail Yugo dust cover (which is interchangeable with the Zastava M77PS .308) and took off my 1-5x scope/mount and went with a GG&G 5 aperture rangefinder which was made specifically for an AR15 and .223 55-65 grain ammo. I calculated the GG&G conversion to 7.62x39 122-123 grain, found that 0 aperture is still battle zero @ 20 & 200 yards, the 3 (300yds) converts to 275 yards on the AK, the 4 (400yds) converts to 330yds on the AK, the 5 (500yds) converts to 400 yds on the AK, and the 6 (600yds) converts to 500 yards on the AK. So I've got my distance zeroed for those specific ranges when co-witnessed through my Sightmark reflex sight. If my battery goes out in my Sightmark, I simply remove that and the GG&G irons, and revert to my Kel-Tec buckhorn or peep hole iron backup sights. Rifle weighs about 8.5 lbs. w empty magazine now and closer to 9lbs with the UTG bifold for grip. All of these are pictured in Light Weight look with my peephole bringing up the rear. I purchased some GITD ultra green paint from Glowinc. and painted the black dots on the original iron sights, as well as my Kel-Tec back up irons, and painted my own crosshairs on the peep hole sight and dipped my elevation front sight posts so that at night, just shine a flashlight to charge the paint and I've got my Tritium-like sights ready. I've run over 2500 rounds of Wolf, Tulammo, and Brown Bear through the Yugo, and haven't had any problems. Front sight was slightly canted, but it never bothered me, I set the irons and forgot about them as I started adding the toys on it. Shoots straight, reliable, more powerful than smaller AR15 rifles and you can add just as many toys to it as any AR15 owner if you want to. You can't go wrong with this rifle, and Classic Firearms is the best way to go!
If you go with a WASR or anything made by I.O. over this gun, you are a fool. You cannot beat the fit and finish of the Yugo at this price. Everything is tight and well constructed. There is no shotty worksmanship. It is a little heavy but its built like a tank. It shoots flawlessly and I'm sure I will be able to put thousands of rounds through it with now issue. Don't let the nonchromed barrel scare you off. It actually gives you better accuracy and just keep it clean when using corrosive ammo. I recommend wrapping the under folding stock with paracord so it is more comfortable for a cheek rest. It is definitely not an entry level AK but it is at an entry level price, so grab it. The only downside, depending on how you look at it, is the Yugo variants are more limited in customization due to how they make them. However, there are parts available to make it "tac-cool" and to upgrade.
good shootin rifle.
no malfunctions with all the wolf and silver bear i fed it (about 200 rnds)

was shooting low and to the left. about 20cm at 10 meters.
obviously needs to be sighted in.
also the refinish on this gun made night sight installation difficult and the safety lever and gas block take down were tighter than a....

has a full auto safety lever so be careful
This is my first AK47. And with some help and research I came to Classic Firearms! Great customer service and my Yugo underfolder? I have put 300 rounds down range without a single problem! I've shot Tullammo, Hornaday and Red Army. It will eat anything. Even with my sub Par shooting skills I can hold a 5 inch group at 100 yds! Only thing I need to figure out is what AK I want next!
Greg M.
Minnesota
Fast shipping, Quality AK underfolder at a great price. I am never disappointed when dealing with Classic F. Thank you, with my kindest regards, Fred B.
At 8 lb 3 oz, my Zastava M70 AB2 is rock solid. No rattle, no wobble with Croatian mag, Korean mag or Tapco mag. Everything is super tight. In fact I have to use a mallet to pound the dust cover in place after removing it, Everything sparkling clean inside the receiver. Can't wait for warmer weather to take it to the range.
One of two Zastava firearms recently purchased from "CLASSIC". The build quality is near excellent. The M70 AB2 is going through a conversion with a new UTG quad rail, muzzle brake, ATI scorpion pistol grip, red dot sight, and a other few extras. I purchased this carbine as a "tribute" build, in rememberance of a friend who passed....He owned the same M70 AB2. Overall, VERY PLEASED with the purchase.
First AK I have bought and first gun from Classic. Theres a couple of very small scratches on the underfolder from where it has rubbed up against something but other than that it's a lovely looking rifle well worth the money, nice straight front sight, no rattles apart from the magazines and then its only slight. Nice tight underfolder. Took advantage of the four extra mags with no additional shipping. Already swapped out the handguard for a wooden one I just don't like plastic on an AK. Classic kept me informed all the way, even telling me when it had been deliverd and who had signed for it. I did not have to track it myself although I did. I have no hesitation about ordering from Classic again. Thankyou Classic.
The rifle its self is a great buy its cheap and fires every time I'm very happy with it shipping was a little wonkey but I blame the snow storms all in all I love it thanks classic but for future buyers I gotta warn your best bet for mags are metal ones I ordered 4 extra tapcos and they are wobbaly to very wabbaly just a heads up on that the metal one fits snug as a bug.
Finally took my yugo ak to the range yesterday shot about 200 rounds with tulammo 123 grain shot great no jams no misfids mags were a great fit using iron sights were not bad at all pretty much everything was on target great gun at a cheap price
Well, I took it to range today and ran 350+ rounds through it.

I had one stock magazine full of fmj and it ran perfectly. I then ran a steel mag of hollow point ammo, and it ran perfect.

I then went back to tapco mags with hollow point ammo ( it's all I have now), and I would get a jam ( bolt in rear position, had to hit bolt lever to release bolt and chamber a round) perhaps 2 times per 30 round mag.

I know that even an AK can be tight when new, so I continued on.

After a couple more mags, there was no problem at all, and it fired whatever I fed it, even dropped a few mags in the dirt, and fired as fast as I could pull trigger.

So, after an initial break in shooting session, this rifle is smooth, and for me personally, I find the folder stock to be quite comfortable.

Quality of construction is very high, and in my opinion, this is a great value from Classic Firearms, on a very heavy duty, quality rifle.

Highly recommended!


The gun looks great tight fitting and smooth but does not have polished bolt carrier like the picture and some reason the grip was dirty but everything else was top notch the metal mag fit great the poly had some play but nothing to complain about overall satisfied with the gun.
Great rifle that came from classic firearms cheap price cant wait to hit the range
I wanted to take it to the range before giving a review. Shipped fast, received in excellent condition with the cleaning kit and rod. The only small complaint was the pistol grip which was ok but ugly compared to the rest of the rifle. Replaced with a Tapco and now this weapon is 100%. Ran 3 mags through it today with no issue, Tapco,Steel,Mag Pull. All fit tight but metal is the best. Very accurate out of the box, just shot a little high but small front sight adjustment fixed that. This a well built, tough AK that is not only fun to shoot but a solid performer. Another plus on the underfolder is there is no cheek slap whatsoever with a very comfortable firing position compared to the standard AK stocks. Classic is the best, thanks guys for a great AK at a great price!
This is my third Yugo AK, I've recently purchased an Opap and Npap new, and although this AB2 is made with non matching numbers, it's better quality than eight of those. This rifle is so tight itcmakes no sound when shaking it. The underfolder is tight too. I was very nervous at first because the action was so tight that I feared it wouldn't cycle. I hand cycled a few clips and it failed to to feed a few rounds, but after the first two or three clips hand cycling (not firing) it ran smooth. Took it to the range and the sights were straight on, just required a little elevation change at 25yds. After that it shot a 1" group on the first clip. Everything operated perfectly during live fire and I couldn't be happier after firing it.
Just picked it up today, and am very impressed. Everything works very well. As a previous reviewer mentioned, the action is tight, so I will probably disassemble, clean and maybe polish some of the parts that rub, lube and go shooting.

Very solid package.

My second thought is to praise the good folks over st Classic Firearms for their IMPECCABLE customer service in taking care of an issue I had.

This is a great company comprised of good folks, who actually value their customers.

Thank ya'll........you have a customer for life!



Love Classic Firearms. Spot on job guys. Customer service was impeccable and the turn around time was superb. My AK was pristine and built like a tank. The quality of the build was evident when I took it out of the box and inspected it. I will buy from here in a heartbeat and tell all my friends to do the same. Thank you all
Brutus' Description

What a great rifle, What a great Price.

This exceptionally high quality sporter is based on the highly desirable Yugo M70 AB2 Paratrooper style model with under-folding stock. Built around a beefy 1.5mm thick receiver and a brand new barrel. Fitted with black polymer upper and lower handguards for a more modern style. Hurry, this item is under limited production. Comes with two 30 rd. mags., slant brake and bayonet lug. Barrel: 16.25" with a 1:9.5 twist, Overall: 24" (stock folded), 34.25" (stock extended), Weight: 7.5 lbs.


Rifle comes complete with 2-30 round mags . I believe our old stock images that we are using in the ad shows 1 metal mag and 1 polymer but this shipment all came in with 2 Tapco's. Just for the record, these rifles will all come with 2-mags but the types of mags may vary from the importer from batch to batch.

Rifle is fully compliant with all high cap mags and drums regardless of country of origin.

Underfold stock has a push button release and locks up tightly in the extended position and firmly against the forearm in the closed position.

The Yugo AK's are regarded as some of the finest quality AK rifles in the world and these are no exception. Extremely well made with very tight tolerances
These rifles will feed, function and fire flawlessly for thousands and thousands of rounds.

7.62x39 caliber, semi-auto, extra mags are plentiful. Accepts all high cap mags and drums.

Great Price Point . In stock now and ready to ship.

Manufacturer's Description

Yugo M70 Series AB2 Series AK-47 Rifle 7.62x39 Caliber with 1.5 mm Reinforced Stamped Receiver, Semi-Auto, Underfold Stock and (2) 30 Round Magazines Included! Product # RI1588-X

Additional Information

Product Specs

7.62 x 39

Semi-Auto

1.5mm Reinforced Receiver

Underfold Stock

2 - 30 round mag

License Requirement
FFL
Manufacturer
Century International Arms
Mfg. Part Number
RI1588-X
UPC
787450058552
Caliber/Gauge
7.62x39
Threaded Barrel
No
Free Shipping
No
Flat Rate Shipping
No

Customer Reviews

Good rifle, was very pleased with my purchase.
I upon receiving my rifle I note the weight this thing is a tank compared to other AK variants, and makes my Wasr 10/63 feel like a toy. the 1.5mm thick receiver and heavy us made barrel and RPK style trunion should make the gun last longer and even make it more accurate. the barrel is not chrome lined and while cleaning becomes more important accuracy should be improved do the the more defined rifling. finish is parkerized its good enough for me. the plastic handguards are ok I prefer the look of wood but they work and the black gives it a modern look. the Yugo pistol grip was a bit bulky for my hands so I swapped it for original style tapco pistol grip it fits my hand better and matches the hand guards better to IMO
the fit is better than I was expecting, having read a lot of trash talk online about Century builds. to my understanding Century outsources to other builders some are better than others.
aside from the rear sight tab being slightly twisted and that was an easy fix.
no canted sight blocks the muzzle break is not welded and the bayonet lug is in tact. no major flaws the rifle feels tight. (for an AK)
it was quite clean rite out of the box but I cleaned it you should always do with a new firearm. I lubricated with white lithium as per Rifle Dynamics.
everything fits quite well I like the button that holds the recoil spring in place and keeps the dust cover on. the dust cover itself could fit a little better but its not loose . the folding stock locks in place open or folded. the Tapco G2 trigger feels smooth and breaks cleanly without much force. at current AK prices $549.99 makes this rifle a great value !!! I wish I had ordered two of them.
I will continue or write another review after I actually shoot it :) im sure it will only get better after a couple hundred rounds.
Ordered this due to price and thought it looked neat. Took it to the range today and not only did it shoot within 2 inches at 50 yards with no adjustment (my eyes aren't what they used to be) a couple of shoots touched. And this was just tula ammo. Now for the real surprise.. it was ridiculously comfortable to shoot!!!! I was expecting some cheek discomfort but I can shoot this thing all day long!
I have owned my Yugo M70AB2 under folder for more than 2yrs now. I have changed up the look a few times from the OG polymer furniture w Tapco saw grip to adding a UTG Yugo quad rail, UTG bifold fore-grip, Hogue pistol grip, Sightmark reflex/red dot scope, w a 1.5-5x scope on a Burris flip to side mount. Can add a slide on recoil shoulder pad and a polymer cheek riser for my friends or dad when they go with me to the range. These toys make the rifle weigh in @ 10.5lbs with empty magazine. All of these are pictured in Heavy Armored! I have nerve damage in my left arm so after a year, I felt I wanted to make my Yugo a little lighter, but still liked my tactical toys, so I settled on Hogue grips w rail instead of the UTG quad, picked up a Texas Weapons System dog-tail Yugo dust cover (which is interchangeable with the Zastava M77PS .308) and took off my 1-5x scope/mount and went with a GG&G 5 aperture rangefinder which was made specifically for an AR15 and .223 55-65 grain ammo. I calculated the GG&G conversion to 7.62x39 122-123 grain, found that 0 aperture is still battle zero @ 20 & 200 yards, the 3 (300yds) converts to 275 yards on the AK, the 4 (400yds) converts to 330yds on the AK, the 5 (500yds) converts to 400 yds on the AK, and the 6 (600yds) converts to 500 yards on the AK. So I've got my distance zeroed for those specific ranges when co-witnessed through my Sightmark reflex sight. If my battery goes out in my Sightmark, I simply remove that and the GG&G irons, and revert to my Kel-Tec buckhorn or peep hole iron backup sights. Rifle weighs about 8.5 lbs. w empty magazine now and closer to 9lbs with the UTG bifold for grip. All of these are pictured in Light Weight look with my peephole bringing up the rear. I purchased some GITD ultra green paint from Glowinc. and painted the black dots on the original iron sights, as well as my Kel-Tec back up irons, and painted my own crosshairs on the peep hole sight and dipped my elevation front sight posts so that at night, just shine a flashlight to charge the paint and I've got my Tritium-like sights ready. I've run over 2500 rounds of Wolf, Tulammo, and Brown Bear through the Yugo, and haven't had any problems. Front sight was slightly canted, but it never bothered me, I set the irons and forgot about them as I started adding the toys on it. Shoots straight, reliable, more powerful than smaller AR15 rifles and you can add just as many toys to it as any AR15 owner if you want to. You can't go wrong with this rifle, and Classic Firearms is the best way to go!
If you go with a WASR or anything made by I.O. over this gun, you are a fool. You cannot beat the fit and finish of the Yugo at this price. Everything is tight and well constructed. There is no shotty worksmanship. It is a little heavy but its built like a tank. It shoots flawlessly and I'm sure I will be able to put thousands of rounds through it with now issue. Don't let the nonchromed barrel scare you off. It actually gives you better accuracy and just keep it clean when using corrosive ammo. I recommend wrapping the under folding stock with paracord so it is more comfortable for a cheek rest. It is definitely not an entry level AK but it is at an entry level price, so grab it. The only downside, depending on how you look at it, is the Yugo variants are more limited in customization due to how they make them. However, there are parts available to make it "tac-cool" and to upgrade.
good shootin rifle.
no malfunctions with all the wolf and silver bear i fed it (about 200 rnds)

was shooting low and to the left. about 20cm at 10 meters.
obviously needs to be sighted in.
also the refinish on this gun made night sight installation difficult and the safety lever and gas block take down were tighter than a....

has a full auto safety lever so be careful
This is my first AK47. And with some help and research I came to Classic Firearms! Great customer service and my Yugo underfolder? I have put 300 rounds down range without a single problem! I've shot Tullammo, Hornaday and Red Army. It will eat anything. Even with my sub Par shooting skills I can hold a 5 inch group at 100 yds! Only thing I need to figure out is what AK I want next!
Greg M.
Minnesota
Fast shipping, Quality AK underfolder at a great price. I am never disappointed when dealing with Classic F. Thank you, with my kindest regards, Fred B.
At 8 lb 3 oz, my Zastava M70 AB2 is rock solid. No rattle, no wobble with Croatian mag, Korean mag or Tapco mag. Everything is super tight. In fact I have to use a mallet to pound the dust cover in place after removing it, Everything sparkling clean inside the receiver. Can't wait for warmer weather to take it to the range.
One of two Zastava firearms recently purchased from "CLASSIC". The build quality is near excellent. The M70 AB2 is going through a conversion with a new UTG quad rail, muzzle brake, ATI scorpion pistol grip, red dot sight, and a other few extras. I purchased this carbine as a "tribute" build, in rememberance of a friend who passed....He owned the same M70 AB2. Overall, VERY PLEASED with the purchase.
First AK I have bought and first gun from Classic. Theres a couple of very small scratches on the underfolder from where it has rubbed up against something but other than that it's a lovely looking rifle well worth the money, nice straight front sight, no rattles apart from the magazines and then its only slight. Nice tight underfolder. Took advantage of the four extra mags with no additional shipping. Already swapped out the handguard for a wooden one I just don't like plastic on an AK. Classic kept me informed all the way, even telling me when it had been deliverd and who had signed for it. I did not have to track it myself although I did. I have no hesitation about ordering from Classic again. Thankyou Classic.
The rifle its self is a great buy its cheap and fires every time I'm very happy with it shipping was a little wonkey but I blame the snow storms all in all I love it thanks classic but for future buyers I gotta warn your best bet for mags are metal ones I ordered 4 extra tapcos and they are wobbaly to very wabbaly just a heads up on that the metal one fits snug as a bug.
Finally took my yugo ak to the range yesterday shot about 200 rounds with tulammo 123 grain shot great no jams no misfids mags were a great fit using iron sights were not bad at all pretty much everything was on target great gun at a cheap price
Well, I took it to range today and ran 350+ rounds through it.

I had one stock magazine full of fmj and it ran perfectly. I then ran a steel mag of hollow point ammo, and it ran perfect.

I then went back to tapco mags with hollow point ammo ( it's all I have now), and I would get a jam ( bolt in rear position, had to hit bolt lever to release bolt and chamber a round) perhaps 2 times per 30 round mag.

I know that even an AK can be tight when new, so I continued on.

After a couple more mags, there was no problem at all, and it fired whatever I fed it, even dropped a few mags in the dirt, and fired as fast as I could pull trigger.

So, after an initial break in shooting session, this rifle is smooth, and for me personally, I find the folder stock to be quite comfortable.

Quality of construction is very high, and in my opinion, this is a great value from Classic Firearms, on a very heavy duty, quality rifle.

Highly recommended!


The gun looks great tight fitting and smooth but does not have polished bolt carrier like the picture and some reason the grip was dirty but everything else was top notch the metal mag fit great the poly had some play but nothing to complain about overall satisfied with the gun.
Great rifle that came from classic firearms cheap price cant wait to hit the range
I wanted to take it to the range before giving a review. Shipped fast, received in excellent condition with the cleaning kit and rod. The only small complaint was the pistol grip which was ok but ugly compared to the rest of the rifle. Replaced with a Tapco and now this weapon is 100%. Ran 3 mags through it today with no issue, Tapco,Steel,Mag Pull. All fit tight but metal is the best. Very accurate out of the box, just shot a little high but small front sight adjustment fixed that. This a well built, tough AK that is not only fun to shoot but a solid performer. Another plus on the underfolder is there is no cheek slap whatsoever with a very comfortable firing position compared to the standard AK stocks. Classic is the best, thanks guys for a great AK at a great price!
This is my third Yugo AK, I've recently purchased an Opap and Npap new, and although this AB2 is made with non matching numbers, it's better quality than eight of those. This rifle is so tight itcmakes no sound when shaking it. The underfolder is tight too. I was very nervous at first because the action was so tight that I feared it wouldn't cycle. I hand cycled a few clips and it failed to to feed a few rounds, but after the first two or three clips hand cycling (not firing) it ran smooth. Took it to the range and the sights were straight on, just required a little elevation change at 25yds. After that it shot a 1" group on the first clip. Everything operated perfectly during live fire and I couldn't be happier after firing it.
Just picked it up today, and am very impressed. Everything works very well. As a previous reviewer mentioned, the action is tight, so I will probably disassemble, clean and maybe polish some of the parts that rub, lube and go shooting.

Very solid package.

My second thought is to praise the good folks over st Classic Firearms for their IMPECCABLE customer service in taking care of an issue I had.

This is a great company comprised of good folks, who actually value their customers.

Thank ya'll........you have a customer for life!



Love Classic Firearms. Spot on job guys. Customer service was impeccable and the turn around time was superb. My AK was pristine and built like a tank. The quality of the build was evident when I took it out of the box and inspected it. I will buy from here in a heartbeat and tell all my friends to do the same. Thank you all