Yugoslavian SKS Rifle - Very Good to Excellent Condition - 7.62x39 - C&R Eligible
Availability: Out of stock
| Item #: LNGYUGO-SKS-VGE
Double click on above image to view full picture
More Views
Have Your Own Photos? Login to Add Them
Customer Submitted Videos
Yugoslavian SKS Rifle - Very Good to Excellent Condition - 7.62x39 - C&R Eligible
Availability: Out of stock
| Item #: LNGYUGO-SKS-VGE
---
Rifle, Historic Yugoslavian M59/66 SKS rifle, semi-automatic, manufactured in the famous Zastava Plant - 7.62x39 caliber - Very Good to Excellent Condition.
Make sure to read Brutus' Description below for full details on condition of the rifles and accessories. Rifle is not California compliant.
New Archangel 35rd Mags With Lever Release For SKS Rifles Here!
Yugoslavian SKS Unboxing Video SKS Cosmoline Cleaning Video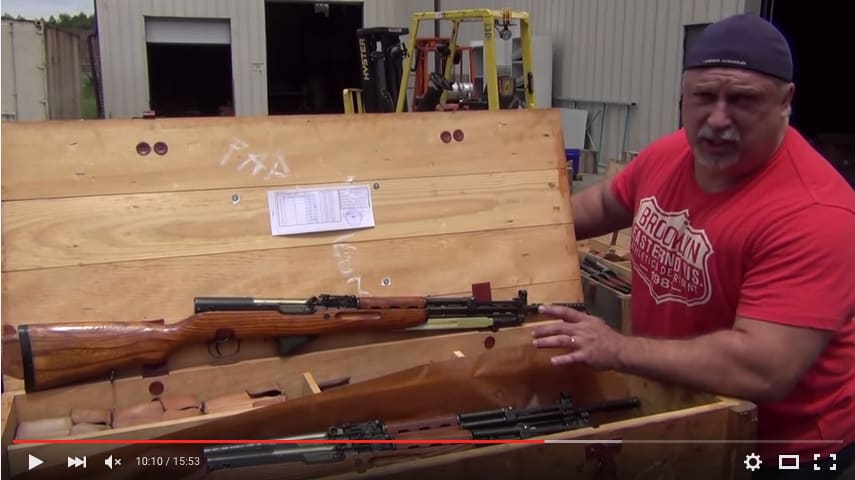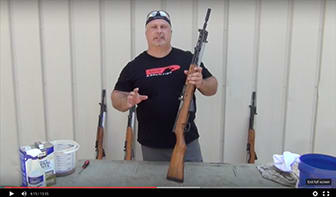 Read More
This item is not available to ship to the following state(s): California
Brutus' Description
As everyone knows good surplus has been getting harder and harder to find for quite some time. These are really nice and actually exceeded our expectations. In fact the only reason I included the Very Good rating in the title is in case the worst one in the bunch falls to the level of very good. Certainly everything we have seen so far exceeds that level.

This fine group of rifles came to us from the Slovenian Arsenals where they were evidently assigned after the dissolution of Yugoslavia. They are packed in master crates of 10 rifles each. Most also include accessories such as a leather mag pouch, oiler, oiler pouch, sling, and tubular cleaning kit.

Not all accessories are guaranteed with every rifle but we will package whatever is in each individual crate along with the rifle.... In other words, if the crate your rifle comes out of has cleaning kit's, we will pack a cleaning kit with your rifle. If there are slings in the crate, yours will get a sling, etc... etc. All we are guaranteeing is a rifle but the vast majority do have some if not all accessories. Also, while we firmly stand by the really nice condition of these rifles, we make no guarantees on the condition of the accessories. Some are nice, some are really nice, and others may be so-so. We are selling the rifle and throwing in whatever other accessories happen to be in that crate, as such you should simply consider the accessories as free gravy.

Each rifle is complete with blade type bayonet. Nice wood stocks. Adjustable gas systems with grenade launcher, also, while we will not guarantee all matching serial #'s all of the dozens that we have examined so far have had all factory stamped matching serial #'s on any part that carries a serial #.

Honestly I don't know if these rifles were arsenal refinished or just very nice rifles but they are without a doubt the finest group of military surplus SKS rifles we have ever received. I encourage you to take a look at the attached pictures and video to see what you can expect. Some stocks will be very dry and seemingly without a varnish finish, while others appear to have a clear coat over the stain, but that is common to Yugo SKS's and apart from some slight storage marks all are very nice. All metal surfaces have looked good with very little bluing wear. Expect some slight storage marks and an occasional dent or ding but overall this entire lot is in at least Very Good surplus condition and the hand selects should be closer to Excellent. / Like New.

As stated before, as best we can tell these rifles were assigned to and or stayed in Slovenia after the dissolution of Yugoslavia and were held as back up weapons until being deemed as no longer needed and sold as surplus. They show very little if any actual use and are very nice by surplus standards. Many look absolutely new.
The vast majority of these are packed in a very consistent , very clean light coating of cosmoline.

Add $20.00 for Hand Select. Hand Select will get you best of 10 cosmetically.
Dealers and Collectors.... We are also offering these fine rifles for sale in lots of 10 in their original wooden crates. Bear in mind that shipping for these will be by truck line and may be cost prohibitive but serious buyers can e-mail us for a freight quote. Please see our Yugo SKS Crate Page for full details.
7.62x39, Semi-Auto, 10 Round, Blade Style Folding Bayonet, Adjustable Gas System.
Manufacturer's Description
Historic Yugoslavian SKS rifle, semi-automatic, manufactured in the famous Zastava Plant - 7.62x39 caliber - Very Good to Excellent condition
C & R Eligible
Additional Information
Product Specs

7.62x39
Semi Auto
Blade Bayonet
10 Round Mag
Grenade Launcher

Country of Manufacture
Turkey
License Requirement
Curio and Relic
Manufacturer
Zastava
Mfg. Part Number
YUGO-SKS-VGE
UPC
000000000000
Caliber/Gauge
7.62x39
Threaded Barrel
No
Free Shipping
No
Flat Rate Shipping
No
Customer Reviews
I could not be any more satisfied with his rifle! Classic firearms ship my rifle extremely fast and I was not disappointed with the product. I'm glad I paid the $20 extra and went with the hand select. You do get what you pay for!
Just adding a video to show what a fantastic and beautiful guns these are.
I purchased an SKS about a month ago and have sense fired 300 rounds do from it with no malfunction. The rifle appears to be unissued and coated in heavy cosmoline, no rust and beautiful bluing. Very accurate non chrome lined barrel ( so no corrosive ammo) and the best factory trigger ever installed on an SKS. Do not miss this opportunity to own this.
The only reason I'm not giving this 5 stars is that I've only shot 40 rounds so far. The rifle has absolutely no indication that it was ever fired. The stock has a few very minor dings and that's it. Along with a cleaning kit, leather ammo pouch and sling, it came with a log book (in Slovenian) that matches the serial numbers on the gun--all the parts also have the same numbers. The bluing is flawless. This was a very nice acquisition at a very reasonable price point.
I chose hand select for this Yugoslavian SKS rifle and its in excellent condition, it appears to be unissued. The cosmoline wasn't bad at all and after cleaning it i put 3 coats of Lin-Seed oil on it, she's a bute. Classic Firearms out did themselves, i am very happy with the service and rifle.
I bought this rifle in November and I am just getting around to cleaning it now. It is in excellent condition and I am very pleased. The numbers match, the Slovenian data sheet says this SKS has 5% wear but I think it is even less than that. Thank you for bringing these great rifles to market.
Waiting was the hardest part... but well worth it! It was packed in heavy cosmoline when I picked it up from my FFL and I wasn't really sure what to expect when I got it home and cleaned up. The salesman from my favorite gun store assured me that it was a beautiful rifle, because he'd seen tons of sks come through. Still I wasn't sure. This was my first milsurp rifle and dealings with cosmoline. He was right! I'm very pleased with my 1st purchase from Classic Firearms, and will most definitely be a returning customer.
Just about what I expected. It's a beauty of a gun. Since it's covered in cosmoline I'll have to clean it up and go from there. Wood looks damn near perfect, bluing looks like it's brand new, Once I clean it up I'll have to get to the range and rip off a few rounds! Thanks Classic!
Just picked up this Ygo SKS at my FFL dealer. Exceeded my expectations. Absolutely no marks, numbers match. Came with cleaning kit, ammo pouch, sling. Didn't get the armory documentation, but I don't think this was ever issued! Kudos to ClassicFirearms.com
I got the handpick option and I am so happy I did. It has a beautiful bluing and the stock has not damages at all. I didn't get the logbook from the factory but I got the accessories. I did call their customer service and they told me that some crates don't come with them. it's OK because my first Yugo Sks was not as good looking as this one....Thanks Classic firearms.
I got honney blond unissued rifle for sure. Took some time to clean but looks excellent!
What a beauty! I always wanted an SKS, Im glad I bought this one. Hoping to go shooting soon.
Another great purchase from classic firearms. I bought a hand select yugo sks. Yes packed in heavy cosmolean but after the cleaning a beautiful rifle. Really the glueing is 98 maybe 99% these rifles did not see much use if any. I have not had a chance to fire mine but the barrel looks awesome! I expect super results.
I have 2 sks now I've purchased from classic and about 8 or 9 guns total,over the last few years. Great company. If you are slightly thinking about an sks hit the purchase button now. Thanks classic.
An invitation by my preferred FFL dealer had me at their shop today; 10/13/15, to view the crate they recently purchased as a "group buy" for Northeast Shooters. Both Ty & Elise at American Weapon Systems in Rindge, NH knew that I was on the fence about purchasing one of these. After doing the video and seeing the quality of these fine rifles...I may just have to order one. Great job Classic Firearms...Keep bringing us the Good Stuff ! This crate Rocked !
Picked hand select and it was as good as I expected. Unissued with a few storage marks. You can't get this good of an SKS on Gunbroker for the price and with accessories. Classics customer service was very good with me. Much better then that of Southernohioguns. Thank you!!
This rifle was advertised as "very good to excellent" and I was not disappointed at all. In fact, I'm pretty stoked. I went with the "hand pick" option (I always do for some reason) and received a sling, ammo pouches, and a troop issue log serial numbered to the rifle. As it turns out, this rifle was only shot on two occasions and has had fewer than 600 rounds run through it. What a great bonus.

The rifle is still thick with cosmoline, but after I get this baby all cleaned up I'll be taking it out for some range time with its close relative - an early Sino-Soviet SKS. I smell an accuracy competition!

As usual, Classic Firearms shipped quickly and securely while keeping me informed during every step of the process.

This was my second purchase from Classic... Rifle arrived 3 business days after the Labor day, when I ordered it.. My FFl is already in their list,.

I made a you tube,.. Im happy with the purchase. Im happy with it, metal seems to show some use, but stock is in great shape.
I would agree with a Very Good rating on this rifle.
I had one pit rust spot very small on hand guard . very small. in the you tube you cant see it,, im just giving all info.

I got handpicked. I received the accessories. they were in good shape also.
I shot the rifle the day after my you tube,.. no issues. will buy again from Classic.


I have purchased 12 surplus military rifles over the years and this Yugo SKS is by far in the best condition. The wood stock looks brand new, the bluing is 100% and the rifling looks like a mirror. Nice touch with all the accessories that come with the $20 hand select option. Well worth the money. I like this SKS so much I'm going to purchase another one. Once again Classic Firearms delivers an outstanding product and level of customer service. Thanks guys and keep up the great work!
Check out my quick video review, never EVER did I think I would pay $430 + $20 hand select for an SKS...but then again, I never thought I would be able to get an original Yugo with all matching parts numbers in this good of condition complete with the Slovenian arsenal log. Just got delivery to my C&R, and now I am really glad I made the purchase! Check out my video review. Exactly as advertised by Classic. Also included in video a couple of my Chinese Type 56 SKS's from Classic as well for comparison. Thanks Classic for making these fine rifles available to us again!
Very pleased with the overall condition of the rifle. After a few hours of cosmoline removal, the gun was in excellent condition to fire. Took it to the range and rifle functioned flawlessly, even got some compliments on the condition from some range patrons. 4 star because I paid extra $20 for hand-select and the appearance of the stock dents/tool marks were not expected after paying a premium. Will upload pictures if I can figure out how... Will continue to shop with Classic Firearms!
Just got around to taking it out to the range last weekend, and couldn't be happier. Cycled just fine through every shot, even with the cheap ammo I was feeding it. There was a fair amount of cosmoline on the gun, but removal wasn't too hard (I used boiling water on the metal parts, then windexed the top layer off the stock and used a heat gun to draw out what had soaked into the wood, if anyone's interested). When all was said and done, the gun looked great. The bluing was almost entirely in tact, with a small amount of wear on the inside of the receiver, and the stock looks damn near perfect. On top of that, all the serial numbers match, and the gun came with a cleaning kit, leather sling, leather ammo pouch, brass oiler with pouch, and a log I can't read cause I don't understand Croatian. All in all, very happy with my purchase, and I didn't even pay the $20 hand select fee.
I've wanted an SKS for awhile now and was finally able to save up enough money. I couldn't be any happier with my purchase. Although I was a little disappointed in not getting a log book or ammo pouches, but the description does state may or may not come with the purchase. The gun came packed with cosmoline and took a few cans of brake cleaner to free up various parts. All in all after a few hours of cleaning it was so worth the wait. I've shot 50 rounds or so out of it and I'm quite impressed. The trigger seems really smooth, which can be an issue with these rifles. The gun was pristine and the +$20 for hand picking was well worth it. The customer service over the phone was top notch! I highly recommended buying from Classic Firearms!
This is a followup review. Purchased in 4/2016, hand-select. After getting off the cosmo, saw no wear on the blueing. Took to the range; shot Wolf, Tula, even some original Yugo ammo. No jams or problems, was hitting a 12" target regularly at 100yds (happy with that, as my eyesight isn't the best). Fun gun, lots of attention when I brought it out.
On removing the cosmo; followed Brutus' excellent video, with one addition; very carefully turned the stock in front of a propane garage heater to drive out additional cosmo before final cleaning and refinishing. turned out beautiful.
Received my Yugo SKS and very happy with my purchase. Once I got the cosmoline off everything including the inside of the barrel was in fantastic shape. Well done Classic Firearms.
I did not pay the extra for the hand picked rifle but am very pleased with what I received. It arrived with a liberal covering of cosmoline and after mineral spirits, elbow grease and a nylon brush it was apparent there was no visible wear in the metal. The stock has a minor ding, and I mean minor, but after rubbing the stock with linseed oil it is barely noticeable. I used Wipe Out in the bore and the patches came out surprisingly clean, made me wonder if this rifle was ever issued.

My rifle came with a used sling and issued cleaning kit, no other accessories,

Haven't had a chance to fire it yet so I guess the rating could go down if I find it malfunctions on the range but I doubt it.

Needless to say I am pleased at this point.
First of, I payed the extra $20 and it was well worth it. The rifle was all matching serial numbers, and was in mint condition. There was one scratch on the magazine that I bet was from putting it in the crate, but other than that it was immaculate. I put more wear on the gun cycling the action a few times during the first cleaning than it had when I got it. If it's had more than 3 shots through it before I got it, I'd be very surprised. When I shot it, the sights were dead on too.

Enough about the gun. I ordered it on a Thursday afternoon, got an order confirmation within a few hours, and it shipped Friday. It then arrived at the FFL on Tuesday. The ordering process was simple, typing in my info and then selecting the FFL I wanted it shipped to, and that was it. This was my first purchase from Classic, but it definitely won't be my last.
I bought mine a couple.months ago, and have fired several hundred rounds through it, flawlessly. I chose the hand selct and recieved a magazine pouch, tubular cleaning kit, and a very neat oil can w/ its own pouch. I also got the archangel 35 rd mag, which has a decent look with the rifle for polymer, and works just as it was made to, mine fits a little tight, but I prefer snug, I might relieve the stock a bit. The cosmoline wasnt as bad I thought it would be. The cleaning rod will rattle after you remove the cosmoline, I made a plastic bushing to keep it from moving. I love my sks, great gun, pretty accurate, and not hard on the shoulder.
Took this out to the range. Very firm gun, I perhaps was not the best person to clean the cosmoline-hense it bleeds Cosmoline... which was pretty funny and smelly. I love sks rifles lots of fun and this rifle was like new condition
I received an awesome Yugo SKS and was really pleased with the quality of the rifle. Covered in cosmoline when it arrived, it took me hours to clean the rifle to get it to a condition where it was usable and no longer greasy. To some this may have been a hassle but I enjoyed my time uncovering the gem of a rifle i received. Overall this rifle was as close to new as i could imagine. The bore was a mirror and the stock has about 3 minor imperfections on it. The bluing was at 90 to 95% with very little wear and scratches.

With the rifle I received a cleaning kit, a mag pouch, a bore rope (not quite sure what it really is) and an oilier.

Overall the rifle was a glorious surprise how nice it is. Especially for the money 425 is a fair price in today's military surplus market. I would recommend to anyone looking for a sks in really good to new condition.
A quality Yugo SKS and Classic delivered promptly and the transaction was very easy. Great folks and will do business again in the near future.
I purchased a hand select rifle and it's in mint condition with only some extremely tiny crate marks on the stock. The book it came with says that it was only shot 3 times during testing but on the down side, the guy who tested it has the same initials as me so people might not believe it lol. That's okay because I am never selling it. So far I haven't even shot it and end up taking my Russian SKS out with me. I will probably just keep it in my safe till my collection room is built later on in life. I have spent well over this price for SKS rifles in half the condition as these. I am actually amazed that they haven't sold out yet. If you ever want a good hog hunting rifle or even deer hunting rifle for a damn good price then pick one of these up before they are gone. So far they are the best condition firearm that I have purchased from Classic Firearms and I own a good amount of their inventory lol.
This was my first purchase from Classic Firearms, and I have zero buyer's remorse about it whatsoever. The rifle arrived packed in cosmoline, as expected, and after a few hours and 6 cans of brake cleaner it looked fantastic. All matching serial numbers and not a flake of rust to be seen. A few dings in the wood stock, but I think it gives the rifle some character. It came with a cleaning kit that fits into the trapdoor in the stock, a leather pouch that holds 6 stripper clips, a brass oiling kit with a leather pouch, and a strap. All of the accessories were in good condition except for the leather strap, which was rotten beyond the point of salvage. The bore was shiny and seemingly new after running some solvent down the barrel and running cotton pads and brushes through it: not a single sign of pitting or rust. It will eat up cheap steel ammo like it's nothing, and mine seem to shoot best with Wolf and Tula rounds, (compared to Yugo surplus and Red Army Standard) making 2-3 inch groups at 50 yards using irons freehanded. Just know that the barrel is NOT chrome lined on these barrels so if you shoot it, clean it.
I was not disappointed! Rifle was as expected; or maybe even better! Couple of character marks on the stock which I love by the way. Action and barrel were pristine!!
cleaned up nicely must have been in use as some of the bluing is wearing off and is not a numbers matching rifle. still is very nice as it was hand selected and is accurate right after the cosmoline cleaning.
Yeah, I spent the extra $20 for the hand select. Turns out it was worth it.

The rifle sent to me had some pretty stiff springs for disassembly and assembly, that I had fun with while taking apart for cleaning But, that's because it only had one set of tool marks on it showing that it'd been assembled at the factory, and nothing else. The Barrel lining is a mirror shine, the stock has no marks or damage, and the finish shows no sign of aging what-so-ever. The rifle sent to me was put together at the factory, dipped in cosmoline, packed in a crate, and shipped to my house some 28 years later. I was the very first person to fire this rifle outside of the factory, and it is absolutely superb.
I work in a pharmaceutical company here in NC. A lot of my co-workers shoot and collect. We threw in a while ago and bought a crate of Mosin Nagants. So happy with our purchase that we went in on a case of SKS('s?) No runts in the litter. I drove to the warehouse so I got first pick. The fellas drew lots to pick behind me. Five Stars, really Five Stars. The guns are in really good condition. The papers showed (Google Translate) that the guns had been arsenal maintained just before they were greased and packed. The wood is nice. Tiniest dings and only one or two a stock. All blueing is near perfect. All numbers matched. My gunsmith said that he thought that the gun hadn't seen any action and that it had only ever been test fired. Runs the yugo ammo we picked up so smooth because it was literally made for the gun. This gun is now my, and 13 year old boys, favorite. One problem:

One gun per guy,
One wife per guy,
One wife per gun,
Ten wives per case!

Don't know anybody brave enough to pick up the next case!!
This was part of my very first C&R purchase. I think I made a good choice. The weight of the rifle, I think, gives it less recoil than my AMD-65. I have always wanted a SKS and this is one of the best I have ever fired.
I picked up two of these beauties from my FFL today, one for me and one for a friend. We were both hoping for a darker wood example and that's what we got! They're only 1 serial number apart and are flawless. I almost feel bad knowing I will be shooting with my rifle, they both appear unissued. Our FFL dealer personally has a few SKS's and was shocked at how nice they were. Huge thanks to Will for communicating with me so promptly about what I needed to ship these. My friend and I will be purchasing a case of the ammo that came with these tomorrow and cant wait to get them cleaned up. Awesome price, great customer service, fast shipping, and an exceptional product true to description. You guys are on the right path and we will definitely be back for more!
Better than I expected! Received in excellent condition and to be honest I think it was never even fired.
Got the rifles yesterday. Looked good, cleaned-up good. Went to the range today. Flawless functioning. Lots of positive comments from other shooters. May have sold a few for Classic Firearms. Can't complain, really a great value.
I reviewed this a few months back and gave it 4 stars only because I hadn't fired it enough. I added an archangel 30 round quick release mag and replaced the original firing pin with a spring-loaded upgrade to prevent slam fires . . . this has become my favorite plinking rifle . . . a lot of fun to shoot . . . tempted to buy another.
It came very quickly in the mail and appears to be unused. No scratches and perfect condition. It feels great shooting it and has a nice recoil. I couldn't be happier with this purchase!
Thanks guys for selecting the darker wood for me. i really didn't want the blonde wood. the gun is in VERY GOOD condition. cleaned up really nice. This is my first SKS, so i am still learning about it.
The condition of my SKS exceeded even my wildest dreams. Looks new to me (though I'm looking through a coating of cosmoline). I paid for the hand select. Wood looks flawless, and a beautiful light color. Thanks, Classic!
Rifle arrived well packed, Classic ships fast. The cosmoline wasn't too bad, almost light enough to wipe off with dry rags. The bluing was very well preserved, with no real problems. The only numbers that matched were the stock and the receiver, all other parts bearing numbers were different. The stock bore no resemblance to the promotional photos on the website, but acceptable for a relic weapon; dings, some cross-grain scratching, a couple very slight gouges, dark patches and stains. All in all, acceptable. Do I think this is a ripoff? No. Just don't expect the stocks to appear like they do in the photos.
Overall this SKS is a nice rifle with some dings here and there in the wood; however, there are several deep scratches near the end of the buttstock. This being my first purchase from Classic, I'm somewhat disappointed. For $429.99+ $20 for hand-select, I would not have expected to get a gun with these kind of scratches on the stock. Included was ammo pouch, cleaning kit and sling- but no log book. Note: Chinese stripper clips or those marked with the number 31 will not fit this gun.
I wasn't sure what to expect when I ordered the Yugo SKS. Classic firearms came threw for me BIGTIME! I received a reddish woodgrain stock (exactly what I asked for). Bluing was near perfect. The only slight con was a cracked butt pad, and only a portion of my parts are matching. I will say that my stock does have 4 "Kill notches" carved into it and although most people think that's a pro, I definitely do not. Enough said! I am extremely pleased with this purchase and would absolutely hands down recommend purchasing from Classic, great customer service as well. See my rifle uploaded with "(1969)" in the titles.
Was heavily pack with cosmoline. All numbers matching. After cleaning the rifle appears almost unissued. Very happy with it.
Yugo SKS came with all matching numbers and well protected in cosmoline. Came with Ammo pouch, oiler w/ pouch, leather sling, and cleaning kit. Logbook came in separate piece of mail 2 weeks later. I ordered hand select and was very pleased as always with Classic Firearms. Used mineral spirits as recommended and it cleaned up well.
Just unpacked my SKS first weapon ever on my C&R and first purchase from Classic but will buy more


this weapon looks brand new packed light in cosmoline
very good to excellent condition very happy customer
I just finished cleaning off the last of the cosmoline from my yugo sks and I am very happy with this rifle it looks as if it were never even used stock looks great (no dings) and so does the rest of the rifle. The rifle came with all matching serial numbers a leather sling an oiler and ammo pouches. I was bummed I didn't get the troop issued book with gun or the cleaning kit but like classic said they only guarantee the rifle so I can't complain. I haven't had a chance to shoot this rifle yet but based on cosmetics and its history of reliability I would recommend this to anyone who is trying to decide if they want one or not. If money wasn't an issue I'd buy another today.
This was my first time buying a military surplus rifle, and my experience has been great. I didn't purchase the $20 hand pick, but the rifle I received was like new. I would say it has 90-95% of its bluing left and the rifle doesn't appear to have been fired. Overall an excellent buy from an excellent company.
I purchased a crate of these right at a year ago from Classic. Customer service was awesome and they keep me informed through the whole process.
I have only shot one of the rifles and to be truthful I have only cleaned 4 of them. Lots of work but well worth it. Quality of rifles is unbelievable. All bores so far are excellent, but should be with the amount of cosmoline packed in them. To the shooting part. Grabbed one of the four, that I had cleaned, and went to the range. Started off at 100 yards and had no problem hitting steel targets (12' x 12"). Took it out to 150 yards no problem, 200 yards no problem still hitting steel. 250 yards and needed to raise rear sight to 1. Still no problem hitting steel at 250 yards. Windage was on from the start and never needed to compensate. 300 yards and now rear sight is between 2 and 3. Still hitting steel plate without any problem. 318 yards was maximum at the shooting range I belong to and let me tell you I made a pumpkin sitting at the bottom of the berm suffer. This gun performed flawlessly without any FTE or FTF. I used surplus ammo I have had in an ammo can for about 5 years. A lot of people at the range could not believe how accurate this rifle was with open sights but like I said in the summary "Try it to believe it". You won't go wrong and you will have a blast.
This was my second Yugo SKS purchased from Classic. This one was in even better condition than the first. It looks unissued or arsenal refurbished. Bluing is 100% and stock is excellent with only minor handling marks. Bore is excellent. Included all accessories. Great transaction as I have experienced with all purchases from Classic.
This was my second Yugo SKS purchased from Classic. This one was in even better condition than the first. It looks unissued or arsenal refurbished. Bluing is 100% and stock is excellent with only minor handling marks. Bore is excellent. Included all accessories. Great transaction as I have experienced with all purchases from Classic.
I did not get hand select and i am not dissopointed.
This Sks has some dings in the wood but everything eles is in excelent condition. I have put close to 400 rds thru it without any issues.
Thank U Classic
WOW.
I just got my Yugo SKS yesterday, and just wow. I did the handpick, and as a result I got a SKS that looks brand new! The beautiful blonde stock doesn't even have a scratch on it. The bluing is near perfect, 97-99% if i had to guess.
I'm almost jealous of myself for owning this gun! Thumbs way up Classic Firearms!
Now to find a Chinese or Russian model to accompany my new Yugo.
This is my third Yugo SKS and the first from Classic. This rifle is absolutely beautiful. It appears to be unissued. There is not a single wear mark on the metal or stock. There are a couple of small handling marks in the wood but nothing major. Gobs of the usual Yugo cosmoline but once cleaned up it looks amazing. I'm a very happy Classic customer!
Numbers matching beautiful rifle. When we unboxed it at the FFL, everyone in the store wanted to know where it came from. As good as it looks now, it should be really nice once cleaned up. Can't wait to send some rounds downrange. Your customer service is first rate. I will definitely buy from you all again.
These rifles have more than enough 5 star reviews so you've probably read all there is to read about them.

Ordered a crate of 10 and 9 were in EXCELLENT shape except for one oddball that was well worn. One of my co-workers got 3 of the SKS's and took the beat up one and appreciated its authenticity. All came with matching accessories except for the log book.

Now that a few more co-workers have seen them they might be ordering another crate soon since they keep bothering us to sell them ours. Arrived about a week after ordering. Janet and Matt were very helpful and a pleasure to work with.
had my sks in 4 business days. Very nice rifle in very nice shape. Customer service was excellent and I will be doing business with Classic in the very near future. Would really like another one of these sks's. Thanks for the super service Classic Arms.
My first SKS and first purchase from classic. Bought the rifle and got it shipped and picked up in a week. Very nice rifle the reason for 4 stars is because I paid for hand select and the stock was was a little too beat up to justify the extra money. All in all I would recommend this rife.
Thanks Classic....the buying process could not have been easier. First online gun buy and will definitely not be my last! This gun is beautiful. Perfect bluing, beautiful wood. I know we have no say on the type of wood but I have to say I got the exact grain and look I wanted. Got sling, ammo pouches etc, however I did not get a booklet, and for some reason I was really looking forward to a Slovenian army booklet! Started the cosmoline removal process...ahh the joys of surplus guns!
Don't hesitate to buy one of these. There are many out there but these are the best. We did hand select and our Rifle came in stunningly perfect condition. Cosmoline is easy to take off and underneath the mess is an outstanding rifle worthy of the premium price. Classic firearms grading is fantastic!
I paid the extra for the hand select and I'm glad I did. What I received appears to be an un-issued Yugoslavian SKS with matching serial numbers on all parts. Hats off to Classic on these, you won't find a better surplus SKS than these! Sent to different FFL than my last order and was just as smooth as the first one. Highly recommend these rifles and Classic all around great transaction.
This was an sks I purchased from classic firearms and it was awesome really can't complain about it it was in excellent condition as they said it would be and shoots awesome lo e it thanks classic firearms
Once again, another Super Nice surplus rifle from Classic Firearms. I received my rifle 2 days after ordering it, and upon unboxing, I was amazed at how beautiful the rifle was. It was coated in cosmoline, of course, but after cleaning it up, it looked very nice, like maybe it had never been shot. I am always pleased with whatever it is I buy from Classic Firearms, so I'm giving this purchase a HUGE 5 STAR RATING!!!!!!!!!!!!!!!!!!!!! Get one of these before they are gone, you will be glad you did!!!!
Got my Yugoslavian SKS today and wow! I paid the $20.00 Hand Select Fee and added my wishes in the customer comments field.
I got Exactly what I was dreaming of! When I opened the box it was like they knew what I was looking for! It is new and unfired by the looks. Medium color with darker defined wood grain, no dents or scrapes, perfect bluing. Awesome!
The folks at Classic Firearms have a good thing going on here. I wish them the best. I have two of my friends hot to trot for their purchase soon! I'll be back for more.
Not a YouTube videographer but I will try to update soon. No option for pictures.
This rifle came to me in good condition, although I paid the extra $20 for the hand picked one. I was expecting a little better condition, since the stock had wear marks and quite a few dings, something that the ones shown online don't have. I would dare say that the hand-picked option makes no difference. Regardless, the gun functions very well, since only one FTF occurred in 100 rounds, after I decosmolined it and took it to the range. The loading of stripper clips is a hassle though, much worse than I thought. Overall, this rifle is very elegant and I would say the main reason for having it is the historical value of it and how cool it looks. It came with original cleaning kit, oil can, ammo pouch, and sling. If the price was at least $100 lower, it certainly would compete with he AK, but as it is its value lies in its history and coolness...
I picked this rifle up within just three days of ordering it, fast shipping, when the rifle was pulled out of the box for inspection at the FFL, I was very pleased to see the grains and darker coloring in the wood on the stock was exactly what I had in mind, it could not have worked out better. I took the rifle home and disassembled it using Ben's how-to video and cosmosline removal technique, treated the stock and reassembled the rifle, the description was exactly as it said, beautiful rifle. I cannot say enough positive things about my experience with this purchase, thanks again Classic!
I got a Brand New SKS that after cleaning I cannot see any sign it has been Fired. I am very happy with this rifle and have to get another. They are just to nice to pass up.
I have had mine for a few months and finally took one to the range today. Oh my. Shot straight as an arrow. Was knocking a tin can up the 100 yard range embankment shot after shot with open sights. I gave a 5 star previously for the cosmetics and now another 5 star for its shooting operation. Simply an awesome rifle. A guy at the range was asking about it saying "you are hitting that with iron sights?" Yep. What a rifle. I previously bought two and might need to get another.
I received my new rifle on Monday afternoon but couldn't check it out until Tuesday afternoon. In that time it sat in a box on the back seat of my truck, it was HOT. When I took the rifle out the heat had thinned the cosmoline until it was like a light oil. I can see with a wipe that the rifle is absolutely perfect, the heat of the wood even had the cosmoline 'bubbling' over the porous areas it's like the stock was carved only yesterday. I'm tempted to simply store it 'as is' it's that good, but that would mean buying another to actually shoot. That's OK but from the latest Classic Video there is some cool surplus coming up for grabs soon. [Oh for just a small lottery win). Nothing could make this rifle better, it's perfect, no one handles service better than Classic, 'hats off to you guys'. I didn't get a sling or the 'manual' but that's OK, they were other promised, that only makes me envious of those that got them not disappointed. Thanks again guys, Mike
This rifle is no surplus. Very good, awesome condition don't think it was ever issued.
Came with all accessories and all matching numbers.
Very happy! Get one wile you can.
The shipping was fast. It went out the next business day after I ordered. The rifle was packed well and the accessories were in nice condition. The bluing was nice aside from a few scratches on the magazine which is to be expected on a rifle like this. I got an all numbers matching gun which is fantastic. The only issue I had was that I had paid for a hand select and there were some gouges in the wood on top of the handguard. I emailed customer service with some pictures and they took care of me right away on that (thank you Janet!). If it weren't for the wood on the handguard it would have been a five star for sure. I ordered one of these about a year ago that was a five star all the way which is why I ordered this one. Maybe they're getting down to the last of them? Either way I'll still order from Classic as they have great customer service and some pretty nice firearms.
I picked up one of these a couple of months ago and managed to sever a tendon in my finger before it arrived. Once I got it home and had a friend over to help me (still in a post surgery splint) break it down and clean off the cosmoline I was already in love. Beautiful wood and matching number...just excellent overall condition. Fast forward almost two months and I finally got it out to the range. It's an true joy to shoot and the Yugo surplus ammo on stripper clips performed beautifully. Fast to load and easy to reload the clips. Will be picking up more of that!! Thanks Classic Firearms. You made me a happy girl!!
After cleaning up all the cosmoline, I must say, I was very pleased to see how good the rifle looked, the stock is in great shape, bluing is in very good condition, rifle is very clean in and out. I did opt for the hand select and I am happy I did so. I did not recieve a sling, but that's fine, I guess not all rifles were guaranteed with slings. Very impressed, and will do business with classic in the future, time and time again they send me great products!
So I received my 3rd rifle (sks) and to my surprise. it was just as perfect as the other ones I ordered. Classic Firearms you did it again...... Thank You
Classic delivered me a beautiful sks. I chose not to get the hand picked option and I wasn't dissapointed, it showed no wear at all, the stock had one doing in it from when it was in the crate and it's hardly noticeable. I cleaned it, oiled it and went out and shot it, it was dead on and performed flawlessly!!!! I will try and get another before their gone
I purchased two of these and was not disappointed. These look almost new, they may be unissued. I cleaned them up with a liberal amount of mineral spirits (after taking them apart), then performed a regular cleaning and oiling. Everything operates as expected,

The rifles each came with an ammo pouch, a tool kit (which fits into the stock), a bore snake (really a rough hemp rope), and a leather sling. They stink due to the cosmoline but it is not as bad as some other rifles I have purchased and isn't too hard to clean up.

I bought a book (The SKS Carbine, 5th Revised and Expanded Edition) to help me understand the model, the history, and how to break down and maintain the rifle. This was a good purchase, you may want to do the same. It helped a lot when breaking the rifle down for the first time. However this rifle was meant to be easily field stripped so you shouldn't have a problem with information found online.

Great job on these, Classic Firearms! You have a new solid customer.
As my 3rd SKS, my rifle as received, is BETTER! than the rifle shown!! Better stock. Sorry guys!! This 1972 built SKS came out of a VERY light Cosmoline coating absolutely perfect. It would be hard to believe if the rifle has ever been fired more than a handful of times. Well, the barrel shines (no chrome, as we know) Hoppes and mineral spirits had THREE patches to expose the Perfect Bore. Dried it, STILL the same! That was it! All matching, although the bolt carrier and bolt have matching numbers with the gun, receiver, etc, they also have electrocut matching numbers.(?) No rust or anything that would lead me to believe this is a used SKS, but never really used. Is the action smooth? No. This is an almost new gun. The bolt carrier you can tell has not run a lot of cycles. Somewhat gritty. GREAT!!!!! No wear marks ANYWHERE. And a matching stock. I hit the LOTTERY here and I'll buy a case if I WIN the lottery!!! Thanks Classic Firearms!! You got my business! Rick Wagner 330 402 9306. Ya got any questions?
I paid the extra 20 bucks for handpicked and was not disappointed, after cleanup it was almost new in appearance. There was not one point I was disappointed about. I gave it a 4 because I haven't fired it yet but frankly I don't expect an issue
Had old beat up tapco rig ... Wanted something vintage but not worn out ... Son in law suggested classic firearms ... so glad he did ... Awesome gun - ffl store customer wanted to buy it from me while we were completing paper work ... Very happy w gun - thanks classic - y'all really delivered !!!
This YUGO SKS is everything it's advertised to be. Other than a couple of minor rub marks on the stock it's like new. The serial number checks out to be built in 1988. I've got a Chinese Type 56 and this one is far nicer. It came with a pouch, oiler, cleaning kit and strap. The cosmoline wasn't bad and was pretty easy to clean up. Thanks guys.
Recently received my Yugo SKS firearm and was extremely pleased. The item was delivered well packaged and no damage at all. After unpacking and initial inspection I discovered I also received the cleaning kit, oiler, sling and ammo pouches which was a pleasant surprise. Upon removal, cleaning and inspection I am again amazed at the quality of the firearm. Bluing is at 98% with the fit, finish and function of the upper receiver to be superior. Stock lockup to the upper receiver is tight and all parts look practically new and unissued. Classic Firearms has done it again with solid pricing, accurate description of goods and outstanding customer service. This is my third purchase from this company and won't be my last. If your looking for solid milsurp firearms and in this case an SKS don't hesitate, purchase one here you won't sorry. Many thanks to you and your team at Classic Firearms. Now it's range time!
Very happy with my SKS. I choose hand picked and the stock was as close to perfect as you could ask for. A couple of my, stored in closet, guns have more marks on them. Everything mechanical is in above average condition and bluing is excellent as well.
The only complaint I have and it's minor, is I asked if they could get me something in more of a blond hue. However, the shade is not overly dark so I'm happy overall.
I stripped the stock down and had very little sanding or finish work to do.
In hindsight, I should have taken another day of removing deeply imbedding cosmoline but nothing major was left other than a few dark rooted stains and small at that.
Overall an excellent experience.

Ever since I fired my friends Yugo I wanted one. I saw them pop up on this site because I heard it was good for milsurp. Even with the recent uproar of gun law issues causing a shipping backup, it was sent within about a week and a half. When I finally received it (FFL took awhile to get it shipped from their distribution center) the packaging was great, it came with everything it said it would. After about 2 hours of meticulous cleaning it was ready to fire. No joke on the mineral spirits, they do a great job on the cosmoline. This gun is absolutely a blast to shoot and for 33 bucks for 100 Tula rounds you cannot say no. 100% recommend this gun and this site. Thanks Classic Firearms.
I'm incredibly happy with my sks. The wood looks great, there is no rust, and the cosmoline was a breeze to get off. I would gladly purchase anther rifle from Classic.
I paid for hand select hoping for a not beat up sks. What i received was what looked like a rifle hand picked off the assembly line!!!! Way above my expectations. Thank You So Much!!!!
I am very happy with my hand select SKS, looks brand new! Only down side is the sling that the rifle came with didn't fit, a quick Google search told me that some Yugo SKSs have different sling mounts. Despite that, these rifles are absolutely gorgeous!
Overall this is a good rifle. I did not choose hand select and mine definitely is not "unissued". This appears to be an arsenal refinish. Magazine, receiver cover and trigger assembly all have electro-pencil serial numbers. Stock appears to have been sanded. That's fine with me as I bought this as a shooter and it does shoot well - no hiccups with off the shelf non-corrosive steel case ammo. Bore is in good shape, rifling is strong. Classic was good to deal with, easy to upload my C&R license and a ship time of about 10 business days to the house.
Just came in the mail, it looks like it just came from the factory (brand new never been shot, issued) The leather pouches have never been oiled looks like they were made yesterday clean up was a snap ready to burn up some ammo thanks guy I will be back. Think I will built a AK next
Very good condition. Heavy cosmoline, hence the be ready to work. The grenade launcher, grenade launcher night sight stuff is in my opinion unfortunate. Dead weigh on what is a nicely balanced battle rifle without it.t.
The rifle I received was in perfect condition. IE. it looked brand new. I have used it multiple times and it works great and is a pleasure to shoot.
Their is nothing that I do not like about this Yugo. It is by far the best SKS in the market. The one I received looks great shoots great and is very accurate at 50 and 100 yards. A great shooter and will not break the bank. I would like a cut of all of the sales I have made for Classic at the local range. Keep the great deals coming.
Received my Yugoslavian SKS from Classic today. Man, what a beauty !! I just stared at it for five minutes before digging into it. And honestly, the cosmoline is no big deal. I used a heat gun on low and 99% of the cosmoline melted right off. Now just have to soak in solvent to finish. Wrapped the stock in an old bath towel and put out in the sun. Towel is absorbing cosmoline as it melts.
Can't wait to shoot this baby !! Thanks Classic !!
This has been a while coming but I wanted to let everyone know that the rifle I received was gorgeous. Nice wood, pristine metal and bore...if i didn't know better I would swear it was unissued. If not, it's pretty close, this was a great purchase...highly recommend it to anyone wanting to own and shoot their own little peice of history. Happy shooting!
I receive the rifle Monday evening got it home and started to take the cosmoline off the sks. In an hour I had it off and completely broke down and the small parts soaking in a pan of Mineral Spirts. The video I saw cleaning the rifle was great and save a lot of time and effort. Used an air compressor to dry off the parts and put the rifle back together the next day. On Wed. went to the range when I got there I removed the bolt and done a function test on the firing pin to make sure it was free and it was. Put everything back together and loaded 1 shell and fired it bolt stayed back so I fully loaded the mag. and had the most fun I have had. The rifle performed wonderful. The rifle was better than the shooter all shots were in the kill zone. Got it back home and cleaned it up. Other than not getting the cleaning rod which I called and they said they would send me one and two sandable mark on the stock I have one fine rifle. Can't wait to take it back out and ring some steel.
Classic Firearms hand select Yugo sks. This is an awesome weapon. Thank you For exceeding my expectations. All numbers match, bluing is 100 percent, the furniture is absolutely amazing. Went shooting with my nephew we were stacking rounds at 100 yards. Will do business with classic firearms again. Your secretary was very helpful and friendly. Give her a raise !! Thanx again
When I first saw an SKS in a book about firearms years ago I knew I wanted to have one. Whenever I went to a gun show I would look for SKSs but was always disappointed at the poor state they were in or the high prices charged. While looking around I found Classic Firearms and by chance saw that they had just received a shipment of Yugo SKS Rifles. After looking at the unboxing video I saw that the rifles were in really good condition. I decided to buy one and paid for the Hand Select and it was worth it!!!! When I received the rifle I had to clean off the cosmoline and then do an initial cleaning. The next day I took it to the range and put 60 rounds of the Yugo 7.62 x 39 I bought and I had no issues. The rifle came with a sling, ammunition pouch, gun oil flask with case, a bore snake, and original rifle cleaning kit. I was nervous about buying a gun I hadn't seen in person but was completely satisfied! I would recommend any SKS lover get their rifle from Classic Firearms while they still have it in stock.
I'm the type of person that has to see and hold the gun before I buy it. I took a shot and purchased one from classic firearms boy is this a beautiful weapon !! The bluing is 100%. The stock is excellent. The barrel looks like this gun fired one inspection round and that's it !!?? Your secretary was great to talk to and I will definitely order from classic firearms again can't say thank you enough. Did some shooting with my nephew this weekend stacked the lead practically inside each other at 100 yards if I could figure out how to do a video I would post one. May be more to follow
If anyone out there is interested in or even think you might be interested in one of these rifles in the future, let me give you some good advise. Trust me on this one. After you read this review scroll above click add to cart and get this GEM while you can. When they're gone they're gone. Seriously people if you have ever wanted an SKS this is the one to get. Maybe there is somebody out there that doesn't own any Soviet type weapons or maybe doesn't even have anything that shoots a 7.62 x 39 and you have been thinking about getting an AK or one of the variants, I would strongly urge you to get one of these while you can. My gun came in yesterday and I was at the dealer about an hour later. When my son and I got out to the truck we took the gun out of the box (which was loaded with quite a bit of accessories and paperwork) and the gun looked awesome. We got home and disassembled it, cleaned it up, applied several coats of teak oil throughout the night. The wood is absolutely gorgeous, beautiful grain and by morning it was ready for assembly. All of the parts have matching serial numbers and HONESTLY you cannot tell if the gun was ever fired. I'm sure it would have been test fired at the factory, but if it was it sure doesn't show any signs of it. We plan on purchasing a couple more. These guns are so pristine. Guns of this kind are becoming so rare in the marketplace these days. As another plus they are true Yugoslavian rifles manufactured at the Zastava Arms plant. I feel very sure these guns will increase in value. They are stamped Yugoslavia not Serbia as I have seen showing up occasionally. I own some Zastava Tokarevs manufactured in Yugoslavia which can only rarely be found and if you are lucky enough to find one chances are you will pay a pretty hefty price for it. This is a Home Run from Classic Firearms. Great job !!!
So I am a little late on the purchasing of these rifles so I figured I wouldn't get the best even with the hand select but man o man was i wrong. Absolute beautiful rifle. Blueing might as well be 99.9% and the wood is in perfect condition. I selected hand select and requested on with a nice wood grain( I know it says they don't do that but figured its worth the shot) and it seems to me they did. Very happy with this purchase, didn't come with the log book but seeing as there is not a scratch on this I wonder if it was even issued at all. Might just have to order another if the funds allow me to. Don't miss out on this rifle. Well worth the money.
Thinking I was going to get one in pretty good condition how about one that was never issued ! Again Classic has made a Home Run ! I really appreciate there Honesty and good customer service over the years good job guy's!
Received my yugo sks yesterday,did not order hand select but the gun was as advertised, in almost new condition once I removed the cosmo.I don,t think 50 rounds had been shot from it because the bore looked brand new.Ordered a number of guns from Classic and they have always been better than I expected. Great people to deal with, honest and good prices,they seem to want to get you the best product at the best price. Thanks again Classic
I purchased the Yugo SKS rifle and picked it up from my FFL-Grumpys Guns in Arlington Texas a couple of weeks ago. I was impressed with the fast shipping from Classic Firearms. I disassembled the firearm and cleaned it with your websites recommendation mineral oil. I also watched the video on how to disassemble, clean and reassemble the firearm. It was relatively easy once I watched the video. As for the Yugo SKS it is in near mint condition. The stock is beautiful with zero flaws. The barrel and all metal is in excellent condition. I couldn't be happier with my purchase. I will definitely purchase firearms in the future from this website. Hats off to Classic Firearms!
top of the list, clean very good and you will be amazed at the target.TW.
My product review is over due! Got this rifle in Feb.2016
Very beautiful and in un-issued condition. Although it's in great shape,I been taking my time to get most of the cosmoline out of the wood. This is first of many rifles I got from Classic; let me tell you they sure delivery some amazing piece of history!
Now awaiting the time to the shooing range :)

Pay the hand select version and got a nice one!
Keep up the Good work Classic!
I finally got to pickup my gun SKS yesterday. The condition of t he weapon is amazing. I wasn't too impressed with the packaging as all of the accessories were just thrown in the box, they weren't at least put into a bag. My cleaning kit, oil bottle, leather cases, and the booklet were just thrown in my box. Luckily the book didn't have cosmoline all over it. Besides that the shipping was fast and the gun looks great.
I purchased a 1971 built Yugo SKS from classic. Wrapped well, in a cardboard box. It also came with the tool set in the butt, an oil can that cleaned up and gleamed nicely, a sling, and a leather ammo pouch. The rifle came smothered in cosmoline. I followed the instructions on the Classic website on how to clean it. Disassembly was easy enough, but with gloves on, it was a little tedious. I used brake fluid on the barrel, and dunked all small parts in very hot water with Simple Green. The wood got a bath, too, and then lay in the hot sun for awhile. I had to pick out some stubborn cosmoline along some corners and small hidden areas. I disassembled the firing pin assembly, but broke the retaining pin trying to reassemble it (my bad). Got a sub online and ground it down to fit. Everything cleaned up nicely, except the wood leaked Cosmo after getting hot during firing.

Took it to the range with the advertised surplus ammo. This rifle shot on paper at 50 yards, measuring 2 inches. Moving out to 100 yards, my first three shots were under an inch, completely baffling me. A lot of comments and reviews I had read stated this rifle was only capable of anywhere from 2 to 6 inches accuracy at 100 yards, so I wasn't expecting much. My 65-year old eyes and the iron sights must have had a lottery day, as the accuracy gave me 1-2 inches all day. The kick was negligible, making it a sweetheart to shoot. This is now my favorite semi auto, and just bought more ammo to have more fun shooting. Clean up was easier, as even the "corrosive" surplus ammo did not dirty the barrel much, which gleamed bright after initial cleaning. I look forward to more shooting fun. My son has a SOCOM, and this SKS shoots better and lighter than his. Of course, the lighter SKS ammo makes a difference, too. I think he was jealous I paid a thousand dollars less and got an accurate, reliable semi auto rifle.
I told him, his SOCOM would cut down the zombies from 500 to 1,000 yards, and my SKS would get any that leaked through.
No FTFs, or FTEs all day. Thank you for an outstanding rifle, Classic.
The Yugo SKS is very good, loved the way it handles, the ammo is no crazy expensive and the quality in how I received it was excellent, like new. I was actually surprised in how well it was kept. I wish I could afford buying a crate.
Perfect 1977 never issued? carbine. Only one page vs log book but the Slovenian sign off said BREZHIBNO (flawless?) 0% barrel wear. Maybe no full book since it was never issued? Inspection page entry was from 2007 after sitting for 30 years in some cave?I felt bad when I created scratches moving the 2 take down clamps to take apart for cosmo cleaning. I don't think it had ever been taken apart or shot after it was made. Moldy sling and plastic oiler bottle but had all other misc parts, rope, cleaning kit and cleaned up great plus all numbers match. Like it was just issued with beautiful stock grain but full of cosmoline. I feel very luckly and just hope it shoots as well as it looks.
I recently purchased a yugo rifle and it is well worth every penny that was paid. it was truly everything you said it would be and more. taken to the range it shot and functioned like a dream. after watching your video on grease removal that to was not a problem. if i could sneak another one in i would surely get another.

thank you classic arms

Grizz;;;
Most of the reviews indicate light use to near perfect. I like milsurp to have more character so I was hesitant to order for s while. Not a hand select with plenty of bumps and bruises on the wood and the sharp edges on the bluing are worn. Used mineral spirits on the wood which exposed straight grain with a couple of places showing real beauty. Looks the same as the one in the first picture of CFs SKS page. I was thrilled to see it came with the log book showing it went into service in 72 and then issued to a soldier in 74 who carried it for 13 years. It was issued to two others with the last date in the book June of 90. Log book showed a plotted target showing about 4moa in 72. Shot it off a picnic table resting on a jacket and two sacks of feed for a rest at a feed sack staked at 100 yards. Red Army was 4-5 inch groups, Prvi was about 8 inch, PMC Bronze was all over the place with the most expensive ammo I tried, Hornady, being the one it liked. 5 shot groups were well within the 2 inch range usually 3 in about 1.25 inches with one or two opening it up. I was not expecting that. I was expecting SKS accuracy of 4-5. All in all a good purchase. Will say that feeding through the bottom is doable but I'm going to get some stripper clips to take advantage of the hold open feature. All in all I'm quite pleased with it.
I didn't expect anything close to perfect, as these have been available for quite some time and the really good hand select ones were probably already gone. Still, what I got was a very nice, numbers matching rifle with a beautiful stock. It came with everything except the log book, even had a nice leather sling. After the mineral spirit bath and a good scrubbing, she's a beauty to behold. I couldn't be happier. Thanks!
My wife and I were both in the military during the cold war and this is a perfect representation of the Eastern block at the time. Came packaged up nice and tight, fast shipping with lots of accessories. Did notice a key part missing and Classic jumped on it like a fireman at the bell. Two days later, the part was at my door. This project will be a working display on our wall.....I am 3D printing a dummy rifle grenade to go with it. Thanks!
I purchased 1 a few weeks back during one of the weekend sales. It was a nice rifle but I was hoping for one a little nicer so when they went on sale again I purchased another which was in beautiful nearly perfect condition. Once the cosmoline was removed I had a very nice unissued firearm. The accessories all look great but unfortunately no logbook. Its all luck of the draw. Customer service is 100% TOP NOTCH! Two thumbs way up for Classic Firearms SKS!
I just received my SKS on Friday, and I couldn't be happier. Once I got all the cosmoline off, it was in excellent condition. The stock doesn't have a single scratch or dent on it. The metal is in perfect condition as well. I can't even find any wear or a scratch on the bolt or any of the parts. This rifle is in far better shape then I could have thought possible for a surplus military rifle. I would highly recommend getting one before they're gone.
Can't say enough good things about this rifle. One of the best parts was opening the box to see that Classic Firearms had included a pair of latex gloves, which brought both myself and my FFL a good laugh. As for the degreasing, definitely watch Ben's video for some tips, which the spray bottle with mineral spirits and five gallon bucket worked perfectly. I also used a small bottle of compressed air that you can buy at any electronics store used for cleaning computer keyboards. This worked great to extract cosmoline from hard to reach areas like corners in the receiver, as well as the firing pin channel, gas port, and gas block assembly. Once degreased, I realized that this rifle had probably not of been fired more than 5 times, and was never issued. Instead, it seemed to have been received by the military unit that it was assigned to, and then put into long term storage. It certainly exceeded my expectations in every way and I am very happy to have bought it! Unfortunately, I ordered too early and missed the flash sale though! Still, this rifle is worth every dollar and I am looking forward to the chance to get it out to the range. Thanks Classic Firearms, you guys rock!
I purchased a 1972 Yugoslavian SKS with the hand select option. It did not come with a logbook, however it came with the other normal accessories and leather sling. The bluing on the Rifle was amazing and the bore was crystal shiny. There were no wear whatsoever on any of the metal parts and muzzle, and it looks like it has not fired more than 100 shots. The stock did have more marks and dings from wear/storage than I was hoping for with the hand select, but the wood grain and color was beautiful nonetheless. I am thinking that this may have been issued to a border patrol or a ceremonial guard.

It's a great firearm. I am very satisfied with this rifle!
This rifle is in great shape. Almost like brand new. I watched the video on cleaning it and under all that stuff it looks great. Cannot wait to get out and shoot it. I might have to buy another one.
After 3 weeks of waiting for this gun to get delivered to my FFL, and after shooting this gun, I have to say this gun is my second favorite. The recoil is low, the accuracy is great, the condition at which I got this gun is superb.

If there was one gripe I had with this gun it would be the firing pin. After bringing it home from the FFL, and cleaning the massive amounts of cosmoline on it, I had to fight with the bolt to make it move. It took me around 4-5 hours to get the bolt unstuck. I don't know if there was so much cosmoline in there or if it was blocked with debre, but it just would not move. I boiled it, and it didn't work, then I sprayed it with break cleaner, and that didn't work. Finally I got really pissed off, and took a hammer and just wacked the bolt a few times and it finally freed it up. I then again sprayed the crap out of it with brake cleaner and oil, then boiled it. Repeated the step 2-3 times and it finally moves freely, but will still stick after firing and then needing to reload.

I strongly advise anyone before firing this sks or any sks, look at your firing pin and bolt. If it doesn't move, don't put ammo in it. It will slam fire when you put ammo in, and it will go full auto. Inspect to see if your firing pin is in fire position or is pulled back in ready position. Unless you want a full auto gun, which is highly against the law in a lot of states, then check it and inspect it every time you clean.

Other then that small gripe, the gun is a 5/5. Highly recommend getting this gun, especcially if you live in gun control states like me. Though it was hard finding a FFL who would touch a SKS, I finally got it and it's the second best gun I fired!
Absolutely love this rifle. When I got it, there was cosmo everywhere. But after a good scrub with some simple green and hot water all metal parts move like new. Bluing is probably 99%. As for the stock, I scrubbed that with simple green. Then over a few days I pulled most of the cosmo out of the stock with a heat gun. Then I sanded it with a medium grit paper, then fine grit to smooth. The stock was pretty flawless when I got it. No nicks or gouges to sand out. Basically just did it to bring the grain out. I finished it off with a few coats of tru oil, and now I have an absolutely gorgeous Yugo SKS. Absolutely couldn't be happier. I could have done half the work I did and it would have still been a beautiful rifle. Classic has won my faith in purchasing rifles online. I will definitely be giving you folks more business in the future.
Just received my rifle today, looks to be un issued, most of the reviews that I have read, and watched, show that they received a logbook of the rounds fired through the rifle, I received a page that has no rounds listed, it has a beautiful stock, and is packed in heavy casmoline, The bluing is perfect, I have yet to fire it, but will after a good bath, so far I am very pleased , classic never lets me down !!
After a few hours of scrubbing cosmoline,discovered this gun was born in a year of little yugo production..absolutely never used or issued...it's flawless besides a few packing dings.....excellent sales and service,shipping.....and beautiful 59/66
First time purchasing a C&R firearm. Classic is so easy to work with. SKS arrived quickly and it is in outstanding shape. I did not choose "hand select" but cannot imagine that there would have been a much better version in the crate. SKS came with an accessory kit that once cleaned up is also in great shape. Cosmoline cleaned off nicely--the action, barrel, and stock are all in outstanding shape. The bayonet is flawless. Overall a great experience and a great classic historical firearm.
This was my second order from Classic (first was a CPX-2). Ordered my Yugo on May 9th came in on the 13th (shipped in 24hrs and 1 minute), the FFL was impressed with the price and quality (non-select). Cleaned up nice, blueing was great with some minor wear marks at the lever/release points & No corrosion. The stock Dark Med in color and was beat up some (dings & minor scratches) still a lot better than other SKS's I've seen. No book, no oil can case, and Oiler looked at sometime repaired but re-cracked. But like Ben said "the Accessories are gravy (even if it is a little lumpy, ha, ha)". I gave it 4 stars because it was not hand select, but to be clear I am not disappointed in the least. Definitely would recommend to anyone, and already am a turn customer. Great job again guys, can't wait to get her to the range to see how she does. Will update again after that.
Just received my sks a few days ago . Must say it was covered in cosmolin heavily and got to use gloves to handle . After 4 hours of cleaning and re-lubing everything, the gun looked brand new and after 200 rounds at my local range and a lot of compliments I have come to realize my gun is kick ass and very proud to tell everyone classicfirearms is my new go to store . THANKS.
I ordered with hand selection.Gun is beautiful numbers match I have cleaning kit ammo pouch sling and armory documentation.Thank You ClassicFirearms.
Recieved my rifle on 5/17. With all my Classic Firearms purchases with the exception of my first I don't worry about being disappointed when the firearm I ordered arrives. They explain very accurately what they have and what the condition is going to be. My Yugo SKS was all matching numbers and in excellent condition. Thanks Classic !!
My SKS I received was in in excellent, as new, condition. The stock was perfect and flawless. The barrel was clean, rifling sharp and looks fantastic. I don't believe this rifle had seen much, if any, use at all. All my numbers matched and I received all the accessories, pouches and paperwork. I did opt for the Hand Select, which I normally wouldn't, but I always wanted a Yugo, so for that, I didn't mind hedging my bets a bit.
As is SOP with surplus, this thing was covered in and full of cosmoline. The gas tube oozed cosmoline out of the vent holes when I removed the piston. To me, the more the better, so I just got to work and took two days cleaning and soaking parts. She cleaned up rather nice and I am happy to have her as part of my arsenal. I am looking forward to taking it out shooting soon. I don't forsee any problems.

Thank you Classic
Great looking rifle, pleased. I paid for the select option and the stock had a pretty good nick in it, disappointing.
Wow!..... I received my SKS yesterday and as soon as I looked at it caked in cosmology I thought to myself..."Is this thing new?" Needless to say I rushed back to the shop,grabbed some wax and grease remover and a good set of spray gun cleaning brushes and cleaned the whole thing disassembled. I really can't believe I got a new rifle. I mean I made a bunch of passes with patches soaked in bore solvent and absolutely nothing came out. The Chamber face doesn't have a single mark on it and everything else in the rifle is brand spanking new. The piston assembly was nice spotless and unbelievably shiny with no marks whatsoever at the end were it strikes the bolt carrier. The only thing that has some marks on it is the stock. There are some dents and small scratches but nothing else. I'm absolutely amazed and happy with my purchase. This is my 5th firearm bought at Classic and will continue to give them my business. Don't think twice about it....if you are on the fence about pulling the trigger on anything they sell do it. I'll post another or update this review later with pictures.
I enjoy older wood and steel firearms, so when I saw that this Yugo SKS was for sale, I was ecstatic. I picked one up on the recent flash sale, although without the hand select option, as I was decently optimistic about the quality of the rifles judging by the many, many pictures here on the website. I was very wrong.

I'm not picky when it comes to the color of the wood on the stock, but upon opening I was greeted by a stock that looked like someone had taken a knife to it, or attempted to stone it to death. The other side had a medium sized pockmark right above where your thumb would rest. The metal quality is very nice all around...but the receiver base and receiver cover are different colors. What?

Disassembly was no problem, cleaned all the parts with mineral spirits with no issue, bore looked fine. Let the parts dry out before I reassembled the rifle. Again, I ran into trouble. The gas plug where the selector is for the grenade launcher sights? The selector would not fit into the plug. It had come out initially when I was cleaning the cosmoline off, but under no circumstance would it go back again. After an hour or so of oiling the thing to hell and back, I finally managed to jam the selector back into the gas plug and reassembled and oiled all the other parts. After reassembly and testing, the only other thing worth mentioning is that the bolt feels hard to pull back. Rifle cycled fine.

In conclusion, is the rifle functional? Yes. Does it look and feel good? No. The biggest negatives for me are the horribly weathered stock and the mismatched receiver metal and uncooperative gas plug. I was hopeful between nearly 240 very positive reviews and promising screenshots of excellent rifles that I would not be let down. Guess that's not the case. Maybe I should've bitten the bullet and used hand select, who knows. Will be considering an RMA.
I ordered this rifle when it was on sale; I also got the hand select option. I was impressed with the quality and condition of the rifle. Mine was made in '71, and came with all of the accessories minus the logbook. Also, the rifle was very well packed.
I just received the SKS last week as I was on the fence for a long time about the purchase. I debated for almost a year. Other guns in my collection took priority which always seemed to push this one further down on my list. I was worried about the quality of the guns that were left in inventory as Classic had them on the site for some time. I rolled the dice and spent the extra 20.00 for the hand select and could not be happier. The description of the quality of the firearms is spot on. Not a blemish on the stock and the barrel is perfect. Anyone looking for a quality SKS will not go wrong purchasing them from this site. This is the second purchase from Classic Firearms and it will NOT be my last. Good job guys and thank you.
Picked up my cosmoline coated beauty today and am extremely happy. After watching Ben's introductory video I thought they all looked good enough to not warrant the hand select option. I did however request that out of the "non hand select" group that I get a darker stock with a defined wood grain, if available. Since I did not pay the hand select fee I figured my odds of having a special request get honored were slim but Classic came through and gave me exactly what I asked for! For that I am both impressed and grateful! The bluing and stock are excellent with only minor handling dings as expected. Everything looks as new as it could and I was lucky enough to get the arsenal book with mine as well. Again could not be happier and another huge thank you to Classic Arms!! Now time to clean her up and hit the range!
I was very excited when I ordered my gun the SKS I had read some reviews , they look good. After I place my order I read some more reviews and started to get a little nervous. I thought maybe I would have to lower my expectations of what I was receiving. I've never bought a gun online before I was always able to hold it in my hands and inspect it. I must have read the description 10 times after I ordered hopefully the description would match what I was going to receive. I took the hand-picked option. I received the gun in approximately 7 days. I was quite surprised the gun was more than I expected my FFL dealer was quite impressed also. The gun was exactly as described if not better. The packaging was sufficient the staff support was excellent only flaw I can find is a couple small shipping marks looks like where the gutn rested in the crate. After a lot of cleanup I took the gun out the shoot today. The gun was spot-on Target. I did have several failure to eject after inspecting a gun further it appeared that there must have been some cosmoline left as the gun heated it must have liquefied and then as the gun called it became tacky. Recleaned it, shot a hundred and twenty rounds no problem. I wouldn't hesitate to buy from classic again
This is not my first purchase from Classic Firearms. Do yourself a favor and take advantage of the flash sales when they are available. I waited to purchase the Yugoslavian SKS after I missed the Black Friday deal of the century. That won't happen to me again! So, when this SKS went on sale again, I jumped without selecting the hand select option. It arrived quickly and preserved in cosmoline as I expected. I received an ammo pouch and the cleaning kit. After a quick tear down and my top secret <30 minute cosmoline removal process, I had a PERFECT, like new, Yugoslavian SKS in my possession! I am once again pleased! I can't wait to see what Classic Firearms will be offering in the future!
I rarely write a review for anything, but this rifle deserves one.

The Yugo SKS is an awesome rifle. From a collector standpoint the SKS has an interesting history with the Russian military (an others). The technology on the Yugo version is pretty neat; bayonet, grenade launcher, flip-up night sights (although they do not glow because of their age), and ease of disassembly, and reassembly.

The condition of the rifle I received was Excellent. Albeit, drenched DRENCHED in cosmoline. Although, to me that is a plus. I enjoy stripping the rifle down and giving it a good cleaning and thorough inspection.

From a shooters perspective, this rifle exceeded my expectations. With cheap Russian ammo (Brown Bear, Barnaul) it is precise and accurate. Not much recoil at all (it is heavy). I have not put it through the paces when it comes to reliability, but from what I hear it is resilient when in harsh conditions.

From a legal view, it has a fixed mag, which means in gun "loving" states like NY it remains legal for now.

I will probably buy another one this summer. Don't pass an great rifle like this up!
Ordered Yugo SKS last Wed. got it Tues. Brand New rifle (plus 40-50 years). Covered in cosmoline as advertised but mint condition with nice accessories. The guys at the gunshop said it was the nicest SKS they have ever seen.
I'm planning on ordering more once my C&R is approved.
I received my sks today. I did the select pick option on it. I got everything but a log book. The rifle was nice but had a few imperfections to be expected. Overall I am very pleased with it. Took some cleaning though also to be expected. Good deal I think.
Received my SKS yesterday and was not disappointed at all by the overall good condition of the rifle. Classic Firearms kept me informed of the progress of the order via email. This is my first order and would definitely order again. Thanks guys!
I got my SKS today. I opened the box and could not believe the quality of this firearm. Stock is beautiful, not a scratch or nick on it. Bluing is awesome. Looks like the rifle was just made. I requested a dark stock with a lot of grain and that's exactly what I got. I couldn't be more pleased. I cleaned the cosmoline off and shot 2 rounds. perfect function of the rifle. No problems with shipping at all. Everything went smooth as silk. Thanks Classic firearms.
I ordered this Yugo SKS (with hand-select option) using a money order; while it was in transit, Classic had a one-day sale, dropping the price. I called and just asked if they would apply it to my sale, and they did it without a second thought. The first rifle I got from them (an AK) shipped almost immediately; this one went to Picking status for about 4 days, so I called and politely asked if there was a problem with my order. Talked to 2 different people, both confirmed no problems but they were just swamped with orders that week,. So, a day or two later it shipped; picked it up, very sticky with cosmoline but looked very nice, included sling, leather pouch, oil can but no logbook (which is ok). All the numbers match.

The video from Brutus (on this website and YouTube) on disassembly and cleaning was EXCELLENT, many thanks Brutus (I still almost lost one of the springs)! One additional step I did; after cleaning with mineral spirits, I CAREFULLY turned the stock in front of a propane garage heater to drive out additional cosmoline. Cleaned up afterwards, very nice. Has a more reddish look than the blond, but I like it that way. I chose not to sand it completely down; it has some 'character' scars, which gives an authentic look. This rifle truly has some heft to it, with the grenade launcher and bayonet on the end; can't wait to get to the range with it.

Classic was very nice to deal with; this is my second buy from them, I also picked up some Yugo ammo with stripper clips. Will be buying more. Thanks Classic, and keep up the great work!
I paid the extra $20 for a hand picked one and I guess I was hoping to get one that was never issued but I guess those were prob gone by the time I ordered mine. It's still a good rifle for what I paid. The only reason I gave it 4 stars was bec of the pitting on the bolt cover. Other than that, it's it great condition

I ordered my SKS (hand-select) on a Saturday and picked it up from my FFL on Friday. While I wish my rifle came with a log book, I honestly could not not be happier with it. It has all matching serial numbers, the bluing is close to perfect, and it looks like only 100 rounds have been put through this thing throughout its lifetime. The stock was dinged up a bit and dry, but what is to be expected from a 1971 military surplus rifle? Best of all, the rifle is dead accurate and after a number of rounds at the range the thing did not skip a beat!
I bought the Yugo SKS after spending the extra $20 for hand selection. I was very satisfied when I unwrapped the rifle. It looks brand new and I actually enjoyed getting to know it as I cleaned away the cosmoline.

I've already received compliments from my first trip to the range with it. The SKS is a pleasure to shoot, but there's still work to be done to get it zeroed. That kind of work is the good kind.

If you're considering buying one of these rifles, go for it. You won't be sorry.
I saw this item at Classic on a random search for an SKS. I watched the video & read the reviews which all (99%) indicated that these rifles were in top notch condition. Being a trucker I called home and had the girlfriend order two hand selects. (one for her of course) They came in to our local FFL in about 2-3 days. We picked them up & brought them home & when I opened up the box & extensive packing material they were completely caked in cosmolean. 30 minutes of cleaning later & there was a BRAND NEW, UNISSUED SKS in my hands. Absolutely stunning honey/orange stock & NO WEAR AT ALL on the action. The second one was just as stunning & new when I cleaned it up. Both came with leather ammo pouches, bore snakes, leather slings & oilers. They were only 8 serial #'s apart. I couldn't have been more pleased with our purchase, in fact I contemplated buying another full case but women will talk you back to reality. (sometimes) I would highly recommend this SKS if you are looking for one as a collectible or a shooter. WORTH EVERY PENNY!!!
This is my third SKS purchased from Class Firearms. Just as I did in the past two purchases I selected hand select and on the first two i swear the rifles just came out of the factory. In this case the rifle is nice but not close to the first two examples. Good thing is all the metal serial numbered parts matched. The stock is not the original stock for the rifle and has a fair amount of dents and dings. Also the magazine also had some pretty good scratches on it. Came with most accessories although no log book. Maybe these are getting close to the end of the inventory, maybe not however for hand select I was expecting the first two examples. Still a fine rifle and the luck of the draw I guess getting surplus firearms sight unseen. Would have rated higher if I had not paid the extra $20 for hand select.
The rifle that I received is in very good condition and very little evidence of use. Last night was my first time to take it to the range and I was very impressed with the accuracy and the cycling of the ammo. However, I did experience some challenges using the stripper clips in loading the shells into the rifle. It appears that I will have do some work on the stripper clips so that they will better fit the slot. All in all a very good shooting experience.
I was a little upset that I did not get an arsenal book with my hand select purchase. The rifle also had some bluing wear. I thought that that it would have been a little better for hand select. But all in all it is a nice rifle. It shot way high and to the right at 50 meters. I had to raise the front sight extremely high to bring the bullet down to the center of the target. There is not much room between the top of the sight post and the inside of the sight ring. I sited in the rifle is very accurate. I was able to shoot 1" groups at this distance. It's a good rifle.
Beautiful rifle. It was packed and shipped very fast and showed up at my FFL a couple days later. I got it all cleaned up using mineral spirits as suggested in the videos. I chose the hand select option and couldn't be happier. The wood and bluing were in excellent condition. The accessories were a neat bonus. Oh ya, it shoots great.
Order one of these SKS(hand select) after stumbling onto classic's video about them on you tube. Item went on sale 3 or 4 days after I placed my order. Contacted Classic and asked if I could receive a store credit for the price difference. They responded the same day via email and told me they would be happy to accommodate my request. Received a refund of the price difference in a very short amount of time. Once I received my rifle I was very pleased, I requested a reddish brown rifle over a blonde preferably one with a log book. My rifle came with a very nice light brown colored stock unfortunately with no log book. I have no complaints. Rifle was in excellent condition and was either very lightly used if not un-issued. Great rifle and Great Customer Service.
Order one of these SKS(hand select) after stumbling onto classic's video about them on you tube. Item went on sale 3 or 4 days after I placed my order. Contacted Classic and asked if I could receive a store credit for the price difference. They responded the same day via email and told me they would be happy to accommodate my request. Received a refund of the price difference in a very short amount of time. Once I received my rifle I was very pleased, I requested a reddish brown rifle over a blonde preferably one with a log book. My rifle came with a very nice light brown colored stock unfortunately with no log book. I have no complaints. Rifle was in excellent condition and was either very lightly used if not un-issued. Great rifle and Great Customer Service.
I don't typically review things but I've been so satisfied with the rifle I got I felt I had to leave a review. I paid an extra $20 for the hand select option and I am so glad I did. I got a basically brand new sks with one very tiny ding on the stock and 98% bluing. Seriously, the rifle is gorgeous. I cleaned up the rifle, took it to the range, and ran 110 rounds of Yugo M67 surplus through it flawlessly. I also got the log book with my rifle which I am super stoked about. As a poor college student on a budget, I really wanted to add an sks to my growing gun collection and this is a beautiful example of an sks. Can't recommend enough!
Got the rifle in a week from order date, i received the honey blonde stock serial # not matching the rest of the gun so i stained the stock with dark old maple stain and added 30 rd mag. Very accurate gun and fun to shoot. Came with most of all the accessories (no book or sling) Only downside is some bluing is gone but my rifle was made in 1974 so not a surprise.
I bought my Yugo 59/66 A1 SKS a couple months ago. I work grave so, in the middle of the night on a "day" off I started cleaning. 6 hours later my SKS was clean and good to go! This weapon looks and functions like it should. I picked hand select and got a great riffle for it. The SKS is easy shooting and from the look of the parts its high quality. I should know, I tore it down until the only part that had another part attached to it was the barrel and the top hand guard furniture. On my first time out at 100yds all the shots were on paper and they would have been tighter but the shooter can't see to good.
Couldn't resist buying what seemed to be the finest SKS I could afford. I wasn't disappointed. I spent a good amount of time removing cosmoline, but that's okay, it's a finely preserved, un-issued rifle according to the logbook. I translated as much as I could from the Slovenian booklet, and there seemed to be no markings indicating it was ever fired. A pristine rifle indeed. Only a few storage marks on the stock. A couple non matching parts, but that didn't bother me much. The vast majority of it was an F series (1969) rifle. Took it out to the range and sent 120 rounds through it, was great to see it come to life. As usual, Classic had great service and this was a great purchase.
I have bought from Classic Firearms before and have no complaints about their service and shipping. As far as the Yugo goes, I have been putting of my purchase for months waiting for a real bad review. Never seen one so I purchased one. After I completely disassembled my Yugo with mineral spirits and examined each part thoroughly, prior to reassemble, I came to the conclusion it has never been fired! Brand new, unissued beautiful rifle. All the reviews are true. I just might buy one more. I do not think you will ever find these in above excellent condition again!
Good purchace overall, I had to get some goo gone but then I decided to strip it apart to clean them nicely.

One note, SKS can become a stuck/rapid fire automatic gun if bolt is stuck and not cleaned, so do clean your cosmoline before you shhot it.

-peace!
Like everyone else I did expect to receive this rifle soaked in cosmoline. I first started removing it using baby wipes, then I soaked the parts in hot water and disposed the water in a safe location. It got some of the cosmoline off the rifle, but not all of it. The next day, I took the rifle outside and sprayed it with mineral spirits and wiped the cosmoline off. Messy job, but overall I think i got 99% of the stuff off. There may be some in the bayonet , but the most I can do right now is keep lubing it and cleaning it. I read I shouldn't have used water to clean the stock because it would damage it. I guess I should have used the method with baking it under the sun or on my dashboard. Unfortunately, where I live is not that hot yet. All in all, after some old english wood oil, the stock seems to look pretty good now. Great rifle, I can't wait to shoot it at the range.
I want to thank for a one day sale and for having a wonderful and friendly personnel. I carried M59/66A1 while compulsory serving in Yugoslav National Army in 1983-84. The rifle you send me is in superb condition. I think it has not been even issued. It was stored for a long time in the same position based on a couple of minor indentation marks in the beech stock. After I cleaned it form cosmoline and put 3 layers of Danish oil, it looks spiffy. The cleaning accessories that came with the rifle are in great condition. The most importantly, the barrel is in pristine condition, mirroring like a ballroom chandelier. I attach three pictures. Picture 1 shows the rifle as received and unpacked (top left), taken apart and cleaned (top right), and then re-assembled (bottom). Picture 2 shows all the matching numbers (2 sets) found on various parts of the rifle along with the looks at front/rear parts of the bore. I think that after factory test shots, this has not been fired much, if at all. Igman ammo (used in Ex-Yugoslavia) is mildly corrosive and there would be some signs in the bore reflection if the rifle was used in service. Picture 3 shows 10 shots (full clip) made in ~ 7.8 s at 100 yards using iron sights (after adjustment for windage and elevation, albeit the original settings put me on the paper). After first 3 shots (out of black area) aiming at the bottom of the black circle, I re-adjusted aiming at the bull's eye. For comparison, I shoot this round on the target I previously used for my Tikka T3 Lite 30.06 action both rifle equipped with 3-9x 50 mm ProStaff BDC Nikon Scope. Tikka's 9 hits, which took about 10 minutes (clip holds only 3 bullets), are marked with pink patches. In my view, the SKS does a really nice job. One thing that I expected, but other customers may need some warning, is that when using mineral spirits (as I do) to clean cosmoline, I took off painted numbers on the grenade launcher sights (by just wiping it off, not even by brushing for which otherwise I use a toothbrush). This does not apply to flip-on front/rear night sights that can withstand such cleaning. All of those painted numbers are anyway meant to be repainted every few years for night action, not that I can find anywhere to launch a grenade and less so at night.
I just received one of these rifles today. And this transaction is a typical example of why I prefer do business with Classic Firearms.

First, the rifle arrived a day earlier than promised when I purchased. Somebody took the extra step of getting the initial paperwork going over the weekend to get my order out ASAP. It's tough to find service like that in today's market.

Second, UPS did their very best job to damage this rifle in transit. The shipping box was ripped up in several places...looked like the thing must have gone through a war zone on the way to my house. But Classic took the extra step of wrapping the rifle up tight in several layers of heavy-duty brown butcher paper. As a result, the SKS arrived without a scratch.

Third, the rifle itself is a pretty amazing specimen of the Yugo SKS. All matching parts numbers. Very bright bore (maybe 8.5 or 9 on a scale of 10). Not a nick or scratch or sign of wear on the stock or the metal. Although there is no log book, I suspect the gun was unissued from the arsenal until now (I'll need to research that a bit). Soaked in cosmoline, which means it was well-preserved. All the accessories are here: the cleaning kit, a very old oil bottle, the cleaning rod, a very old cleaning rope, and a very old leather sling (all of which have definitely seen service in the field...very cool).

To sum up, I'm really happy with the purchase. Could I have bought the rifle elsewhere? Yeah, probably. Would I have received the same level of service and quality as that delivered by Classic? Not likely. Another 5-star review, based on both product and service. Can't wait to clean this rifle and get it out to the range!
By far one of the best SKS's I have ever owned. When I received mine, I would of sworn it was new and unissued. If it wasn't for the log book that came with the rifle I would thought it unfired.. This is another fine example of Classic Firearms ability to retain some of the finest surplus firearms on the market today. Thanks Again and like always it is a pleasure doing business with Classic Firearms....
Can't wait to see what comes next...........................
Got my rifle in a brand new condition. So happy. Thank you for the excellent rifle worth the price. Definitely someday will buy again.
Thank you for make me happy "Classic Firearms"
This is my second purchase from ClassicFirearms, but my first military surplus rifle.

Let's start from square one: I ordered my firearm from ClassicFirearms. Two days later, I saw they had a flash sale for thirty dollars off the original retail price, and this only lasted one day. I was a little bummed because I ordered my firearm too early, so I checked my order and it still hadn't shipped yet. I contacted ClassicFirearms and asked if they could honor the sale price from the flash sale. They informed me they would, and they were very polite and helpful. They later shipped my rifle.

When I arrived to my FFL dealer, I saw the firearm laying there in a mixture of brown paper and bubble wrap, on top of the cardboard box it arrived in. My FFL dealer said "there it is." I asked him if I could inspect it, in which he said "go ahead." I held it in my hands; it was big and firm, but very sticky and covered in cosmoline….. I knew that it was no longer a dream; it was in my hands.
I got home, and I sliced open the cardboard box, and found some more goodies: A cleaning kit which goes inside the stock of the gun, a very crude bore snake, two leather pouches, an oiler (very classy), and an old leather sling. I've got to admit, they smelled like old shoes and it made my entire room stink like an antique shop. However, I was unboxing history. These items have gone decades before another person had handled them. I felt like I was holding treasure.

The next day, I did a complete field strip, watching a video that Brutus from ClassicFirearms put out, which explained how to fieldstrip and clean the rifle. I knew firsthand what I was in for, so I soaked all the pieces of the rifle in mineral spirits… this took a while. After most of the mineral spirits had eaten most of the cosmoline away, I finished cleaning the parts like I would normally clean them after a day on the range. This all took time, but I got to learn a lot about this rifle. Make sure you clean the inside of the barrel well, because you do not want any barrel obstructions (your gun could blow up).

The things I learned about my SKS: The serial numbers showed me that the firearm was produced in 1970. The SKS had a ported grenade launcher, and the rifle had a phosphorus night sight. My rifle showed a little wear on the outside, however, the inside of the rifle looked really great. I'm not sure if all the serial numbers on the parts were matching, but I think most of them were. There were so many different markings on the parts of the inside of the rifle.

When I brought it out to the range, I was a little nervous…… is this going to blow up in my face for some reason? I fired the weapon, and it functioned flawlessly. It doesn't have much kick; I would say it has as much recoil as a .223 rifle. Immediately upon firing the rifle, a grandfather and his grandkid walked up to me and asked "what is that?" I explained to them a little about the origin of the rifle, as well as what every part of the rifle does. They wanted to shoot it, and I let them – and I had just gotten to the range! I felt like I was the star of the show.

Even though I have written a lot of words in this review, words still cannot explain how awesome this rifle is. I wish I could have ordered a crate of SKS's, but I am a poor college student and that would be a very bad idea financially (haha).

Not quite as nice as the first one,but will look very good with new folding stock.Thank You Classic.
I have purchased two of these yugo Sks rifles. One at regular price and one from the one day flash sale. I paid for the hand select on both rifles. Both rifles were in very good condition with minimal blueing wear about 95% intact, and clean stocks. The one stock was almost perfect and the other had several small blemishes around the butt end of the stock. They came with the log book, sling, oiler and pouch, ammo pouches, cleaning kit, and rope bore snake. All the extras were in good condition. The reason I gave a four star rating is because I paid the hand select fee and feel that it should have yielded me a excellent condition rifle compared to the very good rifles I recirved.
I received my SKS two days ago. Impressed!!! This gun is in excellent condition! It's beautiful! I went with hand select. Cleaned up really nicely. I was pleased it was packed so well for shipping..thank you! I'm looking forward to range time!
Received my SKS two days ago..absolutely beautiful gun!! Happy I did hand select. It was boxed really well..thank you!! The gun is in excellent condition! I can't wait to take it out to the range! Thanks Classic Firearms!!!
I fell in love with this gun as soon as I took it out of the box. It's not in perfect condition and I didn't expect it to be. However it is still in great condition for its age, and all the numbers are matching. Just fair warning, if you buy this gun be prepared for a long cleaning session. It took me about 6 hours with simple tools. And I will probably clean it again before I shoot it. I love the bayonet! And it feels balanced well when I look down the sights. Get this gun and get intimate with some gunk out and hoppes. But when your done enjoy a fun rifle for the money!
Once again Classic comes through with a excellent rifle. I own three SKS at this point and this YUGO is excellent. Thank you Classic!!
I've always wanted an SKS rifle but haven't been able to find any after they dried up. But, to my amazement, Classic Firearms got in a shipment of Yugo SKS's. I'm so glad I found them! This rifle is immaculate! I don't think that it was even issued! This is a great investment!
For my first rifle I decided on this Yugo SKS. Went with hand select and i was not disappointed. The rifle looks amazing. Spent a day cleaning it thoroughly to get all the cosmoline off. Serial numbers all match. There is one small nick on the wood and a small mark or two on the barrel which I could care less about because they are barely noticeable. Slight diacoloration on the end of the stock which is an easy fix. Mine came with a great condition sling, pouch, original cleaning kit, and an oil bottle. I am very satisfied with my purchase I would recommend this to anyone who wants a cool old milsurp gun. Have not got a chance to shopt yet but I am looking forward to it. What is even cooler is that there are matching initials carved under the barrel under the cleaning rod and on the bolt. Not noticeable until you take it apart but a very cool personal touch to add history.
Beautiful rifle.
Just received the yugo sks. Very good wood and excellent metal, both well preserved in a generous cosmoline sludge. Next purchase--mineral spirits. It came with all accessories discussed above, packed in a nice condition vintage leather belt pouch, except for the fabled log book. Thats what I get for waitng for months before purchasing. Did get hand select and it has all matching #'s. I've purchased from Classic before and so far am still happy happy happy.
Was pretty dissapointed with the rifle i got after paying for the 20$ hand picking fee, stock had multiple deep gouges and scratches...Im giving it 3 stars only because all the numbers matched up... better luck next time
Absolutely the nicest sks ive ever owned,thank you so much Classic.
Absolutely beautiful rifle I received, glue shut in cosmoline but followed the directions from the cleaning video and used mineral spirits, came right off and fired great!

Hand Select paid off very well, I would encourage anyone to purchase one of these beauty's before the prices go through the roof in the coming years.

Here is a picture of my rifle after a mineral spirit bath,

http://i.imgur.com/RI83E3n.jpg

Overall I am very pleased with the condition of my Yugoslavian SKS. The metal retained about 99% of its original finish. The stock was nice but had one kind of distracting gouge mark near the neck. I received an oiler, a sling, a cleaning kit, and an ammo pouch. All of the serial numbers on the weapon matched as well.

I probably would have given this 5/5 stars if it were not for the ugly gouge on the stock. I paid extra for hand select, and while the rifle I received is very good, I was hoping hand select would have pushed it into the excellent category. But, that's the luck of the draw sometimes, and part of what makes purchasing these guns fun. I would definitely buy from Classic again.
The review summary says it all. Picked my up from my local shop and was very impressed on the condition of this yugo sis. Not to mention all the goodies that came with it. Even the guys at the shop were impressed. So get you one before they are gone. Who knows when you'll get a chance on one in this pristine condition. Well gotta go. Need to clean some cosmoline
I am very happy just blown away with the condition of this rifle just beautiful. It is excellent condition does not seem to have ever been used. Came with some goodies to even the maintenance book that belongs with my rifle. Buy one before they are gone you wont be sorry. Thanks classic firearms what a great rifle.
My crate of rifles arrived today. I'm forced to admit that I didn't expect much. I honestly didn't. After I opened the crate on the freight company dock, I was pleasantly floored to see how beautiful these rifles really are in person. The forklift driver started drooling too. Everybody standing there drooled including me. Sure, they're military grade rifles, but then again, that's why I bought them. They're as tough as they are beautiful and I look forward to cleaning them up so that I can add them as beautiful specimens to my collection.
I sat there staring so closely at my new SKS until my wife said "uh oh, what's wrong"? My reply was "nothing. . . that's the problem. I'm wondering if this is a knock off"? I had to really think about who could produce a rifle this nice and fool everyone. Nope. It's a totally legit 72!! Unissued is what I was looking at!! 100% bluing, sweet stock, light cosmoline and Numbers Matching! Score!! The last one I bought from Classic was just beat to hell and back. It was so bad. Zero bluing, not one serial number matched and I had to buy a replacement stock. I was happy with that rifle as well. BECAUSE I READ THE DESCRIPTION!! That rifle was described something along the lines of really rough, bottom of the barrel, absolute project, etc. I think Brutus even said, don't buy this gun! Haha. It's still a good shooter and was a fun project. If you want a really nice SKS, I'm tellin' ya Brutus ain't lyin'!! I'm really trying hard to not buy another one right this minute. .
Got my yugo sks today, got home and content with the rifle. Classic did describe the rifle as accurate as they said. Looked new with still excellent bluing. Minimal dents and scratches on the stock with nice dark grains on the wood. Did get all the gravy that came with it , however, manual or rifle history was not included, was looking forward to know something about the rifle , guess I have to google more about the history of this fine rifle.Overall, content with the description and speed of delivery ,would have been really satisfied if manual/rifle history was included, can't wait to shoot this thing and will surely order again from Classic... ; )
I purchased one of these Yugo SKS's and chose the hand select option. The gun was very clean besides all of the cosmoline, but that is understandable. the stock fore end retainer was sanded down to the white on one side and the barrel under the hand guard was sanded down in a few places all the way to the white. It looked like it had been rusted and sanded down before greasing. The rifle also did not come with the records book. I was really wanting the book for collection purposes. I do not feel that I should have had to pay for hand select in the condition that this rifle is in and also for not receiving a arsenal book on it.
These rifles are everything they say, and more. Mine looks as if it was never issued. Just a couple of transit marks on the stock, hardly noticeable. Premium price, but a premium firearm for sure. Buy with confidence, you won't be sorry.

I received my Yugo SKS at my local FFL dealer today and on uboxing I have to say I am extremely impressed. This is now the 3rd firearm I have purchased and they are now 3 for 3.

My particular one came with the sling, cleaning kit, pouches, oilcan and oilcan pouch. While I was hoping to get lucky enough to get one with a logbook, that's just a minor quibble and doesn't detract at all from what I did receive. Just as an aside, the oilcan still had a full load of light oil in it. It actually appears to be in good condition.

As for the rifle it's self it came in a nice thick coat of that mil-surp aphrodisiac otherwise known as cosmoline. Under that the rifle appears in almost pristine condition. It had all matching serial numbers, the ported grenade launcher, and the flip up night sight. While the phosphor died long ago, that's easy to do something about. From the prefix and serial number this appears to be a 1969 manufacture.

I cleaned it up a bit to check and there are no visible wear marks on the rails or anywhere on the receiver. The bluing on the metal and finish on the wood is in remarkable condition. If this has been used it was used very little before being preserved. There are a few small dings in the wood, but it's a 47 year old rifle. There is nothing large or deep, just the result of being handled and stored. I've seen and played with SKS's before and I've not handled one in this kind of condition. I'm seriously considering ordering a 2nd one.

Time to dive into the mineral spirits and get the complete cleanup done. Looking forward to taking this to the range.

Good job to the crew at Classic Firearms. Excellent SKS.
Historic Yugoslavian SKS rifle, semi-automatic, manufactured in the famous Zastava Plant - 7.62x39 caliber - Very Good to Excellent Condition.
Love these rifle that's why I bought 3 rifles. If they still have sks around Christmas I am going to get one more. Thanks classic firearms
I've had my hand-select Yugo for about 2 months now and it is incredible. Probably THE best deal on the milsurp market going. I was just on a well-known gun auction website and someone is asking $1,045 (yep, One Thousand Forty Five dollars!) for a Yugo with all the various accessories (including logbook) that Classic Firearms sent me for just north of $400. Keep up the great work.
I ordered one of these in hand select. After cleaning it up, much of the metal on mine is scratched up, but looks okay over all. The biggest complaint I have is with the stock - it has numerous repairs on it and does not look too good. For a hand-select rifle and from reading some of the other reviews here, I expected a lot better. Overall, I've been happy with Classic and would buy from again. It may not be one of these though.
I had my first ever issue with classic on this order, rifle arrived at my FFL well packaged and in a timely fashion as usual, but they had forgotten to include their FFL information, so I called classic 7-8 times in a row until a woman finally answered. At that point, as soon as I had explained the situation she apologized and immediately faxed the information to my FFL. God bless Classic Firearms. SKS was exactly as advertised, excellent condition even with no hand pick. Phosphorus sights naturally no longer work (rifle appears to have been manufactured in 1971). Stock in very good condition although heavily stained with cosmoline (heat should get it out). My particular example does not appear to have been used at all, less some test fires possibly as the contact points are barely visible. Biggest gripe I have is how easy Ben made popping the trigger assembly back in look in his video, his arms are the size of my torso. I had to have my wife jump on it, that worked effectively.
My two Yugos came today. Both perfect condition with absolutely beautiful wood. Plenty of Cosmo which is better than rust. Can't want to clean um up. Thanks Classic Firearms! This was a first for me to buy something via the web. Was a bit scared but SO glad I did!
This is my first milsurp purchase from Classic Firearms, and I am pretty pleased with the rifle. I had the rifle shipped to a local gun shop and only took 1 week to get it. When I opened the box at the shop, pulled out a brass oilier and pouch, sling, cleaning kit, primitive bore snake, and leather ammo pouches, but no log book. the Owner and I were both impressed with what we were seeing even with the coating of cosmoline which wasn't excessive. After bringing it home and a short video of the unboxing, I wiped it down enough to dismantle it. I was very happy to see that all # were matching except for the electro # on trigger group which was the same # electro'ed under the barrel, suggesting an arsenal re-barreling. Overall the bluing on the rifle is excellent and about 98% with a scratch at the dust cover release and at the gas port tube release. The bore is like glass and the receiver rails look barely used. The stock is nice, with dark grain and a few crating dings. After assembling I took into the back yard and test fired it at 50 yd target. 2" grouping, very little recoil and no problems at rapid firing. This SKS is definitely one sweet piece of steel!!
Chose the hand select option and was very pleased with the rifle. After cleaning the rifle of the cosmoline, I was very happy to see a very nice rifle with none to minimal defects on stock or barrel and receiver. All matching serial numbers too. Great customer service. I'm in the works to purchase another.
I finally bought myself a Yugo SKS to add to the collection. I have purchase many guns from Classic and never been disappointed. And this purchase was no exception, shipping was fast and the gun was well packed. It was covered in just enough cosmoline to protect the metal parts. The stock was nice with just a few very light scratches. The bluing was almost perfect with just two very small marks. As usual I am very happy with my purchase from Classic.
No unboxing video, but I unpacked this rifle on Tuesday (2/2). Cosmoline as well set and the tear down began. After 3 days (after work) working on removal (with Mineral Spirits and brushes), I put it back together today. Exceptional, truly! Bluing is 99.9% and the bore is like a mirror, clean as can been, glass smooth lands and crisp deep grooves. It's hard to tell if this firearm was ever shot. No journal with this one, but that's all good by me. Rifle is a 1969 vintage and is a very welcome addition to my collection (which is a shooting collection, by the way). Thank you Classic Arms!
Just picked up my Classic Firearms, Yugo SKS, from my firearms dealer. Unpacked and removed the bubble wrap. I found the gun to be in what appears to be excellent cosmetic condition. Granted, it will need to be cleaned up, and then hopefully I will be able to repost functionality....

Just picked up my new baby earlier today. I couldn't be happier ! The stock was a darker cherry color and the cosmoline wasn't as bad as ones I've seen before. I completely disassembled it and used Hilco Lube to remove cosmoline. It worked great. The gun turned out amazing ! It came with an original oiler, leather pouch , tool kit, and sling. I was a little bummed that I didn't get one with the original manual or service log but I soon forgot about that once I saw how great the gun actually is. This site was a breeze to deal with and I can't wait to buy more guns ! Thanks guys for an awesome piece of my collection !
Pleased with rifle. It was indeed greasy, but cleaned up well and shoots nice.
Thanks Classic...
The rifle arrived and appeared to be in excellent condition, although not unissued. After cleaning all the cosmoline off the rifle, it functioned flawlessly and all parts are matching. The condition of the stock is almost perfect, and the bore is mirror shiny. Thank you classic firearms for providing a quality product. I have been wanting an SKS for a long time, but was not impressed by the ones I have seen on the market. I am glad that I waited and purchased this Yugoslavian SKS, as it exceeded my expectations in a surplus rifle! I purchased this rifle about 3 or 4 months ago, and have not had any issues with it.
Picked up rifle at my local FEL dealer. We opened it and were both impressed at the condition of the rifle. Took it home and soaked it in solvent and mineral spirits. Really turned out great. My friends and I had a fun day shooting it. Its a easy shooter. Once again bought a great weapon from Classic Firearms.
I've been looking for this SKS and finally bought one from Classic Firearms. The rifle was covered with cosmoline inside and out when I got it. After a few hours of cleaning the rifle was in great condition. Looks new like it was never fired. Thanks Classic for a great rifle.
This was a very nice gun with just a couple minor dings in the stock. The packaging I thought was very poor though as the gun was stuck in a box with NO protection at all around the gun. It would not have been that hard to put some bubble wrap around it but all and all it came through in decent shape. The shipping was a bit slow also at least compared to other places. It took a full week after everything was approved before the gun was shipped out which I feel is longer than it should be. This is not my first purchase from Classic and I'm sure will not be my last as over all I have been happy when dealing with them.
If you're interested in a SKS you need to buy one of these. I would say the one I received was never issued, it is perfect. My FFL guy couldn't believe it either.
Thanks guys, will enjoy for many years!
Very nice rifle, cosmoline sucks to get off, but WD-40 did the job fine. Had to refinish the wood after soaking in hot water and using heavy de-greaser. Only gripe is someone (maybe the soldier it was issued to?) hand etched their initials and numbers on the innards of the parts. Be sure to clean all the cosmoline out of the gas chamber and off the gas piston.
Front heavy, but to be expected with all the accessories (bayonet, grenade launcher). Cosmoline is not fun to get off. I used WD-40, did just fine. Had to refinish the stock and gas chamber because cleaning off the cosmoline ruined the finish (I used a dark finish, to me it looks like a WW2 rifle finish). Be sure to clean all of it out of the gas chamber and off the gas piston. Only gripe I have is to whoever etched initials and numbers on the innards of the rifle. It's a really cool gun, easy to work with. I may get a Chinese sks in the future because they are lighter.
This is my 3rd SKS. When these first hit the site, I started putting back money and was able to get one as a personal Christmas gift. Shipped quickly. Well protected in cosmoline. Impressive quality and workmanship. I was disappointed with the hand select as the butt of the stock had water damage to the point where I will need to strip, stain and refinish. There was pitted rust under the rear site and on the receiver. Not a deal breaker, but feedback to the guys doing hand select. I have been and still am a fan of Classicfirearms.com.
First off let me say that i am among the most picky gun collectors alive. I have refused a brand new gun for having a darker spot in its finish the size of a pea. This gun had to have a lot going for it to be accepted by me. That being said it does. There are 3 handling marks in the stock and 1 shinny spot in the bluing were it looks like something metal rubbed it. There are 3 scratches on the metal 2 are were the take down pins flip over and the last is on the mag. Outside of that its a brand new rifle. Mine has a darker stock on it than most pictured but its in good shape. The metal components i would rate as Excellent condition and the stock as Very Good. The rifle came with everything except a log book. I would say it has less than 500 rounds threw it. Rifling looks new. Bluing is 100% in most places and about 95% on the last inch of the grenade launcher as it looks to have fired a few grenades. Overall i am happy, I paid for the hand select and i am not disappointed. I believe this to be a armory refinished firearm. All my numbers match but some have prefixes like J-1234567 and others just have 1234567 with no letter. You cant go wrong if all the ones they have look like mine.
Received a very nice Yugo SKS from Classic last week! I was impressed with the rifle even while covered in cosmoline. After using the recommended method for removing the grease, it looked just as good as if I'd hand-picked it on my own. A few minor scratches from being in the crate, but the stock, bolt, and barrel were all in excellent condition. My only regret to this deal was no log book or log page to this beautiful rifle. An O-series SKS Yugo from 1978, all matching numbers and very nice condition. I would buy another...
These guns are a pleasure to shoot, very smooth, nice kick without the punishing blows of some others. My wife and daughter both shoot it with no problem as well. I went with the handpick option for an extra $20 and my expectations were exceeded. Absolutely gorgeous gun, like brand new! I actually believe that the gun had never been fired, just a slight nick or 2 in the stock from handling. Cleaning the cosmoline off was no big deal, only took an hour and a half to completely disassemble, clean and reassemble the gun. I used mineral spirits and a small paint brush over a bucket and then blew dry with compressed air. The videos that Classic Firearms created to disassemble and clean were very helpful. Classic Firearms made it very easy to buy and shipped it out right away even during the Christmas rush. Thank you Classic Firearms, I hope to do business again.
Although I've been looking at classic firearms page for a couple of years, this was my first purchase from them. I received my rifle within just a few days of ordering and I was thrilled with what they sent. They didn't oversell the condition of these rifles in any way. I couldn't be more pleased and will certainly do business with them again.
Classic Firearms took my order including the cosmetic hand selection and also my request for matching numbers, no electro-pencil, light colored stock and all accessories if possible. Less than a week later, amazing considering the weather, the rifle arrived at my door. The packaging was meticulous and the rifle beyond my request and expectations. Its serial number beginning with an S, appears to be from 1982 but appears unused, I have not found a re-arsenal stamp anywhere on the exterior, which was lightly covered in cosmoline. I would encourage anyone considering this weapon to place their order with confidence with Classic Firearms
Received 2 beautiful never issued SKS's better that I could have hoped for - Told my friends now it's off to the range!!!
I own several m 15s aks mini 14s for 30 yrs and I have to say the Number one weapon of my choice is the sks. They are built more reliable and accurate than any thing I've shot. Never had one to jam and I've shot thousands of rounds. Many millions were produced for a reason but they do take more time and effort .Sks rifles are becoming more popular because people are realizing there quality is second to none. Thanks classic firearms for these yugos that are in perfect condition and your excellent service.
This is my first purchase from classicfirearms.com. I have to admit that I was a bit apprehensive about purchasing this rifle sight unseen. I really wanted an SKS and these looked like a great quality from the unboxing video.

Well I was pleasantly surprised. For my hand-select I received an outstanding rifle. Of course it was full of cosmoline, but the rifle would not have made it over 40 years in a crate if it wasn't.

So, I cleaned it up with mostly hot water. The more stubborn items I used some mineral spirits. All the serial numbers match, but more importantly the wood is absolutely beautiful and the metal is in perfect shape. I doubt this was fired more than a few times. It could almost qualify as mint condition.

The barrel i soaked in the tub, then ran hot water down it, scrubbed it with a bore brush, then ran mineral spirits, then more hot water, and finally finished with some patches to dry it, and then used my Sage & Braker bore snake several times. The barrel is so shiny now I could almost comb my hair with it.

I will definitely use ClassicFirearms again. I'm a very satisfied customer.
Well packaged. Excellent condition. Really Greasy.
Expensive and worth it.

I ordered my hand-pick SKS on the 2nd and it wasn't picked and packed until a week later, although getting everything setup after new year's may have caused delays. When I actually got the gun 2 weeks after ordering, it looked practically brand new save for 2 shallow dings on the left side of the stock near the receiver. The cosmoline coat was not that heavy, and the bore wasn't stuffed full of it which made cleaning a little easier. The biggest issue was reassembly after cleaning, the trigger group was such a tight fit it took 2 people and some very light dremel work to get it back in. When I first took the trigger group out to remove the cosmoline, it actually threw sparks due to the detent pin being so tight. My gun came with a sling, cleaning kit, ammo pouch, oil can, and the yugoslavian boresnake(string with a dowel on the end).
I ordered this Yugo SKS in August 2015 but I totally forgot to put up the review. This thing is fantastic! All the numbers match and the bore is in excellent shape. The stock has a couple dings but overall it's in great shape. The bluing is as well. I was lucky to get in on them while they still had the log books. I had one of these a few years back and always regretted selling it but I needed money to move at the time. Thank you Classic for getting your hands on these so I could get my hands on one in great shape again! This was my first purchase from you but it won't be my last. If your on the fence about getting one of these, jump on it. They may not come around again in this good of shape.
After seeing all the great reviews, we were a little disappointed to be honest. Stock has some serious wear, metal has quite a few wear areas, numbers don't match. If this is hand select, not sure what the others look like. And the book.....not sure what that's about. Thought I would have a good history of the rifle. There is one entry 2006. Rifle discription and that one entry are in the same pen and handwriting. The rifle was made in 1972. I'm sure there should be more history than that. Sorry, just think it's a $300 rifle.
Worth every penny. Rifle shipped promptly and arrived as promised. Was in much better condition that I was expecting, stock had no major dings that I could see. Slathered in cosmoline but that is to be expected on a mil-surplus rifle. Happy customer will shop here again!!!!!!!
I didn't do hand select and mine has some blueing loss which is cool because it gives a nice patina look. Overall the rifle is in great shape. Because it's cold the cosmoline was a lot harder to get off. I couldn't get the bolt open until I got home with it. I've got most of the cosmoline off now and I was able to shoot it and it was more fun than I remember. Definitely get one if you're thinking about it just be ready to do a lot of cleaning.
I have had many sks rifles in my life but i have never had one that looked like this pristine rifle. Not only is it a great looking rifle but it has yet to malfunction and it just keeps going. I ordered it late December and received it within a week and a half. Have shot 400 rounds through it after cleaning the cosmoline off and it has functioned perfectly. Highly recommend ordering from this batch. Thank you classic firearms!


The rifle I received was everything promised in the description....hand select was well worth it....only wear is on the metal parts that rub together. Shipping was also crazy fast for the holiday season. This was my first and definitely not last purchase from classic.
Ordered the hand select option and received the rifle around the first part of December. The receiver cover had several spots of rust, the biggest being about a square inch and the stock was fairly dinged up, so naturally I wondered if they really look at the hand select rifles at all, and if so, can you really see beneath all that cosmoline? I know I can't or I would have rejected it at my dealer. This was to be a Christmas gift, so needless to say, I was very disappointed.
I've bought 7 or 8 surplus rifles from Classic Firearms without problems, so I was unsure of how they would respond. Turns out they were really understanding (particularly when they noticed the hand select, so maybe it helps there) and authorized a return and replacement. Very easy, very nice folks. The new rifle was much better, as my boy was smiling ear to ear on Christmas morning.
I give four stars because I did have to pay for return shipping. I feel when a company says you'll get something for a certain price, they should make it so. Brutus' own description says "...and the hand selects should be closer to Excellent. / Like New." I shouldn't have to pay extra shipping for their error.
Now I will say, I'm still very happy with Classic Firearms. Things can go wrong and they made it practically effortless to straighten out. I will continue to buy from and recommend Classic Firearms. ...and my son did end up with a beautiful SKS.



This is my second SKS purchase.Packaged well and came with ammo pouches, oiler, sling, but sadly no log book. That said, all matching numbers, prestige stock and bluing near 100%. Cleaned up easily with mineral spirits, I'd buy one soon if your thinking about it the way weapons are flying out of dealers again. These won't likely be available in this condition!
My SKS came in beautiful condition...once the cosmoline was removed the metal and wood looked beautiful and it shoots even better...bright and shiny bore with beautiful grain on the wood. I chose the hand select option. I would get one before they are gone...it will be hard to find an sks in this condition in the future.
This weapon was a straight shooter right out of the box. Firing Red Army Standard 123 gr FMJ 7.62X39 ammo, at 50 meters, it was striking a little high but all the rounds were center of mass with no sight adjustments. I had no FTF or FTE. The M59/66 arrived at my door (getting an FFL03 C&R was the best $30 I have ever spent) the day before Christmas and I spent the better part of that afternoon disassembling, inspecting, cleaning with mineral spirits (mineral spirits work just like the Classic Firearms video demonstrates), and lubricating the firearm. During my cleaning and inspection I came to the conclusion that the weapon was likely never issued (unfortunately my example did not come with the weapon's maintenance history book to verify this) as all the metal parts and the stock were pristine. This firearm was a great value for a very nice price.

After seeing Ben's video on the unboxing of these surplus rifles my awesome wife asked me if I wanted one for Christmas. I simply had to have one. I ordered the rifle on a Friday and it arrived at my FFL the following Tuesday. The rifle was well packaged and wrapped in bubble rap. When I got home and unpacked the rifle I couldn't believe how beautiful it was. It had a decent amount of cosmoline on it but I could tell the bluing was nearly 100 percent and stock had only a few handling marks on it. I used mineral spirits to remove all the cosmoline as suggested by Ben in his video. Once I had it cleaned I simply was floored by the condition of this rifle. I doubt it had seen any service at all. Needless to say I am absolutely thrilled that I was able to buy a surplus rifle in this good of condition. I also received a clipper strip pouch, oil bottle, sling, and a page from the Armory where it had been kept for years. All the extras were in serviceable shape. If you are thinking of adding a surplus SKS to your collection DO NOT HESITATE to buy one of these rifles.
Oh and I simply can't say enough about the customer service of Classic Firearms. I have purchased many times from Classic and have never had an issue that wasn't corrected immediately. When you call them you get a live person on the phone and they are genuinely interested in helping you in anyway possible.
To Ben, Amanda, Ernie, and the rest of the gang at Classic thanks again for another great deal. Keep them coming Ben.
Amazing SKS from Classic Firearms. Naturally product came soaked in Cosmoline, but who doesn't enjoy cleaning up their newly purchased firearms? Once I got the product cleaned up it looked brand new. Just a few noticeable scratches next to the gas cut off, though that may have been my fault. I have yet to test this product by my word of WARNING is to ensure the firing pin is completely free of cosmoline. You should be able to hear the firing pin rattling around. If not you could get slamfires. My only complaint is it would have been nice to get a log book but I understand not every rifle would have came with one. Thanks for the great product and I will be buying from Classic again.
I just got home from my FFL and cut the SKS & accessories out of their packaging... I opened the accessories first and saw a fairly well used ammo pouch and thought that was it ! I opened it up and there was a leather sling, an oiler in a cool pouch, a cleaning kit and the primitive version of what looks like a bore snake. I was impressed. Then came the rifle itself... I had previously watched the Classic "Crate" videos on these and that convinced me to roll the dice. I HOPED I'd get one close to as nice as the ones Ben displayed.. When I saw it all I could say was "WOW"... It looks totally brand new with a flawless beautiful/perfect stock ... I could NOT be happier ! If anything this one looks even better than the ones on the video! This was ordered on 12/20 and it arrived at my FF on 12/24... That's another WOW.... This really made my Christmas... Great job Classic.
What can i say? I finally "pulled the trigger" on buying one of these and am so glad I did. Didn't opt for the hand select, but it didn't matter. I could tell when I got the rifle, even though absolutely coated in thick cosmoline, that I had a winner. Beautiful, dark wood stock, no rust or pitting. Once cleaned up this thing looks good enough to hang on the wall. Would absolutely buy another if I had the spare cash. This rifle has become an instant favorite in my collection.
Had been looking for a good Yugo SKS and Classic didn't disappoint.

Hand select option - Gone came in great shape and shot even better.

If you're looking for a good SKS...this is the place to grab one.
if you've been trying to decide whether to buy one of these, do it. these rifles are nearly pristine. easily the nicest surplus rifles i've ever seen. much, much nicer than any other SKS i've seen without question.

you are getting a military grade rifle that is practically brand-new.
all wood and steel makes me very happy

do it now or you WILL regret it when they are gone
A nice rifle. Packaged well. Be prepared to deal with some heavy cosmoline. Blueing was about 98% but the stock was a little rougher than expected for the $20 hand select (there fore the 4 stars). Took it out briefly and ran 20 rounds of three different brand's of ammo through it without any issues. Accessories were a bonus. I would recommend it to a friend.
One of my local gun dealers ordered one during the Black Friday sale and when I was browsing his store I picked it up, when he told me it was from Classic I decided to let everyone know about the beauty that I received. The wood is a deep cherry red, the cosmoline cleaned up easily and I'm sure it will be a straight shooter. It was produced in 1970 at the tail end of that production run. HIGHLY recommend Classic's products to anyone looking for a quality firearm with a good pricetag. 5/5!!
Got this on the Black Friday special 389 + 20 hand pick. Gun shipped fast as usual from Classic. After extensive cleaning took it to my backyard range and put 10 rounds downrange (50 Yards) and it was sighted in perfectly using WPA 123 Grain. The trigger is good but I had to get used to when it breaks. I still have to clean up the little crevasses on the bayonet and other non moving parts. Took about 2 hours to get it to the point i could shoot it., Need some stripper clips and I will be trying out the 20 round Tapco mag. Received the paperwork, cleaning kit, oiler, sling, and mag pouch. Very nice gun, Thanks Classic.
I must say I was absolutely blown away by the quality of this weapon. I never would've expected a Milsurp weapon such as the SKS to have arrived in such absolutely amazing condition. Shoots beautifully with a tremendous punch out of the 7.62x39mm. I highly recommend anyone who's looking to purchase a SKS rifle to buy them while you can before the market is dried up. A good welcome to Amber at customer service for all her help on the weapon and a shout out to the Classic Firearms team for there amazing service and outstanding product quality.
As described, light coat of cosmoline but underneath a near pristine 59/66.
This was my first time dealing with Classic. I ordered one and chose the hand select option. I had it within the week. It came with a paper that had a percentage and condition. It was only 10% used and it had brezhibno (Slovenian for "flawless".) written beside that. All I can say is that it looks great and the customer service was awesome as well. Thanks Classic.
Bought two hand selects with Black Friday sale. Both SKS's looked like new! Accessories were included but will take some work to remove mildew from the leather. Log books were included and showed only one or two entries.
One had matching numbers with engraving on receiver cover and magazine. The other had the magazine stamped with a different number.

The condition of these rifles is amazing.

Like a kid in a toy store, I could not wait for my SKS to arrive. this was the first time I ordered a firearm online and had it shipped to a FFL licensee. Thus, I had a little fear over what I was going to receive from Classic. When the SKS arrived and I first opened it, I certainly was surprised! the condition of the SKS was absolutely fantastic and was "as new". The bluing was 99%+, the barrel was pristine with no pitting or rust. The action and bolt was flawless. there were a few indentations in the wood stock but they were minor and add character to the rifle. Even the Bayonet was flawless. The cosmoline coating was light. I actually enjoyed cleaning the cosmoline off of the SKS as it was like pealing back the layers of an hidden treasure. I completely disassembled the rifle, cleaned off the cosmoline and oiled the rifle. I spent about 5 hours but I was completely thorough. it indeed was an enjoyable task and a labor of love. When I picked up the SKS from the FFL, the man stated he had many Classic Firearms' offerings pass through his location and never was he or Classic's customers dissatisfied. He said Classic take great care to ensure they are being honest and sincere in describing the firearms they offer. Indeed, my SKS exceeded my expectations. I will be a Classic Firearms customer for life. the only thing that was wrong was that the canvass sling metal end tab was too wide to fit through the sling fitting on the stock. I had hoped for a leather sling. However,
Classic fairly stated that they could not guarantee the supplemental items to be included with the order. Many thanks to Classic.......
This was my first order from Classic Firearms. Complete process from ordering to receipt was very smooth. Rifle was as described, covered in cosmoline and complete with accessories. After a complete cleaning and inspection the overall condition was judged to be excellent. All numbers were matching and bore is bright and rifling strong. I will be doing business with Classic again.
This was my first order from Classic Firearms. Complete process from ordering to receipt was very smooth. Rifle was as described, covered in cosmoline and complete with accessories. After a complete cleaning and inspection the overall condition was judged to be excellent. All numbers were matching and bore is bright and rifling strong. I will be doing business with Classic again.
I picked up the Yugo SKS from the FFL today. I received all accessories including the log book and recent bore inspection paperwork (0 bore wear). The weapon is unissued and was only shot 50 times after manufacture, in 1988. Only a very light layer of Cosmoline on the metal parts only. The stock is mint without a scratch. It'll be easy to clean. All parts are stamped matching and zero force matches. I am very happy with the purchase. The customer service at Classic (Amanda Richardson) was the best I have ever dealt with. She was quick to respond to my questions and initial concerns. I was nervous about the purchase and she assured me I would receive "the pick of the litter". Boy was she right! The rifle is actually better than the ones in the promo video! This after 3 months of having the rifles in stock! Again, I can't believe the quality of this rifle! Classic Firearms is the best for bringing these beauties back for sale! I will never purchase surplus from anyone else! You have all made me a very happy man!
Your company is so great. Just the WOW factor of unboxing made me feel like a kid. That's special, for real. I am a new C&R license holder, this was my first purchase and I was nervous. Your gents/ladies made "great" happen in my first purchase. Thanks so very much! (PS when I retire from this awful state in 3 years, can I apply for employment ?) :-) God Bless.
Wow! I had paid the $20 for a hand select hoping to get a nice rifle. I was wrong, I received a great rifle. I had appeared to be unissued. The only rub mark on it was from me turning the takedown pin. The wood was unblemished with beautiful grain and the metal was perfect, aside my mark. I had shown it to a friend today and he was so surprised at how nice the rifle was that he asked for the website. I maybe wrong but I think he had gone home to order one for himself. When I order my next rifle or rifles I will go hand select every time it's offered. Thanks Classic Firearms
I received the yugo sks today the packaging is the best I have ever seen. The rife is very nice just as advertised could not be happier with the purchase. Thanks
I like collecting old military surplus firearms from around the world so when my Yugo SKS came in today I was very impressed not to find evidence that it had even been shot! What a great find! It looks great and I appreciate the SKS accessories that they threw in with it. Thanks Classic Fire Arms!
Received an unissued f-series (1969 last year of the ported grenade launcher and first year of the phosphor night sights) rifle. Did not receive a complete log book but only one page showing a inspection on 7-11-2006. According the log the Barrel shows 0% use and inspectors description says "brezhibno", translated into English is "flawless". After looking the rifle over I could care less about the log book. Came with sling, pouches, oiler, bore snake and cleaning kit. Tons of cosmoline, be prepared to clean and get your wife mad but well worth it. Bore is mirror and gas piston shows no fouling. I can find no evidence of every being fired. Thank you!
Received my rifle from my FFL dealer and we both thought it looked great. Once I took it home and spent a couple hours cleaning the gun,it became obvious that the heavy cosmoline coating on the weapon was hiding many imperfections. Most of the wear was blueing loss and scrapes on the metal. The dust cover, magazine, and trigger group showed the most wear. I will say the wood stock was immaculate and the barrel is mirror bright. It is a very good rifle, just not what I expected for hand select.
I couldn't be happier with my gun. I own AK's, AR's, 10/22's, Mosin.....you name it, but this one is my new baby. all the bluing was intact, the stock had mostly just minor scratches but it was nothing I couldn't fix during the re-finish. over all I am very pleased with this gun and classic firearms and their customer service is everything you could hope for. I spoke with a woman, I don't remember her name now, but she exhibited a very caring attitude and seemed to genuinely want to help me. I will post some pics in the gallery of it. look for the scarlet sks with the accumounts pu scope
Hi my rifle was shipped very fast and we unboxed it at gun shop had a lot of questions from other hunters and collectors ,all I told them was to go to your web page these guys are real. love the condition of rifle and with your video it will be a snap to clean and maintain this beautiful rifle.Thanks again Jim Lyon
Received my SKS but was a little disappointed. All of the reviews and pictures and descriptions, I expected a rifle with a better stock. The stock on my rifle was beat up with lots of dings, scratches and gouges. I am not sure if I ordered Hand Picked if I would have got a better one. Took about 3 hours to get the cosmoline cleaned off, which is expected. The bluing is worn off in several places but not too bad. All in all the rifle is good. Better luck next time.
Thanks Classic Firearms!!! Just got my new (old) Yugo SKS from your company and it is incredible. I previously bought a Yugo SKS from a gun store here in CT and paid $100 more for a beat-up safe queen than the Classic Firearms price for essentially a new gun. The extras like the log book and the brass oiler just add to the value. And don't forget all the free Yugoslavian cosmoline as an added bonus :-). If anyone is thinking about an SKS, look no further than Classic Firearms. Sincerely...CDR Matt Wisniewski, USN (ret)
I ordered this Yugo SKS on Friday and picked it up Monday morning at my FFL. Outstanding Service. I ordered my Yugo SKS as hand select. It came with all accessories except book. Everything was in excellent shape. The Rifle looked like it was dumped in a vat of cosmoline and left overnight. But it also protected the rifle against rust. After a complete tear down, I think that I managed to get rid of all of the cosmoline in the rifle. Everything is marked with the serial number and a part number. Also the barrel serial number is electro penned on everything as well. If this rifle was ever shot I would be very surprised. There is no wear or carbon marks anywhere on this rifle. I am very pleased with the rifle. It is in excellent condition! I received excellent service and a excellent rifle. Thanks Classic! I will be back!
It took me a few weeks to write this review but since receiving this firearm, I've removed the cosmoline, fired this gun with the ironsights (decent accuracy) and have undergone a refinishing project on it. I'd say this gun is one of my most prized within my collection.
Very, very happy with my purchase from Classic. My hand select SKS Yugo was delivered very fast with all the promised extras that will make it a pleasant addition with a very interesting technical booklet. Big, Big THANKS to the fellow who took care of the packaging, it was OUTSTANDING, really appreciated that. Rifle looks perfect, it was packed with cosmoline, after cleaning there is a very shiny bore, no bluing wear, nice wood stock, no dents or cracks, matching ser.#
Overall, very pleased with the whole deal. Also appreciated Ben's video with the unpacking the crates and everything else and Thank you Classic,Keep up the good work.
I purchased the hand-selected SKS option, which came with the accessories and a sling. The rifle is unissued, but has few superficial (barely noticeable) dings on the stock. Overall it is in excellent condition. Purchasing/shipping process was simple and relatively quick.
Briefly pulled this out of the a few days ago to check markings, after cleaning gotta say it's a bit disappointing. So far as cosmetics isn't nearly what they displayed, hand guard is cracked (they may not have noticed being coated) and the the buttstock plate is warped badly. They pull crate after crate of excellent rifles yet send me this???
Rifle looks as it was never issued!! All serial numbers match and bluing and wood are mar free. Will I do business with Classic Firearms again....YOU BETCHEM!!!!!
When i picked it up i really couldn't tell whT i had the cosmaline had stuck to the paper so bad it was almost desolving. I got it home and after about 2 hrs later using mineral sperits as Classic recomends i finally got all the cosmaline off of it and it looks sweet. ! The stock is perfect as is the blueing. I have another Yugo SKS I pick up at a pawn shop that was what I thought was in good shape but this one blows it away. Thank you Classic firearms for provide such a nice product.
I got everything I asked for! Thanks classic! My first c&r purchase. Will buy again. Condition was as described. Fast shipping.
Thanks classic firearms for one of the pretty est sks I have every seen the gun is flawless gun looks truely new was a little disappointed I didn't receive the journal that comes with them but after seeing the gun forget the journal lol all matching number 98 percent blueing 100 percent stock with a wood grain that is beautiful this gun had to be hand picked by brutis his self I love it thanks for all that you all do this is my third purchase from classic and it just keep getting better and better.
Where to begin for one; this rifle that I received had a lopsided front sight hood, somebody took Ben's demo of separating the stock from the barrel to heart and bent it out of round. I can still shoot the gun it's just that I had opted for the hand select and that should have been first thing caught . The gun was covered with at least 5 .lb of cosmoline not the extremely light coat that I saw in the demo. I had to resort to the old army solvent Mighty Mo. Once I got the gun apart I found a lot of old corrosion on the inside. The gas block had green corrosion on the valve and will have to be replaced, the butt pad looks as if it was dipped in gasoline and had melt marks all over it, that too will have to be replaced. The stock was acceptable with only very minor bumps and nicks the barrel is in excellent condition and is probably new, after spending over 4 hr to clean up the gun it still would get only 3 stars because of the corrosion and damage to the gas block and butt pad.
1st things first. Thank you! You have delivered a beautiful rifle, customer service is extraordinary and I will definitely be doing business with you all again. I love the southern accent because I'm from Arkansas. And as they say, southern hospitality means a lot, and you all have it! Thank you again. Shawn
I received my sks a week or so ago never took it out of the box till this weekend and was I ever surprised when I did,this rifle looks new if its been fired it sure don't look like it to me.I cleaned it up took it to a friend of mines place out in the woods and shot about 50 rounds thru it with no adjusting anything and it operated flawlessly.I have six sks's ,Chinese,russian and the sort and this one will match any one of them for quality and fit,I couldn't be any happier with it,really nice rifle..thanx Classic great job!!!
Very Nice SKS: Paid for the hand pick and received a #'s matching previously issued, but I don't believe fired more than a few times SKS in 3 days to my FFL.
Shoots 2" groups with open sights @ 50m. Spent about 4 hours cleaning every crack and crevice was jammed full of cosmoline.

I Bought another SKS from another site and paid for the hand pick there too - That SKS is not nearly as nice, much worse for wear and not #'s matching for about $9 less. Wish I would have bought them both from Classic Firearms.
I am writing this testimonial in response to my recent purchase from Classic Firearms. Early last month, after much personal debate, I decided to purchase another SKS rifle, this time to keep all original. I bought my very first SKS probably 25 years ago at a gun show, with my dad. Made some upgrades so it was 922 compliant, and didn't think twice about another. However, after viewing Classic Firearms videos, and the decent pricing, I decided I wanted another for my ever growing collection. My experience with Classic Firearms began with a visit to their website. I must tell you, one of the finest and easiest to navigate that I have seen in the industry. The embedded videos, and customer testimonials are terrific, and helped immensely with my decision. Ben is great in the videos. They are extremely informative and chocked full of useful information about the items being shown. I think the case opening out back and looking at the hundreds of military surplus was my final deciding factor. Really great videos, I can't say enough about them.

After deciding on a Yugoslavian SKS rifle, I created my profile, uploaded my local FFL's information and placed my order. The communication from the onset was phenomenal, including the customized emails and tracking information. It seemed like Classic Firearms was with me every step of the way. My SKS arrived, albeit covered in cosmoline, but I was aware of this, as Ben was very specific on his videos. There were no surprises. Even the extras that were packed with the SKS were extremely nice. Again, I wasn't expecting brand new anything, but received very quality items. The best part about the SKS that I received was the condition. I paid the extra $20 for hand select, which I highly recommend, and without a doubt, the rifle I got was beautiful. In fact, after reviewing the included military manual, the weapon was most likely un-issued, and only test fired. Even better for me, but again, not expected.

In closing, I will definitely purchase from Classic Firearms in the future, and they have even prompted me to get my C&R license to enhance my personal collection. You can bet that I will be making future purchases from Classic Firearms, and will be spreading their excellent customer service, value and quality to all of my friends and family.

Thank you Classic Firearms for a quality rifle and an outstanding customer service experience that I have not every seen in the firearms industry.
The first one was so nice I decided to get another with last weeks sale. Metal looks 100%. Numbers match this time. Coated in cosmoline wrapped and well packed. Accessories from this case were not as nice as the first one and this time, the stock has a couple of minor dings from storage. Overall, an excellent SKS. Wish I could justify a crate.

Great Gun. looked like a new gun
This is a fun rifle to shoot, it looks great a must buy...I had two people come up to me at the range to speak about the sks it looks great with matching numbers and a bad ass bayonet. Was fun to clean and take apart I feel like a sks expert now lol just gotta let my shooting do the talking Now!
Gun was in just about perfect condition. It was soaked in cosmoline so absolutely no rust. Just if you buy one be prepared! Gun shoots great but I think I need to adjust the sights. I added a 20 round magazine from tapco to the gun. Had to shave off some of the wood stock where the magazine box usually is. Haven't fired it yet using the magazine but I look forward to. Just ordered an M39 I hope it's as good as this sks is!
Yugo arrived coated in the thickest cosmoline I've yet encountered. Came off effortlessly with mineral spirits. Used Gunscrubber on the barrel which worked well. Oiled immediately to protect the finish.The metal was great all around with only minor scuffs on the magazine. The stock is good looking and is suprisingly comfortable. The only issue I have appears to be a common dilemma with sks rifles. The pin securing the firing pin refuses to budge. After a long, grueling, fruitless attempt with Kroil, punches and hammers, I'm convinced sks rifles hate Capitalism. Fired 100 rounds and only needed to adjust elevation down to achieve zero. No issues with function and the rifle shoots extremely well. I'm pleased with the condition, performance and accuracy of this rifle.
Stopped be the FFL to pick up the SKS. The metal part of the gun looked good however the stock was not acceptable. The stock was broken on one side from the bolt to the trigger. I had the FFL returned the firearm to Classic.
I just received my "new" YUGO SKS, have not even cleaned off the cosmoline yet but am very excited looks to be almost new plus i received the darker color i hoped for , beautiful cant wait ta get her cleaned up an off to shoot
also received the original armors book with it , now i need to find some one that can translate for me .
thanks classic this was a great deal as far as quality and price for these gems now a days
Seriously beautiful. The rifle does not look like it was ever fired. Doesn't even look like it was test fired. And, this appears to be corroborated by the papers included--showing it not issued. The only gripe I have is when comparing to the descriptions provided--I was a bit disappointed to receive a cracked buttstock. Had the reviews and description not been so glowing, and had I not elected for hand select, this would have been 5 stars. But the disappointment with the buttstock can't be completely overcome. I did order another one though--
Mine was used but was in very good condition. I have no issues with this shipment and how the product was advertised. Would get another but saving up for the Finn Mosin.

Already posted how great this SKS looked when I received it. Took it to the range for the first time this morning and this is the most fun shooting I have done in a long time :) The SKS is heavy. Felt recoil is hardly noticeable. The rifle shot true and I had no jams or problems with the Wolf ammo (which is rather sooty and dirty, by the way). Just a great shooter. As with all mil surp ammo, you have to give the rifle a good cleaning afterwards, but the SKS is so user friendly and easy to take down cleaning is a snap. Between this purchase and my Finn M 39 I am one HAPPY camper :) Classic rocks yet again!
My Second purchase from Classic and again I am very happy with my purchase. Fast shipping, great service, and my SKS is in excellent shape. I see more purchases in my future from Classic Firearms. Thank you for another fine Rifle for my growing collection.

The rifle looks like it was made last Thursday. All the machining marks are sharp. You'd expect a rifle built and used some since 1966 that the underside of the barrel would have been rubbed somewhat smooth...nope....can still feel the turning grooves that are still sharp. There are some wear grooves where the dust cover and gas tube locking levers move...but not deep. Seriously DOES NOT look like it was made years ago.There are NO marks internally on the mag floor plate or the feed ramp on the chamber. Shipping was quick.
Having said that...I'd paid for handpick (rifle qualified)....the included other items were 'trashcan' grade. Well...I did get the cleaning kit looking better except for the jag which had only been half covered in cosmo. The leather was cleaned but had moldy that, when cleaned, two toned the leather. I'll upload pics.. The cleaning 'rope? cord?' was rotted. The oiling pouch, while still discolored was the best thing, and it had a plastic oil bottle that was very tight....and though it's not promised, I got no shooters manual.
If I hadn't paid for the hand select it would be a five star JUST on the rifle.
After wanting one of these since I was a little kid I finally found the time and money to pick up a nice sks. I found this site from a local forum. After reading reviews I decided to give it a go. After the fun cosmeline cleaning the rifle looks damn near new. Not a scratch on it. To be honest I'm not sure if it was ever fired. Numbers all match and it came with all accesories. I did pay for the hand select fee and feel it was worth it. The wood is beautiful and the grain pops. Most of the sks's out there look like old boat oars but not the one I got it looks as it just came off the assembly line. Thanks for earning my business classic firearms. You will get it again.
Received the my SKS direct with my 03 FFL to my home address.

Packaged properly for shipping, this the rifle is a keeper!
All serial numbers match, rifle protected with the correct amount of grease,
will be easy to clean up by soaking in odorless mineral spirits.

Sure you can buy one of those Chinese SKS with worn out bluing, stock damage, or a fix it upper. When it is all done with your time, stock repair or rpelaced and replacement parts, you are almost at the price of the Yugo SKS.

Look forward to my next C&R purchase from Classic Firearms.

I was so impressed by the quality of the first rifle I received I had to have another. I paid the extra bucks for the hand-select and was not disappointed. Mine was previously issued as evidenced by the log book. If it was fired it is hard to tell. Came complete with all the goodies..sling, ammo pouches (even had the adapter to shoot blanks stuffed inside one of them), oiler & pouch and cleaning kit. Gun came soaked in cosmoline. I followed the posted video for dissembly and cleaning using mineral spirits. The gun cleaned up nicely. Now if they would just get the 2nd lot of Finnish Mosins posted ! Great job Classic !!
The service and shipping were great! Thank You!

The rifle looks new. They might have fired a couple rounds though it when it was built (and I'm not even sure they did that), but this thing really looks new. Going by the serial number it looks like mine was built in 1988 and then put straight into storage.

All the numbers match. No carbon or lead fouling anywhere. Barrel is bright and clean, stock and hand-guard are matching colors and the only marks on the gun are from the take-down levers. Bolt face and gas piston are bright and shiny too.

Mine didn't come with a log book, probably because it was never issued and didn't need one. The brass oiler and tools had a little tarnishing but they cleaned right up. Sling and pouches are in nice shape, they'll probably always smell like cosmoline though (Bonus!). I'll upload some pics in a minute.

Thanks again, wonderful rifle!

PS: Did I mention that it looks new? :)
I NEVER THOUGHT I WOULD EVER FIND A SKS, AS NICE AS THIS.IT IS STONE COLD PERFECT.NEVER FIRED,PERFECT IN EVERY SENSE.CLASSIC IS A JOY TO DEAL WITH.NOW I DONT KNOW WEATHER TO GO AHEAD AND SHOOT IT, OR KEEP IT A VIRGIN. BUY ONE NOW. JWS2.

I bought one of these and liked it so much I bought another! Both were in excellent condition, all matching numbers, log books and accessories. Now the biggest problem I have is to figure out which one is going to be the one I shoot the most.
I ordered two of these but UPS lost one and it took a week to find it and get it to me. The first one I received was excellent and this one is no different. Both superior specimens. In my initial review I stated that I had not received any accessories and I said that I thought that it may have been that the accessories were lost with or were packed with the second SKS which UPS mishandled. As it turns out, my FFL had misplaced the initial accessory delivery but later found it and the second one came with all of the accessories as well. And I do mean ALL of the accessories: the record book, oiler, pouches, sling -- everything. There's nothing to say except that Classic has done it again - good job, well done and keep up the fine work. Happy shooting!
Seems like a pretty nice gun- I got #278180 and that matches up with the documentation as 1971. My stock had what I assume to be a dovetail repair just under the ejector port- looks like they removed a knot int he wood... and has a little inspectors stamp next to the repair. I was originally a little disappointed by this- but I kind of like it now. I'm glad a got a darker stock than the "honey blonde". Lots of electro-pencil markings but stamped numbers all match. The bluing was pretty good- depending on how much people polish up theirs for the photos- I wouldn't call it "like new" or "unissued" by a long shot. Not sure what the deal with the stamping on the side "PW Arms Redmond Washington" is all about- I assumed Classic imported these directly from Eastern Europe. Leather sling, oil case and ammo pouches are cool. I was hoping for something more like investment grade- this looks like the nicest SKS shooter on the block.
Did a joint purchase sks/saiga ak w/Phoenix but stock , Did a phone order with William, very smooth purchase, not rushed or pushy, very knowledgable. Love the sks, came with oiler, pull threw string, cleaning tools, belt cases and import paper( not sure it's in Russian lol) sks in great shape, lots of cosmoline, all matching, spent 2.5 hours cleaning but enjoyed it as you get to know rifle. Love the grenade launcher, you tube disassembly if any probs. ak was also great but didn't like buttstock, was warned of this preorder so don't hold it against them. Will definitely me ordering again from Classicfirearms, great company, great products.
Rifle is as advertised. The rifle I ordered was in New unussied condition. The stock is honey blonde and no signs of use. All blueing is perfect and the bore looks perfect. If you have never had an sks before, I recommend this one from clasic.
So far, I've bought 4 crates of these rifles from Classic. Each crate was better than the next. Thanks again Rick and Janet for a great opportunity with great customer service
First time buyer from Classic Firearms. I'm very pleased with the rifle I received.
I ordered the hand-select. Rifle came with log book, ammo pouch, canvas sling and cleaning kit. I looked up the serial number, V-69####. The V is a 1985 year, which would be right for the canvas sling. First entry was 1985 which shows they fired 50 rounds through it. It was also logged for 2003 and 2004. After the last two year it show 0% damage to the barrel and shows where the shooter hit the target. All serial numbers match. There is electric pencil (8605) on a few areas that match the numbers stamped on the underside of the barrel. The stock had a few dings but no major damage. I'm really pleased with Classic Firearms and will buy from again. Thanks for a GREAT rifle...
So the first one was good, as I said in my earlier review. I went and ordered two more, and these turned out to be of the "MINT LOOKS LIKE THEY WERE NEVER USED" variety. Oh my God these guns really look like they're brand new! They look like they were built at Zastava, test fired and then coated with cosmoline and put in storage. Like getting a barn-find vintage sports car, and the guy who owned the barn kept it in perfect condition. These two were so good, that they made the first one look a little shabby, so I went back for one more and thankfully, the fourth one matches the second and third in quality. Just amazing. The fourth one looks like whoever used it wrote their initials in pen on the right side notch next to the trigger. Nice little bit of history.

Yea, these things are amazing. I also got the accessories kits for each one. Worth every penny for the hand select to get these. I'm impressed.

I just wish you guys hadn't gotten the Finn M39's so soon after getting these. Good thing I've had a good month. :D Thanks again, Classic.
This is the most amazing Yugo sks I have ever had. I could not have ask for better. I had a few in the past and traded them off and had regretted it ever since and feel blessed to have gotten this one in excellent shape. I chose the hand select and got a G series 1970 made one with a cool log book. I was wanting a early series one and feel extreamley blessed. I like to give Ben a shout out and he is doing a excellent job in all the videos. Thanks Classic.
Overall very nice, extremely surprised to find the original blank firing adapter in the accessories bag. This item was not detailed in the ad and by itself sells for $80 elsewhere,thanks!
Like others, mine has all stamped matching, except the barrel. They electro penciled this new number everywhere, but only where it can't be seen, except above the safety on the stock. The gas tube, bolt and carrier, receiver cover, receiver, stock, trigger guard and magazine cover all have factory original matching stamps. Wood is dry, but without cracks or dings. Log book is Slovenian, not Yugoslavian. Mine has only two dated entries, for the same date. Still a cool artifact that's serialized to the rifle. Accessories in very good shape, intact, useable and with typical mildew from storage. Very happy with the purchase, should be an excellent shooter and very collectable.
I did pay extra for a hand selected rifle. I have owned a few surplus weapons and this by far is in the best condition. The SKS is in almost perfect shape with a couple long, very shallow scratches but besides that the rifle is perfect with matching serial numbers. Great job Classic Firearms, I was impressed.
The gun came just as advertised. Mine was used but was in good condition. Took a bit of time to get all the cosmoline off (good video on how to remove cosmoline) but the gun looks great for Mil Surplus.

Once again nice job Classic Firearm
First time buying from Classic Firearms and it was great. The yugo SKS is mint, not a ding, scratch, rust, it looks new. Very happy just wish it was all number matching. Trigger assembly is only part that does not match. Not Classic Firearms fault. Classic Firearms represented the gun perfect it is in great shape. Wish i had the money to buy a crate.
Paid the hand-select fee. Recieved all accessories including hard bound log book. Gun not at all like new- manufactured 1969.. Bluing worn on receiver cover, magazine, grenade launcher. Wood has numerous dings. I realize cosmoline prevents accurate appraisal of gun's condition. Electro penciled serial (which matches receiver's stamped serial number) on magazine, trigger guard, receiver cover, etc. Does that mean gun has been rebuilt? Stock is stamped with matching serial number.
My first purchase from Classic, very pleased with my rifle. Came with all accessories including log book, leather sling, ect. Minor handling wear on stock. Metal bluing about 85 percent. Looks like it spent it's 43 years sleeping.
Walked into my FFL and before I even said a word he said it was the best SKS he had ever seen - and that was when it was still slathered in cosmoline. I cleaned it this weekend and it really pops - the wood and metal parts are excellent! I used old style furniture polish cleaner called Life O Wood and it gave the stock a little deeper color. Its my third of fourth SKS (second Yugo). I had to get one of these sparkling ones becfause I knew the day I went to look and if Classic was sold out I'd feel bad, so I acted to avoid that disappointment. If you have ever considered getting an SKS (everyone should have at least one) get one of these!
To be fair, this rifle is probably a 4-star gun, but I gave it 3 just based on my disappointment with regard to cosmetics. All of the metal parts appear to be in truly excellent condition, but after watching the unboxing video and seeing all of the customer pics I was really expecting a less beat up stock. I'll probably just end up refinishing it at this point, but that's not something I was anticipating.
Received a great looking hand select a few days ago. Stock and metal look new. Logbook adds history. All numbers match except the last digit on the receiver cover. It is one less. The correct part is likely on the SKS next to it in the case. But, it is a great looking Yugo.
Great and fast service rifle in mint condition cant wait to firer it .
I am very satisfied with the rifle I received. The only reason I'm at 4 stars is that I haven't fired the rifle yet. It appears to be an arsenal rebuild because there are 2 or 3 parts that are numbered differently than the stock, barrel and receiver. If you go to this website you can find out by serial number, what year your yugo SKS was made. http://www.sksboards.com/smf/index.php?PHPSESSID=fdec366ebe4a6318415734712d763ffd&topic=81.0 Mine was manufactured in1969 and has the ported GL

Over all the rifle is an awesome piece of history, well made and and in very good condition. I also credit Classic Firearms for the great videos pertaining to these rifles which pushed me over the edge. I did not opt for the hand picked option but I received a great looking rifle. It cleaned up fast using the mineral spirits. I'm waiting for my ammo to show up and then I'm off to the range. If you buy one of these I hope you do as well as I did. The price on these rifles is a bit high but I'm sure they will increase in value as time goes by. The company provided great communication, reasonable shipping and a great product. They appear to be a very professional business.Good luck!
I was impressed when I opened the box, but as I cleaned the cosmoline off I couldn't help but think I bought a brand new gun. It's basically flawless. I paid the extra for the hand picked and I guess it really paid off. This is my second gun from Classic and the second time I've been pleasantly surprised with the product. I've been telling everybody about this deal. If money was no object I'd buy at least one more. Great deal.
Ya'll never cease to amaze me. This is my third purchase from Classic Firearms and I could not be more pleased. Picked up my Yugo SKS from my FFL earlier this afternoon and what can I say? Sure it's coated in cosmoline. So what! Just finished removing the exterior coating so I can begin taking it apart and what do I get? An absolutely pristine SKS that in all likelihood came right off the production line and went right into a great big vat of cosmoline and has not seen the light of day since.
It is in mint condition. Ya'll are outstanding! More purchases to come.
I bought one of the Yugos. I got the rifle in less than a week. The rifle is very nice. It took a lot of work getting the cosmo off and out of everywhere. The rifle was in great shape, the only spot with any rust was under the rear sight. The bore is nice and shiny, for a gun without chrome I was very happy. One word of advise for anyone new to surplus weapons, the video of cleaning the cosmoline off with a spray bottle might work but it will take you a week or more of spraying and wiping and it will be difficult to get inside.
I got two of these. One for my son in-law and the other for me. I was going to take mine and make it a project rifle, but the condition was so I don't have the heart to do a single thing. I doubt I will ever shoot so I just shrink wrapped everything.

Only disappointment was there was grey log books. They did tear a page out and sent one for each rifle.
Cleaned-off all the cosmoline and found that Zastava M59/66 is a 1978 Yugo, serial number O-575XXX, and had all matching numbers and in excellent condition. Bluing was 100 percent and the stock was like new with the same numbers as the rifle. I did see some additional stenciled numbers on the trigger assembly and on the underside of the bolt-firing pin assembly. When I removed the barrel from the stock to clean any cosmoline, I found the stenciled number was die-stamped into the barrel. So, this is how they obviously kept track of all the parts when they re-arsenal a new barrel onto the rifle. So, with the re-arsenal job that Zastava did, everthing is like new - - plus the trigger is smooth with very little resistance. When I checked the stock to see if there was any cosmoline to clean, the pad was clearly unremovable. So after cleaning the screws and re-installing them, I pushed on the center of the stock, and out popped a like new cleaning tube with accesssories. Get one of these rifles while you can, Thanks again, Classic !
Unboxed my Yugo from Classic's latest batch today, and I couldn't believe the shape this SKS was in. It looked like it went straight from re-furbishment into storage without being fired again. The bluing is near perfect, and the wood looks new. The pics say it all....and like I said, I just unboxed it today, and haven't even cleaned the (lite) cosmoline coating off yet. Thanks again, Classic, for making these fine rifles available to us!
The rifle I received is nice but it has a couple issues. The rifle was re barreled and the serial #s were electro penciled on the barrel and also on the trigger group. The # was also written in pen in the cut out in the stock where you operate the safety. The floor plate on the inside is also penciled. The stock has some dings on the upper part of the comb where it looks like it bounced around in the shipping crate. It came with all the extras, the sling is a little rough almost worn in the spot where it loops through the holder and a little funky. I did get a sheet of paper documenting the gun, was hoping for a booklet (I know not every gun had one). It just seems like it could have been nicer compared to some of the other reviews and guns I've seen. I have bought 3 other guns and they have been great so maybe it was just a rough day at work for them. I will continue to buy from Classic Firearms they are a good company to do business with.
Just got my SKS about a week ago. The dealer said it looked like it was brand new. Followed the video to clean off the cosmoline with mineral spirits and then took it to the range. What a sweet rifle. Shoots beautifully right out of the box. Shot a real tight group the second time out. Cosmetically it's not perfect but very very nice. This is my second rifle from Classic and I have to restrain myself every time they send me a sale e mail because I know it's all as represented and good.
I ordered two of these and one has arrived. I have taken it down and cleaned it but have yet to shoot it, but here is what I think. Excellent specimen. The rifle is pristine ~ looks new. All parts are milled and in excellent condition / bore is crisp. The stock is excellent - could not be better in any area. The rifle looks like it was manufactured yesterday. If I had the space and money I would order a crate - I don't think you will ever have another chance to purchase any that are better or even as good. If you want one, this is the batch to chose from. This rifle did not come with any accessories and that is my only disappointment, but they may be coming with the other rifle. We'll see :) If you want one, don't hesitate, this is the time and the batch to choose from. Happy shooting!
Looks like it came off the line yesterday! Wood and blueing is in top notch condition, absolutely flawless. I could not be happier with what I received. I was very skeptical at first, then Classic Firearms delivered a bomb shell.
Ordered a hand select rifle and was expecting something a little better. I received one that had been re-barreled and electro penciled serial number on the barrel and trigger guard to match them up. It was also written on the cut out on the stock above the trigger. The stock on the upper comb near the butt plate has some dings in it. The accessories were ok, just a sheet of paper instead of a log book (I know not all came with one) also got an old worn out leather sling that is half ripped where it bends to make the loop for the stock swivel. I've ordered 3 other guns from them before and all have been great. Maybe whomever was selecting that day was having a rough day not sure. It's still a nice gun and won't keep me from doing business with this good company.
Nice rifle shoots very well. Expected a better rifle for hand picked. Has non matching ser # on dust cover and gas tube and all parts have been electro penciled to match replaced barrel.
Has a few blueing worn spots some dings in the wood and some light scratches on blued area's .
Let's start strong. Everything metal on the rifle is stellar. I'd swear it never left the arsenal except the stock, with matching number, had obviously had some use. I paid the hand select fee and felt I got it in the stellar metal, though the only way the stock will please will be with a refinish. Electropenciling -consistent numbers- discretely almost everywhere makes me think this gun was an extensive rework and it may have a new barrel. Looked like it had a few test shots only and cleaned that way too. How satisfied was I? I finished cleaning, got on line and ordered another!
I recently received my M59/66 from Classic and I just want to say "Job Well Done". Classic sent me a very nice rifle, not quite as "near new" as some other people have stated but very good. Even with the extra hand select, this one had a few more blemishes on the wood than I would have liked but the metal was in great shape. It was covered in a light coat of cosmo but it cleaned up very easily. This was not the thick, black, dirty stuff that is usually found on surplus firearms, but clean, fresh-looking cosmoline. I did get all the accessories, as promised and I am very pleased with the rifle. My only regret is that it cost quite a bit more than the $69 that these were bringing just a few decades back. Times have changed. This was my first purchase from Classic but not my last. I will be back when they get something else that catches my eye. Thanks, Classic!
Purchased two of the Yugos 5966 these were fabulous could not be more happier Amanda was and excellent customer service if you want a great deal on a fire arm go to Classic have not gotten a bad deal yet have purchased before with great svc.Hand select is the way to go if you are a picky person like me.
I picked the hand-select option for my order of the Yugo SKS rifle. The only signs of any use of the rifle are some light handling marks on the stock, and some bluing missing from the magazine. I chalked the bluing on the magazine up to the way the weapon was stacked in the crate.
Overall this is the best SKS I have ever seen. I ordered one of the Chinese SKSs from Classic back when those were still available and this one is from a far better batch. The rubber butt pad was in excellent shape, and certainly helped with the recoil of the rifle. The grenade launcher on my SKS also had the holes drilled to act as a compensator, so long story short this SKS has little to no recoil.
Classic Firearms shipped within a few days and was pleasant to work with as usual. I received exactly what I was looking for, and would order from them any time. Thanks again for an excellent product.
Recieved rifle earlier this week , to my surprise when I opened the box " one word AWESOME ". I couldn't believe the condition of this SKS. When they say looks like new they weren't kidding. Not only did geta great rifle but I received everything that came with it, including the log book. Classic Arms you did it again, now I have to get a couple more so I can take my friends shooting. FYI the rifle I received will go into my personal collection of historical firearms the ones I'm ordering will be for shooting. Love Classic Arme. Thanks Keith
Congrats to all you guys that rated your SKS a 5, I received my hand select early this week and was bummed. The stock was in rough shape but I will refinish and make to my satisfaction. I got caught up in the hype of the video and all the pristine looking guns I saw in the uncrating and hoped for the best. Hopefully it is a good shooter and all will be cool., the log book was filled with entries and it looks like gun was rode hard and put away wet ( no pun intended). Still love Classic Firearms and all the product offerings, have bought some great guns and I guess you are bound to get a lesser quality gun buying sight unseen. Safe shooting everyone.
UPS Brown man just delivered this SKS to me. Well boys and girls....if you don't get one, get one (two!) now, you're gonna be real sorry. I asked for 'hand picked' for my boy's Welcome Home from the middle East and I am BLOWN AWAY at this rifle and kit! There is no blemish, scratch or bump on the stock! "PRISTINE" is the term to be used here. All numbers match and all paint on the grenade fore-site are fully white and no scratches anywhere. This 'hand picked' puppy ain't never, ever seen any duty in the field. Look at the website and you will see more just like this one. I bought a 'new' Nornico in '85 (before the ban) and I am just a pleased with this SKS at that one. Really, even more so as the China rifle was composed of China metal and this one is pure YUGO. And as a Yugo Mauser trader, I have about 20 or Yugo Mausers go through my hands every year. And, I 'know' they know how to preserve and store firearms. And, CLASSIC DONE GOOD. They picked up a bunch of these pieces packed by them and when you unwrap them, packed to the teeth in cosmoline, you will know what I know. "THEY" know how to do it! And the 'kit' that came with it is also pristine. Strap is clean and soft, pouches soft, clean and no scratches and cleaning drop is 'new'. The Manual, (belive it or not, matched to this rifle!) shows '74 issue date, with government stamps, armorer's signatures, and more stamps. Look at the 5 minute movie on the site. The fellas ARE NOT BLOWING 'SALES" SMOKE. These are a fantastic find, CHEAP, and very high quality. I gotta stop this note now to order one for me!! Nose Dive
I received my Yugo SKS today and like everybody's been saying the rifle is like new or better. Matter fact its the assembling numbers on the stock and on a few other pieces so I do not believe it's gone through a rebuilding process my rifle was made in 1981. Not sure how they do the hand selects I did pay the extra $20 for the hand select but it looks like the box is already sealed up before they ship them on the outside of the box it had the serial number and then it said hand select so I think they separate them out and then box them up and have them ready for order. When an order comes in I think they just go back read the box and ship it.
but I couldn't swear by that so take it for what its worth the only thing I was disappointed with was not much packaging inside the box so the rifle shift and the bolt handle popped outside of the box and was drag on the ground some. I think it'll be okay so I'm not going to complain too much cuz I hate sending stuff back and waiting for it to come back anyway I still think it's a great rifle and I'm very happy still just the next time guys do a better job boxing
paid the $20 for hand select and im glad I did, all matching numbers, even the stock! and the Yugo looks like it was used very little.Got a troop book with the rifle but haven't attempted to translate. Came with the compensator/grenade launcher which was a nice surprise. stock has some dings but its going to clean up nicely. mineral spirits worked so good to get the cosmoline off, and Remington rem oil made the rifle look brand new. so as advertised, classic firearms sent a bitchen rifle with accessories and troop book. no complaints here. thanks classic firearms!
I received my sks yesterday and I was very pleased. I paid $20 for hand select and I couldn't have done better if I had picked it myself. It is brand new. Beautiful wood and blueing. I also like all the accesories that came with it. I also used the cosmoline removal video using mineral spirits and it worked great. Easy to do. I also received great service from the people at Classic Arms. Will buy from again.
I watched the unpacking videos and was really excited. Picked Yugo sks up yesterday, spent a few hours today cleaning up. The wood on the top hand guard had a fresh gouge in it, not from FFL as I was there for the unpacking. Gun was manufactured in 1973 with non-matching serial numbers. I thought the log book would be really cool but all entries are from 1995 or after. After re-assembly the top hand guard/gas cylinder is not tight, rattles. The grenade launcher on barrel lost all blueing, completely silver. The cleaning kit had no cover. It's military surplus, love the Yugo's and still love Classic firearms.
Awesome as always. This is my first Yugo sks and its beautiful. Everything that came with the order was in very good condition, including the leather sling. All the parts of the gun are in excellent shape and from what I can tell it looks like my gun has had a new barrel installed before it was stored. The bore is absolutely pristine! Mirror bright with sharp rifling. You keep getting guns like this and I will keep buying them,can't wait to shoot it.
Wonderful condition with very little wear.......appears to be almost new. All numbers match and the wood is in good condition . I own several SKS and the quality of this one is on par with ,or better than, the 1954 Russian that was my previous " best SKS" . Nice to buy a gun and have it become the best example of its type in the collection. Brilliant job Classic Fire arms (again). Gun and accessories met or exceeded what was advertised and the" Hand Select" is worth the added cost .
I didn't get the hand select and still I got a beautiful rifle, classic firearms hit the jackpot with these rifles! Thank you Classic firearms.
Where do I start???? I know " Ben "after watching the yugo unboxing video.I could not place my order fast enough. Opted for hand select...wow !!! Mine has to be one of the nicest Sks that I have seen. Was a little leary of cosmoline even light coat Never had the experience before. Watched Bens clean up video "Mineral spirits " is the answer. Could NOT find anything wrong with mine.Needless to say I have a real keeper!!!!! Thank you Classic, Thank you Ben ,and a big Thank you to the pickers and packers !!!! I owe you guys one
I ordered one of the Yugo SKS's a week ago today and it was at my FFL a couple of days later. The firearm was just as described - in very good / excellent condition. I compare this to a Chinese SKS I ordered from another vendor about 4 months ago - which was accurately described as being in poor / fair condition. The Yugo I received has all matching numbers, most of the bluing is still there and the furniture only had a few minor (light) scratches and no dings.

The included accessories: double mag pouch, oiler pouch, twine snake and sling, were also in very good condition. I completed the cosmoline, varnish and original stain removal this past weekend and fired the rifle today. It looks good and functions well!. I plan on checking the Classic website regularly for other items of interest as I'm very pleased with this purchase.
I just got my Hand select Yugo SKS. I must have gotten the last one in the crate. only 2 matching serial numbers on all parts. the stock has big stamped serial number that doesn't match. The overall cond is good but not like the ones in the video. I was hoping with hand select it would have been nicer. I've ordered several guns from Classic and have never been disappointed until now.
Just picked this rifle up and Wow is all I can say. When a rifle looks sweet through all the cosmo you know you got a good one. After an intense mineral spirit bath the extra I paid for the hand select did not disappoint me.The rifle literally looks unissued. It is all matching with a beautiful grained stock with very minor storage marks. Mine came with a leather sling with all the other goodies. The log book has no entries but has the Slovenian defense stamps....very cool! Yugo's can be dated using the lettered serial number and mine dates to 1971. Thanks Classic and keep searching for those hidden treasures!!
Got my Yugo sks last week. It came well packaged in heavy cosmoline. After a lot of cleaning I took it out for a test run. 100 rounds fired with out any issues. The sks came with all the accessories including a hard cover log. The best part of it was in the log there was a filled in target of where one of the guys issued this rifle had shot at 100 meters. When I shot it mimicked where he had shot. Thanks classic for another very nice rifle purchase. I also uploaded pictures to the sight labeled Yugo sks with accessories.
I've been wanting a YUGO SKS for my firearm collection ever since I moved to the USA from the UK. As soon as the email dropped that these were in stock I purchased one immediately. There seems to be a trend at the moment with all milsurp firearms becoming available and then drying up just as quickly.

Rifle arrived at my FFL in perfect condition, it was well packaged and covered in cosmoline. Once I got it home it cleaned up real nice. The rifle looks superb and I'm confident it will be a great shooter. I was lucky enough to get the leather sling, oil bottle, oil bottle pouch and a ammo pouch with my rifle. I did not receive a log book with my SKS.

A friend who purchased the hand select at the same time as me also got a great looking rifle and to be honest you can't tear them apart once they are next to each other, He received the same accessories as mine but his sling was a canvas sling. He also received a log book with his hand select SKS.

This is my fourth firearm purchase from Classic Firearms and I'm a very happy customer! Keep it up guys!!!
Got my yugo the other day-for a handpick, the wood and bluing could have been better. Judging by the videos of what was going to be handpick, i was somewhat dissapointed. However, mine is numbers matching, made in 1968, with zero rust anywhere, and the gas valve/block are rust-free as well. For what i paid, i expected a little bit more. I do love it though! Spent saturday afternoon cleaning it. Pics at a later date!
A nice rifle but a little dissapointing. Paid for hand pick and did receive a nice rifle but as I started the cosmoline cleanup I notice it is an arsenal refinish. Has been rebarreled and electro penciled with barrel number on every numbered part. Trigger guard does not match and also has a engraved number (from a rebarrel) that does not match the barrel. Interestingly the trigger guard number is the next consecutive factory number. Front sight hood is bent but not horribly. Stock is nearly perfect as is the bluing. Came with a nice leather sling and ammo pouch as well as a cool brass oiler and cleaning kit. All in all a pretty nice 1985 sks just not fully matching #'s and every part engraved. Would have been 5 stars if matching numbers
very nice gun here the log book is very cool. cleaned up beautiful I need one more
An outstanding Yugo SKS. Very well preserved in so much cosmoline it took me 6 hours to get her ripe for the range. Kudos to your video on using the mineral spirits to remove all the gunk. This was a labor of love cleaning this perfect example of the a Yugo SKS This appears to have never been used.. Classic Firearms has always been true to their description and their word. Always my go to if I am searching a war period C&R. ( need another Mosin M44 please ).
Yet another purchase from Classic that satisfies. Hit the buy button as soon as I got the email -- which was before the article was posted on Classic's main page. Anyway, arrived at my LGS on Tuesday, took a good look at it on Thursday and brought it home yesterday [8/22]. What a beautiful rifle. For a rifle, that according to it's log book, looks like it was made in 1972, it's in incredible condition. Only one small, minor gouge in the woodwork and some worn bluing, but it adds a nice bit of patina. Otherwise, it looks brand-new. Picked the best-of-ten option and got all the accessories [sling, oiler, mag pouch, book, cleaning brush]. These even have a nice rubber buttstock.
Really nice find, Classic. I placed an order for two more. Wish I could get a couple of crates. I can only see these going up in value.

Thanks again, Classic.
Picked this up at my FFL today. Man, I was amazed when I saw the condition of this rifle. It is even better than Ben described it in his video. I will post video/photos once I get it cleaned up, but I wanted to write this now to say how so very happy with this purchase. Best surplus condition I own, hands down.
I have always wanted to purchase an SKS however the models that I had reviewed a local shops were poor condition. Additionally the cost was not appropriate in my view or a good value.
The model that I received from classic was absolutely fantastic! All matching serial numbers, the bluing was the nearly new and the stock was wonderful. I use the mineral spirits to clean the rifle and it came out great. Thanks for posting the field strip and reassembly video as well as that was extremely helpful. I've owned plenty of AK's and can field strip with my eyes closed so this was new territory for me. Looking forward to firing this beauty soon! Highly recommend the rifle and classic firearms!
Overall a pretty disappointing transaction. I paid the extra $20 for hand select. Gun was to ship next business day. It didn't. Or the business day after that, or the one after that. I have it now. Mechanically looks very good, hasn't seen many rounds. Cosmetically is a different story. I was expecting handling marks, was not expecting chips, gouges and splinters in the stock. I watched the unboxing video, my gun must have been the one they used to pound the nails in to close the crate. Not even close to the ones they show.Lesson learned, I guess.
I just received my SKS and was a little disappointed. Not a single matching serial number other than an electro etched receiver and magazine. I paid for the hand select and was expecting one like was shown in the video..
Received my Yugo SKS yesterday. It is in excellent condition. Bluing is very nice and the stock has nice grain to it. There was a lot of cosmoline to clean up, but underneath a beautiful rifle. I paid for the handpick, got all of the accessories and a great rifle. Worth every penny!
Just got my SKS, and it is beautiful. It is packed in grease and will take some serious work to get it cleaned up, but this is a good kind of work. Looks brand new. I paid for the hand select and got the log book and all the other goodies, worth it from a collectors stand point, may not be necessary if a person just wants a shooter, but each person has their own wants and needs. Very excited to have a Yugo SKS from Slavonia. Thinking of placing another order these are so great. Very happy!!!
As a collector, I have never seen a better condition military surplus rifle.
After a few days of working to get the cosmoline off all the parts, which was already mentioned as part of the fun with these rifles, I am very happy with my purchase. The metal and wood are in excellent condition, including a bore that looks new. I can't wait to get this out to the range. Stock up on mineral spirits and ammo and get one while they last!
The Good:

Accessories are great. Leather sling and oiler case. Log book with cover, cleaning kit, two leather ammo pouches. All in good condition. The rifle has its night sights installed and the grenade cup is drilled for recoil suppression. The finish on the barrel assembly is generally in good condition.

The bad or so so:

Stock has numerous old dings and gouges from service use. Some quite large. There is an arsenal repair (wooden patch) on the stock. Stock is otherwise sound. Only the stock, receiver and bolt carrier have factory stamped serial numbers. The magazine, trigger group and receiver cover all have crudely etched, but matching numbers. All of those parts have finishes that contrast with the barrel assembly finish, being more gray than blue. There are no other numbers on these parts.

The bolt and gas tube numbers do not match the numbers on the rest of the rifle, but are serial numbers not the assembly number that is on the bottom of the barrel. I have not found any numbers that match the assembly number on this rifle. The bolt is in only fair shape, with discoloration and pitting and several etched numbers and symbols.

The bore shows some wear but is shiny and has strong rifling.

There was really heavy, dark cosmoline, not light and clear as mentioned in the video. This is to be expected for a milsurp, but I question how hand select can be accomplished when the stock is not visible. I was not able to spot the stock defects and repair until I cleaned the cosmoline off.

This is obviously a heavily refurbished rifle. The log book shows that this rifle was issued a dozen times between 1969 (F serial number) and 1989.

I purchased this rifle within hours of the video and information about these rifles being posted on Classic's site, a day or two before the mass mailing email went out, as I keep an eye on their site. Based on the video on Classic's site, I was expecting a much nicer rifle using the "hand select" option. If I had been able to examine this rifle before purchasing, I would have not have purchased it for the amount that I paid. I was hoping for a rifle that would have eventual collector value, but got just a shooter, instead. (I hope)

Disappointed.
Just received my SKS with the hand select option. The troop log in a nice addition and there are many pages of history up until 2002 not just one page. There is a gouge in the stock which I felt violated especially with a hand select.... Well at least there was enough grease.
This makes about 7 or 8 that I have bought from Classic Firearms in the last year, this keeps up my wife will use one of them on me. The one I got was a Honey-Blonde in super great condition. Spent the day cleaning it and had two neighbors that were driving me nuts to buy it.
I received my Yugo SKS carbine promptly and in as sent shape due to the excellent packaging. It was heavily cosmo'd, and took some time to clean. When cleaned, though, both wood and metal were in pristine shape. I haven't fired the carbine yet, but it seems to be in excellent mechanical shape, and has a good bore. It should be a good shooter. This is my third C&R firearm from Classic, and all have been as described or better. Thanks, Classic.
After cleaning up my Yugo which has a blonde ash stock my two neighbors tried to by it. Can't wait to get it on the range.
Ordered my SKS last Wednesday from Janet (she's a great customer service rep. by the way) and arrived today. The rifle is really nice and the log book is way cool! Mine was wrapped in brown paper with a lot of cosmoline. Some of the fun buying these is cleaning them up. I'm always happy with my Classic purchases and their outstanding customer service!
I ordered 2 of these rifles and both were in excellent condition. I received for both rifles a sling, ammo pouch, oil bottle, oiler pouch, cleaning kit, and original serial numbered manual. They both have really nice bluing and the stocks were almost perfect. One rifle has all matching serial numbers on all parts while the other one is all matching except the receiver. The serial numbers on these rifles are consecutive though. All in all these are beautiful rifles and are getting hard to find. May just leave these in the cosmo and store them. As always Classic Firearms did a fantastic job! Thanks!!
The good. This rifle does have a pretty nice stock. It has the night sights and the recoil suppression holes in the end of the grenade launcher. The accessories were great, leather sling and oiler pouch, log book with hard cover, brass oiler, pull through cleaner, cleaning kit and stripper clip pouches.

The bad. The only factory stamped numbers on the gun are on the stock, receiver and bolt carrier. Everything else is electro-penciled to match, except for the bolt which does not match at all. The bolt also has significant discoloration and some light pitting from old corrosion and exhibits much more wear than the rest of the rifle.

The stock has several old dings and gouges which is not surprising as the log book shows that this rifle was issued a dozen times between 1969 and 2004. It is an "F" serial number which is consistent with a manufacture date of 1969.

The bluing shows wear at all the edges, where you would expect to see it with a rifle that has been used this much. That is not to say it is not in generally very good condition, which is the highest I would rate this rifle, except for the bolt which is only good at best..

There is a lot of cosmoline on this rifle, so I have not gotten a look at the bore, yet, and am a bit concerned about that as this is obviously a well used rifle. Hopefully the bore will be more like the rest of the rifle and not like the bolt.

Sorry I paid extra for hand select as the condition of this rifle is not similar to the rifles shown in the video on Classic's web site.

Hopefully it will be a good shooter since, with mismatched and electropeniciled parts, it doesn't have a serious collector value even with log book included.

Knowing what I do now, I would not have purchased this rifle for the amount I paid for it.
I just received my yugo and love it. It's a very nice rifle but I am disappointed in the hand select. The rifle I received has a very plain bleached stock. From the video posted I was hoping to receive the laminated type or one with nice grain for the extra $20 I paid for hand select. These are like brand new. Now I just need to get it cleaned up.
These Yugo's are well made, easy to fix up, upgrade, trick out and just great lookinging.Great shooters! cheep ammo! Hope more come in, I love them for their all around quality, desirability, accuracy and of course collect ability. If you get one, watch out, you may want more. They are perfect for home defense and hunting. Perfect hog guns for you southerners. The bayonet is nice to have while chasing wild boar.
This wasn't the first and will definitely not be my last purchase from Classic. It is always an easy no hassle transaction. You always get what they advertise and sometimes they under promise which is always a plus. Thanks again Classic.
Brutus' Description

As everyone knows good surplus has been getting harder and harder to find for quite some time. These are really nice and actually exceeded our expectations. In fact the only reason I included the Very Good rating in the title is in case the worst one in the bunch falls to the level of very good. Certainly everything we have seen so far exceeds that level.

This fine group of rifles came to us from the Slovenian Arsenals where they were evidently assigned after the dissolution of Yugoslavia. They are packed in master crates of 10 rifles each. Most also include accessories such as a leather mag pouch, oiler, oiler pouch, sling, and tubular cleaning kit.

Not all accessories are guaranteed with every rifle but we will package whatever is in each individual crate along with the rifle.... In other words, if the crate your rifle comes out of has cleaning kit's, we will pack a cleaning kit with your rifle. If there are slings in the crate, yours will get a sling, etc... etc. All we are guaranteeing is a rifle but the vast majority do have some if not all accessories. Also, while we firmly stand by the really nice condition of these rifles, we make no guarantees on the condition of the accessories. Some are nice, some are really nice, and others may be so-so. We are selling the rifle and throwing in whatever other accessories happen to be in that crate, as such you should simply consider the accessories as free gravy.

Each rifle is complete with blade type bayonet. Nice wood stocks. Adjustable gas systems with grenade launcher, also, while we will not guarantee all matching serial #'s all of the dozens that we have examined so far have had all factory stamped matching serial #'s on any part that carries a serial #.

Honestly I don't know if these rifles were arsenal refinished or just very nice rifles but they are without a doubt the finest group of military surplus SKS rifles we have ever received. I encourage you to take a look at the attached pictures and video to see what you can expect. Some stocks will be very dry and seemingly without a varnish finish, while others appear to have a clear coat over the stain, but that is common to Yugo SKS's and apart from some slight storage marks all are very nice. All metal surfaces have looked good with very little bluing wear. Expect some slight storage marks and an occasional dent or ding but overall this entire lot is in at least Very Good surplus condition and the hand selects should be closer to Excellent. / Like New.

As stated before, as best we can tell these rifles were assigned to and or stayed in Slovenia after the dissolution of Yugoslavia and were held as back up weapons until being deemed as no longer needed and sold as surplus. They show very little if any actual use and are very nice by surplus standards. Many look absolutely new.

The vast majority of these are packed in a very consistent , very clean light coating of cosmoline.

Add $20.00 for Hand Select. Hand Select will get you best of 10 cosmetically.

Dealers and Collectors.... We are also offering these fine rifles for sale in lots of 10 in their original wooden crates. Bear in mind that shipping for these will be by truck line and may be cost prohibitive but serious buyers can e-mail us for a freight quote. Please see our Yugo SKS Crate Page for full details.

7.62x39, Semi-Auto, 10 Round, Blade Style Folding Bayonet, Adjustable Gas System.

Manufacturer's Description

Historic Yugoslavian SKS rifle, semi-automatic, manufactured in the famous Zastava Plant - 7.62x39 caliber - Very Good to Excellent condition
C & R Eligible

Additional Information

Product Specs

7.62x39
Semi Auto
Blade Bayonet
10 Round Mag
Grenade Launcher

Country of Manufacture
Turkey
License Requirement
Curio and Relic
Manufacturer
Zastava
Mfg. Part Number
YUGO-SKS-VGE
UPC
000000000000
Caliber/Gauge
7.62x39
Threaded Barrel
No
Free Shipping
No
Flat Rate Shipping
No

Customer Reviews

I could not be any more satisfied with his rifle! Classic firearms ship my rifle extremely fast and I was not disappointed with the product. I'm glad I paid the $20 extra and went with the hand select. You do get what you pay for!
Just adding a video to show what a fantastic and beautiful guns these are.
I purchased an SKS about a month ago and have sense fired 300 rounds do from it with no malfunction. The rifle appears to be unissued and coated in heavy cosmoline, no rust and beautiful bluing. Very accurate non chrome lined barrel ( so no corrosive ammo) and the best factory trigger ever installed on an SKS. Do not miss this opportunity to own this.
The only reason I'm not giving this 5 stars is that I've only shot 40 rounds so far. The rifle has absolutely no indication that it was ever fired. The stock has a few very minor dings and that's it. Along with a cleaning kit, leather ammo pouch and sling, it came with a log book (in Slovenian) that matches the serial numbers on the gun--all the parts also have the same numbers. The bluing is flawless. This was a very nice acquisition at a very reasonable price point.
I chose hand select for this Yugoslavian SKS rifle and its in excellent condition, it appears to be unissued. The cosmoline wasn't bad at all and after cleaning it i put 3 coats of Lin-Seed oil on it, she's a bute. Classic Firearms out did themselves, i am very happy with the service and rifle.
I bought this rifle in November and I am just getting around to cleaning it now. It is in excellent condition and I am very pleased. The numbers match, the Slovenian data sheet says this SKS has 5% wear but I think it is even less than that. Thank you for bringing these great rifles to market.
Waiting was the hardest part... but well worth it! It was packed in heavy cosmoline when I picked it up from my FFL and I wasn't really sure what to expect when I got it home and cleaned up. The salesman from my favorite gun store assured me that it was a beautiful rifle, because he'd seen tons of sks come through. Still I wasn't sure. This was my first milsurp rifle and dealings with cosmoline. He was right! I'm very pleased with my 1st purchase from Classic Firearms, and will most definitely be a returning customer.
Just about what I expected. It's a beauty of a gun. Since it's covered in cosmoline I'll have to clean it up and go from there. Wood looks damn near perfect, bluing looks like it's brand new, Once I clean it up I'll have to get to the range and rip off a few rounds! Thanks Classic!
Just picked up this Ygo SKS at my FFL dealer. Exceeded my expectations. Absolutely no marks, numbers match. Came with cleaning kit, ammo pouch, sling. Didn't get the armory documentation, but I don't think this was ever issued! Kudos to ClassicFirearms.com
I got the handpick option and I am so happy I did. It has a beautiful bluing and the stock has not damages at all. I didn't get the logbook from the factory but I got the accessories. I did call their customer service and they told me that some crates don't come with them. it's OK because my first Yugo Sks was not as good looking as this one....Thanks Classic firearms.
I got honney blond unissued rifle for sure. Took some time to clean but looks excellent!
What a beauty! I always wanted an SKS, Im glad I bought this one. Hoping to go shooting soon.
Another great purchase from classic firearms. I bought a hand select yugo sks. Yes packed in heavy cosmolean but after the cleaning a beautiful rifle. Really the glueing is 98 maybe 99% these rifles did not see much use if any. I have not had a chance to fire mine but the barrel looks awesome! I expect super results.
I have 2 sks now I've purchased from classic and about 8 or 9 guns total,over the last few years. Great company. If you are slightly thinking about an sks hit the purchase button now. Thanks classic.
An invitation by my preferred FFL dealer had me at their shop today; 10/13/15, to view the crate they recently purchased as a "group buy" for Northeast Shooters. Both Ty & Elise at American Weapon Systems in Rindge, NH knew that I was on the fence about purchasing one of these. After doing the video and seeing the quality of these fine rifles...I may just have to order one. Great job Classic Firearms...Keep bringing us the Good Stuff ! This crate Rocked !
Picked hand select and it was as good as I expected. Unissued with a few storage marks. You can't get this good of an SKS on Gunbroker for the price and with accessories. Classics customer service was very good with me. Much better then that of Southernohioguns. Thank you!!
This rifle was advertised as "very good to excellent" and I was not disappointed at all. In fact, I'm pretty stoked. I went with the "hand pick" option (I always do for some reason) and received a sling, ammo pouches, and a troop issue log serial numbered to the rifle. As it turns out, this rifle was only shot on two occasions and has had fewer than 600 rounds run through it. What a great bonus.

The rifle is still thick with cosmoline, but after I get this baby all cleaned up I'll be taking it out for some range time with its close relative - an early Sino-Soviet SKS. I smell an accuracy competition!

As usual, Classic Firearms shipped quickly and securely while keeping me informed during every step of the process.

This was my second purchase from Classic... Rifle arrived 3 business days after the Labor day, when I ordered it.. My FFl is already in their list,.

I made a you tube,.. Im happy with the purchase. Im happy with it, metal seems to show some use, but stock is in great shape.
I would agree with a Very Good rating on this rifle.
I had one pit rust spot very small on hand guard . very small. in the you tube you cant see it,, im just giving all info.

I got handpicked. I received the accessories. they were in good shape also.
I shot the rifle the day after my you tube,.. no issues. will buy again from Classic.


I have purchased 12 surplus military rifles over the years and this Yugo SKS is by far in the best condition. The wood stock looks brand new, the bluing is 100% and the rifling looks like a mirror. Nice touch with all the accessories that come with the $20 hand select option. Well worth the money. I like this SKS so much I'm going to purchase another one. Once again Classic Firearms delivers an outstanding product and level of customer service. Thanks guys and keep up the great work!
Check out my quick video review, never EVER did I think I would pay $430 + $20 hand select for an SKS...but then again, I never thought I would be able to get an original Yugo with all matching parts numbers in this good of condition complete with the Slovenian arsenal log. Just got delivery to my C&R, and now I am really glad I made the purchase! Check out my video review. Exactly as advertised by Classic. Also included in video a couple of my Chinese Type 56 SKS's from Classic as well for comparison. Thanks Classic for making these fine rifles available to us again!
Very pleased with the overall condition of the rifle. After a few hours of cosmoline removal, the gun was in excellent condition to fire. Took it to the range and rifle functioned flawlessly, even got some compliments on the condition from some range patrons. 4 star because I paid extra $20 for hand-select and the appearance of the stock dents/tool marks were not expected after paying a premium. Will upload pictures if I can figure out how... Will continue to shop with Classic Firearms!
Just got around to taking it out to the range last weekend, and couldn't be happier. Cycled just fine through every shot, even with the cheap ammo I was feeding it. There was a fair amount of cosmoline on the gun, but removal wasn't too hard (I used boiling water on the metal parts, then windexed the top layer off the stock and used a heat gun to draw out what had soaked into the wood, if anyone's interested). When all was said and done, the gun looked great. The bluing was almost entirely in tact, with a small amount of wear on the inside of the receiver, and the stock looks damn near perfect. On top of that, all the serial numbers match, and the gun came with a cleaning kit, leather sling, leather ammo pouch, brass oiler with pouch, and a log I can't read cause I don't understand Croatian. All in all, very happy with my purchase, and I didn't even pay the $20 hand select fee.
I've wanted an SKS for awhile now and was finally able to save up enough money. I couldn't be any happier with my purchase. Although I was a little disappointed in not getting a log book or ammo pouches, but the description does state may or may not come with the purchase. The gun came packed with cosmoline and took a few cans of brake cleaner to free up various parts. All in all after a few hours of cleaning it was so worth the wait. I've shot 50 rounds or so out of it and I'm quite impressed. The trigger seems really smooth, which can be an issue with these rifles. The gun was pristine and the +$20 for hand picking was well worth it. The customer service over the phone was top notch! I highly recommended buying from Classic Firearms!
This is a followup review. Purchased in 4/2016, hand-select. After getting off the cosmo, saw no wear on the blueing. Took to the range; shot Wolf, Tula, even some original Yugo ammo. No jams or problems, was hitting a 12" target regularly at 100yds (happy with that, as my eyesight isn't the best). Fun gun, lots of attention when I brought it out.
On removing the cosmo; followed Brutus' excellent video, with one addition; very carefully turned the stock in front of a propane garage heater to drive out additional cosmo before final cleaning and refinishing. turned out beautiful.
Received my Yugo SKS and very happy with my purchase. Once I got the cosmoline off everything including the inside of the barrel was in fantastic shape. Well done Classic Firearms.
I did not pay the extra for the hand picked rifle but am very pleased with what I received. It arrived with a liberal covering of cosmoline and after mineral spirits, elbow grease and a nylon brush it was apparent there was no visible wear in the metal. The stock has a minor ding, and I mean minor, but after rubbing the stock with linseed oil it is barely noticeable. I used Wipe Out in the bore and the patches came out surprisingly clean, made me wonder if this rifle was ever issued.

My rifle came with a used sling and issued cleaning kit, no other accessories,

Haven't had a chance to fire it yet so I guess the rating could go down if I find it malfunctions on the range but I doubt it.

Needless to say I am pleased at this point.
First of, I payed the extra $20 and it was well worth it. The rifle was all matching serial numbers, and was in mint condition. There was one scratch on the magazine that I bet was from putting it in the crate, but other than that it was immaculate. I put more wear on the gun cycling the action a few times during the first cleaning than it had when I got it. If it's had more than 3 shots through it before I got it, I'd be very surprised. When I shot it, the sights were dead on too.

Enough about the gun. I ordered it on a Thursday afternoon, got an order confirmation within a few hours, and it shipped Friday. It then arrived at the FFL on Tuesday. The ordering process was simple, typing in my info and then selecting the FFL I wanted it shipped to, and that was it. This was my first purchase from Classic, but it definitely won't be my last.
I bought mine a couple.months ago, and have fired several hundred rounds through it, flawlessly. I chose the hand selct and recieved a magazine pouch, tubular cleaning kit, and a very neat oil can w/ its own pouch. I also got the archangel 35 rd mag, which has a decent look with the rifle for polymer, and works just as it was made to, mine fits a little tight, but I prefer snug, I might relieve the stock a bit. The cosmoline wasnt as bad I thought it would be. The cleaning rod will rattle after you remove the cosmoline, I made a plastic bushing to keep it from moving. I love my sks, great gun, pretty accurate, and not hard on the shoulder.
Took this out to the range. Very firm gun, I perhaps was not the best person to clean the cosmoline-hense it bleeds Cosmoline... which was pretty funny and smelly. I love sks rifles lots of fun and this rifle was like new condition
I received an awesome Yugo SKS and was really pleased with the quality of the rifle. Covered in cosmoline when it arrived, it took me hours to clean the rifle to get it to a condition where it was usable and no longer greasy. To some this may have been a hassle but I enjoyed my time uncovering the gem of a rifle i received. Overall this rifle was as close to new as i could imagine. The bore was a mirror and the stock has about 3 minor imperfections on it. The bluing was at 90 to 95% with very little wear and scratches.

With the rifle I received a cleaning kit, a mag pouch, a bore rope (not quite sure what it really is) and an oilier.

Overall the rifle was a glorious surprise how nice it is. Especially for the money 425 is a fair price in today's military surplus market. I would recommend to anyone looking for a sks in really good to new condition.
A quality Yugo SKS and Classic delivered promptly and the transaction was very easy. Great folks and will do business again in the near future.
I purchased a hand select rifle and it's in mint condition with only some extremely tiny crate marks on the stock. The book it came with says that it was only shot 3 times during testing but on the down side, the guy who tested it has the same initials as me so people might not believe it lol. That's okay because I am never selling it. So far I haven't even shot it and end up taking my Russian SKS out with me. I will probably just keep it in my safe till my collection room is built later on in life. I have spent well over this price for SKS rifles in half the condition as these. I am actually amazed that they haven't sold out yet. If you ever want a good hog hunting rifle or even deer hunting rifle for a damn good price then pick one of these up before they are gone. So far they are the best condition firearm that I have purchased from Classic Firearms and I own a good amount of their inventory lol.
This was my first purchase from Classic Firearms, and I have zero buyer's remorse about it whatsoever. The rifle arrived packed in cosmoline, as expected, and after a few hours and 6 cans of brake cleaner it looked fantastic. All matching serial numbers and not a flake of rust to be seen. A few dings in the wood stock, but I think it gives the rifle some character. It came with a cleaning kit that fits into the trapdoor in the stock, a leather pouch that holds 6 stripper clips, a brass oiling kit with a leather pouch, and a strap. All of the accessories were in good condition except for the leather strap, which was rotten beyond the point of salvage. The bore was shiny and seemingly new after running some solvent down the barrel and running cotton pads and brushes through it: not a single sign of pitting or rust. It will eat up cheap steel ammo like it's nothing, and mine seem to shoot best with Wolf and Tula rounds, (compared to Yugo surplus and Red Army Standard) making 2-3 inch groups at 50 yards using irons freehanded. Just know that the barrel is NOT chrome lined on these barrels so if you shoot it, clean it.
I was not disappointed! Rifle was as expected; or maybe even better! Couple of character marks on the stock which I love by the way. Action and barrel were pristine!!
cleaned up nicely must have been in use as some of the bluing is wearing off and is not a numbers matching rifle. still is very nice as it was hand selected and is accurate right after the cosmoline cleaning.
Yeah, I spent the extra $20 for the hand select. Turns out it was worth it.

The rifle sent to me had some pretty stiff springs for disassembly and assembly, that I had fun with while taking apart for cleaning But, that's because it only had one set of tool marks on it showing that it'd been assembled at the factory, and nothing else. The Barrel lining is a mirror shine, the stock has no marks or damage, and the finish shows no sign of aging what-so-ever. The rifle sent to me was put together at the factory, dipped in cosmoline, packed in a crate, and shipped to my house some 28 years later. I was the very first person to fire this rifle outside of the factory, and it is absolutely superb.
I work in a pharmaceutical company here in NC. A lot of my co-workers shoot and collect. We threw in a while ago and bought a crate of Mosin Nagants. So happy with our purchase that we went in on a case of SKS('s?) No runts in the litter. I drove to the warehouse so I got first pick. The fellas drew lots to pick behind me. Five Stars, really Five Stars. The guns are in really good condition. The papers showed (Google Translate) that the guns had been arsenal maintained just before they were greased and packed. The wood is nice. Tiniest dings and only one or two a stock. All blueing is near perfect. All numbers matched. My gunsmith said that he thought that the gun hadn't seen any action and that it had only ever been test fired. Runs the yugo ammo we picked up so smooth because it was literally made for the gun. This gun is now my, and 13 year old boys, favorite. One problem:

One gun per guy,
One wife per guy,
One wife per gun,
Ten wives per case!

Don't know anybody brave enough to pick up the next case!!
This was part of my very first C&R purchase. I think I made a good choice. The weight of the rifle, I think, gives it less recoil than my AMD-65. I have always wanted a SKS and this is one of the best I have ever fired.
I picked up two of these beauties from my FFL today, one for me and one for a friend. We were both hoping for a darker wood example and that's what we got! They're only 1 serial number apart and are flawless. I almost feel bad knowing I will be shooting with my rifle, they both appear unissued. Our FFL dealer personally has a few SKS's and was shocked at how nice they were. Huge thanks to Will for communicating with me so promptly about what I needed to ship these. My friend and I will be purchasing a case of the ammo that came with these tomorrow and cant wait to get them cleaned up. Awesome price, great customer service, fast shipping, and an exceptional product true to description. You guys are on the right path and we will definitely be back for more!
Better than I expected! Received in excellent condition and to be honest I think it was never even fired.
Got the rifles yesterday. Looked good, cleaned-up good. Went to the range today. Flawless functioning. Lots of positive comments from other shooters. May have sold a few for Classic Firearms. Can't complain, really a great value.
I reviewed this a few months back and gave it 4 stars only because I hadn't fired it enough. I added an archangel 30 round quick release mag and replaced the original firing pin with a spring-loaded upgrade to prevent slam fires . . . this has become my favorite plinking rifle . . . a lot of fun to shoot . . . tempted to buy another.
It came very quickly in the mail and appears to be unused. No scratches and perfect condition. It feels great shooting it and has a nice recoil. I couldn't be happier with this purchase!
Thanks guys for selecting the darker wood for me. i really didn't want the blonde wood. the gun is in VERY GOOD condition. cleaned up really nice. This is my first SKS, so i am still learning about it.
The condition of my SKS exceeded even my wildest dreams. Looks new to me (though I'm looking through a coating of cosmoline). I paid for the hand select. Wood looks flawless, and a beautiful light color. Thanks, Classic!
Rifle arrived well packed, Classic ships fast. The cosmoline wasn't too bad, almost light enough to wipe off with dry rags. The bluing was very well preserved, with no real problems. The only numbers that matched were the stock and the receiver, all other parts bearing numbers were different. The stock bore no resemblance to the promotional photos on the website, but acceptable for a relic weapon; dings, some cross-grain scratching, a couple very slight gouges, dark patches and stains. All in all, acceptable. Do I think this is a ripoff? No. Just don't expect the stocks to appear like they do in the photos.
Overall this SKS is a nice rifle with some dings here and there in the wood; however, there are several deep scratches near the end of the buttstock. This being my first purchase from Classic, I'm somewhat disappointed. For $429.99+ $20 for hand-select, I would not have expected to get a gun with these kind of scratches on the stock. Included was ammo pouch, cleaning kit and sling- but no log book. Note: Chinese stripper clips or those marked with the number 31 will not fit this gun.
I wasn't sure what to expect when I ordered the Yugo SKS. Classic firearms came threw for me BIGTIME! I received a reddish woodgrain stock (exactly what I asked for). Bluing was near perfect. The only slight con was a cracked butt pad, and only a portion of my parts are matching. I will say that my stock does have 4 "Kill notches" carved into it and although most people think that's a pro, I definitely do not. Enough said! I am extremely pleased with this purchase and would absolutely hands down recommend purchasing from Classic, great customer service as well. See my rifle uploaded with "(1969)" in the titles.
Was heavily pack with cosmoline. All numbers matching. After cleaning the rifle appears almost unissued. Very happy with it.
Yugo SKS came with all matching numbers and well protected in cosmoline. Came with Ammo pouch, oiler w/ pouch, leather sling, and cleaning kit. Logbook came in separate piece of mail 2 weeks later. I ordered hand select and was very pleased as always with Classic Firearms. Used mineral spirits as recommended and it cleaned up well.
Just unpacked my SKS first weapon ever on my C&R and first purchase from Classic but will buy more


this weapon looks brand new packed light in cosmoline
very good to excellent condition very happy customer
I just finished cleaning off the last of the cosmoline from my yugo sks and I am very happy with this rifle it looks as if it were never even used stock looks great (no dings) and so does the rest of the rifle. The rifle came with all matching serial numbers a leather sling an oiler and ammo pouches. I was bummed I didn't get the troop issued book with gun or the cleaning kit but like classic said they only guarantee the rifle so I can't complain. I haven't had a chance to shoot this rifle yet but based on cosmetics and its history of reliability I would recommend this to anyone who is trying to decide if they want one or not. If money wasn't an issue I'd buy another today.
This was my first time buying a military surplus rifle, and my experience has been great. I didn't purchase the $20 hand pick, but the rifle I received was like new. I would say it has 90-95% of its bluing left and the rifle doesn't appear to have been fired. Overall an excellent buy from an excellent company.
I purchased a crate of these right at a year ago from Classic. Customer service was awesome and they keep me informed through the whole process.
I have only shot one of the rifles and to be truthful I have only cleaned 4 of them. Lots of work but well worth it. Quality of rifles is unbelievable. All bores so far are excellent, but should be with the amount of cosmoline packed in them. To the shooting part. Grabbed one of the four, that I had cleaned, and went to the range. Started off at 100 yards and had no problem hitting steel targets (12' x 12"). Took it out to 150 yards no problem, 200 yards no problem still hitting steel. 250 yards and needed to raise rear sight to 1. Still no problem hitting steel at 250 yards. Windage was on from the start and never needed to compensate. 300 yards and now rear sight is between 2 and 3. Still hitting steel plate without any problem. 318 yards was maximum at the shooting range I belong to and let me tell you I made a pumpkin sitting at the bottom of the berm suffer. This gun performed flawlessly without any FTE or FTF. I used surplus ammo I have had in an ammo can for about 5 years. A lot of people at the range could not believe how accurate this rifle was with open sights but like I said in the summary "Try it to believe it". You won't go wrong and you will have a blast.
This was my second Yugo SKS purchased from Classic. This one was in even better condition than the first. It looks unissued or arsenal refurbished. Bluing is 100% and stock is excellent with only minor handling marks. Bore is excellent. Included all accessories. Great transaction as I have experienced with all purchases from Classic.
This was my second Yugo SKS purchased from Classic. This one was in even better condition than the first. It looks unissued or arsenal refurbished. Bluing is 100% and stock is excellent with only minor handling marks. Bore is excellent. Included all accessories. Great transaction as I have experienced with all purchases from Classic.
I did not get hand select and i am not dissopointed.
This Sks has some dings in the wood but everything eles is in excelent condition. I have put close to 400 rds thru it without any issues.
Thank U Classic
WOW.
I just got my Yugo SKS yesterday, and just wow. I did the handpick, and as a result I got a SKS that looks brand new! The beautiful blonde stock doesn't even have a scratch on it. The bluing is near perfect, 97-99% if i had to guess.
I'm almost jealous of myself for owning this gun! Thumbs way up Classic Firearms!
Now to find a Chinese or Russian model to accompany my new Yugo.
This is my third Yugo SKS and the first from Classic. This rifle is absolutely beautiful. It appears to be unissued. There is not a single wear mark on the metal or stock. There are a couple of small handling marks in the wood but nothing major. Gobs of the usual Yugo cosmoline but once cleaned up it looks amazing. I'm a very happy Classic customer!
Numbers matching beautiful rifle. When we unboxed it at the FFL, everyone in the store wanted to know where it came from. As good as it looks now, it should be really nice once cleaned up. Can't wait to send some rounds downrange. Your customer service is first rate. I will definitely buy from you all again.
These rifles have more than enough 5 star reviews so you've probably read all there is to read about them.

Ordered a crate of 10 and 9 were in EXCELLENT shape except for one oddball that was well worn. One of my co-workers got 3 of the SKS's and took the beat up one and appreciated its authenticity. All came with matching accessories except for the log book.

Now that a few more co-workers have seen them they might be ordering another crate soon since they keep bothering us to sell them ours. Arrived about a week after ordering. Janet and Matt were very helpful and a pleasure to work with.
had my sks in 4 business days. Very nice rifle in very nice shape. Customer service was excellent and I will be doing business with Classic in the very near future. Would really like another one of these sks's. Thanks for the super service Classic Arms.
My first SKS and first purchase from classic. Bought the rifle and got it shipped and picked up in a week. Very nice rifle the reason for 4 stars is because I paid for hand select and the stock was was a little too beat up to justify the extra money. All in all I would recommend this rife.
Thanks Classic....the buying process could not have been easier. First online gun buy and will definitely not be my last! This gun is beautiful. Perfect bluing, beautiful wood. I know we have no say on the type of wood but I have to say I got the exact grain and look I wanted. Got sling, ammo pouches etc, however I did not get a booklet, and for some reason I was really looking forward to a Slovenian army booklet! Started the cosmoline removal process...ahh the joys of surplus guns!
Don't hesitate to buy one of these. There are many out there but these are the best. We did hand select and our Rifle came in stunningly perfect condition. Cosmoline is easy to take off and underneath the mess is an outstanding rifle worthy of the premium price. Classic firearms grading is fantastic!
I paid the extra for the hand select and I'm glad I did. What I received appears to be an un-issued Yugoslavian SKS with matching serial numbers on all parts. Hats off to Classic on these, you won't find a better surplus SKS than these! Sent to different FFL than my last order and was just as smooth as the first one. Highly recommend these rifles and Classic all around great transaction.
This was an sks I purchased from classic firearms and it was awesome really can't complain about it it was in excellent condition as they said it would be and shoots awesome lo e it thanks classic firearms
Once again, another Super Nice surplus rifle from Classic Firearms. I received my rifle 2 days after ordering it, and upon unboxing, I was amazed at how beautiful the rifle was. It was coated in cosmoline, of course, but after cleaning it up, it looked very nice, like maybe it had never been shot. I am always pleased with whatever it is I buy from Classic Firearms, so I'm giving this purchase a HUGE 5 STAR RATING!!!!!!!!!!!!!!!!!!!!! Get one of these before they are gone, you will be glad you did!!!!
Got my Yugoslavian SKS today and wow! I paid the $20.00 Hand Select Fee and added my wishes in the customer comments field.
I got Exactly what I was dreaming of! When I opened the box it was like they knew what I was looking for! It is new and unfired by the looks. Medium color with darker defined wood grain, no dents or scrapes, perfect bluing. Awesome!
The folks at Classic Firearms have a good thing going on here. I wish them the best. I have two of my friends hot to trot for their purchase soon! I'll be back for more.
Not a YouTube videographer but I will try to update soon. No option for pictures.
This rifle came to me in good condition, although I paid the extra $20 for the hand picked one. I was expecting a little better condition, since the stock had wear marks and quite a few dings, something that the ones shown online don't have. I would dare say that the hand-picked option makes no difference. Regardless, the gun functions very well, since only one FTF occurred in 100 rounds, after I decosmolined it and took it to the range. The loading of stripper clips is a hassle though, much worse than I thought. Overall, this rifle is very elegant and I would say the main reason for having it is the historical value of it and how cool it looks. It came with original cleaning kit, oil can, ammo pouch, and sling. If the price was at least $100 lower, it certainly would compete with he AK, but as it is its value lies in its history and coolness...
I picked this rifle up within just three days of ordering it, fast shipping, when the rifle was pulled out of the box for inspection at the FFL, I was very pleased to see the grains and darker coloring in the wood on the stock was exactly what I had in mind, it could not have worked out better. I took the rifle home and disassembled it using Ben's how-to video and cosmosline removal technique, treated the stock and reassembled the rifle, the description was exactly as it said, beautiful rifle. I cannot say enough positive things about my experience with this purchase, thanks again Classic!
I got a Brand New SKS that after cleaning I cannot see any sign it has been Fired. I am very happy with this rifle and have to get another. They are just to nice to pass up.
I have had mine for a few months and finally took one to the range today. Oh my. Shot straight as an arrow. Was knocking a tin can up the 100 yard range embankment shot after shot with open sights. I gave a 5 star previously for the cosmetics and now another 5 star for its shooting operation. Simply an awesome rifle. A guy at the range was asking about it saying "you are hitting that with iron sights?" Yep. What a rifle. I previously bought two and might need to get another.
I received my new rifle on Monday afternoon but couldn't check it out until Tuesday afternoon. In that time it sat in a box on the back seat of my truck, it was HOT. When I took the rifle out the heat had thinned the cosmoline until it was like a light oil. I can see with a wipe that the rifle is absolutely perfect, the heat of the wood even had the cosmoline 'bubbling' over the porous areas it's like the stock was carved only yesterday. I'm tempted to simply store it 'as is' it's that good, but that would mean buying another to actually shoot. That's OK but from the latest Classic Video there is some cool surplus coming up for grabs soon. [Oh for just a small lottery win). Nothing could make this rifle better, it's perfect, no one handles service better than Classic, 'hats off to you guys'. I didn't get a sling or the 'manual' but that's OK, they were other promised, that only makes me envious of those that got them not disappointed. Thanks again guys, Mike
This rifle is no surplus. Very good, awesome condition don't think it was ever issued.
Came with all accessories and all matching numbers.
Very happy! Get one wile you can.
The shipping was fast. It went out the next business day after I ordered. The rifle was packed well and the accessories were in nice condition. The bluing was nice aside from a few scratches on the magazine which is to be expected on a rifle like this. I got an all numbers matching gun which is fantastic. The only issue I had was that I had paid for a hand select and there were some gouges in the wood on top of the handguard. I emailed customer service with some pictures and they took care of me right away on that (thank you Janet!). If it weren't for the wood on the handguard it would have been a five star for sure. I ordered one of these about a year ago that was a five star all the way which is why I ordered this one. Maybe they're getting down to the last of them? Either way I'll still order from Classic as they have great customer service and some pretty nice firearms.
I picked up one of these a couple of months ago and managed to sever a tendon in my finger before it arrived. Once I got it home and had a friend over to help me (still in a post surgery splint) break it down and clean off the cosmoline I was already in love. Beautiful wood and matching number...just excellent overall condition. Fast forward almost two months and I finally got it out to the range. It's an true joy to shoot and the Yugo surplus ammo on stripper clips performed beautifully. Fast to load and easy to reload the clips. Will be picking up more of that!! Thanks Classic Firearms. You made me a happy girl!!
After cleaning up all the cosmoline, I must say, I was very pleased to see how good the rifle looked, the stock is in great shape, bluing is in very good condition, rifle is very clean in and out. I did opt for the hand select and I am happy I did so. I did not recieve a sling, but that's fine, I guess not all rifles were guaranteed with slings. Very impressed, and will do business with classic in the future, time and time again they send me great products!
So I received my 3rd rifle (sks) and to my surprise. it was just as perfect as the other ones I ordered. Classic Firearms you did it again...... Thank You
Classic delivered me a beautiful sks. I chose not to get the hand picked option and I wasn't dissapointed, it showed no wear at all, the stock had one doing in it from when it was in the crate and it's hardly noticeable. I cleaned it, oiled it and went out and shot it, it was dead on and performed flawlessly!!!! I will try and get another before their gone
I purchased two of these and was not disappointed. These look almost new, they may be unissued. I cleaned them up with a liberal amount of mineral spirits (after taking them apart), then performed a regular cleaning and oiling. Everything operates as expected,

The rifles each came with an ammo pouch, a tool kit (which fits into the stock), a bore snake (really a rough hemp rope), and a leather sling. They stink due to the cosmoline but it is not as bad as some other rifles I have purchased and isn't too hard to clean up.

I bought a book (The SKS Carbine, 5th Revised and Expanded Edition) to help me understand the model, the history, and how to break down and maintain the rifle. This was a good purchase, you may want to do the same. It helped a lot when breaking the rifle down for the first time. However this rifle was meant to be easily field stripped so you shouldn't have a problem with information found online.

Great job on these, Classic Firearms! You have a new solid customer.
As my 3rd SKS, my rifle as received, is BETTER! than the rifle shown!! Better stock. Sorry guys!! This 1972 built SKS came out of a VERY light Cosmoline coating absolutely perfect. It would be hard to believe if the rifle has ever been fired more than a handful of times. Well, the barrel shines (no chrome, as we know) Hoppes and mineral spirits had THREE patches to expose the Perfect Bore. Dried it, STILL the same! That was it! All matching, although the bolt carrier and bolt have matching numbers with the gun, receiver, etc, they also have electrocut matching numbers.(?) No rust or anything that would lead me to believe this is a used SKS, but never really used. Is the action smooth? No. This is an almost new gun. The bolt carrier you can tell has not run a lot of cycles. Somewhat gritty. GREAT!!!!! No wear marks ANYWHERE. And a matching stock. I hit the LOTTERY here and I'll buy a case if I WIN the lottery!!! Thanks Classic Firearms!! You got my business! Rick Wagner 330 402 9306. Ya got any questions?
I paid the extra 20 bucks for handpicked and was not disappointed, after cleanup it was almost new in appearance. There was not one point I was disappointed about. I gave it a 4 because I haven't fired it yet but frankly I don't expect an issue
Had old beat up tapco rig ... Wanted something vintage but not worn out ... Son in law suggested classic firearms ... so glad he did ... Awesome gun - ffl store customer wanted to buy it from me while we were completing paper work ... Very happy w gun - thanks classic - y'all really delivered !!!
This YUGO SKS is everything it's advertised to be. Other than a couple of minor rub marks on the stock it's like new. The serial number checks out to be built in 1988. I've got a Chinese Type 56 and this one is far nicer. It came with a pouch, oiler, cleaning kit and strap. The cosmoline wasn't bad and was pretty easy to clean up. Thanks guys.
Recently received my Yugo SKS firearm and was extremely pleased. The item was delivered well packaged and no damage at all. After unpacking and initial inspection I discovered I also received the cleaning kit, oiler, sling and ammo pouches which was a pleasant surprise. Upon removal, cleaning and inspection I am again amazed at the quality of the firearm. Bluing is at 98% with the fit, finish and function of the upper receiver to be superior. Stock lockup to the upper receiver is tight and all parts look practically new and unissued. Classic Firearms has done it again with solid pricing, accurate description of goods and outstanding customer service. This is my third purchase from this company and won't be my last. If your looking for solid milsurp firearms and in this case an SKS don't hesitate, purchase one here you won't sorry. Many thanks to you and your team at Classic Firearms. Now it's range time!
Very happy with my SKS. I choose hand picked and the stock was as close to perfect as you could ask for. A couple of my, stored in closet, guns have more marks on them. Everything mechanical is in above average condition and bluing is excellent as well.
The only complaint I have and it's minor, is I asked if they could get me something in more of a blond hue. However, the shade is not overly dark so I'm happy overall.
I stripped the stock down and had very little sanding or finish work to do.
In hindsight, I should have taken another day of removing deeply imbedding cosmoline but nothing major was left other than a few dark rooted stains and small at that.
Overall an excellent experience.

Ever since I fired my friends Yugo I wanted one. I saw them pop up on this site because I heard it was good for milsurp. Even with the recent uproar of gun law issues causing a shipping backup, it was sent within about a week and a half. When I finally received it (FFL took awhile to get it shipped from their distribution center) the packaging was great, it came with everything it said it would. After about 2 hours of meticulous cleaning it was ready to fire. No joke on the mineral spirits, they do a great job on the cosmoline. This gun is absolutely a blast to shoot and for 33 bucks for 100 Tula rounds you cannot say no. 100% recommend this gun and this site. Thanks Classic Firearms.
I'm incredibly happy with my sks. The wood looks great, there is no rust, and the cosmoline was a breeze to get off. I would gladly purchase anther rifle from Classic.
I paid for hand select hoping for a not beat up sks. What i received was what looked like a rifle hand picked off the assembly line!!!! Way above my expectations. Thank You So Much!!!!
I am very happy with my hand select SKS, looks brand new! Only down side is the sling that the rifle came with didn't fit, a quick Google search told me that some Yugo SKSs have different sling mounts. Despite that, these rifles are absolutely gorgeous!
Overall this is a good rifle. I did not choose hand select and mine definitely is not "unissued". This appears to be an arsenal refinish. Magazine, receiver cover and trigger assembly all have electro-pencil serial numbers. Stock appears to have been sanded. That's fine with me as I bought this as a shooter and it does shoot well - no hiccups with off the shelf non-corrosive steel case ammo. Bore is in good shape, rifling is strong. Classic was good to deal with, easy to upload my C&R license and a ship time of about 10 business days to the house.
Just came in the mail, it looks like it just came from the factory (brand new never been shot, issued) The leather pouches have never been oiled looks like they were made yesterday clean up was a snap ready to burn up some ammo thanks guy I will be back. Think I will built a AK next
Very good condition. Heavy cosmoline, hence the be ready to work. The grenade launcher, grenade launcher night sight stuff is in my opinion unfortunate. Dead weigh on what is a nicely balanced battle rifle without it.t.
The rifle I received was in perfect condition. IE. it looked brand new. I have used it multiple times and it works great and is a pleasure to shoot.
Their is nothing that I do not like about this Yugo. It is by far the best SKS in the market. The one I received looks great shoots great and is very accurate at 50 and 100 yards. A great shooter and will not break the bank. I would like a cut of all of the sales I have made for Classic at the local range. Keep the great deals coming.
Received my Yugoslavian SKS from Classic today. Man, what a beauty !! I just stared at it for five minutes before digging into it. And honestly, the cosmoline is no big deal. I used a heat gun on low and 99% of the cosmoline melted right off. Now just have to soak in solvent to finish. Wrapped the stock in an old bath towel and put out in the sun. Towel is absorbing cosmoline as it melts.
Can't wait to shoot this baby !! Thanks Classic !!
This has been a while coming but I wanted to let everyone know that the rifle I received was gorgeous. Nice wood, pristine metal and bore...if i didn't know better I would swear it was unissued. If not, it's pretty close, this was a great purchase...highly recommend it to anyone wanting to own and shoot their own little peice of history. Happy shooting!
I receive the rifle Monday evening got it home and started to take the cosmoline off the sks. In an hour I had it off and completely broke down and the small parts soaking in a pan of Mineral Spirts. The video I saw cleaning the rifle was great and save a lot of time and effort. Used an air compressor to dry off the parts and put the rifle back together the next day. On Wed. went to the range when I got there I removed the bolt and done a function test on the firing pin to make sure it was free and it was. Put everything back together and loaded 1 shell and fired it bolt stayed back so I fully loaded the mag. and had the most fun I have had. The rifle performed wonderful. The rifle was better than the shooter all shots were in the kill zone. Got it back home and cleaned it up. Other than not getting the cleaning rod which I called and they said they would send me one and two sandable mark on the stock I have one fine rifle. Can't wait to take it back out and ring some steel.
Classic Firearms hand select Yugo sks. This is an awesome weapon. Thank you For exceeding my expectations. All numbers match, bluing is 100 percent, the furniture is absolutely amazing. Went shooting with my nephew we were stacking rounds at 100 yards. Will do business with classic firearms again. Your secretary was very helpful and friendly. Give her a raise !! Thanx again
When I first saw an SKS in a book about firearms years ago I knew I wanted to have one. Whenever I went to a gun show I would look for SKSs but was always disappointed at the poor state they were in or the high prices charged. While looking around I found Classic Firearms and by chance saw that they had just received a shipment of Yugo SKS Rifles. After looking at the unboxing video I saw that the rifles were in really good condition. I decided to buy one and paid for the Hand Select and it was worth it!!!! When I received the rifle I had to clean off the cosmoline and then do an initial cleaning. The next day I took it to the range and put 60 rounds of the Yugo 7.62 x 39 I bought and I had no issues. The rifle came with a sling, ammunition pouch, gun oil flask with case, a bore snake, and original rifle cleaning kit. I was nervous about buying a gun I hadn't seen in person but was completely satisfied! I would recommend any SKS lover get their rifle from Classic Firearms while they still have it in stock.
I'm the type of person that has to see and hold the gun before I buy it. I took a shot and purchased one from classic firearms boy is this a beautiful weapon !! The bluing is 100%. The stock is excellent. The barrel looks like this gun fired one inspection round and that's it !!?? Your secretary was great to talk to and I will definitely order from classic firearms again can't say thank you enough. Did some shooting with my nephew this weekend stacked the lead practically inside each other at 100 yards if I could figure out how to do a video I would post one. May be more to follow
If anyone out there is interested in or even think you might be interested in one of these rifles in the future, let me give you some good advise. Trust me on this one. After you read this review scroll above click add to cart and get this GEM while you can. When they're gone they're gone. Seriously people if you have ever wanted an SKS this is the one to get. Maybe there is somebody out there that doesn't own any Soviet type weapons or maybe doesn't even have anything that shoots a 7.62 x 39 and you have been thinking about getting an AK or one of the variants, I would strongly urge you to get one of these while you can. My gun came in yesterday and I was at the dealer about an hour later. When my son and I got out to the truck we took the gun out of the box (which was loaded with quite a bit of accessories and paperwork) and the gun looked awesome. We got home and disassembled it, cleaned it up, applied several coats of teak oil throughout the night. The wood is absolutely gorgeous, beautiful grain and by morning it was ready for assembly. All of the parts have matching serial numbers and HONESTLY you cannot tell if the gun was ever fired. I'm sure it would have been test fired at the factory, but if it was it sure doesn't show any signs of it. We plan on purchasing a couple more. These guns are so pristine. Guns of this kind are becoming so rare in the marketplace these days. As another plus they are true Yugoslavian rifles manufactured at the Zastava Arms plant. I feel very sure these guns will increase in value. They are stamped Yugoslavia not Serbia as I have seen showing up occasionally. I own some Zastava Tokarevs manufactured in Yugoslavia which can only rarely be found and if you are lucky enough to find one chances are you will pay a pretty hefty price for it. This is a Home Run from Classic Firearms. Great job !!!
So I am a little late on the purchasing of these rifles so I figured I wouldn't get the best even with the hand select but man o man was i wrong. Absolute beautiful rifle. Blueing might as well be 99.9% and the wood is in perfect condition. I selected hand select and requested on with a nice wood grain( I know it says they don't do that but figured its worth the shot) and it seems to me they did. Very happy with this purchase, didn't come with the log book but seeing as there is not a scratch on this I wonder if it was even issued at all. Might just have to order another if the funds allow me to. Don't miss out on this rifle. Well worth the money.
Thinking I was going to get one in pretty good condition how about one that was never issued ! Again Classic has made a Home Run ! I really appreciate there Honesty and good customer service over the years good job guy's!
Received my yugo sks yesterday,did not order hand select but the gun was as advertised, in almost new condition once I removed the cosmo.I don,t think 50 rounds had been shot from it because the bore looked brand new.Ordered a number of guns from Classic and they have always been better than I expected. Great people to deal with, honest and good prices,they seem to want to get you the best product at the best price. Thanks again Classic
I purchased the Yugo SKS rifle and picked it up from my FFL-Grumpys Guns in Arlington Texas a couple of weeks ago. I was impressed with the fast shipping from Classic Firearms. I disassembled the firearm and cleaned it with your websites recommendation mineral oil. I also watched the video on how to disassemble, clean and reassemble the firearm. It was relatively easy once I watched the video. As for the Yugo SKS it is in near mint condition. The stock is beautiful with zero flaws. The barrel and all metal is in excellent condition. I couldn't be happier with my purchase. I will definitely purchase firearms in the future from this website. Hats off to Classic Firearms!
top of the list, clean very good and you will be amazed at the target.TW.
My product review is over due! Got this rifle in Feb.2016
Very beautiful and in un-issued condition. Although it's in great shape,I been taking my time to get most of the cosmoline out of the wood. This is first of many rifles I got from Classic; let me tell you they sure delivery some amazing piece of history!
Now awaiting the time to the shooing range :)

Pay the hand select version and got a nice one!
Keep up the Good work Classic!
I finally got to pickup my gun SKS yesterday. The condition of t he weapon is amazing. I wasn't too impressed with the packaging as all of the accessories were just thrown in the box, they weren't at least put into a bag. My cleaning kit, oil bottle, leather cases, and the booklet were just thrown in my box. Luckily the book didn't have cosmoline all over it. Besides that the shipping was fast and the gun looks great.
I purchased a 1971 built Yugo SKS from classic. Wrapped well, in a cardboard box. It also came with the tool set in the butt, an oil can that cleaned up and gleamed nicely, a sling, and a leather ammo pouch. The rifle came smothered in cosmoline. I followed the instructions on the Classic website on how to clean it. Disassembly was easy enough, but with gloves on, it was a little tedious. I used brake fluid on the barrel, and dunked all small parts in very hot water with Simple Green. The wood got a bath, too, and then lay in the hot sun for awhile. I had to pick out some stubborn cosmoline along some corners and small hidden areas. I disassembled the firing pin assembly, but broke the retaining pin trying to reassemble it (my bad). Got a sub online and ground it down to fit. Everything cleaned up nicely, except the wood leaked Cosmo after getting hot during firing.

Took it to the range with the advertised surplus ammo. This rifle shot on paper at 50 yards, measuring 2 inches. Moving out to 100 yards, my first three shots were under an inch, completely baffling me. A lot of comments and reviews I had read stated this rifle was only capable of anywhere from 2 to 6 inches accuracy at 100 yards, so I wasn't expecting much. My 65-year old eyes and the iron sights must have had a lottery day, as the accuracy gave me 1-2 inches all day. The kick was negligible, making it a sweetheart to shoot. This is now my favorite semi auto, and just bought more ammo to have more fun shooting. Clean up was easier, as even the "corrosive" surplus ammo did not dirty the barrel much, which gleamed bright after initial cleaning. I look forward to more shooting fun. My son has a SOCOM, and this SKS shoots better and lighter than his. Of course, the lighter SKS ammo makes a difference, too. I think he was jealous I paid a thousand dollars less and got an accurate, reliable semi auto rifle.
I told him, his SOCOM would cut down the zombies from 500 to 1,000 yards, and my SKS would get any that leaked through.
No FTFs, or FTEs all day. Thank you for an outstanding rifle, Classic.
The Yugo SKS is very good, loved the way it handles, the ammo is no crazy expensive and the quality in how I received it was excellent, like new. I was actually surprised in how well it was kept. I wish I could afford buying a crate.
Perfect 1977 never issued? carbine. Only one page vs log book but the Slovenian sign off said BREZHIBNO (flawless?) 0% barrel wear. Maybe no full book since it was never issued? Inspection page entry was from 2007 after sitting for 30 years in some cave?I felt bad when I created scratches moving the 2 take down clamps to take apart for cosmo cleaning. I don't think it had ever been taken apart or shot after it was made. Moldy sling and plastic oiler bottle but had all other misc parts, rope, cleaning kit and cleaned up great plus all numbers match. Like it was just issued with beautiful stock grain but full of cosmoline. I feel very luckly and just hope it shoots as well as it looks.
I recently purchased a yugo rifle and it is well worth every penny that was paid. it was truly everything you said it would be and more. taken to the range it shot and functioned like a dream. after watching your video on grease removal that to was not a problem. if i could sneak another one in i would surely get another.

thank you classic arms

Grizz;;;
Most of the reviews indicate light use to near perfect. I like milsurp to have more character so I was hesitant to order for s while. Not a hand select with plenty of bumps and bruises on the wood and the sharp edges on the bluing are worn. Used mineral spirits on the wood which exposed straight grain with a couple of places showing real beauty. Looks the same as the one in the first picture of CFs SKS page. I was thrilled to see it came with the log book showing it went into service in 72 and then issued to a soldier in 74 who carried it for 13 years. It was issued to two others with the last date in the book June of 90. Log book showed a plotted target showing about 4moa in 72. Shot it off a picnic table resting on a jacket and two sacks of feed for a rest at a feed sack staked at 100 yards. Red Army was 4-5 inch groups, Prvi was about 8 inch, PMC Bronze was all over the place with the most expensive ammo I tried, Hornady, being the one it liked. 5 shot groups were well within the 2 inch range usually 3 in about 1.25 inches with one or two opening it up. I was not expecting that. I was expecting SKS accuracy of 4-5. All in all a good purchase. Will say that feeding through the bottom is doable but I'm going to get some stripper clips to take advantage of the hold open feature. All in all I'm quite pleased with it.
I didn't expect anything close to perfect, as these have been available for quite some time and the really good hand select ones were probably already gone. Still, what I got was a very nice, numbers matching rifle with a beautiful stock. It came with everything except the log book, even had a nice leather sling. After the mineral spirit bath and a good scrubbing, she's a beauty to behold. I couldn't be happier. Thanks!
My wife and I were both in the military during the cold war and this is a perfect representation of the Eastern block at the time. Came packaged up nice and tight, fast shipping with lots of accessories. Did notice a key part missing and Classic jumped on it like a fireman at the bell. Two days later, the part was at my door. This project will be a working display on our wall.....I am 3D printing a dummy rifle grenade to go with it. Thanks!
I purchased 1 a few weeks back during one of the weekend sales. It was a nice rifle but I was hoping for one a little nicer so when they went on sale again I purchased another which was in beautiful nearly perfect condition. Once the cosmoline was removed I had a very nice unissued firearm. The accessories all look great but unfortunately no logbook. Its all luck of the draw. Customer service is 100% TOP NOTCH! Two thumbs way up for Classic Firearms SKS!
I just received my SKS on Friday, and I couldn't be happier. Once I got all the cosmoline off, it was in excellent condition. The stock doesn't have a single scratch or dent on it. The metal is in perfect condition as well. I can't even find any wear or a scratch on the bolt or any of the parts. This rifle is in far better shape then I could have thought possible for a surplus military rifle. I would highly recommend getting one before they're gone.
Can't say enough good things about this rifle. One of the best parts was opening the box to see that Classic Firearms had included a pair of latex gloves, which brought both myself and my FFL a good laugh. As for the degreasing, definitely watch Ben's video for some tips, which the spray bottle with mineral spirits and five gallon bucket worked perfectly. I also used a small bottle of compressed air that you can buy at any electronics store used for cleaning computer keyboards. This worked great to extract cosmoline from hard to reach areas like corners in the receiver, as well as the firing pin channel, gas port, and gas block assembly. Once degreased, I realized that this rifle had probably not of been fired more than 5 times, and was never issued. Instead, it seemed to have been received by the military unit that it was assigned to, and then put into long term storage. It certainly exceeded my expectations in every way and I am very happy to have bought it! Unfortunately, I ordered too early and missed the flash sale though! Still, this rifle is worth every dollar and I am looking forward to the chance to get it out to the range. Thanks Classic Firearms, you guys rock!
I purchased a 1972 Yugoslavian SKS with the hand select option. It did not come with a logbook, however it came with the other normal accessories and leather sling. The bluing on the Rifle was amazing and the bore was crystal shiny. There were no wear whatsoever on any of the metal parts and muzzle, and it looks like it has not fired more than 100 shots. The stock did have more marks and dings from wear/storage than I was hoping for with the hand select, but the wood grain and color was beautiful nonetheless. I am thinking that this may have been issued to a border patrol or a ceremonial guard.

It's a great firearm. I am very satisfied with this rifle!
This rifle is in great shape. Almost like brand new. I watched the video on cleaning it and under all that stuff it looks great. Cannot wait to get out and shoot it. I might have to buy another one.
After 3 weeks of waiting for this gun to get delivered to my FFL, and after shooting this gun, I have to say this gun is my second favorite. The recoil is low, the accuracy is great, the condition at which I got this gun is superb.

If there was one gripe I had with this gun it would be the firing pin. After bringing it home from the FFL, and cleaning the massive amounts of cosmoline on it, I had to fight with the bolt to make it move. It took me around 4-5 hours to get the bolt unstuck. I don't know if there was so much cosmoline in there or if it was blocked with debre, but it just would not move. I boiled it, and it didn't work, then I sprayed it with break cleaner, and that didn't work. Finally I got really pissed off, and took a hammer and just wacked the bolt a few times and it finally freed it up. I then again sprayed the crap out of it with brake cleaner and oil, then boiled it. Repeated the step 2-3 times and it finally moves freely, but will still stick after firing and then needing to reload.

I strongly advise anyone before firing this sks or any sks, look at your firing pin and bolt. If it doesn't move, don't put ammo in it. It will slam fire when you put ammo in, and it will go full auto. Inspect to see if your firing pin is in fire position or is pulled back in ready position. Unless you want a full auto gun, which is highly against the law in a lot of states, then check it and inspect it every time you clean.

Other then that small gripe, the gun is a 5/5. Highly recommend getting this gun, especcially if you live in gun control states like me. Though it was hard finding a FFL who would touch a SKS, I finally got it and it's the second best gun I fired!
Absolutely love this rifle. When I got it, there was cosmo everywhere. But after a good scrub with some simple green and hot water all metal parts move like new. Bluing is probably 99%. As for the stock, I scrubbed that with simple green. Then over a few days I pulled most of the cosmo out of the stock with a heat gun. Then I sanded it with a medium grit paper, then fine grit to smooth. The stock was pretty flawless when I got it. No nicks or gouges to sand out. Basically just did it to bring the grain out. I finished it off with a few coats of tru oil, and now I have an absolutely gorgeous Yugo SKS. Absolutely couldn't be happier. I could have done half the work I did and it would have still been a beautiful rifle. Classic has won my faith in purchasing rifles online. I will definitely be giving you folks more business in the future.
Just received my rifle today, looks to be un issued, most of the reviews that I have read, and watched, show that they received a logbook of the rounds fired through the rifle, I received a page that has no rounds listed, it has a beautiful stock, and is packed in heavy casmoline, The bluing is perfect, I have yet to fire it, but will after a good bath, so far I am very pleased , classic never lets me down !!
After a few hours of scrubbing cosmoline,discovered this gun was born in a year of little yugo production..absolutely never used or issued...it's flawless besides a few packing dings.....excellent sales and service,shipping.....and beautiful 59/66
First time purchasing a C&R firearm. Classic is so easy to work with. SKS arrived quickly and it is in outstanding shape. I did not choose "hand select" but cannot imagine that there would have been a much better version in the crate. SKS came with an accessory kit that once cleaned up is also in great shape. Cosmoline cleaned off nicely--the action, barrel, and stock are all in outstanding shape. The bayonet is flawless. Overall a great experience and a great classic historical firearm.
This was my second order from Classic (first was a CPX-2). Ordered my Yugo on May 9th came in on the 13th (shipped in 24hrs and 1 minute), the FFL was impressed with the price and quality (non-select). Cleaned up nice, blueing was great with some minor wear marks at the lever/release points & No corrosion. The stock Dark Med in color and was beat up some (dings & minor scratches) still a lot better than other SKS's I've seen. No book, no oil can case, and Oiler looked at sometime repaired but re-cracked. But like Ben said "the Accessories are gravy (even if it is a little lumpy, ha, ha)". I gave it 4 stars because it was not hand select, but to be clear I am not disappointed in the least. Definitely would recommend to anyone, and already am a turn customer. Great job again guys, can't wait to get her to the range to see how she does. Will update again after that.
Just received my sks a few days ago . Must say it was covered in cosmolin heavily and got to use gloves to handle . After 4 hours of cleaning and re-lubing everything, the gun looked brand new and after 200 rounds at my local range and a lot of compliments I have come to realize my gun is kick ass and very proud to tell everyone classicfirearms is my new go to store . THANKS.
I ordered with hand selection.Gun is beautiful numbers match I have cleaning kit ammo pouch sling and armory documentation.Thank You ClassicFirearms.
Recieved my rifle on 5/17. With all my Classic Firearms purchases with the exception of my first I don't worry about being disappointed when the firearm I ordered arrives. They explain very accurately what they have and what the condition is going to be. My Yugo SKS was all matching numbers and in excellent condition. Thanks Classic !!
My SKS I received was in in excellent, as new, condition. The stock was perfect and flawless. The barrel was clean, rifling sharp and looks fantastic. I don't believe this rifle had seen much, if any, use at all. All my numbers matched and I received all the accessories, pouches and paperwork. I did opt for the Hand Select, which I normally wouldn't, but I always wanted a Yugo, so for that, I didn't mind hedging my bets a bit.
As is SOP with surplus, this thing was covered in and full of cosmoline. The gas tube oozed cosmoline out of the vent holes when I removed the piston. To me, the more the better, so I just got to work and took two days cleaning and soaking parts. She cleaned up rather nice and I am happy to have her as part of my arsenal. I am looking forward to taking it out shooting soon. I don't forsee any problems.

Thank you Classic
Great looking rifle, pleased. I paid for the select option and the stock had a pretty good nick in it, disappointing.
Wow!..... I received my SKS yesterday and as soon as I looked at it caked in cosmology I thought to myself..."Is this thing new?" Needless to say I rushed back to the shop,grabbed some wax and grease remover and a good set of spray gun cleaning brushes and cleaned the whole thing disassembled. I really can't believe I got a new rifle. I mean I made a bunch of passes with patches soaked in bore solvent and absolutely nothing came out. The Chamber face doesn't have a single mark on it and everything else in the rifle is brand spanking new. The piston assembly was nice spotless and unbelievably shiny with no marks whatsoever at the end were it strikes the bolt carrier. The only thing that has some marks on it is the stock. There are some dents and small scratches but nothing else. I'm absolutely amazed and happy with my purchase. This is my 5th firearm bought at Classic and will continue to give them my business. Don't think twice about it....if you are on the fence about pulling the trigger on anything they sell do it. I'll post another or update this review later with pictures.
I enjoy older wood and steel firearms, so when I saw that this Yugo SKS was for sale, I was ecstatic. I picked one up on the recent flash sale, although without the hand select option, as I was decently optimistic about the quality of the rifles judging by the many, many pictures here on the website. I was very wrong.

I'm not picky when it comes to the color of the wood on the stock, but upon opening I was greeted by a stock that looked like someone had taken a knife to it, or attempted to stone it to death. The other side had a medium sized pockmark right above where your thumb would rest. The metal quality is very nice all around...but the receiver base and receiver cover are different colors. What?

Disassembly was no problem, cleaned all the parts with mineral spirits with no issue, bore looked fine. Let the parts dry out before I reassembled the rifle. Again, I ran into trouble. The gas plug where the selector is for the grenade launcher sights? The selector would not fit into the plug. It had come out initially when I was cleaning the cosmoline off, but under no circumstance would it go back again. After an hour or so of oiling the thing to hell and back, I finally managed to jam the selector back into the gas plug and reassembled and oiled all the other parts. After reassembly and testing, the only other thing worth mentioning is that the bolt feels hard to pull back. Rifle cycled fine.

In conclusion, is the rifle functional? Yes. Does it look and feel good? No. The biggest negatives for me are the horribly weathered stock and the mismatched receiver metal and uncooperative gas plug. I was hopeful between nearly 240 very positive reviews and promising screenshots of excellent rifles that I would not be let down. Guess that's not the case. Maybe I should've bitten the bullet and used hand select, who knows. Will be considering an RMA.
I ordered this rifle when it was on sale; I also got the hand select option. I was impressed with the quality and condition of the rifle. Mine was made in '71, and came with all of the accessories minus the logbook. Also, the rifle was very well packed.
I just received the SKS last week as I was on the fence for a long time about the purchase. I debated for almost a year. Other guns in my collection took priority which always seemed to push this one further down on my list. I was worried about the quality of the guns that were left in inventory as Classic had them on the site for some time. I rolled the dice and spent the extra 20.00 for the hand select and could not be happier. The description of the quality of the firearms is spot on. Not a blemish on the stock and the barrel is perfect. Anyone looking for a quality SKS will not go wrong purchasing them from this site. This is the second purchase from Classic Firearms and it will NOT be my last. Good job guys and thank you.
Picked up my cosmoline coated beauty today and am extremely happy. After watching Ben's introductory video I thought they all looked good enough to not warrant the hand select option. I did however request that out of the "non hand select" group that I get a darker stock with a defined wood grain, if available. Since I did not pay the hand select fee I figured my odds of having a special request get honored were slim but Classic came through and gave me exactly what I asked for! For that I am both impressed and grateful! The bluing and stock are excellent with only minor handling dings as expected. Everything looks as new as it could and I was lucky enough to get the arsenal book with mine as well. Again could not be happier and another huge thank you to Classic Arms!! Now time to clean her up and hit the range!
I was very excited when I ordered my gun the SKS I had read some reviews , they look good. After I place my order I read some more reviews and started to get a little nervous. I thought maybe I would have to lower my expectations of what I was receiving. I've never bought a gun online before I was always able to hold it in my hands and inspect it. I must have read the description 10 times after I ordered hopefully the description would match what I was going to receive. I took the hand-picked option. I received the gun in approximately 7 days. I was quite surprised the gun was more than I expected my FFL dealer was quite impressed also. The gun was exactly as described if not better. The packaging was sufficient the staff support was excellent only flaw I can find is a couple small shipping marks looks like where the gutn rested in the crate. After a lot of cleanup I took the gun out the shoot today. The gun was spot-on Target. I did have several failure to eject after inspecting a gun further it appeared that there must have been some cosmoline left as the gun heated it must have liquefied and then as the gun called it became tacky. Recleaned it, shot a hundred and twenty rounds no problem. I wouldn't hesitate to buy from classic again
This is not my first purchase from Classic Firearms. Do yourself a favor and take advantage of the flash sales when they are available. I waited to purchase the Yugoslavian SKS after I missed the Black Friday deal of the century. That won't happen to me again! So, when this SKS went on sale again, I jumped without selecting the hand select option. It arrived quickly and preserved in cosmoline as I expected. I received an ammo pouch and the cleaning kit. After a quick tear down and my top secret <30 minute cosmoline removal process, I had a PERFECT, like new, Yugoslavian SKS in my possession! I am once again pleased! I can't wait to see what Classic Firearms will be offering in the future!
I rarely write a review for anything, but this rifle deserves one.

The Yugo SKS is an awesome rifle. From a collector standpoint the SKS has an interesting history with the Russian military (an others). The technology on the Yugo version is pretty neat; bayonet, grenade launcher, flip-up night sights (although they do not glow because of their age), and ease of disassembly, and reassembly.

The condition of the rifle I received was Excellent. Albeit, drenched DRENCHED in cosmoline. Although, to me that is a plus. I enjoy stripping the rifle down and giving it a good cleaning and thorough inspection.

From a shooters perspective, this rifle exceeded my expectations. With cheap Russian ammo (Brown Bear, Barnaul) it is precise and accurate. Not much recoil at all (it is heavy). I have not put it through the paces when it comes to reliability, but from what I hear it is resilient when in harsh conditions.

From a legal view, it has a fixed mag, which means in gun "loving" states like NY it remains legal for now.

I will probably buy another one this summer. Don't pass an great rifle like this up!
Ordered Yugo SKS last Wed. got it Tues. Brand New rifle (plus 40-50 years). Covered in cosmoline as advertised but mint condition with nice accessories. The guys at the gunshop said it was the nicest SKS they have ever seen.
I'm planning on ordering more once my C&R is approved.
I received my sks today. I did the select pick option on it. I got everything but a log book. The rifle was nice but had a few imperfections to be expected. Overall I am very pleased with it. Took some cleaning though also to be expected. Good deal I think.
Received my SKS yesterday and was not disappointed at all by the overall good condition of the rifle. Classic Firearms kept me informed of the progress of the order via email. This is my first order and would definitely order again. Thanks guys!
I got my SKS today. I opened the box and could not believe the quality of this firearm. Stock is beautiful, not a scratch or nick on it. Bluing is awesome. Looks like the rifle was just made. I requested a dark stock with a lot of grain and that's exactly what I got. I couldn't be more pleased. I cleaned the cosmoline off and shot 2 rounds. perfect function of the rifle. No problems with shipping at all. Everything went smooth as silk. Thanks Classic firearms.
I ordered this Yugo SKS (with hand-select option) using a money order; while it was in transit, Classic had a one-day sale, dropping the price. I called and just asked if they would apply it to my sale, and they did it without a second thought. The first rifle I got from them (an AK) shipped almost immediately; this one went to Picking status for about 4 days, so I called and politely asked if there was a problem with my order. Talked to 2 different people, both confirmed no problems but they were just swamped with orders that week,. So, a day or two later it shipped; picked it up, very sticky with cosmoline but looked very nice, included sling, leather pouch, oil can but no logbook (which is ok). All the numbers match.

The video from Brutus (on this website and YouTube) on disassembly and cleaning was EXCELLENT, many thanks Brutus (I still almost lost one of the springs)! One additional step I did; after cleaning with mineral spirits, I CAREFULLY turned the stock in front of a propane garage heater to drive out additional cosmoline. Cleaned up afterwards, very nice. Has a more reddish look than the blond, but I like it that way. I chose not to sand it completely down; it has some 'character' scars, which gives an authentic look. This rifle truly has some heft to it, with the grenade launcher and bayonet on the end; can't wait to get to the range with it.

Classic was very nice to deal with; this is my second buy from them, I also picked up some Yugo ammo with stripper clips. Will be buying more. Thanks Classic, and keep up the great work!
I paid the extra $20 for a hand picked one and I guess I was hoping to get one that was never issued but I guess those were prob gone by the time I ordered mine. It's still a good rifle for what I paid. The only reason I gave it 4 stars was bec of the pitting on the bolt cover. Other than that, it's it great condition

I ordered my SKS (hand-select) on a Saturday and picked it up from my FFL on Friday. While I wish my rifle came with a log book, I honestly could not not be happier with it. It has all matching serial numbers, the bluing is close to perfect, and it looks like only 100 rounds have been put through this thing throughout its lifetime. The stock was dinged up a bit and dry, but what is to be expected from a 1971 military surplus rifle? Best of all, the rifle is dead accurate and after a number of rounds at the range the thing did not skip a beat!
I bought the Yugo SKS after spending the extra $20 for hand selection. I was very satisfied when I unwrapped the rifle. It looks brand new and I actually enjoyed getting to know it as I cleaned away the cosmoline.

I've already received compliments from my first trip to the range with it. The SKS is a pleasure to shoot, but there's still work to be done to get it zeroed. That kind of work is the good kind.

If you're considering buying one of these rifles, go for it. You won't be sorry.
I saw this item at Classic on a random search for an SKS. I watched the video & read the reviews which all (99%) indicated that these rifles were in top notch condition. Being a trucker I called home and had the girlfriend order two hand selects. (one for her of course) They came in to our local FFL in about 2-3 days. We picked them up & brought them home & when I opened up the box & extensive packing material they were completely caked in cosmolean. 30 minutes of cleaning later & there was a BRAND NEW, UNISSUED SKS in my hands. Absolutely stunning honey/orange stock & NO WEAR AT ALL on the action. The second one was just as stunning & new when I cleaned it up. Both came with leather ammo pouches, bore snakes, leather slings & oilers. They were only 8 serial #'s apart. I couldn't have been more pleased with our purchase, in fact I contemplated buying another full case but women will talk you back to reality. (sometimes) I would highly recommend this SKS if you are looking for one as a collectible or a shooter. WORTH EVERY PENNY!!!
This is my third SKS purchased from Class Firearms. Just as I did in the past two purchases I selected hand select and on the first two i swear the rifles just came out of the factory. In this case the rifle is nice but not close to the first two examples. Good thing is all the metal serial numbered parts matched. The stock is not the original stock for the rifle and has a fair amount of dents and dings. Also the magazine also had some pretty good scratches on it. Came with most accessories although no log book. Maybe these are getting close to the end of the inventory, maybe not however for hand select I was expecting the first two examples. Still a fine rifle and the luck of the draw I guess getting surplus firearms sight unseen. Would have rated higher if I had not paid the extra $20 for hand select.
The rifle that I received is in very good condition and very little evidence of use. Last night was my first time to take it to the range and I was very impressed with the accuracy and the cycling of the ammo. However, I did experience some challenges using the stripper clips in loading the shells into the rifle. It appears that I will have do some work on the stripper clips so that they will better fit the slot. All in all a very good shooting experience.
I was a little upset that I did not get an arsenal book with my hand select purchase. The rifle also had some bluing wear. I thought that that it would have been a little better for hand select. But all in all it is a nice rifle. It shot way high and to the right at 50 meters. I had to raise the front sight extremely high to bring the bullet down to the center of the target. There is not much room between the top of the sight post and the inside of the sight ring. I sited in the rifle is very accurate. I was able to shoot 1" groups at this distance. It's a good rifle.
Beautiful rifle. It was packed and shipped very fast and showed up at my FFL a couple days later. I got it all cleaned up using mineral spirits as suggested in the videos. I chose the hand select option and couldn't be happier. The wood and bluing were in excellent condition. The accessories were a neat bonus. Oh ya, it shoots great.
Order one of these SKS(hand select) after stumbling onto classic's video about them on you tube. Item went on sale 3 or 4 days after I placed my order. Contacted Classic and asked if I could receive a store credit for the price difference. They responded the same day via email and told me they would be happy to accommodate my request. Received a refund of the price difference in a very short amount of time. Once I received my rifle I was very pleased, I requested a reddish brown rifle over a blonde preferably one with a log book. My rifle came with a very nice light brown colored stock unfortunately with no log book. I have no complaints. Rifle was in excellent condition and was either very lightly used if not un-issued. Great rifle and Great Customer Service.
Order one of these SKS(hand select) after stumbling onto classic's video about them on you tube. Item went on sale 3 or 4 days after I placed my order. Contacted Classic and asked if I could receive a store credit for the price difference. They responded the same day via email and told me they would be happy to accommodate my request. Received a refund of the price difference in a very short amount of time. Once I received my rifle I was very pleased, I requested a reddish brown rifle over a blonde preferably one with a log book. My rifle came with a very nice light brown colored stock unfortunately with no log book. I have no complaints. Rifle was in excellent condition and was either very lightly used if not un-issued. Great rifle and Great Customer Service.
I don't typically review things but I've been so satisfied with the rifle I got I felt I had to leave a review. I paid an extra $20 for the hand select option and I am so glad I did. I got a basically brand new sks with one very tiny ding on the stock and 98% bluing. Seriously, the rifle is gorgeous. I cleaned up the rifle, took it to the range, and ran 110 rounds of Yugo M67 surplus through it flawlessly. I also got the log book with my rifle which I am super stoked about. As a poor college student on a budget, I really wanted to add an sks to my growing gun collection and this is a beautiful example of an sks. Can't recommend enough!
Got the rifle in a week from order date, i received the honey blonde stock serial # not matching the rest of the gun so i stained the stock with dark old maple stain and added 30 rd mag. Very accurate gun and fun to shoot. Came with most of all the accessories (no book or sling) Only downside is some bluing is gone but my rifle was made in 1974 so not a surprise.
I bought my Yugo 59/66 A1 SKS a couple months ago. I work grave so, in the middle of the night on a "day" off I started cleaning. 6 hours later my SKS was clean and good to go! This weapon looks and functions like it should. I picked hand select and got a great riffle for it. The SKS is easy shooting and from the look of the parts its high quality. I should know, I tore it down until the only part that had another part attached to it was the barrel and the top hand guard furniture. On my first time out at 100yds all the shots were on paper and they would have been tighter but the shooter can't see to good.
Couldn't resist buying what seemed to be the finest SKS I could afford. I wasn't disappointed. I spent a good amount of time removing cosmoline, but that's okay, it's a finely preserved, un-issued rifle according to the logbook. I translated as much as I could from the Slovenian booklet, and there seemed to be no markings indicating it was ever fired. A pristine rifle indeed. Only a few storage marks on the stock. A couple non matching parts, but that didn't bother me much. The vast majority of it was an F series (1969) rifle. Took it out to the range and sent 120 rounds through it, was great to see it come to life. As usual, Classic had great service and this was a great purchase.
I have bought from Classic Firearms before and have no complaints about their service and shipping. As far as the Yugo goes, I have been putting of my purchase for months waiting for a real bad review. Never seen one so I purchased one. After I completely disassembled my Yugo with mineral spirits and examined each part thoroughly, prior to reassemble, I came to the conclusion it has never been fired! Brand new, unissued beautiful rifle. All the reviews are true. I just might buy one more. I do not think you will ever find these in above excellent condition again!
Good purchace overall, I had to get some goo gone but then I decided to strip it apart to clean them nicely.

One note, SKS can become a stuck/rapid fire automatic gun if bolt is stuck and not cleaned, so do clean your cosmoline before you shhot it.

-peace!
Like everyone else I did expect to receive this rifle soaked in cosmoline. I first started removing it using baby wipes, then I soaked the parts in hot water and disposed the water in a safe location. It got some of the cosmoline off the rifle, but not all of it. The next day, I took the rifle outside and sprayed it with mineral spirits and wiped the cosmoline off. Messy job, but overall I think i got 99% of the stuff off. There may be some in the bayonet , but the most I can do right now is keep lubing it and cleaning it. I read I shouldn't have used water to clean the stock because it would damage it. I guess I should have used the method with baking it under the sun or on my dashboard. Unfortunately, where I live is not that hot yet. All in all, after some old english wood oil, the stock seems to look pretty good now. Great rifle, I can't wait to shoot it at the range.
I want to thank for a one day sale and for having a wonderful and friendly personnel. I carried M59/66A1 while compulsory serving in Yugoslav National Army in 1983-84. The rifle you send me is in superb condition. I think it has not been even issued. It was stored for a long time in the same position based on a couple of minor indentation marks in the beech stock. After I cleaned it form cosmoline and put 3 layers of Danish oil, it looks spiffy. The cleaning accessories that came with the rifle are in great condition. The most importantly, the barrel is in pristine condition, mirroring like a ballroom chandelier. I attach three pictures. Picture 1 shows the rifle as received and unpacked (top left), taken apart and cleaned (top right), and then re-assembled (bottom). Picture 2 shows all the matching numbers (2 sets) found on various parts of the rifle along with the looks at front/rear parts of the bore. I think that after factory test shots, this has not been fired much, if at all. Igman ammo (used in Ex-Yugoslavia) is mildly corrosive and there would be some signs in the bore reflection if the rifle was used in service. Picture 3 shows 10 shots (full clip) made in ~ 7.8 s at 100 yards using iron sights (after adjustment for windage and elevation, albeit the original settings put me on the paper). After first 3 shots (out of black area) aiming at the bottom of the black circle, I re-adjusted aiming at the bull's eye. For comparison, I shoot this round on the target I previously used for my Tikka T3 Lite 30.06 action both rifle equipped with 3-9x 50 mm ProStaff BDC Nikon Scope. Tikka's 9 hits, which took about 10 minutes (clip holds only 3 bullets), are marked with pink patches. In my view, the SKS does a really nice job. One thing that I expected, but other customers may need some warning, is that when using mineral spirits (as I do) to clean cosmoline, I took off painted numbers on the grenade launcher sights (by just wiping it off, not even by brushing for which otherwise I use a toothbrush). This does not apply to flip-on front/rear night sights that can withstand such cleaning. All of those painted numbers are anyway meant to be repainted every few years for night action, not that I can find anywhere to launch a grenade and less so at night.
I just received one of these rifles today. And this transaction is a typical example of why I prefer do business with Classic Firearms.

First, the rifle arrived a day earlier than promised when I purchased. Somebody took the extra step of getting the initial paperwork going over the weekend to get my order out ASAP. It's tough to find service like that in today's market.

Second, UPS did their very best job to damage this rifle in transit. The shipping box was ripped up in several places...looked like the thing must have gone through a war zone on the way to my house. But Classic took the extra step of wrapping the rifle up tight in several layers of heavy-duty brown butcher paper. As a result, the SKS arrived without a scratch.

Third, the rifle itself is a pretty amazing specimen of the Yugo SKS. All matching parts numbers. Very bright bore (maybe 8.5 or 9 on a scale of 10). Not a nick or scratch or sign of wear on the stock or the metal. Although there is no log book, I suspect the gun was unissued from the arsenal until now (I'll need to research that a bit). Soaked in cosmoline, which means it was well-preserved. All the accessories are here: the cleaning kit, a very old oil bottle, the cleaning rod, a very old cleaning rope, and a very old leather sling (all of which have definitely seen service in the field...very cool).

To sum up, I'm really happy with the purchase. Could I have bought the rifle elsewhere? Yeah, probably. Would I have received the same level of service and quality as that delivered by Classic? Not likely. Another 5-star review, based on both product and service. Can't wait to clean this rifle and get it out to the range!
By far one of the best SKS's I have ever owned. When I received mine, I would of sworn it was new and unissued. If it wasn't for the log book that came with the rifle I would thought it unfired.. This is another fine example of Classic Firearms ability to retain some of the finest surplus firearms on the market today. Thanks Again and like always it is a pleasure doing business with Classic Firearms....
Can't wait to see what comes next...........................
Got my rifle in a brand new condition. So happy. Thank you for the excellent rifle worth the price. Definitely someday will buy again.
Thank you for make me happy "Classic Firearms"
This is my second purchase from ClassicFirearms, but my first military surplus rifle.

Let's start from square one: I ordered my firearm from ClassicFirearms. Two days later, I saw they had a flash sale for thirty dollars off the original retail price, and this only lasted one day. I was a little bummed because I ordered my firearm too early, so I checked my order and it still hadn't shipped yet. I contacted ClassicFirearms and asked if they could honor the sale price from the flash sale. They informed me they would, and they were very polite and helpful. They later shipped my rifle.

When I arrived to my FFL dealer, I saw the firearm laying there in a mixture of brown paper and bubble wrap, on top of the cardboard box it arrived in. My FFL dealer said "there it is." I asked him if I could inspect it, in which he said "go ahead." I held it in my hands; it was big and firm, but very sticky and covered in cosmoline….. I knew that it was no longer a dream; it was in my hands.
I got home, and I sliced open the cardboard box, and found some more goodies: A cleaning kit which goes inside the stock of the gun, a very crude bore snake, two leather pouches, an oiler (very classy), and an old leather sling. I've got to admit, they smelled like old shoes and it made my entire room stink like an antique shop. However, I was unboxing history. These items have gone decades before another person had handled them. I felt like I was holding treasure.

The next day, I did a complete field strip, watching a video that Brutus from ClassicFirearms put out, which explained how to fieldstrip and clean the rifle. I knew firsthand what I was in for, so I soaked all the pieces of the rifle in mineral spirits… this took a while. After most of the mineral spirits had eaten most of the cosmoline away, I finished cleaning the parts like I would normally clean them after a day on the range. This all took time, but I got to learn a lot about this rifle. Make sure you clean the inside of the barrel well, because you do not want any barrel obstructions (your gun could blow up).

The things I learned about my SKS: The serial numbers showed me that the firearm was produced in 1970. The SKS had a ported grenade launcher, and the rifle had a phosphorus night sight. My rifle showed a little wear on the outside, however, the inside of the rifle looked really great. I'm not sure if all the serial numbers on the parts were matching, but I think most of them were. There were so many different markings on the parts of the inside of the rifle.

When I brought it out to the range, I was a little nervous…… is this going to blow up in my face for some reason? I fired the weapon, and it functioned flawlessly. It doesn't have much kick; I would say it has as much recoil as a .223 rifle. Immediately upon firing the rifle, a grandfather and his grandkid walked up to me and asked "what is that?" I explained to them a little about the origin of the rifle, as well as what every part of the rifle does. They wanted to shoot it, and I let them – and I had just gotten to the range! I felt like I was the star of the show.

Even though I have written a lot of words in this review, words still cannot explain how awesome this rifle is. I wish I could have ordered a crate of SKS's, but I am a poor college student and that would be a very bad idea financially (haha).

Not quite as nice as the first one,but will look very good with new folding stock.Thank You Classic.
I have purchased two of these yugo Sks rifles. One at regular price and one from the one day flash sale. I paid for the hand select on both rifles. Both rifles were in very good condition with minimal blueing wear about 95% intact, and clean stocks. The one stock was almost perfect and the other had several small blemishes around the butt end of the stock. They came with the log book, sling, oiler and pouch, ammo pouches, cleaning kit, and rope bore snake. All the extras were in good condition. The reason I gave a four star rating is because I paid the hand select fee and feel that it should have yielded me a excellent condition rifle compared to the very good rifles I recirved.
I received my SKS two days ago. Impressed!!! This gun is in excellent condition! It's beautiful! I went with hand select. Cleaned up really nicely. I was pleased it was packed so well for shipping..thank you! I'm looking forward to range time!
Received my SKS two days ago..absolutely beautiful gun!! Happy I did hand select. It was boxed really well..thank you!! The gun is in excellent condition! I can't wait to take it out to the range! Thanks Classic Firearms!!!
I fell in love with this gun as soon as I took it out of the box. It's not in perfect condition and I didn't expect it to be. However it is still in great condition for its age, and all the numbers are matching. Just fair warning, if you buy this gun be prepared for a long cleaning session. It took me about 6 hours with simple tools. And I will probably clean it again before I shoot it. I love the bayonet! And it feels balanced well when I look down the sights. Get this gun and get intimate with some gunk out and hoppes. But when your done enjoy a fun rifle for the money!
Once again Classic comes through with a excellent rifle. I own three SKS at this point and this YUGO is excellent. Thank you Classic!!
I've always wanted an SKS rifle but haven't been able to find any after they dried up. But, to my amazement, Classic Firearms got in a shipment of Yugo SKS's. I'm so glad I found them! This rifle is immaculate! I don't think that it was even issued! This is a great investment!
For my first rifle I decided on this Yugo SKS. Went with hand select and i was not disappointed. The rifle looks amazing. Spent a day cleaning it thoroughly to get all the cosmoline off. Serial numbers all match. There is one small nick on the wood and a small mark or two on the barrel which I could care less about because they are barely noticeable. Slight diacoloration on the end of the stock which is an easy fix. Mine came with a great condition sling, pouch, original cleaning kit, and an oil bottle. I am very satisfied with my purchase I would recommend this to anyone who wants a cool old milsurp gun. Have not got a chance to shopt yet but I am looking forward to it. What is even cooler is that there are matching initials carved under the barrel under the cleaning rod and on the bolt. Not noticeable until you take it apart but a very cool personal touch to add history.
Beautiful rifle.
Just received the yugo sks. Very good wood and excellent metal, both well preserved in a generous cosmoline sludge. Next purchase--mineral spirits. It came with all accessories discussed above, packed in a nice condition vintage leather belt pouch, except for the fabled log book. Thats what I get for waitng for months before purchasing. Did get hand select and it has all matching #'s. I've purchased from Classic before and so far am still happy happy happy.
Was pretty dissapointed with the rifle i got after paying for the 20$ hand picking fee, stock had multiple deep gouges and scratches...Im giving it 3 stars only because all the numbers matched up... better luck next time
Absolutely the nicest sks ive ever owned,thank you so much Classic.
Absolutely beautiful rifle I received, glue shut in cosmoline but followed the directions from the cleaning video and used mineral spirits, came right off and fired great!

Hand Select paid off very well, I would encourage anyone to purchase one of these beauty's before the prices go through the roof in the coming years.

Here is a picture of my rifle after a mineral spirit bath,

http://i.imgur.com/RI83E3n.jpg

Overall I am very pleased with the condition of my Yugoslavian SKS. The metal retained about 99% of its original finish. The stock was nice but had one kind of distracting gouge mark near the neck. I received an oiler, a sling, a cleaning kit, and an ammo pouch. All of the serial numbers on the weapon matched as well.

I probably would have given this 5/5 stars if it were not for the ugly gouge on the stock. I paid extra for hand select, and while the rifle I received is very good, I was hoping hand select would have pushed it into the excellent category. But, that's the luck of the draw sometimes, and part of what makes purchasing these guns fun. I would definitely buy from Classic again.
The review summary says it all. Picked my up from my local shop and was very impressed on the condition of this yugo sis. Not to mention all the goodies that came with it. Even the guys at the shop were impressed. So get you one before they are gone. Who knows when you'll get a chance on one in this pristine condition. Well gotta go. Need to clean some cosmoline
I am very happy just blown away with the condition of this rifle just beautiful. It is excellent condition does not seem to have ever been used. Came with some goodies to even the maintenance book that belongs with my rifle. Buy one before they are gone you wont be sorry. Thanks classic firearms what a great rifle.
My crate of rifles arrived today. I'm forced to admit that I didn't expect much. I honestly didn't. After I opened the crate on the freight company dock, I was pleasantly floored to see how beautiful these rifles really are in person. The forklift driver started drooling too. Everybody standing there drooled including me. Sure, they're military grade rifles, but then again, that's why I bought them. They're as tough as they are beautiful and I look forward to cleaning them up so that I can add them as beautiful specimens to my collection.
I sat there staring so closely at my new SKS until my wife said "uh oh, what's wrong"? My reply was "nothing. . . that's the problem. I'm wondering if this is a knock off"? I had to really think about who could produce a rifle this nice and fool everyone. Nope. It's a totally legit 72!! Unissued is what I was looking at!! 100% bluing, sweet stock, light cosmoline and Numbers Matching! Score!! The last one I bought from Classic was just beat to hell and back. It was so bad. Zero bluing, not one serial number matched and I had to buy a replacement stock. I was happy with that rifle as well. BECAUSE I READ THE DESCRIPTION!! That rifle was described something along the lines of really rough, bottom of the barrel, absolute project, etc. I think Brutus even said, don't buy this gun! Haha. It's still a good shooter and was a fun project. If you want a really nice SKS, I'm tellin' ya Brutus ain't lyin'!! I'm really trying hard to not buy another one right this minute. .
Got my yugo sks today, got home and content with the rifle. Classic did describe the rifle as accurate as they said. Looked new with still excellent bluing. Minimal dents and scratches on the stock with nice dark grains on the wood. Did get all the gravy that came with it , however, manual or rifle history was not included, was looking forward to know something about the rifle , guess I have to google more about the history of this fine rifle.Overall, content with the description and speed of delivery ,would have been really satisfied if manual/rifle history was included, can't wait to shoot this thing and will surely order again from Classic... ; )
I purchased one of these Yugo SKS's and chose the hand select option. The gun was very clean besides all of the cosmoline, but that is understandable. the stock fore end retainer was sanded down to the white on one side and the barrel under the hand guard was sanded down in a few places all the way to the white. It looked like it had been rusted and sanded down before greasing. The rifle also did not come with the records book. I was really wanting the book for collection purposes. I do not feel that I should have had to pay for hand select in the condition that this rifle is in and also for not receiving a arsenal book on it.
These rifles are everything they say, and more. Mine looks as if it was never issued. Just a couple of transit marks on the stock, hardly noticeable. Premium price, but a premium firearm for sure. Buy with confidence, you won't be sorry.

I received my Yugo SKS at my local FFL dealer today and on uboxing I have to say I am extremely impressed. This is now the 3rd firearm I have purchased and they are now 3 for 3.

My particular one came with the sling, cleaning kit, pouches, oilcan and oilcan pouch. While I was hoping to get lucky enough to get one with a logbook, that's just a minor quibble and doesn't detract at all from what I did receive. Just as an aside, the oilcan still had a full load of light oil in it. It actually appears to be in good condition.

As for the rifle it's self it came in a nice thick coat of that mil-surp aphrodisiac otherwise known as cosmoline. Under that the rifle appears in almost pristine condition. It had all matching serial numbers, the ported grenade launcher, and the flip up night sight. While the phosphor died long ago, that's easy to do something about. From the prefix and serial number this appears to be a 1969 manufacture.

I cleaned it up a bit to check and there are no visible wear marks on the rails or anywhere on the receiver. The bluing on the metal and finish on the wood is in remarkable condition. If this has been used it was used very little before being preserved. There are a few small dings in the wood, but it's a 47 year old rifle. There is nothing large or deep, just the result of being handled and stored. I've seen and played with SKS's before and I've not handled one in this kind of condition. I'm seriously considering ordering a 2nd one.

Time to dive into the mineral spirits and get the complete cleanup done. Looking forward to taking this to the range.

Good job to the crew at Classic Firearms. Excellent SKS.
Historic Yugoslavian SKS rifle, semi-automatic, manufactured in the famous Zastava Plant - 7.62x39 caliber - Very Good to Excellent Condition.
Love these rifle that's why I bought 3 rifles. If they still have sks around Christmas I am going to get one more. Thanks classic firearms
I've had my hand-select Yugo for about 2 months now and it is incredible. Probably THE best deal on the milsurp market going. I was just on a well-known gun auction website and someone is asking $1,045 (yep, One Thousand Forty Five dollars!) for a Yugo with all the various accessories (including logbook) that Classic Firearms sent me for just north of $400. Keep up the great work.
I ordered one of these in hand select. After cleaning it up, much of the metal on mine is scratched up, but looks okay over all. The biggest complaint I have is with the stock - it has numerous repairs on it and does not look too good. For a hand-select rifle and from reading some of the other reviews here, I expected a lot better. Overall, I've been happy with Classic and would buy from again. It may not be one of these though.
I had my first ever issue with classic on this order, rifle arrived at my FFL well packaged and in a timely fashion as usual, but they had forgotten to include their FFL information, so I called classic 7-8 times in a row until a woman finally answered. At that point, as soon as I had explained the situation she apologized and immediately faxed the information to my FFL. God bless Classic Firearms. SKS was exactly as advertised, excellent condition even with no hand pick. Phosphorus sights naturally no longer work (rifle appears to have been manufactured in 1971). Stock in very good condition although heavily stained with cosmoline (heat should get it out). My particular example does not appear to have been used at all, less some test fires possibly as the contact points are barely visible. Biggest gripe I have is how easy Ben made popping the trigger assembly back in look in his video, his arms are the size of my torso. I had to have my wife jump on it, that worked effectively.
My two Yugos came today. Both perfect condition with absolutely beautiful wood. Plenty of Cosmo which is better than rust. Can't want to clean um up. Thanks Classic Firearms! This was a first for me to buy something via the web. Was a bit scared but SO glad I did!
This is my first milsurp purchase from Classic Firearms, and I am pretty pleased with the rifle. I had the rifle shipped to a local gun shop and only took 1 week to get it. When I opened the box at the shop, pulled out a brass oilier and pouch, sling, cleaning kit, primitive bore snake, and leather ammo pouches, but no log book. the Owner and I were both impressed with what we were seeing even with the coating of cosmoline which wasn't excessive. After bringing it home and a short video of the unboxing, I wiped it down enough to dismantle it. I was very happy to see that all # were matching except for the electro # on trigger group which was the same # electro'ed under the barrel, suggesting an arsenal re-barreling. Overall the bluing on the rifle is excellent and about 98% with a scratch at the dust cover release and at the gas port tube release. The bore is like glass and the receiver rails look barely used. The stock is nice, with dark grain and a few crating dings. After assembling I took into the back yard and test fired it at 50 yd target. 2" grouping, very little recoil and no problems at rapid firing. This SKS is definitely one sweet piece of steel!!
Chose the hand select option and was very pleased with the rifle. After cleaning the rifle of the cosmoline, I was very happy to see a very nice rifle with none to minimal defects on stock or barrel and receiver. All matching serial numbers too. Great customer service. I'm in the works to purchase another.
I finally bought myself a Yugo SKS to add to the collection. I have purchase many guns from Classic and never been disappointed. And this purchase was no exception, shipping was fast and the gun was well packed. It was covered in just enough cosmoline to protect the metal parts. The stock was nice with just a few very light scratches. The bluing was almost perfect with just two very small marks. As usual I am very happy with my purchase from Classic.
No unboxing video, but I unpacked this rifle on Tuesday (2/2). Cosmoline as well set and the tear down began. After 3 days (after work) working on removal (with Mineral Spirits and brushes), I put it back together today. Exceptional, truly! Bluing is 99.9% and the bore is like a mirror, clean as can been, glass smooth lands and crisp deep grooves. It's hard to tell if this firearm was ever shot. No journal with this one, but that's all good by me. Rifle is a 1969 vintage and is a very welcome addition to my collection (which is a shooting collection, by the way). Thank you Classic Arms!
Just picked up my Classic Firearms, Yugo SKS, from my firearms dealer. Unpacked and removed the bubble wrap. I found the gun to be in what appears to be excellent cosmetic condition. Granted, it will need to be cleaned up, and then hopefully I will be able to repost functionality....

Just picked up my new baby earlier today. I couldn't be happier ! The stock was a darker cherry color and the cosmoline wasn't as bad as ones I've seen before. I completely disassembled it and used Hilco Lube to remove cosmoline. It worked great. The gun turned out amazing ! It came with an original oiler, leather pouch , tool kit, and sling. I was a little bummed that I didn't get one with the original manual or service log but I soon forgot about that once I saw how great the gun actually is. This site was a breeze to deal with and I can't wait to buy more guns ! Thanks guys for an awesome piece of my collection !
Pleased with rifle. It was indeed greasy, but cleaned up well and shoots nice.
Thanks Classic...
The rifle arrived and appeared to be in excellent condition, although not unissued. After cleaning all the cosmoline off the rifle, it functioned flawlessly and all parts are matching. The condition of the stock is almost perfect, and the bore is mirror shiny. Thank you classic firearms for providing a quality product. I have been wanting an SKS for a long time, but was not impressed by the ones I have seen on the market. I am glad that I waited and purchased this Yugoslavian SKS, as it exceeded my expectations in a surplus rifle! I purchased this rifle about 3 or 4 months ago, and have not had any issues with it.
Picked up rifle at my local FEL dealer. We opened it and were both impressed at the condition of the rifle. Took it home and soaked it in solvent and mineral spirits. Really turned out great. My friends and I had a fun day shooting it. Its a easy shooter. Once again bought a great weapon from Classic Firearms.
I've been looking for this SKS and finally bought one from Classic Firearms. The rifle was covered with cosmoline inside and out when I got it. After a few hours of cleaning the rifle was in great condition. Looks new like it was never fired. Thanks Classic for a great rifle.
This was a very nice gun with just a couple minor dings in the stock. The packaging I thought was very poor though as the gun was stuck in a box with NO protection at all around the gun. It would not have been that hard to put some bubble wrap around it but all and all it came through in decent shape. The shipping was a bit slow also at least compared to other places. It took a full week after everything was approved before the gun was shipped out which I feel is longer than it should be. This is not my first purchase from Classic and I'm sure will not be my last as over all I have been happy when dealing with them.
If you're interested in a SKS you need to buy one of these. I would say the one I received was never issued, it is perfect. My FFL guy couldn't believe it either.
Thanks guys, will enjoy for many years!
Very nice rifle, cosmoline sucks to get off, but WD-40 did the job fine. Had to refinish the wood after soaking in hot water and using heavy de-greaser. Only gripe is someone (maybe the soldier it was issued to?) hand etched their initials and numbers on the innards of the parts. Be sure to clean all the cosmoline out of the gas chamber and off the gas piston.
Front heavy, but to be expected with all the accessories (bayonet, grenade launcher). Cosmoline is not fun to get off. I used WD-40, did just fine. Had to refinish the stock and gas chamber because cleaning off the cosmoline ruined the finish (I used a dark finish, to me it looks like a WW2 rifle finish). Be sure to clean all of it out of the gas chamber and off the gas piston. Only gripe I have is to whoever etched initials and numbers on the innards of the rifle. It's a really cool gun, easy to work with. I may get a Chinese sks in the future because they are lighter.
This is my 3rd SKS. When these first hit the site, I started putting back money and was able to get one as a personal Christmas gift. Shipped quickly. Well protected in cosmoline. Impressive quality and workmanship. I was disappointed with the hand select as the butt of the stock had water damage to the point where I will need to strip, stain and refinish. There was pitted rust under the rear site and on the receiver. Not a deal breaker, but feedback to the guys doing hand select. I have been and still am a fan of Classicfirearms.com.
First off let me say that i am among the most picky gun collectors alive. I have refused a brand new gun for having a darker spot in its finish the size of a pea. This gun had to have a lot going for it to be accepted by me. That being said it does. There are 3 handling marks in the stock and 1 shinny spot in the bluing were it looks like something metal rubbed it. There are 3 scratches on the metal 2 are were the take down pins flip over and the last is on the mag. Outside of that its a brand new rifle. Mine has a darker stock on it than most pictured but its in good shape. The metal components i would rate as Excellent condition and the stock as Very Good. The rifle came with everything except a log book. I would say it has less than 500 rounds threw it. Rifling looks new. Bluing is 100% in most places and about 95% on the last inch of the grenade launcher as it looks to have fired a few grenades. Overall i am happy, I paid for the hand select and i am not disappointed. I believe this to be a armory refinished firearm. All my numbers match but some have prefixes like J-1234567 and others just have 1234567 with no letter. You cant go wrong if all the ones they have look like mine.
Received a very nice Yugo SKS from Classic last week! I was impressed with the rifle even while covered in cosmoline. After using the recommended method for removing the grease, it looked just as good as if I'd hand-picked it on my own. A few minor scratches from being in the crate, but the stock, bolt, and barrel were all in excellent condition. My only regret to this deal was no log book or log page to this beautiful rifle. An O-series SKS Yugo from 1978, all matching numbers and very nice condition. I would buy another...
These guns are a pleasure to shoot, very smooth, nice kick without the punishing blows of some others. My wife and daughter both shoot it with no problem as well. I went with the handpick option for an extra $20 and my expectations were exceeded. Absolutely gorgeous gun, like brand new! I actually believe that the gun had never been fired, just a slight nick or 2 in the stock from handling. Cleaning the cosmoline off was no big deal, only took an hour and a half to completely disassemble, clean and reassemble the gun. I used mineral spirits and a small paint brush over a bucket and then blew dry with compressed air. The videos that Classic Firearms created to disassemble and clean were very helpful. Classic Firearms made it very easy to buy and shipped it out right away even during the Christmas rush. Thank you Classic Firearms, I hope to do business again.
Although I've been looking at classic firearms page for a couple of years, this was my first purchase from them. I received my rifle within just a few days of ordering and I was thrilled with what they sent. They didn't oversell the condition of these rifles in any way. I couldn't be more pleased and will certainly do business with them again.
Classic Firearms took my order including the cosmetic hand selection and also my request for matching numbers, no electro-pencil, light colored stock and all accessories if possible. Less than a week later, amazing considering the weather, the rifle arrived at my door. The packaging was meticulous and the rifle beyond my request and expectations. Its serial number beginning with an S, appears to be from 1982 but appears unused, I have not found a re-arsenal stamp anywhere on the exterior, which was lightly covered in cosmoline. I would encourage anyone considering this weapon to place their order with confidence with Classic Firearms
Received 2 beautiful never issued SKS's better that I could have hoped for - Told my friends now it's off to the range!!!
I own several m 15s aks mini 14s for 30 yrs and I have to say the Number one weapon of my choice is the sks. They are built more reliable and accurate than any thing I've shot. Never had one to jam and I've shot thousands of rounds. Many millions were produced for a reason but they do take more time and effort .Sks rifles are becoming more popular because people are realizing there quality is second to none. Thanks classic firearms for these yugos that are in perfect condition and your excellent service.
This is my first purchase from classicfirearms.com. I have to admit that I was a bit apprehensive about purchasing this rifle sight unseen. I really wanted an SKS and these looked like a great quality from the unboxing video.

Well I was pleasantly surprised. For my hand-select I received an outstanding rifle. Of course it was full of cosmoline, but the rifle would not have made it over 40 years in a crate if it wasn't.

So, I cleaned it up with mostly hot water. The more stubborn items I used some mineral spirits. All the serial numbers match, but more importantly the wood is absolutely beautiful and the metal is in perfect shape. I doubt this was fired more than a few times. It could almost qualify as mint condition.

The barrel i soaked in the tub, then ran hot water down it, scrubbed it with a bore brush, then ran mineral spirits, then more hot water, and finally finished with some patches to dry it, and then used my Sage & Braker bore snake several times. The barrel is so shiny now I could almost comb my hair with it.

I will definitely use ClassicFirearms again. I'm a very satisfied customer.
Well packaged. Excellent condition. Really Greasy.
Expensive and worth it.

I ordered my hand-pick SKS on the 2nd and it wasn't picked and packed until a week later, although getting everything setup after new year's may have caused delays. When I actually got the gun 2 weeks after ordering, it looked practically brand new save for 2 shallow dings on the left side of the stock near the receiver. The cosmoline coat was not that heavy, and the bore wasn't stuffed full of it which made cleaning a little easier. The biggest issue was reassembly after cleaning, the trigger group was such a tight fit it took 2 people and some very light dremel work to get it back in. When I first took the trigger group out to remove the cosmoline, it actually threw sparks due to the detent pin being so tight. My gun came with a sling, cleaning kit, ammo pouch, oil can, and the yugoslavian boresnake(string with a dowel on the end).
I ordered this Yugo SKS in August 2015 but I totally forgot to put up the review. This thing is fantastic! All the numbers match and the bore is in excellent shape. The stock has a couple dings but overall it's in great shape. The bluing is as well. I was lucky to get in on them while they still had the log books. I had one of these a few years back and always regretted selling it but I needed money to move at the time. Thank you Classic for getting your hands on these so I could get my hands on one in great shape again! This was my first purchase from you but it won't be my last. If your on the fence about getting one of these, jump on it. They may not come around again in this good of shape.
After seeing all the great reviews, we were a little disappointed to be honest. Stock has some serious wear, metal has quite a few wear areas, numbers don't match. If this is hand select, not sure what the others look like. And the book.....not sure what that's about. Thought I would have a good history of the rifle. There is one entry 2006. Rifle discription and that one entry are in the same pen and handwriting. The rifle was made in 1972. I'm sure there should be more history than that. Sorry, just think it's a $300 rifle.
Worth every penny. Rifle shipped promptly and arrived as promised. Was in much better condition that I was expecting, stock had no major dings that I could see. Slathered in cosmoline but that is to be expected on a mil-surplus rifle. Happy customer will shop here again!!!!!!!
I didn't do hand select and mine has some blueing loss which is cool because it gives a nice patina look. Overall the rifle is in great shape. Because it's cold the cosmoline was a lot harder to get off. I couldn't get the bolt open until I got home with it. I've got most of the cosmoline off now and I was able to shoot it and it was more fun than I remember. Definitely get one if you're thinking about it just be ready to do a lot of cleaning.
I have had many sks rifles in my life but i have never had one that looked like this pristine rifle. Not only is it a great looking rifle but it has yet to malfunction and it just keeps going. I ordered it late December and received it within a week and a half. Have shot 400 rounds through it after cleaning the cosmoline off and it has functioned perfectly. Highly recommend ordering from this batch. Thank you classic firearms!


The rifle I received was everything promised in the description....hand select was well worth it....only wear is on the metal parts that rub together. Shipping was also crazy fast for the holiday season. This was my first and definitely not last purchase from classic.
Ordered the hand select option and received the rifle around the first part of December. The receiver cover had several spots of rust, the biggest being about a square inch and the stock was fairly dinged up, so naturally I wondered if they really look at the hand select rifles at all, and if so, can you really see beneath all that cosmoline? I know I can't or I would have rejected it at my dealer. This was to be a Christmas gift, so needless to say, I was very disappointed.
I've bought 7 or 8 surplus rifles from Classic Firearms without problems, so I was unsure of how they would respond. Turns out they were really understanding (particularly when they noticed the hand select, so maybe it helps there) and authorized a return and replacement. Very easy, very nice folks. The new rifle was much better, as my boy was smiling ear to ear on Christmas morning.
I give four stars because I did have to pay for return shipping. I feel when a company says you'll get something for a certain price, they should make it so. Brutus' own description says "...and the hand selects should be closer to Excellent. / Like New." I shouldn't have to pay extra shipping for their error.
Now I will say, I'm still very happy with Classic Firearms. Things can go wrong and they made it practically effortless to straighten out. I will continue to buy from and recommend Classic Firearms. ...and my son did end up with a beautiful SKS.



This is my second SKS purchase.Packaged well and came with ammo pouches, oiler, sling, but sadly no log book. That said, all matching numbers, prestige stock and bluing near 100%. Cleaned up easily with mineral spirits, I'd buy one soon if your thinking about it the way weapons are flying out of dealers again. These won't likely be available in this condition!
My SKS came in beautiful condition...once the cosmoline was removed the metal and wood looked beautiful and it shoots even better...bright and shiny bore with beautiful grain on the wood. I chose the hand select option. I would get one before they are gone...it will be hard to find an sks in this condition in the future.
This weapon was a straight shooter right out of the box. Firing Red Army Standard 123 gr FMJ 7.62X39 ammo, at 50 meters, it was striking a little high but all the rounds were center of mass with no sight adjustments. I had no FTF or FTE. The M59/66 arrived at my door (getting an FFL03 C&R was the best $30 I have ever spent) the day before Christmas and I spent the better part of that afternoon disassembling, inspecting, cleaning with mineral spirits (mineral spirits work just like the Classic Firearms video demonstrates), and lubricating the firearm. During my cleaning and inspection I came to the conclusion that the weapon was likely never issued (unfortunately my example did not come with the weapon's maintenance history book to verify this) as all the metal parts and the stock were pristine. This firearm was a great value for a very nice price.

After seeing Ben's video on the unboxing of these surplus rifles my awesome wife asked me if I wanted one for Christmas. I simply had to have one. I ordered the rifle on a Friday and it arrived at my FFL the following Tuesday. The rifle was well packaged and wrapped in bubble rap. When I got home and unpacked the rifle I couldn't believe how beautiful it was. It had a decent amount of cosmoline on it but I could tell the bluing was nearly 100 percent and stock had only a few handling marks on it. I used mineral spirits to remove all the cosmoline as suggested by Ben in his video. Once I had it cleaned I simply was floored by the condition of this rifle. I doubt it had seen any service at all. Needless to say I am absolutely thrilled that I was able to buy a surplus rifle in this good of condition. I also received a clipper strip pouch, oil bottle, sling, and a page from the Armory where it had been kept for years. All the extras were in serviceable shape. If you are thinking of adding a surplus SKS to your collection DO NOT HESITATE to buy one of these rifles.
Oh and I simply can't say enough about the customer service of Classic Firearms. I have purchased many times from Classic and have never had an issue that wasn't corrected immediately. When you call them you get a live person on the phone and they are genuinely interested in helping you in anyway possible.
To Ben, Amanda, Ernie, and the rest of the gang at Classic thanks again for another great deal. Keep them coming Ben.
Amazing SKS from Classic Firearms. Naturally product came soaked in Cosmoline, but who doesn't enjoy cleaning up their newly purchased firearms? Once I got the product cleaned up it looked brand new. Just a few noticeable scratches next to the gas cut off, though that may have been my fault. I have yet to test this product by my word of WARNING is to ensure the firing pin is completely free of cosmoline. You should be able to hear the firing pin rattling around. If not you could get slamfires. My only complaint is it would have been nice to get a log book but I understand not every rifle would have came with one. Thanks for the great product and I will be buying from Classic again.
I just got home from my FFL and cut the SKS & accessories out of their packaging... I opened the accessories first and saw a fairly well used ammo pouch and thought that was it ! I opened it up and there was a leather sling, an oiler in a cool pouch, a cleaning kit and the primitive version of what looks like a bore snake. I was impressed. Then came the rifle itself... I had previously watched the Classic "Crate" videos on these and that convinced me to roll the dice. I HOPED I'd get one close to as nice as the ones Ben displayed.. When I saw it all I could say was "WOW"... It looks totally brand new with a flawless beautiful/perfect stock ... I could NOT be happier ! If anything this one looks even better than the ones on the video! This was ordered on 12/20 and it arrived at my FF on 12/24... That's another WOW.... This really made my Christmas... Great job Classic.
What can i say? I finally "pulled the trigger" on buying one of these and am so glad I did. Didn't opt for the hand select, but it didn't matter. I could tell when I got the rifle, even though absolutely coated in thick cosmoline, that I had a winner. Beautiful, dark wood stock, no rust or pitting. Once cleaned up this thing looks good enough to hang on the wall. Would absolutely buy another if I had the spare cash. This rifle has become an instant favorite in my collection.
Had been looking for a good Yugo SKS and Classic didn't disappoint.

Hand select option - Gone came in great shape and shot even better.

If you're looking for a good SKS...this is the place to grab one.
if you've been trying to decide whether to buy one of these, do it. these rifles are nearly pristine. easily the nicest surplus rifles i've ever seen. much, much nicer than any other SKS i've seen without question.

you are getting a military grade rifle that is practically brand-new.
all wood and steel makes me very happy

do it now or you WILL regret it when they are gone
A nice rifle. Packaged well. Be prepared to deal with some heavy cosmoline. Blueing was about 98% but the stock was a little rougher than expected for the $20 hand select (there fore the 4 stars). Took it out briefly and ran 20 rounds of three different brand's of ammo through it without any issues. Accessories were a bonus. I would recommend it to a friend.
One of my local gun dealers ordered one during the Black Friday sale and when I was browsing his store I picked it up, when he told me it was from Classic I decided to let everyone know about the beauty that I received. The wood is a deep cherry red, the cosmoline cleaned up easily and I'm sure it will be a straight shooter. It was produced in 1970 at the tail end of that production run. HIGHLY recommend Classic's products to anyone looking for a quality firearm with a good pricetag. 5/5!!
Got this on the Black Friday special 389 + 20 hand pick. Gun shipped fast as usual from Classic. After extensive cleaning took it to my backyard range and put 10 rounds downrange (50 Yards) and it was sighted in perfectly using WPA 123 Grain. The trigger is good but I had to get used to when it breaks. I still have to clean up the little crevasses on the bayonet and other non moving parts. Took about 2 hours to get it to the point i could shoot it., Need some stripper clips and I will be trying out the 20 round Tapco mag. Received the paperwork, cleaning kit, oiler, sling, and mag pouch. Very nice gun, Thanks Classic.
I must say I was absolutely blown away by the quality of this weapon. I never would've expected a Milsurp weapon such as the SKS to have arrived in such absolutely amazing condition. Shoots beautifully with a tremendous punch out of the 7.62x39mm. I highly recommend anyone who's looking to purchase a SKS rifle to buy them while you can before the market is dried up. A good welcome to Amber at customer service for all her help on the weapon and a shout out to the Classic Firearms team for there amazing service and outstanding product quality.
As described, light coat of cosmoline but underneath a near pristine 59/66.
This was my first time dealing with Classic. I ordered one and chose the hand select option. I had it within the week. It came with a paper that had a percentage and condition. It was only 10% used and it had brezhibno (Slovenian for "flawless".) written beside that. All I can say is that it looks great and the customer service was awesome as well. Thanks Classic.
Bought two hand selects with Black Friday sale. Both SKS's looked like new! Accessories were included but will take some work to remove mildew from the leather. Log books were included and showed only one or two entries.
One had matching numbers with engraving on receiver cover and magazine. The other had the magazine stamped with a different number.

The condition of these rifles is amazing.

Like a kid in a toy store, I could not wait for my SKS to arrive. this was the first time I ordered a firearm online and had it shipped to a FFL licensee. Thus, I had a little fear over what I was going to receive from Classic. When the SKS arrived and I first opened it, I certainly was surprised! the condition of the SKS was absolutely fantastic and was "as new". The bluing was 99%+, the barrel was pristine with no pitting or rust. The action and bolt was flawless. there were a few indentations in the wood stock but they were minor and add character to the rifle. Even the Bayonet was flawless. The cosmoline coating was light. I actually enjoyed cleaning the cosmoline off of the SKS as it was like pealing back the layers of an hidden treasure. I completely disassembled the rifle, cleaned off the cosmoline and oiled the rifle. I spent about 5 hours but I was completely thorough. it indeed was an enjoyable task and a labor of love. When I picked up the SKS from the FFL, the man stated he had many Classic Firearms' offerings pass through his location and never was he or Classic's customers dissatisfied. He said Classic take great care to ensure they are being honest and sincere in describing the firearms they offer. Indeed, my SKS exceeded my expectations. I will be a Classic Firearms customer for life. the only thing that was wrong was that the canvass sling metal end tab was too wide to fit through the sling fitting on the stock. I had hoped for a leather sling. However,
Classic fairly stated that they could not guarantee the supplemental items to be included with the order. Many thanks to Classic.......
This was my first order from Classic Firearms. Complete process from ordering to receipt was very smooth. Rifle was as described, covered in cosmoline and complete with accessories. After a complete cleaning and inspection the overall condition was judged to be excellent. All numbers were matching and bore is bright and rifling strong. I will be doing business with Classic again.
This was my first order from Classic Firearms. Complete process from ordering to receipt was very smooth. Rifle was as described, covered in cosmoline and complete with accessories. After a complete cleaning and inspection the overall condition was judged to be excellent. All numbers were matching and bore is bright and rifling strong. I will be doing business with Classic again.
I picked up the Yugo SKS from the FFL today. I received all accessories including the log book and recent bore inspection paperwork (0 bore wear). The weapon is unissued and was only shot 50 times after manufacture, in 1988. Only a very light layer of Cosmoline on the metal parts only. The stock is mint without a scratch. It'll be easy to clean. All parts are stamped matching and zero force matches. I am very happy with the purchase. The customer service at Classic (Amanda Richardson) was the best I have ever dealt with. She was quick to respond to my questions and initial concerns. I was nervous about the purchase and she assured me I would receive "the pick of the litter". Boy was she right! The rifle is actually better than the ones in the promo video! This after 3 months of having the rifles in stock! Again, I can't believe the quality of this rifle! Classic Firearms is the best for bringing these beauties back for sale! I will never purchase surplus from anyone else! You have all made me a very happy man!
Your company is so great. Just the WOW factor of unboxing made me feel like a kid. That's special, for real. I am a new C&R license holder, this was my first purchase and I was nervous. Your gents/ladies made "great" happen in my first purchase. Thanks so very much! (PS when I retire from this awful state in 3 years, can I apply for employment ?) :-) God Bless.
Wow! I had paid the $20 for a hand select hoping to get a nice rifle. I was wrong, I received a great rifle. I had appeared to be unissued. The only rub mark on it was from me turning the takedown pin. The wood was unblemished with beautiful grain and the metal was perfect, aside my mark. I had shown it to a friend today and he was so surprised at how nice the rifle was that he asked for the website. I maybe wrong but I think he had gone home to order one for himself. When I order my next rifle or rifles I will go hand select every time it's offered. Thanks Classic Firearms
I received the yugo sks today the packaging is the best I have ever seen. The rife is very nice just as advertised could not be happier with the purchase. Thanks
I like collecting old military surplus firearms from around the world so when my Yugo SKS came in today I was very impressed not to find evidence that it had even been shot! What a great find! It looks great and I appreciate the SKS accessories that they threw in with it. Thanks Classic Fire Arms!
Received an unissued f-series (1969 last year of the ported grenade launcher and first year of the phosphor night sights) rifle. Did not receive a complete log book but only one page showing a inspection on 7-11-2006. According the log the Barrel shows 0% use and inspectors description says "brezhibno", translated into English is "flawless". After looking the rifle over I could care less about the log book. Came with sling, pouches, oiler, bore snake and cleaning kit. Tons of cosmoline, be prepared to clean and get your wife mad but well worth it. Bore is mirror and gas piston shows no fouling. I can find no evidence of every being fired. Thank you!
Received my rifle from my FFL dealer and we both thought it looked great. Once I took it home and spent a couple hours cleaning the gun,it became obvious that the heavy cosmoline coating on the weapon was hiding many imperfections. Most of the wear was blueing loss and scrapes on the metal. The dust cover, magazine, and trigger group showed the most wear. I will say the wood stock was immaculate and the barrel is mirror bright. It is a very good rifle, just not what I expected for hand select.
I couldn't be happier with my gun. I own AK's, AR's, 10/22's, Mosin.....you name it, but this one is my new baby. all the bluing was intact, the stock had mostly just minor scratches but it was nothing I couldn't fix during the re-finish. over all I am very pleased with this gun and classic firearms and their customer service is everything you could hope for. I spoke with a woman, I don't remember her name now, but she exhibited a very caring attitude and seemed to genuinely want to help me. I will post some pics in the gallery of it. look for the scarlet sks with the accumounts pu scope
Hi my rifle was shipped very fast and we unboxed it at gun shop had a lot of questions from other hunters and collectors ,all I told them was to go to your web page these guys are real. love the condition of rifle and with your video it will be a snap to clean and maintain this beautiful rifle.Thanks again Jim Lyon
Received my SKS but was a little disappointed. All of the reviews and pictures and descriptions, I expected a rifle with a better stock. The stock on my rifle was beat up with lots of dings, scratches and gouges. I am not sure if I ordered Hand Picked if I would have got a better one. Took about 3 hours to get the cosmoline cleaned off, which is expected. The bluing is worn off in several places but not too bad. All in all the rifle is good. Better luck next time.
Thanks Classic Firearms!!! Just got my new (old) Yugo SKS from your company and it is incredible. I previously bought a Yugo SKS from a gun store here in CT and paid $100 more for a beat-up safe queen than the Classic Firearms price for essentially a new gun. The extras like the log book and the brass oiler just add to the value. And don't forget all the free Yugoslavian cosmoline as an added bonus :-). If anyone is thinking about an SKS, look no further than Classic Firearms. Sincerely...CDR Matt Wisniewski, USN (ret)
I ordered this Yugo SKS on Friday and picked it up Monday morning at my FFL. Outstanding Service. I ordered my Yugo SKS as hand select. It came with all accessories except book. Everything was in excellent shape. The Rifle looked like it was dumped in a vat of cosmoline and left overnight. But it also protected the rifle against rust. After a complete tear down, I think that I managed to get rid of all of the cosmoline in the rifle. Everything is marked with the serial number and a part number. Also the barrel serial number is electro penned on everything as well. If this rifle was ever shot I would be very surprised. There is no wear or carbon marks anywhere on this rifle. I am very pleased with the rifle. It is in excellent condition! I received excellent service and a excellent rifle. Thanks Classic! I will be back!
It took me a few weeks to write this review but since receiving this firearm, I've removed the cosmoline, fired this gun with the ironsights (decent accuracy) and have undergone a refinishing project on it. I'd say this gun is one of my most prized within my collection.
Very, very happy with my purchase from Classic. My hand select SKS Yugo was delivered very fast with all the promised extras that will make it a pleasant addition with a very interesting technical booklet. Big, Big THANKS to the fellow who took care of the packaging, it was OUTSTANDING, really appreciated that. Rifle looks perfect, it was packed with cosmoline, after cleaning there is a very shiny bore, no bluing wear, nice wood stock, no dents or cracks, matching ser.#
Overall, very pleased with the whole deal. Also appreciated Ben's video with the unpacking the crates and everything else and Thank you Classic,Keep up the good work.
I purchased the hand-selected SKS option, which came with the accessories and a sling. The rifle is unissued, but has few superficial (barely noticeable) dings on the stock. Overall it is in excellent condition. Purchasing/shipping process was simple and relatively quick.
Briefly pulled this out of the a few days ago to check markings, after cleaning gotta say it's a bit disappointing. So far as cosmetics isn't nearly what they displayed, hand guard is cracked (they may not have noticed being coated) and the the buttstock plate is warped badly. They pull crate after crate of excellent rifles yet send me this???
Rifle looks as it was never issued!! All serial numbers match and bluing and wood are mar free. Will I do business with Classic Firearms again....YOU BETCHEM!!!!!
When i picked it up i really couldn't tell whT i had the cosmaline had stuck to the paper so bad it was almost desolving. I got it home and after about 2 hrs later using mineral sperits as Classic recomends i finally got all the cosmaline off of it and it looks sweet. ! The stock is perfect as is the blueing. I have another Yugo SKS I pick up at a pawn shop that was what I thought was in good shape but this one blows it away. Thank you Classic firearms for provide such a nice product.
I got everything I asked for! Thanks classic! My first c&r purchase. Will buy again. Condition was as described. Fast shipping.
Thanks classic firearms for one of the pretty est sks I have every seen the gun is flawless gun looks truely new was a little disappointed I didn't receive the journal that comes with them but after seeing the gun forget the journal lol all matching number 98 percent blueing 100 percent stock with a wood grain that is beautiful this gun had to be hand picked by brutis his self I love it thanks for all that you all do this is my third purchase from classic and it just keep getting better and better.
Where to begin for one; this rifle that I received had a lopsided front sight hood, somebody took Ben's demo of separating the stock from the barrel to heart and bent it out of round. I can still shoot the gun it's just that I had opted for the hand select and that should have been first thing caught . The gun was covered with at least 5 .lb of cosmoline not the extremely light coat that I saw in the demo. I had to resort to the old army solvent Mighty Mo. Once I got the gun apart I found a lot of old corrosion on the inside. The gas block had green corrosion on the valve and will have to be replaced, the butt pad looks as if it was dipped in gasoline and had melt marks all over it, that too will have to be replaced. The stock was acceptable with only very minor bumps and nicks the barrel is in excellent condition and is probably new, after spending over 4 hr to clean up the gun it still would get only 3 stars because of the corrosion and damage to the gas block and butt pad.
1st things first. Thank you! You have delivered a beautiful rifle, customer service is extraordinary and I will definitely be doing business with you all again. I love the southern accent because I'm from Arkansas. And as they say, southern hospitality means a lot, and you all have it! Thank you again. Shawn
I received my sks a week or so ago never took it out of the box till this weekend and was I ever surprised when I did,this rifle looks new if its been fired it sure don't look like it to me.I cleaned it up took it to a friend of mines place out in the woods and shot about 50 rounds thru it with no adjusting anything and it operated flawlessly.I have six sks's ,Chinese,russian and the sort and this one will match any one of them for quality and fit,I couldn't be any happier with it,really nice rifle..thanx Classic great job!!!
Very Nice SKS: Paid for the hand pick and received a #'s matching previously issued, but I don't believe fired more than a few times SKS in 3 days to my FFL.
Shoots 2" groups with open sights @ 50m. Spent about 4 hours cleaning every crack and crevice was jammed full of cosmoline.

I Bought another SKS from another site and paid for the hand pick there too - That SKS is not nearly as nice, much worse for wear and not #'s matching for about $9 less. Wish I would have bought them both from Classic Firearms.
I am writing this testimonial in response to my recent purchase from Classic Firearms. Early last month, after much personal debate, I decided to purchase another SKS rifle, this time to keep all original. I bought my very first SKS probably 25 years ago at a gun show, with my dad. Made some upgrades so it was 922 compliant, and didn't think twice about another. However, after viewing Classic Firearms videos, and the decent pricing, I decided I wanted another for my ever growing collection. My experience with Classic Firearms began with a visit to their website. I must tell you, one of the finest and easiest to navigate that I have seen in the industry. The embedded videos, and customer testimonials are terrific, and helped immensely with my decision. Ben is great in the videos. They are extremely informative and chocked full of useful information about the items being shown. I think the case opening out back and looking at the hundreds of military surplus was my final deciding factor. Really great videos, I can't say enough about them.

After deciding on a Yugoslavian SKS rifle, I created my profile, uploaded my local FFL's information and placed my order. The communication from the onset was phenomenal, including the customized emails and tracking information. It seemed like Classic Firearms was with me every step of the way. My SKS arrived, albeit covered in cosmoline, but I was aware of this, as Ben was very specific on his videos. There were no surprises. Even the extras that were packed with the SKS were extremely nice. Again, I wasn't expecting brand new anything, but received very quality items. The best part about the SKS that I received was the condition. I paid the extra $20 for hand select, which I highly recommend, and without a doubt, the rifle I got was beautiful. In fact, after reviewing the included military manual, the weapon was most likely un-issued, and only test fired. Even better for me, but again, not expected.

In closing, I will definitely purchase from Classic Firearms in the future, and they have even prompted me to get my C&R license to enhance my personal collection. You can bet that I will be making future purchases from Classic Firearms, and will be spreading their excellent customer service, value and quality to all of my friends and family.

Thank you Classic Firearms for a quality rifle and an outstanding customer service experience that I have not every seen in the firearms industry.
The first one was so nice I decided to get another with last weeks sale. Metal looks 100%. Numbers match this time. Coated in cosmoline wrapped and well packed. Accessories from this case were not as nice as the first one and this time, the stock has a couple of minor dings from storage. Overall, an excellent SKS. Wish I could justify a crate.

Great Gun. looked like a new gun
This is a fun rifle to shoot, it looks great a must buy...I had two people come up to me at the range to speak about the sks it looks great with matching numbers and a bad ass bayonet. Was fun to clean and take apart I feel like a sks expert now lol just gotta let my shooting do the talking Now!
Gun was in just about perfect condition. It was soaked in cosmoline so absolutely no rust. Just if you buy one be prepared! Gun shoots great but I think I need to adjust the sights. I added a 20 round magazine from tapco to the gun. Had to shave off some of the wood stock where the magazine box usually is. Haven't fired it yet using the magazine but I look forward to. Just ordered an M39 I hope it's as good as this sks is!
Yugo arrived coated in the thickest cosmoline I've yet encountered. Came off effortlessly with mineral spirits. Used Gunscrubber on the barrel which worked well. Oiled immediately to protect the finish.The metal was great all around with only minor scuffs on the magazine. The stock is good looking and is suprisingly comfortable. The only issue I have appears to be a common dilemma with sks rifles. The pin securing the firing pin refuses to budge. After a long, grueling, fruitless attempt with Kroil, punches and hammers, I'm convinced sks rifles hate Capitalism. Fired 100 rounds and only needed to adjust elevation down to achieve zero. No issues with function and the rifle shoots extremely well. I'm pleased with the condition, performance and accuracy of this rifle.
Stopped be the FFL to pick up the SKS. The metal part of the gun looked good however the stock was not acceptable. The stock was broken on one side from the bolt to the trigger. I had the FFL returned the firearm to Classic.
I just received my "new" YUGO SKS, have not even cleaned off the cosmoline yet but am very excited looks to be almost new plus i received the darker color i hoped for , beautiful cant wait ta get her cleaned up an off to shoot
also received the original armors book with it , now i need to find some one that can translate for me .
thanks classic this was a great deal as far as quality and price for these gems now a days
Seriously beautiful. The rifle does not look like it was ever fired. Doesn't even look like it was test fired. And, this appears to be corroborated by the papers included--showing it not issued. The only gripe I have is when comparing to the descriptions provided--I was a bit disappointed to receive a cracked buttstock. Had the reviews and description not been so glowing, and had I not elected for hand select, this would have been 5 stars. But the disappointment with the buttstock can't be completely overcome. I did order another one though--
Mine was used but was in very good condition. I have no issues with this shipment and how the product was advertised. Would get another but saving up for the Finn Mosin.

Already posted how great this SKS looked when I received it. Took it to the range for the first time this morning and this is the most fun shooting I have done in a long time :) The SKS is heavy. Felt recoil is hardly noticeable. The rifle shot true and I had no jams or problems with the Wolf ammo (which is rather sooty and dirty, by the way). Just a great shooter. As with all mil surp ammo, you have to give the rifle a good cleaning afterwards, but the SKS is so user friendly and easy to take down cleaning is a snap. Between this purchase and my Finn M 39 I am one HAPPY camper :) Classic rocks yet again!
My Second purchase from Classic and again I am very happy with my purchase. Fast shipping, great service, and my SKS is in excellent shape. I see more purchases in my future from Classic Firearms. Thank you for another fine Rifle for my growing collection.

The rifle looks like it was made last Thursday. All the machining marks are sharp. You'd expect a rifle built and used some since 1966 that the underside of the barrel would have been rubbed somewhat smooth...nope....can still feel the turning grooves that are still sharp. There are some wear grooves where the dust cover and gas tube locking levers move...but not deep. Seriously DOES NOT look like it was made years ago.There are NO marks internally on the mag floor plate or the feed ramp on the chamber. Shipping was quick.
Having said that...I'd paid for handpick (rifle qualified)....the included other items were 'trashcan' grade. Well...I did get the cleaning kit looking better except for the jag which had only been half covered in cosmo. The leather was cleaned but had moldy that, when cleaned, two toned the leather. I'll upload pics.. The cleaning 'rope? cord?' was rotted. The oiling pouch, while still discolored was the best thing, and it had a plastic oil bottle that was very tight....and though it's not promised, I got no shooters manual.
If I hadn't paid for the hand select it would be a five star JUST on the rifle.
After wanting one of these since I was a little kid I finally found the time and money to pick up a nice sks. I found this site from a local forum. After reading reviews I decided to give it a go. After the fun cosmeline cleaning the rifle looks damn near new. Not a scratch on it. To be honest I'm not sure if it was ever fired. Numbers all match and it came with all accesories. I did pay for the hand select fee and feel it was worth it. The wood is beautiful and the grain pops. Most of the sks's out there look like old boat oars but not the one I got it looks as it just came off the assembly line. Thanks for earning my business classic firearms. You will get it again.
Received the my SKS direct with my 03 FFL to my home address.

Packaged properly for shipping, this the rifle is a keeper!
All serial numbers match, rifle protected with the correct amount of grease,
will be easy to clean up by soaking in odorless mineral spirits.

Sure you can buy one of those Chinese SKS with worn out bluing, stock damage, or a fix it upper. When it is all done with your time, stock repair or rpelaced and replacement parts, you are almost at the price of the Yugo SKS.

Look forward to my next C&R purchase from Classic Firearms.

I was so impressed by the quality of the first rifle I received I had to have another. I paid the extra bucks for the hand-select and was not disappointed. Mine was previously issued as evidenced by the log book. If it was fired it is hard to tell. Came complete with all the goodies..sling, ammo pouches (even had the adapter to shoot blanks stuffed inside one of them), oiler & pouch and cleaning kit. Gun came soaked in cosmoline. I followed the posted video for dissembly and cleaning using mineral spirits. The gun cleaned up nicely. Now if they would just get the 2nd lot of Finnish Mosins posted ! Great job Classic !!
The service and shipping were great! Thank You!

The rifle looks new. They might have fired a couple rounds though it when it was built (and I'm not even sure they did that), but this thing really looks new. Going by the serial number it looks like mine was built in 1988 and then put straight into storage.

All the numbers match. No carbon or lead fouling anywhere. Barrel is bright and clean, stock and hand-guard are matching colors and the only marks on the gun are from the take-down levers. Bolt face and gas piston are bright and shiny too.

Mine didn't come with a log book, probably because it was never issued and didn't need one. The brass oiler and tools had a little tarnishing but they cleaned right up. Sling and pouches are in nice shape, they'll probably always smell like cosmoline though (Bonus!). I'll upload some pics in a minute.

Thanks again, wonderful rifle!

PS: Did I mention that it looks new? :)
I NEVER THOUGHT I WOULD EVER FIND A SKS, AS NICE AS THIS.IT IS STONE COLD PERFECT.NEVER FIRED,PERFECT IN EVERY SENSE.CLASSIC IS A JOY TO DEAL WITH.NOW I DONT KNOW WEATHER TO GO AHEAD AND SHOOT IT, OR KEEP IT A VIRGIN. BUY ONE NOW. JWS2.

I bought one of these and liked it so much I bought another! Both were in excellent condition, all matching numbers, log books and accessories. Now the biggest problem I have is to figure out which one is going to be the one I shoot the most.
I ordered two of these but UPS lost one and it took a week to find it and get it to me. The first one I received was excellent and this one is no different. Both superior specimens. In my initial review I stated that I had not received any accessories and I said that I thought that it may have been that the accessories were lost with or were packed with the second SKS which UPS mishandled. As it turns out, my FFL had misplaced the initial accessory delivery but later found it and the second one came with all of the accessories as well. And I do mean ALL of the accessories: the record book, oiler, pouches, sling -- everything. There's nothing to say except that Classic has done it again - good job, well done and keep up the fine work. Happy shooting!
Seems like a pretty nice gun- I got #278180 and that matches up with the documentation as 1971. My stock had what I assume to be a dovetail repair just under the ejector port- looks like they removed a knot int he wood... and has a little inspectors stamp next to the repair. I was originally a little disappointed by this- but I kind of like it now. I'm glad a got a darker stock than the "honey blonde". Lots of electro-pencil markings but stamped numbers all match. The bluing was pretty good- depending on how much people polish up theirs for the photos- I wouldn't call it "like new" or "unissued" by a long shot. Not sure what the deal with the stamping on the side "PW Arms Redmond Washington" is all about- I assumed Classic imported these directly from Eastern Europe. Leather sling, oil case and ammo pouches are cool. I was hoping for something more like investment grade- this looks like the nicest SKS shooter on the block.
Did a joint purchase sks/saiga ak w/Phoenix but stock , Did a phone order with William, very smooth purchase, not rushed or pushy, very knowledgable. Love the sks, came with oiler, pull threw string, cleaning tools, belt cases and import paper( not sure it's in Russian lol) sks in great shape, lots of cosmoline, all matching, spent 2.5 hours cleaning but enjoyed it as you get to know rifle. Love the grenade launcher, you tube disassembly if any probs. ak was also great but didn't like buttstock, was warned of this preorder so don't hold it against them. Will definitely me ordering again from Classicfirearms, great company, great products.
Rifle is as advertised. The rifle I ordered was in New unussied condition. The stock is honey blonde and no signs of use. All blueing is perfect and the bore looks perfect. If you have never had an sks before, I recommend this one from clasic.
So far, I've bought 4 crates of these rifles from Classic. Each crate was better than the next. Thanks again Rick and Janet for a great opportunity with great customer service
First time buyer from Classic Firearms. I'm very pleased with the rifle I received.
I ordered the hand-select. Rifle came with log book, ammo pouch, canvas sling and cleaning kit. I looked up the serial number, V-69####. The V is a 1985 year, which would be right for the canvas sling. First entry was 1985 which shows they fired 50 rounds through it. It was also logged for 2003 and 2004. After the last two year it show 0% damage to the barrel and shows where the shooter hit the target. All serial numbers match. There is electric pencil (8605) on a few areas that match the numbers stamped on the underside of the barrel. The stock had a few dings but no major damage. I'm really pleased with Classic Firearms and will buy from again. Thanks for a GREAT rifle...
So the first one was good, as I said in my earlier review. I went and ordered two more, and these turned out to be of the "MINT LOOKS LIKE THEY WERE NEVER USED" variety. Oh my God these guns really look like they're brand new! They look like they were built at Zastava, test fired and then coated with cosmoline and put in storage. Like getting a barn-find vintage sports car, and the guy who owned the barn kept it in perfect condition. These two were so good, that they made the first one look a little shabby, so I went back for one more and thankfully, the fourth one matches the second and third in quality. Just amazing. The fourth one looks like whoever used it wrote their initials in pen on the right side notch next to the trigger. Nice little bit of history.

Yea, these things are amazing. I also got the accessories kits for each one. Worth every penny for the hand select to get these. I'm impressed.

I just wish you guys hadn't gotten the Finn M39's so soon after getting these. Good thing I've had a good month. :D Thanks again, Classic.
This is the most amazing Yugo sks I have ever had. I could not have ask for better. I had a few in the past and traded them off and had regretted it ever since and feel blessed to have gotten this one in excellent shape. I chose the hand select and got a G series 1970 made one with a cool log book. I was wanting a early series one and feel extreamley blessed. I like to give Ben a shout out and he is doing a excellent job in all the videos. Thanks Classic.
Overall very nice, extremely surprised to find the original blank firing adapter in the accessories bag. This item was not detailed in the ad and by itself sells for $80 elsewhere,thanks!
Like others, mine has all stamped matching, except the barrel. They electro penciled this new number everywhere, but only where it can't be seen, except above the safety on the stock. The gas tube, bolt and carrier, receiver cover, receiver, stock, trigger guard and magazine cover all have factory original matching stamps. Wood is dry, but without cracks or dings. Log book is Slovenian, not Yugoslavian. Mine has only two dated entries, for the same date. Still a cool artifact that's serialized to the rifle. Accessories in very good shape, intact, useable and with typical mildew from storage. Very happy with the purchase, should be an excellent shooter and very collectable.
I did pay extra for a hand selected rifle. I have owned a few surplus weapons and this by far is in the best condition. The SKS is in almost perfect shape with a couple long, very shallow scratches but besides that the rifle is perfect with matching serial numbers. Great job Classic Firearms, I was impressed.
The gun came just as advertised. Mine was used but was in good condition. Took a bit of time to get all the cosmoline off (good video on how to remove cosmoline) but the gun looks great for Mil Surplus.

Once again nice job Classic Firearm
First time buying from Classic Firearms and it was great. The yugo SKS is mint, not a ding, scratch, rust, it looks new. Very happy just wish it was all number matching. Trigger assembly is only part that does not match. Not Classic Firearms fault. Classic Firearms represented the gun perfect it is in great shape. Wish i had the money to buy a crate.
Paid the hand-select fee. Recieved all accessories including hard bound log book. Gun not at all like new- manufactured 1969.. Bluing worn on receiver cover, magazine, grenade launcher. Wood has numerous dings. I realize cosmoline prevents accurate appraisal of gun's condition. Electro penciled serial (which matches receiver's stamped serial number) on magazine, trigger guard, receiver cover, etc. Does that mean gun has been rebuilt? Stock is stamped with matching serial number.
My first purchase from Classic, very pleased with my rifle. Came with all accessories including log book, leather sling, ect. Minor handling wear on stock. Metal bluing about 85 percent. Looks like it spent it's 43 years sleeping.
Walked into my FFL and before I even said a word he said it was the best SKS he had ever seen - and that was when it was still slathered in cosmoline. I cleaned it this weekend and it really pops - the wood and metal parts are excellent! I used old style furniture polish cleaner called Life O Wood and it gave the stock a little deeper color. Its my third of fourth SKS (second Yugo). I had to get one of these sparkling ones becfause I knew the day I went to look and if Classic was sold out I'd feel bad, so I acted to avoid that disappointment. If you have ever considered getting an SKS (everyone should have at least one) get one of these!
To be fair, this rifle is probably a 4-star gun, but I gave it 3 just based on my disappointment with regard to cosmetics. All of the metal parts appear to be in truly excellent condition, but after watching the unboxing video and seeing all of the customer pics I was really expecting a less beat up stock. I'll probably just end up refinishing it at this point, but that's not something I was anticipating.
Received a great looking hand select a few days ago. Stock and metal look new. Logbook adds history. All numbers match except the last digit on the receiver cover. It is one less. The correct part is likely on the SKS next to it in the case. But, it is a great looking Yugo.
Great and fast service rifle in mint condition cant wait to firer it .
I am very satisfied with the rifle I received. The only reason I'm at 4 stars is that I haven't fired the rifle yet. It appears to be an arsenal rebuild because there are 2 or 3 parts that are numbered differently than the stock, barrel and receiver. If you go to this website you can find out by serial number, what year your yugo SKS was made. http://www.sksboar