Zastava M70 Semi Auto Pistol, 7.65/.32 ACP - 2-8rd Mags & Holster - VG/E
Availability: Out of stock
| Item #: HGN-YUGO-M70-765
MPN: YUGO-M70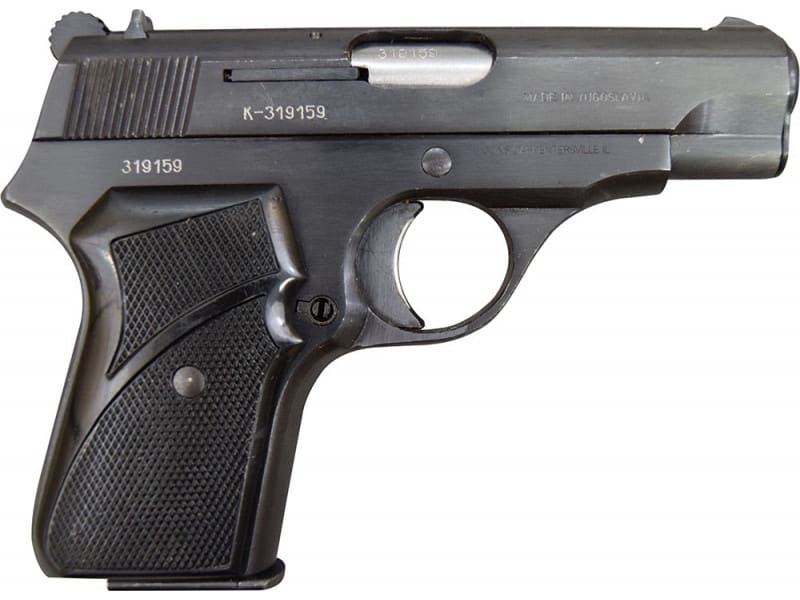 Zastava M70 Semi Auto Pistol, 7.65/.32 ACP - 2-8rd Mags & Holster - VG/E
Availability: Out of stock
| Item #: HGN-YUGO-M70-765
MPN: YUGO-M70
---
Zastava M70 Pistol 7.65 (32 ACP) comes with two 8 round magazines and holster.
Brutus' Description
The M70 pistol was produced by the Yugoslavian (now Serbian) arms manufacturer Crvena Zastava, as a sidearm for police and certain military officers. This pistol is based on the military type M57 pistol. For many years these pistols were used by Yugoslavian police and military.
M70 pistol is a simple blowback design. The barrel remains stationary when fired, but it can be removed during disassembly for cleaning. The trigger is of single action, with a manual safety located on the left side of the frame above the grip panel. Fixed sights.
Extra magazine and holster included.
Specifications
Product Specs

Type M70
Single Action
Semiautomatic
Caliber 7,6517 (.32ACP)
Weight unloaded 720 g
Length 165 mm
Barrel length 94 mm
Magazine capacity 8 rounds

Country of Manufacture
Serbia
License Requirement
FFL
Manufacturer
Zastava
Mfg. Part Number
YUGO-M70
UPC
No
Caliber/Gauge
.32 ACP
Action
Semi Automatic
Barrel Length
3.7
Threaded Barrel
No
Condition
Surplus / Used
Free Shipping
No
Manufacturer's Description
Zastava M70 Semi Auto Pistol, 7.65/.32 ACP - VG/E
Others Also Viewed...


loading...