Masterpiece Arms MPA30T MasterPiece Arms Pistol 9mm 4.5" BBL W / Barrel Extension - 30rd Mag - Black
Availability: In Stock
| Item #: HGN-MPA30T-BLK
UPC: 804879268574 | MPN: MPA30T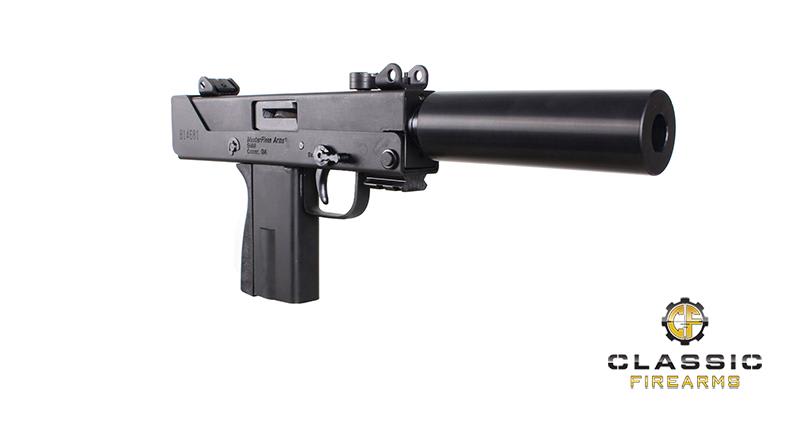 Masterpiece Arms MPA30T MasterPiece Arms Pistol 9mm 4.5" BBL W / Barrel Extension - 30rd Mag - Black
Availability: In Stock
| Item #: HGN-MPA30T-BLK
UPC: 804879268574 | MPN: MPA30T
---
MasterPiece Arms MPA30T: MasterPiece Arms strives for total innovation. This Defender 9mm handgun is the traditional top cocking model with a 4.5" threaded barrel, a lever safety selector, 30-round magazine, and a black Cerakote finish. It comes with a polymer carrying case..
Brutus' Description
Masterpiece Arms has done it again. With the Masterpiece 30T you can now get all of the cool and quality that has come to be synonymous with Masterpiece Arms, at a price point that appeals to the common man. Comes complete in a Masterpiece Hard Shell case with a 30 round mag. Barrel is threaded for attachments and comes complete with fake suppressor. Fires all standard 9mm Luger / Parabellum rounds. This handgun truly is a Masterpiece. Note - These were a special promotional buy for us and we are running them here at a fantastic price. Supplies are limited. Prices subject to change. Hurry.
Specifications
Additional

Specifications

Accessories - Safety Extensionr
Action - Semi-automatic
Type of Barrel - Threaded
Barrel Length - 4.5" Plus Extension.d
Capacity - 30Rd
Finish/Color - Black
Frame/Material - Steel
Caliber - 9MM
Manufacturer - MasterPiece Arms
Manufacturer part # - MPA30T
Model - 30T

Country of Manufacture
United States
License Requirement
FFL
Manufacturer
MasterPiece Arms
Mfg. Part Number
MPA30T
UPC
804879268574
Caliber/Gauge
9mm
Action
Semi Automatic
Barrel Length
4.5
Threaded Barrel
No
Condition
New
Free Shipping
No
Manufacturer's Description
Masterpiece Arms 30T Semi-Auto 9mm Pistol, 4.5" BBL , Steel Black 30rd Threaded Barrel Top Cocking Pistol Product # MPA30T
Others Also Viewed...


loading...


Why Customers Bought This
Customer Photos & Videos
Questions & Answers