Polish Radom P64 Pistol - 9x18 Caliber - Good Condition
Availability: In Stock (Only 1 left!)
| Item #: HGNPOL-P64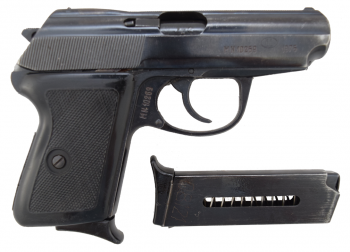 Double click on above image to view full picture
More Views
Have Your Own Photos? Login to Add Them
Customer Submitted Videos
Polish Radom P64 Pistol - 9x18 Caliber - Good Condition
Availability: In Stock (Only 1 left!)
| Item #: HGNPOL-P64
---
Historic Polish P64 pistol manufactured in the famous Radom Plant, semi-automatic, includes two 6rd magazines, 9x18 caliber. Some of these are a little better and some are a little worse. Most have a really nice finish on the right side with a rougher finish on the left side where it appears that the slide was buffed down before doing the import markings. Still they average a solid NRA Surplus Good condition. See Brutus description for more details. C&R Eligible.
Update: We now have a batch of Very Good Condition pistols available here.
Read More
Brutus' Description
Famous Polish quality in a P-64 Makarov Pistol. 9x18 caliber, 6 shot, semi-automatic. Comes with 2 mags. These are rated as in NRA surplus good condition by the importer and in spite of the imperfection on the left side of most of the slides, we tend to agree with the grading.

We are not sure exactly what happened on these pistols but the cosmetic condition on them is a little different. Mechanically they are all fine and the right sides of the pistols are typically very good or better. Unfortunately it appears that somewhere along the lines someone buffed some of the finish off of the slides on the left hand side in order to put the import markings on the firearm. We have tried to reflect this in the images attached to the ad here. No pitting or heavy grease, these are clean and ready to fire but they do all have this finish flaw in common. They also carry a somewhat course and prominent import mark. It is not extremely noticeable at a distance, and it certainly does not affect the function of the firearm, but this particular finish wear and import mark procedure is evident on all of this batch of pistols.

These were part of a larger group of pistols that have now been picked over and we have decided to close out the remaining pistols in this batch at a great price point.

If you are just looking for a glove box gun or a beater to carry on the trails, or, if you are like me and just want a funtional firearm without worrying about the cosmetics, then this one is for you..... and at a great deal to boot.

These pistols are all very consistant and as such we are not offering a hand select option at this time.
We simply don't think there is enough difference between the individual pistols to justify the additional charge.

Great pistol at a great price point.



Manufacturer's Description
Historic Polish P64 pistol manufactured in the famous Radom Plant, semi-automatic, includes two 6rd mags, 9x18 caliber.
These are solid functional pistols in good condition but do expect some bluing wear and cosmetic issues on the external finish.
Additional Information
Product Specs

9x18 caliber
6 shot
semi-automatic
2-6rd mags

License Requirement
Curio and Relic
Manufacturer
Radom
Mfg. Part Number
HG3279-G
UPC
787450234338
Caliber/Gauge
9x18
Threaded Barrel
No
Free Shipping
No
Flat Rate Shipping
No
Customer Reviews
I am very impressed with this gun. It is very well made and very little wear. The bluing is around 90%. It is snappy and fun to shoot. The import marks were not put on with the best of care but a little polishing and cold bluing has made them less noticeable. I am very happy with my purchase.
Immediately upon opening the box I noticed black flakes all over my hands. This was from the spray paint CAI used after buffing out the previous etching on the left side of the slide. After taking the spray paint off I was disheartened but after some 220 grit sand paper to clean up the sloppy re-etching and a Birchwood Casey touch up pen it looks much better. No hiccups through 50 rounds at the range today, I planned on putting 100 through it but in one word I word describe firing this P64 as punishing. I plan on replacing the spring to help make it more shootable but I must say I was impressed how accurate it was. I'm 6'2" and this pistol is on the verge of being too small for my hands but it has a very solid feel to it overall. For the price it is a good buy.
I am so glad I did not hesitate when these pistols became available because now they are sold out. I did not have a Polish Makarov and wanted one. As far as the import mark area goes, I am a collector and am used to import marks. I just put a little effort in and refinished the import mark area so that it was not so pronounced. Even if I didn't fool with it, at $179.99 this price was unbeatable.
The only thing wrong with the P64 I received was the knarfed up import marking. No biggie to me as this was as described and I was expecting worse. Other than that mark I don't think the P64 I received was ever fired! Another great offering from Classic!!! A+
This P64 arrived much faster than most sellers. It was also what I would call, in good plus condition. Holster wear, and the C.A.I. mauling on the slide, were fairly described, and very accurate. Priced right, and very happy with my purchase.
Received today and couldn't ask for better as a shooter. If I was looking for a collector piece I'd pay double to not have the import mark. But other than a haze in area of the import stamp it is pristine.
I ordered the pistol on Wed. and got it this morning on Fri. Fastest C&R transaction I have done!! Pistol was even in better condition than I expected which is always a super plus. Sadly they are now out of stock as I am considering getting another soon.
Ordered Tuesday morning, and it arrived Thursday morning. Now, that is service!!! I was very pleased, the pistol I received was definately in the Very Good classification. My only regret is that I didn't order one of these a while back when holsters came as a part of the deal. Still, I'm please. Now, I just have to find the time to go shoot it.
Another fine weapon from Classic Firearms. Took a bit longer to get this time but well worth the wait. Mine was manufactured in 1967 and is in great shape. Trigger is acceptable and after a little practice I have found it to be quite accurate. Have run A hundred rounds threw it so far and find it a fair comparison to my Walther PPKS. Actually a bit lighter recoil. A very nice addition to the collection. Thanks again to Ben and the crew at C.F.A. God Bless America..
I was a little nervous when I saw that no hand-select is being offered for these, but I also noticed that the description said "Good-Very Good", which was a good sign. Anyways, who can pass up a Mak for $220? I have heard good things about the Polish versions of quite a few weapon designs, and this one is no exception. The finish is in great condition with only a little wear near the muzzle and some wear-through and slight corrosion on the inside of the trigger guard. The shipping was so fast, 2-day Priority Mail (even though the Post-Office delayed it so it was actually 3 days), and it even came with a little multi-tool that, as far as I can tell, can be used to completely disassemble the gun. So far I have used the screwdriver tip to take off the grips and look at the hammer spring.

I haven't shot it yet, but based on other reviews, I'm in for a real treat. This is my first Makarov-style gun, but I've been looking for a while and this seems like the one to get. If you're on the fence about owning one, don't think. Just buy it!

Thanks Classic for yet another smooth, quality experience!
I was expecting a worn out, but functionally sound pistol when I made my order and I was pleased to have received a very nice pistol. Just a little bit of wear from holstering and it is mechanically perfect. The barrel is bright with crisp rifling and not a single sign of corrosion anywhere to be found. It is a neat little gun and I am happy to have finally made the purchase. Here are pictures of the pistol i received: http://imgur.com/a/PD0r8 Now if those CZ-82's would come around...
Honestly, I wasn't expecting much when I ordered the P 64. They had knocked down the price and were warning buyers to expect only one "good" magazine and that the quality of the remaining pistols didn't warrant a handpick fee. So I was expecting an " end of the run", bottom of the barrel type of quality, at least cosmetically, and for the price, I was willing to accept that. I was pleasantly surprised to find a P64 in very nice condition, almost 100% bluing intact, (only one small rub mark near the muzzle), no scratches, even the grips. Oh, and both mags were in good cond. , no chips or defects. Needless to say, I was very happy with purchase. Shipping was fast. Classic Firearms exceeded my expectations. Thanks.
This gun is in excellent condition only some minor wear but it was expected. I highly recomend this awsome pistol for anyone who's looking for a budget pistol. I have fired about 150-200 rounds with NOT A SINGLE PROBLEM!! I replace the hammer spring and the recoil spring from Wolff Springs and let me tell you now this little pistol is even greater to shot. Thank you Classic Firearms for the great service and awsome product.

God bless you all!!
G? VG? No - Pistol I received was Excellent +++. Bluing perfect, no sign of any holster wear. May have never been fired - no carbon on bolt face or ejector. Slide and recoil spring tight and strong.
Maybe I just got lucky - have ordered another one. I don't really care for the cartridge but it's better than a .380.
All steel construction - no Polymers or other fancy plastics.
Will let you know how next "G-VG" P64 checks out.
Excellent pistol,I have adopted it as my concealed carry. the most accurate 9 millimeter semi automatic pistol that I have ever fired. Excellent condition excellent weapon.....
WOW is this a great gun! Mine is from 1976, and a has some wear, but I like that about it. The big surprise came when I took it to the range. This lil beast is ACCURATE! I don't use the DA, as I can barely pull it with 2 fingers. I put through 150 rounds so far and absolutely love it! Considering buying a 2nd one to keep in the car.
As expected this gun performed flawlessly the range. I put 50 rounds down range in 15 minutes. Both mags performed well and never experienced any failures at all. Great gun! Thanks ClassicFirearms!!
Great little pistol, for this price you just can't beat it. It is my new summer carry piece. Fit is dead on, Finnish is so so due to the machining marks on the safety face. The bluing is 80 to 85 good. Classic was quick to ship, I will be doing business with them in the future.
Mine arrived today at my FFL which is a range. I was able to try it out even though in California we have a 10 day waiting period. Appearance wise I would say mine is in the 70% range. A fair amount of wear to the blueing but not horrible. It was made in 1967. I was hoping for a post 1972 but I didn't specify. I was using PPU ammo. Maybe one of the mags was just stiff or something but I did have some trouble with the first couple of attempts. Ammo wasn't feeding properly and I had to wiggle the slide a few times to get it to load. On the plus side, my trigger pull wasn't bad at all.
Must agree with most Reviewers out in web world, this is one incredible weapon.

Happily the one I got from Classic is at least VERY GOOD and I love the year of manufacture: 1969, a good year.

While my hand is a bit beat up after 50 rounds (Wolf WPA), hey I'm old and out of shape. Reasonable accuracy and no malfunctions. While I did clean and lube before shooting, that's so easy with these guns. This one even already has a good DA pull and the Safety lever works fine.

THANKS GUYS, it's a KEEPER
Brutus' Description

Famous Polish quality in a P-64 Makarov Pistol. 9x18 caliber, 6 shot, semi-automatic. Comes with 2 mags. These are rated as in NRA surplus good condition by the importer and in spite of the imperfection on the left side of most of the slides, we tend to agree with the grading.

We are not sure exactly what happened on these pistols but the cosmetic condition on them is a little different. Mechanically they are all fine and the right sides of the pistols are typically very good or better. Unfortunately it appears that somewhere along the lines someone buffed some of the finish off of the slides on the left hand side in order to put the import markings on the firearm. We have tried to reflect this in the images attached to the ad here. No pitting or heavy grease, these are clean and ready to fire but they do all have this finish flaw in common. They also carry a somewhat course and prominent import mark. It is not extremely noticeable at a distance, and it certainly does not affect the function of the firearm, but this particular finish wear and import mark procedure is evident on all of this batch of pistols.

These were part of a larger group of pistols that have now been picked over and we have decided to close out the remaining pistols in this batch at a great price point.

If you are just looking for a glove box gun or a beater to carry on the trails, or, if you are like me and just want a funtional firearm without worrying about the cosmetics, then this one is for you..... and at a great deal to boot.

These pistols are all very consistant and as such we are not offering a hand select option at this time.
We simply don't think there is enough difference between the individual pistols to justify the additional charge.

Great pistol at a great price point.




Manufacturer's Description

Historic Polish P64 pistol manufactured in the famous Radom Plant, semi-automatic, includes two 6rd mags, 9x18 caliber.
These are solid functional pistols in good condition but do expect some bluing wear and cosmetic issues on the external finish.

Additional Information

Product Specs

9x18 caliber
6 shot
semi-automatic
2-6rd mags

License Requirement
Curio and Relic
Manufacturer
Radom
Mfg. Part Number
HG3279-G
UPC
787450234338
Caliber/Gauge
9x18
Threaded Barrel
No
Free Shipping
No
Flat Rate Shipping
No

Customer Reviews

I am very impressed with this gun. It is very well made and very little wear. The bluing is around 90%. It is snappy and fun to shoot. The import marks were not put on with the best of care but a little polishing and cold bluing has made them less noticeable. I am very happy with my purchase.
Immediately upon opening the box I noticed black flakes all over my hands. This was from the spray paint CAI used after buffing out the previous etching on the left side of the slide. After taking the spray paint off I was disheartened but after some 220 grit sand paper to clean up the sloppy re-etching and a Birchwood Casey touch up pen it looks much better. No hiccups through 50 rounds at the range today, I planned on putting 100 through it but in one word I word describe firing this P64 as punishing. I plan on replacing the spring to help make it more shootable but I must say I was impressed how accurate it was. I'm 6'2" and this pistol is on the verge of being too small for my hands but it has a very solid feel to it overall. For the price it is a good buy.
I am so glad I did not hesitate when these pistols became available because now they are sold out. I did not have a Polish Makarov and wanted one. As far as the import mark area goes, I am a collector and am used to import marks. I just put a little effort in and refinished the import mark area so that it was not so pronounced. Even if I didn't fool with it, at $179.99 this price was unbeatable.
The only thing wrong with the P64 I received was the knarfed up import marking. No biggie to me as this was as described and I was expecting worse. Other than that mark I don't think the P64 I received was ever fired! Another great offering from Classic!!! A+
This P64 arrived much faster than most sellers. It was also what I would call, in good plus condition. Holster wear, and the C.A.I. mauling on the slide, were fairly described, and very accurate. Priced right, and very happy with my purchase.
Received today and couldn't ask for better as a shooter. If I was looking for a collector piece I'd pay double to not have the import mark. But other than a haze in area of the import stamp it is pristine.
I ordered the pistol on Wed. and got it this morning on Fri. Fastest C&R transaction I have done!! Pistol was even in better condition than I expected which is always a super plus. Sadly they are now out of stock as I am considering getting another soon.
Ordered Tuesday morning, and it arrived Thursday morning. Now, that is service!!! I was very pleased, the pistol I received was definately in the Very Good classification. My only regret is that I didn't order one of these a while back when holsters came as a part of the deal. Still, I'm please. Now, I just have to find the time to go shoot it.
Another fine weapon from Classic Firearms. Took a bit longer to get this time but well worth the wait. Mine was manufactured in 1967 and is in great shape. Trigger is acceptable and after a little practice I have found it to be quite accurate. Have run A hundred rounds threw it so far and find it a fair comparison to my Walther PPKS. Actually a bit lighter recoil. A very nice addition to the collection. Thanks again to Ben and the crew at C.F.A. God Bless America..
I was a little nervous when I saw that no hand-select is being offered for these, but I also noticed that the description said "Good-Very Good", which was a good sign. Anyways, who can pass up a Mak for $220? I have heard good things about the Polish versions of quite a few weapon designs, and this one is no exception. The finish is in great condition with only a little wear near the muzzle and some wear-through and slight corrosion on the inside of the trigger guard. The shipping was so fast, 2-day Priority Mail (even though the Post-Office delayed it so it was actually 3 days), and it even came with a little multi-tool that, as far as I can tell, can be used to completely disassemble the gun. So far I have used the screwdriver tip to take off the grips and look at the hammer spring.

I haven't shot it yet, but based on other reviews, I'm in for a real treat. This is my first Makarov-style gun, but I've been looking for a while and this seems like the one to get. If you're on the fence about owning one, don't think. Just buy it!

Thanks Classic for yet another smooth, quality experience!
I was expecting a worn out, but functionally sound pistol when I made my order and I was pleased to have received a very nice pistol. Just a little bit of wear from holstering and it is mechanically perfect. The barrel is bright with crisp rifling and not a single sign of corrosion anywhere to be found. It is a neat little gun and I am happy to have finally made the purchase. Here are pictures of the pistol i received: http://imgur.com/a/PD0r8 Now if those CZ-82's would come around...
Honestly, I wasn't expecting much when I ordered the P 64. They had knocked down the price and were warning buyers to expect only one "good" magazine and that the quality of the remaining pistols didn't warrant a handpick fee. So I was expecting an " end of the run", bottom of the barrel type of quality, at least cosmetically, and for the price, I was willing to accept that. I was pleasantly surprised to find a P64 in very nice condition, almost 100% bluing intact, (only one small rub mark near the muzzle), no scratches, even the grips. Oh, and both mags were in good cond. , no chips or defects. Needless to say, I was very happy with purchase. Shipping was fast. Classic Firearms exceeded my expectations. Thanks.
This gun is in excellent condition only some minor wear but it was expected. I highly recomend this awsome pistol for anyone who's looking for a budget pistol. I have fired about 150-200 rounds with NOT A SINGLE PROBLEM!! I replace the hammer spring and the recoil spring from Wolff Springs and let me tell you now this little pistol is even greater to shot. Thank you Classic Firearms for the great service and awsome product.

God bless you all!!
G? VG? No - Pistol I received was Excellent +++. Bluing perfect, no sign of any holster wear. May have never been fired - no carbon on bolt face or ejector. Slide and recoil spring tight and strong.
Maybe I just got lucky - have ordered another one. I don't really care for the cartridge but it's better than a .380.
All steel construction - no Polymers or other fancy plastics.
Will let you know how next "G-VG" P64 checks out.
Excellent pistol,I have adopted it as my concealed carry. the most accurate 9 millimeter semi automatic pistol that I have ever fired. Excellent condition excellent weapon.....
WOW is this a great gun! Mine is from 1976, and a has some wear, but I like that about it. The big surprise came when I took it to the range. This lil beast is ACCURATE! I don't use the DA, as I can barely pull it with 2 fingers. I put through 150 rounds so far and absolutely love it! Considering buying a 2nd one to keep in the car.
As expected this gun performed flawlessly the range. I put 50 rounds down range in 15 minutes. Both mags performed well and never experienced any failures at all. Great gun! Thanks ClassicFirearms!!
Great little pistol, for this price you just can't beat it. It is my new summer carry piece. Fit is dead on, Finnish is so so due to the machining marks on the safety face. The bluing is 80 to 85 good. Classic was quick to ship, I will be doing business with them in the future.
Mine arrived today at my FFL which is a range. I was able to try it out even though in California we have a 10 day waiting period. Appearance wise I would say mine is in the 70% range. A fair amount of wear to the blueing but not horrible. It was made in 1967. I was hoping for a post 1972 but I didn't specify. I was using PPU ammo. Maybe one of the mags was just stiff or something but I did have some trouble with the first couple of attempts. Ammo wasn't feeding properly and I had to wiggle the slide a few times to get it to load. On the plus side, my trigger pull wasn't bad at all.
Must agree with most Reviewers out in web world, this is one incredible weapon.

Happily the one I got from Classic is at least VERY GOOD and I love the year of manufacture: 1969, a good year.

While my hand is a bit beat up after 50 rounds (Wolf WPA), hey I'm old and out of shape. Reasonable accuracy and no malfunctions. While I did clean and lube before shooting, that's so easy with these guns. This one even already has a good DA pull and the Safety lever works fine.

THANKS GUYS, it's a KEEPER