Russian Molot Vepr 12GA Tactical Shotgun w/ Original Wood Thumb Hole Stock VPR1211
Availability: Out of stock
| Item #: LNG-VEPR-12-11-WS
UPC: 151550021431 | MPN: VPR1211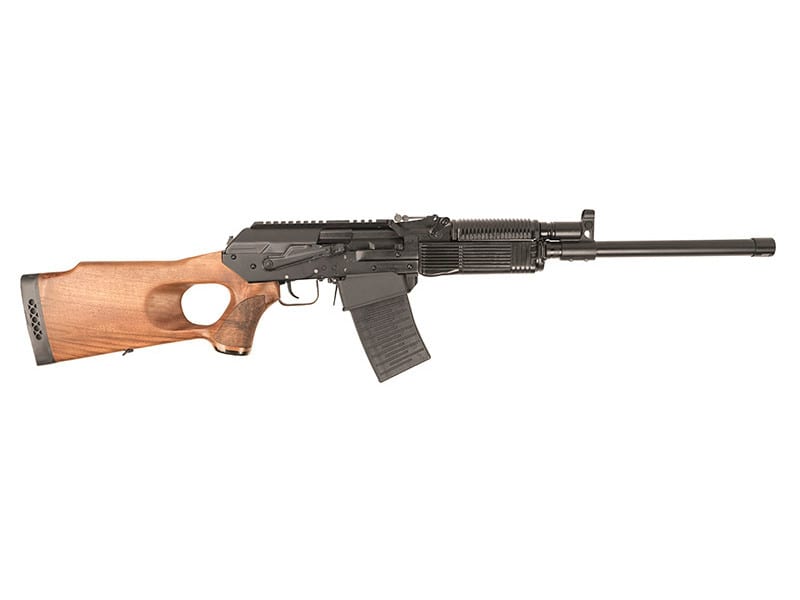 Russian Molot Vepr 12GA Tactical Shotgun w/ Original Wood Thumb Hole Stock VPR1211
Availability: Out of stock
| Item #: LNG-VEPR-12-11-WS
UPC: 151550021431 | MPN: VPR1211
---
Manufactured in the Molot factory the Russian Vepr is the Mercedes-Benz of Russian Semi-Auto Shotguns. Includes one original Molot 5 round mag. This version has the Original Factory Wood Thumbhole Butt Stock.
This item is not available to ship to the following state(s): California
Brutus' Description
Bigger, Better, Badder, The Russian VEPR shotgun is the Gold standard in imported 12 gauge semi-autos.
This semi-auto shotgun is imported in its original configuration directly from the Molot factory in Russia. The Vepr 12 is a semi-automatic shotgun designed for self-defense, hunting, and 3-gun competitions. Based on the RPK light machine gun Kalashnikov variant, the Vepr 12 shares the same legendary characteristics of extreme reliability in harsh conditions as the RPK.
The fire control group allows for semi-automatic shooting and the safety is an improved version of the standard AK safety selector. Additional features include: The ability to insert magazines straight into the magazine well (AR style) without the need to cant the magazine (AK style); RPK style Windage adjustable rear sights; Windage and elevation adjustable front sights integrated to the gas block; Picatinny rail incorporated into the hinged dust cover (allows optics mounting); and chrome lined chamber, barrel, gas block, and bolt carrier operation rod for increased corrosion and wear resistance.
Hinged dust cover with a picatinny rail
Original Molot Polymer Pistol Grip
Original Molot Polymer Lower Handguard
Original Molot Polymer Upper Handguard
Molot Self-Regulating Gas System
Original Molot Competition Magazine Well
One Original Molot Factory 5 round Magazine
Molot Factory AK adjustable rear sight
Factory chrome lined barrel, chamber, receiver shaft and gas chamber
Factory last round bolt hold open
Factory threaded barrel (thread pattern is the same as Saiga)
Caliber: 12-gauge
Chamber: 3" / 76 mm
Total Length: 42 in / 1070 mm
Barrel Length: 19 in / 483 mm
Weight w/o Magazine: 9.7 lbs / 4.4 kg
Magazine: Removable box 5 rounds

* Note - barrels are threaded and have a thread protector threaded onto them from the factory. The thread pattern is the same as the Saiga Shotguns and any of the numerous different Muzzle Breaks on the market for the Saigas will fit the Vepr.

To see this weapon is to fall in love and to shoot it seals the deal.

Unlike the Saiga , The Vepr has a highly advanced self regulating gas system that automatically adjust to the recoil of the weapon allowing this weapon to feed virtually all types of shells without incident. In fact, we have tested this weapon with all different types of loads and powder charges and even mixed different loads within the same magazine. In all cases the weapon functioned flawlessly.

All of the Veprs come in an original Molot Factory box with manual and warrenty information.




Specifications
Product Specs

12 gauge
Self regulating gas system
Semi-Automatic
Russian Shotgun
5 round mag

Chamber: 3" / 76 mm

Total Length: 42 in / 1070 mm




Barrel Length: 19 in / 483 mm




Weight w/o Magazine: 9.7 lbs / 4.4 kg




Magazine: Removable box 5 rounds

Country of Manufacture
Russia
License Requirement
FFL
Manufacturer
Vyatskie Polyany
Mfg. Part Number
VPR1211
UPC
151550021431
Caliber/Gauge
12 GA
Action
Semi Automatic
Barrel Length
19
Threaded Barrel
No
Condition
New
Free Shipping
No
Manufacturer's Description
Russian Vepr 12GA Semi-Auto Tactical Shotgun W / Original Wood Thumb Hole Stock produced in the famous Molot factory.
Others Also Viewed...


loading...